Learn how to make grilled chicken breast that will come out perfect every time. The meat is marinated with simple homemade seasoning and glazed with lemon honey butter. As a result, you will get tender, juicy, and moist chicken breasts that are full of flavor, perfect every time!
Summer is the best time to make grilling recipes! Today I am going to share easy grilled chicken breast tips. This is a great chicken breast recipe that you want to make all summer and is also good for any of those weeknights year-round where you're short on time but still want a tasty meal.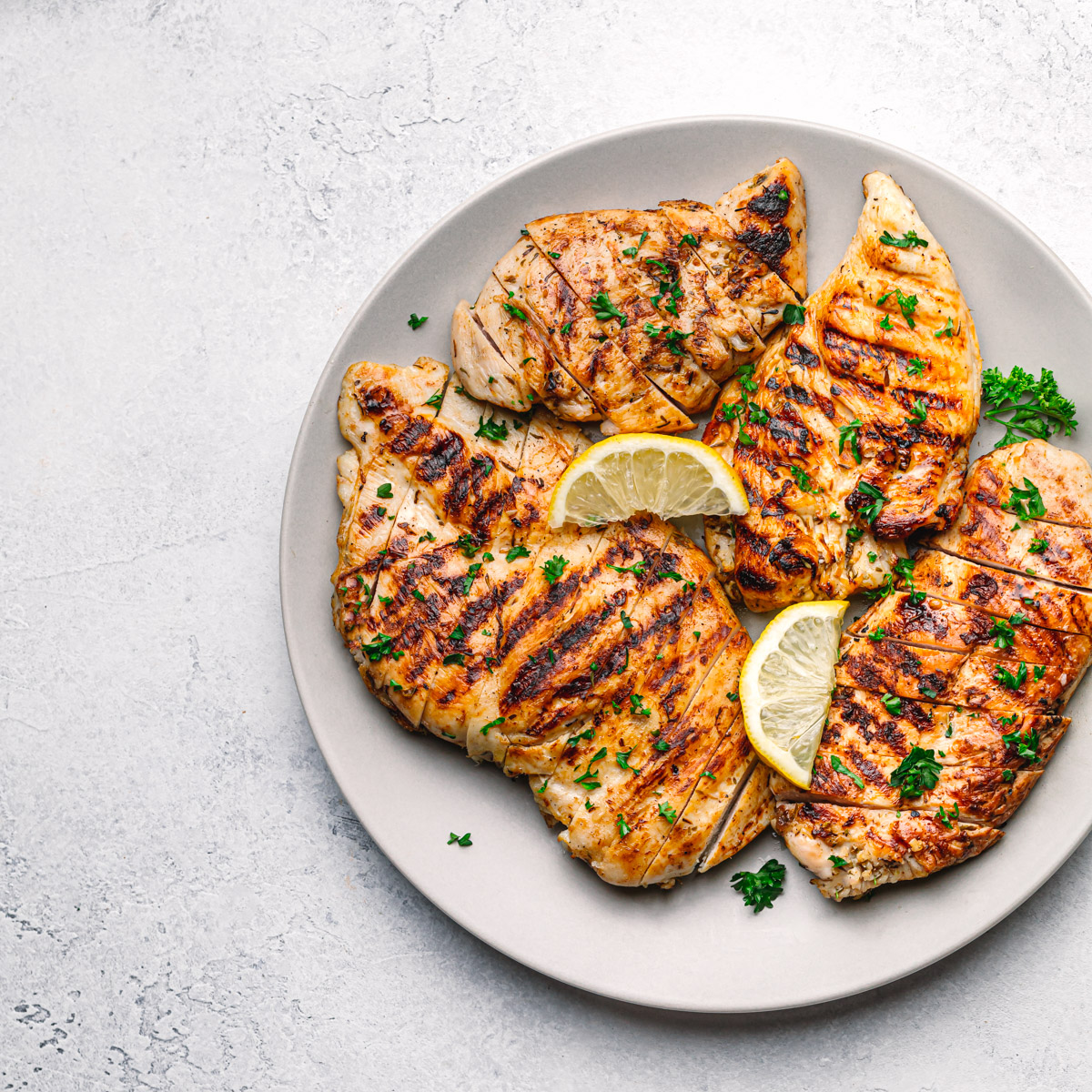 You can grill the chicken breast using any type of grill you may have at home, from outdoor to indoor grills or stove-top grills.
This grilled chicken breast recipe is low carb and keto-friendly.
Now, let's talk about the preparation for this meal.
Jump to:
Tenderize Chicken Breast
Each piece of chicken comes in different sizes so they of course cook at an uneven rate. Boneless chicken breasts are lean meat and can dry out quickly if overcooked. To fix this issue, we need to tenderize the meat by pounding them out.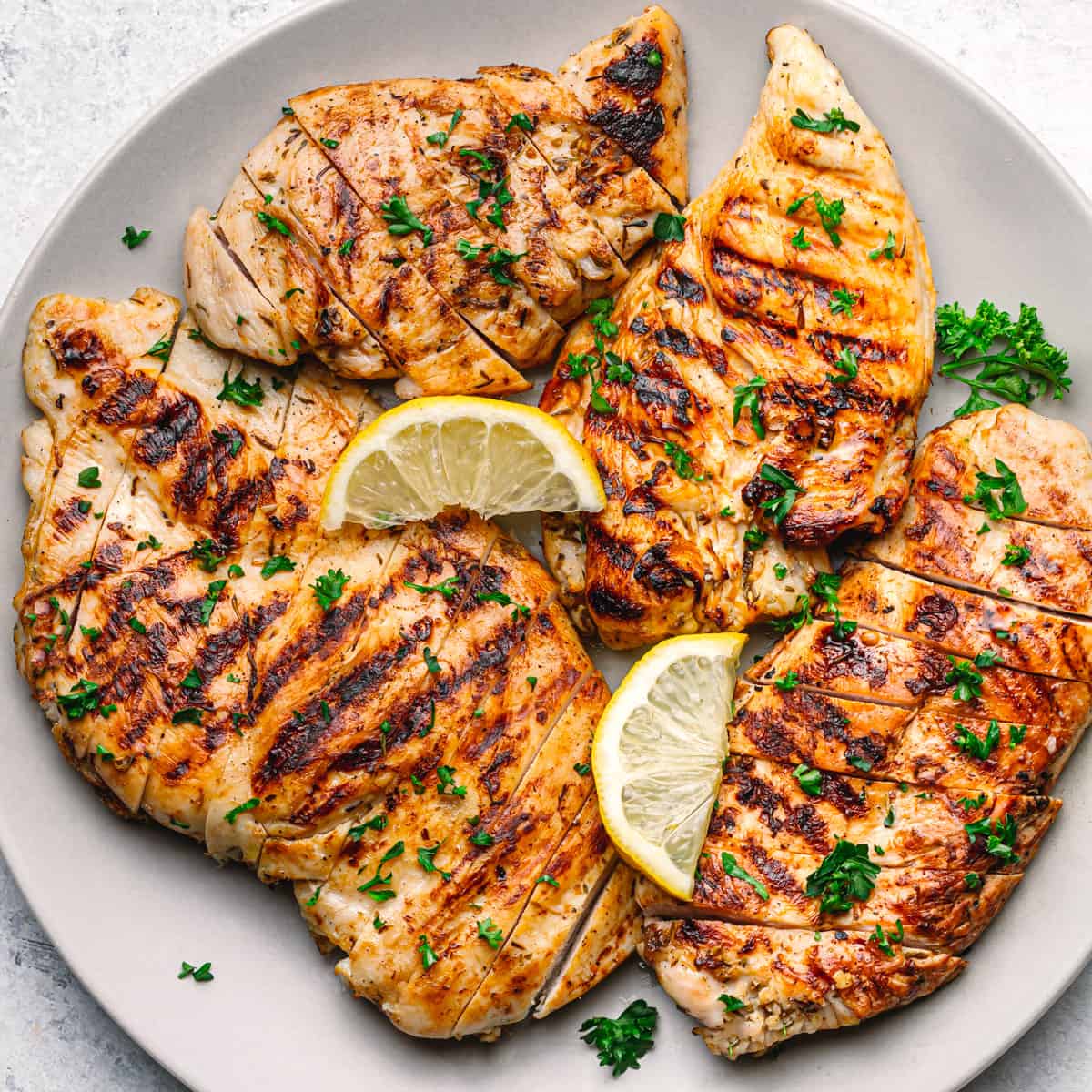 Tenderizing meat will help it cook evenly by keeping one end from drying out before the other has time to cook.
Here are some steps to tenderize chicken breasts in this recipe:
· First, place the chicken breast in a large zip-lock bag, push out all the air, and seal. Or, you can cover your work surface with a large piece of plastic wrap then place the chicken breast on top, and cover the chicken with another piece of plastic wrap.
· Next, use a meat mallet, rolling pin, saucepan, or skillet to slightly flatten the breast to an even thickness from end to end. It should be between a quarter-inch and a half-inch thick.
· Last, marinate the meat with salt and spices for at least 30 minutes and up to overnight. The marinade is an important part to keep the chicken breast juicy and to boost the flavors. For this recipe, I recommend marinating for at least 4 hours minimum.
The Best Marinade Chicken Breast Seasoning:
This healthy marinade chicken seasoning is made with basic pantry ingredients. I just added a combination of dried herbs; thyme, and oregano then mixed with extra virgin olive oil, salt, garlic, and ground black pepper.
Add Extra Flavors to the Chicken Breast with Glaze:
The good seasoning doesn't stop right there. To create a wonderful glaze, I brushed the chicken breast with lemon honey butter during grilling. Absolutely delicious!
How Long to Grill the Chicken Breast:
First, you need to set your grill between 425 and 450°F for chicken breasts.
The grilling time varies and depends on the thickness of your chicken breast, from about 3-4 minutes on each side for thin slices (1/4-1/2-inch) or 5-6 minutes for thicker slices (3/4-inch). Make sure to check the internal temperature of the chicken using a cooking temperature and register at 165°F before removing it from the grill.
Also, don't forget to flip them at the halfway point to achieve those beautiful sear marks on each side of the chicken.
Check Out More Delicious Chicken Recipes:
Here are some steps to make this recipe:
1. In a small bowl, mix dried thyme, oregano, salt, oil, black pepper, and minced garlic. Stir to combine.
2. Place the chicken breast inside a large freezer gallon bag, and add the marinade seasoning. Rub the chicken with the paste and marinate in the fridge for at least 4 hours or up to overnight.
3. Preheat the grill.
4. In a small bowl, add melted butter, honey, and lemon.
5. Remove chicken from marinade; discard marinade.
6. Place marinated chicken breasts on the grill. Brush with honey butter about 4-5x aside.
7. Flip the chicken breast at halfway point and make sure the meat is registered at 165°F before removing from the grill.
Storing Leftover:
Leftovers can be stored in an airtight container in the refrigerator for up to 4 days.
What to Serve with Grilled Chicken Breast: