Learn how to make this Authentic Nasi Goreng recipe without terasi. A traditional Indonesian fried rice, seasoned with a fragrant homemade seasoning paste or sambal paste made with garlic, shallots, candlenuts, chili pepper and without Terasi (or shrimp paste, Belacan).
Nasi Goreng or Indonesian fried rice is a very popular street food that is made with leftover fried rice and seasoned with sweet soy sauce or Kecap Manis. It's traditionally cooked or served with egg, either a fried egg or julienne egg crepe (telur dadar), Acar Timun (Indonesian Pickled Cucumber), fried shallots, and Kerupuk (deep-fried crackers).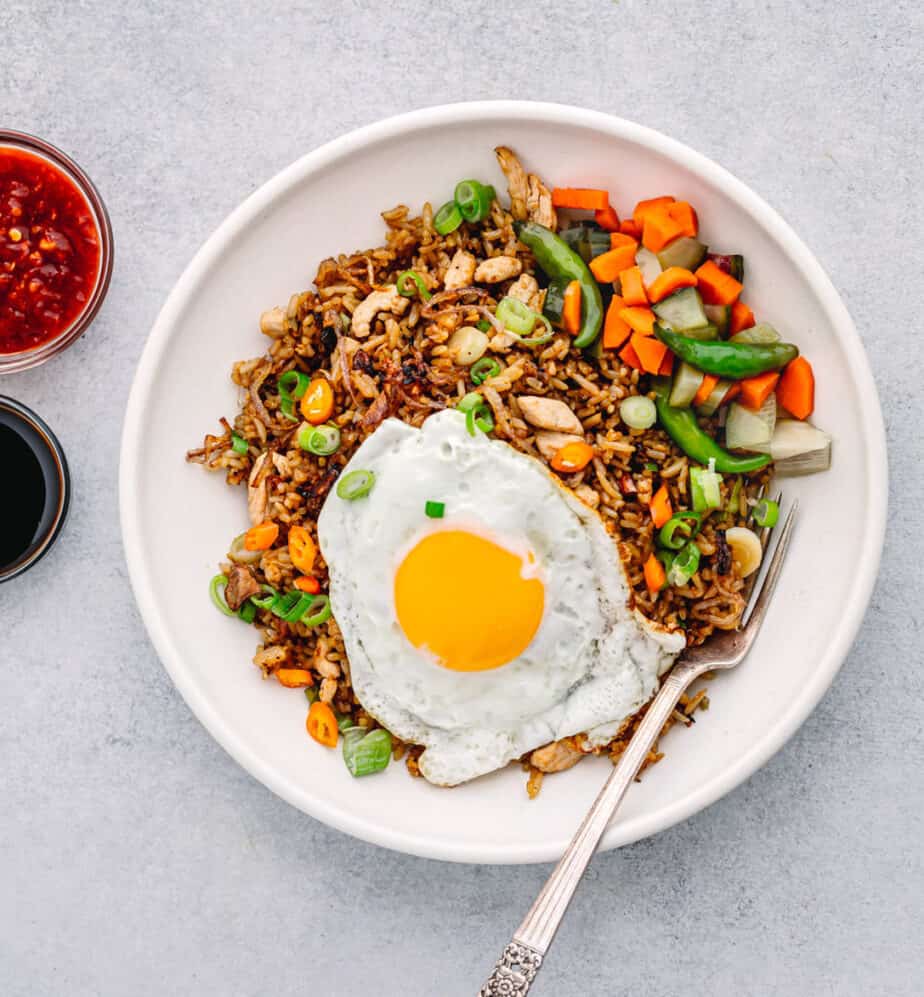 What is Nasi Goreng?
If you've just recently visited Bali or other parts of Indonesia then you're probably missing and craving the tasty Indonesia food. Nasi Goreng is surely one of those dishes, as it's a traditional Indonesian fried rice.
Authentic Nasi Goreng Recipe:
Today I am going to show you how to make this street food Nasi Goreng abang-abang :). "Abang Abang" translates to street vendor chefs, who can be found lining the streets with many different variations of fried rice (oftentimes with a cracked egg and other simple items). It's so delicious, and Nasi Goreng is made with easy Asian ingredients that you can find in your pantry or local grocery.
For those who have never had Nasi Goreng before, don't be afraid to try making it today! It's usually served at home for breakfast or at night from street food vendors. It started as being made from leftover rice and is seasoned with garlic, shallots, candlenut, red chili pepper, and the signature Indonesian soy sauce, Kecap Manis.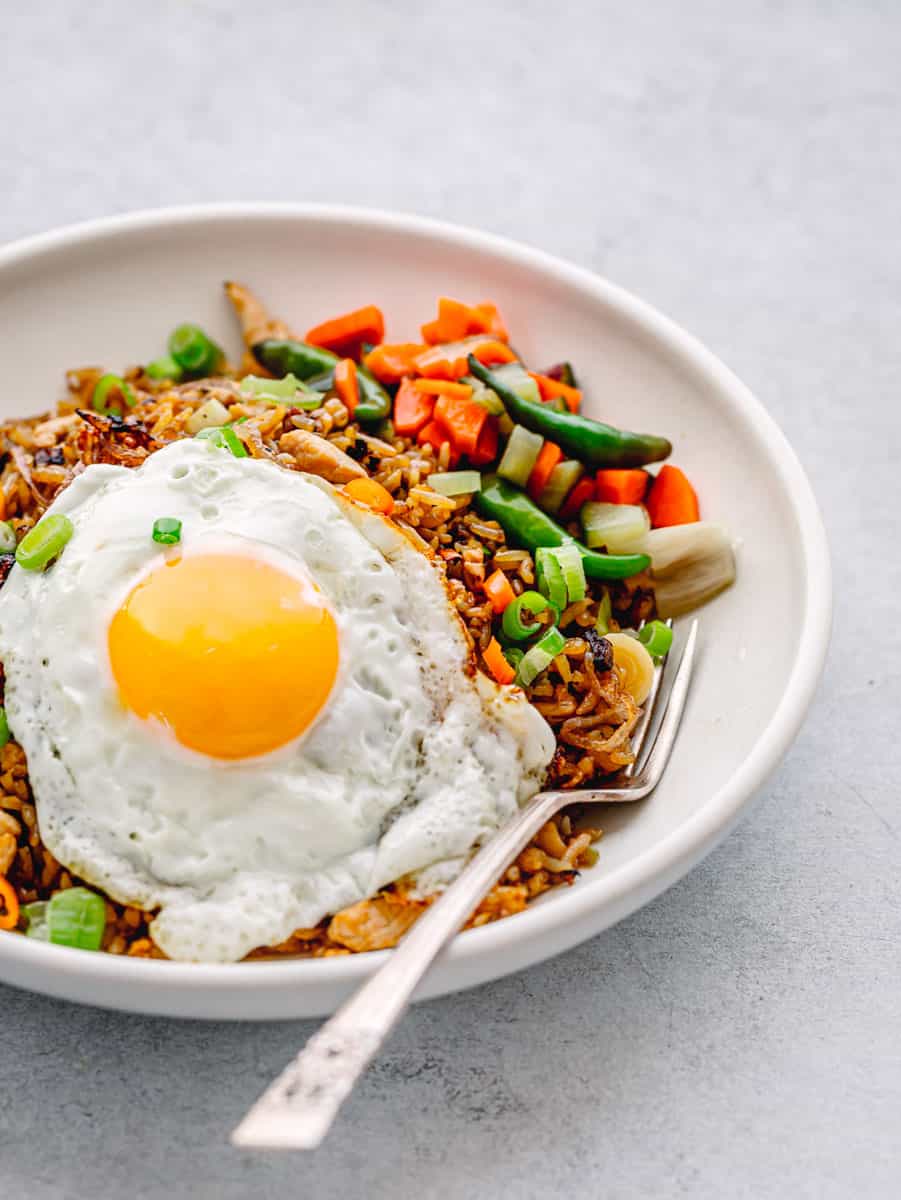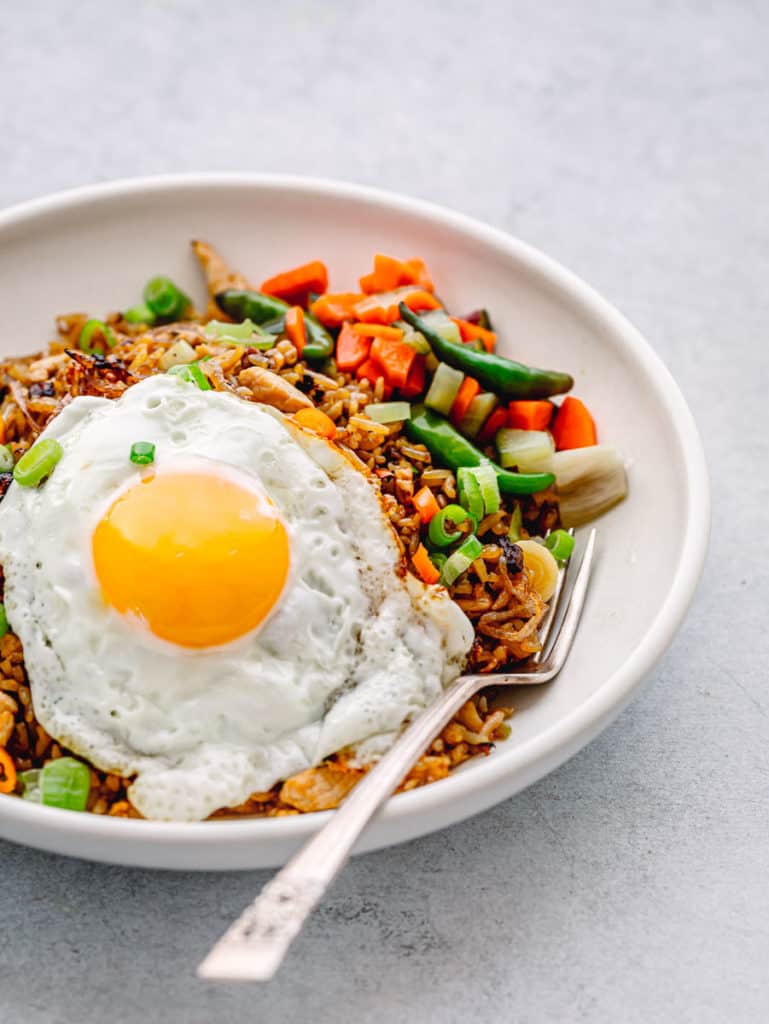 Also, check out more Asian recipes:
Nasi Goreng has an aromatic and smoky flavor. It's comparable to Chinese Fried Rice or other dishes with fried rice as the primary component. The key thing that makes Nasi Goreng different are the ingredients used, especially the Kecap Manis which helps caramelize the rice during stir-fry.
Street vendors often used Butter, Beef Granulated Bouillon (or known as ROYCO) as one of the main ingredients, in addition to MSG (Monosodium Glutamate). And they don't usually add Terasi into the fried rice.
For this homemade Nasi Goreng, we are going to skip these unnecessary ingredients (Bouillon, and MSG) but it's still delicious. We will also skip the Terasi (shrimp paste) as I know that many of you may not have access to it.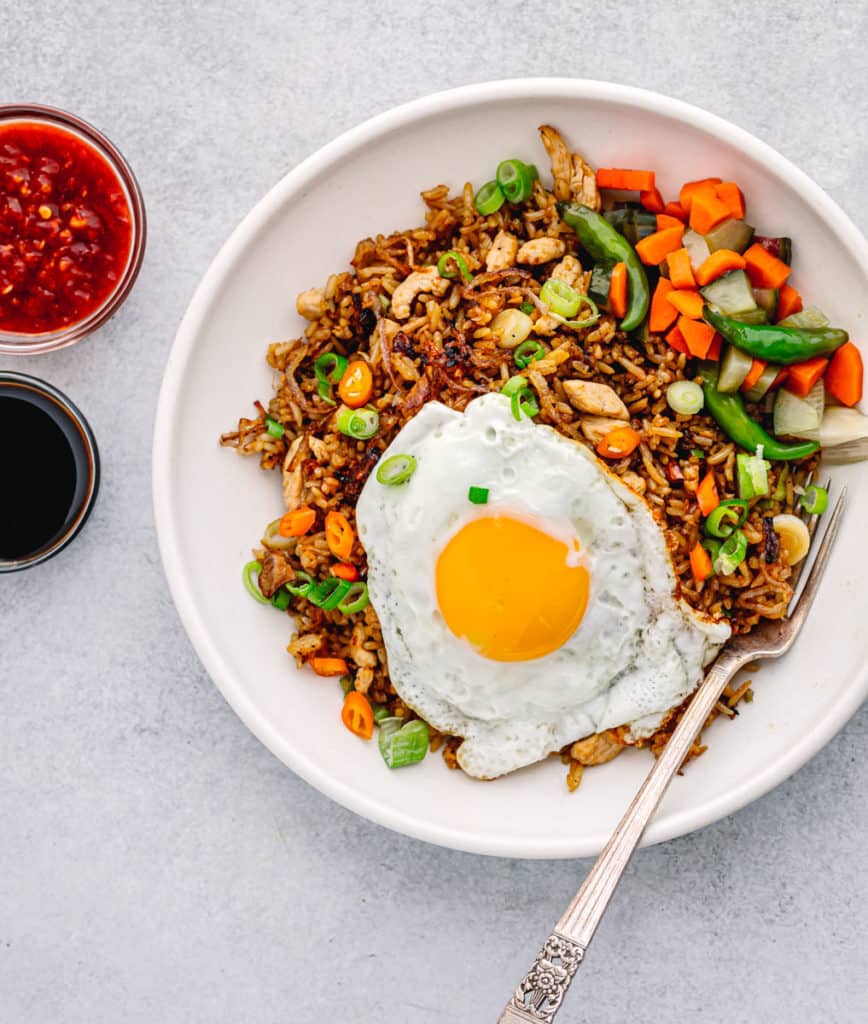 What to Serve with Indonesian Fried Rice:
To balance out the sweet flavor, many Indonesian enjoy this fried rice with Acar Timun, the Indonesian Pickled Cucumbers. So I highly recommended not to skip the Acar. Trust me, it will bring this dish to the next level. I have the recipe for Acar Timun here.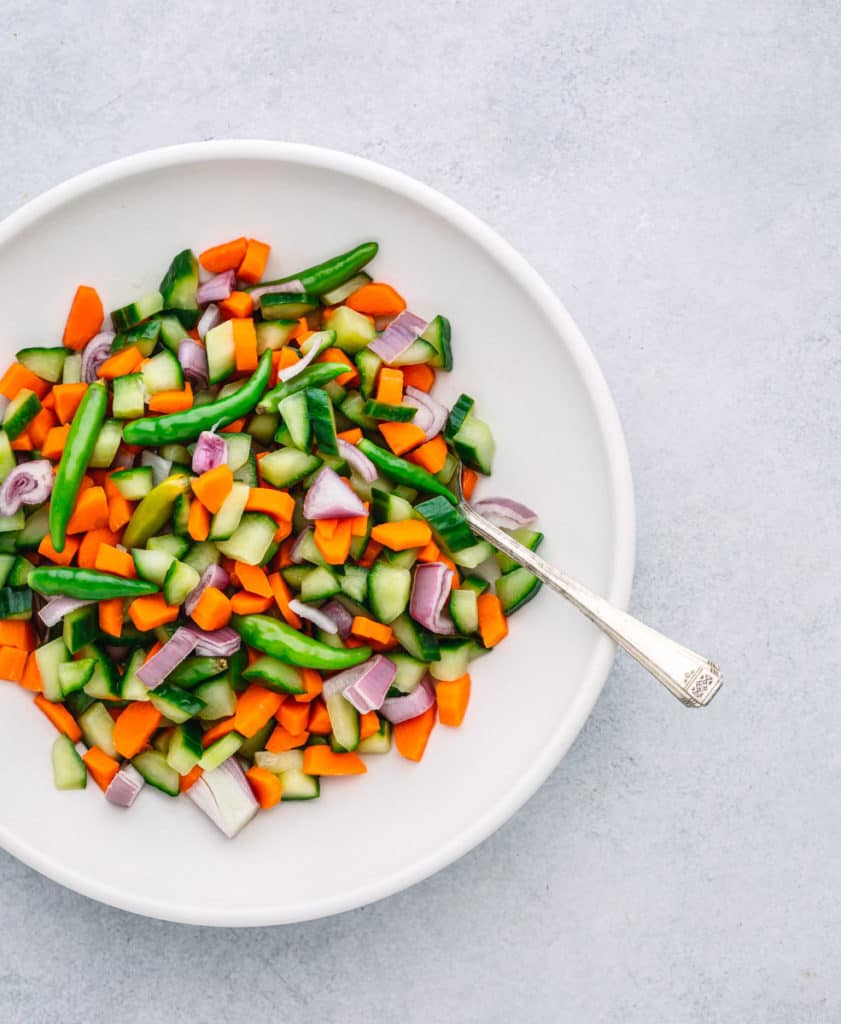 Kecap Manis:
Kecap Manis is an Indonesian sweet soy sauce. It has a darker color and a syrup consistency because it's made of palm sugar. Kecap Manis is an essential sauce in Indonesian cuisine. It's often used to add a sweet flavor to dishes, from noodles, rice, meat (such as satay or bbq chicken), to salad (Ketoprak). It is also commonly served as a dipping sauce (along with chopped fresh chili pepper) for foods like Fried Tofu, Fried Fish, etc.
A few years ago, I had to drive 30-45 minutes to purchase Kecap Manis. Luckily now, Kecap Manis is widely sold at any grocery markets, including Ralph's, Kroger or 99 Ranch Market. My favorite Kecap Manis brand is Cap Bango, but ABC brand is fine, too. It's sold for about $3.99 per big bottle.
Kecap Manis is a versatile sauce and often used in Thai recipes, such as Pad See Ew. So, don't think twice to buy it!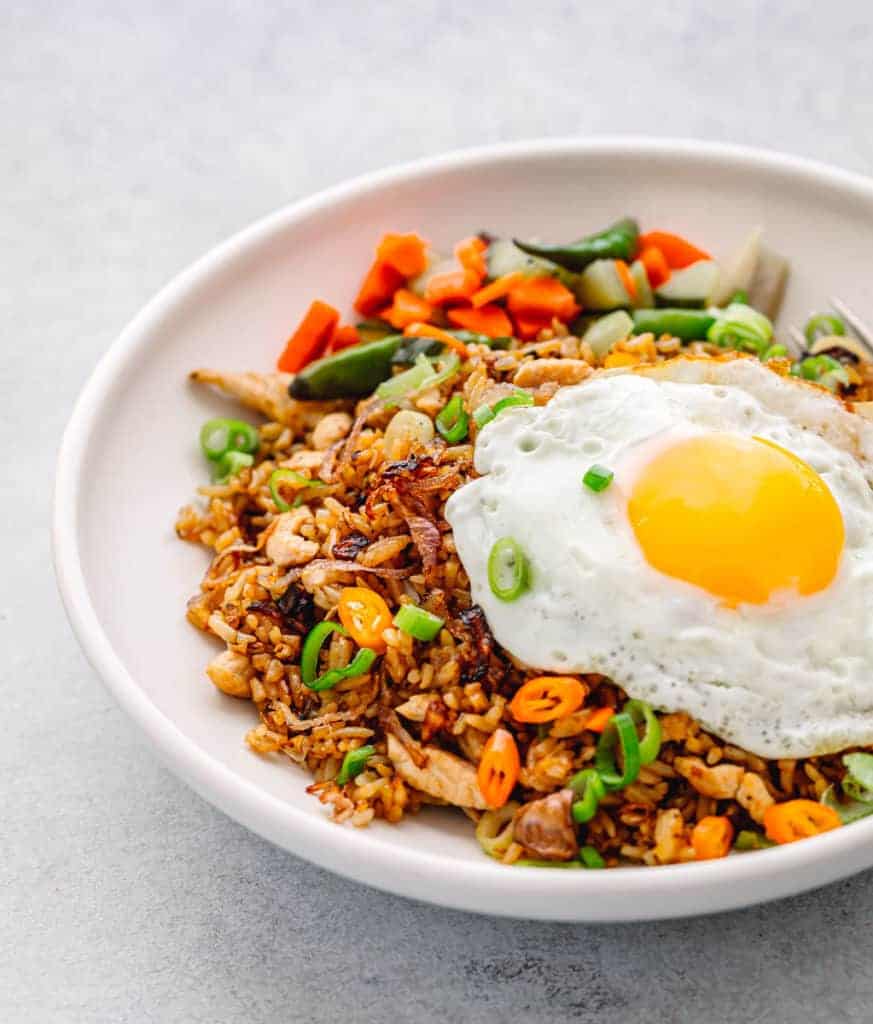 Left-Over Rice ( One Day Old Rice):
Using one-day-old rice is very key to making good fried rice. Why? When you cook the rice at least a day ahead of time and refrigerate it, you will allow the grain to dry out. As a result, you will give your fried rice a good texture, not sticky, chewy or soggy.
The Right Seasoning – Sambal Paste:
The traditional nasi goreng always calls for shallots, garlic, candlenuts, and red chili pepper as one of the main ingredients. However, if you are unable to find candlenuts, feel free to skip it. Also if you don't like spicy food, you may omit the chili pepper or remove the seeds prior to cooking.
This nasi goreng recipe below has a very mild spicy taste, even my kids still enjoyed it.
Important Note: Kecap Manis is a very strong ingredient! If you put even a little too much it can overpower the whole recipe. This is why I only added 1 tablespoon of Kecap Manis for starters, you can always add a bit more during cooking. If more is needed, add by small increments of 1 teaspoon.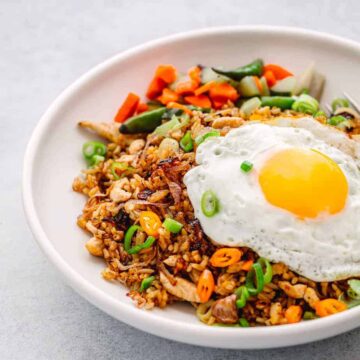 Nasi Goreng
An authentic Nasi Goreng recipe. It's a very popular street food that is made with leftover fried rice and seasoned with sweet soy sauce or Kecap Manis.
Print
Pin
Rate
Ingredients
1

medium size chicken breast

(or about 5-6 oz) – thinly sliced

½

tbsp

sweet soy sauce, aka Kecap Manis

( I used medium sweet Kecap Manis from ABC)

1

tbsp

vegetable oil
Fried Rice Seasoning Paste:
2

garlic cloves

3

small shallots

1

candlenut

(skip this if you can't find it in your area)

1

Thai Chili Pepper

1

Red Chili Pepper or Fresno Chili Pepper
Additional Ingredients for Stir Fry:
1

tbsp

vegetable oil

¼

cup

diced yellow onion

2

cups

cooked white rice

(cold, at least one day old)

1

tbsp

Kecap Manis

(if more is needed, add by small increments of 1 teaspoon)

½

tsp

salt

(optional) 1/2

tbsp

unsalted butter
To Serve:
(optional)

Acar Timun

2-3

Fried Eggs

Fried Shallots
Instructions
To make Fried Rice Seasoning Paste or Sambal Paste:
Using a mortar or food processor, crush the garlic, shallots, candlenuts, red chili pepper, and Thai chili pepper until they form into a paste. Set aside.
To Cook the Chicken:
Heat a wok over high heat. Pour in oil and when it's hot, cook the chicken breast until the meat is no longer pink, for about 1 minute. Then add ½ tablespoon of Kecap Manis. Cook for 1 minute. Set aside.

Heat a clean wok over high heat. Pour in oil and add chopped yellow onion, cook until translucent. Add the sambal paste, and cook until fragrant for about 30-40 seconds. Keep stirring to prevent burning.

Add the cooked chicken back into the wok and pour in the cooked white rice. Keep shaking the pan and stirring.

If the rice is a bit too dry, add about 1/2 tablespoon of unsalted butter.

Add 1 tablespoon Kecap Manis and ½ teaspoon salt. Toss the rice to coat and keep stirring for about 2 minutes or until the rice starts to caramelize.

Adjust seasoning if needed. Turn off the heat and serve with Acar Timun, fried egg and fried shallots. Enjoy!
Notes
Kecap Manis: If you can't find kecap manis, you can make your own. Just mix one part molasses with two parts soy sauce. It's available at Ralph's, and Asian markets. Candlenuts or Kemiri: They are a relative of Macadamia nuts and resemble them in appearance and in texture. It's available at 99 Ranch Market. Thai Chili Peppers: They are small in size and high in heat. You can purchase Thai Chili Peppers at any grocery markets, including Sprouts, Ralph's, Walmart Supercenter, and Asian markets.