Refreshing Acar Timun, a vegetable pickle from Southeast Asia. Indonesian Pickled Cucumbers or Atjar can be served as a condiment to any meals such as Nasi goreng (Indonesian fried rice), satay, fried fish and all kind of Soto (Traditional Indonesian soup).
Craving for some fresh vegetable pickle? Try this the most famous condiment, Acar ketimun or Acar timun that is originated from Indonesia. You can also find Acar in Malaysia, Singapore, Brunei or in Dutch Cuisine (known as Atjar).
Jump to: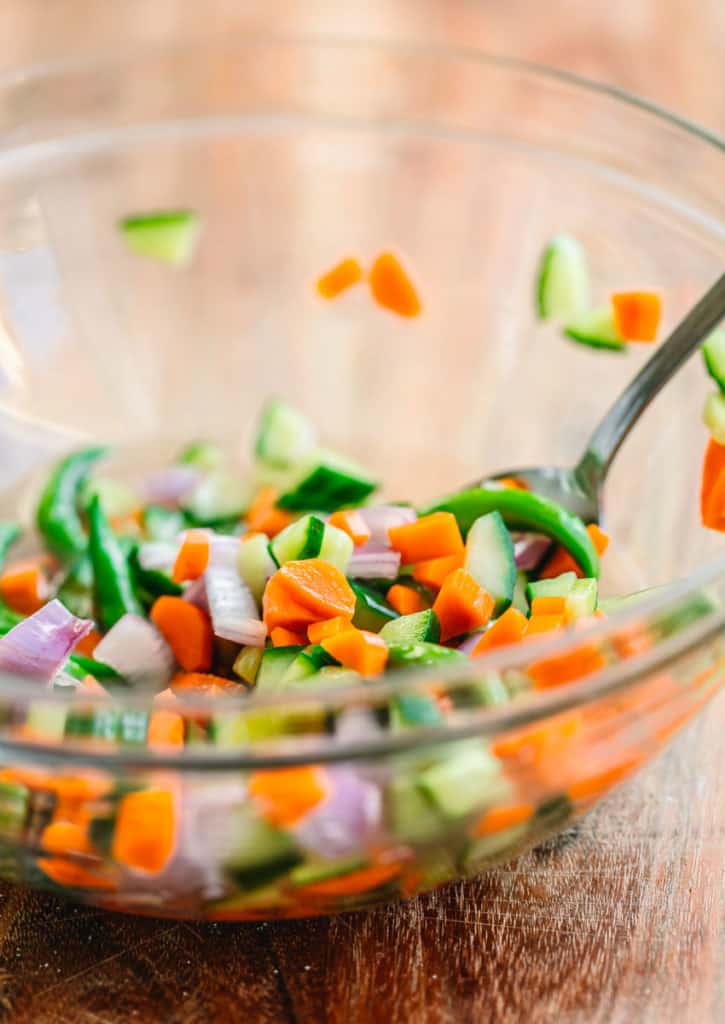 Why You Should Try Acar Timun:
Atjar or Acar is a type of pickle made with fresh cucumber, carrots, fresh green chilies, shallots and seasoned with white vinegar, salt, and sugar. It has the perfect balance of sweetness and tanginess. And because of the unique flavors, Acar timun adds a refreshing hint to any dish and bring any meals to the next level.
In Indonesia, Acar can be made in several different ways. Some recipes may add turmeric spice or lemongrass as one of the ingredients.
But today, I am going to show you the most basic but yet delicious Acar recipe. You can make this Indonesian pickle from simple Asian ingredients that you can find in your pantry or local markets.
Also, try this delicious Tomato Cucumber Salad recipe.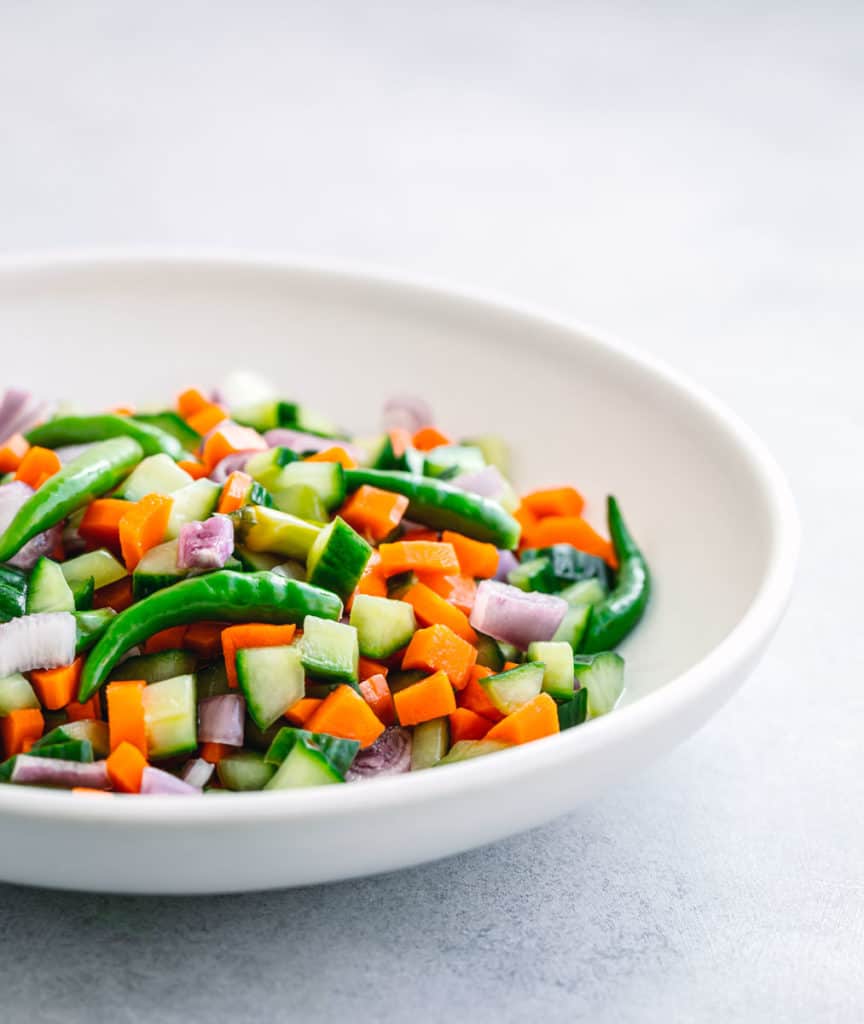 Check out more Asian recipes: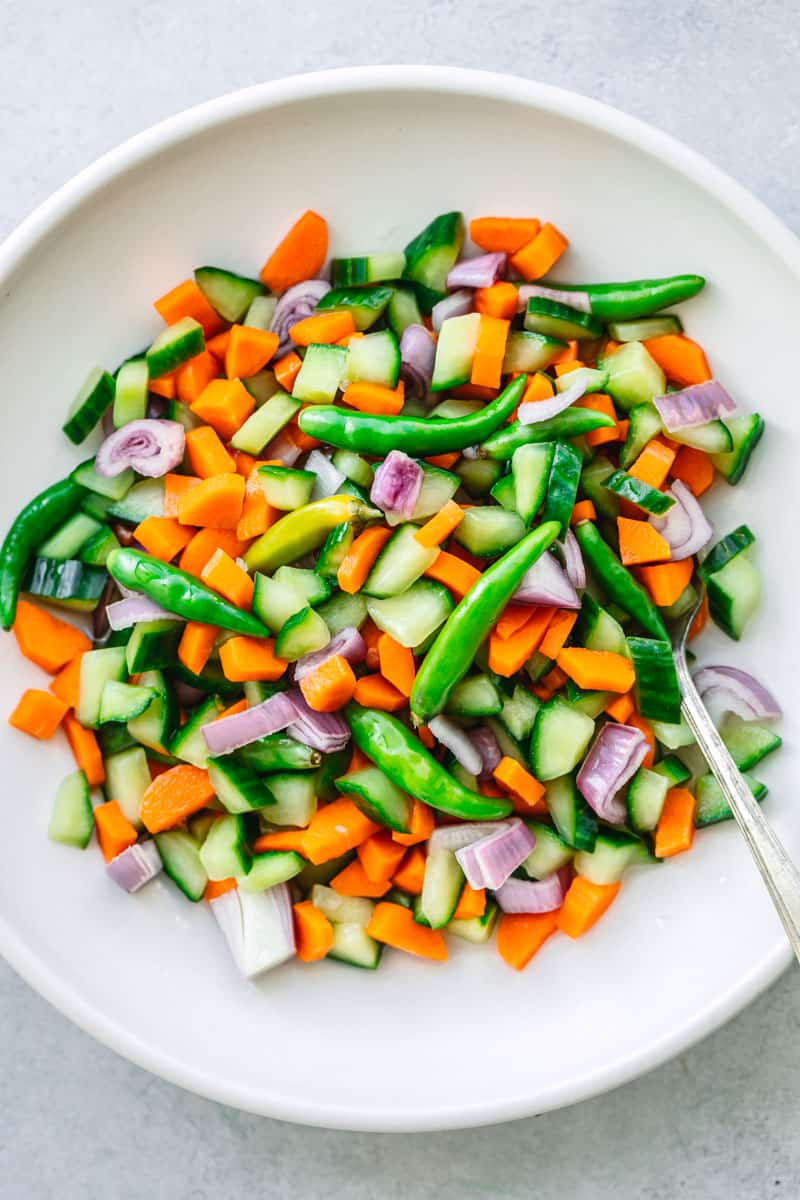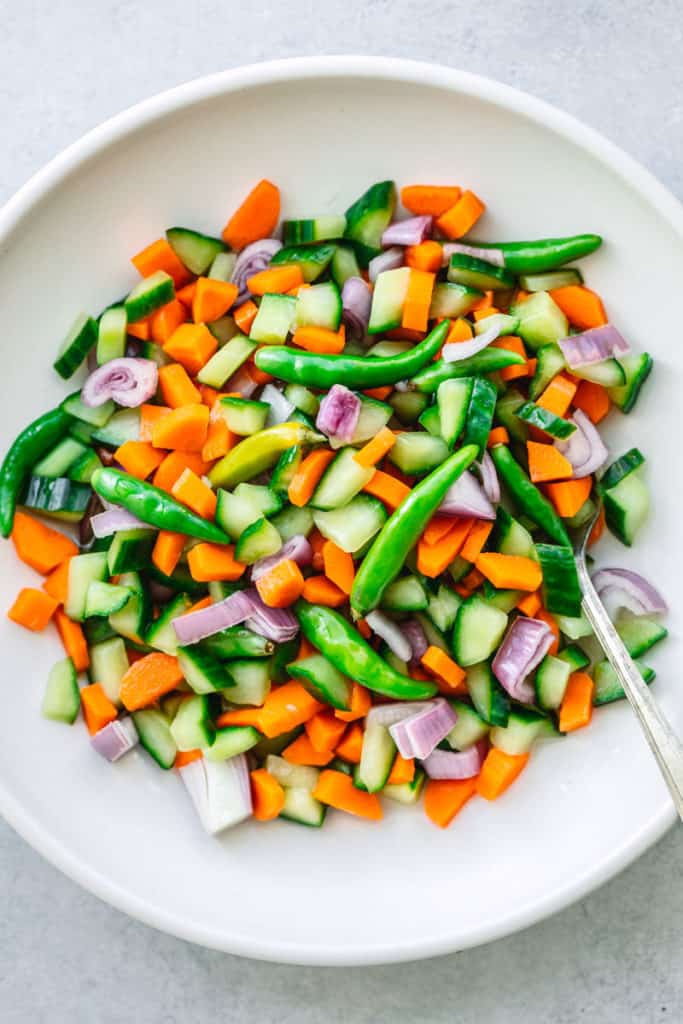 What Indonesian Pickled Cucumbers Taste Like?
For those who never tried Indonesian Acar before, it's actually quite similar to Thai achat. Thai achat is commonly found at any Thai restaurant to accompany Thai Satay. It's also comparable to Vietnamese Pickle that you can find on Banh Mi or Vietnamese Sandwiches but much less sweet.
How Spicy Acar Ketimun is?
Dislike spicy food? Well, don't worry. Even though this recipe called for fresh green chili pepper as one of the main ingredients, this pickle is not considered a spicy food. The fresh green chili peppers are added as a whole, therefore, they won't add heat to the pickle.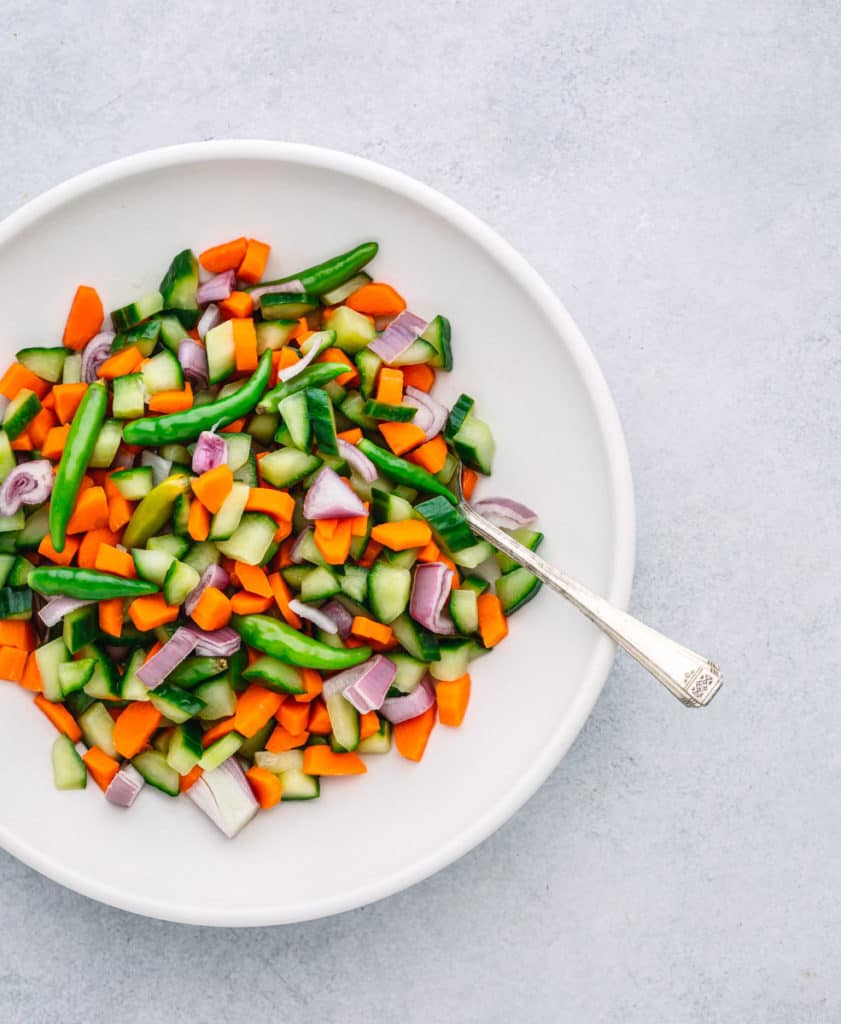 How Sweet Atjar Is:
Some people enjoy a sweeter Atjar but some prefer the tangy flavor. In this recipe, I only added a small amount of sugar. You are free to add a bit of extra sugar to this recipe according to your taste.
Please note that Acar Timun tastes better after you keep in the fridge for hours before serving. And during this wait time, the vegetables will also absorb more flavors, meaning that it will have a stronger taste finish. So do not overboard with seasoning.
What to Serve with Atjar:
Enjoy this Indonesian Pickled Cucumbers with FRIED RICE RECIPE WITH EGG, HAM, AND SHRIMP or NASI GORENG RECIPE (INDONESIAN FRIED RICE
Make-ahead Indonesian Pickled Cucumbers and Storage Info:
Acar Timun can be made ahead in bulk and stored in an airtight glass jar in the refrigerator for up to a week.
Soaking Cucumber with Salt:
To make this pickled cucumbers recipe, you don't need any special equipment. It is relatively easy to make. However, there is one important step to follow. Soaking the cucumber with salt. Salt has a strong ability to absorb water from its surroundings and it controls fermentation by stopping spoilage.
📖 Recipe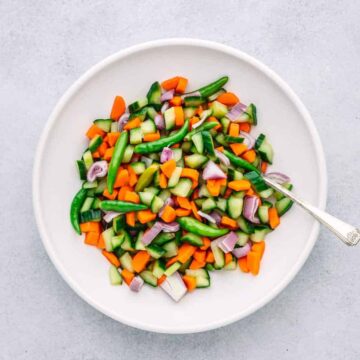 Acar Ketimun Recipe (Indonesian Pickled Cucumbers)
Craving for some fresh vegetable pickle? Try this the most famous condiment that is originated from Indonesia.
Ingredients
1¼

cups

chopped cucumber

,

(remove seeds)

¼

cup

diced carrots

,

(peeled)

¼

cup

shallots (cut into small bite pieces)

,

(peeled)

15

pieces

Thai Chilies

,

(remove stems) - add more according to your liking

1

teaspoon

salt,

(for soaking)
For Pickling:
2½

tablespoon

white vinegar

1 - 1.5

tablespoon

sugar

,

(add more according to your liking)

¼

teaspoon

salt,

(add more according to your liking)

⅓

cup

hot water
Instructions
Mix cucumber, carrots, and 1 teaspoon of salt for about 10 minutes. Rinse and drain well.

In a medium bowl, add cucumber, carrots, shallots, and Thai Chilies. Pour in hot water, white vinegar, sugar, and ¼ teaspoon of salt. Stir to ensure everything is evenly coated. Adjust seasoning if needed.

Allow to cool to room temperature and transfer to an airtight glass jar, put in the fridge for at least 4 hours before serving. This Acar will stay fresh up to a week in the refrigerator.