Crispy Indonesian corn fritters, known as Perkedel Jagung or Bakwan Jagung. It's the perfect summer snack that tastes delicious and can be made with fresh, frozen or canned corn kernels.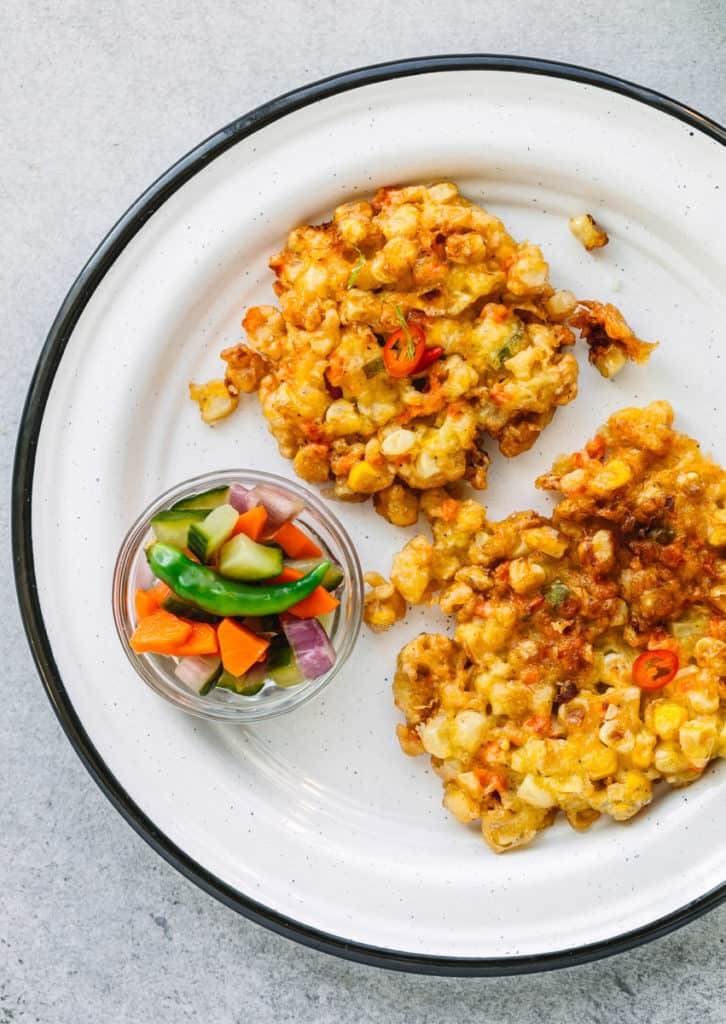 Corn is a must-have fresh produce in the summer months. It's sweet, and juicy and is a staple ingredient for many recipes ranging from soup to salad to bread. If you are looking for recipes using corn, don't wait to try this Indonesian Corn Fritters - Perkedel Jagung.
Jump to:
Corn Fritters - Perkedel Jagung:
Corn fritters are not only popular in the United States but also in Indonesia. This sweet and savory snack is known as Bakwan Jagung or Perkedel Jagung. Bakwan Jagung or Perkedel Jagung is one of the most famous street foods throughout Indonesia and is popular in the mornings, and daytime and also makes for a great late-night snack.
Corn Fritters (Bakwan Jagung) - A popular Street Food in Indonesia:
Corn fritters can be served in a variety of ways in Indonesian cuisine. As mentioned, you can find corn fritters at most street food vendors. It's usually sold as a snack along with other fried foods, such as tempeh, tofu, banana, and root vegetables.
When served as a snack many people like to eat corn fritters with some fresh chili peppers. It's not unusual to also serve the corn fritters with sambal (a tomato-based sauce, like ketchup). But my favorite way to eat corn fritters is with this refreshing Acar Timun (Indonesian Pickled Cucumber).
If you don't like anything spicy, feel free to serve these Perkedel Jagung with any dipping sauce.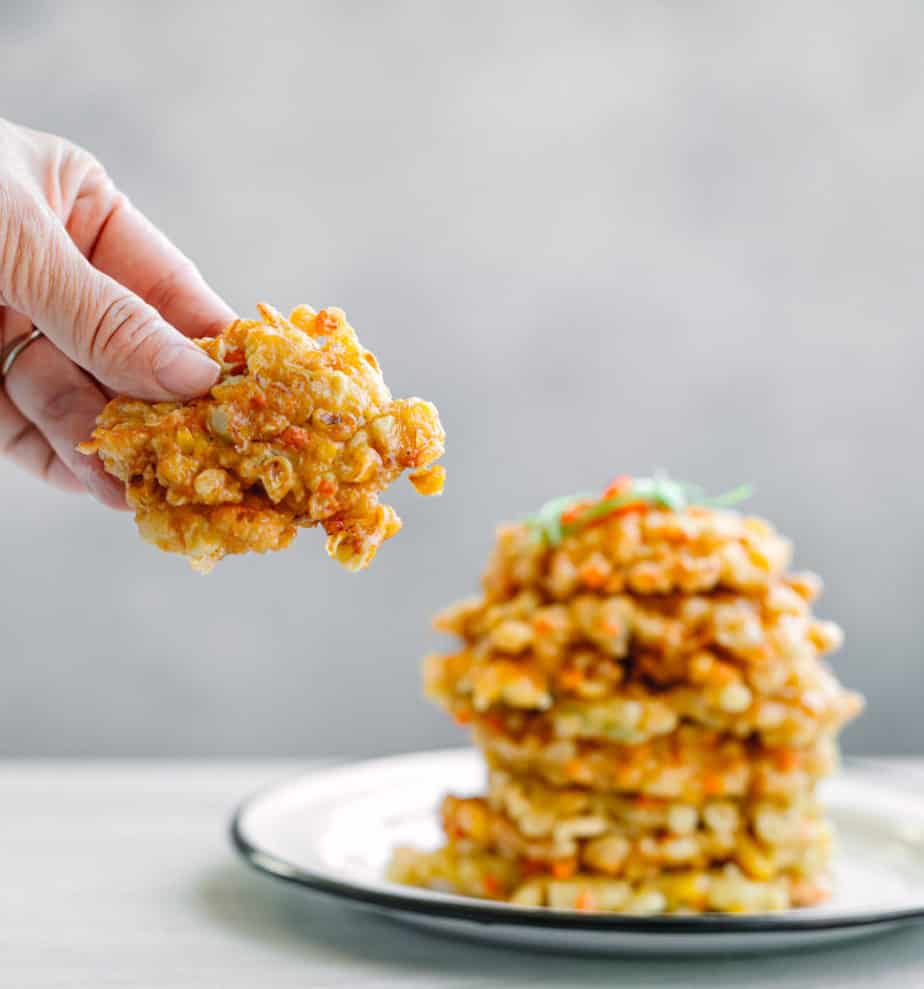 You can also find corn fritters at most Javanese restaurants. It's sold as a side dish to accompany the main meal.
Today, I am going to show you how to make these golden-brown corn fritters, Indonesian-style. Don't worry, the recipe is actually quite similar to most corn fritters (southern-style) recipes that you often find on the internet. You won't need to use any special equipment to make this Bakwan Jagung. And, the good news is that you can find all of the ingredients at almost any grocery market.
Indonesian Corn Fritters Ingredients:
To make these fritters, you will need fresh corn, flour, egg, green onion (or spring onion), carrots, shallots, garlic, and a simple seasoning with salt and pepper.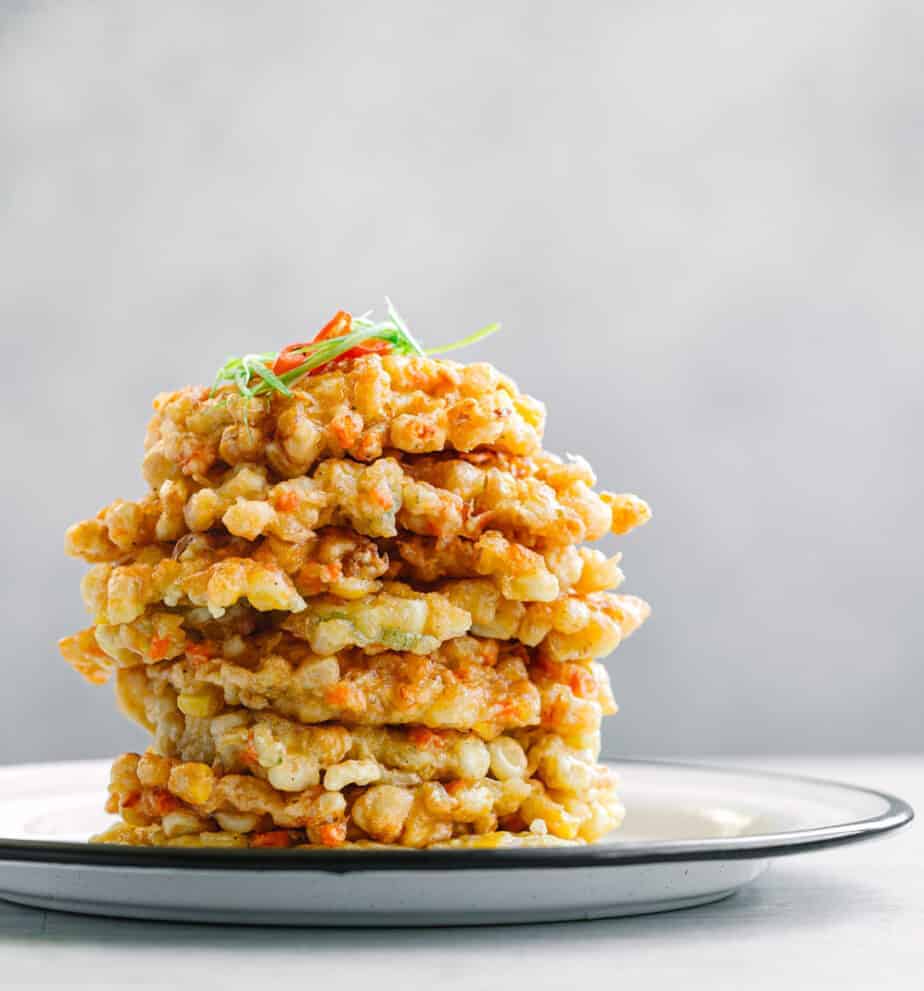 Optional: Feel free to add a pinch of sugar if you like the corn fritters sweeter.
In Indonesia, it's very common to use a combination of wheat flour and rice flour. For this recipe, however, I am just using regular, all-purpose flour because it is easier to find and tastes just as good as the one with rice flour.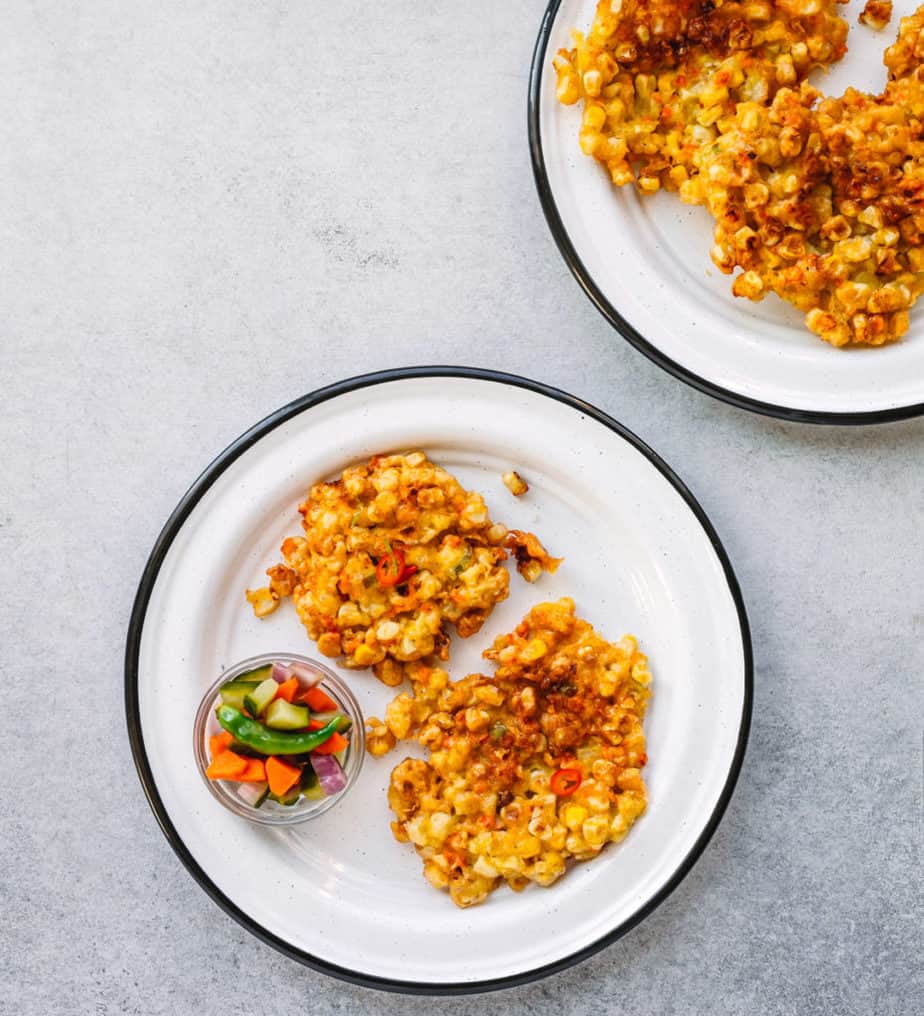 Tips to Make the Indonesian Corn Fritters:
First, you need to cut the corn off the cob.
The best way to cut the kernels is by placing the tip of the cob in the center hole of the bundt cake pan (or tube pan). Once secured, you can use a sharp knife to cut down the sides of the corn. The kernels will then fall into the pan, not scattering everywhere.
Use the right heat.
To prevent burning, you may want to bring the oil over high heat, then reduce it to medium heat to prevent the fritters from getting brown too quickly.
Use a regular spoon or cookie dough spoon to put the batter into the pan. Be sure to flatten the batter lightly with the back of the spoon. You should be able to cook 4-5 similar-sized fritters at the same time.
Don't forget to transfer the cooked fritters to a paper towel-lined plate to remove the excess oil.
📖 Recipe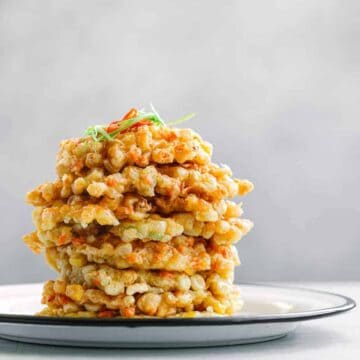 Indonesian Corn Fritters - Perkedel Jagung
Crispy sweet and savory corn fritters. The perfect summer snack that tastes delicious and can be made with fresh corn or frozen corn kernels.
Instructions
Cut the corn off the cob.

In a medium mixing bowl, beat the egg with a fork until the white and yolk are combined, add chopped shallots, chopped garlic, chopped green onion, chopped carrots, salt, and pepper. Mix well until well combined, then add corn kernels, flour into the mixture, stir to combine everything thoroughly.

Heat the oil in a large deep skillet at high heat. Once hot, reduce the heat into medium heat.

Drop fritter batter by spoonfuls into the hot oil. Flatten them lightly with the back of the spoon, try to make them roughly the same size. Continue frying, and don't forget to flip them as to cook them to a nice brown on both sides. Depending on the thickness, you may need to cook the fritters about 2-4 minutes on each side.

Remove the fritters from the heat and transfer them to a paper towel-lined plate.

Repeat the process until you finish the batter.

Serve and Enjoy with your favorite dipping sauce.