Stir Fry Tempeh with Kale Tomato Sauce
Tempeh is one of the best soy products and is a tradition Asian soy dish from Indonesia. Tempeh is one of the healthiest foods as it is high in protein, high in fiber and so much more. Some of its healthiest contents are large amounts of folate, vitamin K, calcium, magnesium and iron. Its suitable for a vegan diet, and gives a nice hearty consistency that's very different from tofu which is a nice way to mix it up for those who don't eat meat. Replacing meat and dairy with tempeh and other soy products can also lower total cholesterol intake by about 125 milligrams per day, and lower saturated fat by about 2.4 grams per day according to WHFoods.com.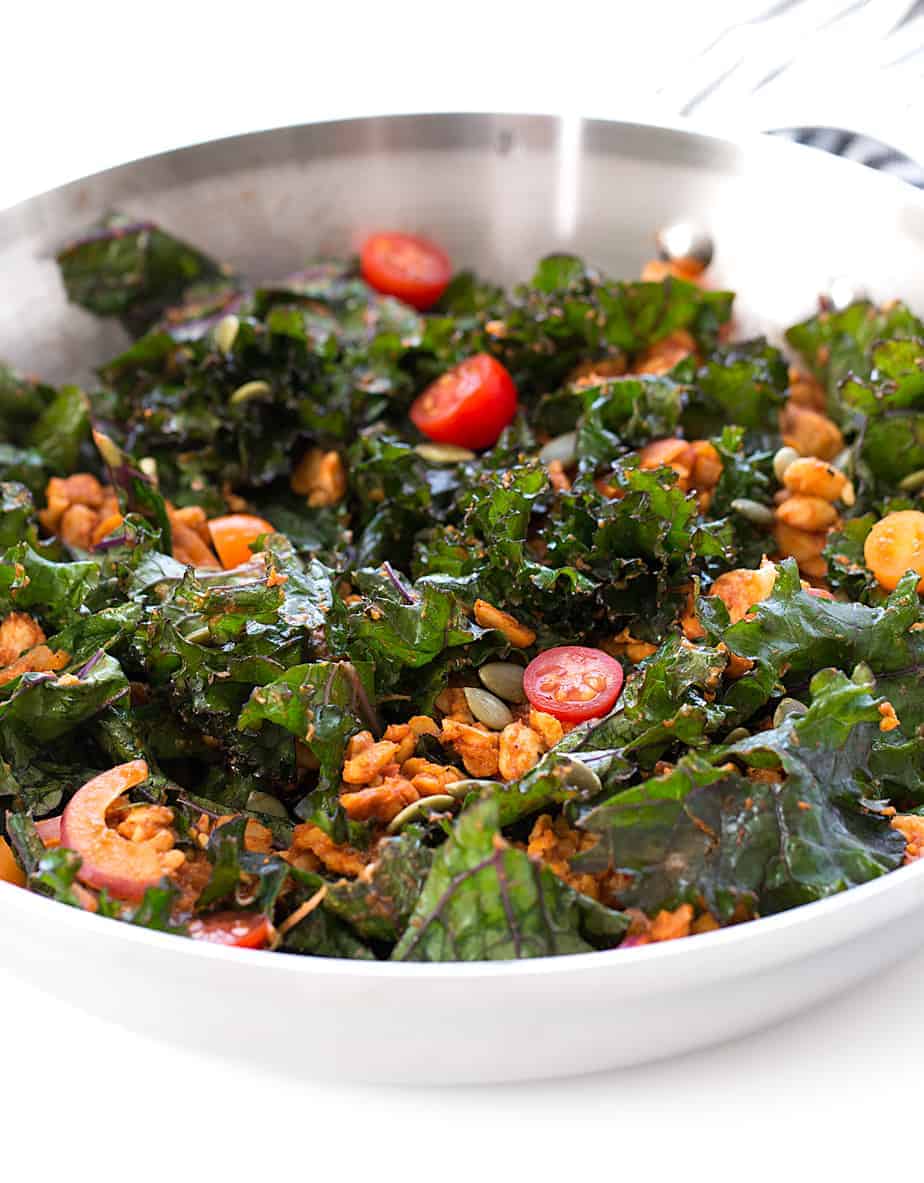 Cooking tempeh can be tricky and challenging. In Indonesia, people often fry tempeh until it's crisp, then eat it with sambal or fresh chilies and prepare it as a main meal. You can buy tempeh at Asian markets or healthy food stores like Trader's Joe, Jimbo's, Sprout's and Whole Foods. I usually buy some organic Tempeh from my local Trader's Joe because the quality is pretty good and price is much cheaper than competitor stores (around $1.99 per package).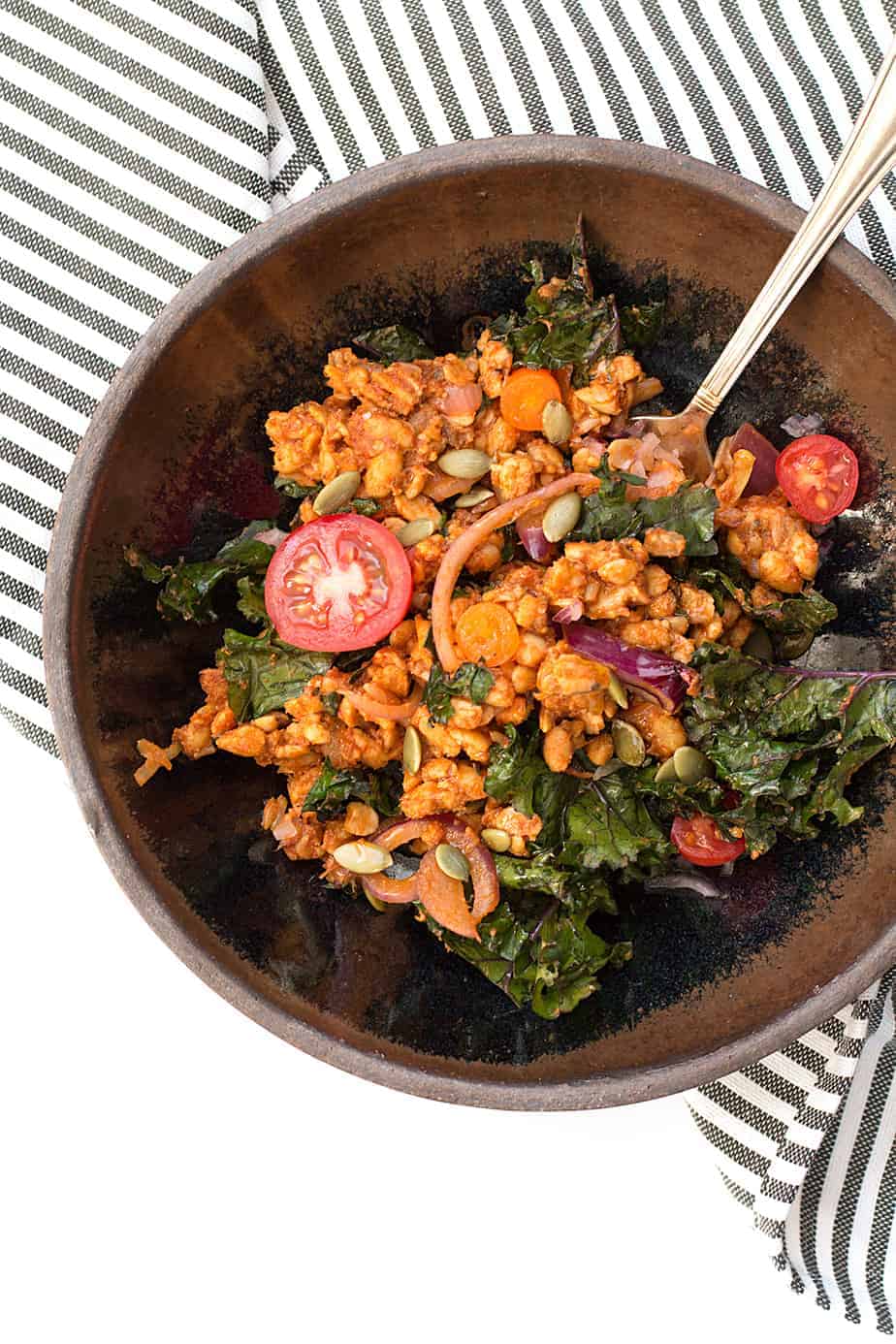 Today I am going to share a tasty tempeh recipe: Stir Fry Tempeh with Kale, Tomato Sauce and Curry. This recipe offers a significant amount of antioxidants and is also low in carbs. Tomato sauce contains lycopene and vitamins, providing antioxidants that protect your body's tissues from damage. The curry spice mix also offers valuable health benefits including anti-inflammatories and toxin removers, plus it protects the immune system against heart disease and cancer.
I hope you'll enjoy this easy tempeh recipe! I can't wait to share more healthy tempeh recipes with you again soon, they are a personal favorite of mine.
📖 Recipe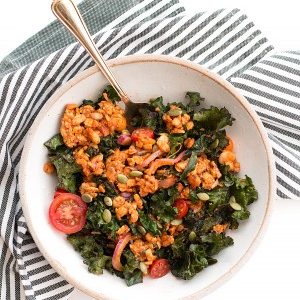 Stir Fry Tempeh with Kale Tomato Sauce
Ingredients
1

tablespoon

coconut oil

1

pieces

package organic tempeh

,

break it apart into small

⅓

cup

red onion

,

sliced

1

teaspoon

curry powder

,

unsalted

1

teaspoon

cumin powder

a pinch of black pepper

salt,

according to your liking

⅓ - ⅔

cup

organic tomato sauce

,

unsalted and unsweetened

2-3 cups

fresh kale

optional

garlic
Instructions
Heat a large heavy skillet over medium-high heat

Add coconut oil to the skillet, swirling to coat

Add tempeh and stir-fry for about 3 minutes

Add red onion and stir fry for about 2 minute. Add the optional garlic and stir for 10 seconds.

Add cumin powder, curry powder, black pepper, salt and tomato sauce. Stir fry for about 2-3 minutes

Add kale and stir fry for about 1-2 minutes