In partnership with SpringHill Suites Springdale
Looking for the best place to stay for Zion National Park? SpringHill Suites Springdale Zion National Park is one of those magical hotels that we longed to get back to as soon as we were driving away. I know we will return again as it is the best place to stay for a visit to Zion National Park. We were fortunate to shack up there while heading through Zion and Bryce Canyon as part of our road trip through the American Southwest. Utah amazed us, with Zion and Bryce Canyon being absolute favorites. We've been to a lot of National Parks over the years, but Zion may be the most beautiful we've ever seen. It sometimes seems as though Colorado and of course my home state of California seem to get all of the attention, but after this trip I'd put Utah up against any other state as a top vacation destination. The SpringHIll Suites Springdale was the perfect respite on this inaugural trip.
Usually a stay in or near a national park has barebones amenities and is just someplace to breathe in the air, look at the pics from earlier in the day and grab some z's. But the SpringHill Suites Springdale experience was serene and elevated. With stellar views all around, we enjoyed our surroundings into the afternoon and night, soaking up the mountains from our room's balcony, poolside, and while walking the peaceful grounds.
SpringHill Suites Springdale is The Best Place to Stay for Zion National Park:
I think my pics showing the SpringHill Suites Zion National Park location will speak for themselves, but there are other reasons why this hotel should be on your list of best places to stay for Zion National Park. Here are a few of them:
- Pool & Spa Area: After long hikes in the hot sun, there's nothing better than a dip in a pool and hot-tub. The SpringHill Suites Springdale pool is spacious, heated, and has an adjacent play-zone water area for the little ones. The pool was stocked with noodles, balls and other fun floaty stuff. The pool was so good we could leverage nightly swim time to get our kids to behave each day. The hot-tub was large and actually hot, something that other hotels often miss the mark on. It was fun to catch up with other vacationers each night in the hot-tub and compare hiking stories and restaurant tips.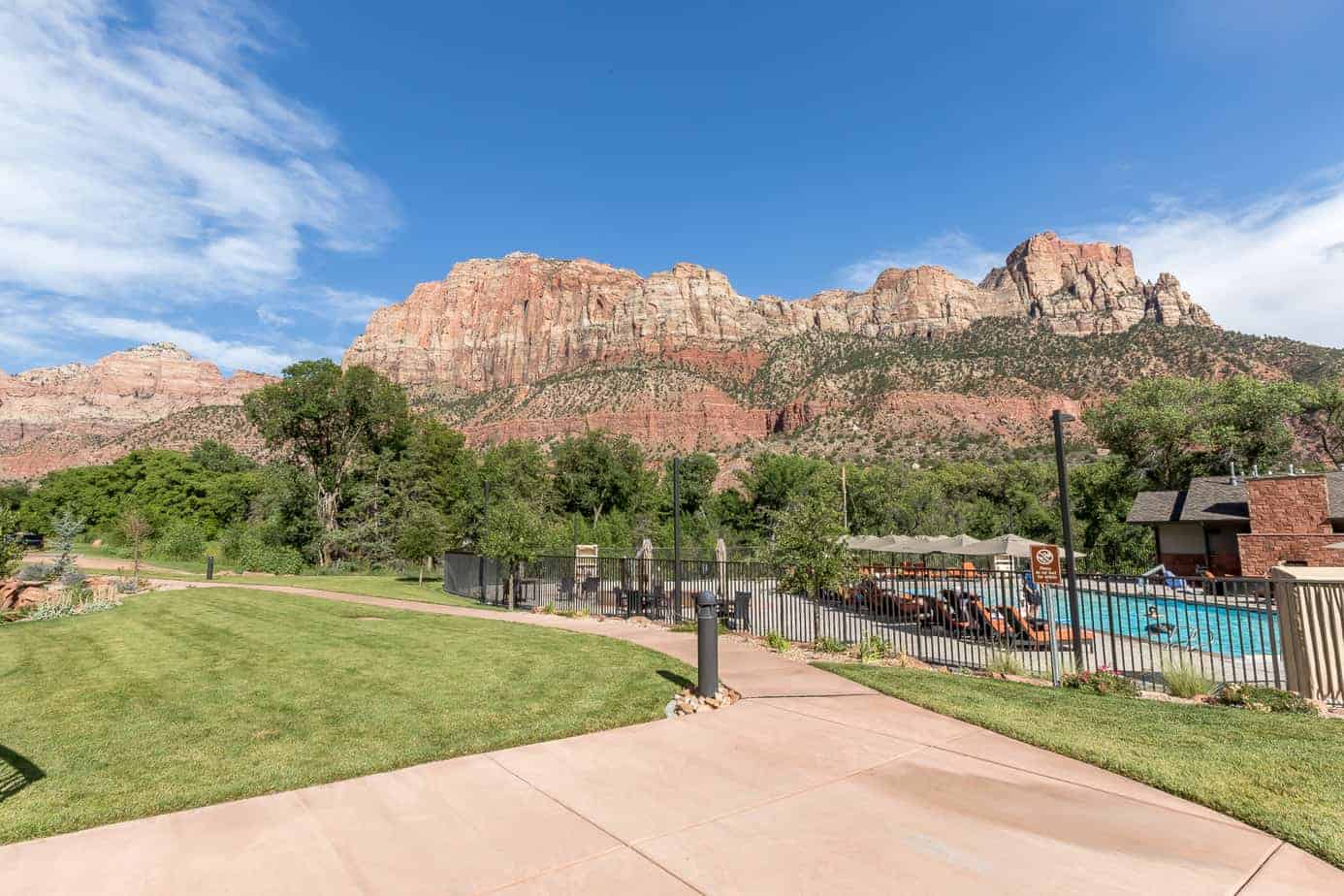 - Beautiful Lobby and lounge: The main building where we checked-in was also the setting for a free breakfast buffet each morning. It was classier than what comes to mind when I think of a free hotel breakfast, from spinach and sausage eggs to my favorite Greek yogurt. The beautiful vaulted wood ceilings look to be about 40 feet tall, and the floor to ceiling windows give perfect view of the nearby mountains. A huge patio is right outside, which is where I was sure to find my parents each morning and night, taking in the extraordinary views of Utah. We had fun mixing it up and playing pool in the lounge area, and there were other nice extras there like fruit infused water.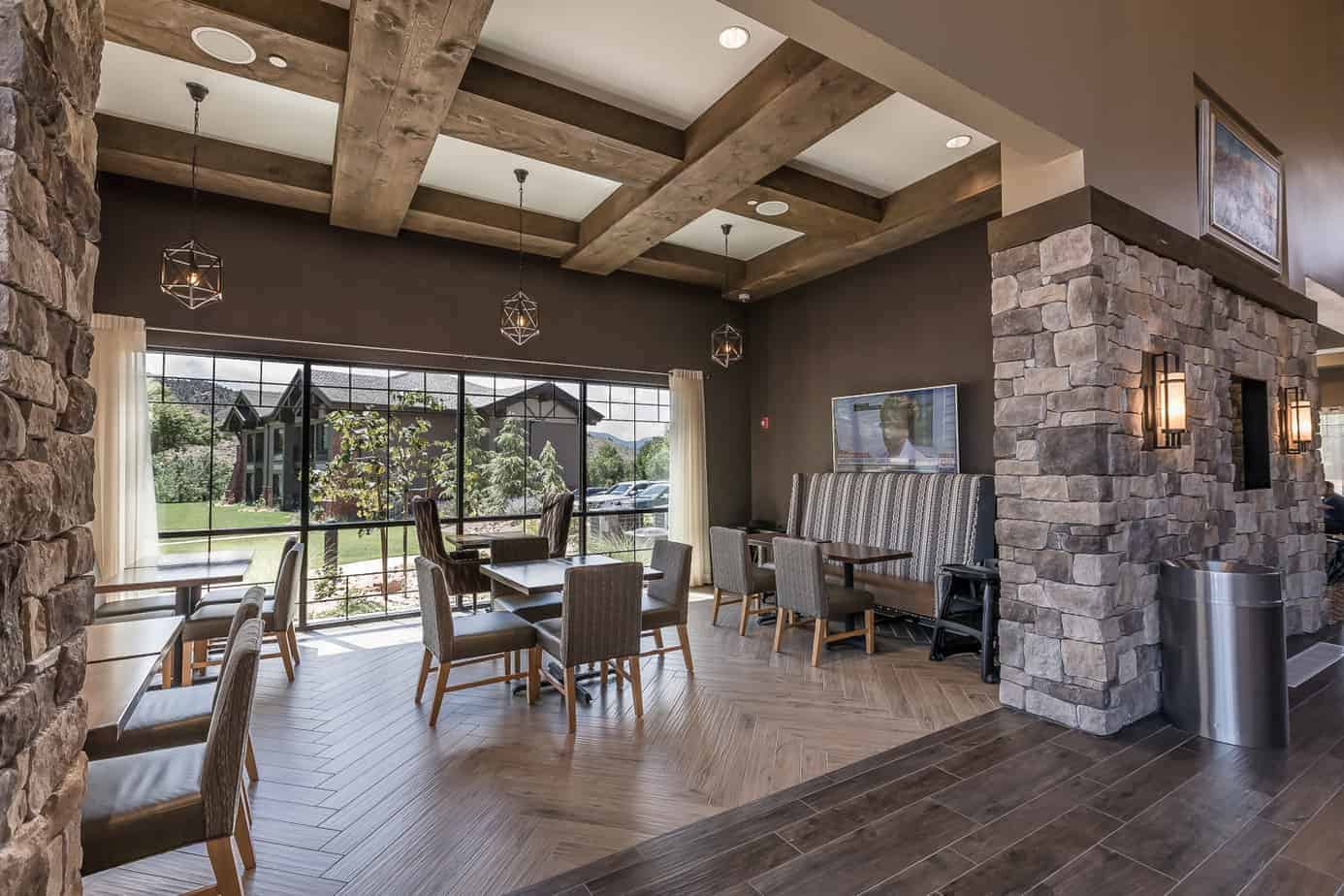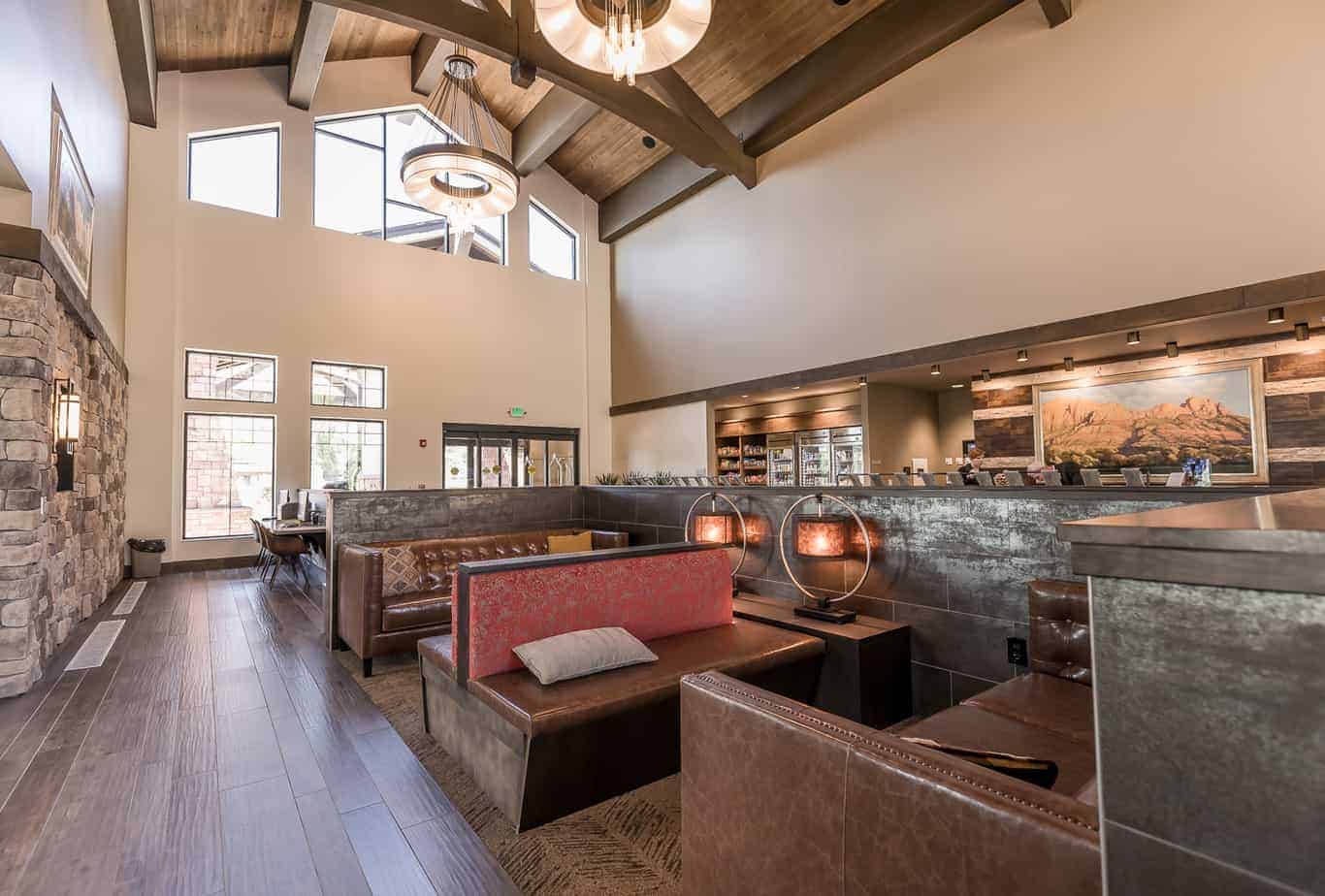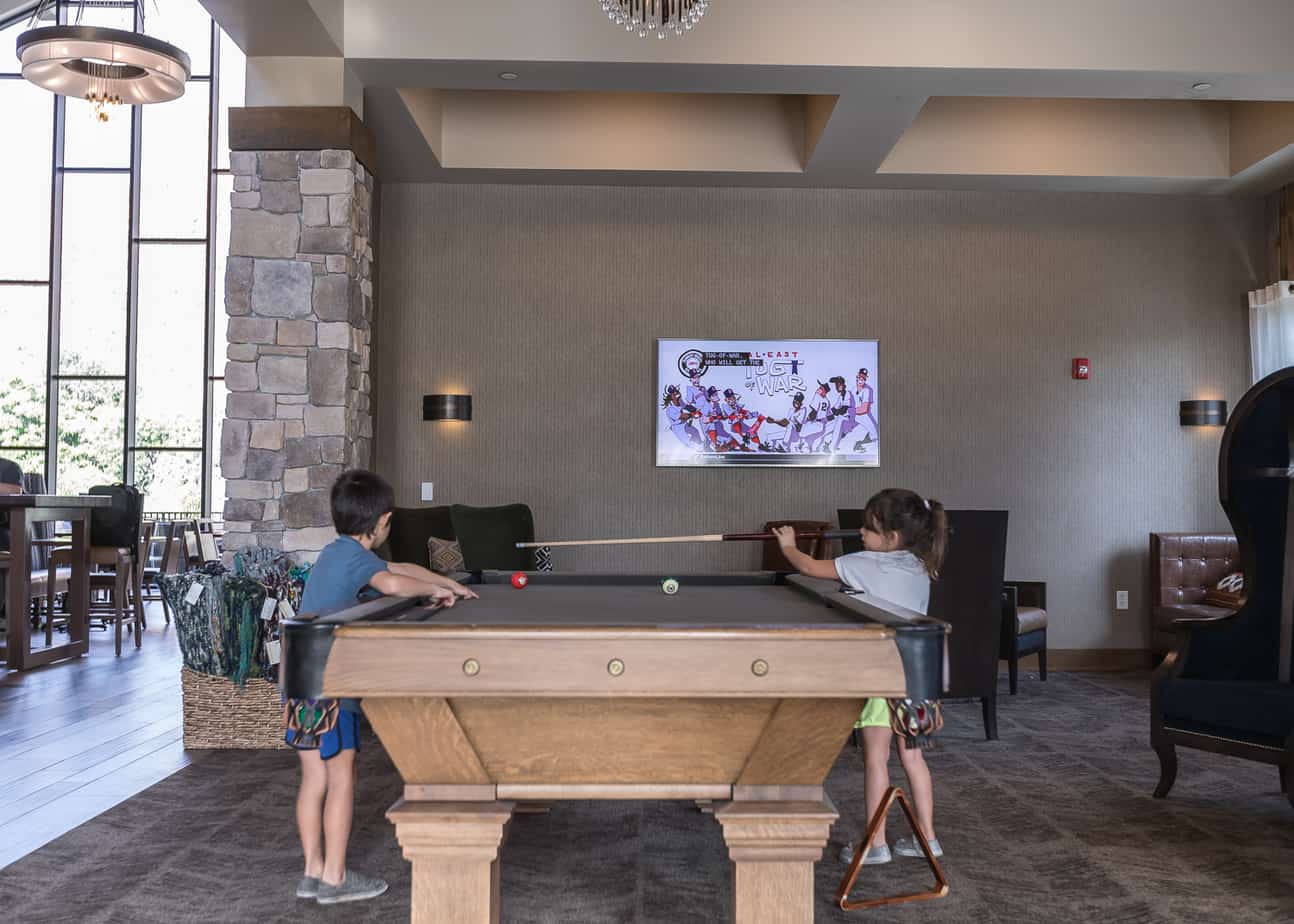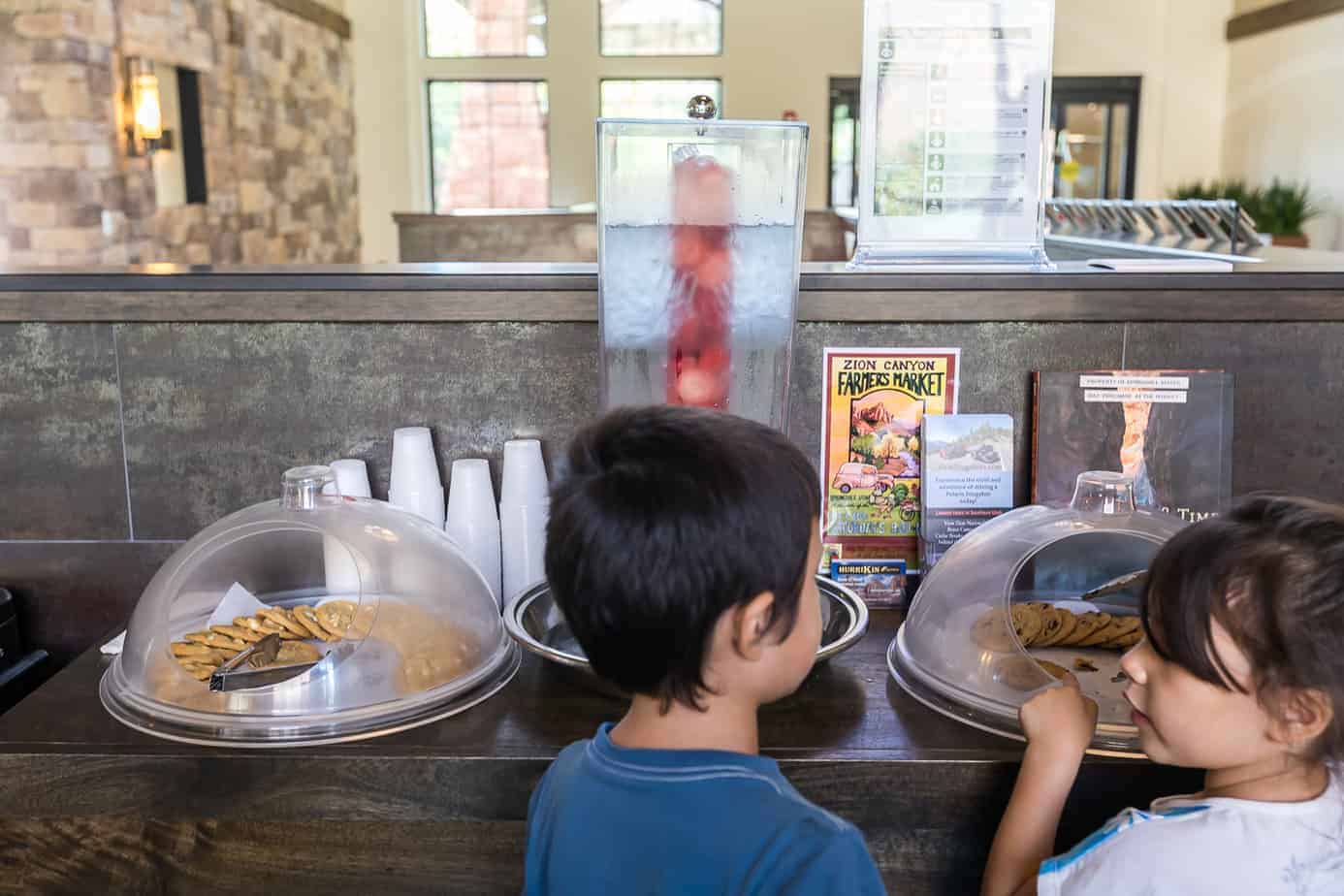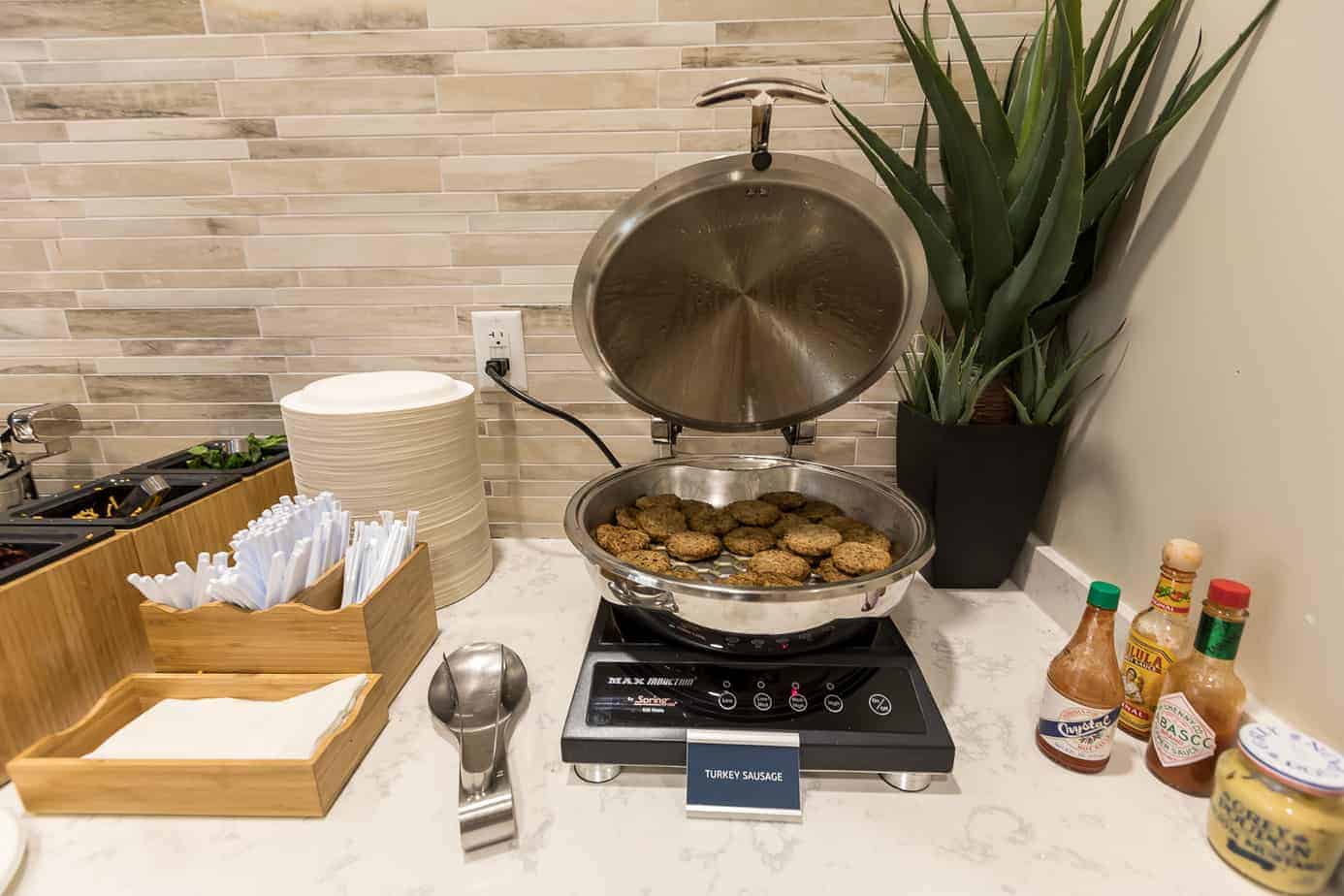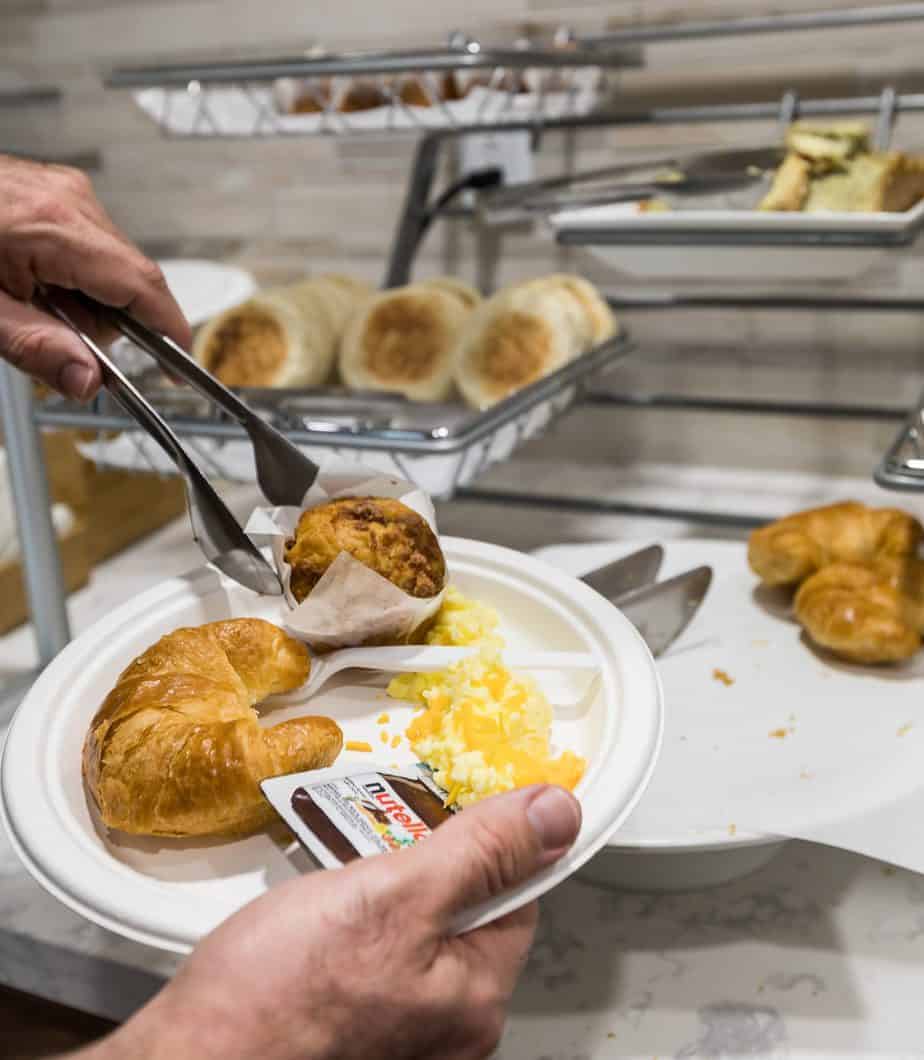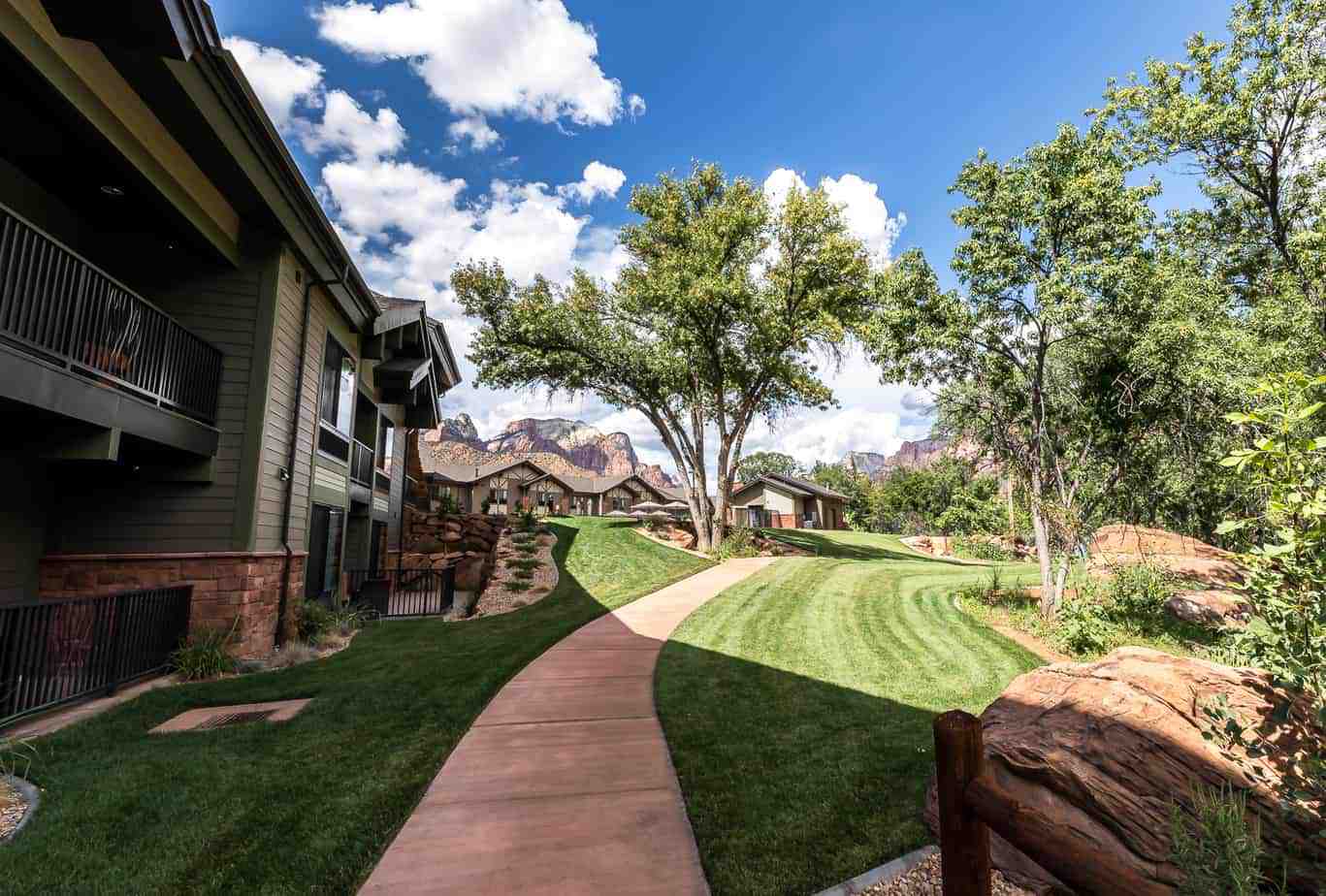 - Kind and helpful staff: Staff at the front desk and elsewhere in the hotel were a mix of locals and transfers that had gravitated to the area for all the right reasons (mostly nature buffs that spend their off-hours venturing around Zion, Bryce, and other nearby outdoor playgrounds for outdoor enthusiasts). They had a wealth of information on every hiking option on the map, which we found especially helpful as we had the limitation of hiking with two small kids, yet still wanted to trails with water, panoramic view, etc.
- A newly built hotel with huge, modern rooms: SpringHill Suites Springdale is a newly constructed hotel and one place that really shines is the rooms themselves. From the carpets to the furniture to the extras in the room (like the two huge flatscreens) it felt upscale yet comfortable. The bed, pillow and sheets were heavenly each night. Our suite was massive too, with a living room (equipped with a pullout bed) that was completely separate from our bedroom. There was even a huge walk-in closet that easily held all of our suitcases. As for the bathroom, it was spacious and spa-like. I loved coming back to that after roughing it in the slot canyons during the day!
I snuck in a quick workout in their modern gym. It's simple but effective and not cramped. Nice modern equipment, too: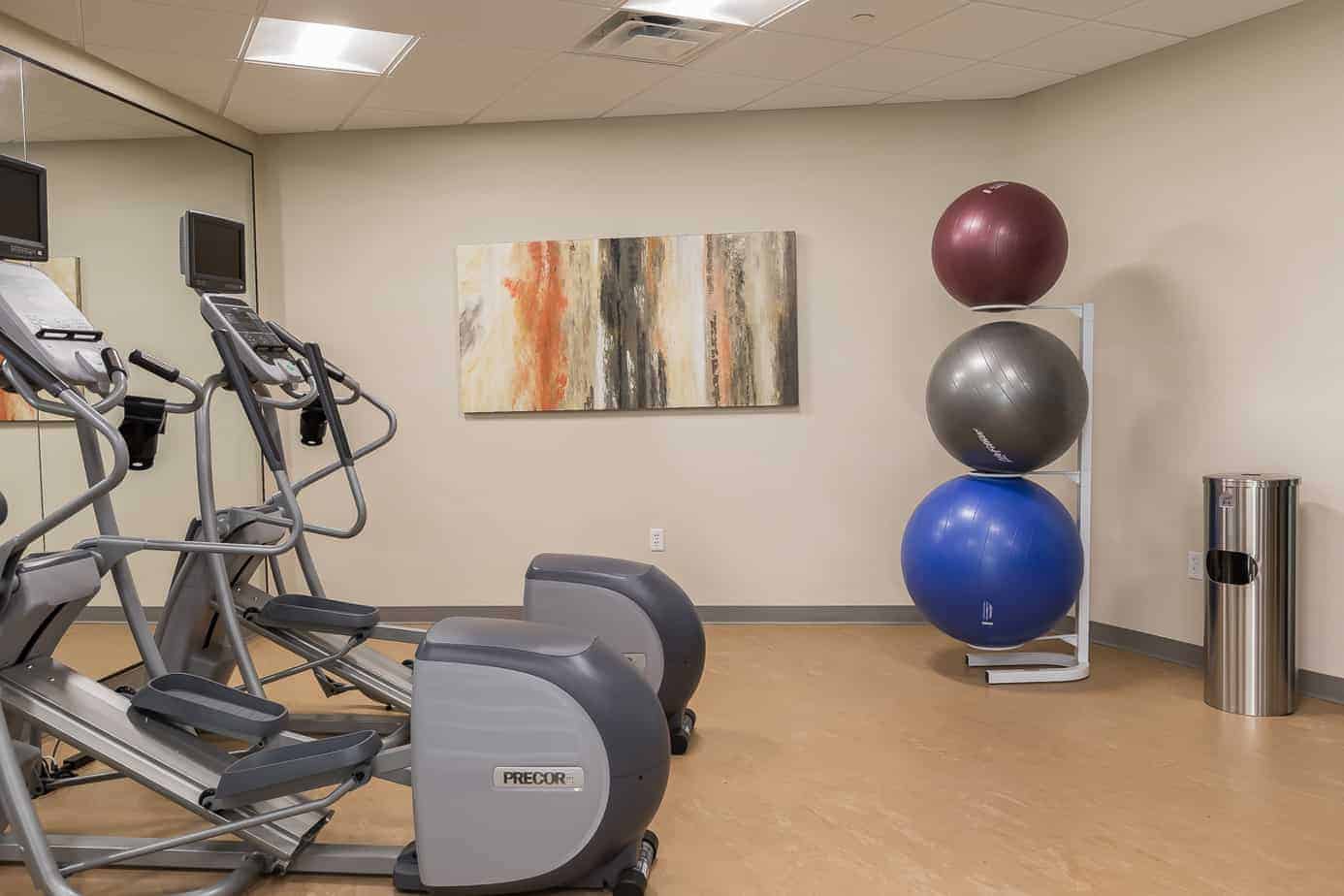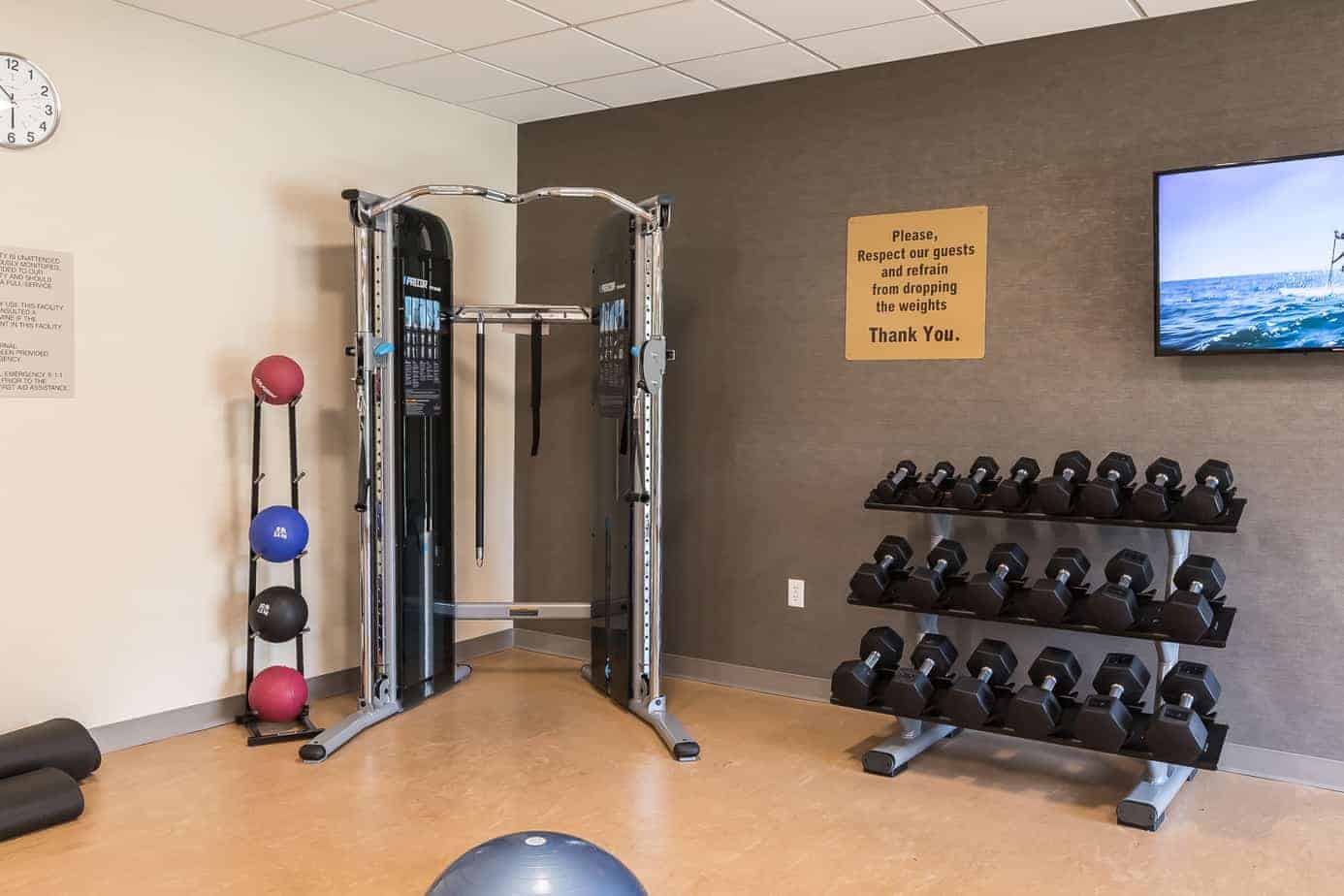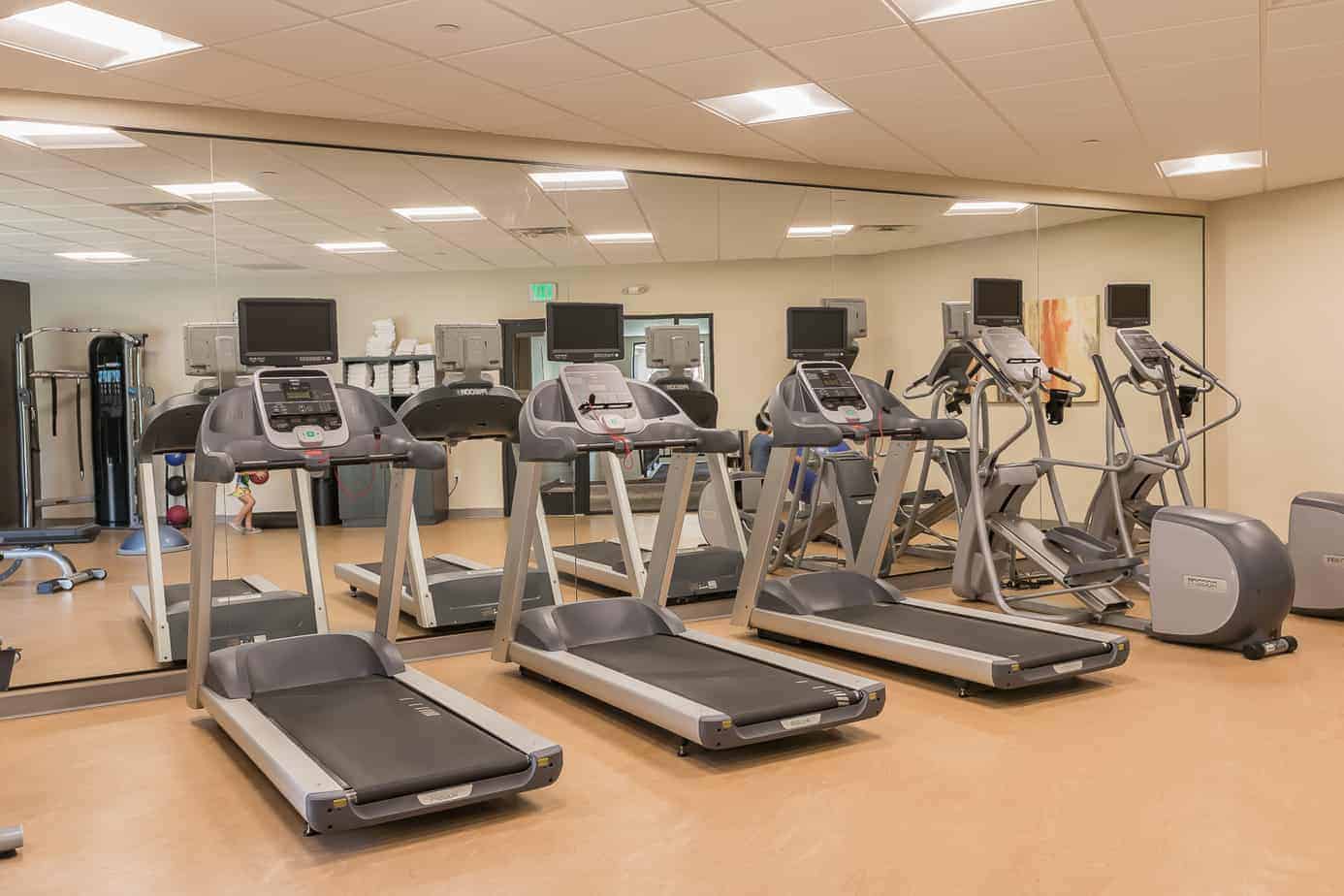 Springdale is an unexpected gem of a city nestled up against Zion – everywhere you see majestic canyons of vibrant colors and unusual contours unlike anywhere else I've seen. It is a charming town with a walkable main street, lined with tasty restaurant options, rock shops, ice cream parlors and even an organic food market. Springdale caters to those visiting Zion, and has a shuttle to the Zion entrance every 10 minutes or so. This express shuttle stopped directly in-front of SpringHill Suites which made things very easy; connecting shuttles drop at precise hiking points throughout the park. Definitely choose Springdale as your home base for your trip to Zion and the surrounding areas, and look no further than SpringHill Suites Springdale, the best place to stay for Zion National Park – this hotel is a destination in and of itself.
SpringHill Suites by Marriott Springdale - Best Place to Stay for Zion National Park