Disclosure: In partnership with Loews Philadelphia Hotel
When discussing with our friends which cities to visit in the northeast most of them quickly mentioned DC, New York or Boston. The "city of brotherly love" didn't get as much love as the other three, but after spending four days of our vacation in Philadelphia we wondered why. Maybe it's because Philadelphia has historically had some grit to it, but we really enjoyed the edge and the pride that was apparent all around the city.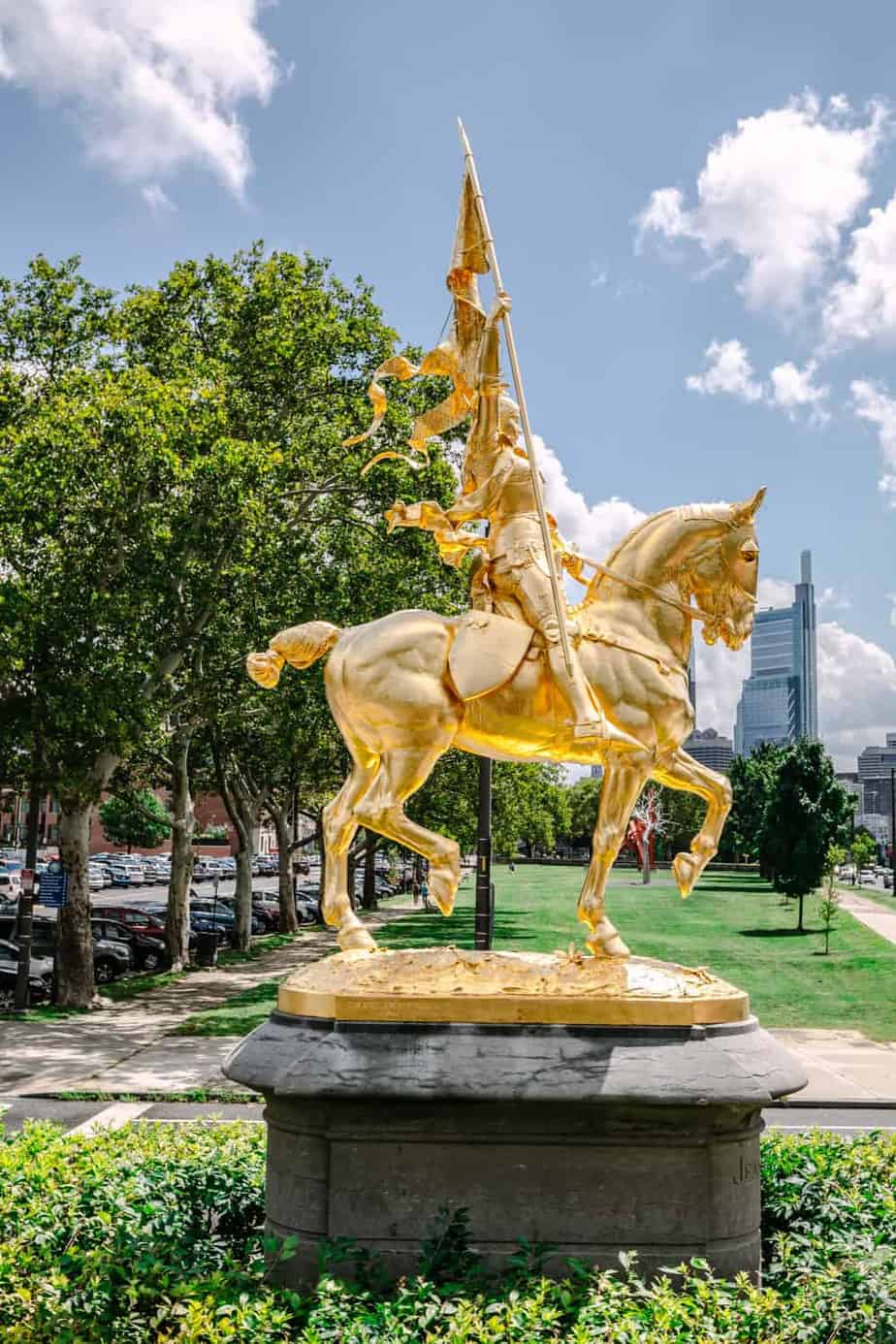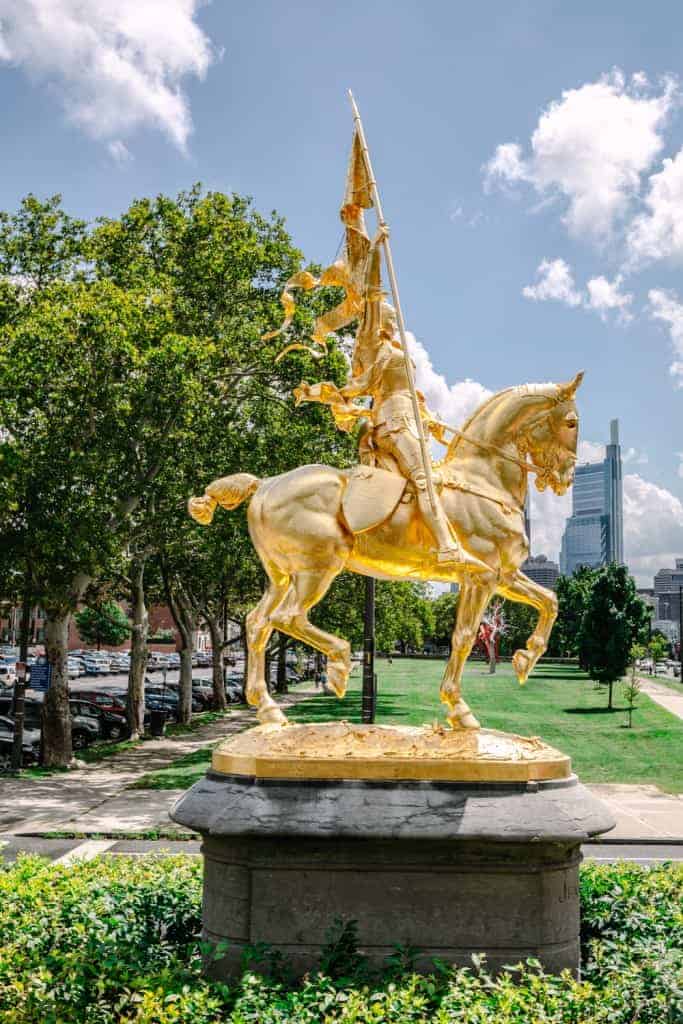 We stayed right in the aptly name City Center area, at the Loews Philadelphia Hotel (whom put us up for our trip). From the art to the history to the city's walkable neighborhoods we found Philly to be nothing short of delightful.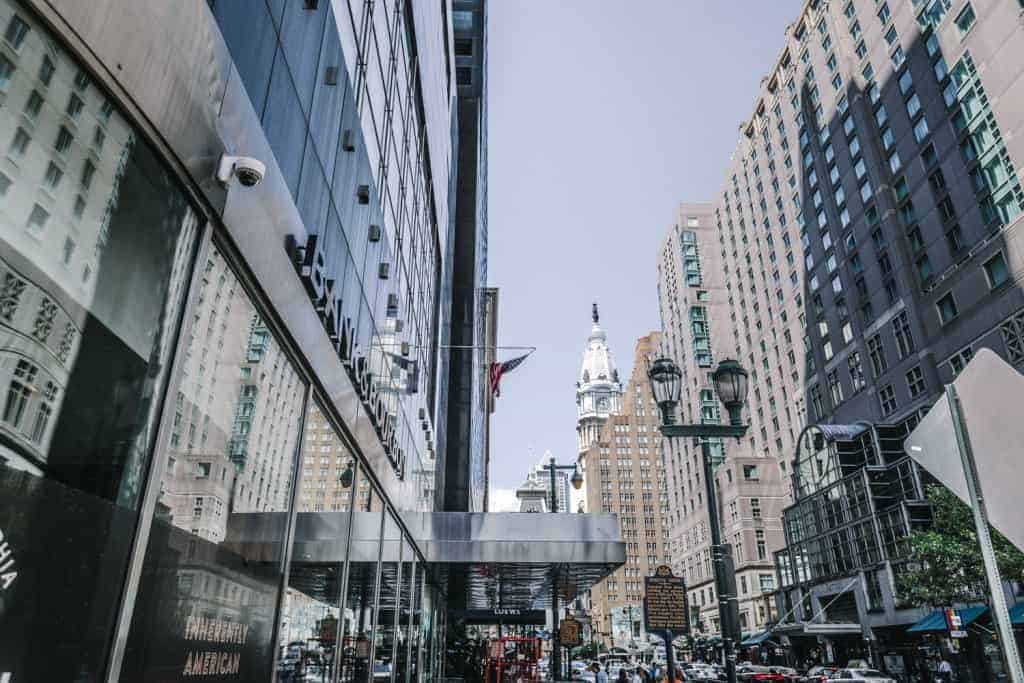 Each of our four days in the city we set off by foot in a different direction, and had an amazing journey every time. This article details those journeys and tells a love story between me and the city of Philadelphia.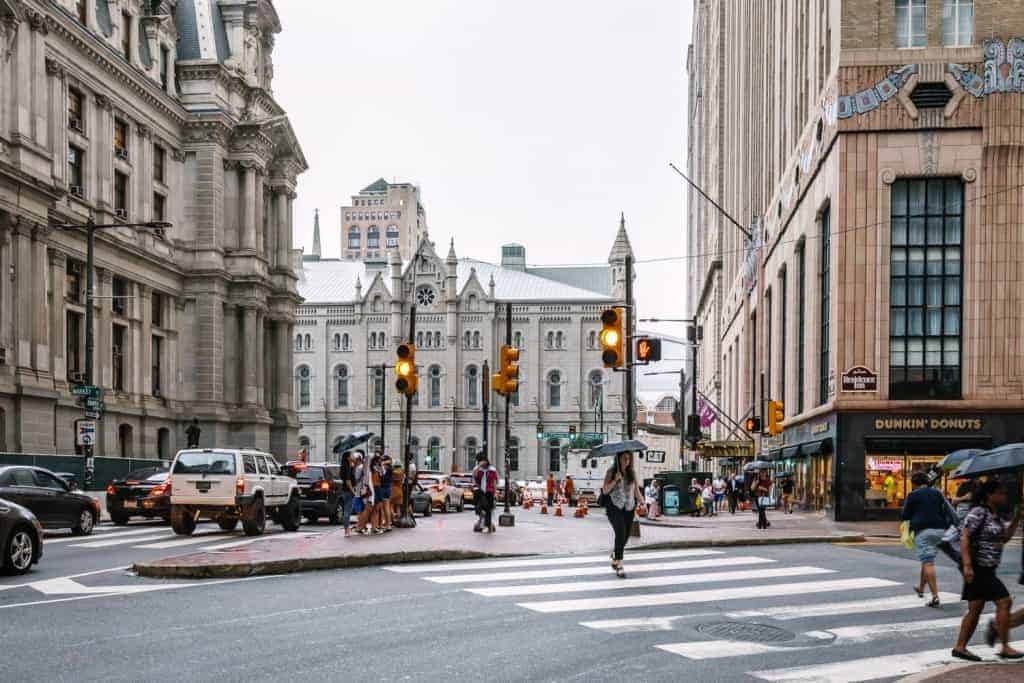 Sometimes I'll visit a city and realize halfway through the trip that I should have stayed in a different part of town, or at least split half of my time on one side of the city and half on the other. That was definitely not the case with our stay in Philly.
City Center was energized with tourists, conference goers, foodies, shopaholics and locals moving about. There's so much to do right there, from the big and familiar like the largest Macy's store I've ever seen, to funky stores with shirts of Rocky, Apollo and other local lore.
The food in the area was on another level, with Reading Terminal Market just steps away from Loews Hotel. We first thought it'd be kind of like Faneuil Hall in Boston where we'd be satisfied and move on after an hour or two, but we actually ended up going to the Reading Terminal Market at least once a day on our trip (it's open morning-til-night).
Of the hotels in Philly, Loews reigns supreme for a number of reasons. First of all, the building itself is rich in history and was the first skyscraper of its type. It was home to the Philadelphia Saving Fund Society (PSFS…the sign still shows on the top of the building) and they've preserved some of the finest elements like the Cartier clocks on each floor and the bank's vault.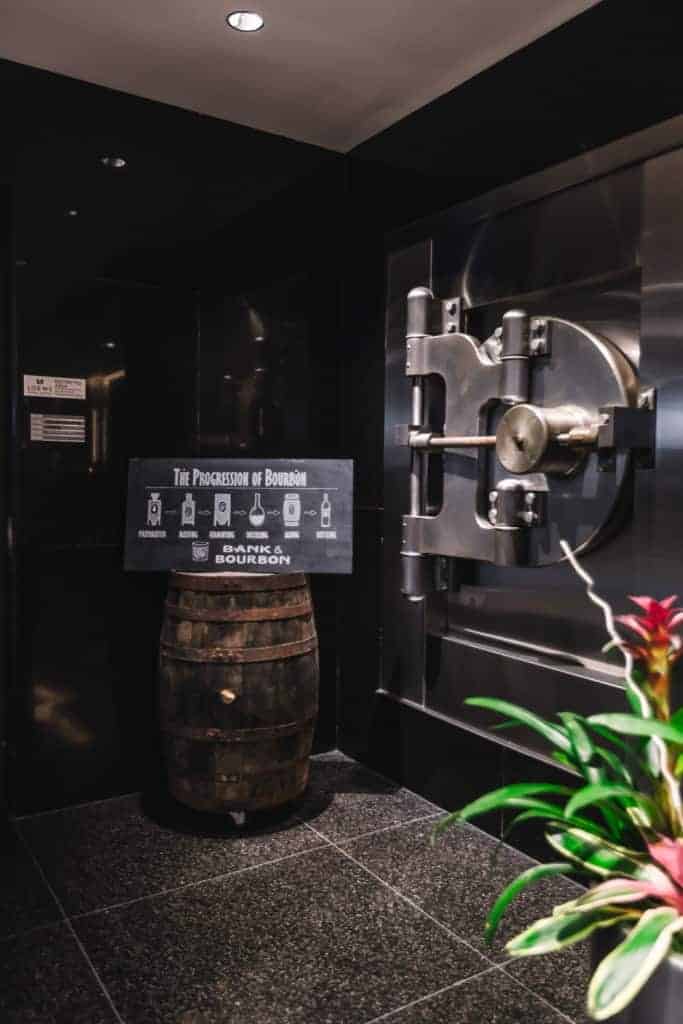 The Lounge in the Loews lobby is vibrant, a great space to people-watch, catch up with friends or sip on a drink or two.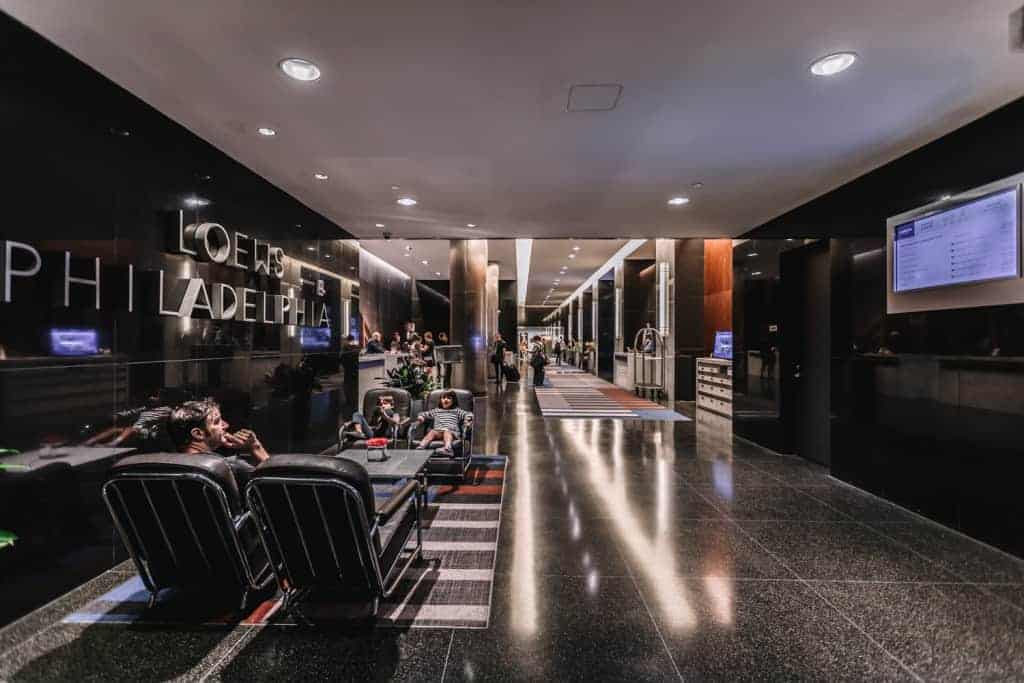 The hotel boasts a rustically decorated Bank & Bourbon restaurant, a huge hit in the area (so book reservations early!).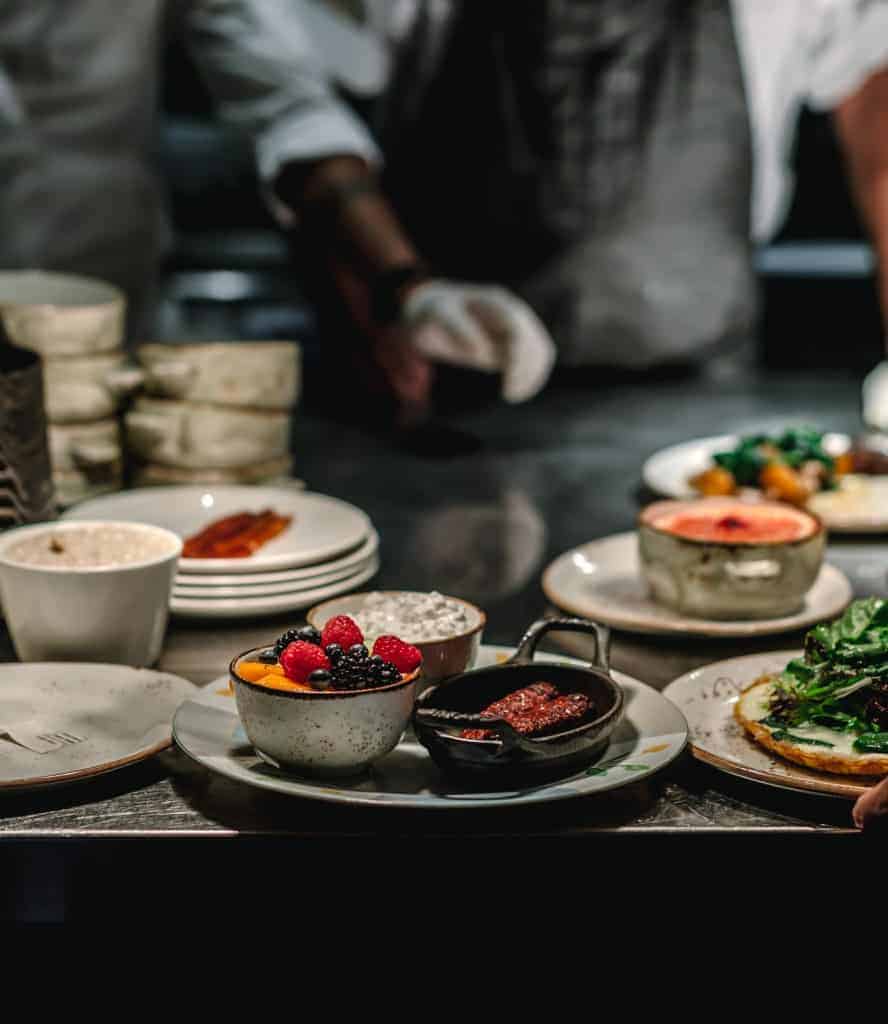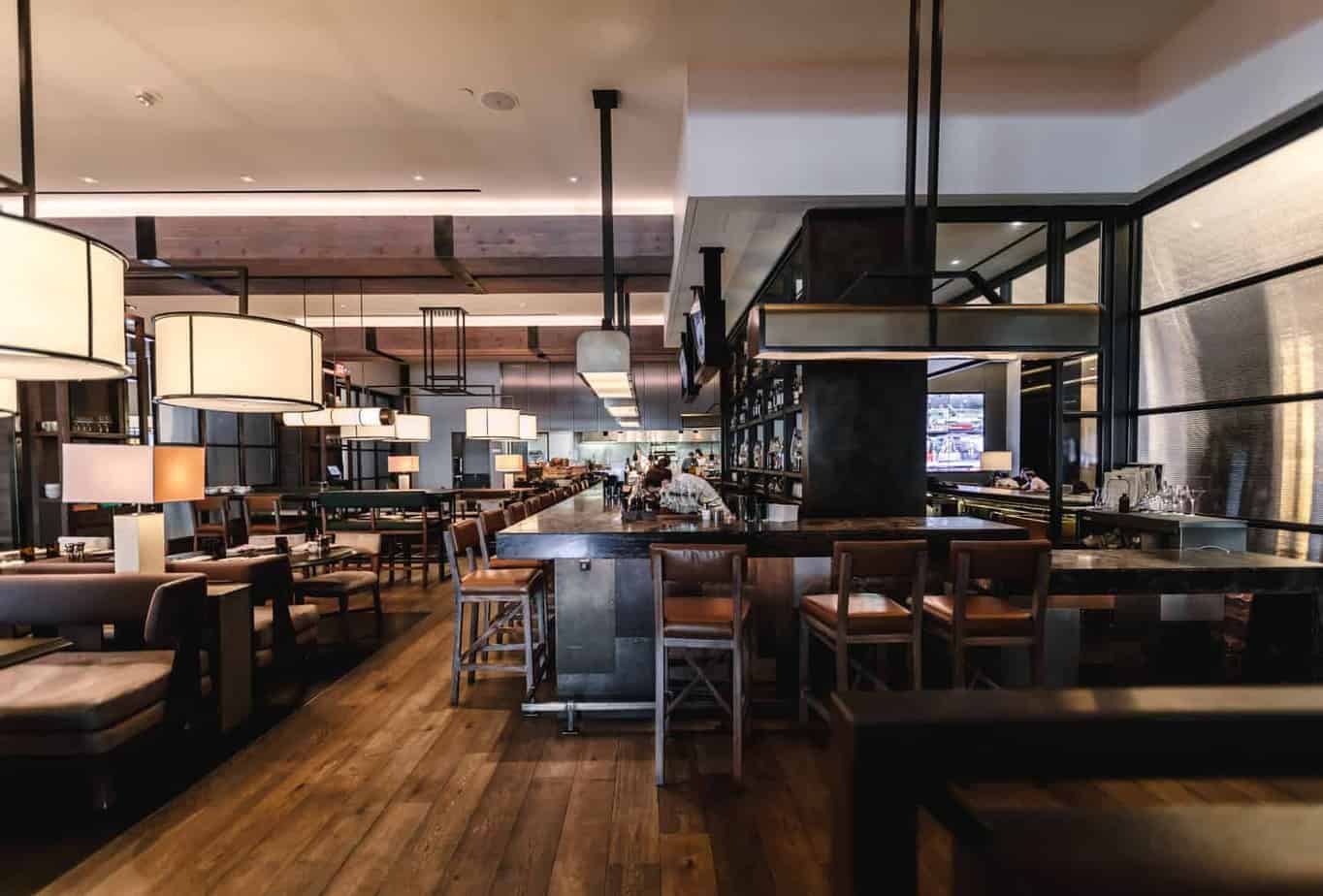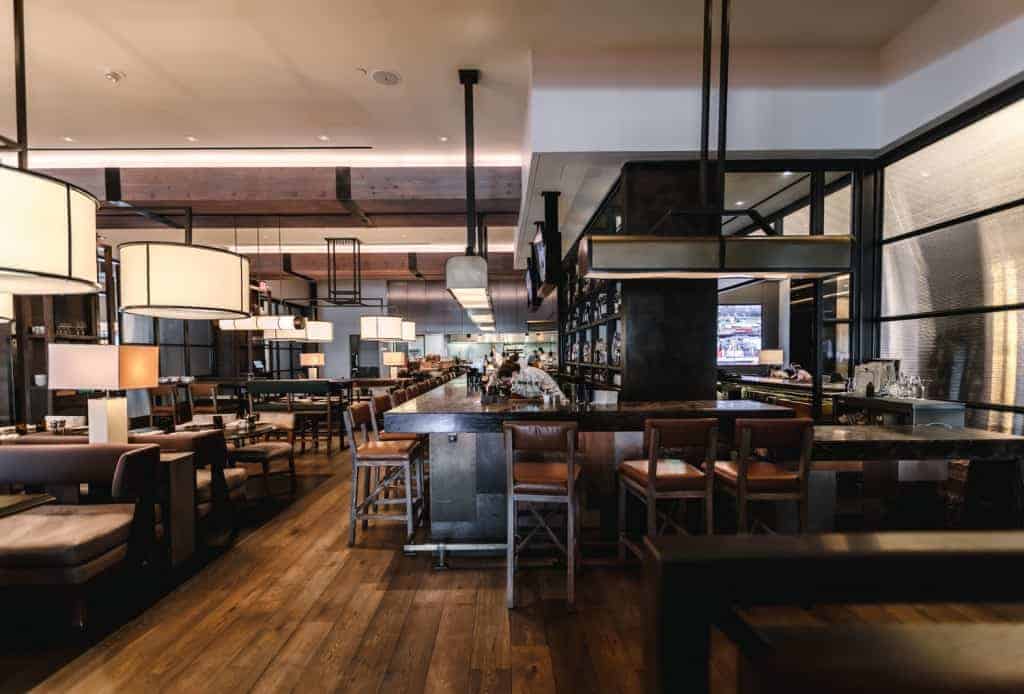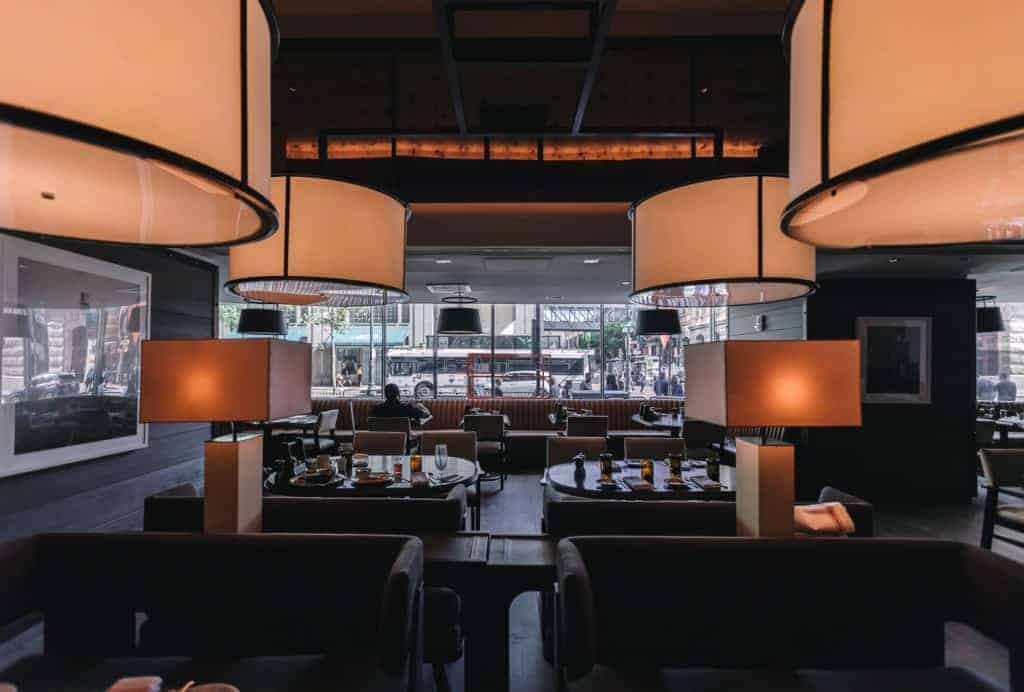 The Loews Philadelphia Hotel has the longest indoor pool I've seen, and a huge gym with advanced equipment. The spa is under renovations and by the looks of it, it too will be massive. Our room was large, comfortable, and had stellar views of the skyline day and night.
We enjoyed an upscale breakfast in their Club Level lounge that overlooks the entire city. It was fun to point to the city below and plan our day over coffee, eggs, pastries and more.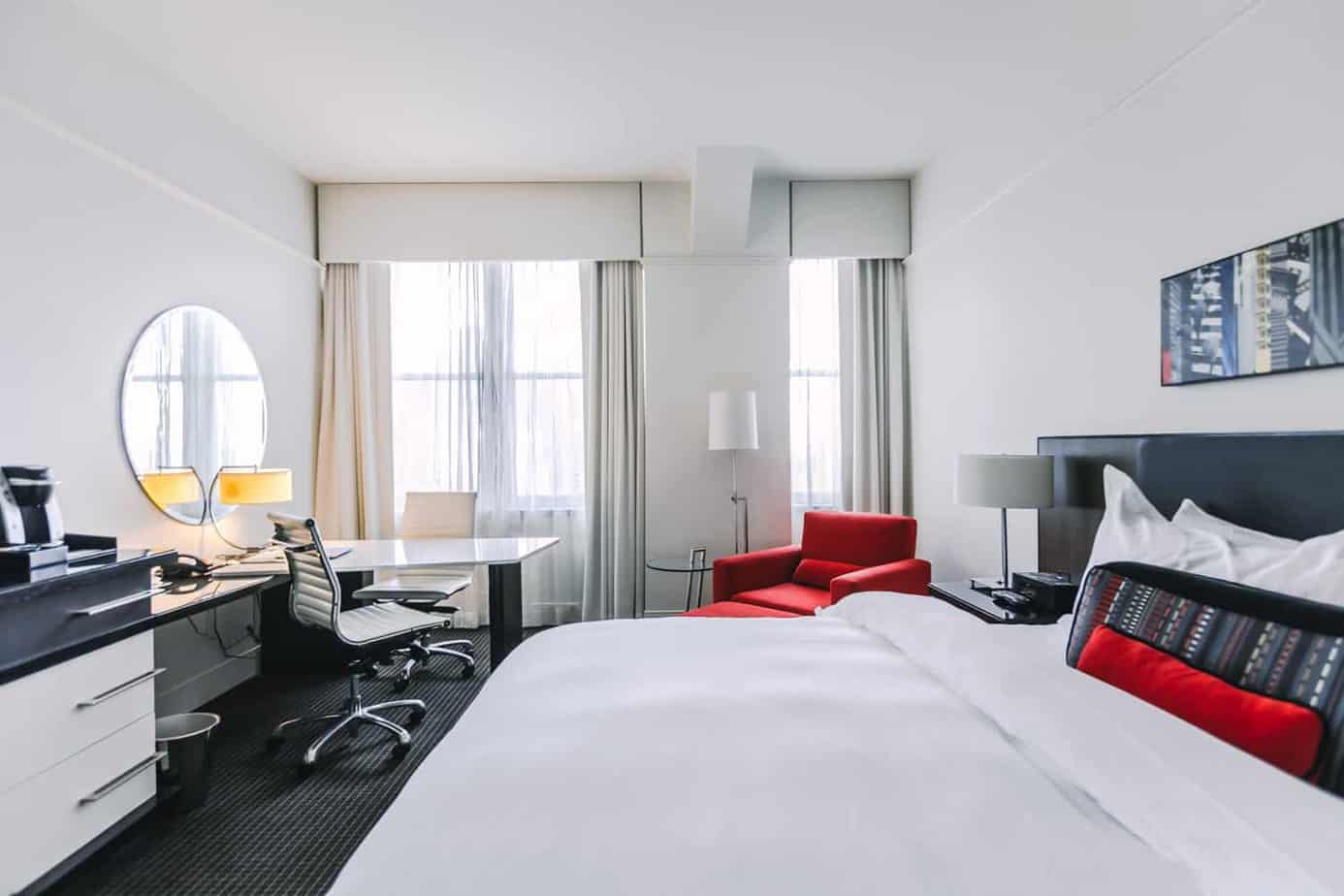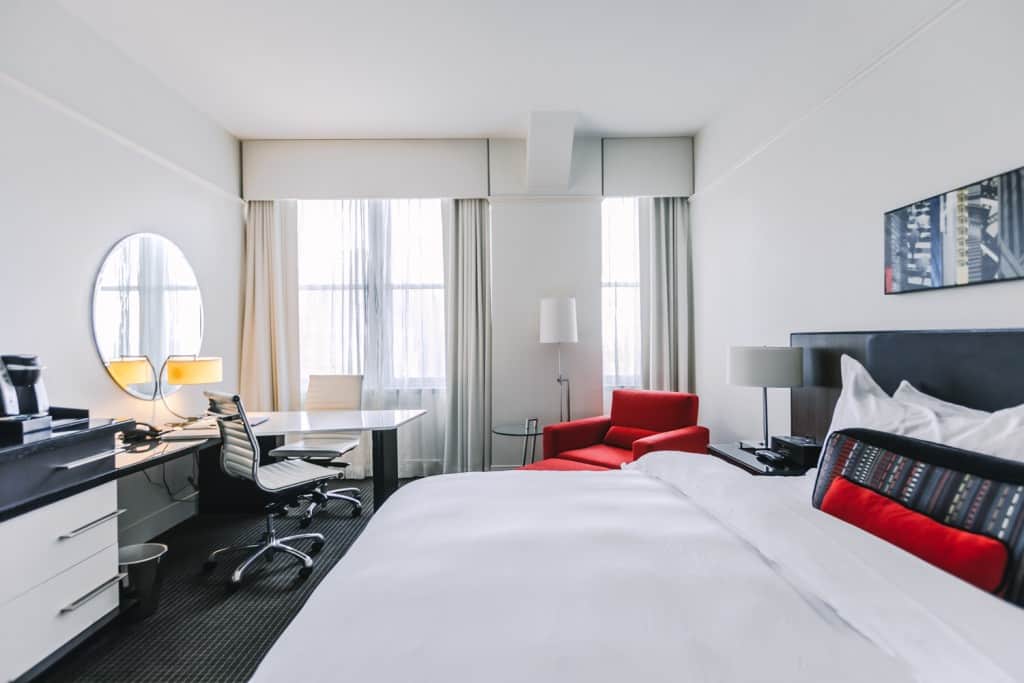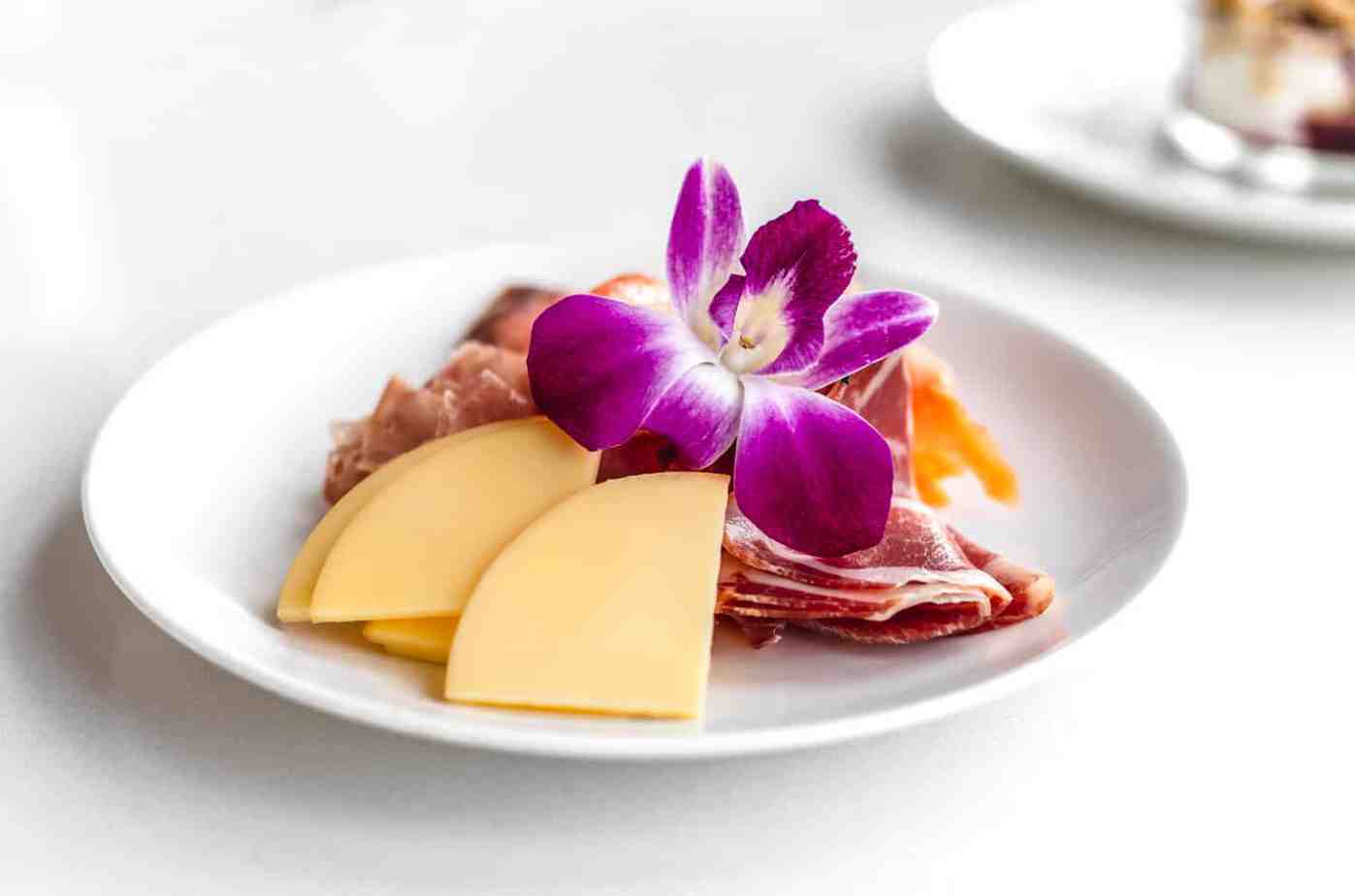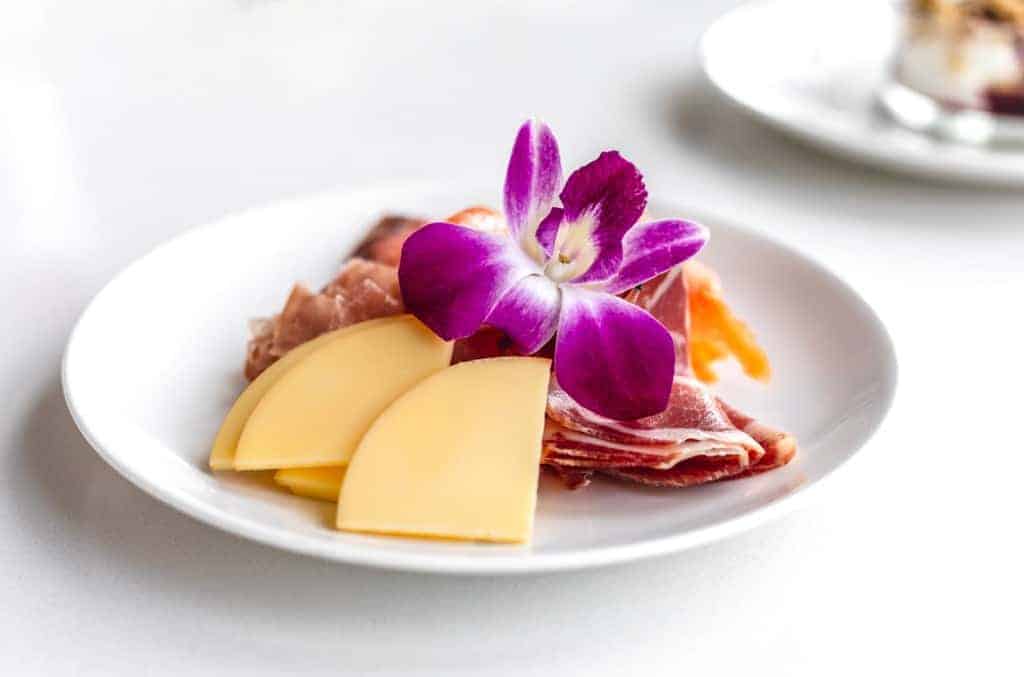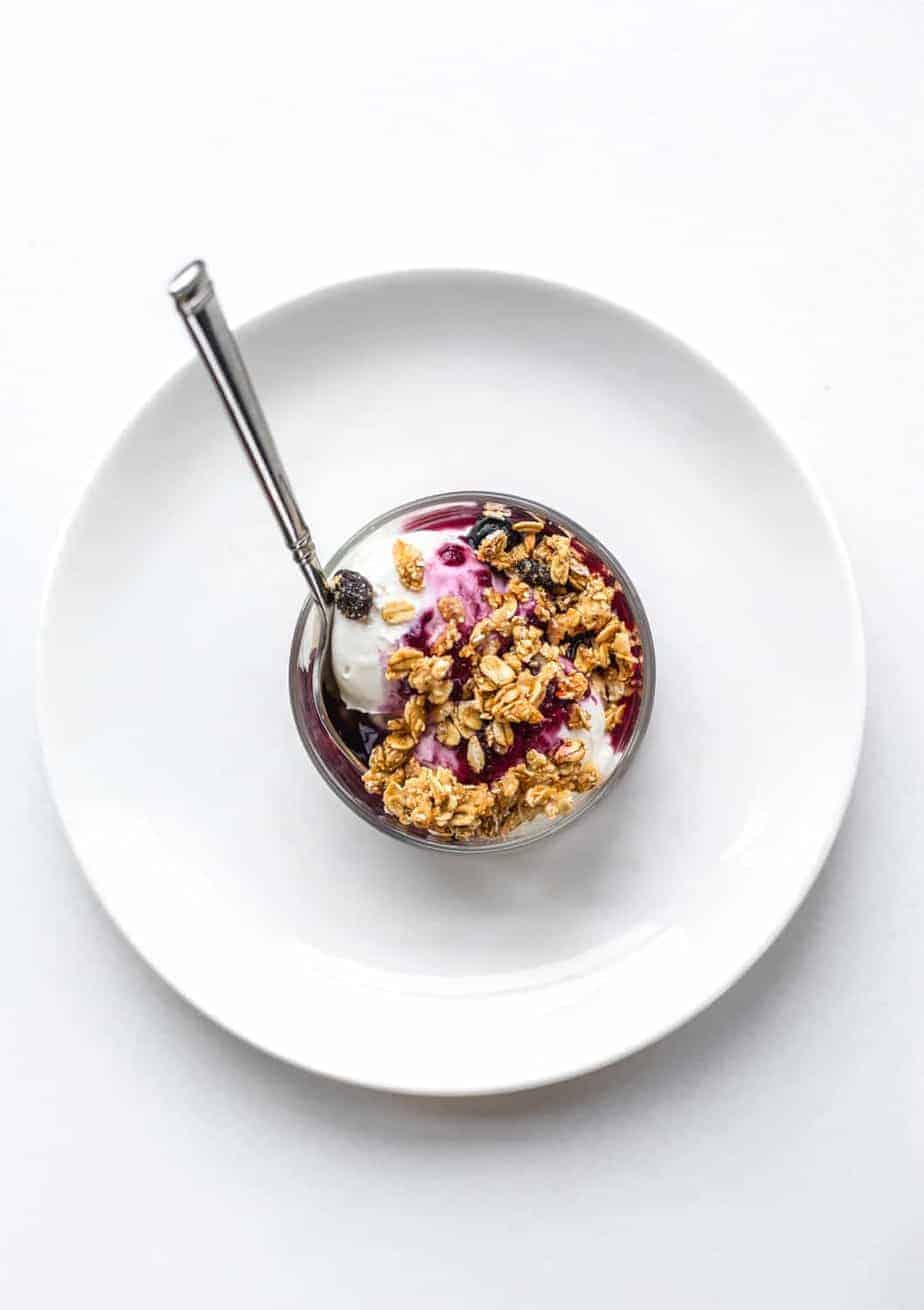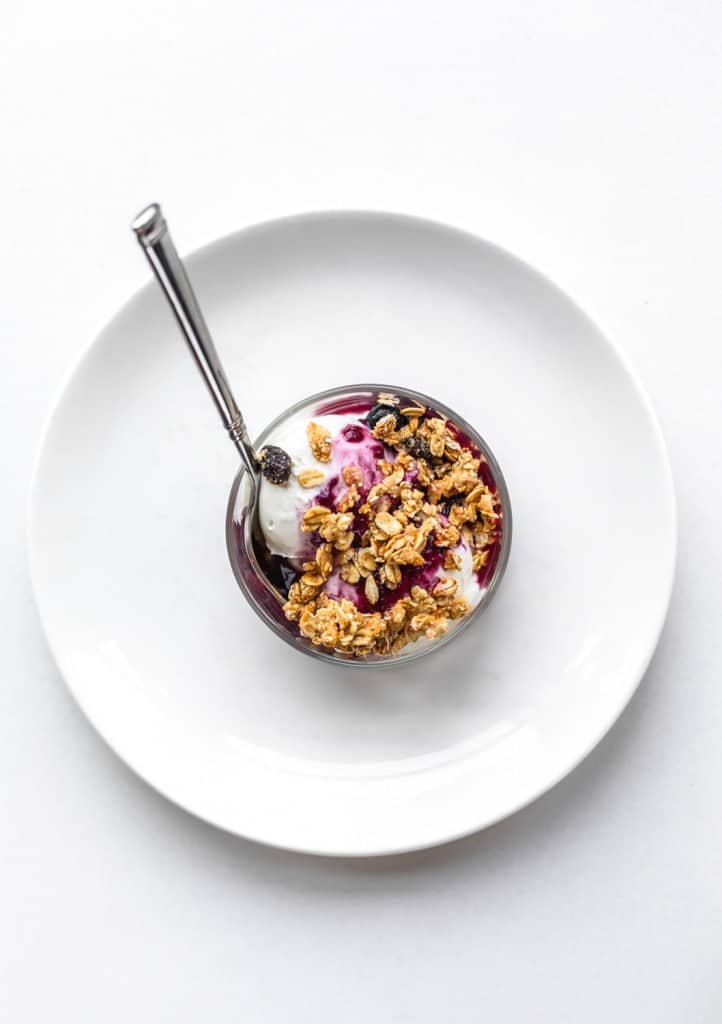 We used the concierge at Loews to help us get squared away with discounts to the hop-on hop-off tour (the bus stops across the street… it is a double-decker convertible one that had a hilarious guide).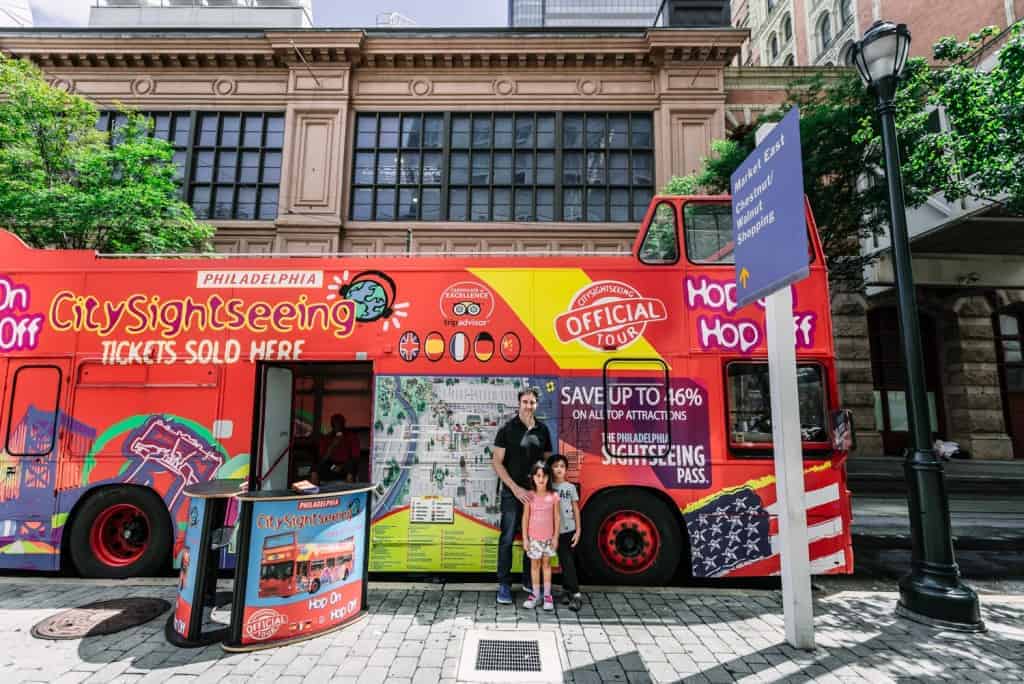 The concierge had good recommendations on sushi restaurants nearby and also pointed us to MOM's Organic Market, a fantastic health food mecca that's right around the corner form Loews.
In the lobby of Loews is their POD Market, where grab-and-go food is on another level, like the Colombe (cold latte in a can) and chocolate croissants from Metropolitan Bakery.
Below are the four walkabouts we ventured on while on our Philly vacation:
To the East….
It's just a half-mile walk to get from our Loews Hotel to Philly's most iconic attraction, The Liberty Bell. It's a walk straight down the centerpiece street of the entire city, Market Street, and gives an amazing perspective of going from the invigorating hustle-and-bustle of a 21st century to then start venturing into the restored Old City with colonial age buildings, cobblestone streets and the birthplace of American independence.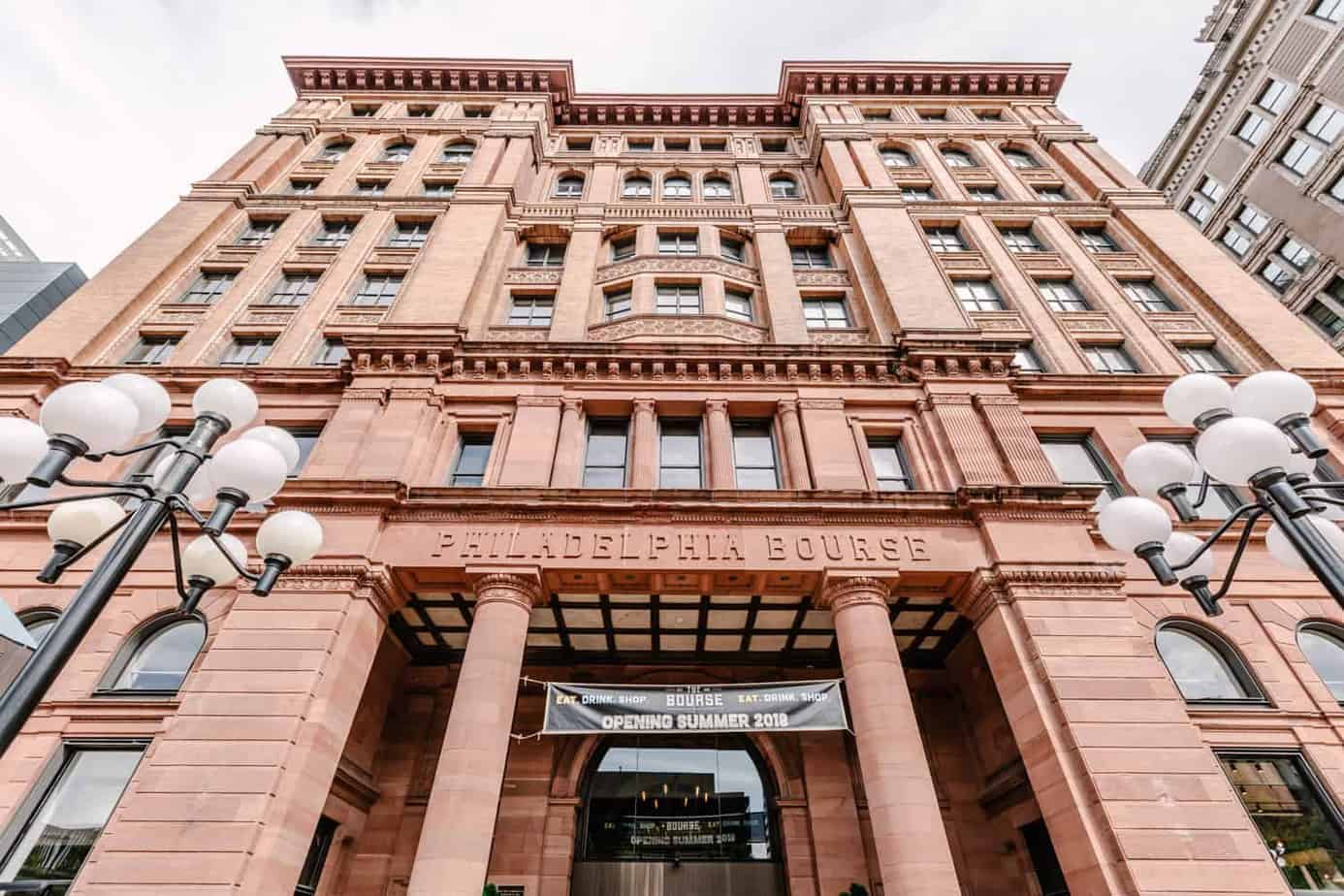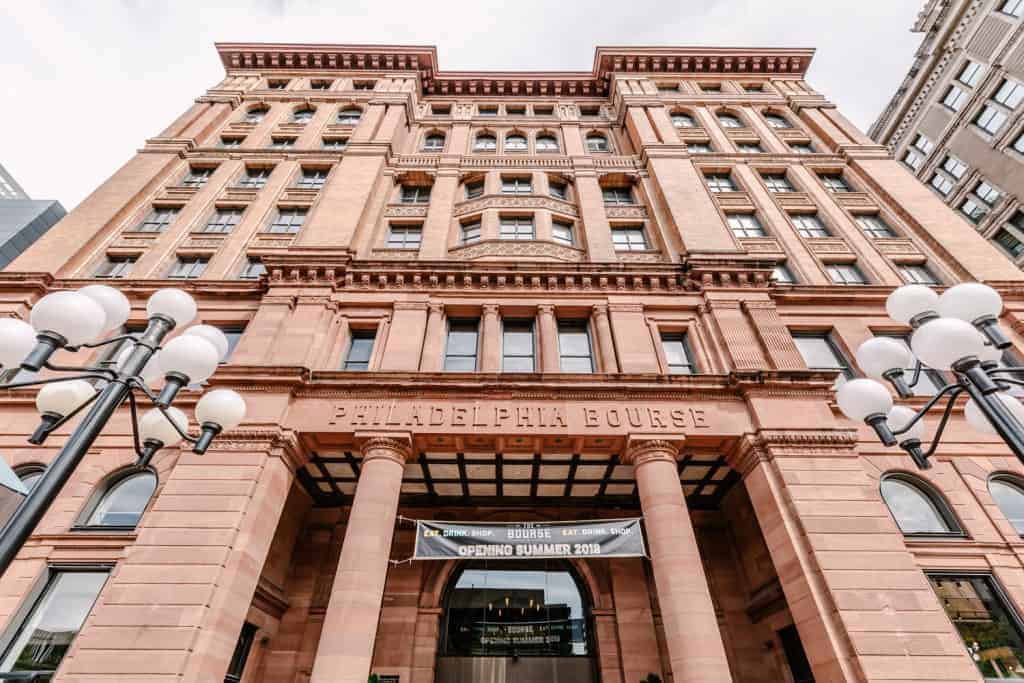 Learning about The Liberty Bell and Independence Hall was special to me and I think my kids got a great dose of history that day between these and the other historical attractions in the area. I liked that The Liberty Bell was free to visit, the city really wants all people to visit this important attraction.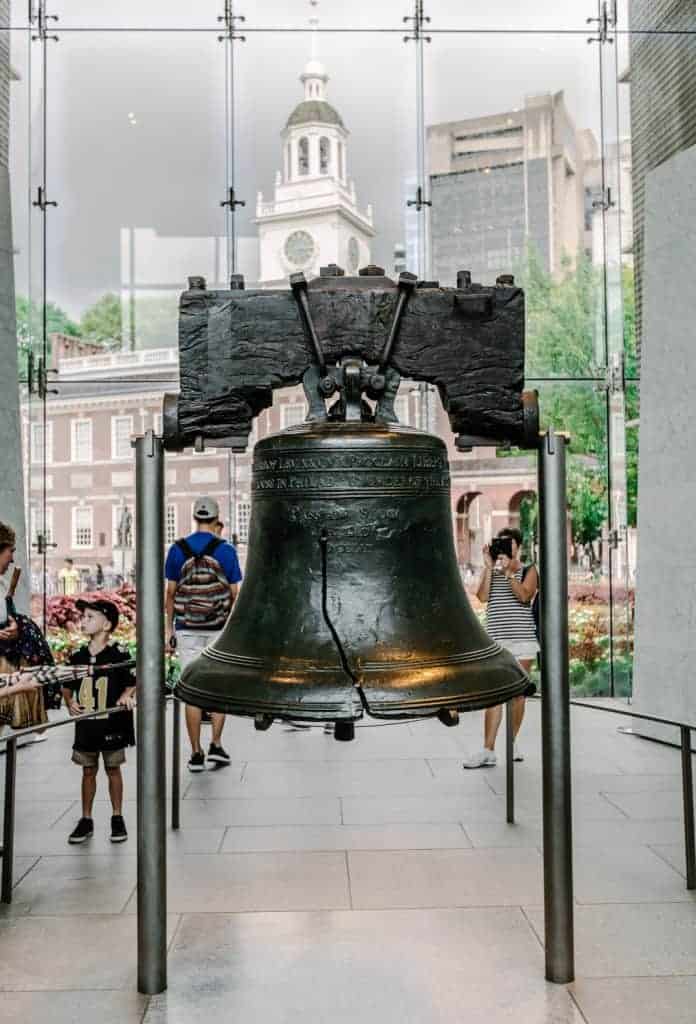 In addition to pride in country I also gained a sense of amazement that day in how much Benjamin Franklin accomplished in his lifetime. From his inventions to his contributions to American government it just baffles me that one person did all of these things.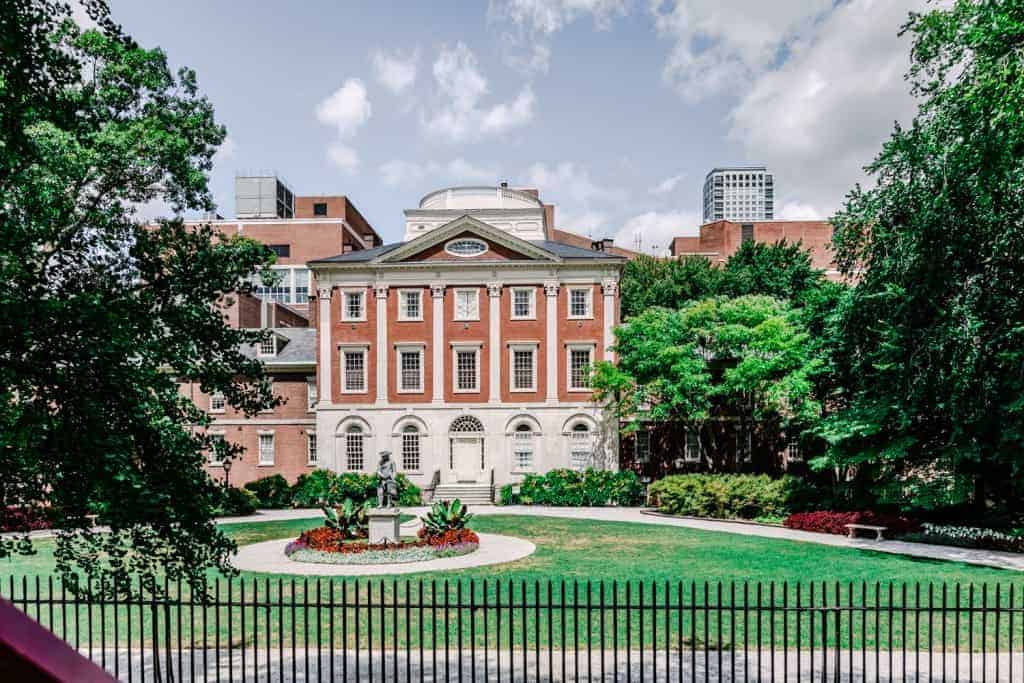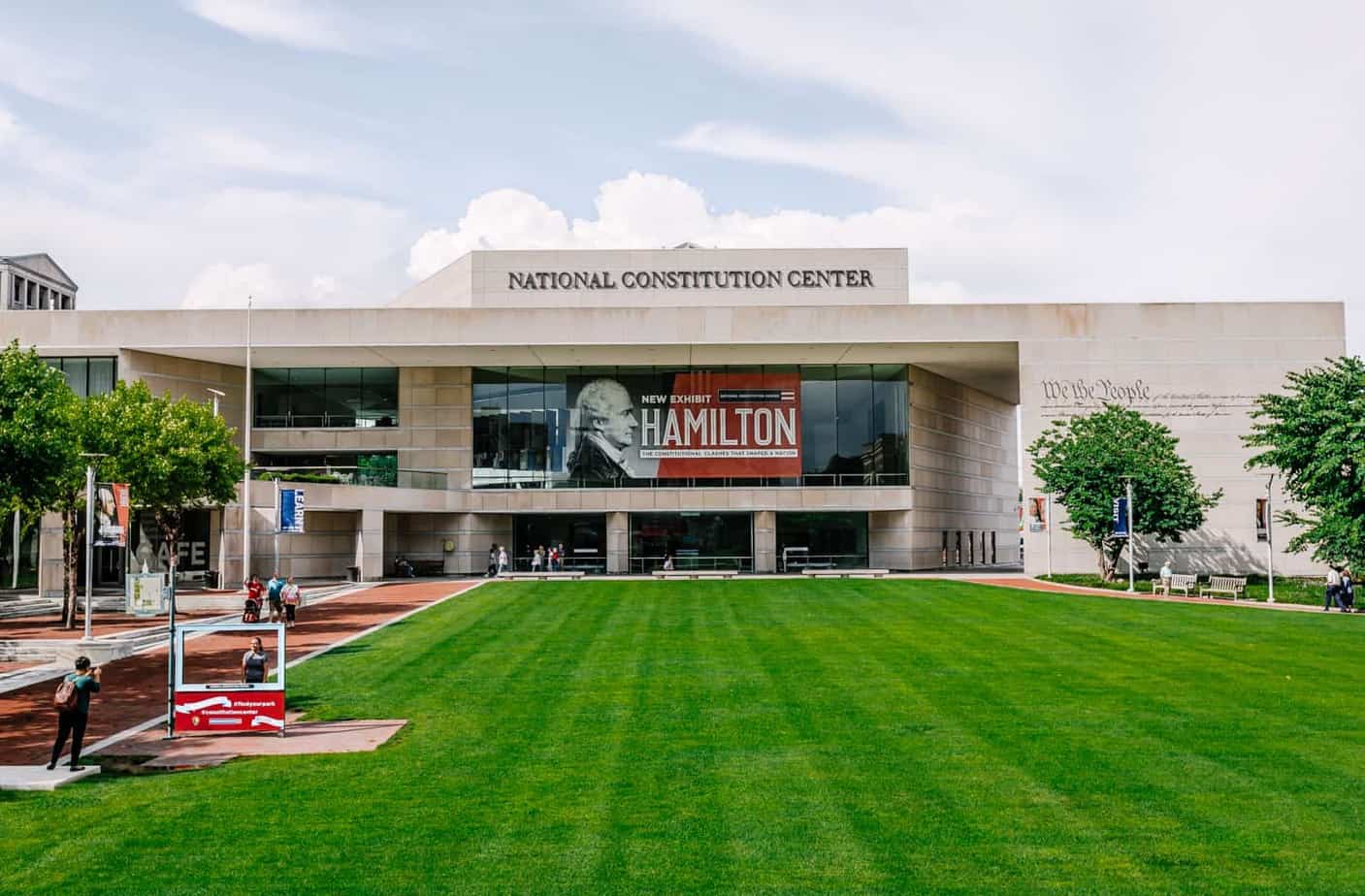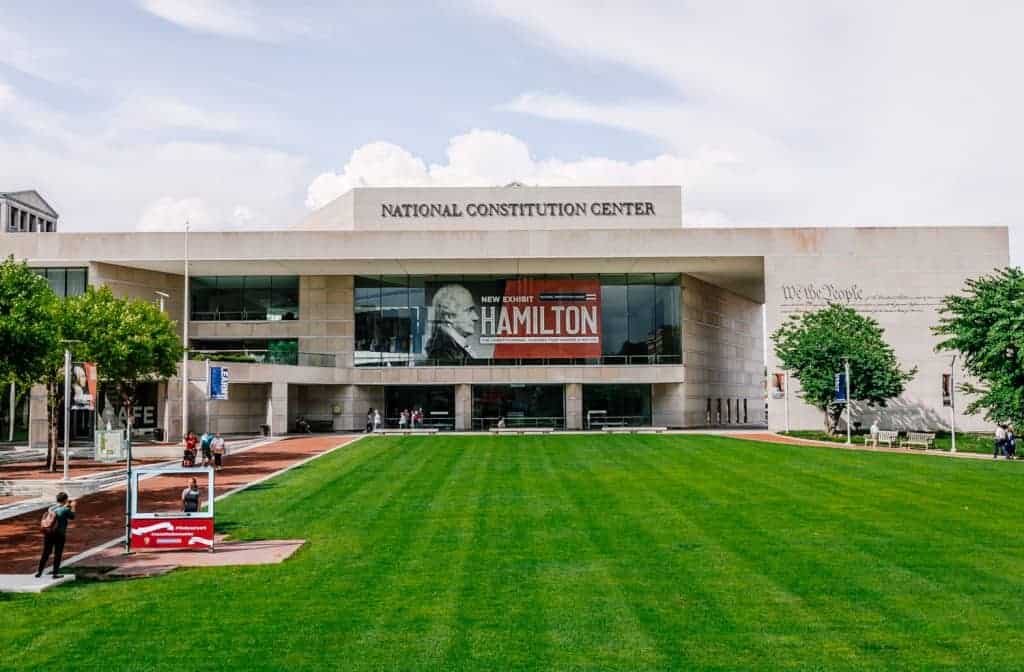 Penn's Landing is nearby with loads of family-friendly activities. There are boats, museums, and even museums inside of boats! The entire Great Plaza area has a lot going on, especially in the summer months when the weather is nice.
To the West….
To the west of Loews Hotel we immediately come upon Philadelphia City Hall, which has to be one of the most beautiful structures in the country.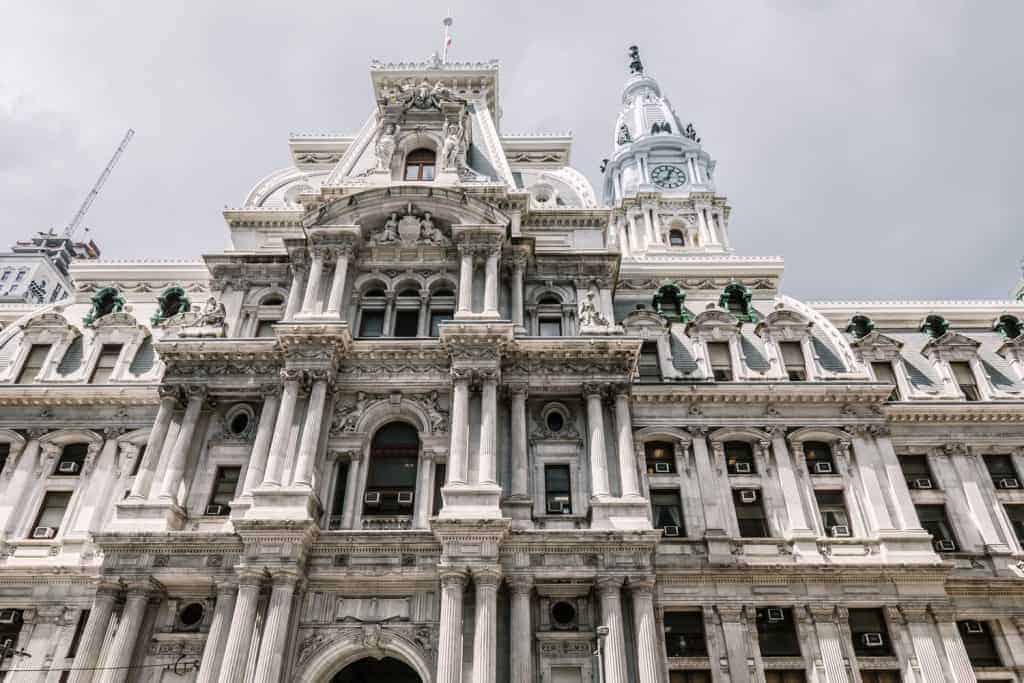 The 50,000 pound statue of William Penn at the top, but the entire building is absolutely impressive. Love Park (aka John F. Kennedy Plaza) was just a few blocks past City Hall, where I snagged photos of buildings in every direction and of course had our pic taken under the Love Statue. I don't know how many pieces of public artwork there are in Philadelphia but it seems like every block has a massive sculpture or two. This city is full of surprises.
Another 3 blocks led us to the nice fountains at Logan Square Park, and museums in every direction. In most cities my biggest dilemma is deciding on which restaurants to visit, but in Philadelphia it was figuring out which museums to hit. There are just too many world class museum options around.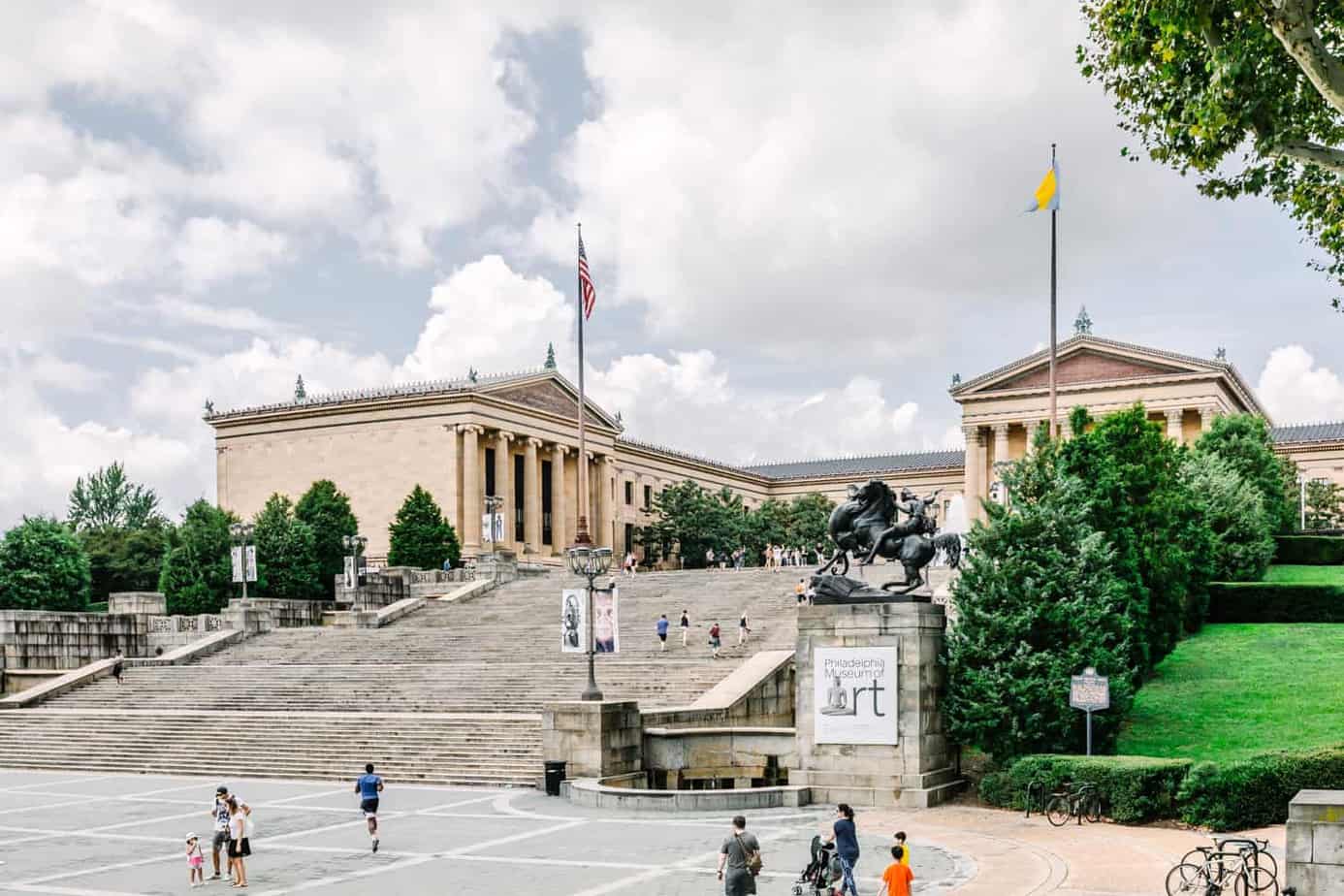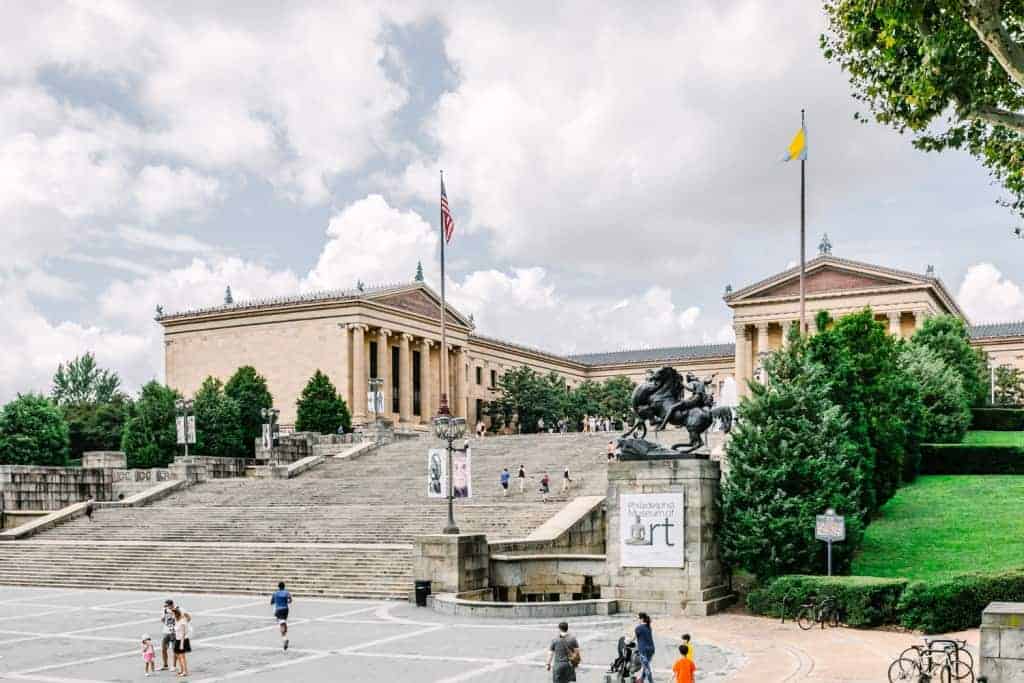 Most art lovers who vacation to Philly will opt to see the Philadelphia Museum of Art, which mind you is a great decision, but will they leave enough time to also see all of The Barnes Foundation (which has one of the finest collections of impressionism), or the Rodin Museum (which has the largest collection of Rodin sculptures outside of Paris)? In retrospect I should have booked an extra day or two in the city… next time.
Our kids' favorite thing to do in Philadelphia was the Franklin Institute, which is one of the top kids science museums in the world. What a day we had there! The "Your Brain" exhibit was a highpoint, especially the experience of being inside a giant simulated human brain playground. They also got to race against a Dinosaur in a track race in the SportsZone area, get up-close with a Wright Brothers airplane, and do tons of hands-on activities that were all science based. This museum is fantastic and warrants at least a half-day, my kids didn't want to leave.
For kids museums we also visited the Please Touch Museum. This is a great place to take younger kids, I'd say from 1 to about 5 or 6. It's very hands on (hence the name) and is especially good for locals as a season pass isn't that much more than a day pass.
To the North….
Just a few blocks North and East of our hotel was Chinatown, with a beautiful 40 ft. tall Chinatown Friendship Gate that welcomed us.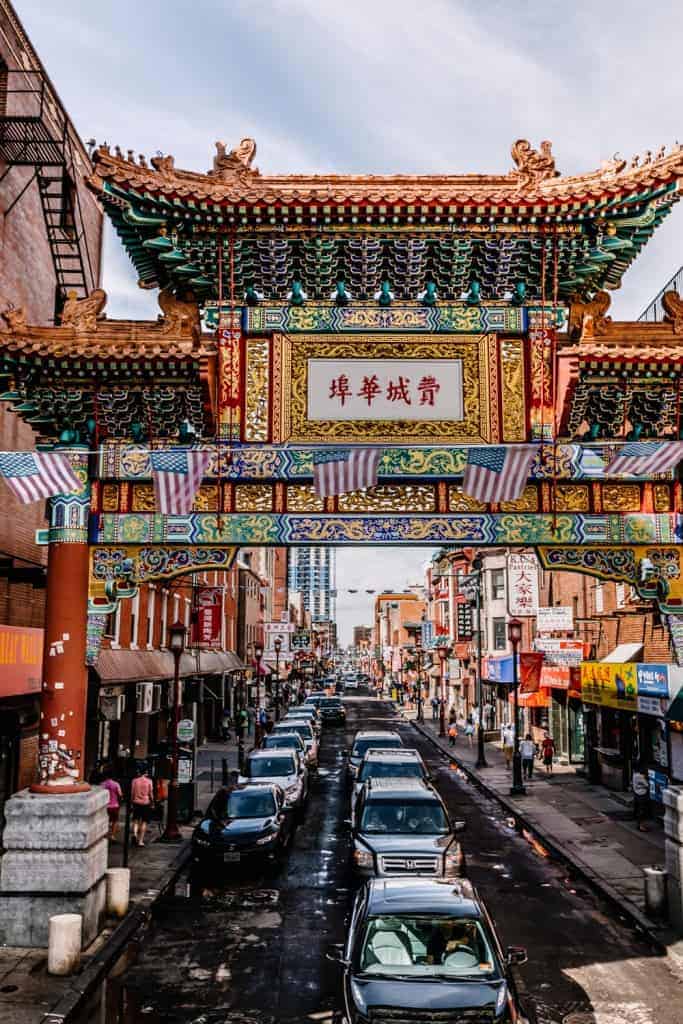 There were a multitude of Asian restaurants to choose from (and not just Chinese… we saw Burmese, Thai and Vietnamese, just to name a few). I loved staying so close to Chinatown as it gave us the opportunity to try different Asian cuisines, I hate having to choose just one. A hands-down winner for us was the Nan Zhou Hand Drawn Noodle House. The noodles will blow your mind, but they also do a great job with their broths and sauces.
We used our hop-on-hop-off bus to venture more North and West to drop us at Eastern State Penitentiary. This fascinating landmark attraction shows how one of the country's most notorious prisons was run for many years, with 23 hours of silence each day and tough all around living quarters.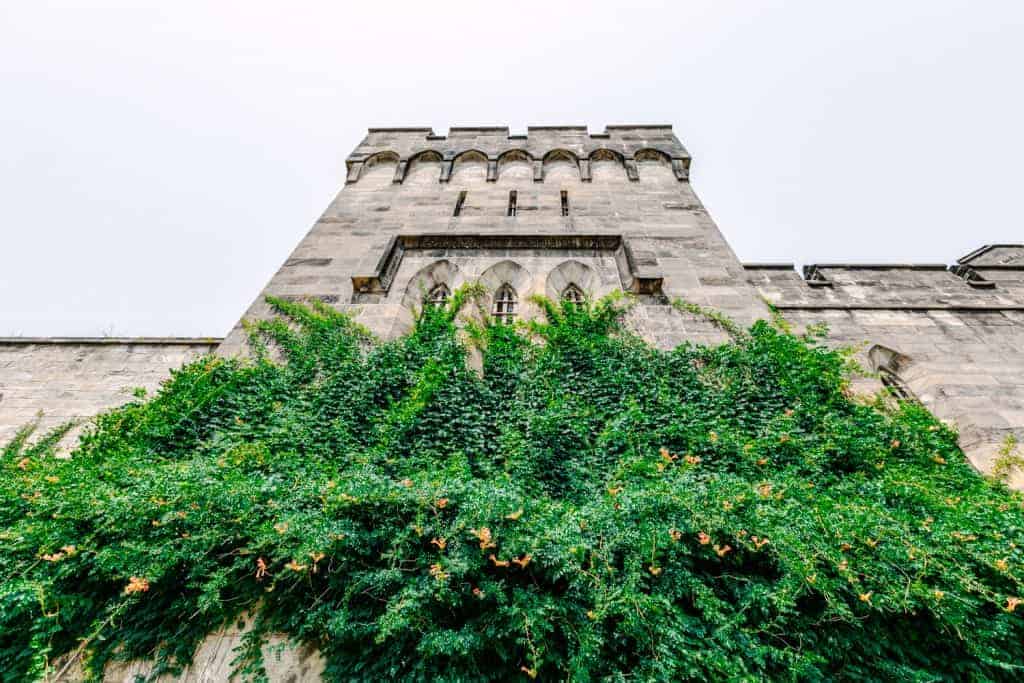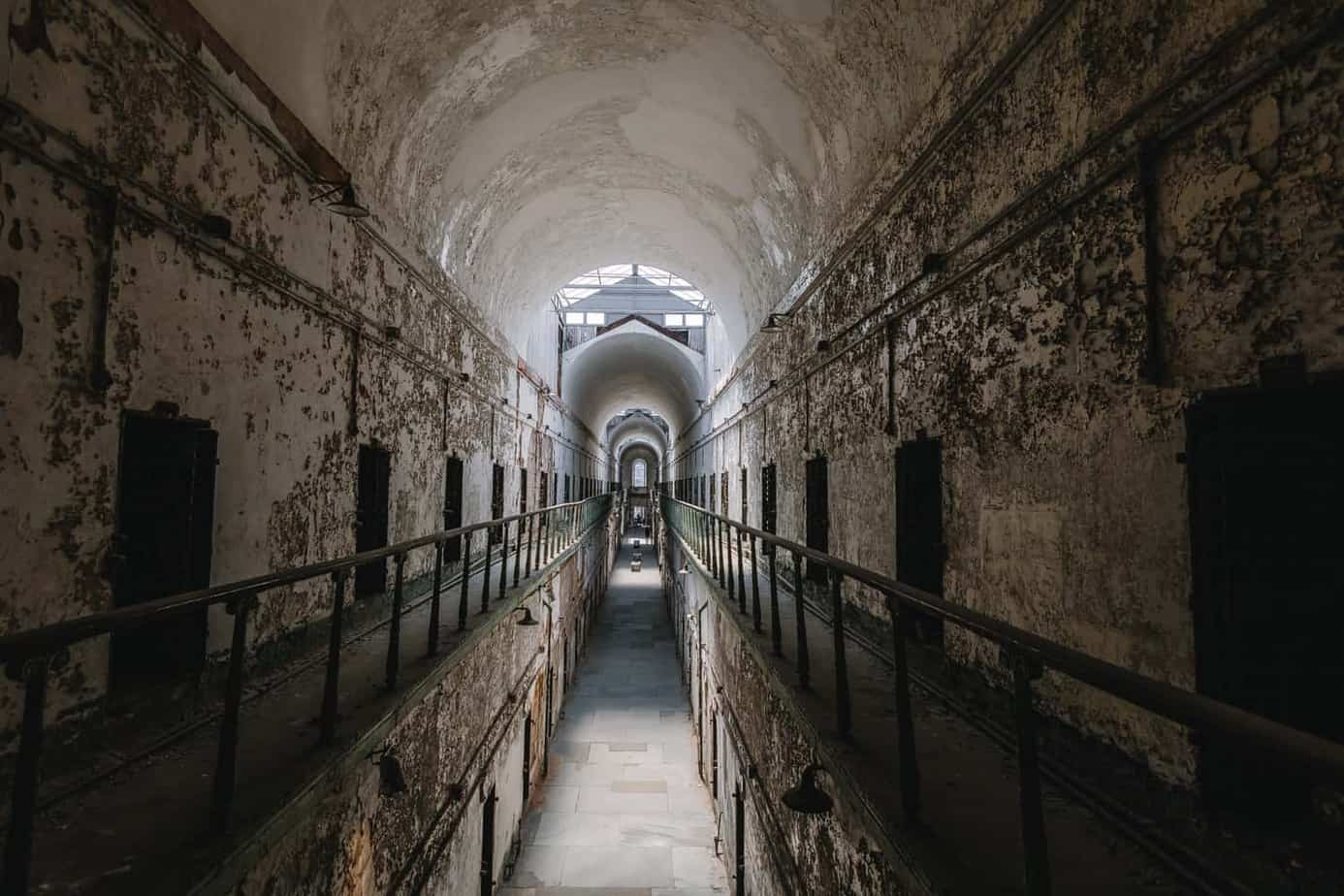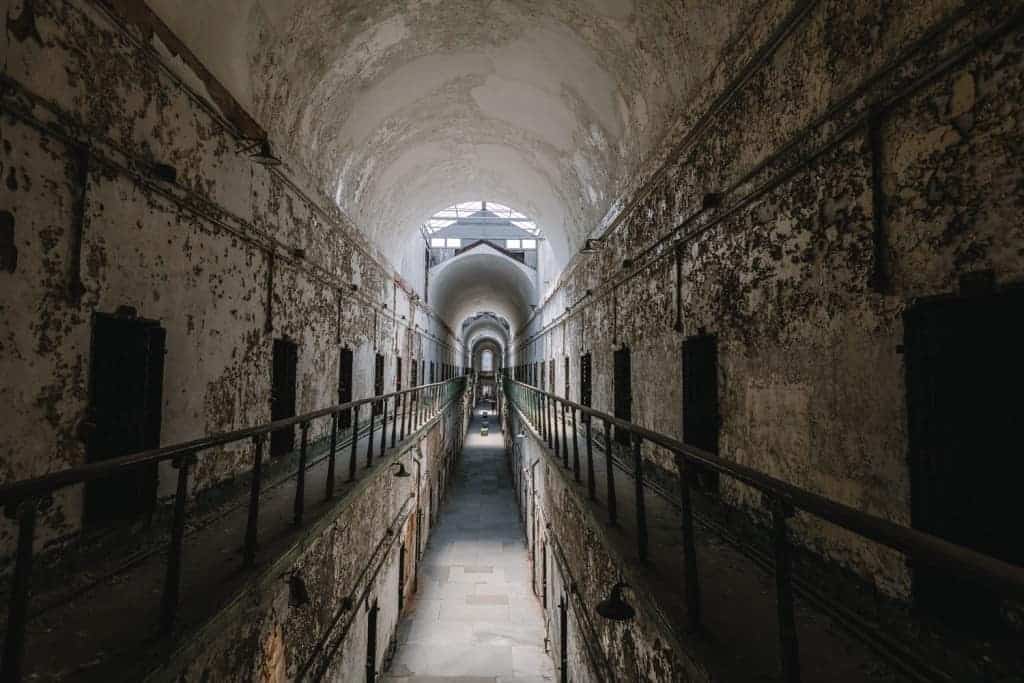 The highlight was comparing all of the regular inmate's jail cells to that of Al Capone, whose cell looked more like a luxury apartment.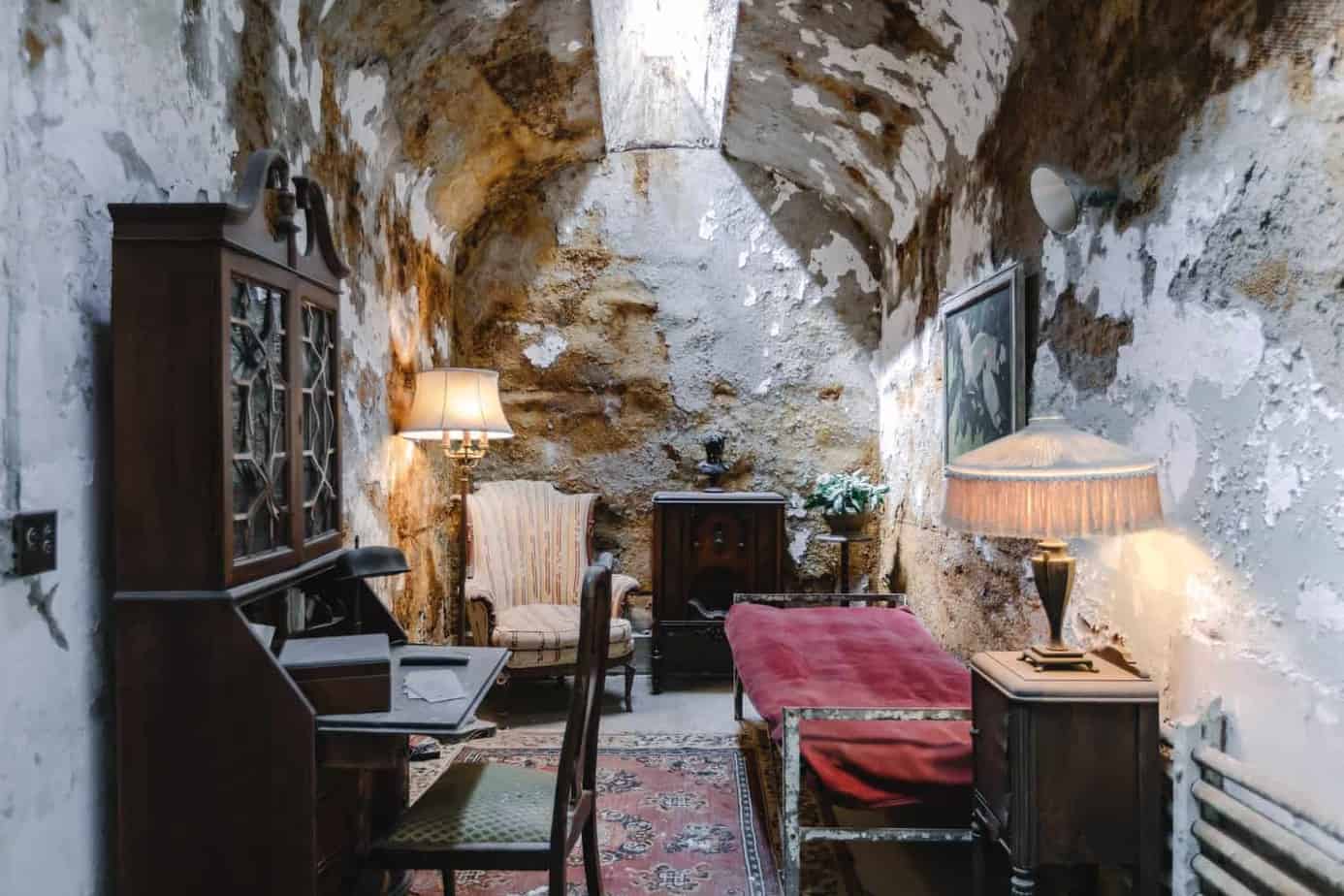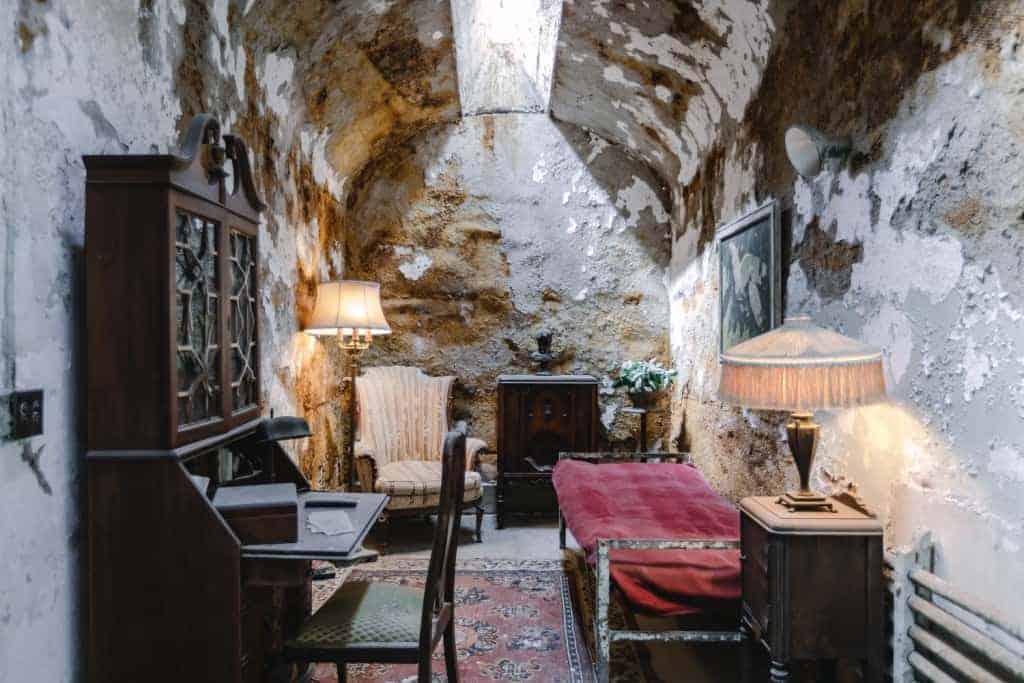 As mentioned before the Reading Terminal Market is just a couple of blocks north of Loews. The place is lined with food merchants of all types in every direction.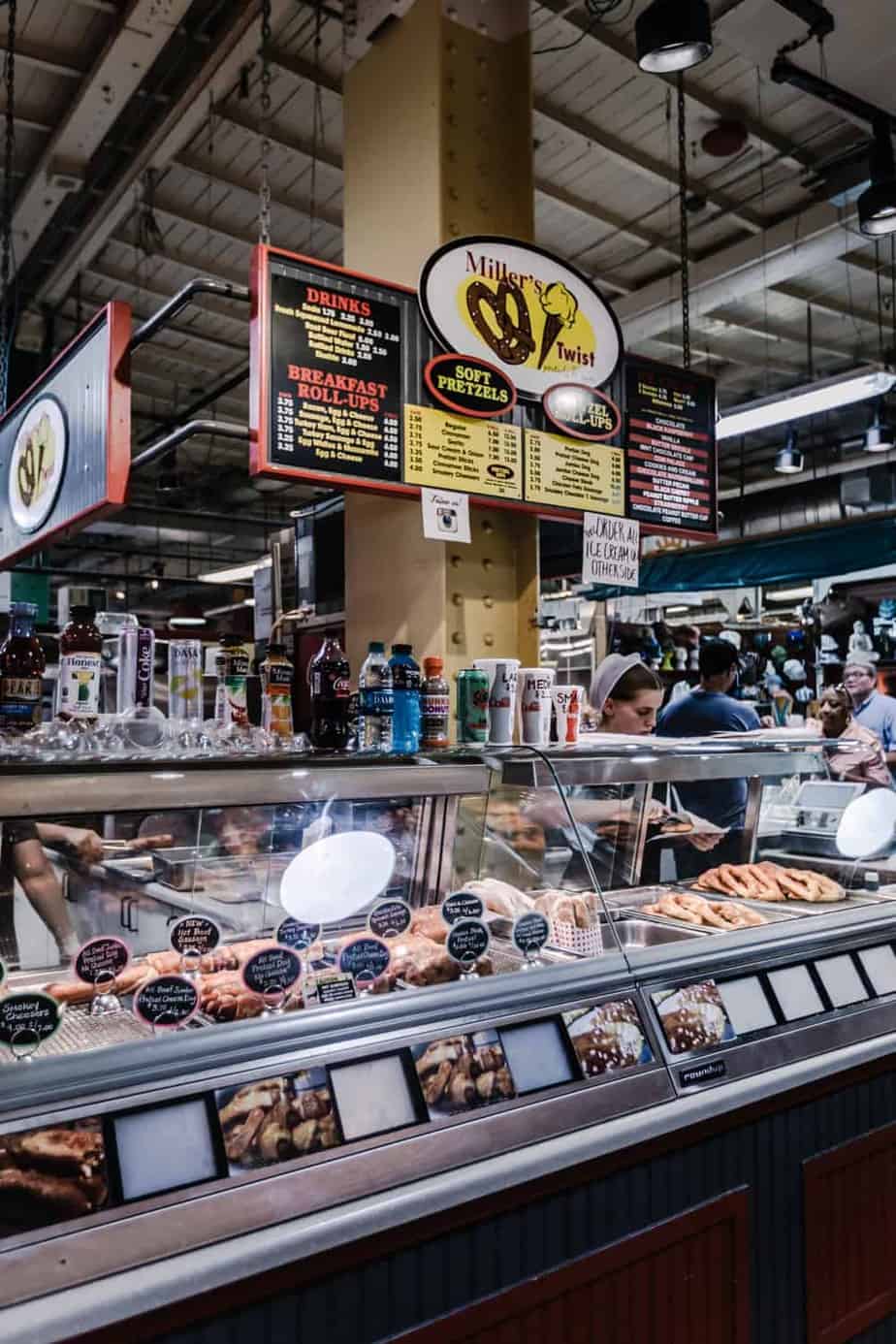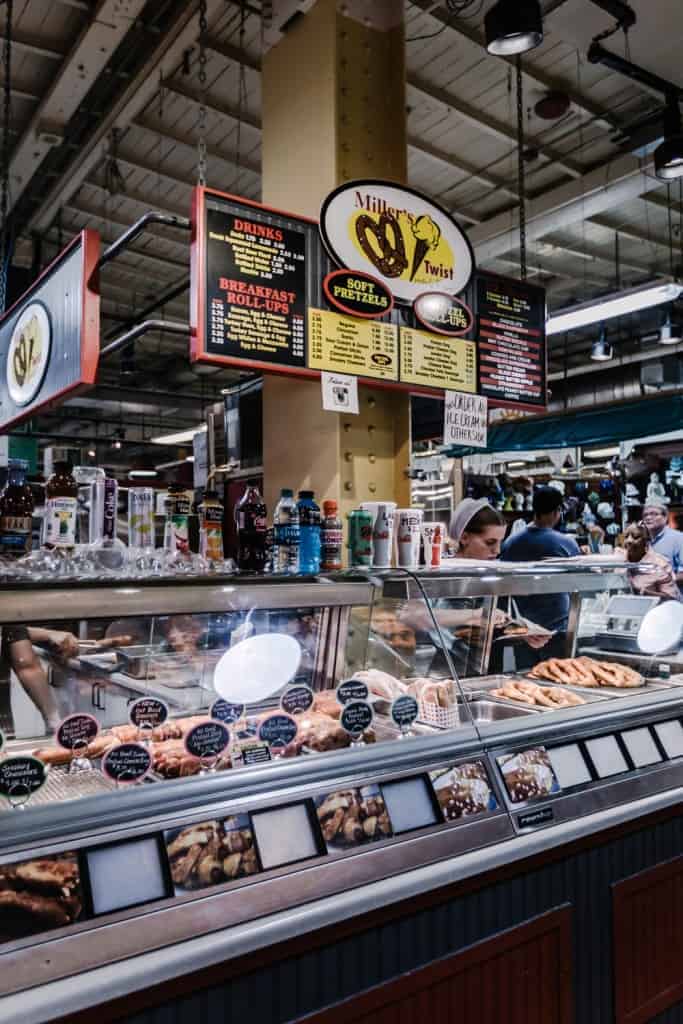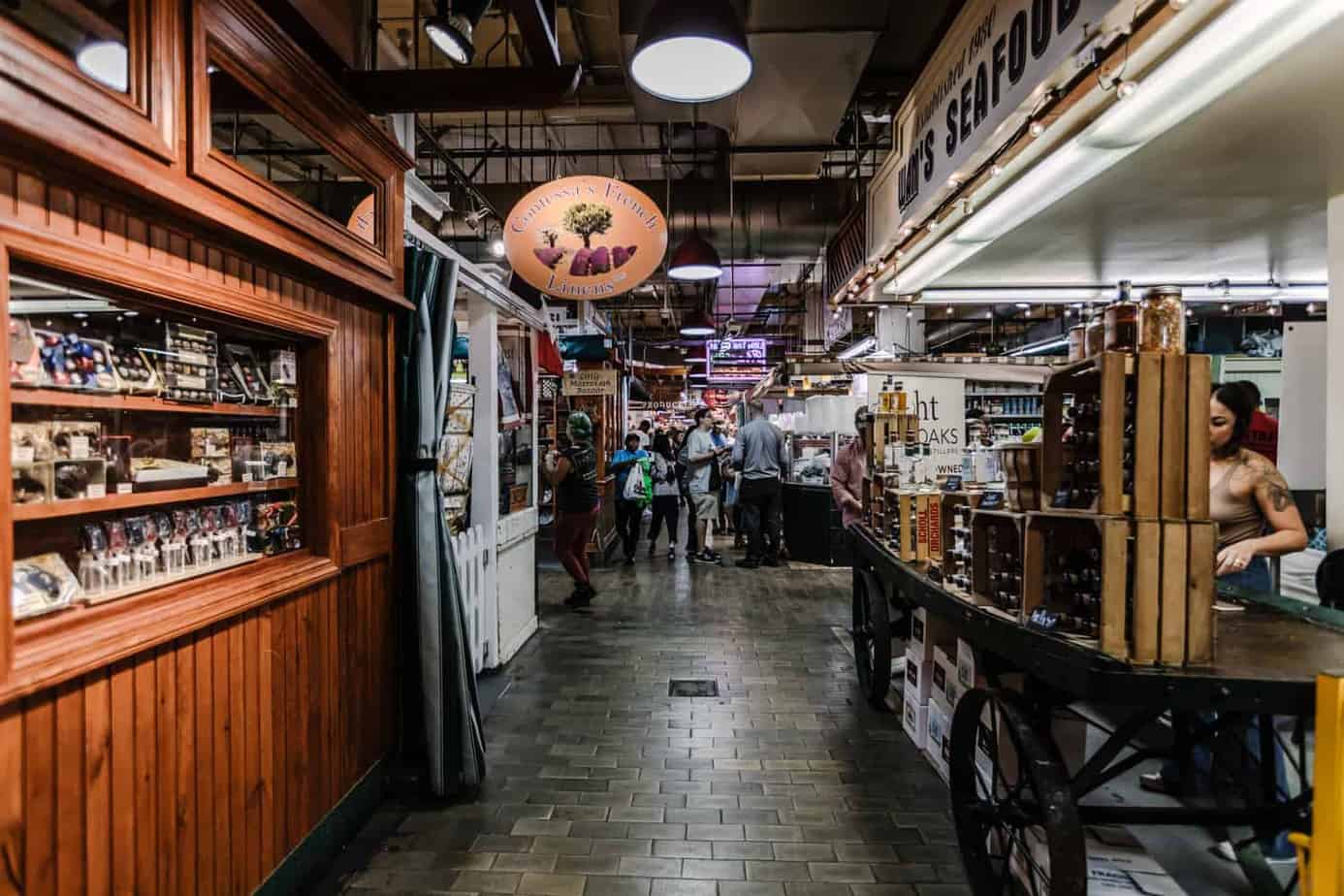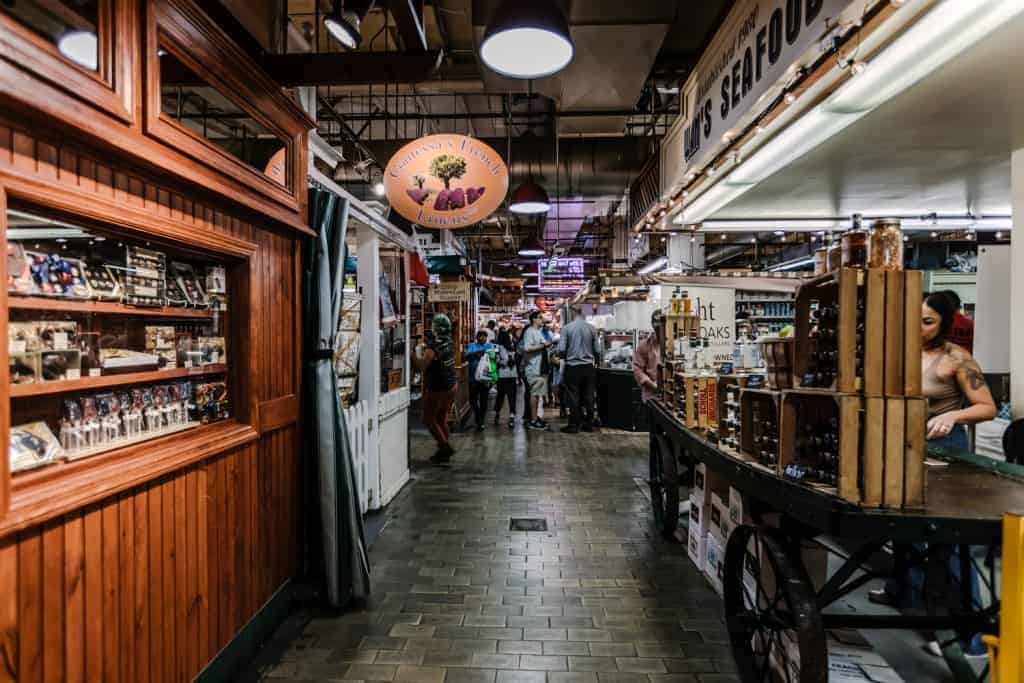 Here are a few of our favorites:
Carmen's Cheesesteaks & Hoagies - When asking around we heard some varying and passionate opinions on who has the best cheese steak sandwiches in Philly. The restaurant we heard brought up the most was Carmen's. They've perfected - Philly's best known sandwich for visitors from all over the world. I went for the the classic with onions, mushrooms, and peppers, but they offer some good varieties.
DiNic's - Roast Pork Sandwich – I didn't expect to love another sandwich in this city as much as a cheesesteak, but this one is phenomenal. The pork is of such a high quality that you just can't go wrong. The highlight of eating here was a cute 85 year-old lady in-front of me that was yelling out to everyone that "they have to try a sandwich at DiNic's!", and that she'd been thinking about the sandwich since she woke up that morning.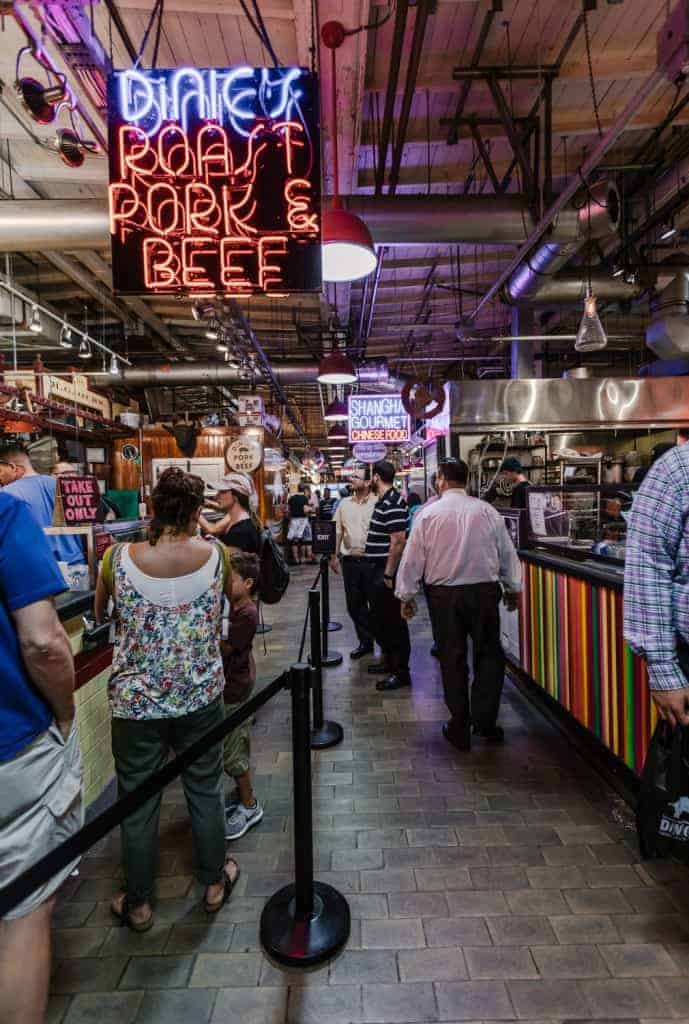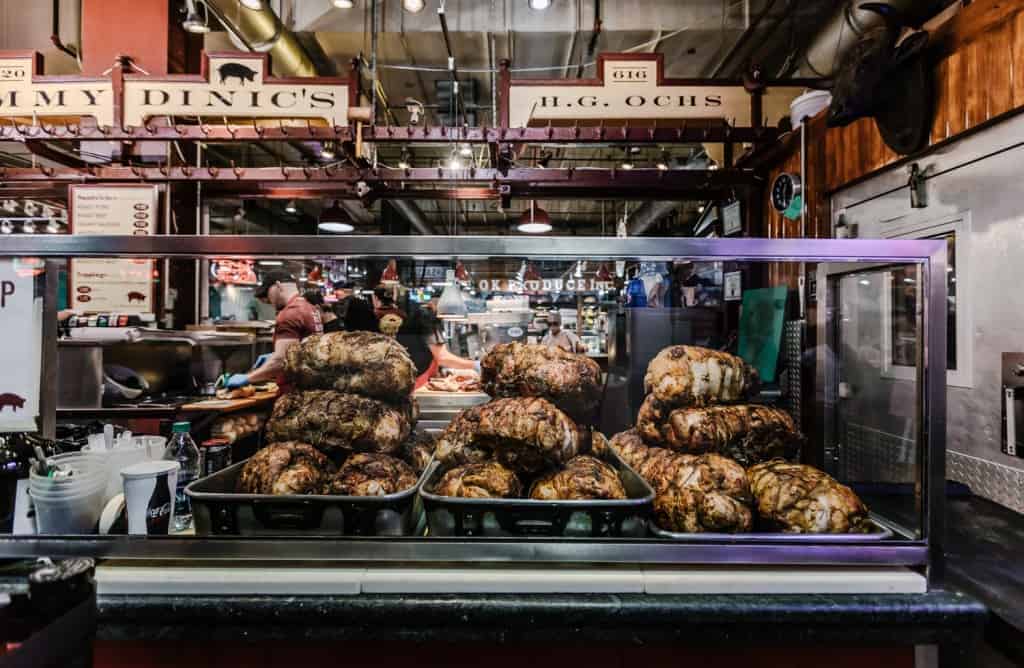 Bassetts Ice Cream – America's oldest ice cream company and still going strong. It tastes quite different than the ice cream I've been eating all of these years… I've been missing out on the real thing I guess. Creamy and delicious.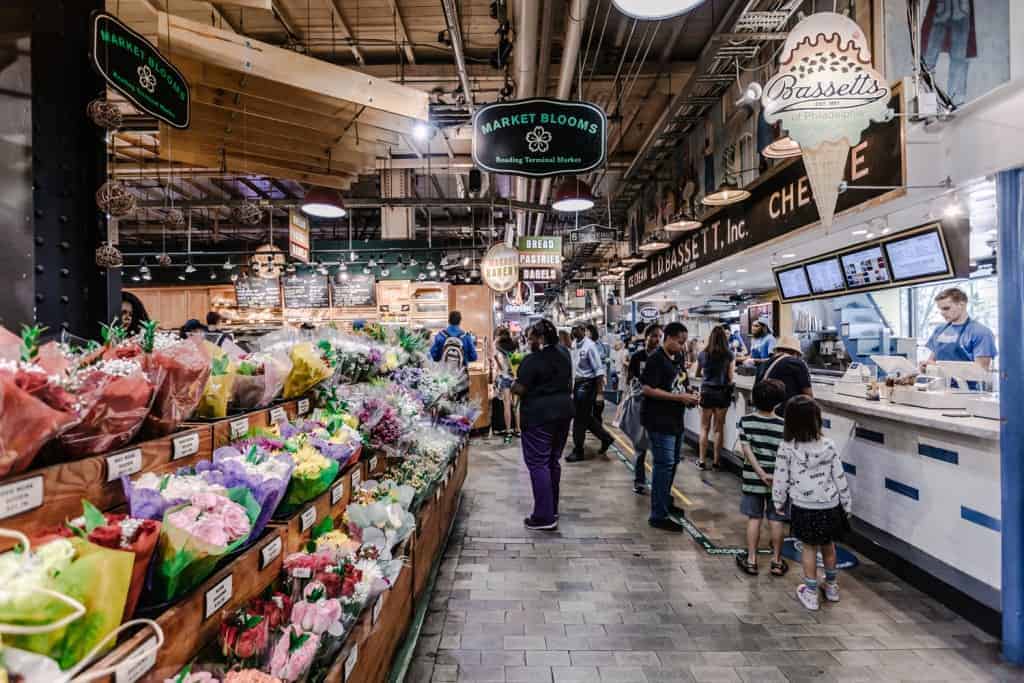 To the South….
The must-see attraction that we set-out for on our walkabout south of City Center was the Philadelphia Magic Gardens. I think nine out of ten people will love this place, the other person will hate it, but all ten will agree that they've never seen anything like it! It's the perfect place to take some unique selfies and pics of you and family and friends. There's a Whole Foods right around the corner (always a good sign of a cool neighborhood), but we opted to dine at one of the many stellar Italian restaurants in nearby South Philly.
It may surprise some that our traditional family of a husband, wife and two toddlers likes to seek out the gay area (aka "gayborhood") in the big cities we visit. So-far it's been a winning approach. The gay areas of cities are typically safe, friendly, walkable, and have great shopping, galleries and restaurants in every direction. This held true for the NoDa area of Charlotte, Capitol Hill in Seattle, Hillcrest here in San Diego, and on this trip in Washington Square West neighborhood of Philadelphia. I went dress shopping at the cutest vintage boutique (Addiction Studios) while my husband grabbed suds at a local gastropub… not a bad afternoon!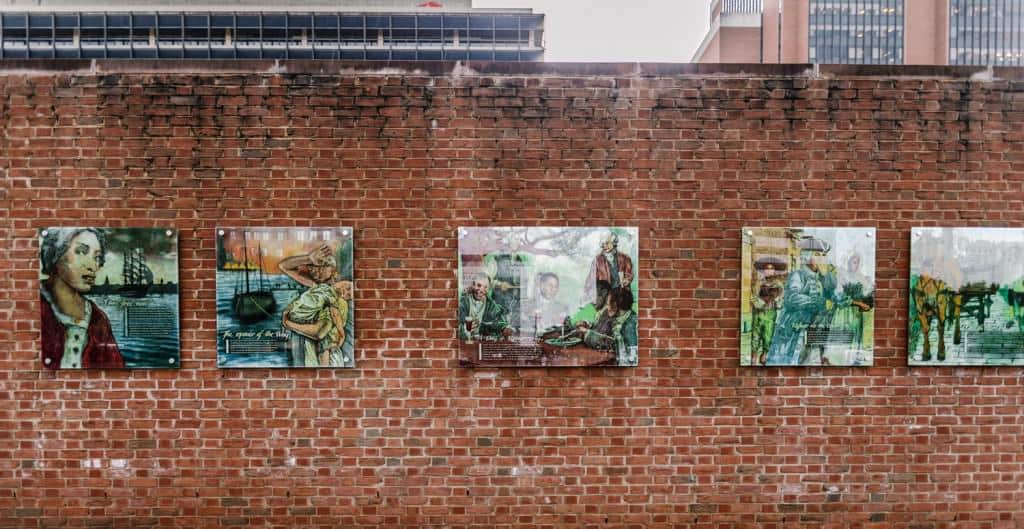 We didn't see as many tourists in South Philly as we did in the other three aforementioned areas of the city, but it was easily one of our favorite days and a great way to get a taste of the city. It was completely walkable from our Loews Hotel in City Center, and we stumbled upon quaint streets, huge parks for the kids and friendly locals that had great recommendations on what to see next.
Philadelphia is now a favorite city of mine and someplace I'd definitely consider living. My friend from Brooklyn says that "all of the best artists, chefs and musicians move from New York to Philly and other cities because New York is just too expensive". There's likely some truth to that but Philadelphia is such a cool place that I'm sure it has plenty of home grown talent, too. The locals we met were proud not just of their sports teams but of their music and art scene, restaurants and of course the city's history. You can feel that rich pride and it's one of the reasons I look forward to vacationing again in Philadelphia very soon.
If visiting Phily be sure to reach out to Loews Philadelphia Hotel as they oftentimes have additional events and promotions going on. Right now for instance there's the "Past, Present, Philadelphia." experience where you can get discount passes and a complimentary "Secret Knock" drink by tagging #LoewsPhilly in your social media posts around the city.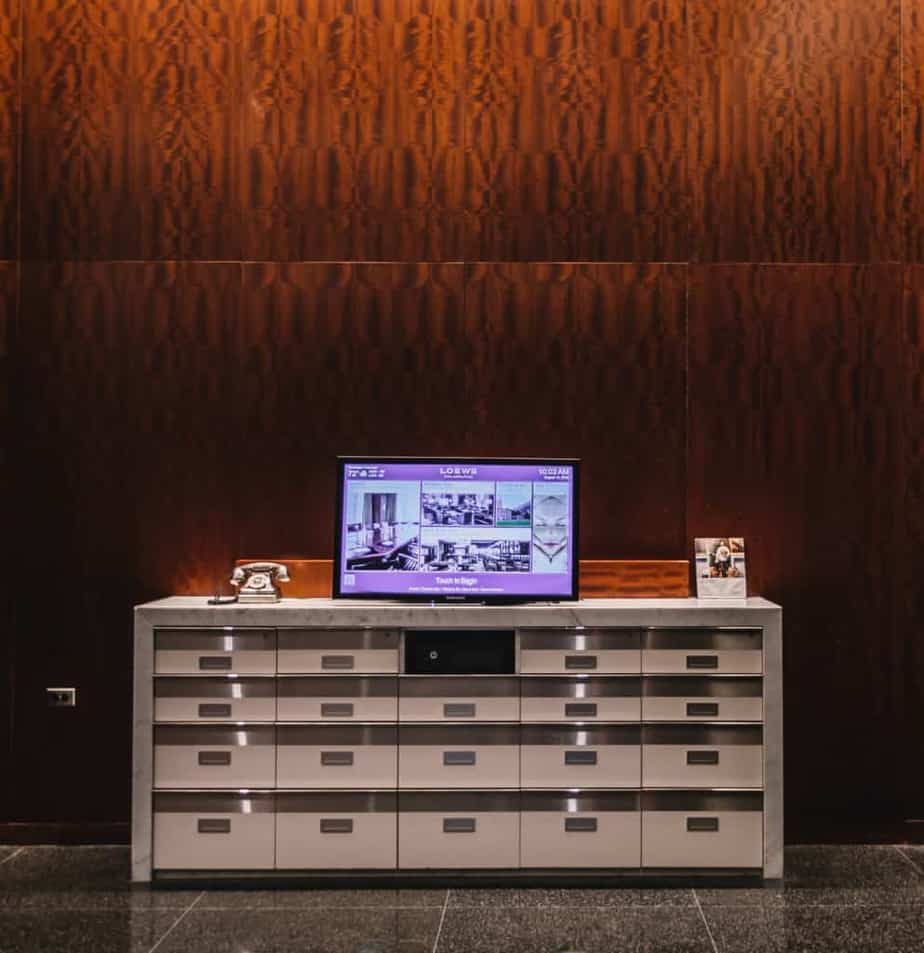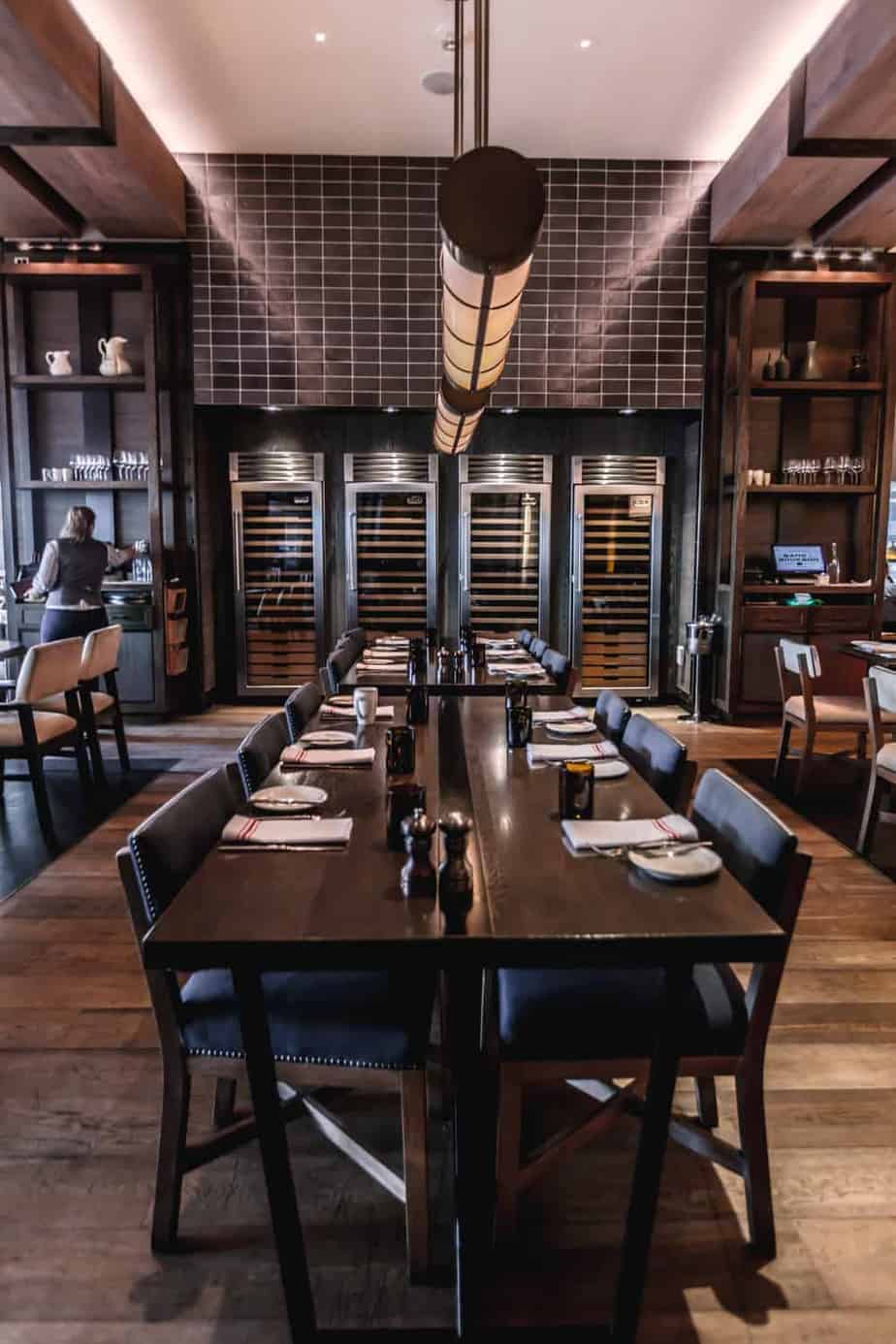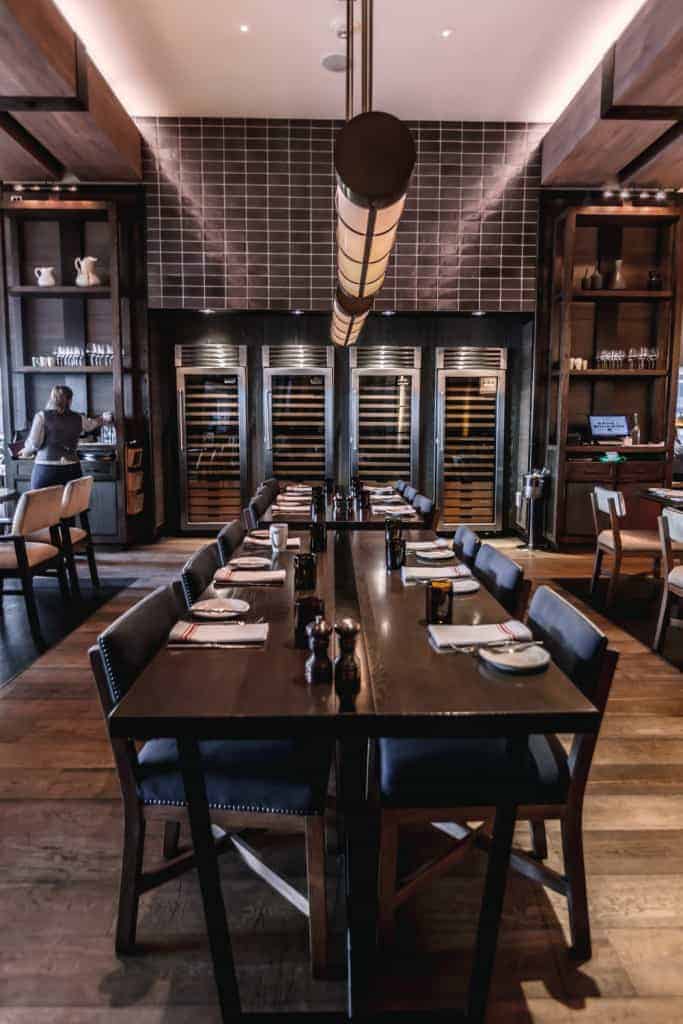 The hotel is huge with 581 guestrooms including 12 luxurious suites and 55 concierge club rooms. We toured the hotel and it's absolutely perfect for large gatherings like meetings, reunions or weddings. I think the coolest part of the hotel is the 33rd floor, which has been completely preserved and feels like stepping into a Mad Men episode. For many years is was only accessible by the absolute top brass, but can now be reserved for weddings and other events. I'm excited to stay at the same hotel and have new walkabouts all around.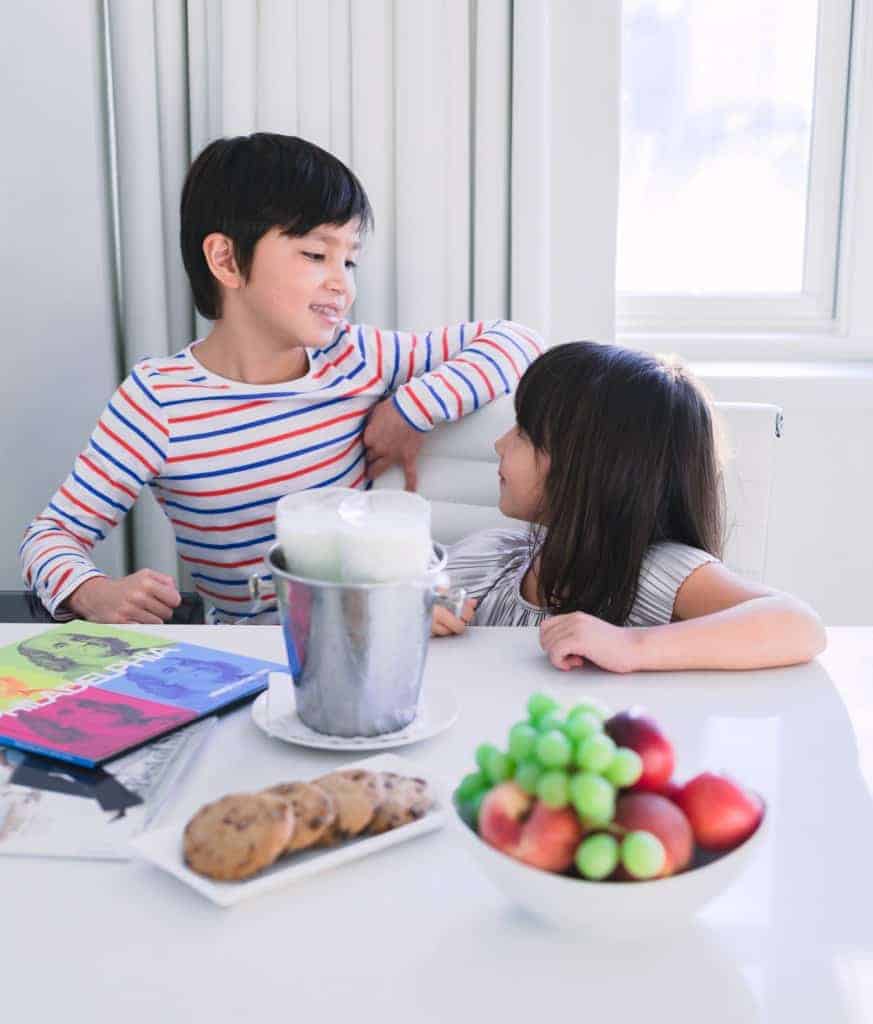 Loews Philadelphia Hotel
Address:
1200 Market St, Philadelphia, PA 19107