Chinese Restaurant-Style Fried rice recipe with deli ham, shrimp, egg, red bell pepper, peas, and carrots. It's packed with flavor and can be ready in less than 25 minutes. Better than Chinese take-out!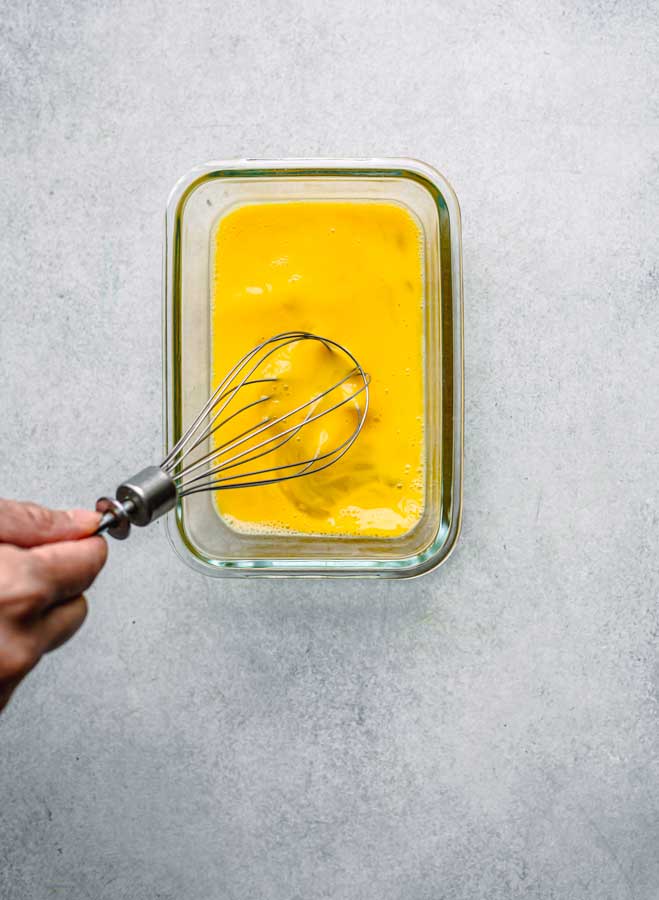 Fried rice is a homemade dish of cooked rice that has been stir-fried in a wok. It's typically made with leftover ingredients from rice to meat. Those dishes are oftentimes my favorites from different cultures.
Fried Rice always reminds me of my childhood. Growing up in South East Asia, I often ate my mom's rice for breakfast. And at night we'd often buy some from local street food vendors. It is the perfect dish for a weeknight.
Also, check out another great recipe: NASI GORENG RECIPE (INDONESIAN FRIED RICE)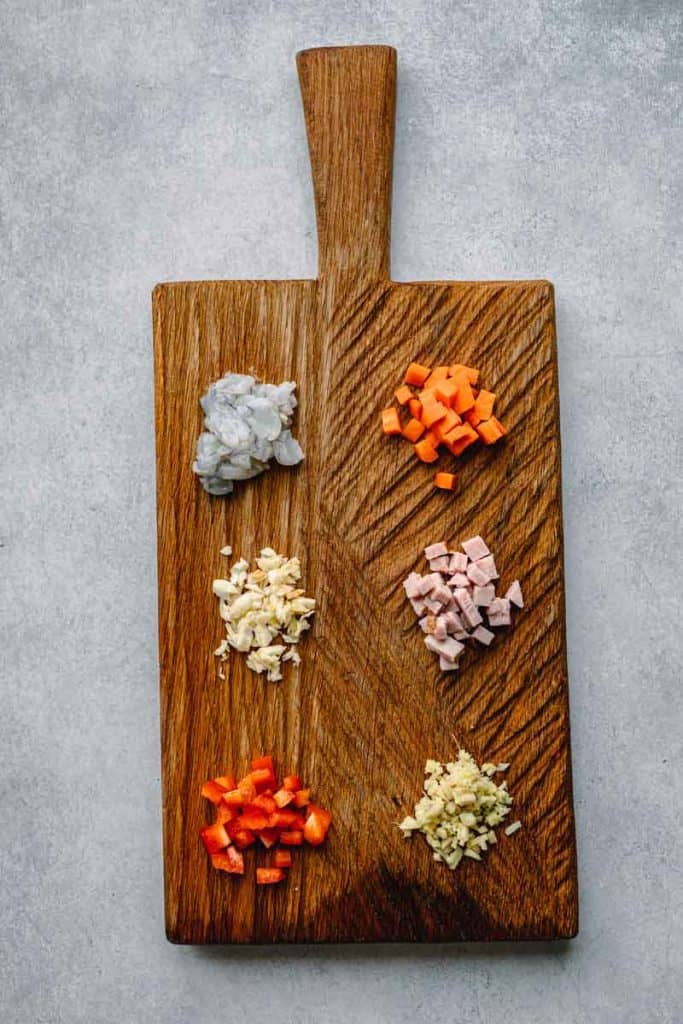 FRIED RICE INGREDIENTS:
I called this House Special Fried Rice because it has everything from the land and sea to satisfy your hunger. From rice, seafood, meat to veggies, all in one bowl, just like a house special! It also has the perfect balance of carb and protein.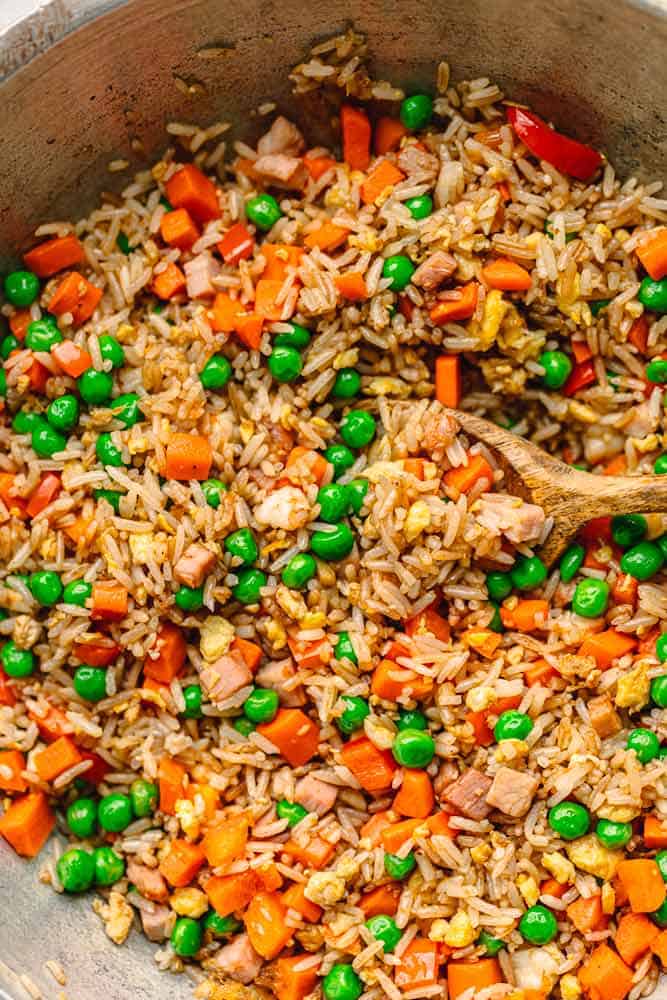 You can eat this dish by itself or as an accompaniment to another dish. It is seasoned with garlic, ginger, low sodium soy sauce, sesame oil, salt, and pepper.
ALSO, CHECK OUT THESE TASTY ASIAN RECIPES:
For this recipe, I used leftover deli ham and rice. And because deli ham contains high sodium, I highly recommend adding salt at the later stage.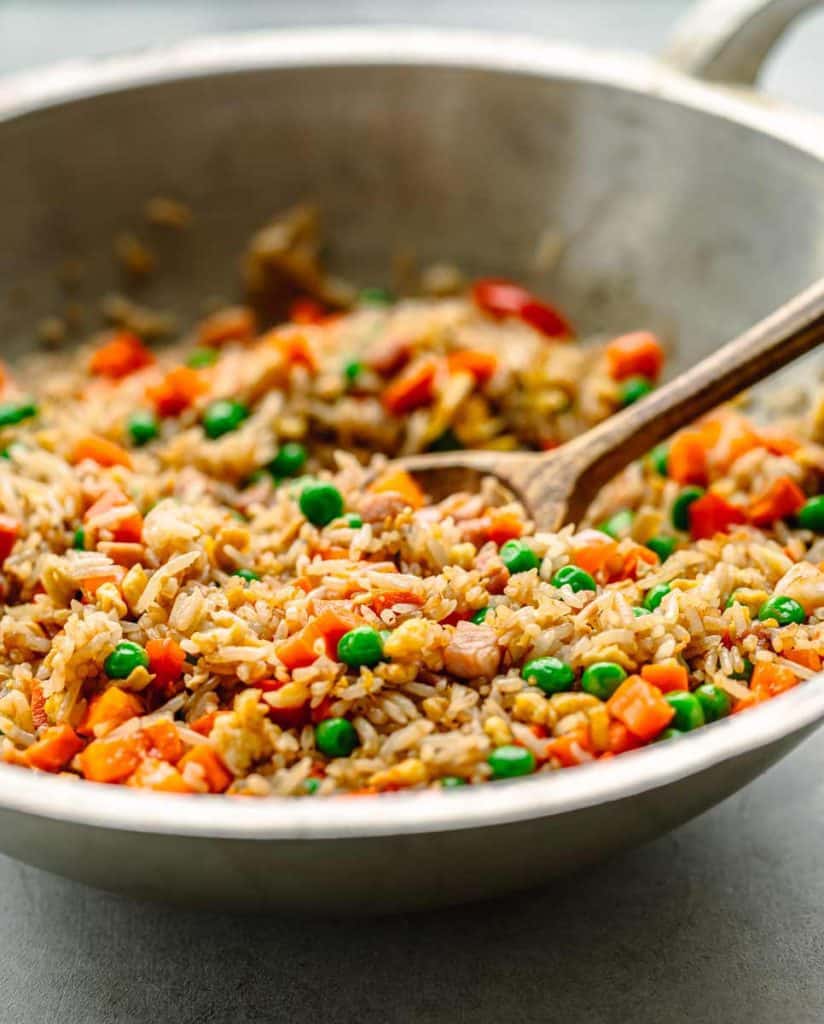 HOW DO I MAKE THIS FRIED RICE:
First, I cook the vegetable and chopped shrimp then set aside.
Secondly, I cook the garlic, ginger, and rice and make a well in which to pour the egg. Cook the egg, ham and mix it together with the rice.
Lastly, I return the cooked vegetables into the pot and stir all the ingredients to combine.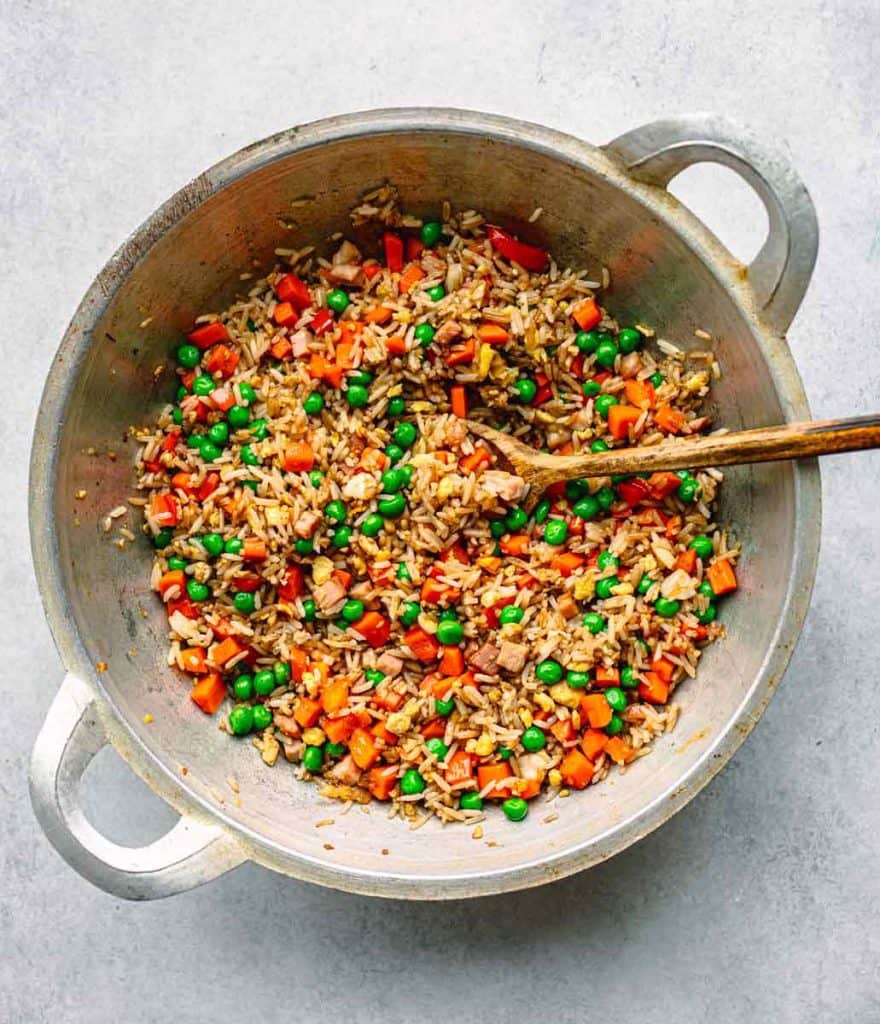 BETTER THAN TAKE-OUT AND EASY!
The secret of delicious fried rice 炒饭 are the rice itself and cooking at high heat. The rice should have distinct, chewy grains and the best way to achieve this texture is by using cold leftover rice.
I recommend cooking the rice one day in advance and refrigerating it until you are ready to make the rice. This step and timing will give you the best texture. And the result is a dryer and less starchy fried rice.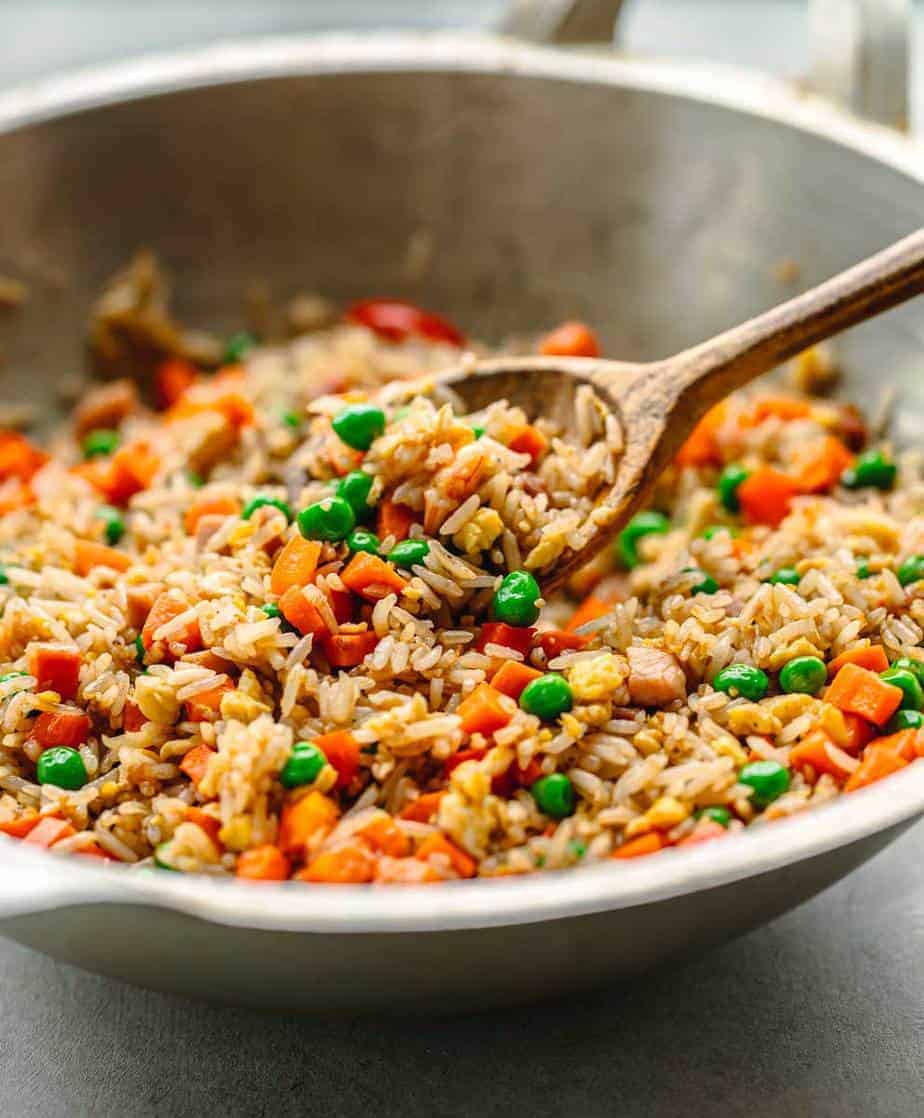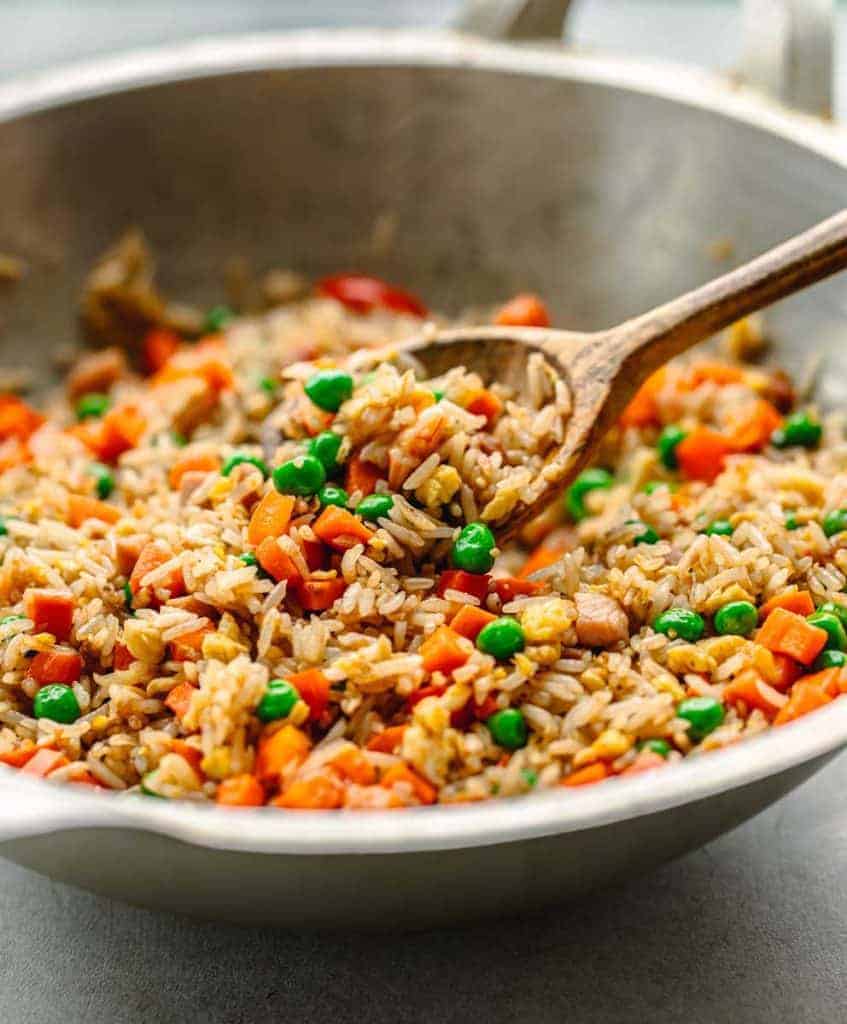 TIPS FOR THE PERFECT FRIED RICE:
In Asia, fried rice comes in so many varieties and flavors. Each has its own specific list of ingredients. But the perfect fried rice is all about texture, it's even more important than ingredients.
My favorite rice to use is Jasmine rice due to its light aroma and has the perfect texture, as it's not too sticky and not to dry. Alternatively, you can use medium-grain rice or sushi rice.
Best choice: Leftover or cold rice. If you forget to cook the rice one day ahead, feel free to use freshly cooked rice. To do this, you should first spread the rice on a baking sheet and let it cool down and allow some surface moisture to evaporate before cooking.
Washing the rice could reduce starches that causes rice to clump.
Either one is fine. My aunt is one of those people who makes the best fried rice and always used butter instead of oil, so I've always been partial to less oily rice (and butter hasn't let me down!). Diet and health can play into your choice here, too.
There are many sauces available to use to season rice. For example: oyster sauce, hoisin sauce, and soy sauce. Whatever sauce you decide to use, go easy and don't use too much of it. Too much sauce will affect the rice texture. If you need to add saltiness to the dish, just toss in some salt instead of going overboard with the sauce.
Break up the rice before stir frying
To prevent clumpy rice be sure to break it up with your hand or a fork before cooking it in the wok.
Before you add the rice to the wok, make sure that the oil is hot.
A really hot pan is key to preventing the rice from sticking.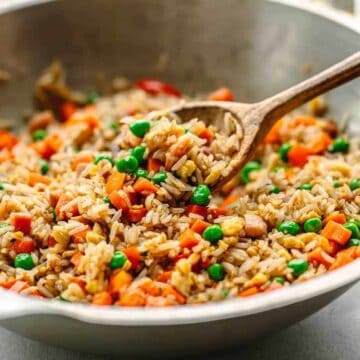 Fried Rice Recipe with Ham and Shrimp
Chinese Restaurant-Style Fried rice recipe with deli ham, shrimp, egg, red bell pepper, peas, and carrots. It's packed with flavor and can be ready in less than 25 minutes. Better than Chinese take-out!
Ingredients
3

cups

a day old cooked white rice

3

tablespoons

vegetable oil or butter

,

(divided)

2

carrots

,

(chopped)

½

red bell pepper

,

(julienne)

5

pieces

shrimp,

(chopped into small pieces)

1

cup

green peas

,

(defrost and dry well if use frozen)

3

cloves

garlic

,

(minced)

1

tablespoon

minced ginger

2

eggs

,

lightly beaten

⅛

pound

deli ham

,

(cut into small cubes)

1

tablespoon

+ 1 teaspoon low sodium soy sauce

¼

teaspoon

of kosher salt

,

(use more according to your liking)

1

tablespoon

sesame oil
Instructions
Heat 1 tablespoon of oil in a skillet over medium-high heat. Cook the carrot for about 4 minutes then add bell pepper and cook for 1 more minute.

Next, add the chopped shrimp and cook for 30 seconds. Then add peas, stir and cook for 1 minute or until the shrimp is cooked. Transfer to a plate and set aside.

Heat 1 ½ tablespoons of oil in a skillet over high heat and until hot. Add garlic and ginger, then give it a quick stir for about 15 seconds or just until fragrant.

Add white rice and keep stirring for about 2-3 minutes. Set the rice to the side, make a well in the center and add ½ tablespoons of oil and break the egg into it.

Use a spatula to scramble the egg, breaking it up into small bits. Toss the egg and the rice together. Add deli ham, keep cooking and stirring for about 1 minute.

Put the cooked carrots, bell pepper, peas, and shrimp back into the skillet, give a quick stir. Add soy sauce and sesame oil, keep stirring and continue cooking for about 2 minutes. Add salt and pepper if necessary.

Remove from the heat. Serve and enjoy!
Nutrition
Calories:
398
kcal
Carbohydrates:
44
g
Protein:
12
g
Fat:
19
g
Saturated Fat:
3
g
Polyunsaturated Fat:
5
g
Monounsaturated Fat:
10
g
Trans Fat:
1
g
Cholesterol:
91
mg
Sodium:
504
mg
Potassium:
346
mg
Fiber:
4
g
Sugar:
4
g
Vitamin A:
5957
IU
Vitamin C:
36
mg
Calcium:
50
mg
Iron:
2
mg