A refreshing Thai Green Papaya Salad, known as Som Tam in Thailand. It has the perfect balance of sweetness, saltiness, and spiciness. It can be eaten alone or served with other fresh vegetables on the side. This easy and light salad can be ready in less than 20 minutes. No cooking required!
Are you craving for more Thai recipes? Today I want to share this delicious Thai Green Papaya Salad. It's one of the most popular Thai Street Foods and a common appetizer/salad sold at many Thai restaurants.
Green Papaya Salad:
It's called Green Papaya Salad because it uses unripened papaya as the main ingredient. This popular dish originally comes from Laos but is eaten throughout Southeast Asia. It is often served with sticky rice, Thai grilled chicken or fresh vegetables like cabbage on the side.

Green Papaya Salad Ingredients:
This green papaya salad is made with unripened papaya, tomatoes, green beans, dried shrimp, crushed peanuts, and seasoned well with garlic, chili, fish sauce, palm sugar, and fresh lime juice.
Another reason that this Green Papaya Salad recipe is so easy to make is that it is made with ingredients that you can easily find at Asian supermarkets.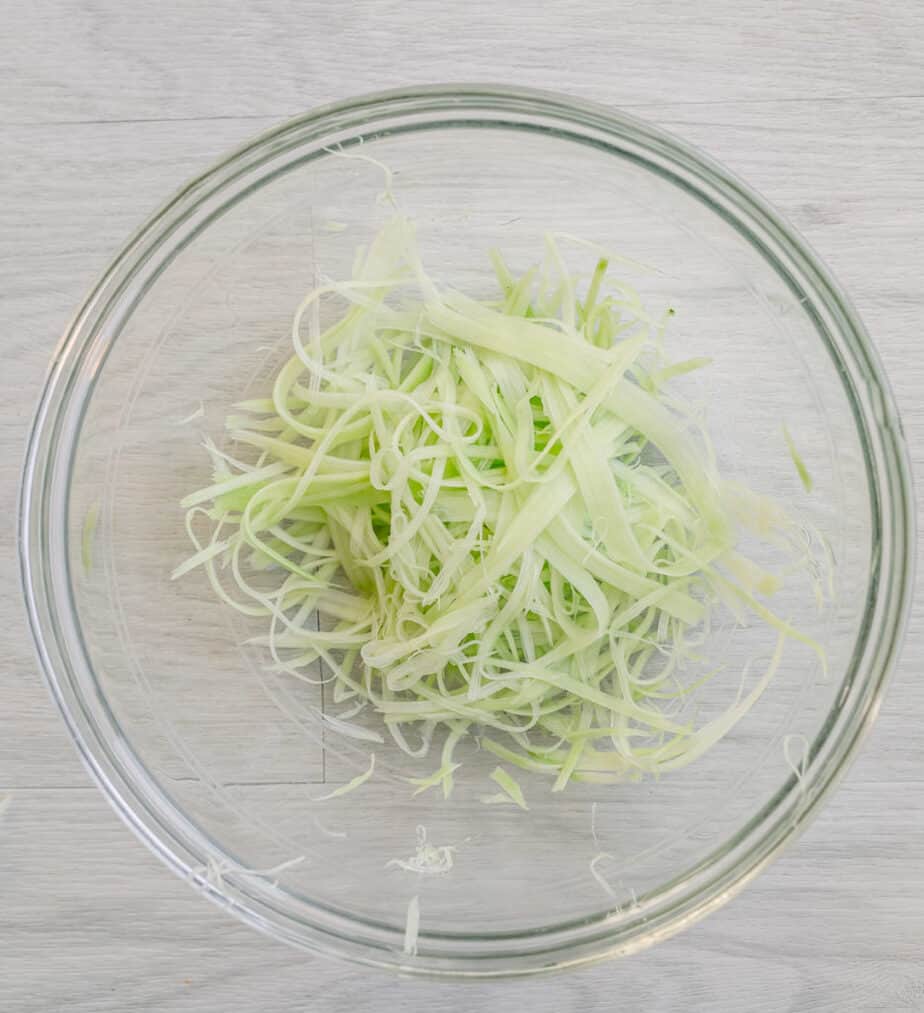 CHECK OUT MORE THAI RECIPES: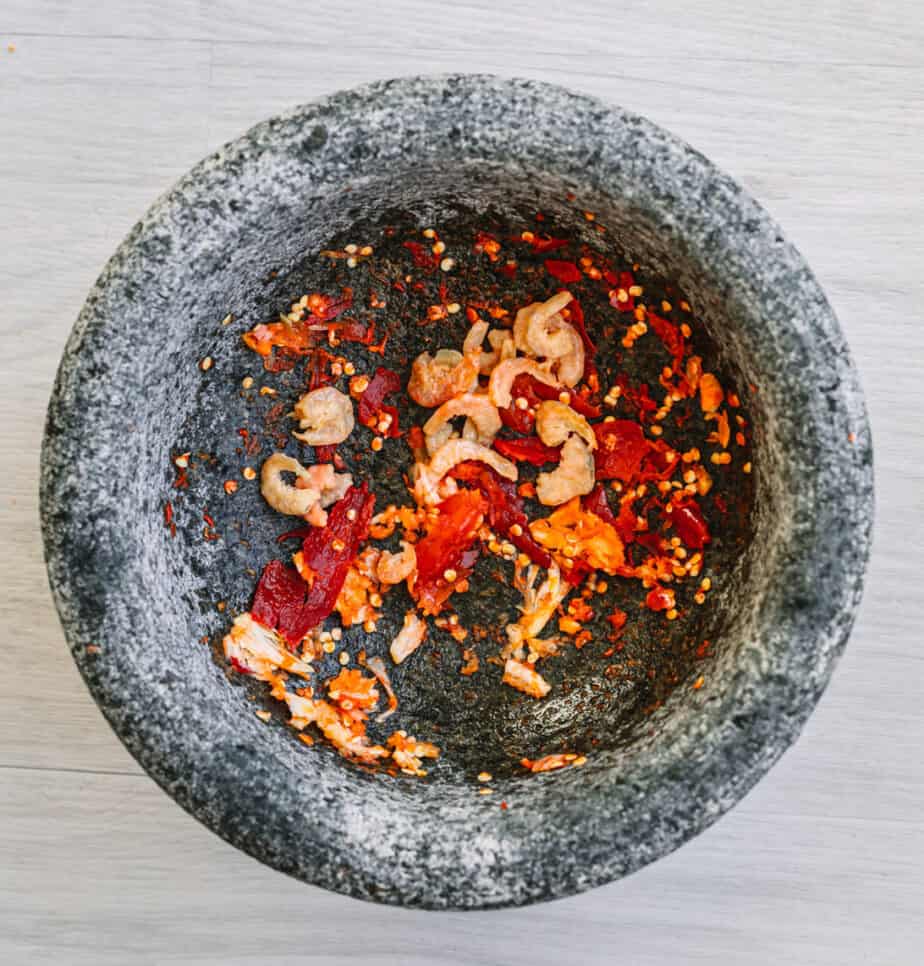 The Green Papaya:
Green papaya is the same fruit as the regular orange papaya but it's unripened. It has very little flavor and is clean-tasting taste like jicama. It also has a crunchy texture, making it the perfect ingredient for salad or pickling.
While you can purchase green papaya at any Asian supermarket, some markets sell them as a whole (unpeeled) and some of them sell them in a bag (peeled and shredded).
Dried Shrimp:
Dried shrimp are also widely available at Asian supermarkets or Amazon.com. They are often used in Asian cuisine to create a unique umami taste, a fishy, salty, and slightly sweet flavors.
Dried shrimp are commonly used to add flavor in soups, stews, noodle dishes, stuffings, and stir-fries.
If you can't find dried shrimp in your area or have a shrimp allergy, feel free to skip it (no replacement item needed). Dried shrimp can be stored in the fridge for a very long time, on average up to 5 months, or sometimes even longer.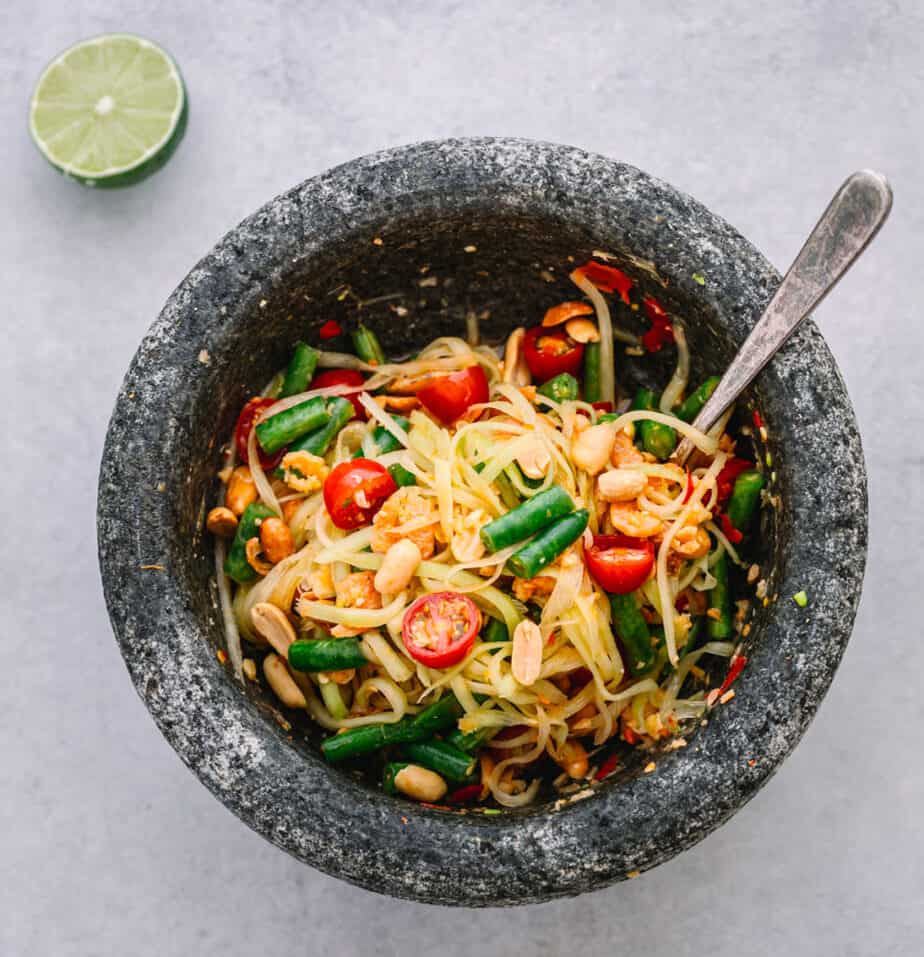 Palm Sugar:
Palm sugar is a sweetener derived from any variety of palm tree. It's often used as an ingredient in both sweet and savory dishes used throughout Asia.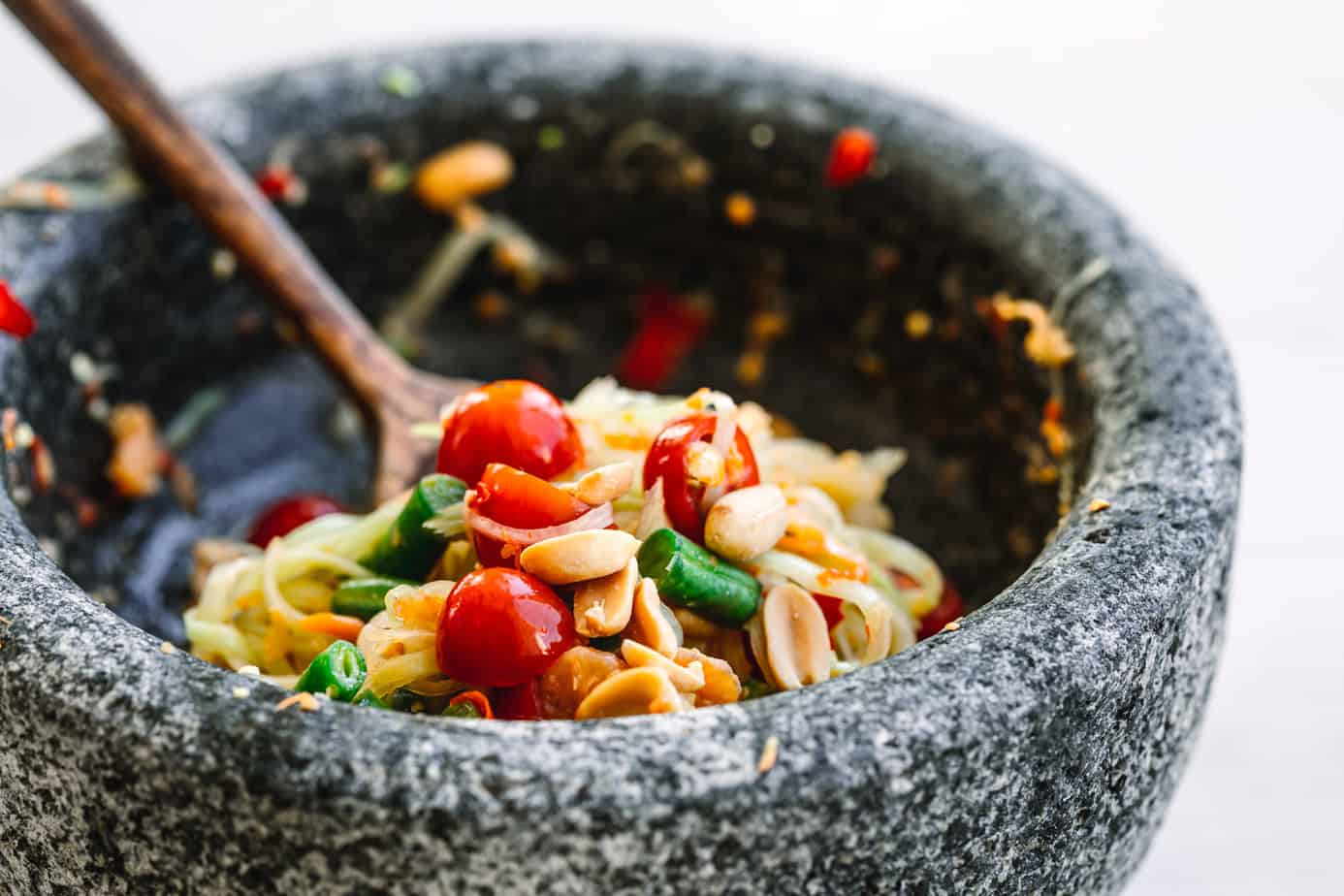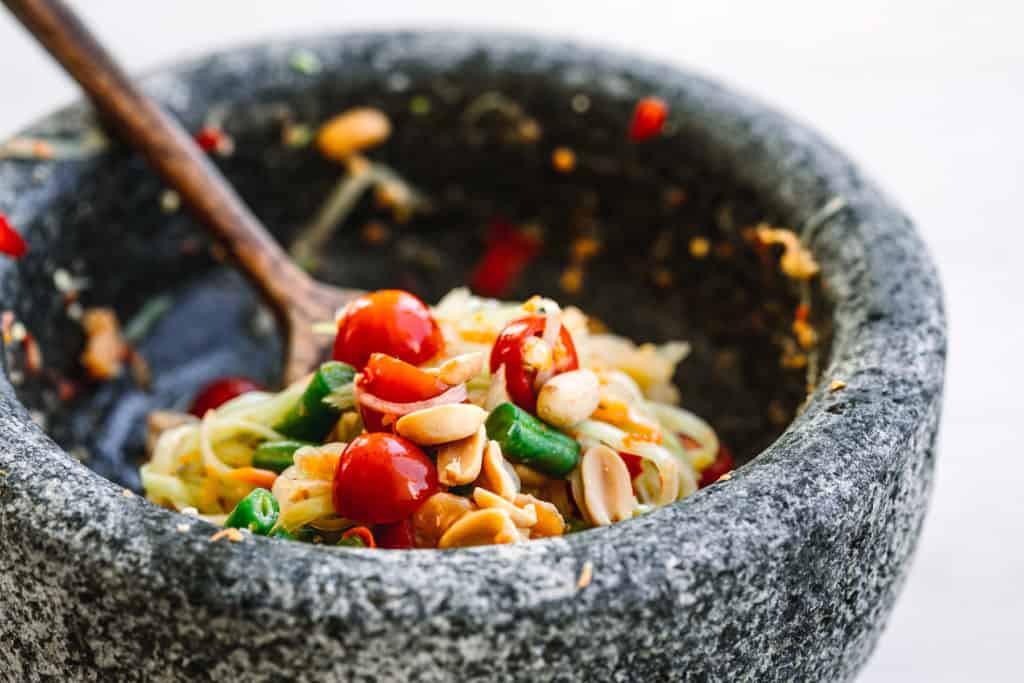 You can purchase Palm sugar at any Asian supermarket or online store like Amazon.com. They usually come in big round pieces like this, and are pretty hard. I therefore highly recommend using a cheese grater when using it in recipes.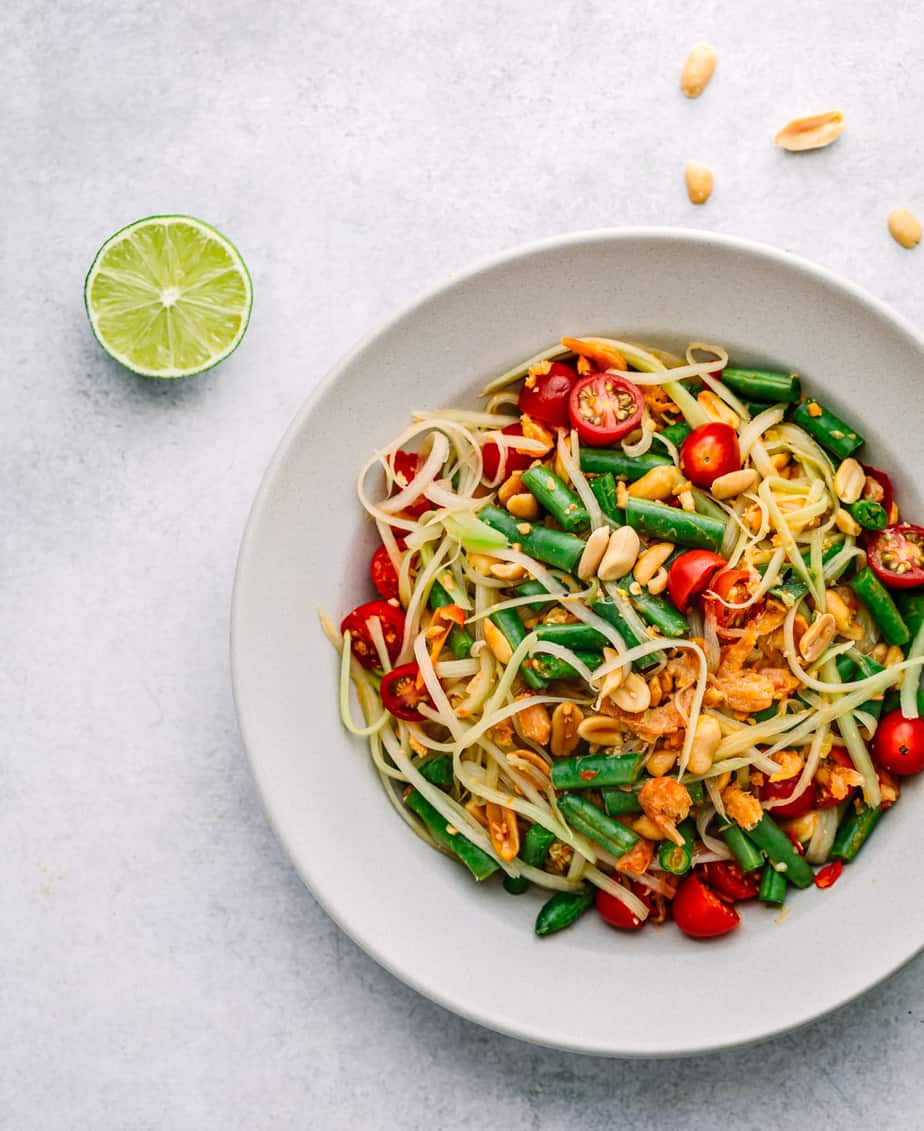 Green Beans:
This recipe calls for green beans, and you can use any green beans you can find at the market, such as Chinese Long Beans, regular green beans, or Haricots Verts (Thin French Green Beans).
The green beans add a crunchy texture to this green papaya salad dish.
Fish Sauce:
Fish sauce is a liquid condiment that is made from fermented fish. It has sweet, salty, and fishy umami flavor. It's commonly used as a seasoning and dipping sauce.
You can find fish sauce at any market, such as Ralph's, Sprouts, Walmart, and Asian grocers. I highly recommend using the Thai Fish sauce for this recipe, known as nam pla.
CHECK OUT MORE SOUTHEAST ASIA RECIPES: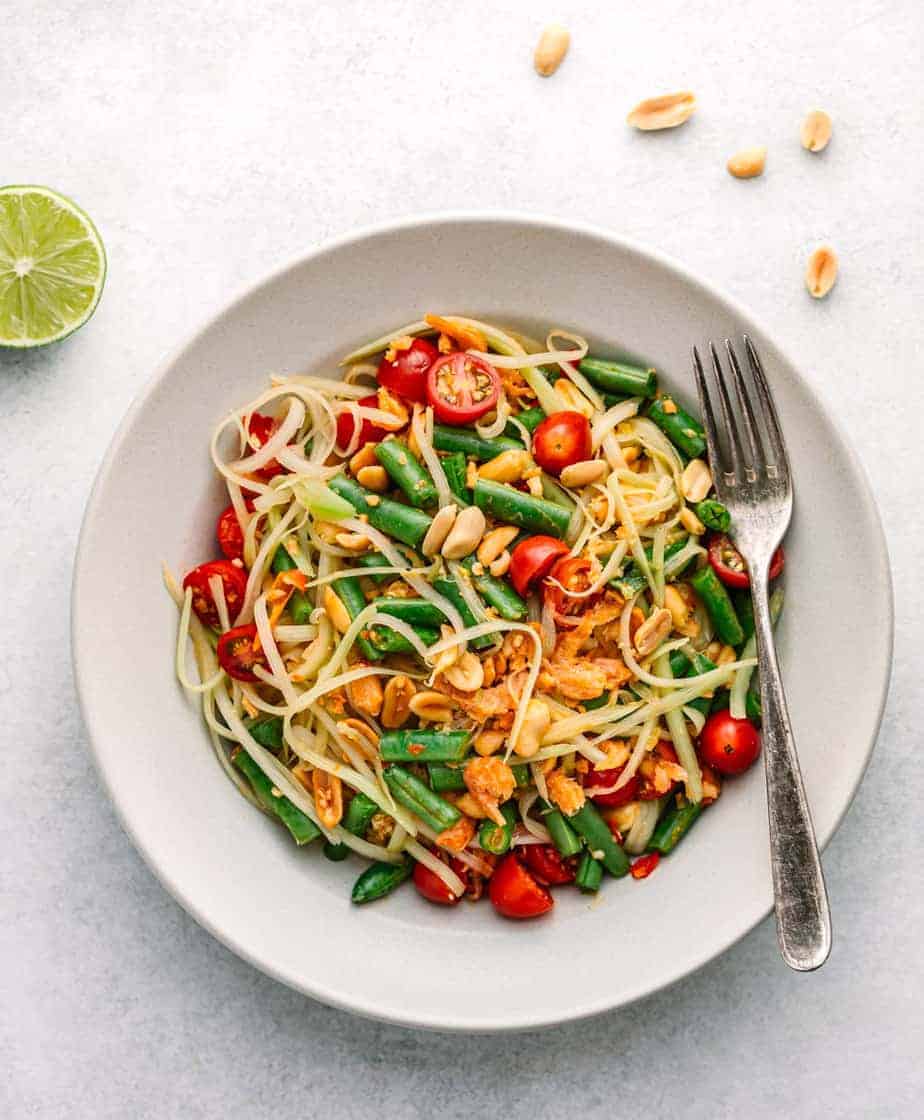 Dreams of Thailand
On my last trip traveling through Asia I wanted to go to countries that other travelers don't necessarily flock to, for example, Laos. I wasn't sure if Thailand would be a good choice as I sometimes want to be away from the masses and places that cater to tourists. Well, every minute I spent in Thailand was just phenomenal. The people were so genuine and friendly, the countryside was lush (we spent a lot of time in Northern Thailand), and the cities vibrant and colorful. As far as the food, it exceeded my every expectation.
Cooking Thai Food at Home
Upon my return home to the US, I was craving that delicious Thai food, Thai Street Food that I found there, but as often is the case was a bit let down with the options I found at restaurants here in the states. Why is that? While I do enjoy the dishes here, they just don't have the vast variety that I was seeing over in Thailand. Restaurants would have a completely different menu from one place to the next, it was if my palate was excited to try each new dish.
Sometimes cooking at home is the best way to explore the cuisine of another country. You can veer off the common path and make the things that sound best to you, and may not appeal to the masses or feel pressured to make what people might expect. I hope to bring you many more varieties of Thai and other dishes from Southeast Asia, please let me know if there are any specific ones you're looking to try out.
I hope you will enjoy this Thai Papaya Salad recipe.
📖 Recipe
Green Papaya Salad
It's one of the most popular Thai Street Foods and a common appetizer/salad sold at many Thai restaurants.
Ingredients
2

cups

shredded green papaya

, (see recipe notes)

2

tablespoon

roasted peanuts

,

(divided)

2

garlic cloves

2-3

Thai red chili peppers

,

(use more or less according to your liking)

1

tablespoon

dried shrimp

,

⅓

cup

chopped green beans

¼

cup

chopped cherry tomatoes

1½

tablespoon

Thai fish sauce

,

(use more according to your liking)

1½

tablespoon

palm sugar

,

(use more according to your liking)

2

tablespoon

fresh lime juice

,

(use more according to your liking)
Instructions
In a small bowl, cover the dried shrimp with hot water. Let stand for 5 minutes, then drain.

In a large mortar and pestle, pound the garlic, and chilies until there are no more big chunks.

Add dried shrimp and 1 tablespoon of roasted peanuts to the mortar, then pound until blended. No need to pound too hard.

Pour the fish sauce, sugar, and lime juice into the mortar and stir to dissolve the sugar.

Add green beans and tomatoes, then lightly pound them as well.

Add the green papaya, then mix all the ingredients until the dressing is coating all the green papaya.

Scrape the mixture into a large bowl. Toss with one tablespoon of chopped peanuts.
Notes
To Shred Papaya: Use a mandoline or Julienne Peeler
If you don't have a mortar and pestle, just use a knife to finely chop up the garlic, chilies, dried shrimp, and peanuts. Then mix all the ingredients in a large mixing bowl.