In partnership with The Hotel Paradox, Autograph Collection - Santa Cruz
As we were welcomed to The Hotel Paradox with a friendly "hello" we were also greeted by the most amazing front desk I have ever seen, carved out of a massive and wonderful eucalyptus tree. Looking around the rest of the lobby and beyond I quickly found that outdoor beauty was the heart and soul of the hotel and could be found everywhere. A plant garden stretches along the length of the hotel, lamps and tables are carved from trees. Gorgeous redwoods and other native beauties serve as a canopy backdrop to the hotel, visible from the pool common areas and most of the rooms. Their conference room has photographed redwoods beautifully overlaid on the glass, a sure way to elevate the mood of any meeting or event. Our hotel room had amazing vertical wooden panels behind the beds (something I'm now inspired to copy in my home bedrooms!). Even the shower had natural design elements with polished stone floor and a golden tree branch handle.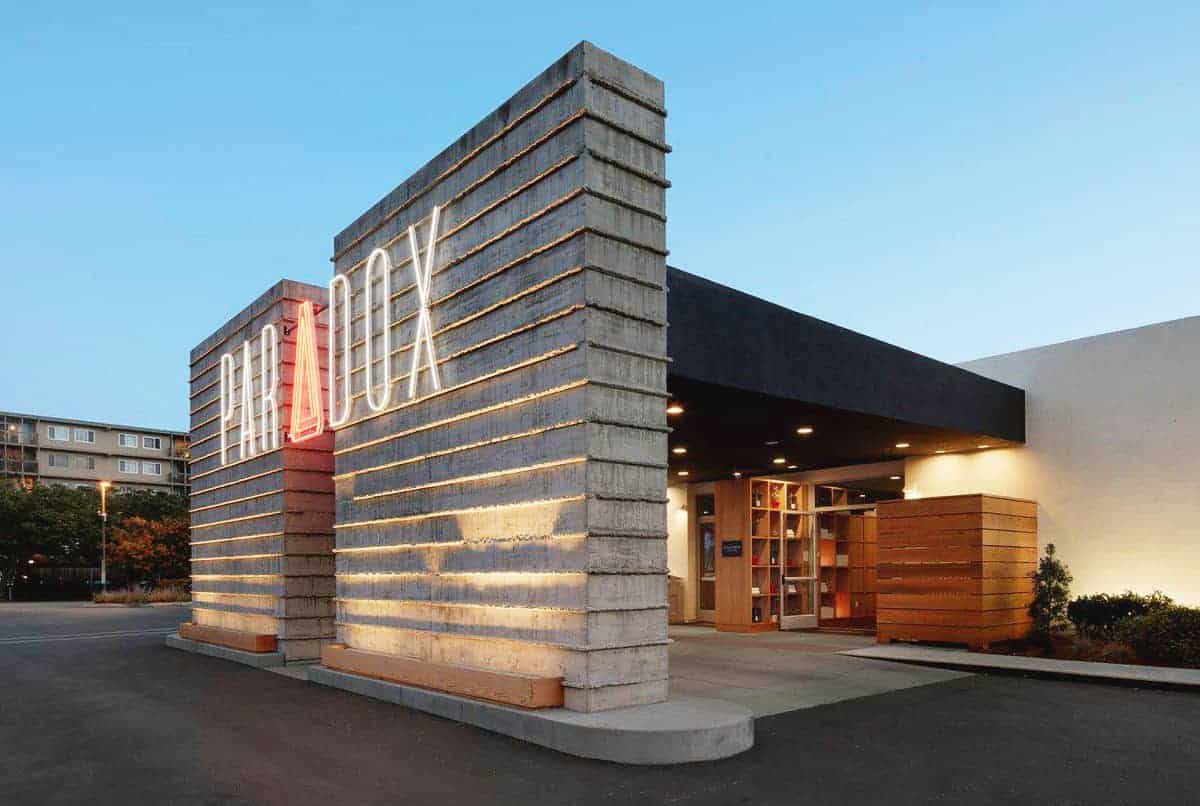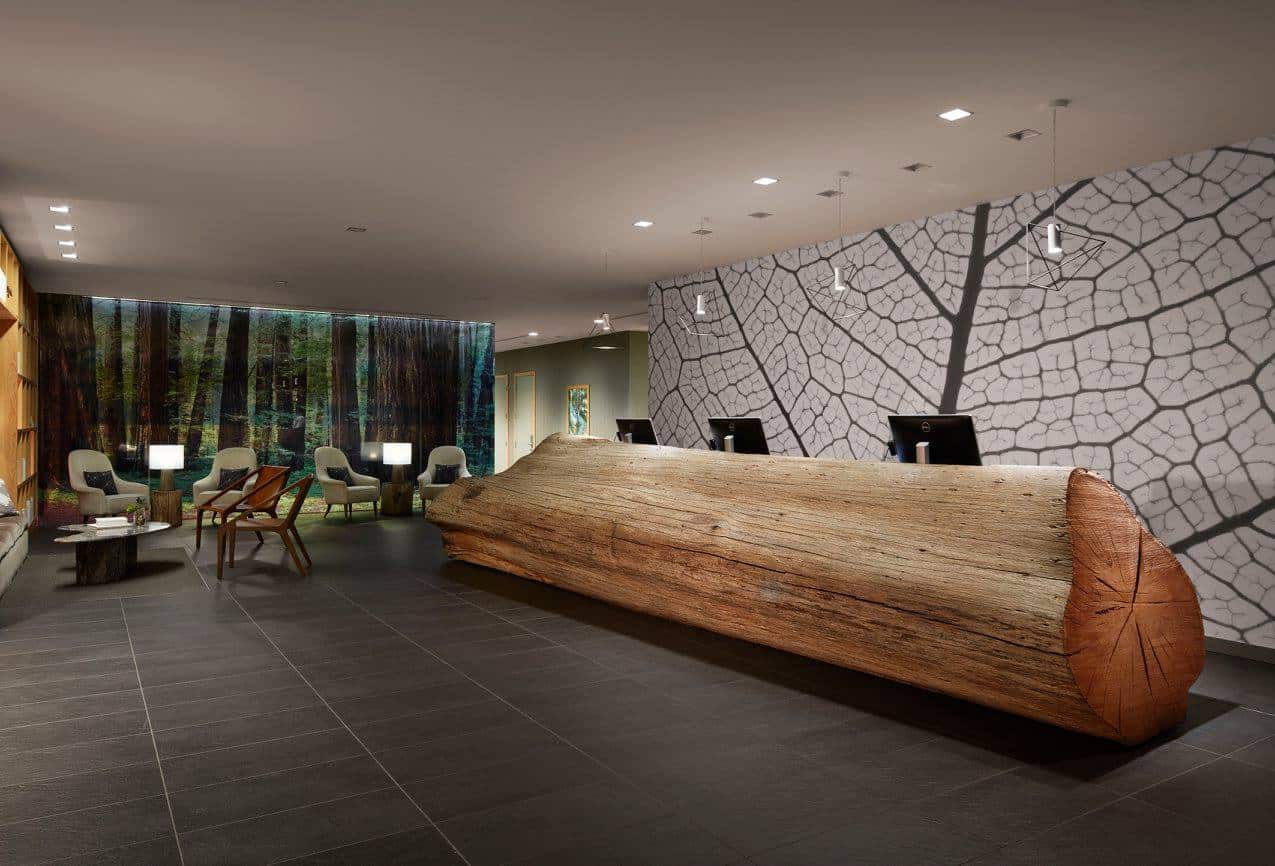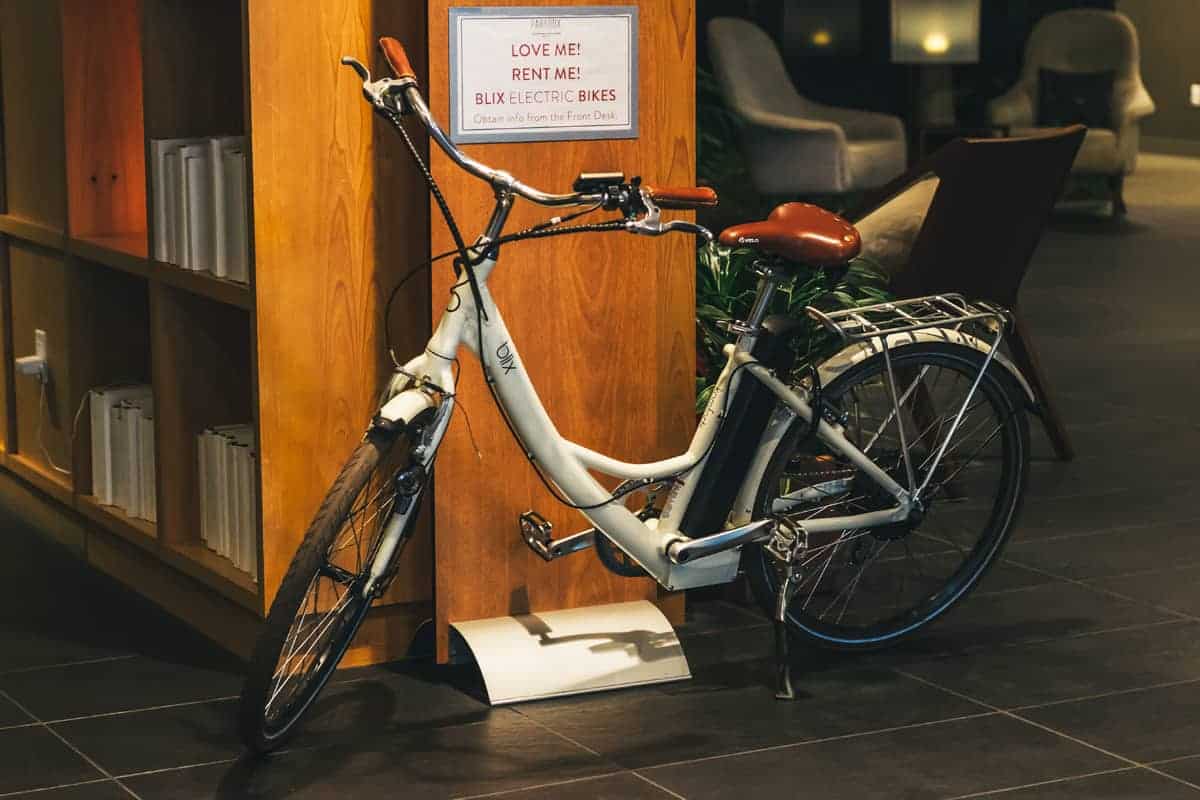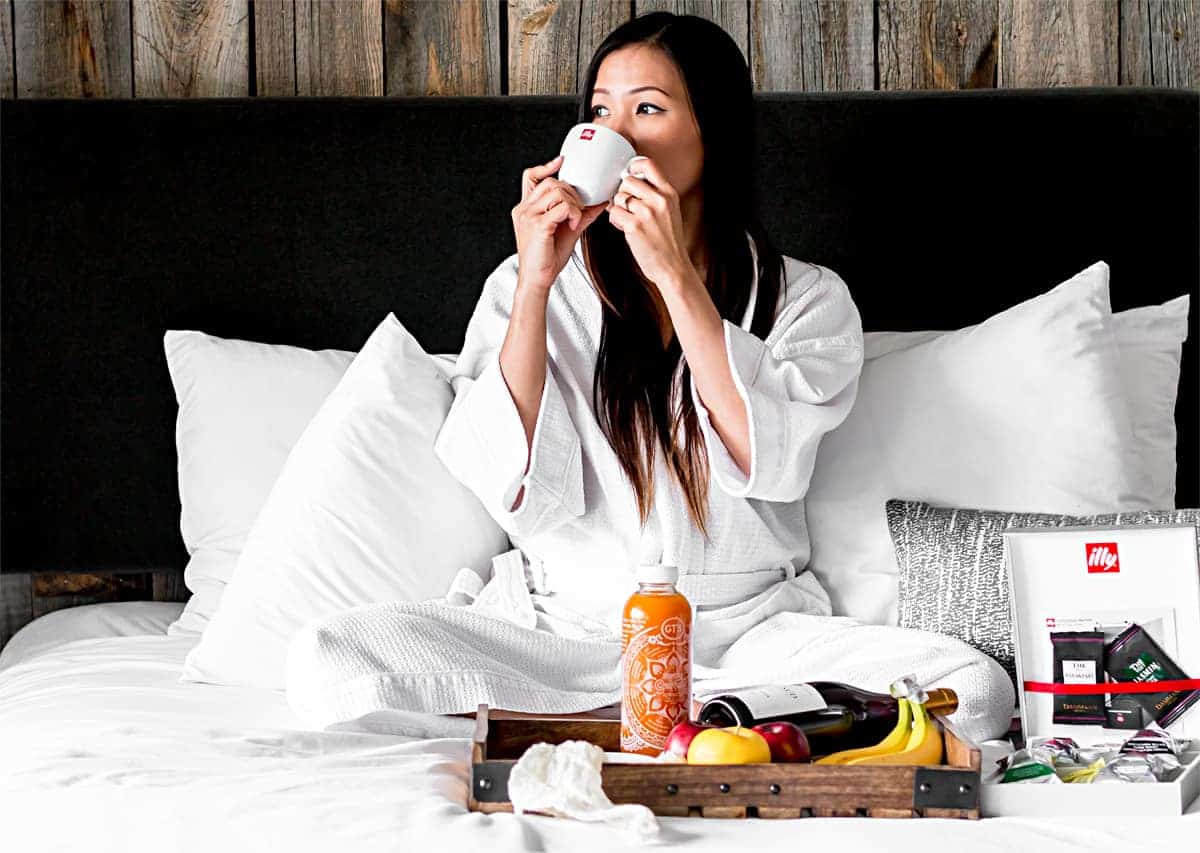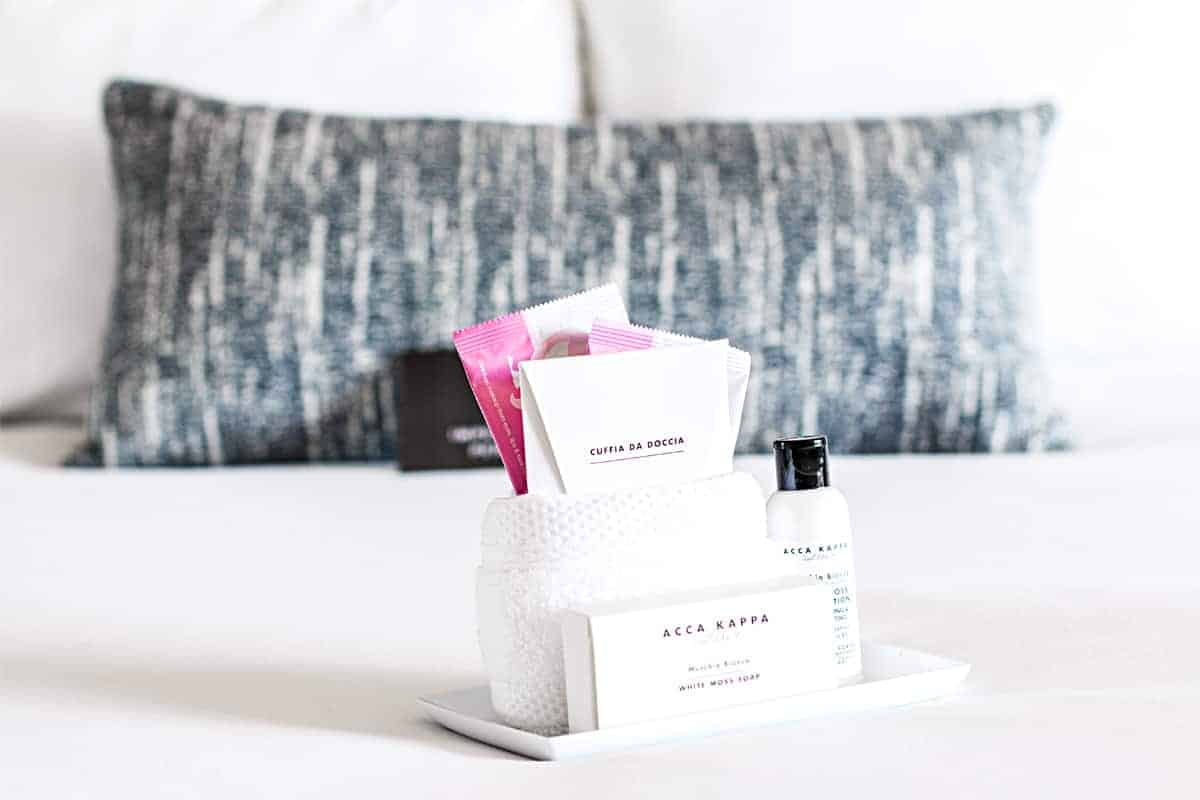 Many hotels that embrace the outdoor give off a musty, old cabin feel. This Hotel Paradox on the other hand is chic and very modern, yet fully embraces and entrenches itself in Northern California's forests and thousand year old trees. Paradoxical indeed!
Squirrels on the Ceiling? Only at the Hotel Paradox
I don't have to think too hard to confirm that the Hotel Paradox is the only place I've stayed with an artistic arrangement of white squirrel statues lining the hallway walls and even on the ceiling! The hotel is full of "fun uniqueness" that made each day there a little bit more of a mini adventure than just a place to stay. It seems to pride in pushing itself to be different from anywhere else. The lobby has hundreds of real books lining the shelves, but each is wrapped in the same white paper book sleeve. Captivating Ronnie Genotti paintings brighten the foyer. Meeting rooms display sayings like "Be quick, but don't hurry!" and "It's Weird Not To Be Weird". The well-equipped fitness center dares to be different with its cool floor to ceiling painting similar to the Wave of Kanagawa. Even their floor mats have clever messages.
Hotel Paradox Pool
Even though it was November we spent every day in the hotel pool. Why not when it's heated, large, and is lined with comfortable cabanas on all sides. The pool itself has a huge shallow-end for the kids and a nice deep-end (that actually is deep at 9 feet). The water was warm and when we wanted to heat up even more we hopped over to their large hot-tub. The whole vibe out there was just awesome, a culmination of many types of travelers from families with kids to the young and hip; California locals to those from other states and Europe. There were some business travelers too, whom looked to be mixing in a good dose of pleasure on their stay. The pool deck stretches very far so there are plenty of cabanas, and like rest of the hotel they are different from what you'd expect (my favorite had a swinging chair inside). An attentive staff and access to the full menu from Solaire kept us there for hours. At night we looked down on the fire-pit, heat lamps, the pool's radiant color and cool, coffin-like shape. It all drew us in for another dip.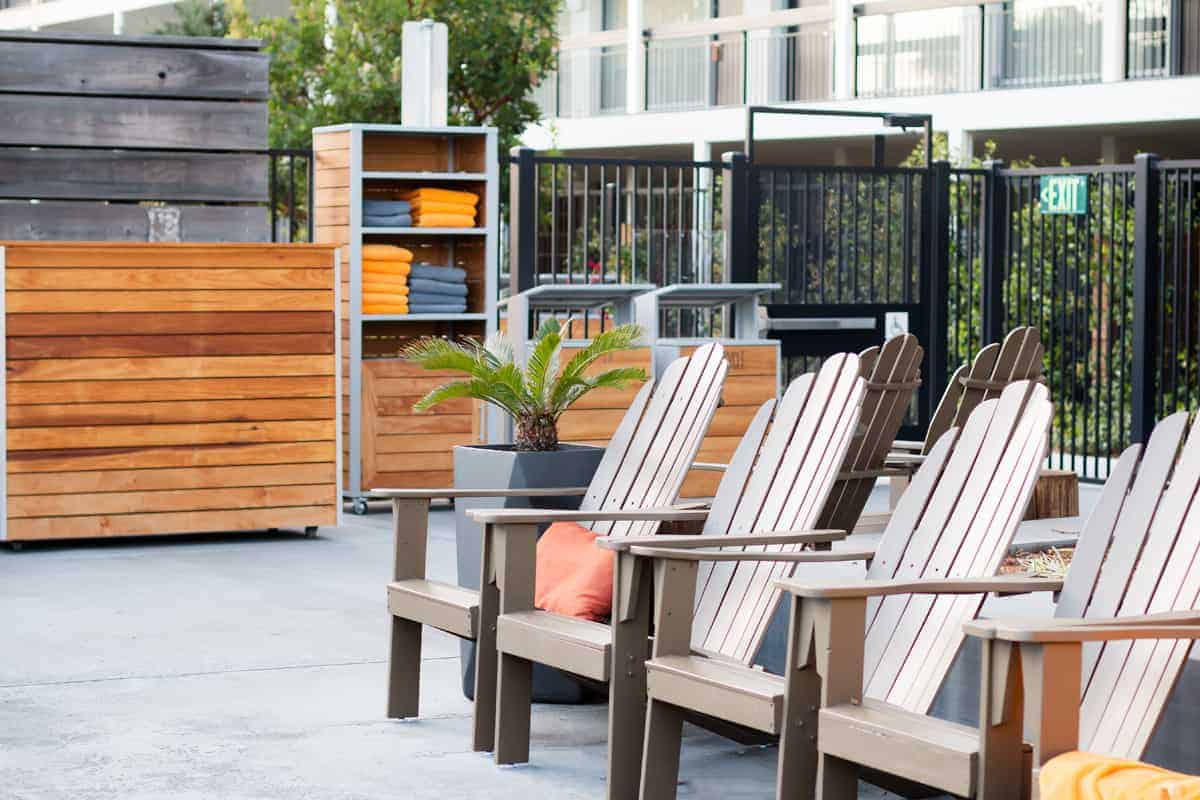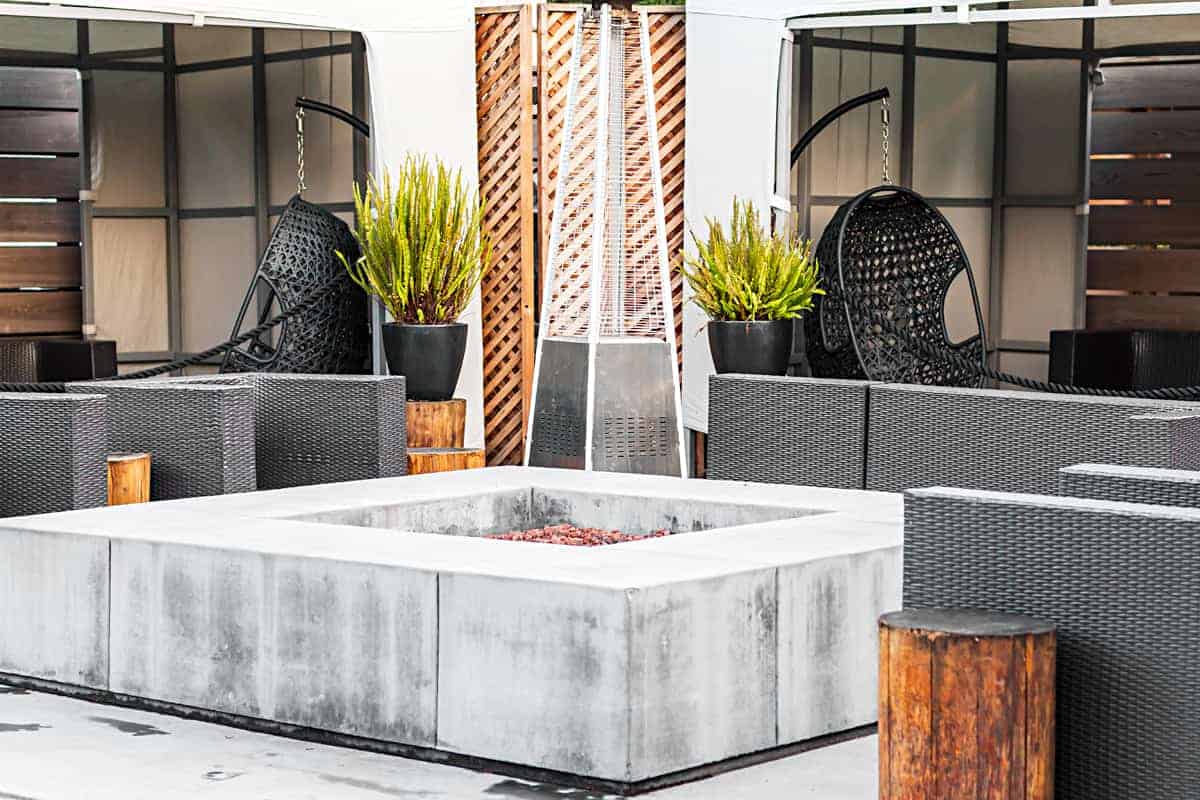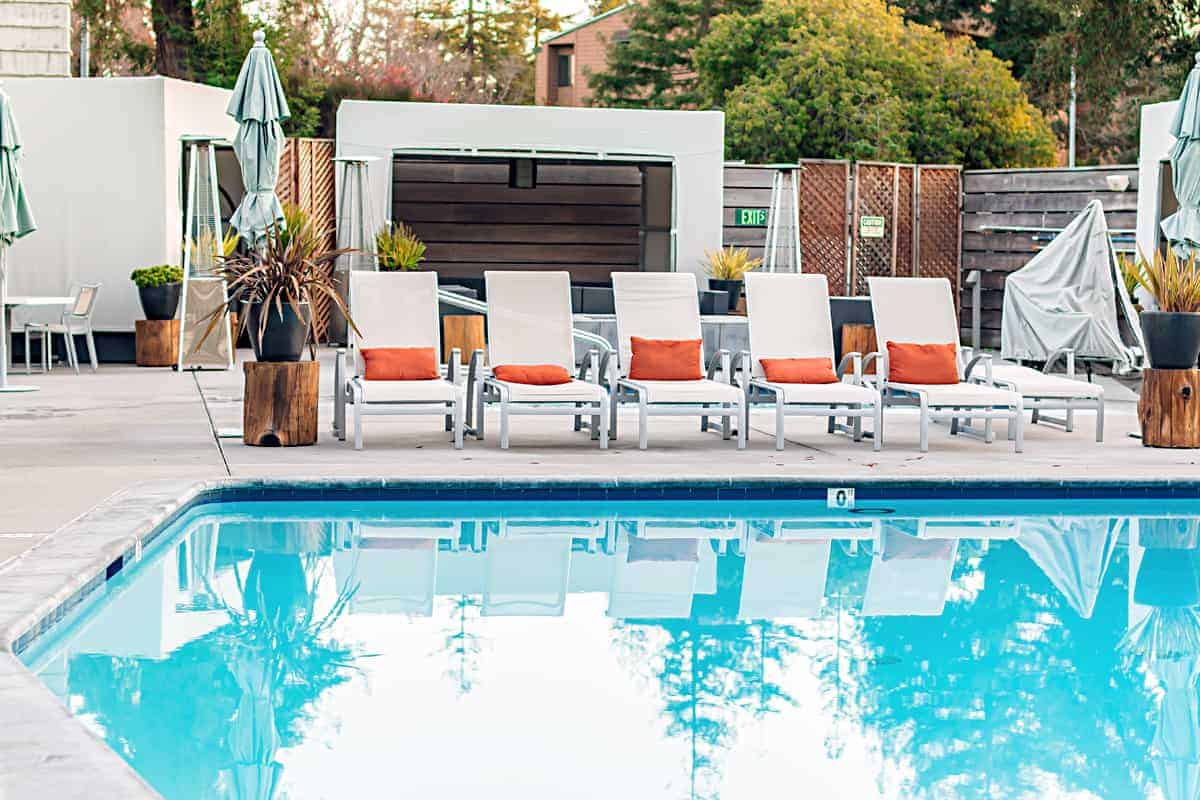 Solaire: One of Santa Cruz's Best Restaurants
Northern California is known worldwide for its cuisine so our expectations were high for Santa Cruz. We were pleased to hear that the Hotel Paradox's restaurant, Solaire, was one of the hottest spots not just for travelers but also for those local to Santa Cruz and the surrounding cities. Chef Pete Martinez has been a at Solaire for a number of years but just recently took the reins as Executive Chef, and immediately did a complete overhaul of the dinner menu. Ever since, the reviews have been off the chart so we made that our focal point of this review. *Note: Chef Pete will soon do the same for breakfast and lunch, we hope to return soon to add similar coverage on those.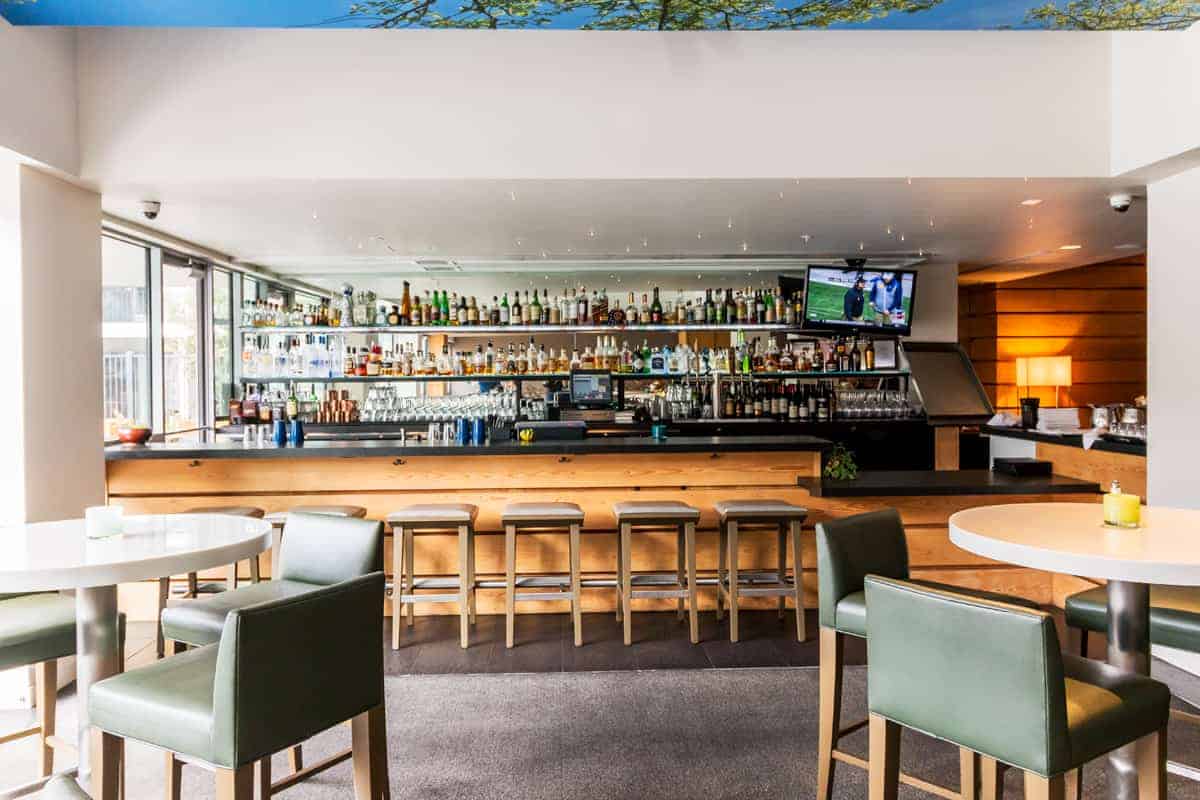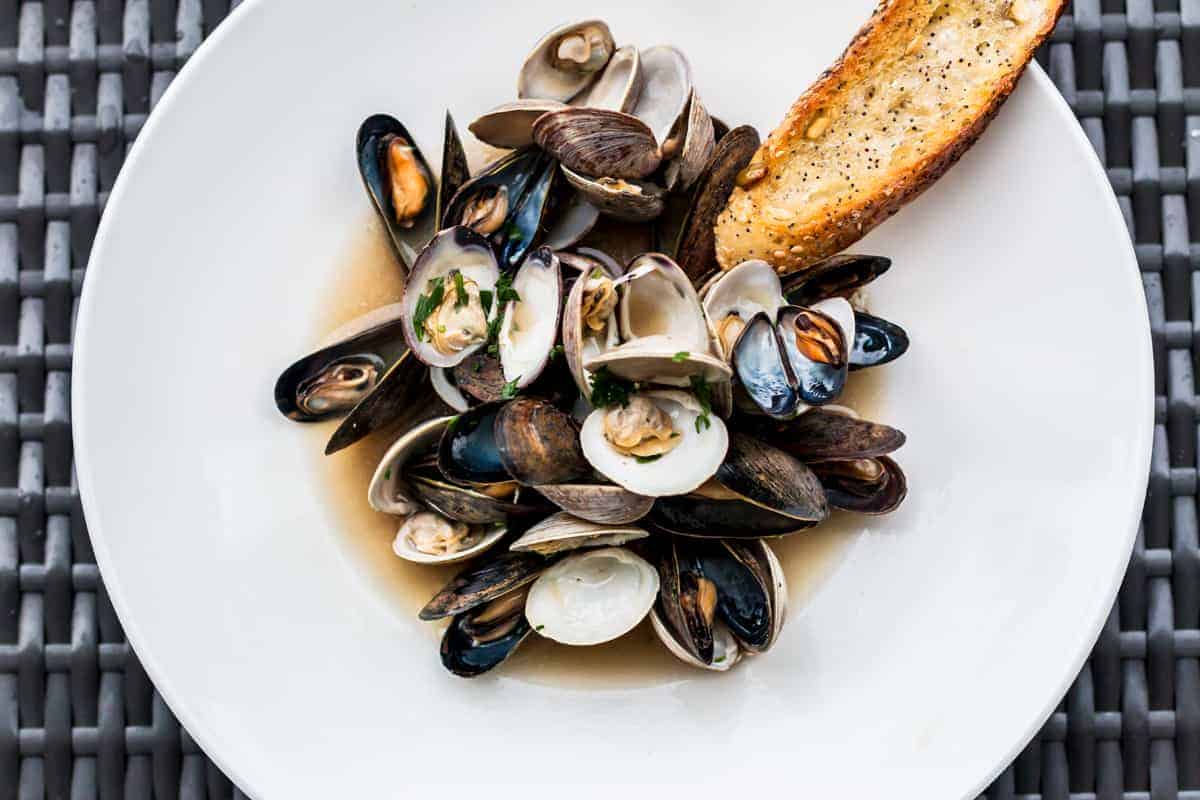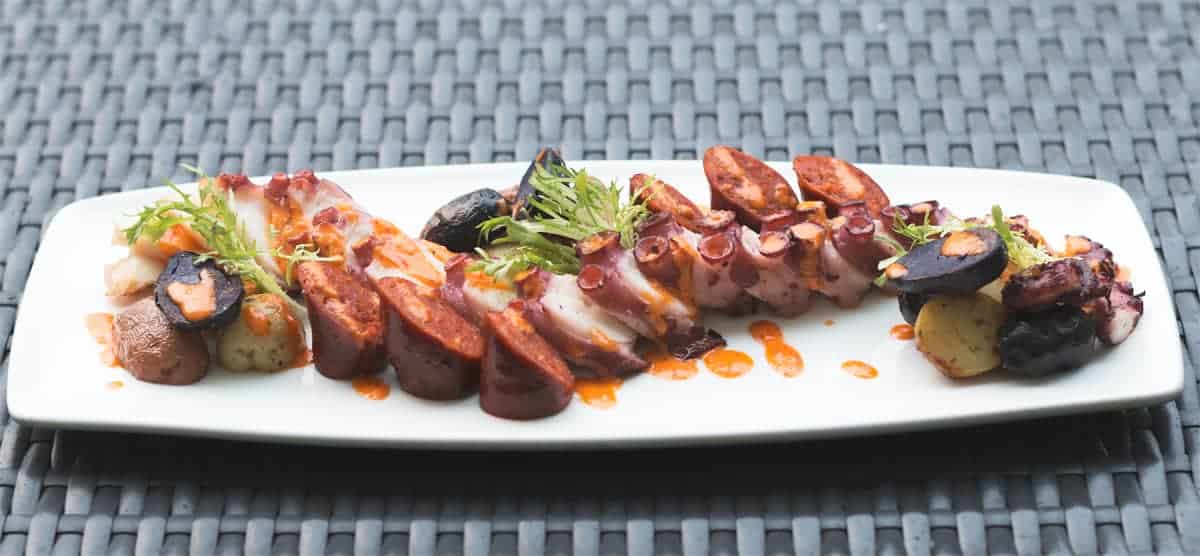 Slow Roasted Pork: with cabbage, fresh corn, avocado puree, fresh oregano and ancho chili sauce. One of the best things about this dish, besides the gorgeous cut of meat and plating, is that the sauce is poured tableside.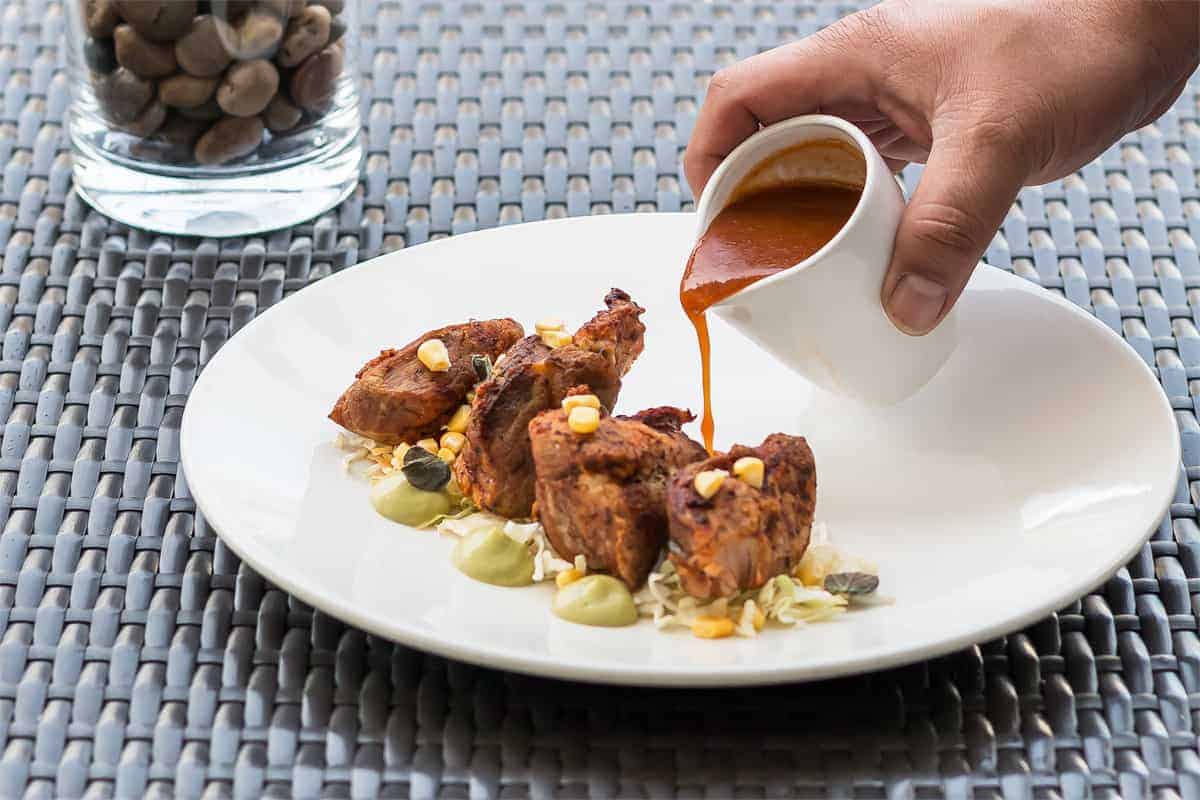 Pork Tomahawk: Pork chop with extended rib-bone, beautiful Rancho Gordo vaquero beans (sourced nearby in Napa), grilled corn, and jalapeno crema with light greens. The large cut of meat is top of the line from a "never ever" farm (no hormones, antibiotics, etc.). I hope my picture did this one justice as I think my husband wants a framed picture of this dish!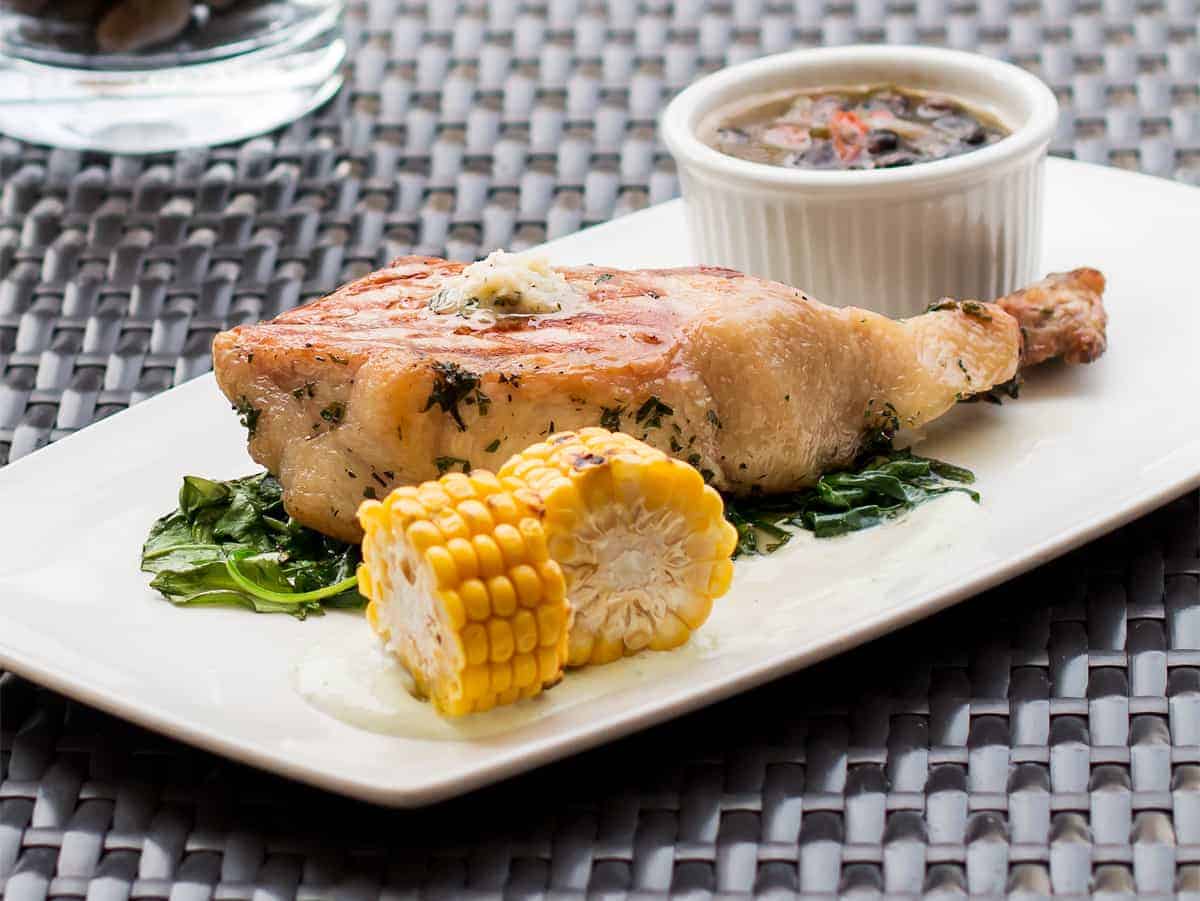 Mushroom Pate En Croute: Blends 4 of my favorite mushrooms: Shitake, Shimeji, Maitake, Portabella. Chef Pete uses almonds as a binder and to give it a little thickness, all cooked with herbs. Think of a beef wellington with the mushrooms as the centerpiece. There are plenty of vegetarians in Santa Cruz that claim this as their favorite. I am a carnivore and also couldn't get enough.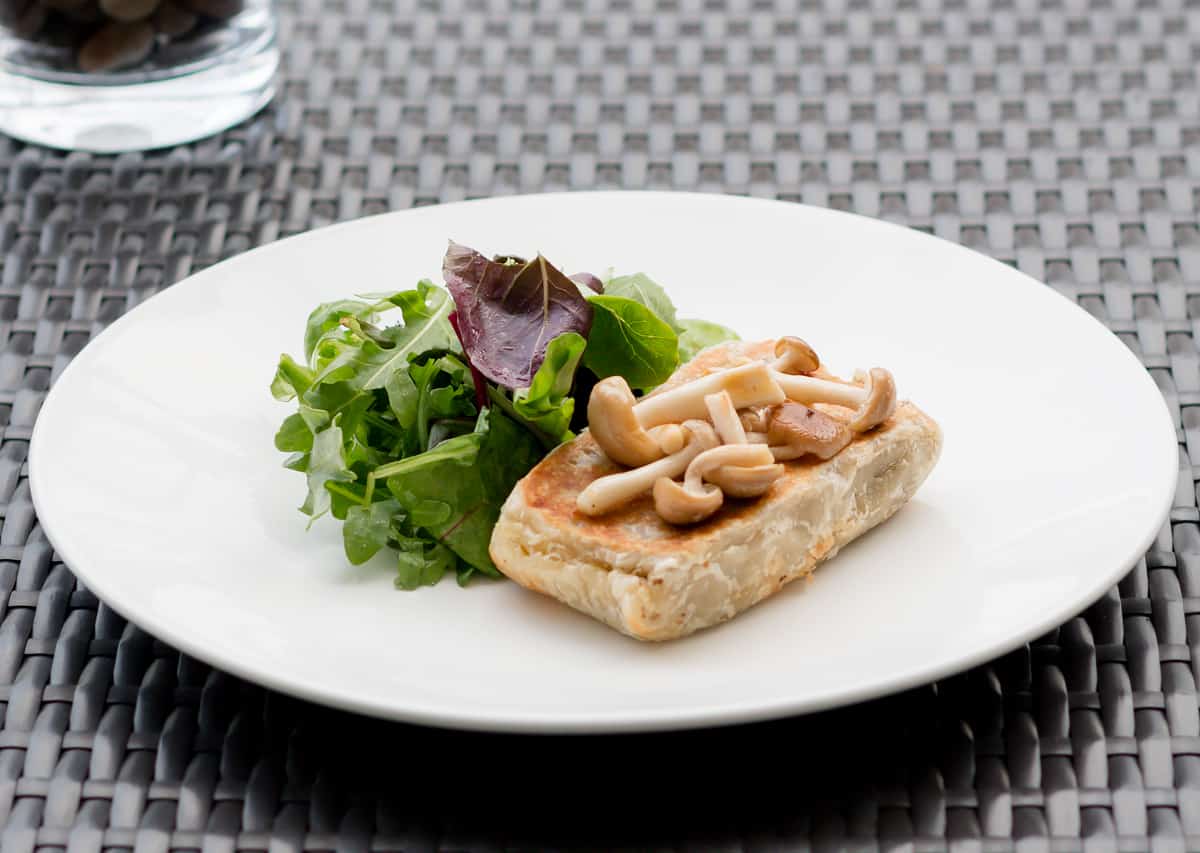 As a foodie I of course want to mention the dishes first, but Solaire had other great qualities. The restaurant is open with a light and bright tree ceiling mural and a fireplace where we saw folks enjoying dinner, glasses of wine and martinis. The restaurant overlooks the pool and patio area. Similar to the hotel, Solaire has a great feel to it that is anything but stuffy. My husband landed at the Solaire bar for the Michigan vs Ohio State Football game and it checked all of his boxes (in addition to playing football): great beers on tap, a huge selection of mixed drinks and a friendly staff.
I myself was able to try out a few of their featured drinks:
Bourbon Bramble: Maker's Mark, crème de cassis, simple syrup and lime juice. Blackberries are muddled in and use a lavender garnish. Seldom have I brought together the very separate worlds of a spicy bourbon and berries. I've been missing out, this drink is heavenly!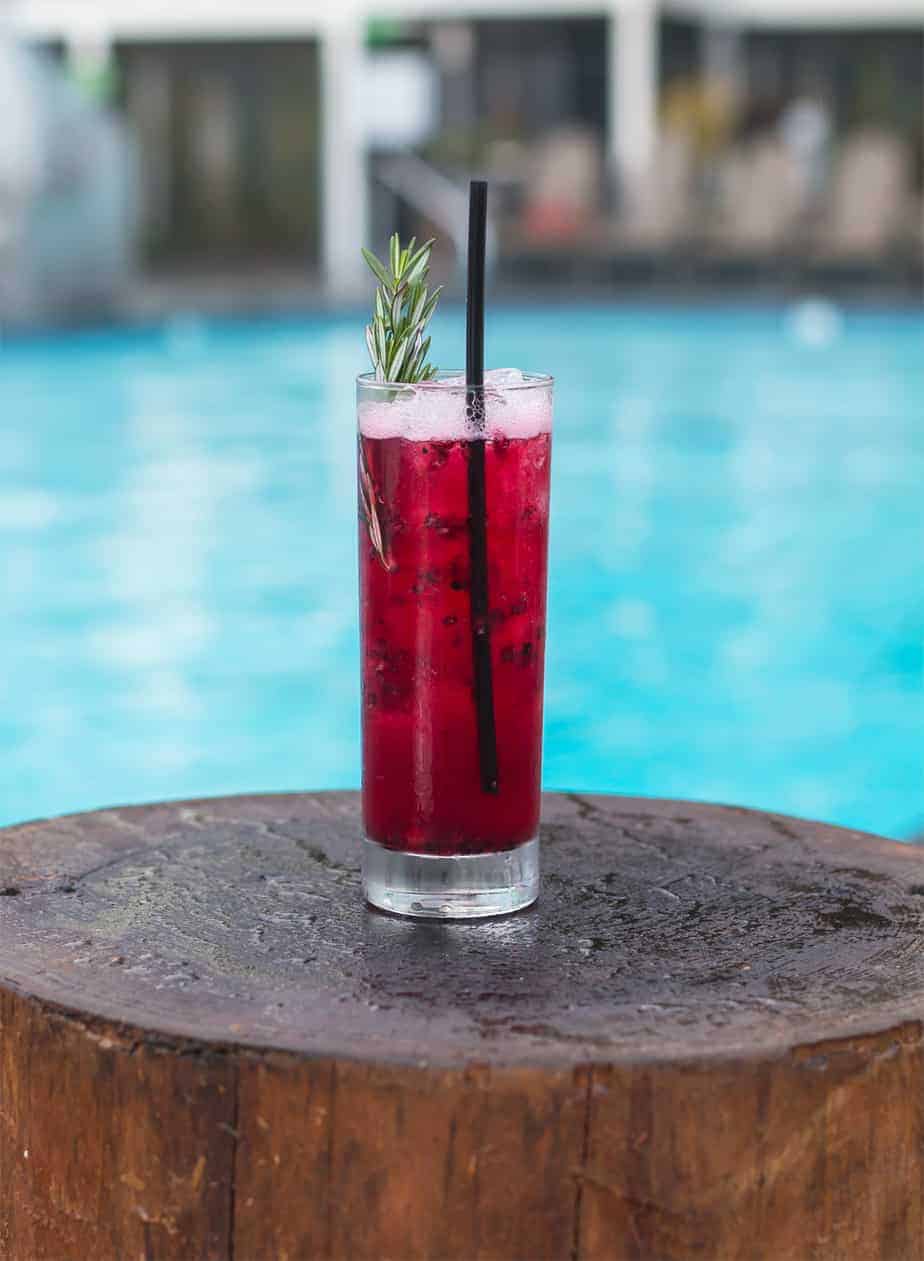 Equinox: Tito's vodka, Elderflower liqueur, Aperol, lemon juice and a sugar rim. I like lemon drops but this was on another level.
The Derby: Big Bottom Whiskey, a homemade honey syrup and grapefruit juice. BBW is the new authority on barrel finishing and it mixes extremely well with the honey of this drink.
On a final note about Solaire, being able to order their food poolside or in our room was a true delight. Fine dining at its best comes to mind, not "hotel dining". Gone are the days (I hope) where hotels put out mediocre food that only those staying in the hotel eat out of sheer convenience. Restaurants like Solaire set the bar high for all of the restaurants in town, and are a huge draw to stay at already Impressive hotels like The Hotel Paradox
Hotel Paradox Location: In the Heart of Santa Cruz
Everywhere we ventured off to in Santa Cruz was just five or so minutes away: downtown, the coast, shopping, there was even a Whole Foods just three minutes away. There's a big park next door but we didn't really explore it as we were having too much fun in the pool. Santa Cruz as a whole is delightful and close to other great coastal areas like Half Moon Bay, Monterey and Big Sur.
I think a simple story to sum up our stay at Hotel Paradox was when I went down to take some pictures of the lobby and overheard people checking out. All three separate parties that I heard went out of their way to give examples and stories in expressing how much they enjoyed the hotel and staff. The whole thing sounded like a staged commercial with paid actors, but these were real people. True story. When I checked out I sounded the same way; I truly loved my stay at Hotel Paradox.
The Hotel Paradox, Autograph Collection
Address:
611 Ocean St, Santa Cruz, CA 95060