In partnership with Peter B's BrewPub and Portola Hotel. As always, all opinions are my own.
Peter B's BrewPub is Monterey's original craft Brewery, so I was honored (and stoked) when asked to give a taste and review of their beer and food. The location is unbeatable, in the Portola Hotel right across from the Old Fisherman's Wharf and in a happening part of downtown Monterey. I have a lot of good things to say about Peter B's BrewPub but want to start withe new powerhouse duo behind the great flavors and creations:
Renowned Executive Chef Danny Abbruzzese, who has a lifetime of experience in all facets and styles of cooking is taking the reins here and at Jack's. From vegetables to the proteins, sauces to desserts, he delivers flavors that marry new and elevated tastes with familiar comfort food.
Brewmaster Justin Rivard, who just picked up a medal at the 2016 Great American Beer Festival. Like Danny he brings innovation and an expert palate that is dialed-in.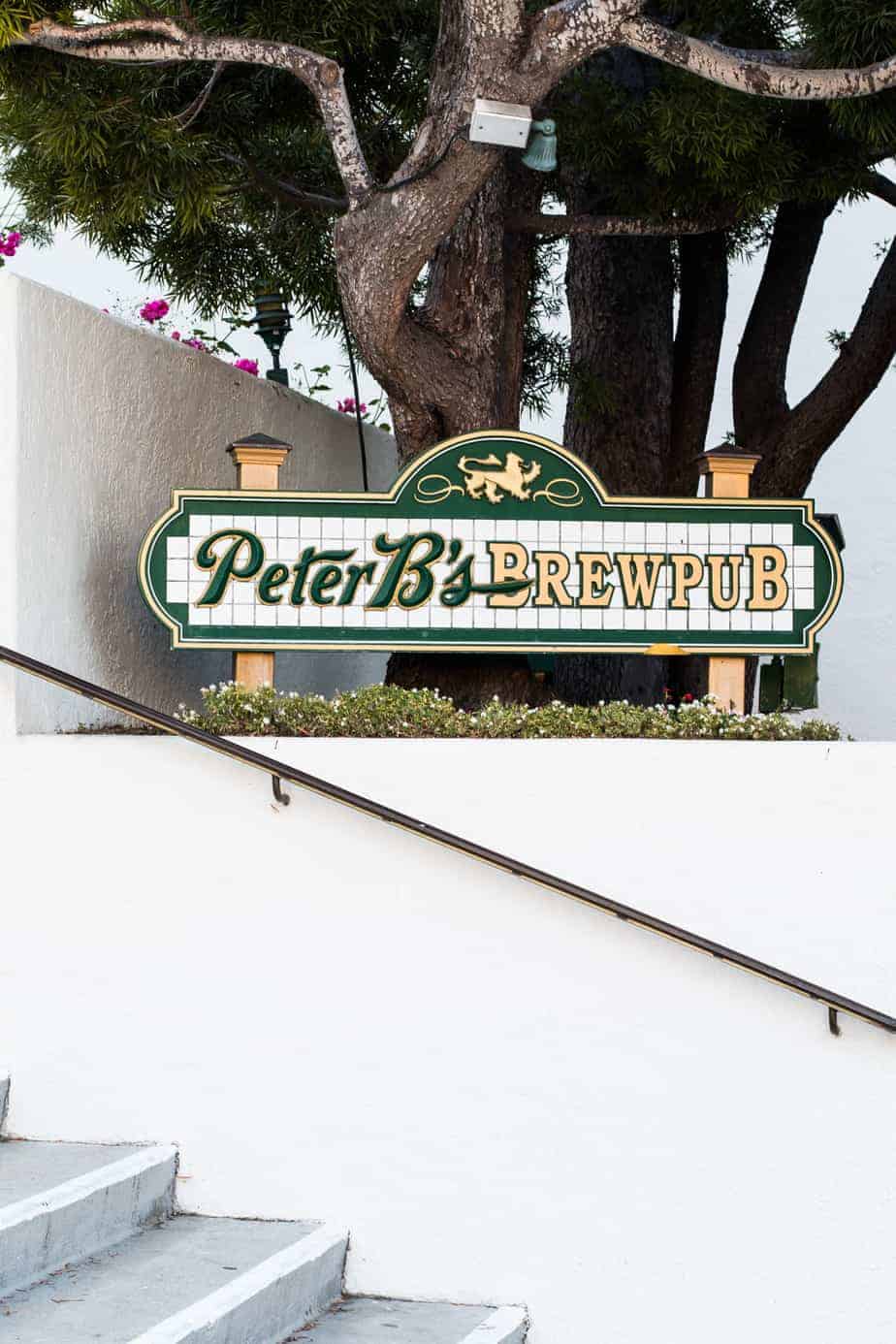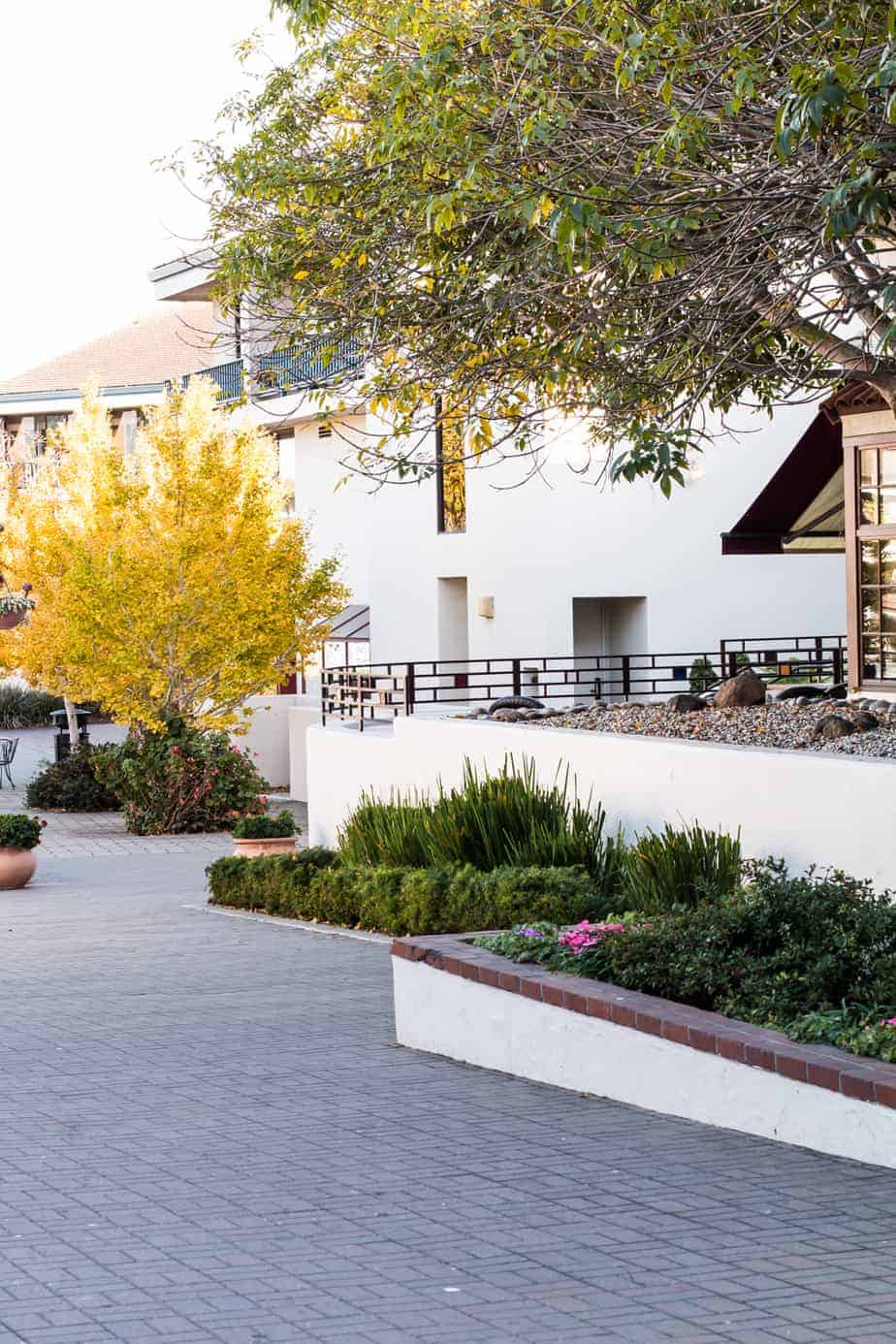 Let's start out with three favorite food items from Peter B's:
Peter B's Pub Steak - Flatiron Steak and green peppercorn sauce (with just a little bite to it). It had shallots, garlic, and a veal stock that's reduced to a nice rich sauce. It was cooked to perfection and that green peppercorn sauce? Exceptional. Simply put, this is just awesome pub food. Fries were top notch, my son barely let me have any.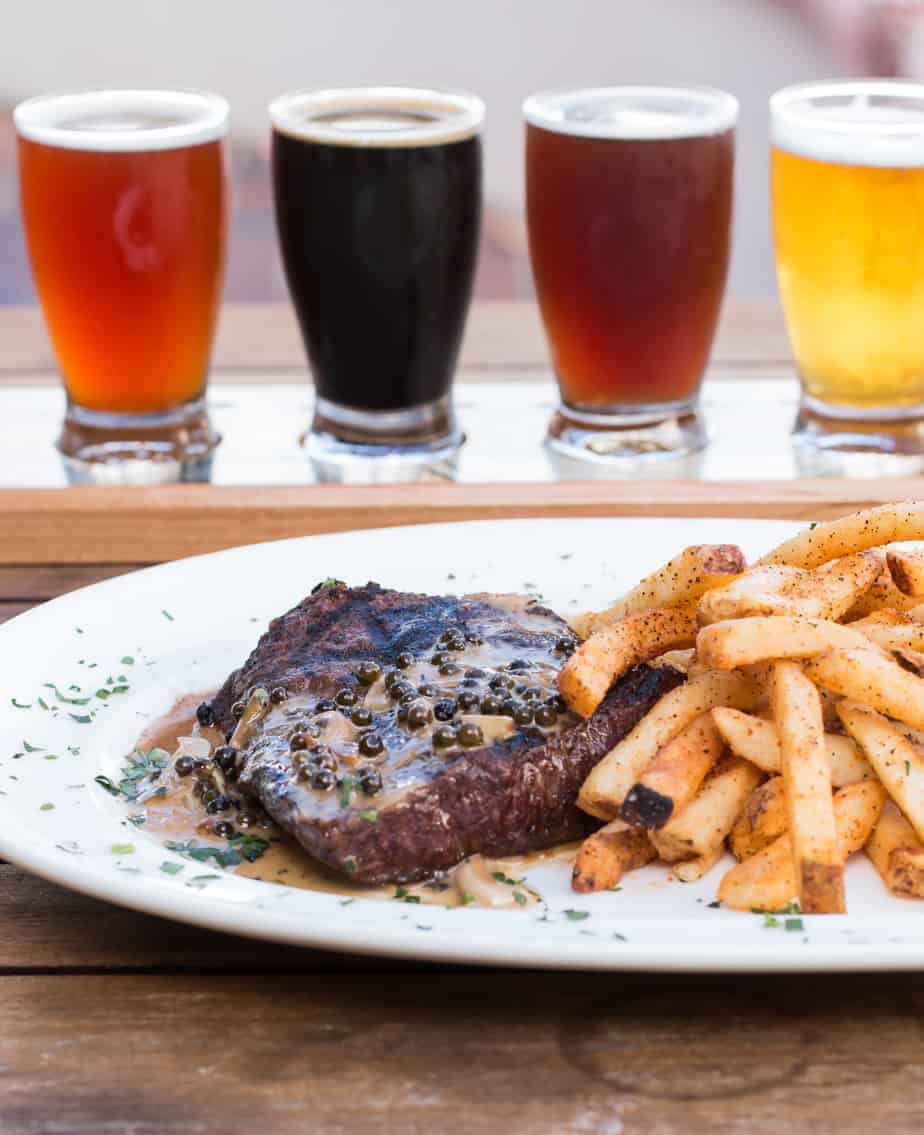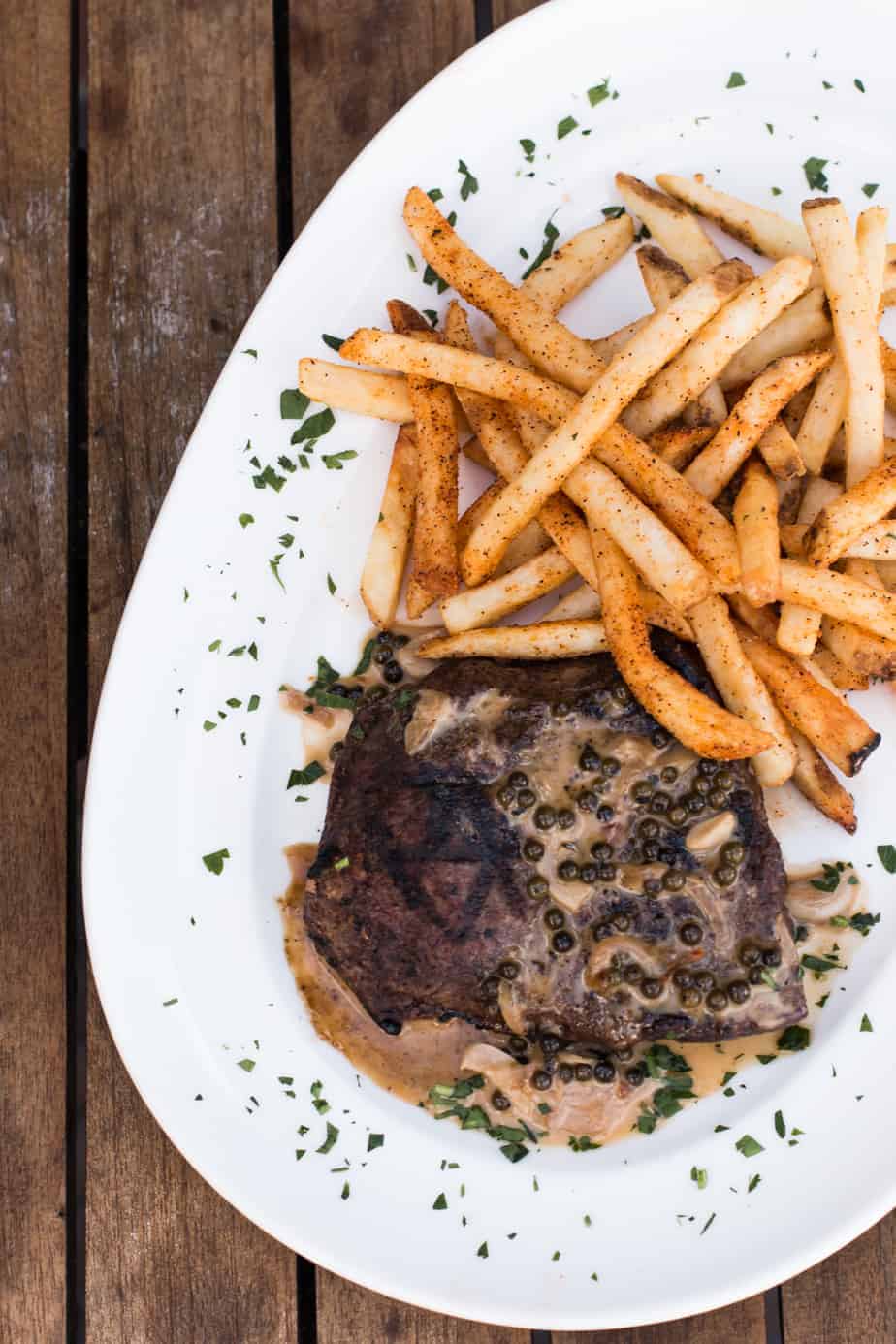 Sweet Potato Tots – While eating the steak I also enjoyed these tots, which were served up with a curry aioli. I have a weakness for sweet potato anything, especially when it tastes like this! Nice color and a very crave-worthy sauce. These went down so well with the beer I was drinking!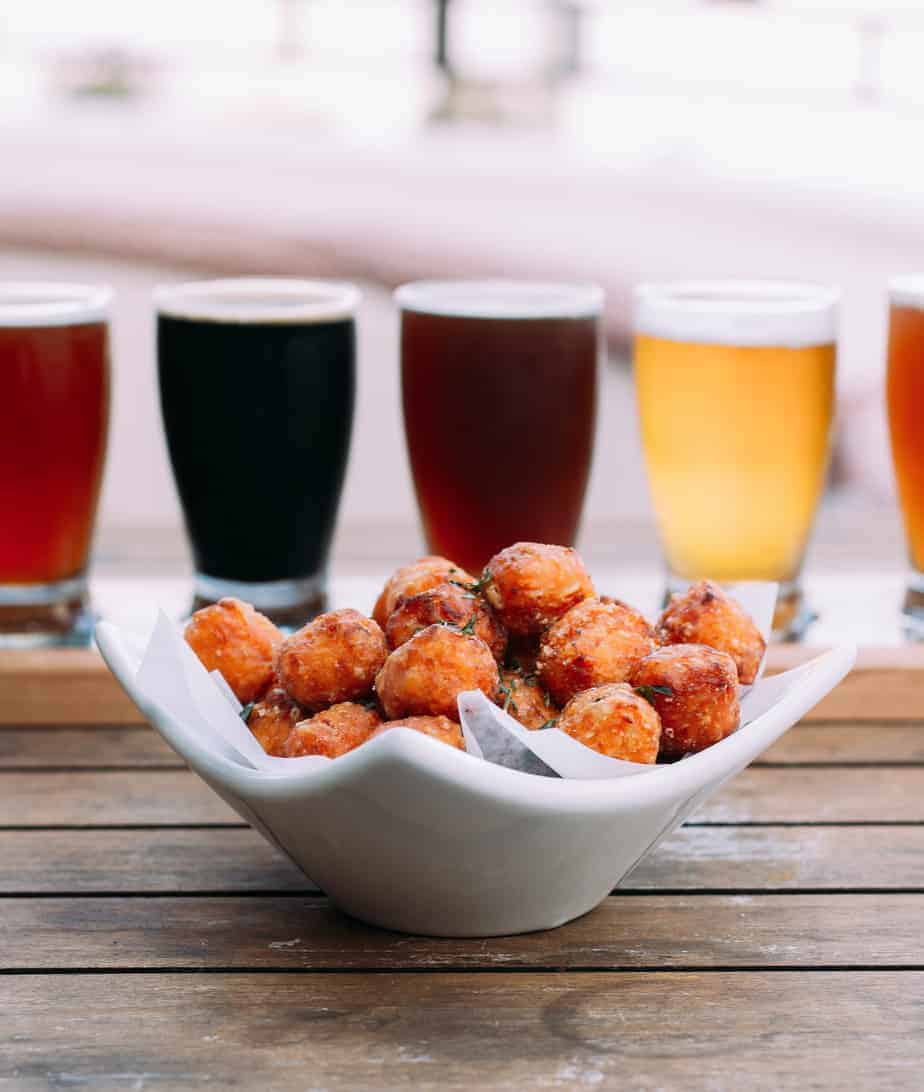 Backyard Burger – A summertime burger with a barbeque sauce from one of Peter B's stout beers, plus cheddar, bacon, a fried onion ring, a pickle, and fries. I have to steal a phase from Pulp fiction on this one… "Mmmm, this is a tasty burger!" It's outstanding, actually. The sauce was rich and the fried onion gave each bite a little crunch, as did the bacon. Cool presentation as you can see, and I love the bbq seasoning on those fries.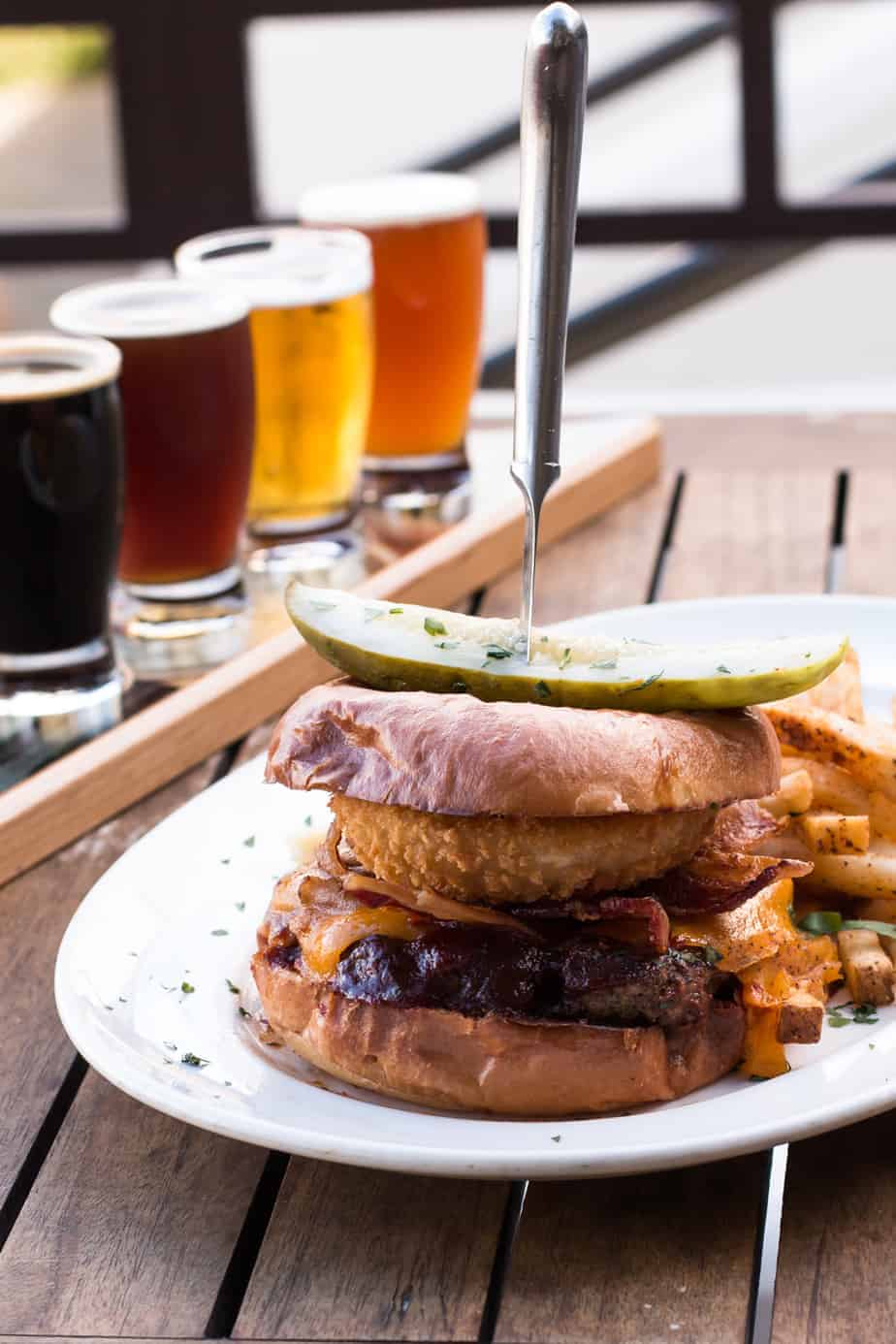 As for beer, I tried a flight to help me hone in on one to order a pint of, but then ended up having another flight as the first was so enjoyable. Here are the Peter B's beers that I tried, each packed with aromas and flavors: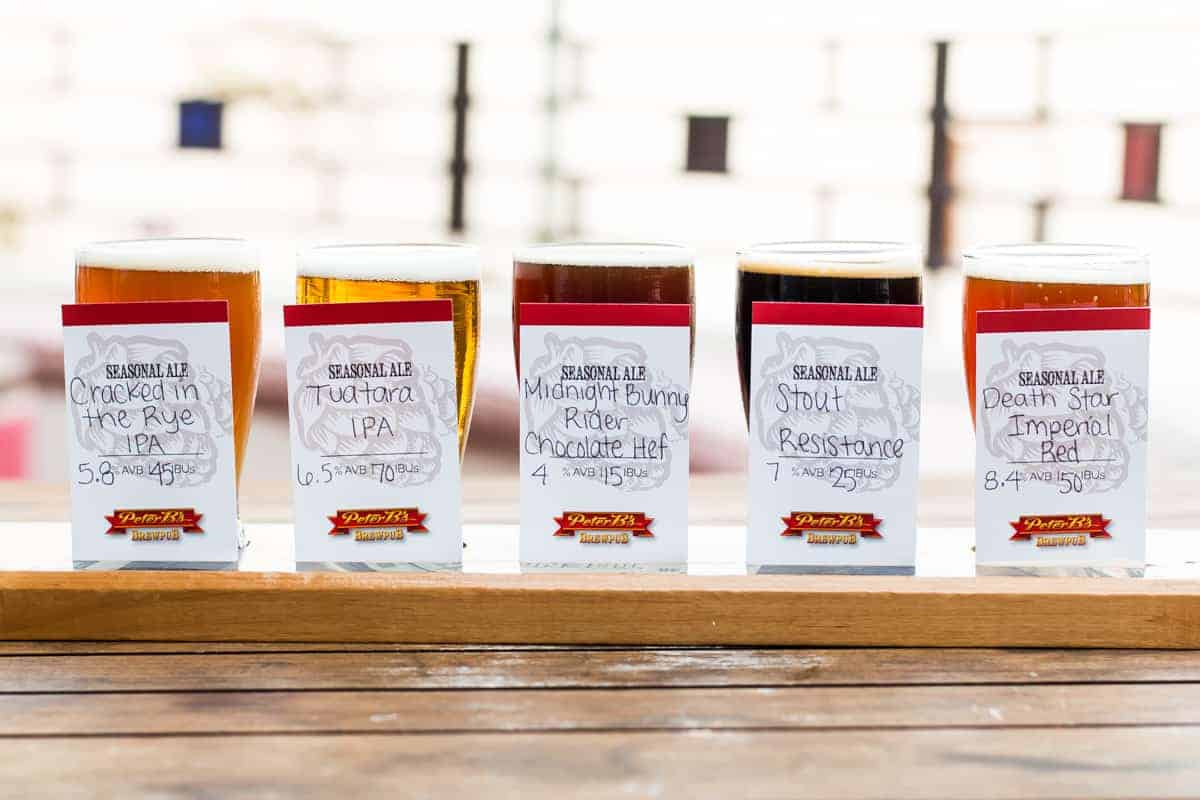 Death Star Imperial Red – I'm a Star Wars fan (I even thought of being an Imperial Guard for Halloween), so I was excited to try this first. It tastes kind of like an amber ale but its more malty, which I really liked. It had flavors of caramel and toffee, with a nice boozy finish to it.
Cracked in the Rye IPA – A full bodied IPA with flavors of honey, caramel and also a spiciness from the rye malt that was used. It is brewed with pink peppercorn to add to the unique spicy flavor, and it has Eldorado hops for even more. This is perfect for the fall and winter months.
Tuatara IPA – Brewed with Nelson Sauvin hops from New Zealand and named after the country's Tuatara Lizard. This beer has honey nectarine, peaches, orange with a good finish, and marries-up well with one of the restaurant's desserts. Hailing from San Diego I know a thing or two about IPAs and this one definitely makes the cut!
Midnight Bunny Rider Choclolate Hefeweizen – Has tastes of chocolate, biscuits, as well as citrus notes and banana. I've only had chocolate stouts before this, another example of Peter B's pushing boundaries. *Here's an insider's tip from the restaurant's Assistant Manager Toni Diaz: "add a splash of this in the Stout Resistance to give a slight chocolate flavor".
Stout Resistance – Cherry and coffee in the brewing process give it the chocolate and dark flavors. Stouts are my beer of choice only about 10% of the time as I need to be in the right mood, but this had such a smooth finish that I could see myself ordering the Stout Resistance much more often.
All of the beers at Peter B's are brewed in-house. The ones I've mentioned are seasonal except for Stout Resistance (one of five house styles they always have on-tap). If I lived remotely close to Monterey County I'd be a regular here, and would fill up a growler or two each time on the way out.
The staff at Peter B's BrewPub is amazing. Monterey as a whole is a special place and the people are a big part of that. On that note I loved talking to the restaurant's General Manager, Stacie Tarantino about everything we were wolfing down, but also about the many green initiatives that the Portola Hotel and its two restaurants are taking on (check it out, it's inspiring). Chef Danny is no stranger to sourcing food from sustainable, local and organic sources and reducing waste... he feels right at home here. When I asked him about the team he said "Stacey, Toni and the rest of the staff, they are just phenomenal and were a big draw for me to settle here. They are so passionate! You need a happy environment to have happy food, and you can taste that on the plate."
We were outside on the dog-friendly patio and it was beautiful there. Inside was welcoming too with some folks beer tasting, others enjoying lunch, and plenty of HDTVs around so my husband could get his NFL fix. Foodies and beer lovers alike should add it to their list of things to do in Monterey. It's one of those laid back places that you can go to unplanned and enjoy, or make an event out of it (they even have a beautiful barrel room for tastings or private events). Peter B's BrewPub was one of the unexpected highlights of our time in Monterey as we were thinking "wine, wine, wine" for the trip, but ended up enjoying tremendous beer, too. Between that and choice eats we walked away feeling very pleased with all of the flavors we had just experienced, and vowed to return soon.
Portola Hotel & Spa at Monterey Bay | Two Portola Plaza Monterey, CA 93940
Toll Free: (888) 222-5851 | Direct: (800) 342-4295 | Fax: (831) 372-0620
Email: info@portolahotel.com