A very tasty skillet beef enchiladas recipe. This Mexican-inspired dish is an easier and quicker version of traditional enchiladas. No filling, no rolling, and no baking. Just throw all the ingredients in a pot or skillet pan, then dinner is ready for the entire family in less than 30 minutes.
If you are looking for an easy one-pot meal recipe, try these Skillet Beef Enchiladas. It's made with simple ingredients and loaded with flavors. A great recipe that takes little effort to put together, it's perfect on a busy day.
This is also the perfect way to do something delicious with leftover corn tortillas!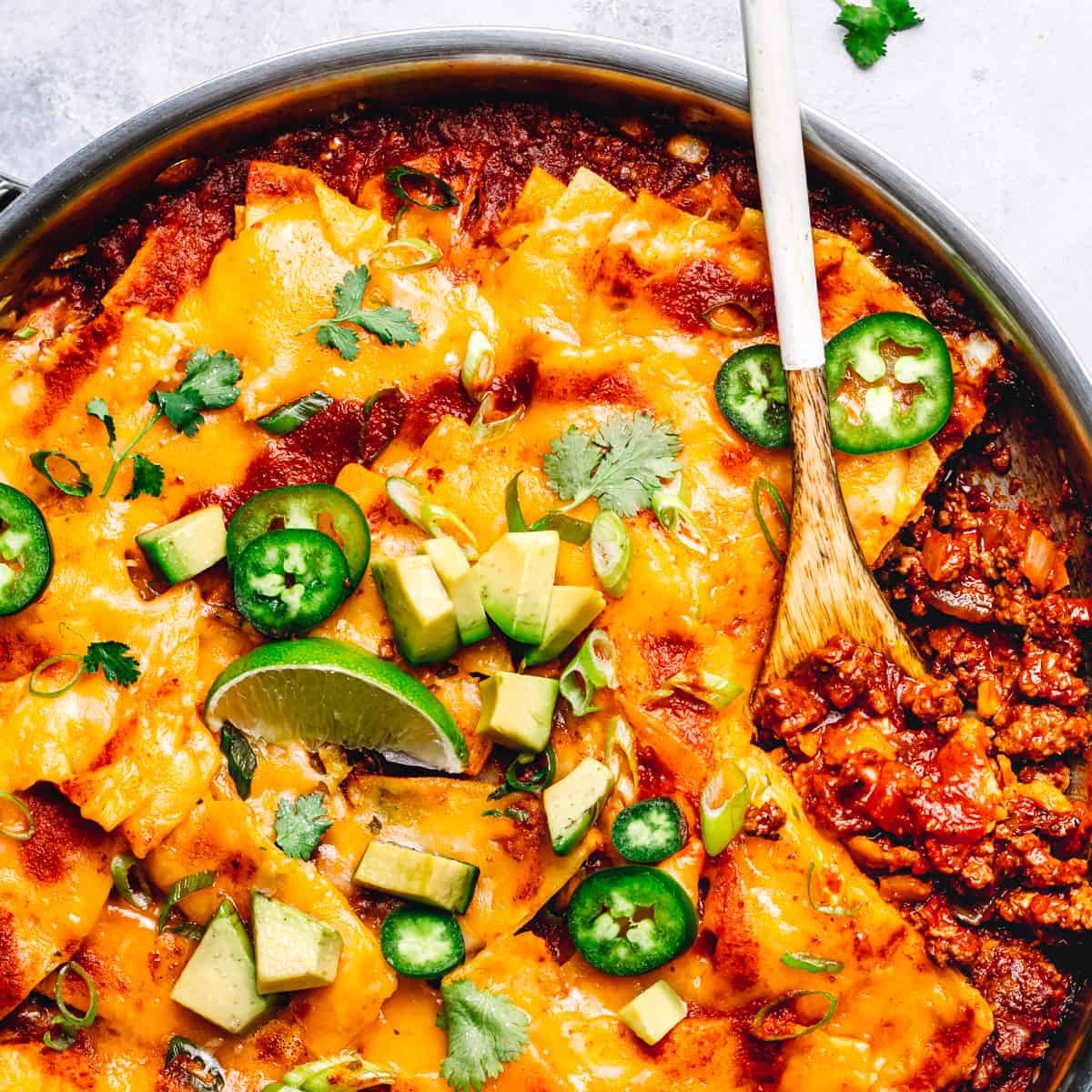 Jump to:
A Quick One-Pot Meal with Easy Ingredients:
To make this skillet beef enchilada, you will need; ground beef, canned enchilada sauce, corn tortillas, mixed Mexican-style cheese, diced green chilies (optional, for those of you that like spicy food), onion, garlic, and salt.
The Best Ground Beef for Enchiladas:
Minced beef is a relatively inexpensive protein choice and is versatile! It's the perfect addition to easy weeknight dinners. To make this recipe, you will need extra-lean ground beef -90/10 or 93/7 because these types of meats are the perfect choice for meals like tacos or enchiladas, especially those with sauces.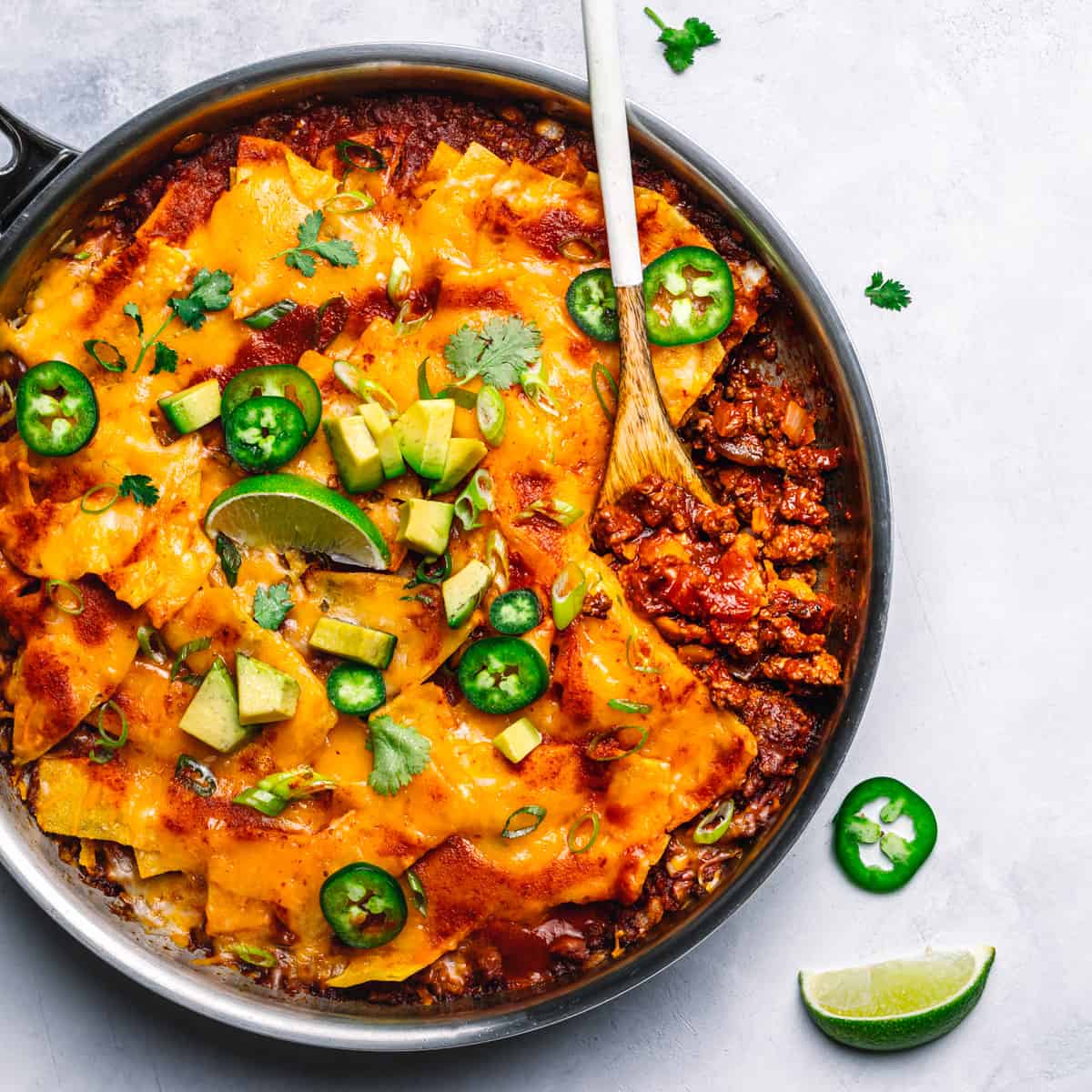 Enchilada Sauce:
This recipe is all about simplicity. Therefore, we are going to use a store-bought or canned enchilada sauce.
There are so many enchilada sauces to choose from. I recommend using a red version with a level of spiciness according to your liking.
Enchilada sauce is one of main ingredient that will make or break this recipe. For that reason, pick the best quality enchilada sauce that you know will taste good with or without modifications.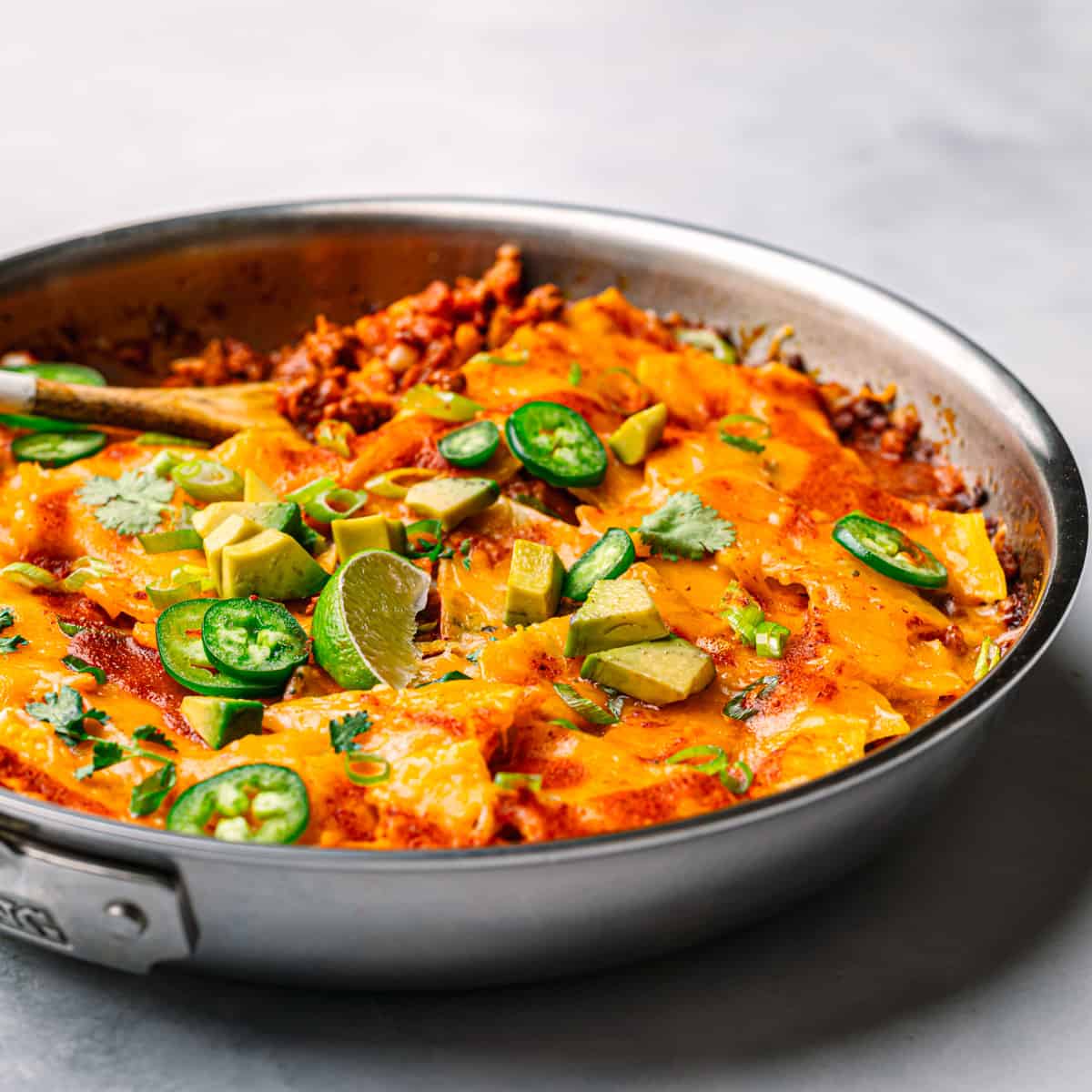 Diced Tomatoes and Green Chilies
This is an optional product. In this recipe, I used RO-TEL Mild Diced Tomatoes and Green Chilies. If you don't have this in your pantry, or if you don't want the extra heat, just skip it.
A good replacement ingredient is chopped green bell pepper if you have any.
Enchilada Seasoning:
I only used simple seasoning of cumin and salt.
As we know canned products are not all made equally! You may or may not need to adjust the seasoning according to your liking. But if you do, cumin, taco seasoning or chili powder would be the perfect choice to spice things up!
Check Out More Delicious Mexican-Inspired Recipes: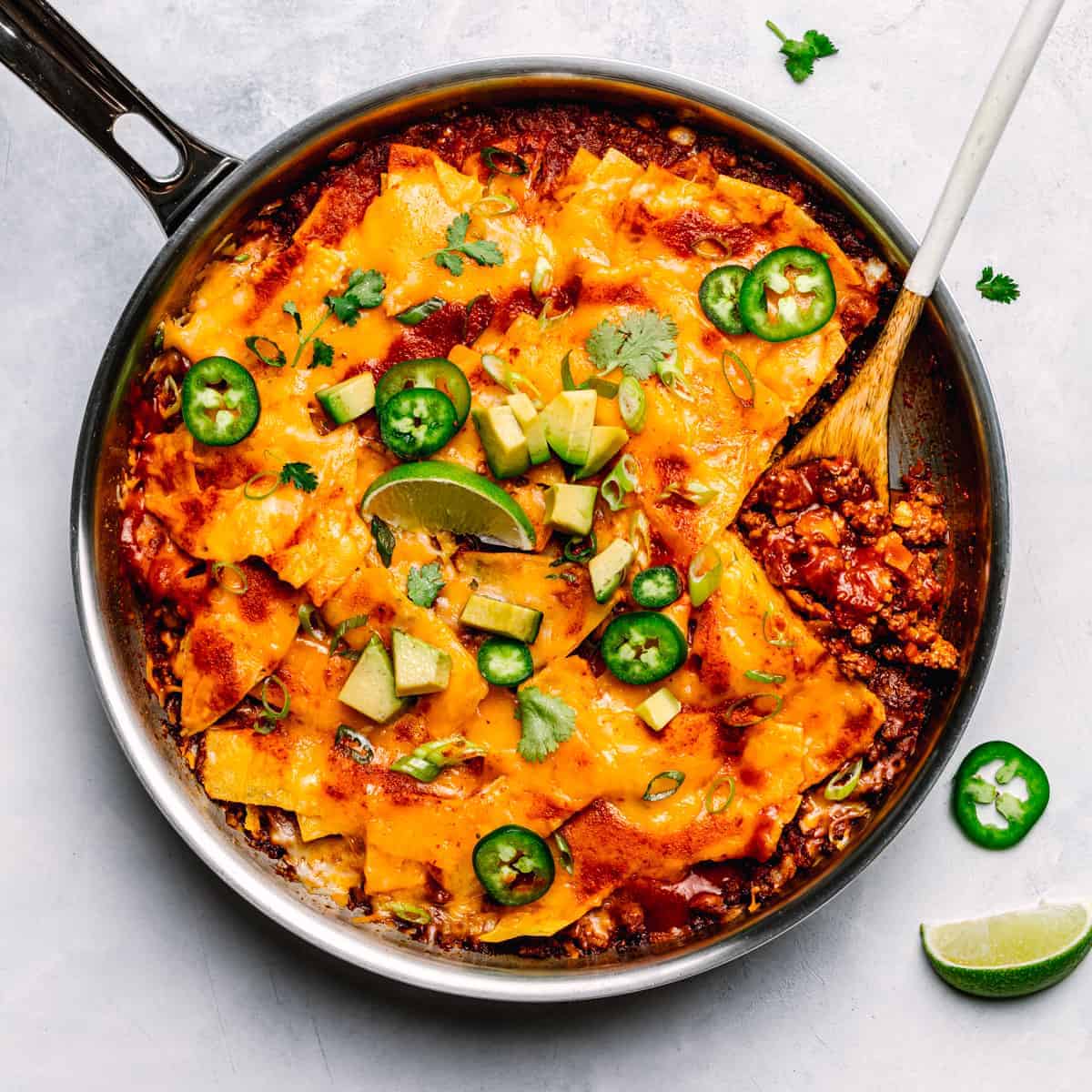 Corn Tortillas:
Corn tortillas are traditional in enchiladas. I used the 6-inch corn tortillas, cut them into inch wide strips, then fry them to get a nice brown color and crispier texture.
Cheese:
You can use Mexican-style mixed cheese or shredded Colby Jack cheese, or a combination of Monterey Jack and cheddar cheese for melting.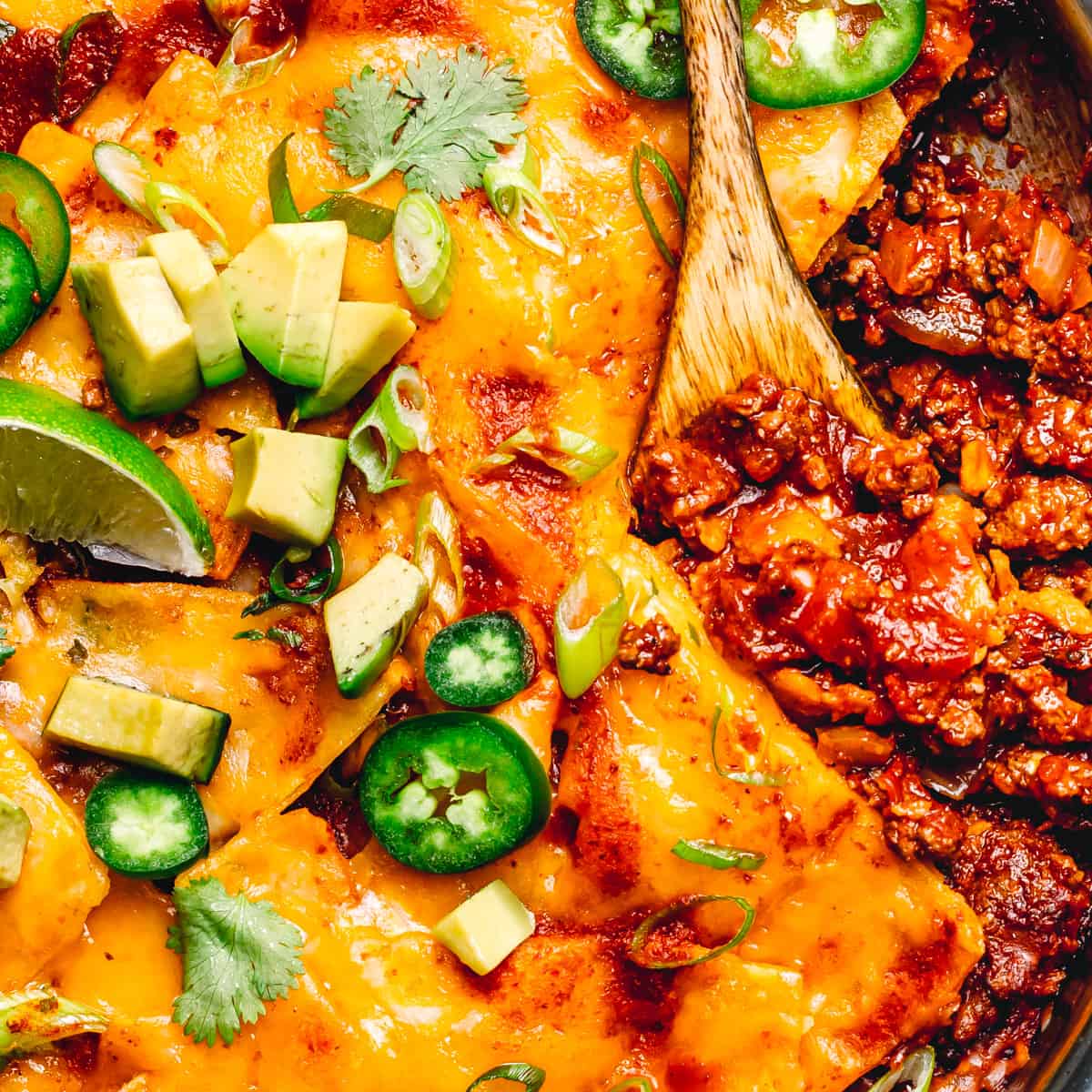 How to Make the Enchiladas:
The cooking process is pretty simple and done in one skillet pan. Here are some important steps to follow:
Crisp the corn tortilla. Fry the corn tortillas first before adding into the mixture. This adds a nice texture to the dish and avoids them from being soggy.
Brown the beef. This is a pretty standard thing to do with ground beef in most recipes. This process not only gives the meat a nice brown color crust but also brings out the flavor.
Cook the onion and garlic. These ingredients are used in many recipes to add texture and flavor to foods.
Add the seasoning. Add the cumin, and salt to the mixture.
Add the sauce. Mix in the enchilada sauce, the optional diced tomatoes and green chilies (RO-TEL), and half of the crispy corn tortilla to the mixture. Then simmer until thickened.
Melt the Cheese. Lastly, top the mixture with the remaining crispy corn tortillas and melt the cheese at low heat.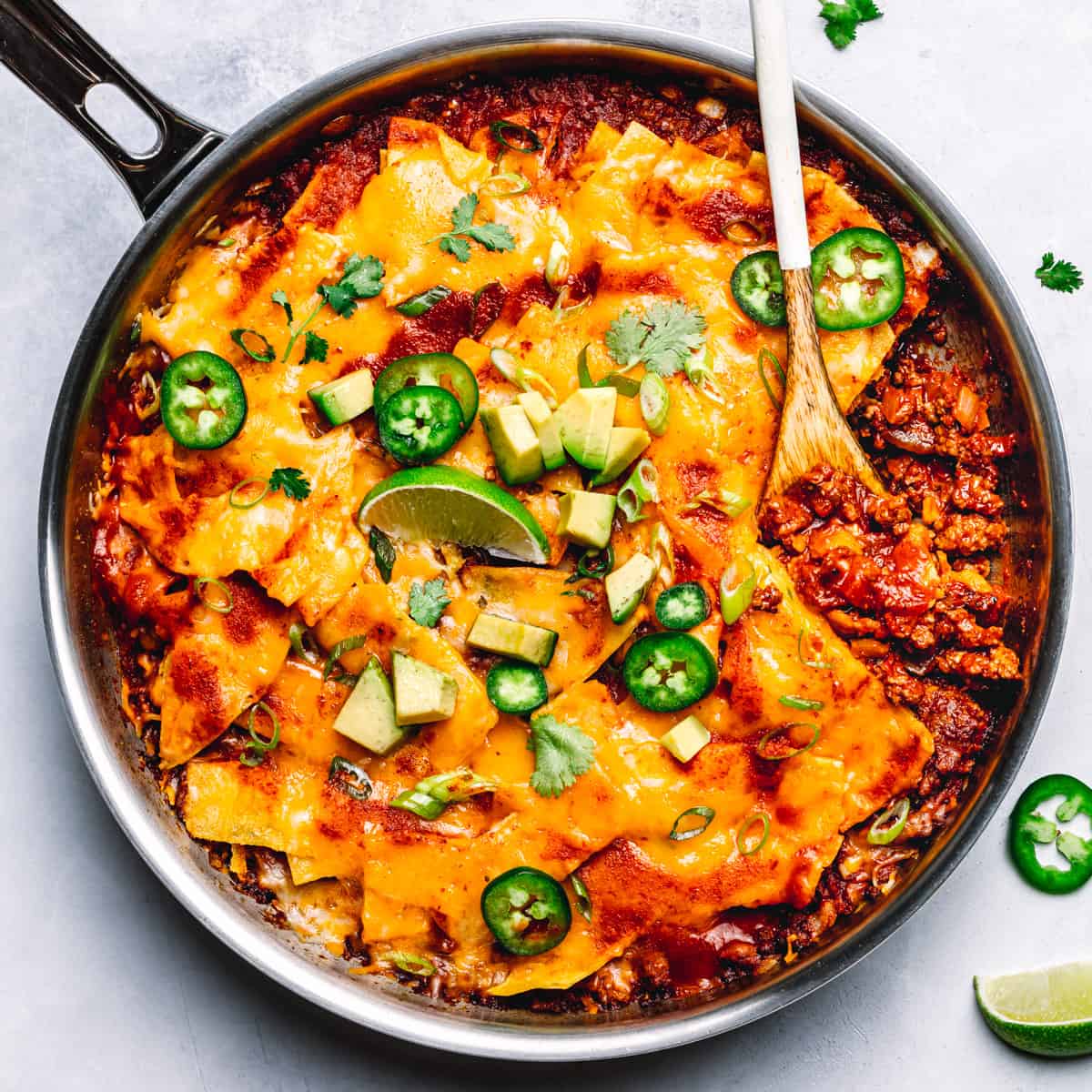 What to Serve:
You can serve this beef enchilada with Mexican rice, refried beans, or black beans. Black olives will also make a good topping choice!
Storing Leftover Tortillas:
Place the leftovers in an airtight container and keep it for up to 2 days in the refrigerator or 3 months in the freezer.
I hope you'll enjoy this recipe! If you try it out please don't forget to come back and rate the recipe card!
This recipe is inspired by Cook Country. I adjusted the ingredients and cooking method to get the best of it.
📖 Recipe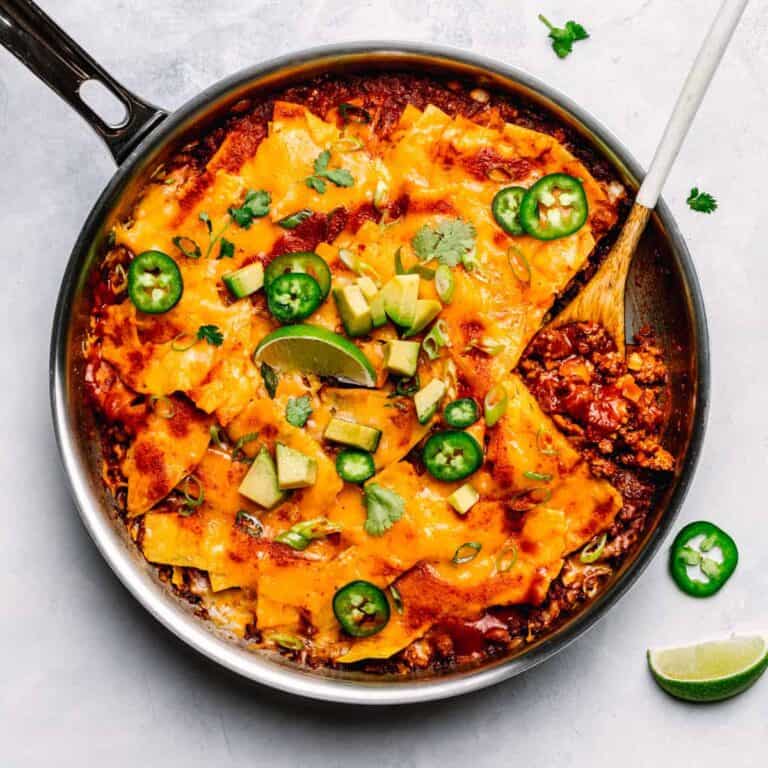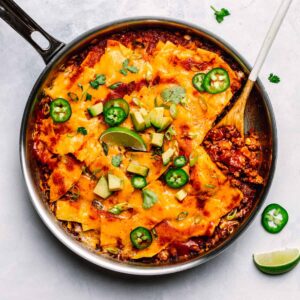 Skillet Beef Enchiladas
A very tasty skillet beef enchiladas recipe. This Mexican-inspired dish is an easier and quicker version of traditional enchiladas. No filling, no rolling, and no baking.
Ingredients
1

pound

ground beef

,

( 90/10 or 93/7)

15

oz

red enchilada sauce

,

(about 2 cups)

10

oz

diced tomatoes and green chilies

,

(such as from Rotel)

1½

cups

diced onion

1

tablespoon

minced garlic

½

teaspoon

ground cumin or taco seasoning

,

(add more according to your liking)

½

teaspoon

salt

12

(6-inch) corn tortillas

,

(cut the corn tortillas in half and cut again crosswise)

1½

cups

cheese

,

(Colby Jack cheese, Monterey Jack, Cheddar, or a combination of these cheeses)
Instructions
Heat ¼ cup of oil in a 10-inch skillet over medium heat until simmering. Fry the tortilla until lightly brown and crisp. Transfer to a paper-towel-lined plate. Set aside.

Leave about 1-2 tablespoons of oil. Add ground beef, cook undisturbed for 1 minute over medium-high heat. Start breaking up the meat with a spatula for 1 minute, then add onion, and cook for about 2 minutes. Stir in the garlic, and cook for 1-2 minutes or until the meat is browned.

Reduce the heat to medium and stir in the diced tomatoes and green chilies, and enchilada sauce. Dip about 2 cups of tortilla chips briefly in the sauce. Submerge them in the sauce using the spatula. Simmer until the sauce is thickened for about 7 minutes. Stir occasionally to prevent burning.

Add in the remaining tortilla chips, then sprinkle with cheese. Reduce the heat to low, cover the skillet, and cook until the cheese is melted (for about 3 minutes), OR transfer the skillet to oven and broil until cheese is melted and bubbling for about 1-2 minutes If using the latter option be sure to use an oven-safe skillet.

Serve with your favorite toppings, such as: avocado, sour cream, jalapeno, scallion, etc.
Nutrition
Calories:
711
kcal
Carbohydrates:
53
g
Protein:
38
g
Fat:
39
g
Saturated Fat:
18
g
Cholesterol:
125
mg
Sodium:
1597
mg
Potassium:
714
mg
Fiber:
8
g
Sugar:
12
g
Vitamin A:
1217
IU
Vitamin C:
14
mg
Calcium:
429
mg
Iron:
5
mg