The most amazing flavor Instant Pot Carnitas, so simple and quick! Tender and juicy pulled pork that is also Low Carb, Paleo, and Keto-friendly.
This Instant Pot Carnitas is a perfect way to get tender pork meat. It is a very tasty Mexican-style meat for street tacos, burrito, nachos, or on lettuces if you follow a low-carb diet. Also don't forget to finish up with delicious toppings, such as cilantro, guacamole (avocado), fresh chopped jalapeno, salsa, beans, fresh lime, chopped tomato, corn, sour cream, and/or Mexican cheese!
Instant Pot Carnitas Seasoning and Other Ingredients:
I make this carnitas with some staple and basic ingredients that you can find in your pantry. It's a recipe that is very affordable and can be eaten in so many ways, so your leftovers can be used for a completely new dish! Here are the ingredients:
Pork butt or Pork Shoulder
Orange Juice
Broth
Oregano
Cumin
Bay Leaf
Fresh Lime Juice
Yellow onion and Powder onion
Garlic
Salt and Pepper to taste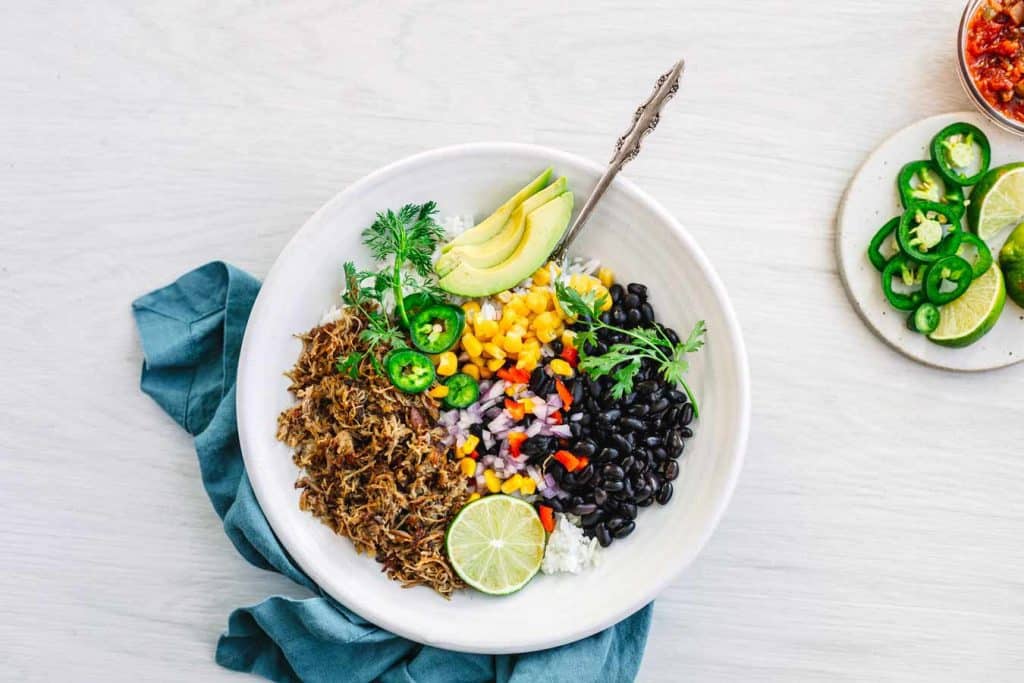 You can check out other Mexican inspired recipes here:
Cravings some Mexican food? Well, today I am going to show you how to cook this delicious pressure cooked Mexican "little meats" or Mexican pulled pork, Instant Pot Carnitas recipe. It tastes delicious, comparable or even better than the carnitas you may find at Mexican restaurants or Taco truck :).
CHECK OUT THESE DELICIOUS INSTANT POT RECIPES:
The traditional carnitas recipes are made by braising or simmering the meat in the lard (or pork fat) until tender that lasted for hours. It's made with pork shoulder (or pork butt) because of the higher fat content, which can be useful to keep the meat stay tender and juicy! But cooking the carnitas in the instant pot only requires 35 minutes of pressure cooking time! Afterward, allow the cooker to cool down naturally for about 15 minutes before you open the lid.
The best thing about this Instant Pot Carnitas recipe is that you can enjoy the meat in three different varieties (options), and serve it up in many different ways from tacos to burritos. I am going to explain below.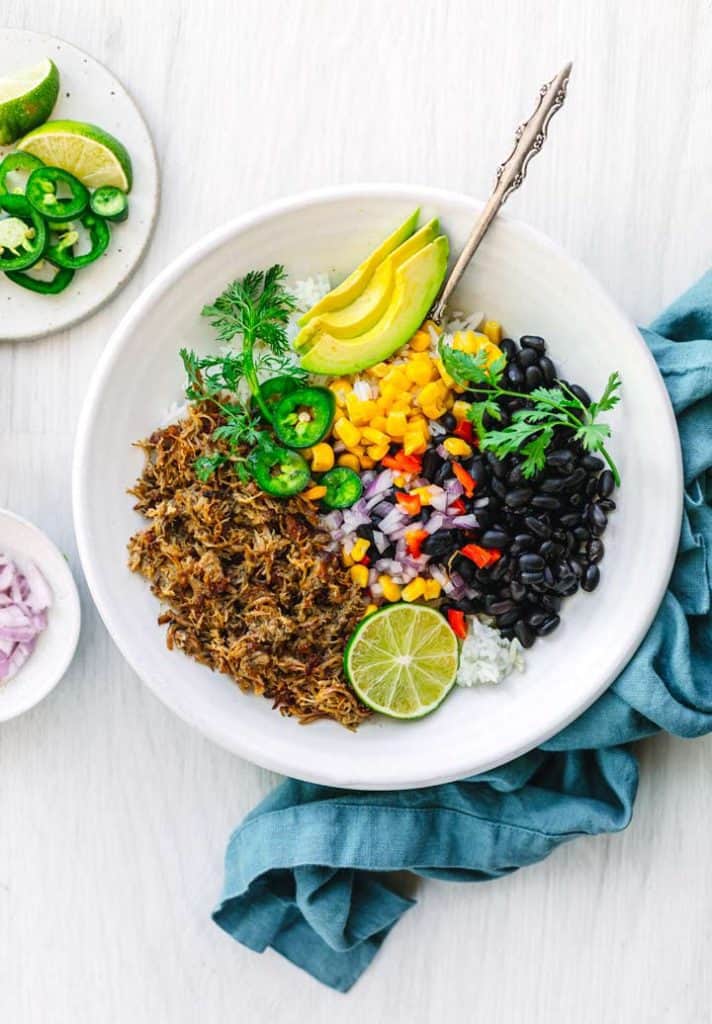 Instant Pot Carnitas Cooking Time:
I cooked this instant pork carnitas recipe for 35 minutes, plus an additional 15 minutes with natural release. The meat is packed with flavor and is seasoned with simple ingredients (no marinate needed!).
How to Crisp the Mexican Pork Carnitas:
The pork meat tastes good right out of the pot, or you can bring it to the next level by using a broiler or skillet to add crispiness and more flavors to the meat.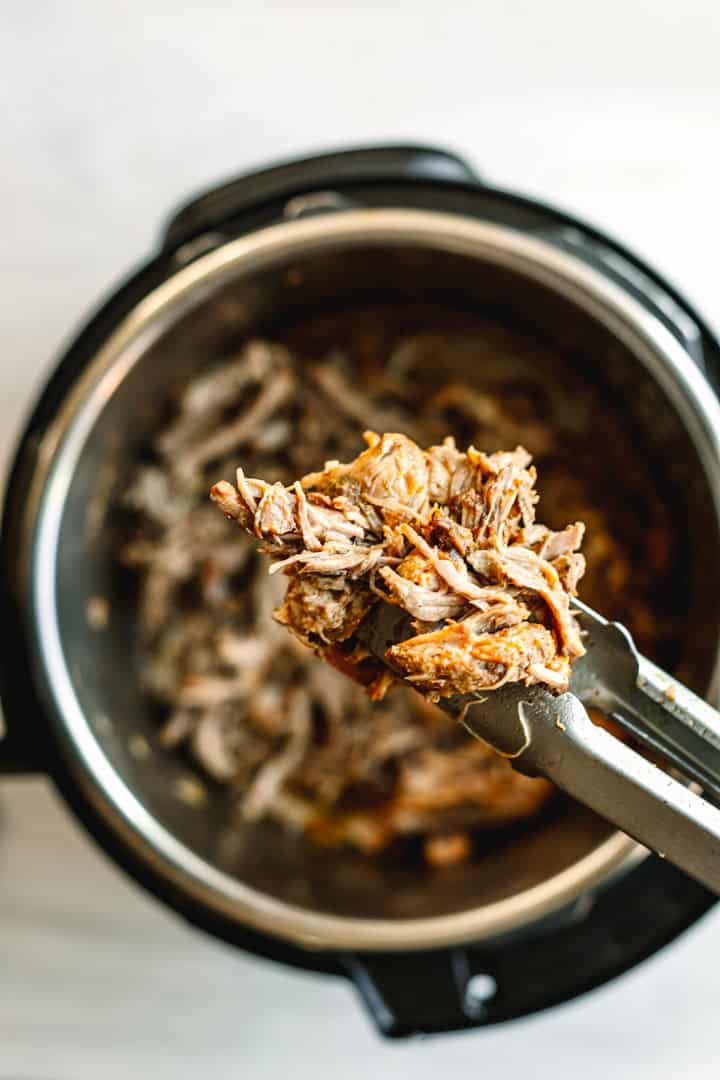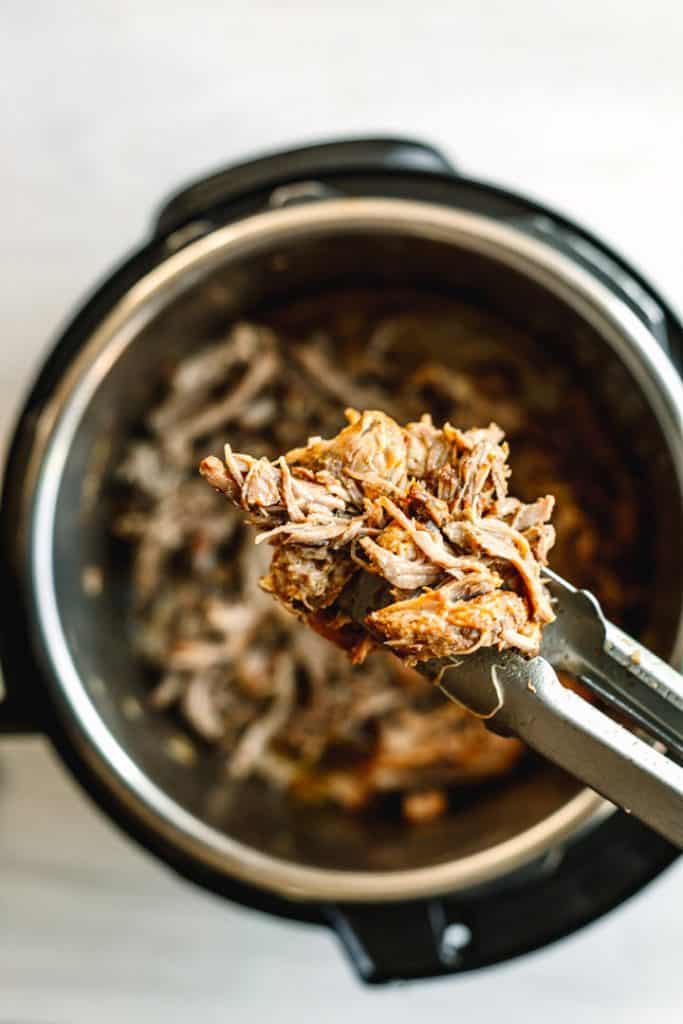 How To Make Pork Carnitas in an Instant Pot:
Optional step: I wash the pork in cold water and dry well with paper towels. This is just an extra step I like to take because I sometimes see specks of dirt around the meat. Once dry, cut into 5-6 sections.
Keep the bones and some of the thin layers of fat intact to add flavor to the sauce or broth.
Season the meat with salt and pepper.
Brown the meat in an instant pot in multiple batches.
Cook the seasoning ingredients for a few seconds.
Then cook all the ingredients with a closed lid, sealed, for about 35 minutes and 15 more minutes natural release.
Remove the meat from the pot. You can enjoy immediately or continue cooking in a skillet or broiler to add crispiness to the meat.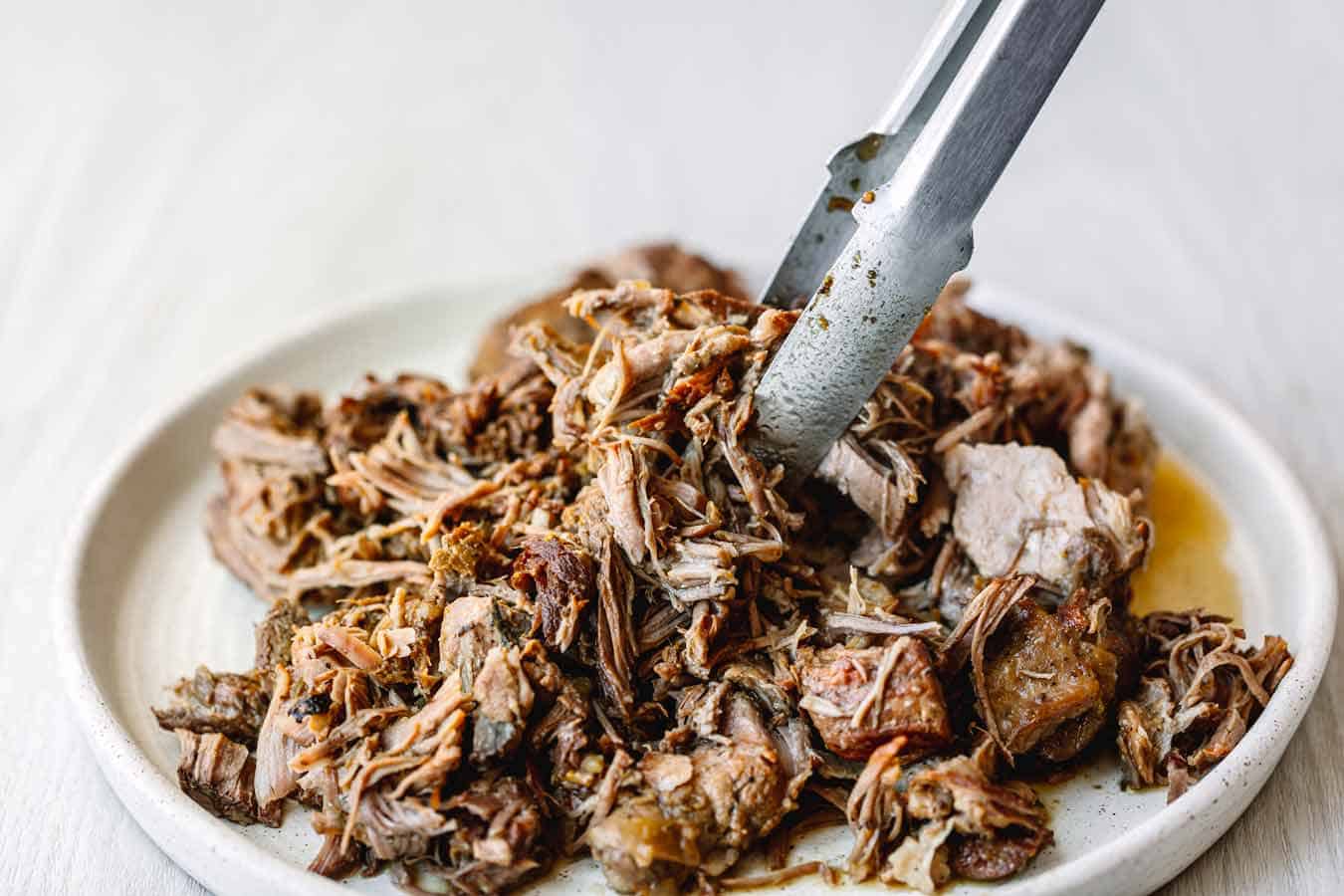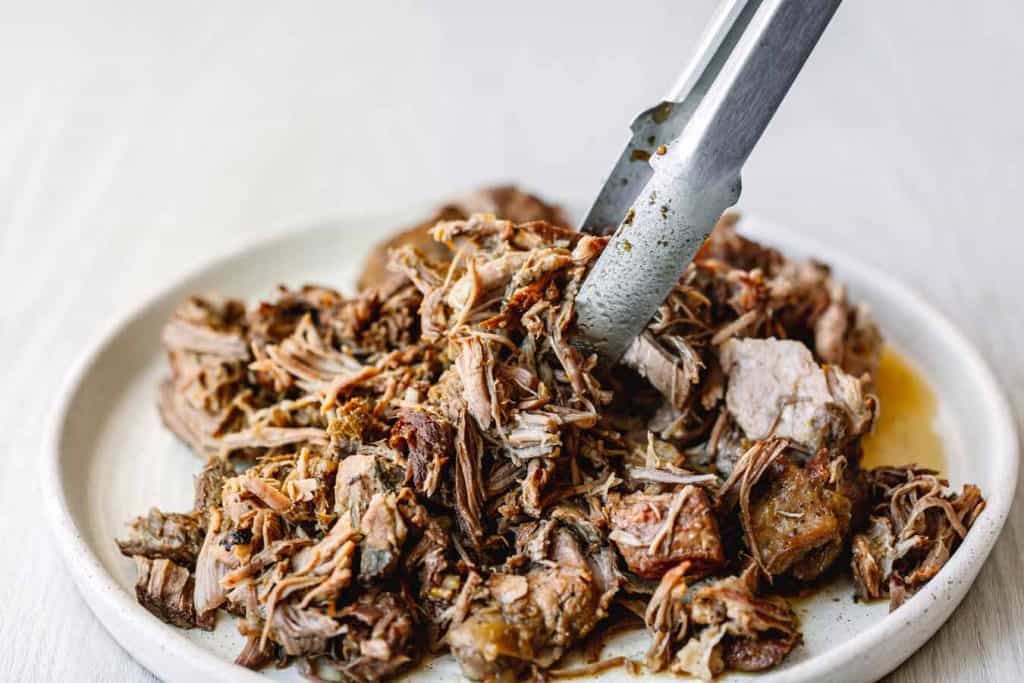 Enjoy in Three Different Varieties of Pork Carnitas:
Option 1, the quickest and most basic: You can enjoy the meat immediately after pressure cooking. The meat is so tender, juicy and flavorful but not crispy. The meat will be perfect for a burrito bowl. Just toss in some rice, black beans, avocados, etc.
Option 2, use a broiler: You can add crispiness to the meat by continuing cooking it at the oven (broiler). Use some of the leftover juices, and cook until the edges of the pork turn brown or crisp. The good thing about this method is that you don't need to add extra oil to crisp the meat in the oven. Final result: medium crispiness and less salty than option 3 meat. ? The meat will be perfect for Burrito, Tacos, Nachos.
Option 3, cooking in a skillet. At this level, you have the opportunity to adjust the texture and flavor. I also find that with a skillet the meat tends to be crispier and more flavorful, but also saltier compared to options 1 and 2. The cons: you must cook in multiple batches, use at least one tablespoon of oil each time you cook, and have a higher sodium content depending on how much extra juice you put in during searing. The meat will be perfect for Tacos. My kids really enjoyed this option 🙂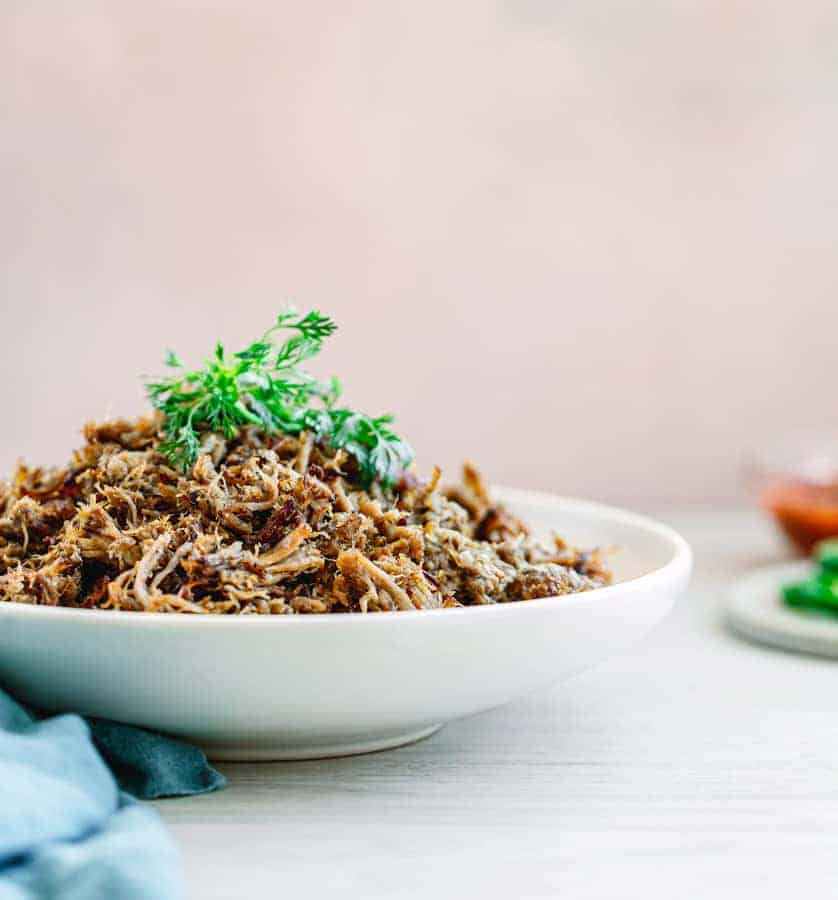 How to Make Ahead and Store Pork Carnitas:
You can make this Instant Pork Carnitas about 3 days ahead of time. Just be sure to shred, then toss with cooking liquid, and let cool before you cover and store in the fridge. Crisp just before serving.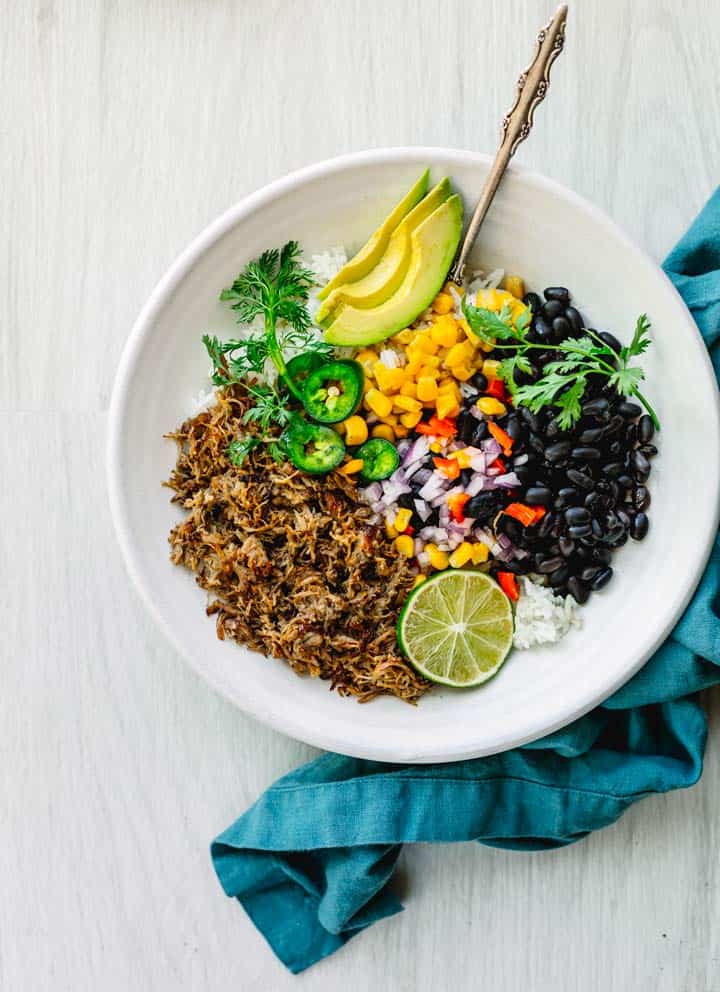 So how are you going to enjoy this pork carnitas? Please do share! Don't forget to leave us a comment with your feedback. I really hope that you are going to love this instant pot pork carnitas recipe!
📖 Recipe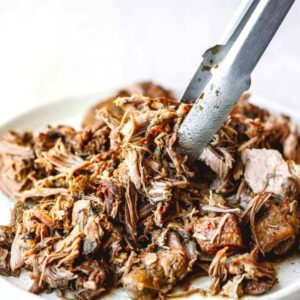 Instant Pot Carnitas
The best Mexican pulled pork, cooked in an instant pot. So juicy, tender and flavorful.
Equipment
A 6-qt. Instant Pot or other electric pressure cooker

Kitchen Tong

Meat Fork

Skillet

Baking Sheet
Instructions
Wash the pork in cold water and dry well with a paper towel. Cut the pork in 5-6 sections.

Season the pork with ½ teaspoon salt and ¼ teaspoon black pepper. Rub well.

Turn on the Instant Pot to "Sauté" setting then adjust it to "High" and add 1 tablespoon vegetable oil.

Place about 2-3 pork pieces into the pot and cook until browned on all sides for about 5 minutes. Set aside.

Repeat the process (without additional oil) to the remaining pork. Transfer the pork to a plate and set aside.

Add chopped onion into the pot and stir until translucent, then add garlic, oregano and cumin. Keep stirring for 30 seconds.

Add orange juice, broth, 1 ½ teaspoon kosher salt, ½ black pepper, and 1 bay leaf. Keep scraping the pot until no more browned bits are at the bottom to prevent burning.

Put the seared pork back inside the pot. Turn off the "Sauté" setting. Use a big spoon to pour juice over all of the pork.

Place the lid and ensure the valve is in the "Sealing" position. Select "Meat" then press "Pressure" until you see the "High Pressure" light on then adjust to 35 minutes. Once Its cooked, allow the cooker to cool down naturally for about 15 minutes before you open the lid.

Remove the meat from the Instant Pot and let cool slightly before pulling apart with a fork.

Turn on the "Sauté" setting and bring the juice to a boil, then continue cooking to reduce the broth for about 1 minute.

Option 1: You can enjoy the meat immediately after pressure cooking without searing. OR

Option 2: Broiler. Turn on the broiler to High, layer some shredded pork on a baking sheet and cook for about 4-5 minutes, then take it out from the oven and pour in about ⅓ juice all over the meat. Put it back the oven and cook for at least 5 minutes or until crisp on the edges but still tender. OR

Option 3: Skillet. In a large skillet over hight heat, add one tablespoon oil and cook the shredded meat, undisturbed, until underside is well browned, about 4-5 minutes. Add some juice and continue cooking and tossing occasionally, until some of the edges are caramelized until you reach the desired crispiness and flavor. Make sure to keep the meat tender and do not burn.

Remove pork from the skillet and repeat this process in multiple batches (about 3-4 total).
Notes
Pork Shoulder or Pork Butt:
Keep the bones and some of the thin layers of fat intact to add flavor to the juice and to keep the meat tender and moist.
Fresh Squeeze Orange Juice:
I used Navel orange. To make ½ cup, you need about 2-3 oranges (Medium to Large size).
Chicken Broth:
I used Organic Chicken Stock that I purchased from Costco. It contains 440 mg per cup.