A healthy and delicious vegetarian Mexican food recipe, tofu rancheros. This dish is quite similar to stew. The Tofu is simmered in a tomato-based sauce and seasoned with chili pepper and herbs. The rancheros sauce is so flavorful and has the perfect touch of spiciness.
Craving Mexican food? This vegetarian Mexican ranchero is low carb, gluten-free and keto-friendly.
Jump to:
Tofu Rancheros Sauce:
Ranchero is a Mexican sauce that is made with a tomato sauce, chili peppers, herbs, and spices. It's an excellent low carb sauce. It's the same type of sauce to make the Mexican breakfast dish with fried eggs and tortilla, known as Huevos Rancheros. But for this recipe, we are going to use cubes tofu instead of eggs.
This ranchero sauce is sugar-free and low carb. That means this sauce is the perfect addition to your low carb or keto meal plan. It's a staple sauce, you can use the sauce on any meat.
Check out more Mexican food recipes: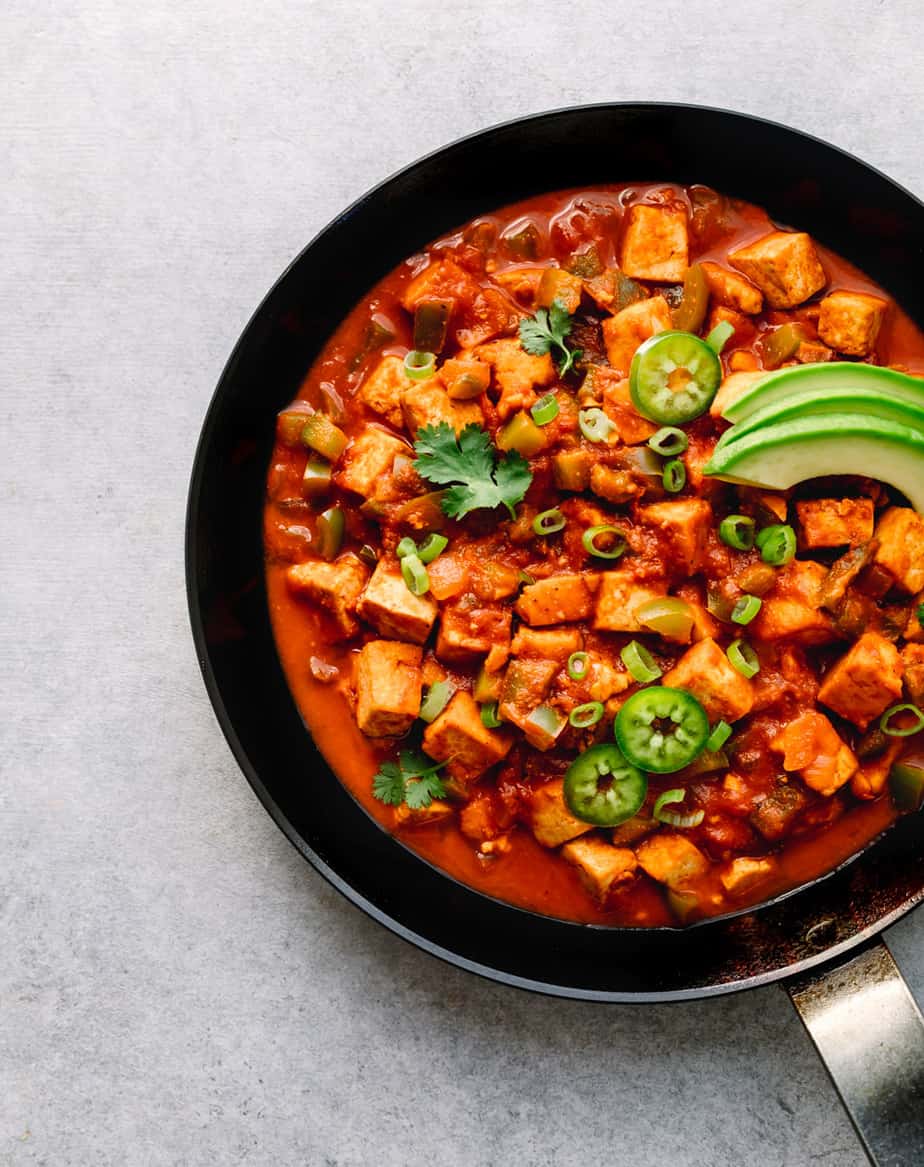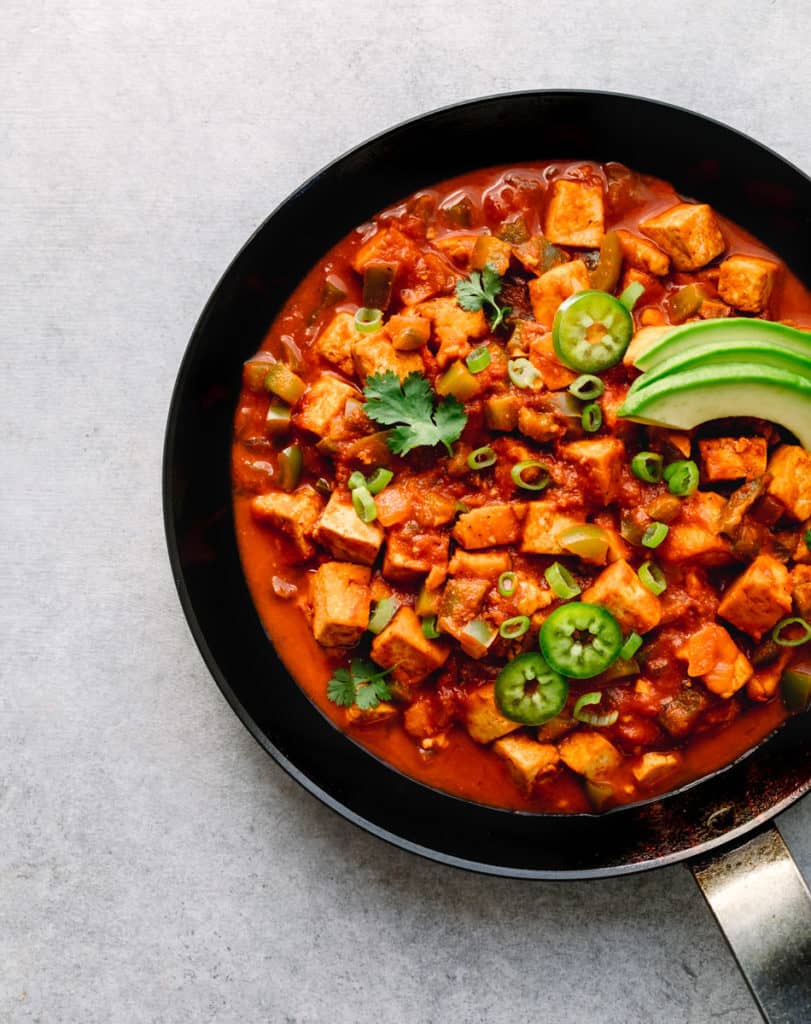 Tofu Rancheros Ingredients:
To make these Tofu rancheros you will need firm tofu, tomato sauce, onion, garlic, cumin, cayenne pepper, green bell pepper, jalapeno pepper, and chicken broth. The cooking process is so easy, this recipe should not intimidate anyone!
How to Make Tofu Rancheros:
This vegetarian ranchero is so easy to make! There are three important steps:
First, you will need to crisp the tofu in a skillet.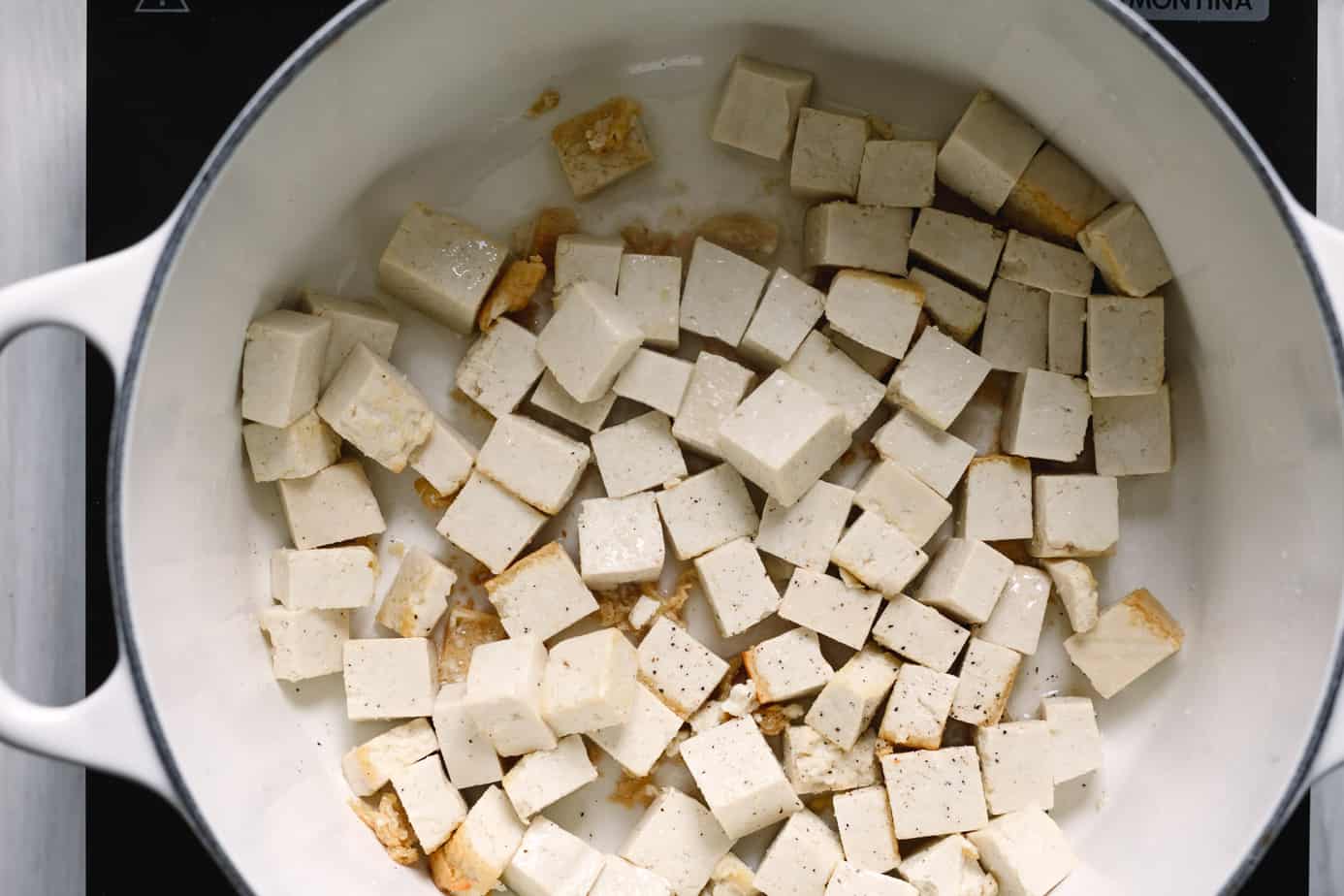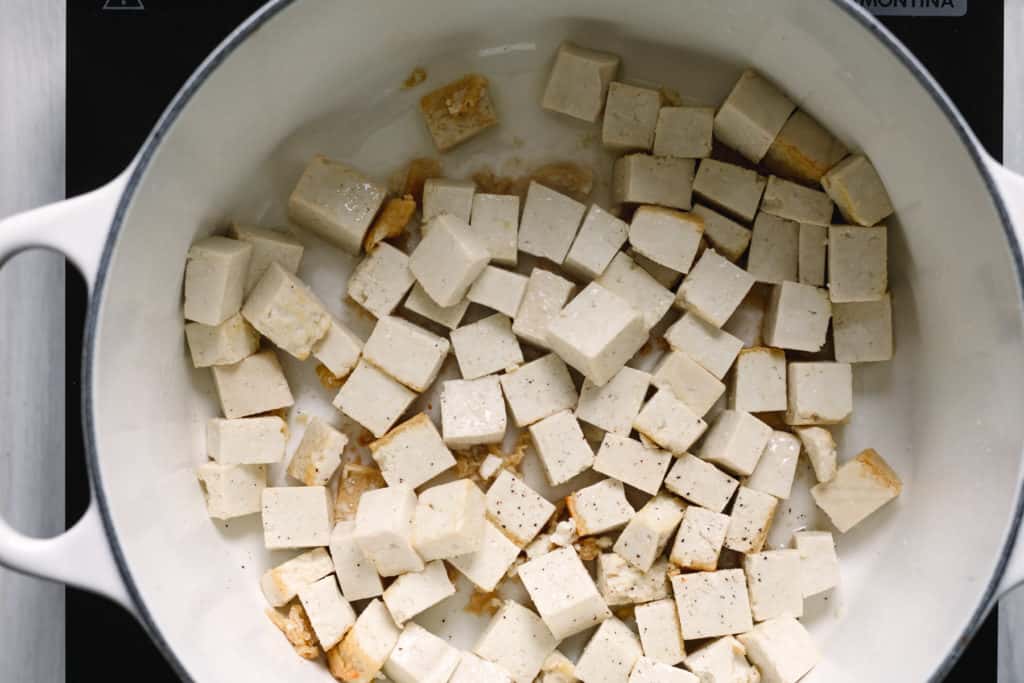 Second, you will need to cook the onion, garlic and green bell pepper until tender then adds spices and tomato sauce.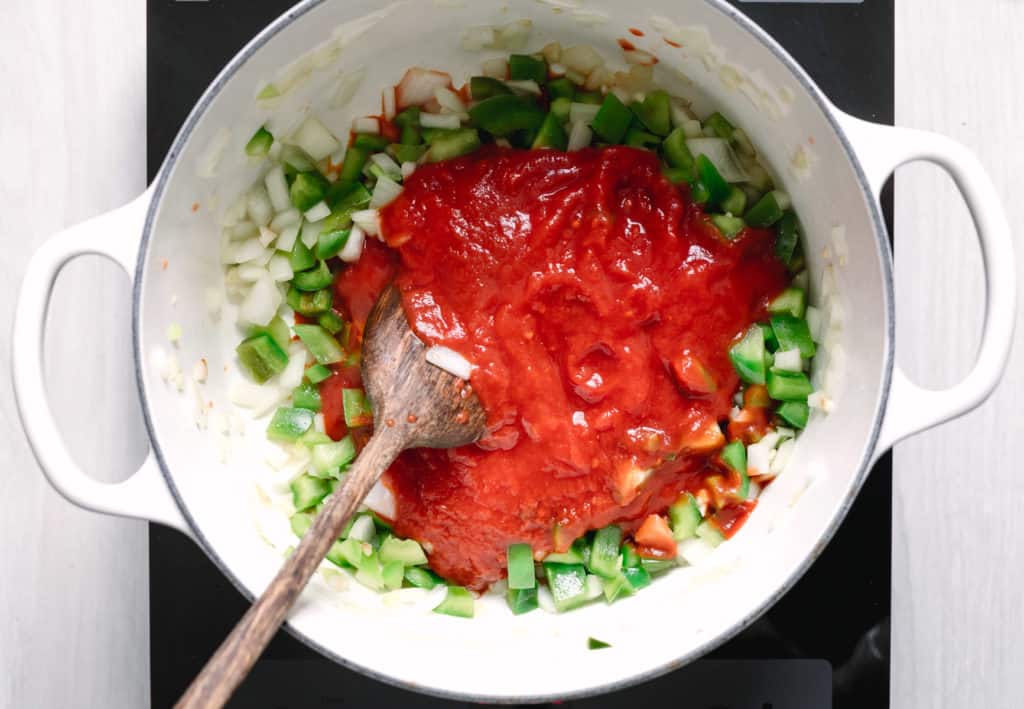 Third, you should simmer the tofu in a tomato sauce until the sauce is thickened.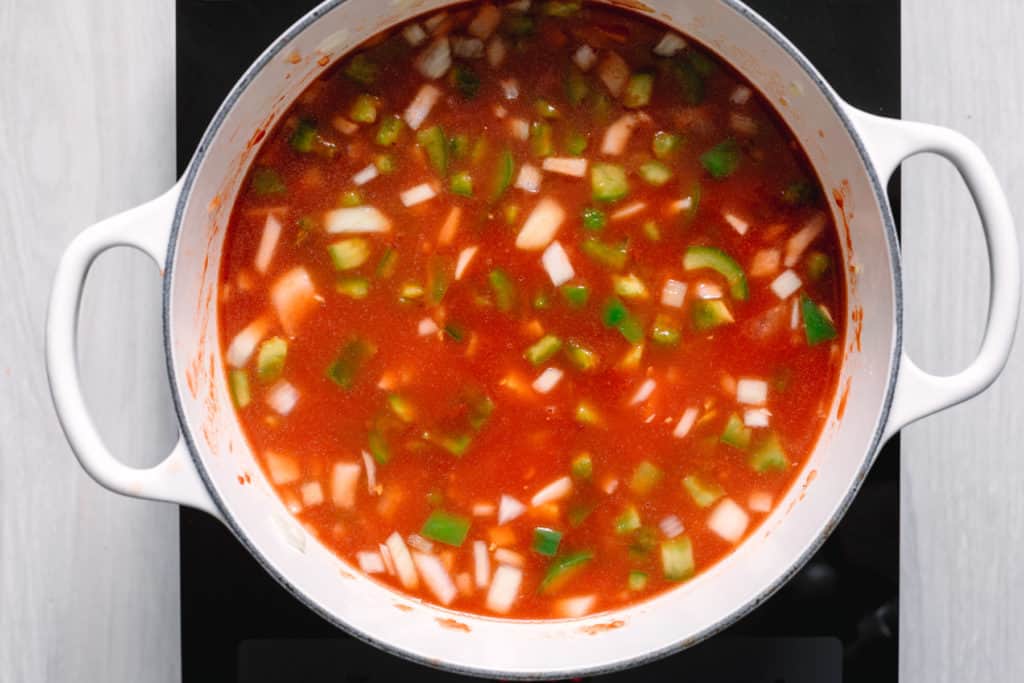 Tofu:
There are many types of tofu available in the market. For this recipe, you must use extra-firm tofu. I used the Organic High Protein Tofu from Trader's Joe. It's so inexpensive and has become my go-to tofu choice for any vegetarian stews, soups or salad because it holds its shape nicely during cooking. The firm tofu is also just nice to bite into, especially with the contrast of the sauce in this dish.
Tofu is a great vegetarian protein source and is cholesterol-free. It can be eaten cooked and uncooked.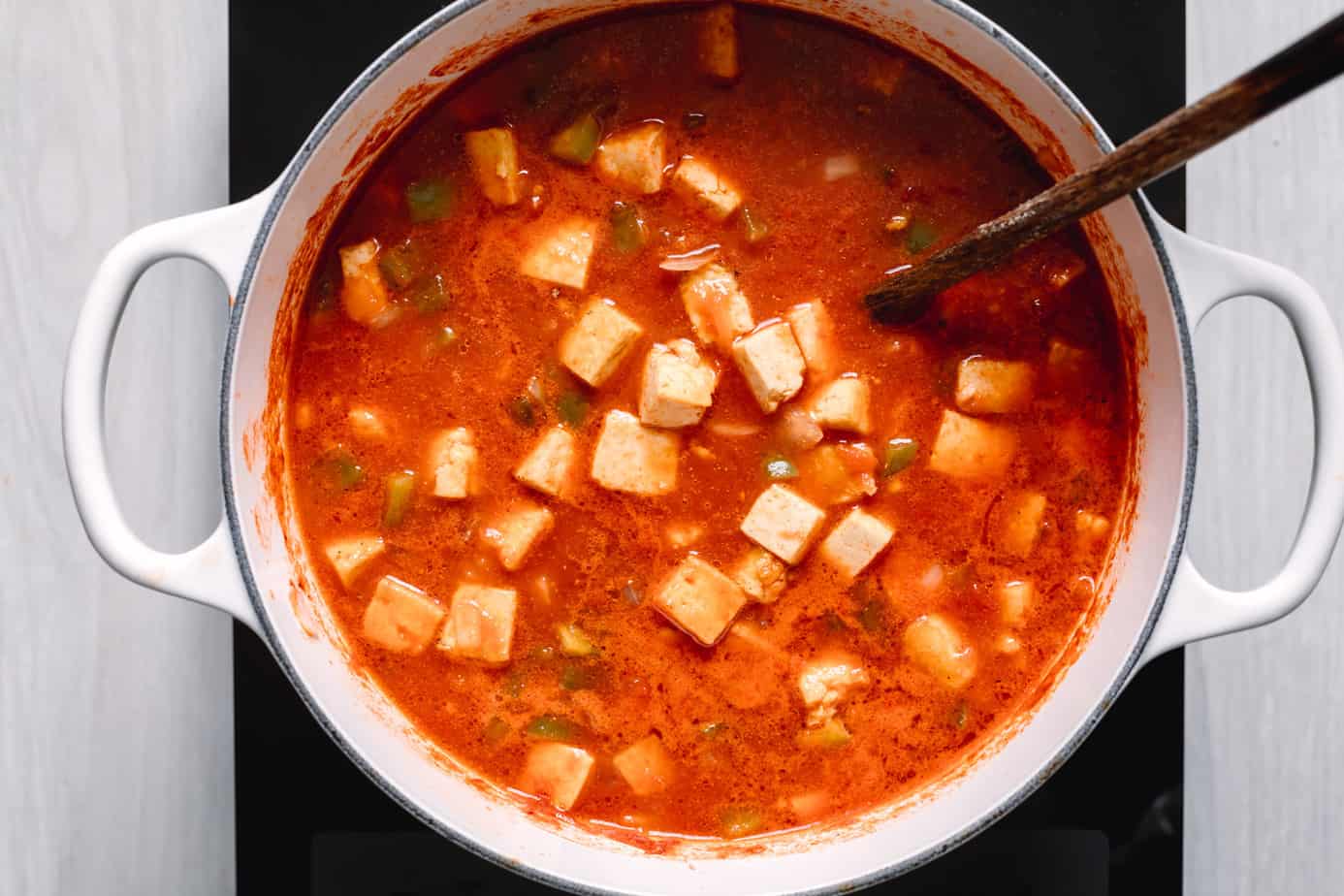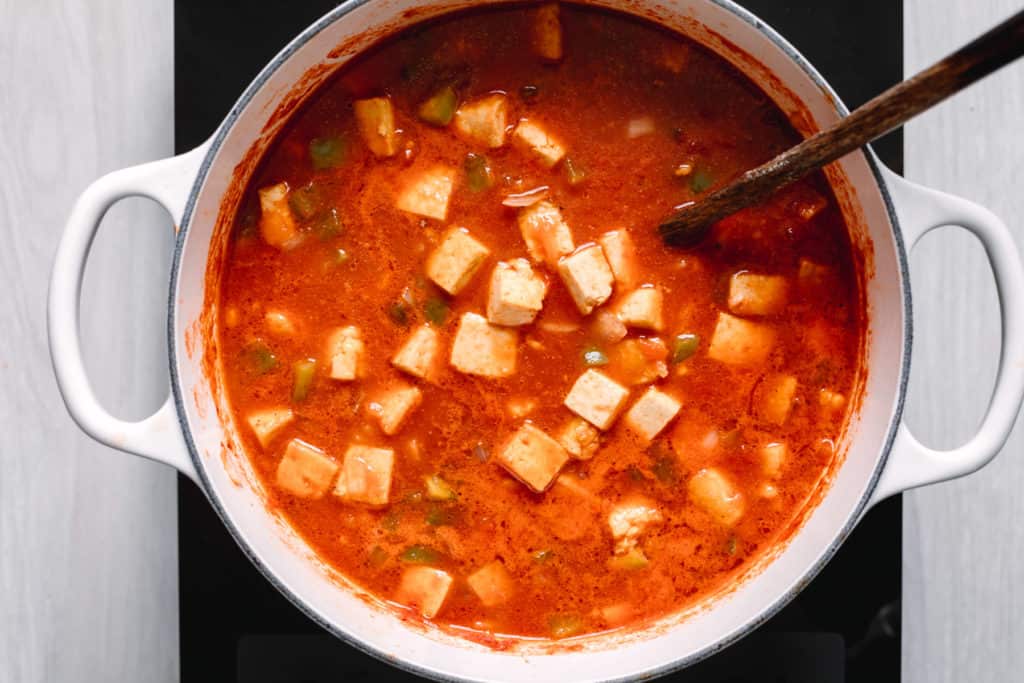 How to prepare tofu for cooking:
Before cooking the tofu, you must drain excess water by pressing the tofu. Here's how:
Wrap the tofu with layers of paper towels and place them on a flat surface or a plate.
Place a heavy flat surface on top of the tofu and weigh it down.
Let the tofu sits for at least 30 minutes.
Don't forget to cube the tofu before cooking.
Pan-Fry Tofu (Optional):
As I mentioned in the cooking steps above, I pan-fried the tofu cubes on a skillet to give that beautiful brown color before adding in a tomato-based sauce.
Please note that this is absolutely an optional step. If you are currently on a no-oil diet, feel free to skip the first step to crisp the tofu.
I've made this recipe many times with and without browning the tofu. Honestly, I couldn't tell you which I prefer as both dishes tasted delicious! I will say that by skipping the effort to brown the tofu, you will save about 7-10 minutes of cooking time.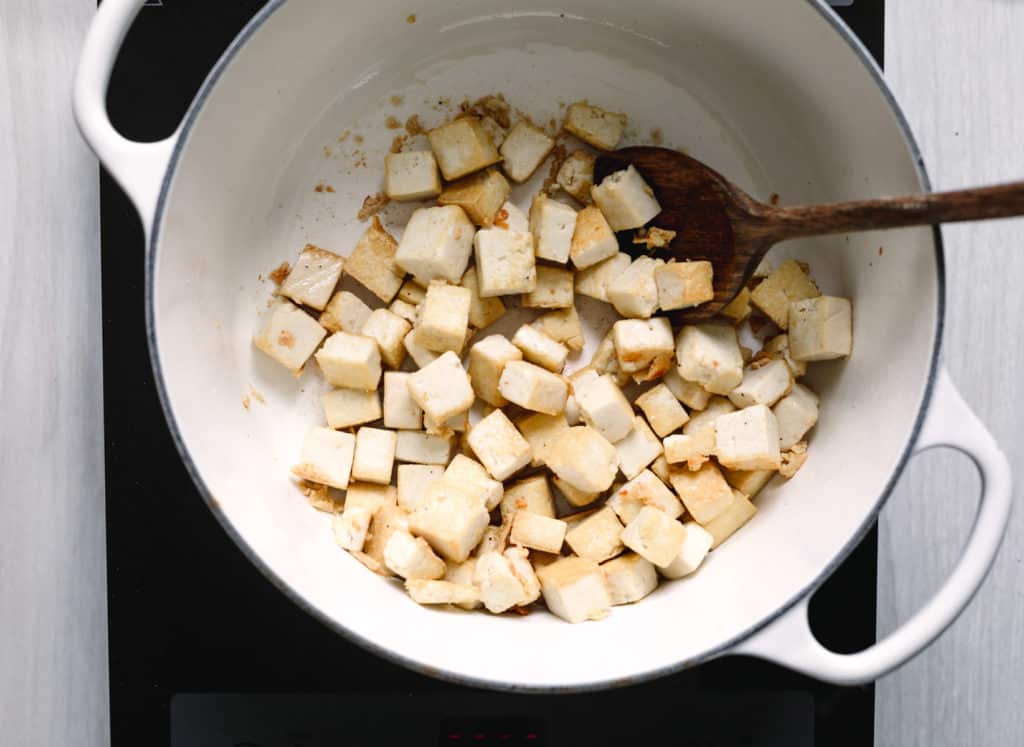 Simmering:
This dish tastes best if you simmer the tofu cubes in a tomato-based sauce for about 30 minutes, or until the sauce is reduced and thickened. This is an important step to create a depth of flavor over time and to let the tofu cubes absorb some of the flavors from the sauce. This helps the final resulting dish to be anything but bland.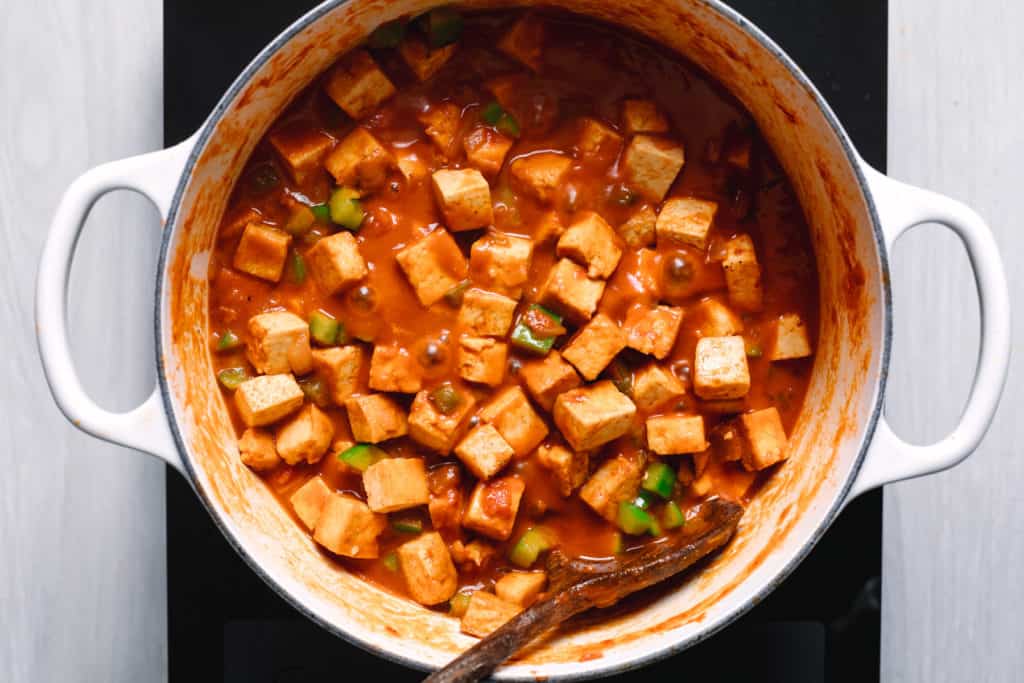 How to Store Tofu Ranchero:
This tofu ranchero will last for 4-5 days in the fridge! Just be sure to place the dish in a covered container. Because this dish is similar to a stew, it can actually taste better the next day!
Because the extra firm tofu is so filling, this recipe will be enough for up to 8 servings. Cooking for two? Simply cut these recipe ingredients in half.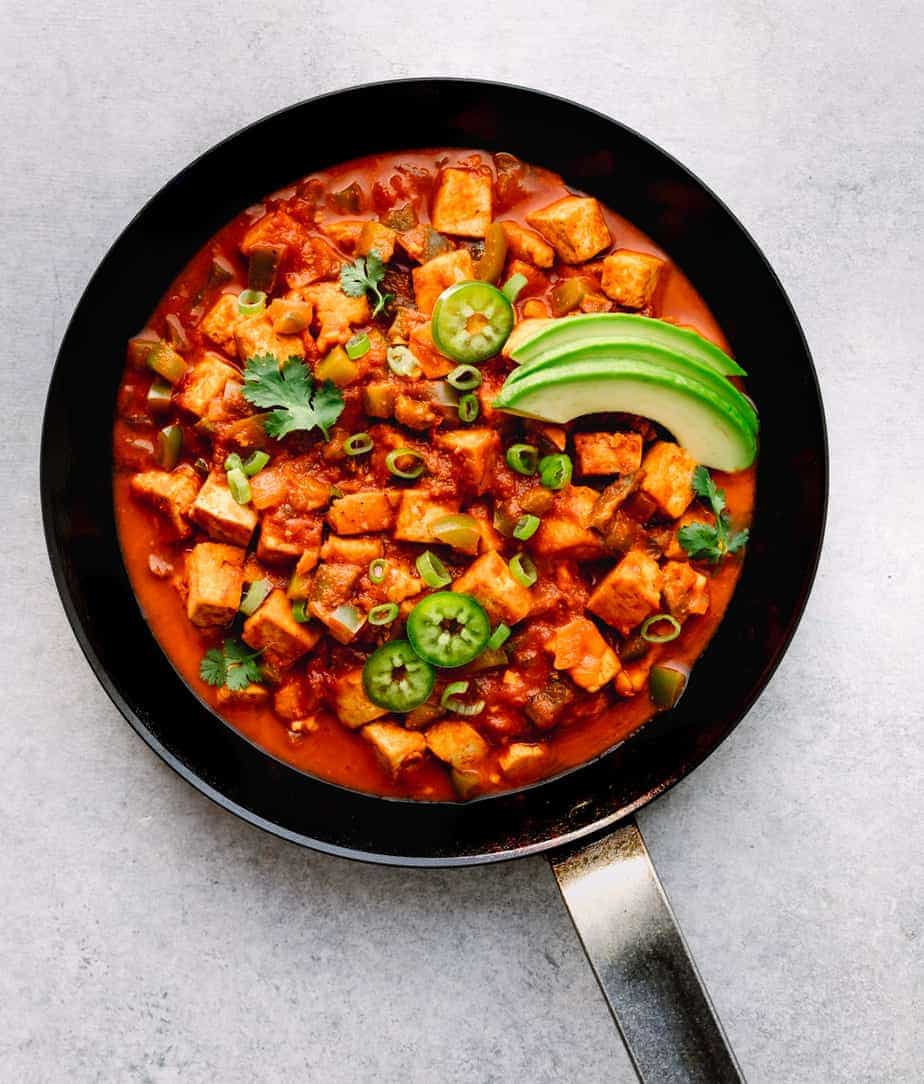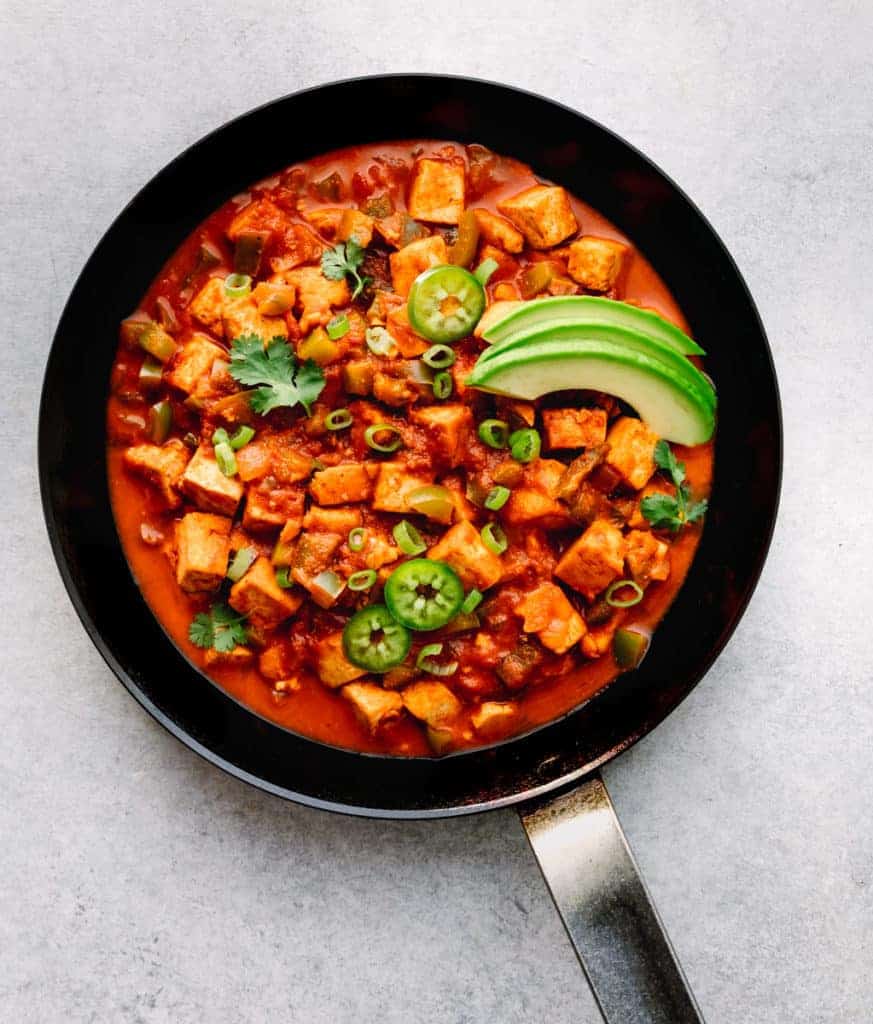 Tomato-Sauce:
I highly recommend using a tomato-sauce with no salt added. Also, be sure to find a tomato sauce product without seasoning, such as herbs or spices added.
This recipe can be also be cooked in an instant pot. Just be sure to cut the sauce ingredients in half and use the same amount of tofu, then cook at high pressure for 10 minutes and release immediately.
📖 Recipe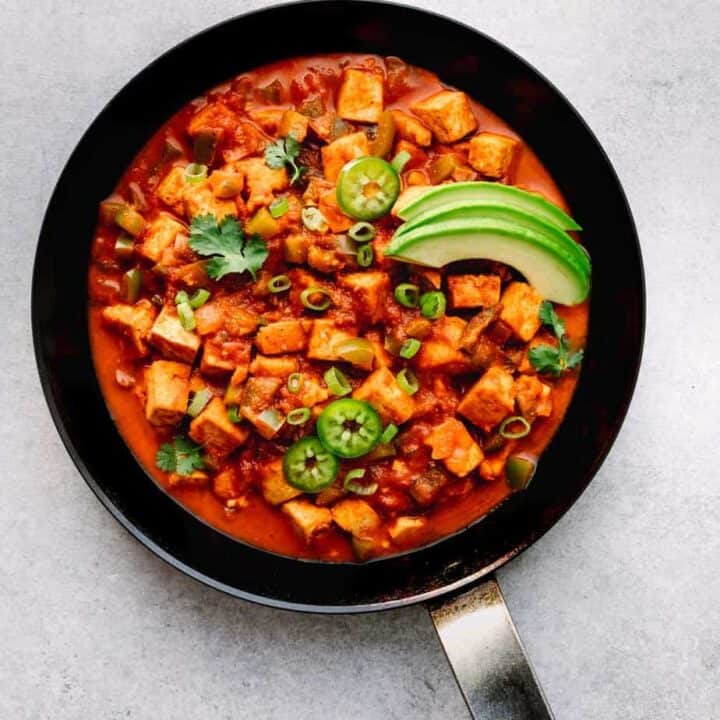 Tofu Rancheros
A vegetarian Mexican food recipe. The Tofu is simmered in a tomato-based sauce and seasoned with chili pepper and herbs.
Ingredients
Tofu:
2

packages of

extra-firm tofu (2 pounds total)

,

(cut in small or medium size cubes) - Recommended: Trader Joe's super firm tofu

2

tablespoon

oil ,

(or use more as needed)
Ranchero Sauce:
2

tablespoon

oil or unsalted butter

1

cup

chopped yellow onion

2

large

green bell peppers

,

(chopped)

¼

cup

chopped fresh jalapeño pepper

2

tablespoon

minced garlic

3

teaspoon

ground cumin

½

teaspoon

ground cayenne pepper

4

cups

broth

,

(vegetarian or chicken broth)

16

oz

100% tomato sauce

,

(no salt added)

fresh cilantro

salt and pepper to taste
Instructions
Press the tofu and drain excess water. Cut into small cubes.
Pan-Fry Tofu (Optional):
In a large skillet, heat one tablespoon of oil over medium-high heat, cook the tofu cubes until browned. You may need to do this in multiple batches. Set aside.
Cook the Sauce Base:
In a large dutch oven, melt butter over medium heat. Add onion, garlic, jalapeño pepper, green bell pepper, cumin, cayenne pepper, then cook until soft (for about 4-5 minutes). Keep stirring to prevent burning.
Simmer the Tofu in Rancheros sauce:
Add broth, tomato sauce, and tofu. Bring to a simmer then lower the heat. Cook until the sauce is thickened like a stew for about 30 minutes. Be sure to stir frequently to prevent burning. Adjust seasoning with salt and pepper if needed.

Stir in the cilantro and serve!
Nutrition
Calories:
99
kcal
Carbohydrates:
10
g
Protein:
2
g
Fat:
7
g
Saturated Fat:
2
g
Cholesterol:
8
mg
Sodium:
771
mg
Potassium:
317
mg
Fiber:
2
g
Sugar:
5
g
Vitamin A:
823
IU
Vitamin C:
42
mg
Calcium:
27
mg
Iron:
1
mg