Skillet chocolate chip cookie that is so easy to make, with crisp edges and a chewy middle. It's made with simple baking ingredients that you could easily find in your pantry: all-purpose flour, baking soda, salt, butter, light brown sugar, granulated sugar, egg, vanilla, semi-sweet chocolate chips and chocolate chunks. Optional ingredients are pecans or walnuts, and marshmallow.
This skillet chocolate chip cookie is the perfect dessert size for two. Topped with homemade chocolate ganache, it's just the perfect way to satisfy your chocolate cravings. My kids were so eager to try a cookie in a skillet in their backyard tent, so I thought it was fitting to choose marshmallows as a topping. It turned out great, the kids even thought that I made them a Smore's giant cookie.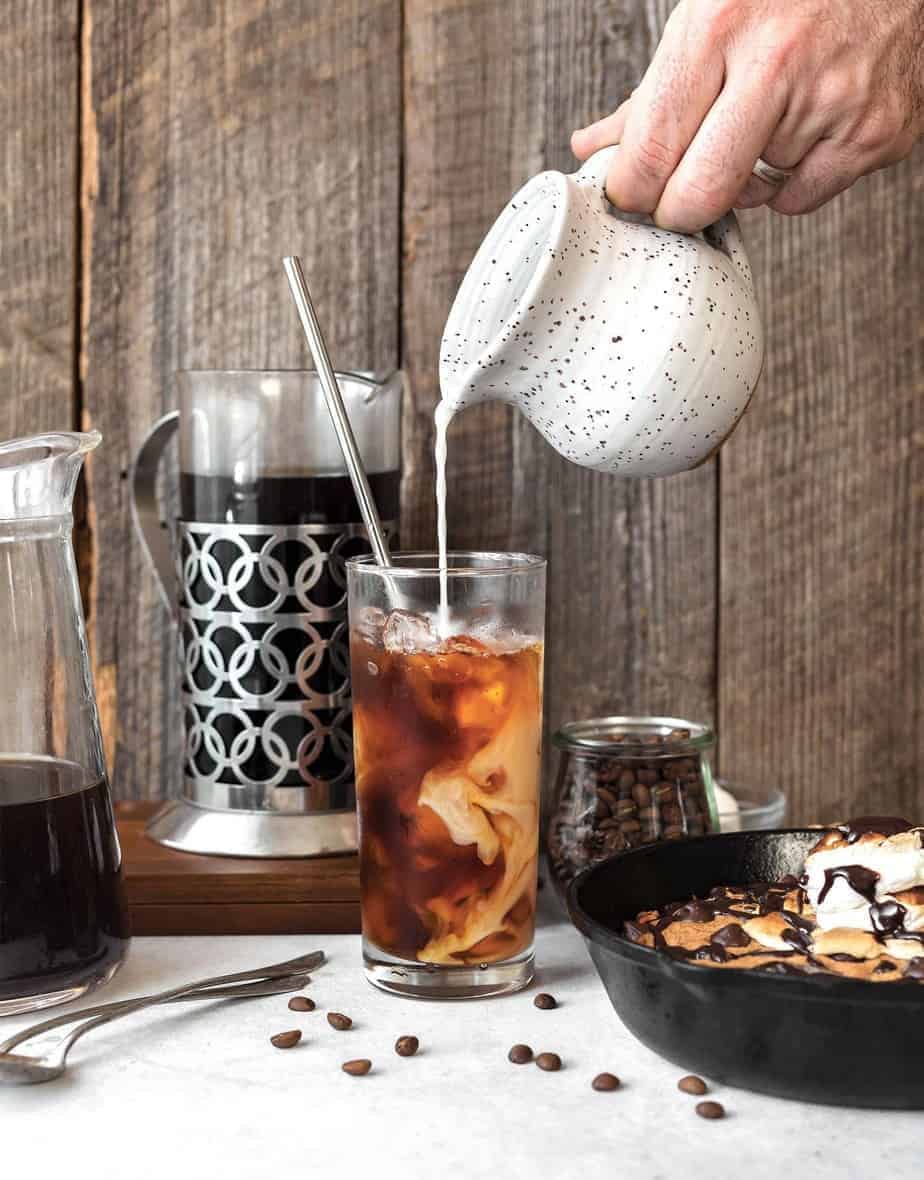 For a romantic date night or dinner, you can opt out the marshmallow and go with vanilla ice cream as a topping. The marshmallow is sticky goodness but for me and my husband, we prefer pecans and the ice cream. Simply finish up with chocolate ganache, chopped nuts or cherry on top.
Use a 6.5 inch cast iron skillet to bake your skillet chocolate chip cookie. Unlike the traditional chocolate chip cookies, you only need to bake it once in a single skillet then serve straight from the oven to the table. You can be creative on selecting toppings depending on the final presentation that you want to achieve.
Chewy Skillet Chocolate Chip Cookie:
I melted the butter in the skillet pan over low heat. I made sure to stir constantly, until the butter was dark golden brown, then whisked in some brown sugar and granulated sugar into melted butter until smooth. Keep in mind that a cookie made with browned butter is softer and more tender than one made with plain melted butter.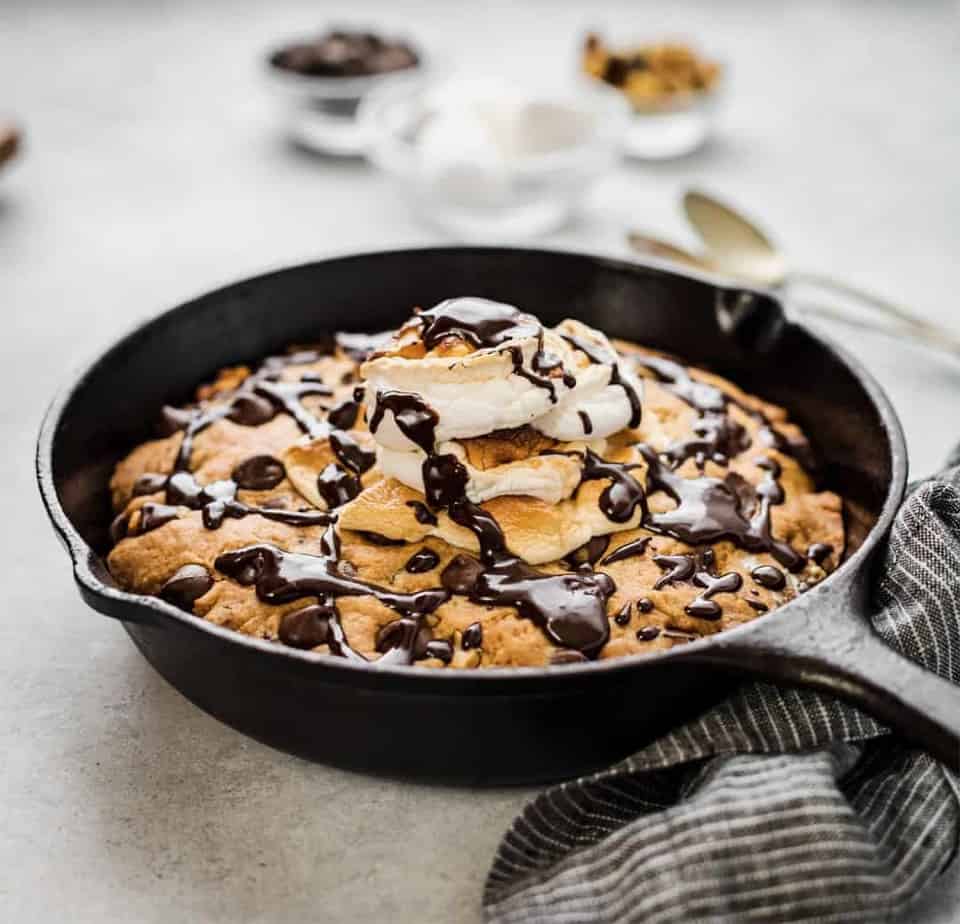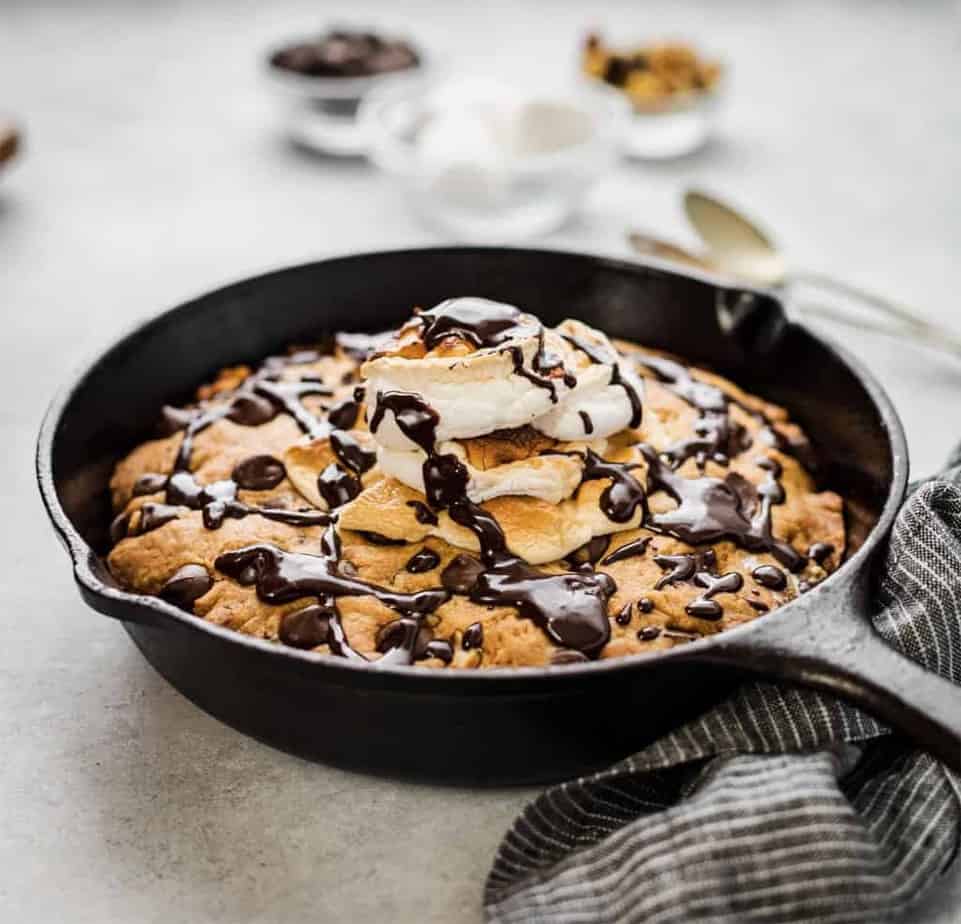 Cookies have always been one of my favorite desserts. Making a giant one is fun and the person or people that receive it usually seem to appreciate it. When I bought my skillet, making cookies was by no means one of the first things that came to mind. That just goes to show that the skillet is one of those universal kitchen items that has a thousand and one uses.
So here's a quick tip on how to clean your cast iron skillet:
Always wash cast iron by hand and dry immediately with paper towel.
To remove cookie residue, you can use a pan scraper. If it's too sticky to remove, simmer the cast iron with water for 1 minute then scrap when it's cooled.
To finish up, rub the cast iron pan lightly with cooking oil immediately after cleaning and drying.
Also check out more tasty cast iron recipes: Cajun Egg Black Bean Rice Skillet Hearty Vegetarian Skillet with Kale and Garbanzo Beans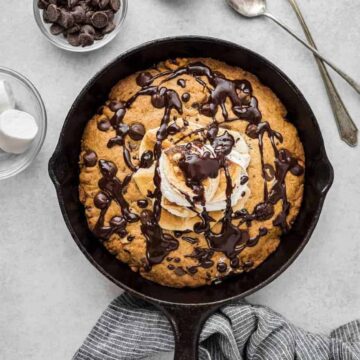 Skillet Chocolate Chip Cookie
Ingredients
1

cup

+ 1 tablespoon all-purpose flour

1

teaspoon

baking soda

½

teaspoon

salt

½

cup

butter softened

½

cup

light brown sugar

¼

cup

granulated sugar

1

egg

½

teaspoon

vanilla

¾

cup

mixed semi-sweet chocolate chips and chocolate chunks

Optional: ¼ cup chopped pecans or walnuts

4-5

Marshmallow
Instructions
Preheat the oven to 325F.

In a 6.5 inch cast iron skillet pan over low heat, add butter and stir until melted. Add brown sugar and granulated sugar. Keep stirring until smooth, do not burn.

Remove the pan from the heat, set aside and chill for at least 15 minutes.

Add the vanilla and egg into the skillet pan, stir until just incorporated for about 10 seconds. Stir in the all-purpose flour, baking soda, and salt. Mix well.

Stir in the chocolate chips, chocolate chunks, and optional nuts until combined. Top with the marshmallow.

Bake for about 18 minutes (the center will be soft). Do not overbake. Remove from the heat and cool on the wire rack before serving.

Serve with homemade chocolate coffee ganache. (recipe below)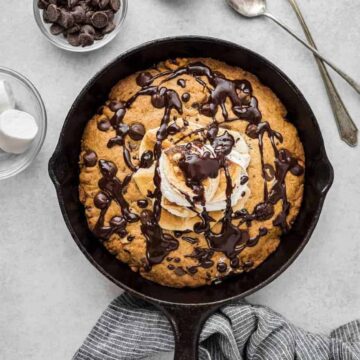 Homemade Chocolate Coffee Ganache
Ingredients
8

ounces

good semisweet chocolate chips

½

cup

heavy cream

2-3

tablespoon

Dunkin' Donuts coffee
Instructions
Place chocolate into a medium mixing bowl.

Heat the cream in a small saucepan over medium heat. Bring to a boil for a few seconds and remove from the heat.

Pour the cream over the chocolate, whisk until smooth. Stir in coffee if desired.