Many restaurants have skillet options that often consist of 50% potatoes or eggs. Don't get me wrong, these are delicious, but you can get that great skillet flavor on so much more. Take this dish for example, there's nothing in here that isn't good for you, and the vibrant flavors all come together brilliantly when cooked together in the skillet. This could easily pass as a meal for breakfast but is hearty and filling enough to work for lunch or even dinner. The garbanzo beans are filling and will please those tummies that feel a need to have meat or tofu with every meal (my husband is one of those, but he said that after this dish he was complete satisfied). I love how the kale and other ingredients got more crispy, yet there were delicious juices in the skillet packing in taste from the onions and tomatoes. The crunch from the pumpkin seeds is a nice touch and gives it some crunch which is always appreciated in my home.
Repin this Hearty Vegetarian Skillet with Kale and Garbanzo Beans
Save it and use the recipe later
Don't forget to follow PoshJournal on Pinterest to see more updates and recipes!
After tasting this you'll be patting yourself on the back. The ingredients are energizing and satisfying, yet extremely healthy. I hadn't mixed corn and garbanzo beans together but they work extremely well together, and I'll be looking to marry the two flavors a lot more going forward.
I purchased the cast iron skillet from Amazon. It's made in USA and so affordable.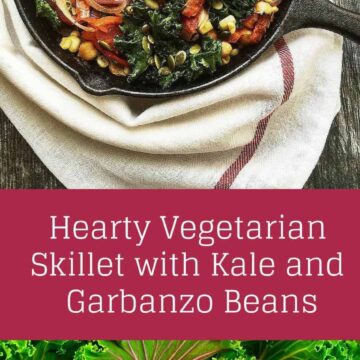 Hearty Vegetarian Skillet
Ingredients
1

can of Garbanzo Beans - Drained

,

Salt Free / Low Sodium

1

can of Crushes Tomatoes - Drained

,

Salt Free

2

cups

of Fresh or Frozen Corn

½

Red Onion

,

chopped or sliced

½

Teaspoon

of Cumin

⅓

Teaspoon

of Turmeric

½

Tablespoon

of Garlic Powder

1

Whole Red Bell Pepper/Green Bell Pepper

2

cups

of Fresh Kale

3

Tablespoon

of Olive Oil or Flax Seed Oil

Pumpkin Seeds

Salt and Pepper if needed
Instructions
Pre heat your oven at 375 degree. Add oil to skillet then put red onion, garbanzo beans, corn, crushes tomatoes, red bell pepper/green bell pepper. Sprinkle with cumin, garlic powder, turmeric and black pepper

Cook in the oven for about 15 - 20 minutes. Add salt if needed then add Fresh Kale. Cook for another 2 minutes.

Take the skillet out of the oven then sprinkle with Pumpkin Seeds