Disclosure: In partnership with Sofitel Munich Bayerpost.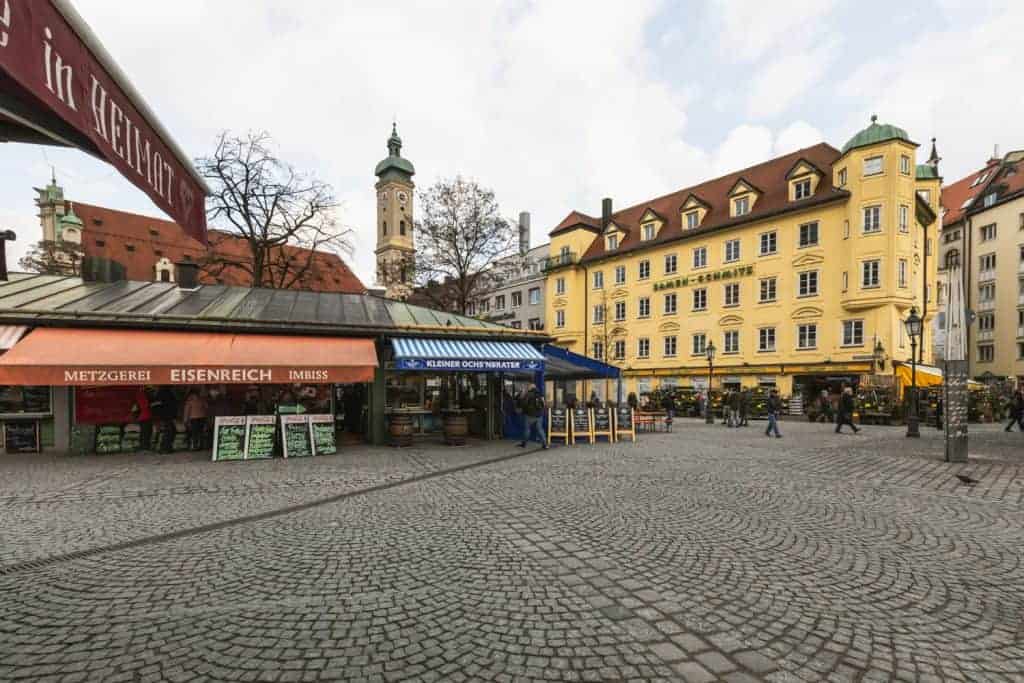 Our trip through Europe had a wonderful stop in the central city of Munich. For three days we enjoyed its Bavarian food and culture, beer halls, museums and friendly German people. We were thrilled with where we stayed, the modern and elegant five-star Sofitel Munich Bayerpost.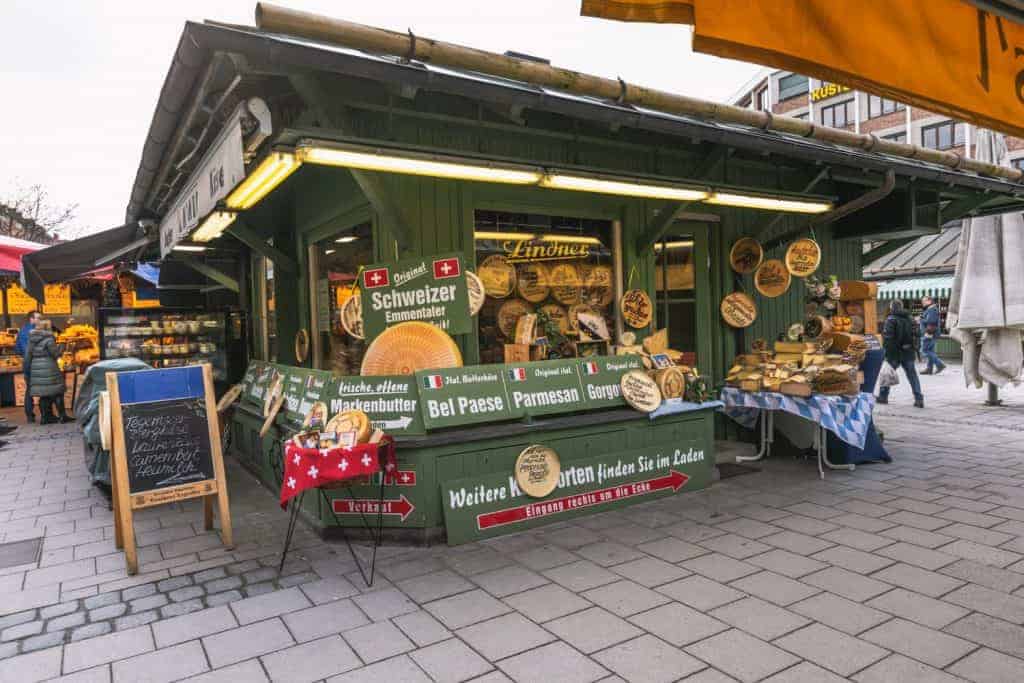 It was close to Marienplatz square, the best shopping in the city and plenty of outstanding restaurants and bars. It was a dream to come back to the Sofitel every night, whether in the spa, the lobby our up in our room there's just something very exciting about this place.
Sofitel Munich Bayerpost Rooms
Our Sofitel Munich Bayerpost room had a fresh and vibrant feel. The colors in the room were popping, especially with a cool photo mural covering much of one wall.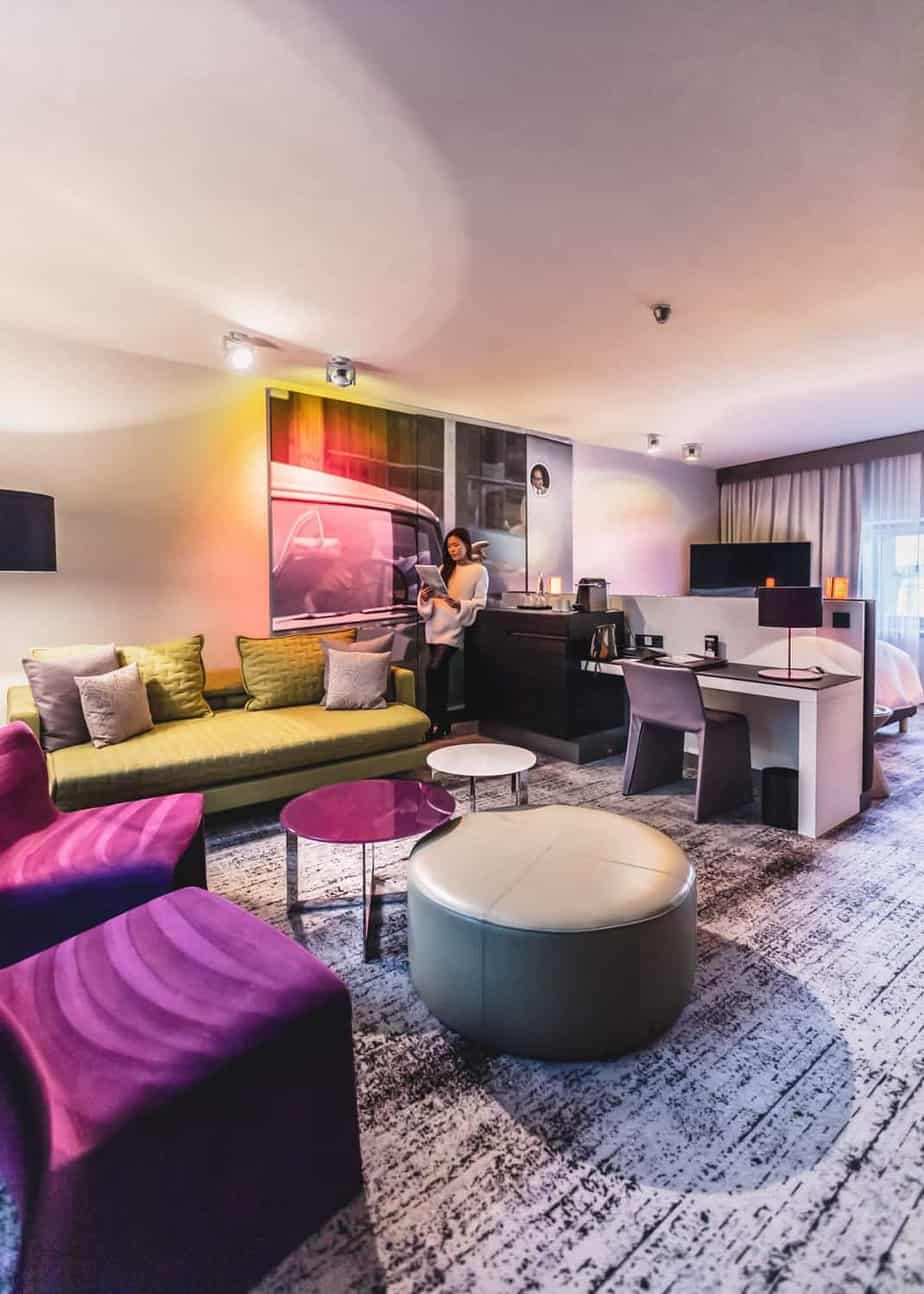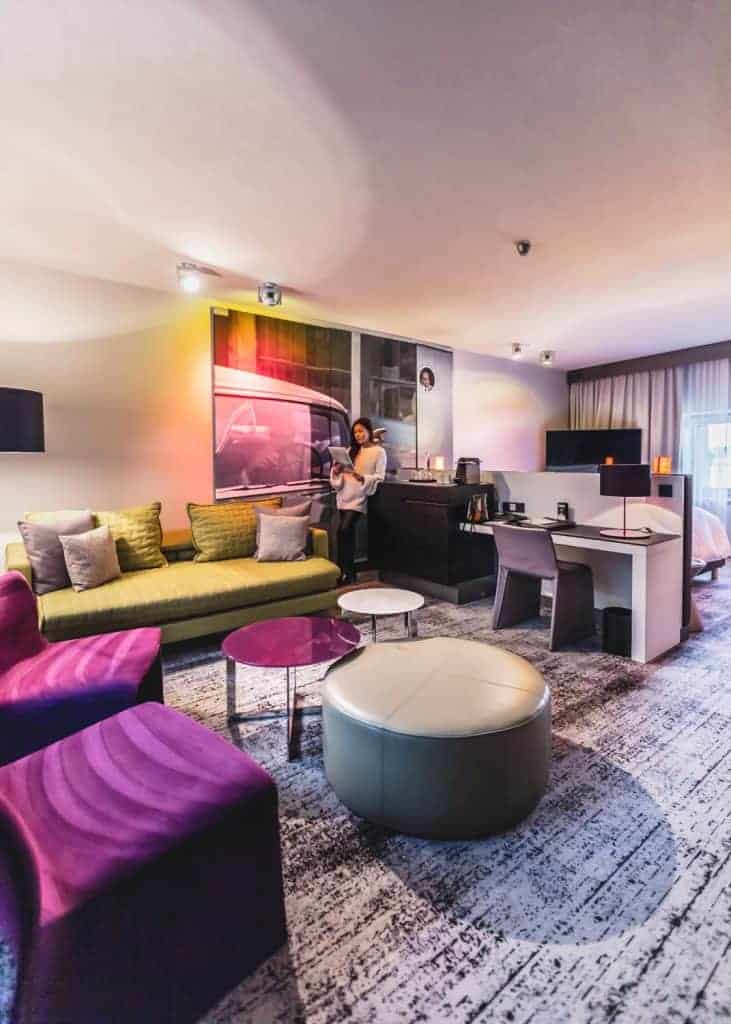 The bed was comfy and huge, and turning on either of the large flatscreens brought a sexy song each time that Sofitel plays in their hotels (I'm hooked on it, had to share it). Hermes lotions and shampoos to the bidet toilet and champagne in the room… wow. I felt completely pampered even setting foot in the spa.
I don't know when the rooms were all upgraded but I'm guessing the makeover was recent as our room felt as modern as any I've stayed in across the globe. The raised sinks over beautiful stone, vibrant colored furniture and accents in the living room, and cool office area all come together well. I felt relaxed and comfortable, yet energized in this space.
Sofitel Munich Building and Lobby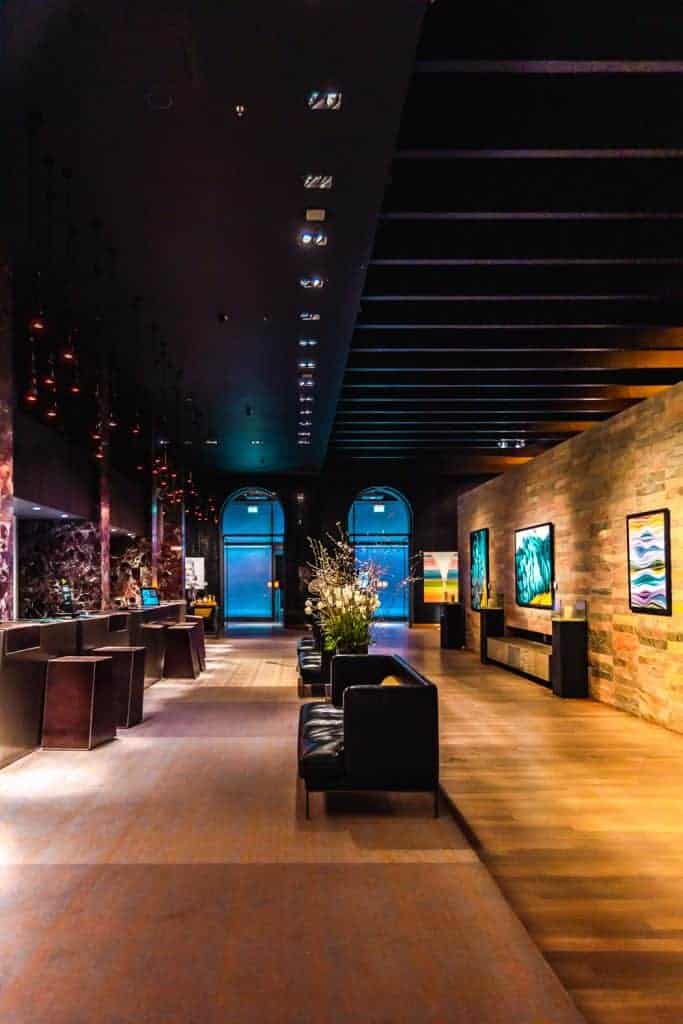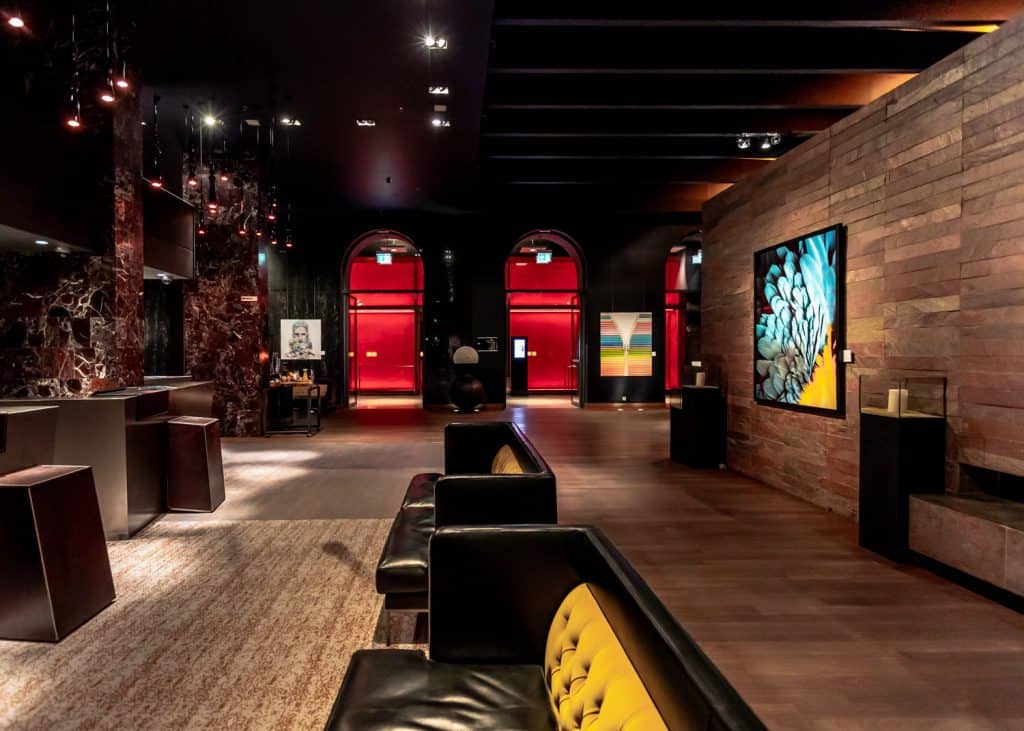 The exterior of the building is striking and majestic, and is actually the former Bavarian Royal Post Office for Munich, which began construction in the late 1800s. The avant-garde architecture makes it one of the finest structures of the city, but I'm just as big a fan of what they've done inside.
The floor plan is very open, with high ceilings and a lobby that stretches on to different areas such as a fantastic open reading room, the welcoming French restaurant DÉLICE La Brasserie and over to the ISArBAR.
On two different occasions I grabbed a cocktail at the bar, named after the Isar River which flows from the Karwendel range of the Alps to Munich. The first time I sat outside on the terrace for some people-watching. I opted for more champagne, they actually have a very nice selection and some bottles that I've never seen before.
The next night I opted to sit inside and take in their reading room, such a fantastic use of a large space. I felt as though I was in one of those huge university open-space libraries, only much more fancy (and without the stress of cramming for a test!).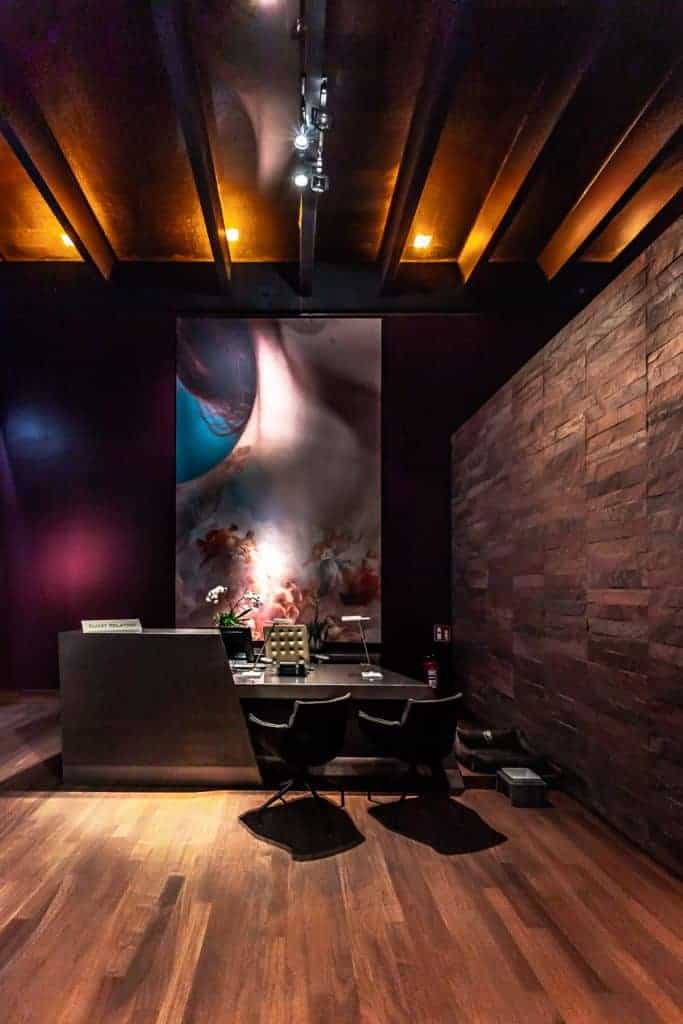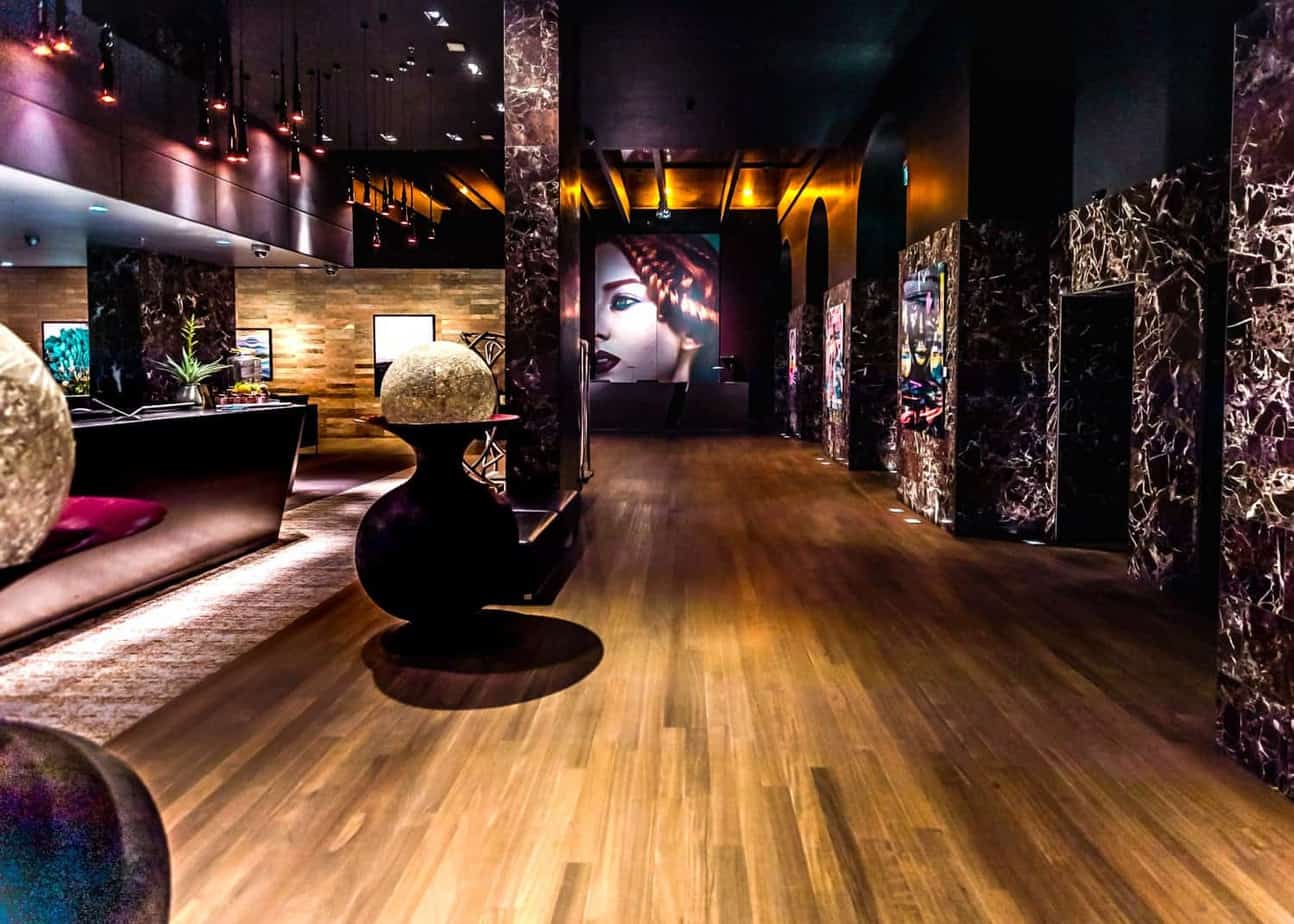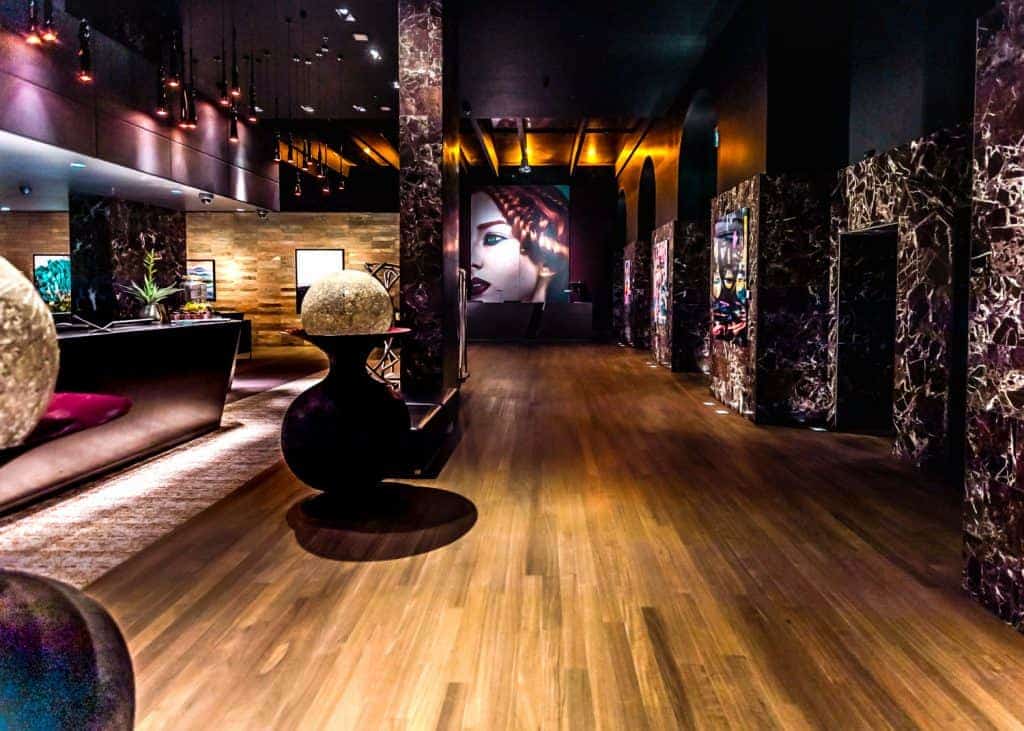 There are bright, contemporary pieces of art that line the walls of the lobby and make for some great photography in my humble opinion. Add to that the nice lighting and it all feels very much like a gallery of modern art.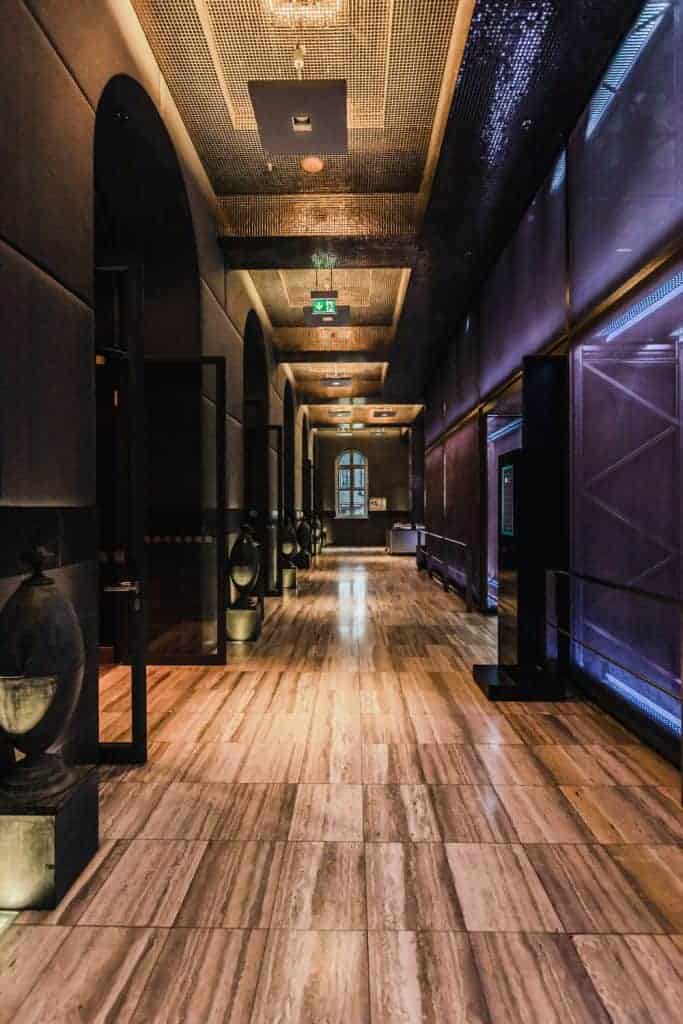 Walking further will get you to the breakfast buffet, but not before walking down a grand corridor lined with giant vases. I love these open spaces of the hotel, quite different from a stereotype of a European hotel being crammed and dated.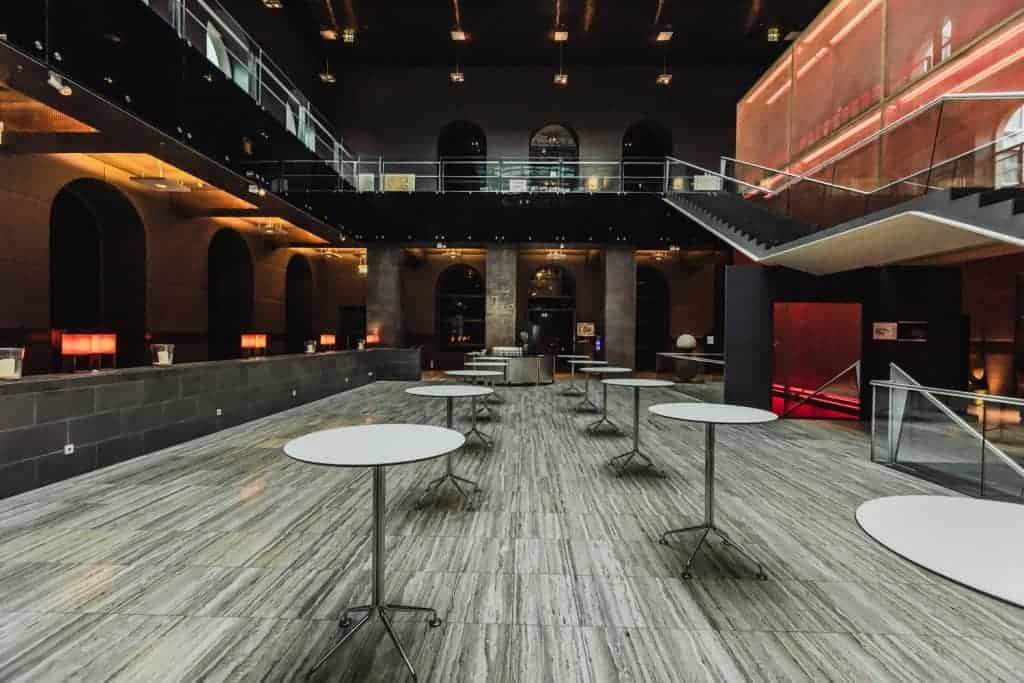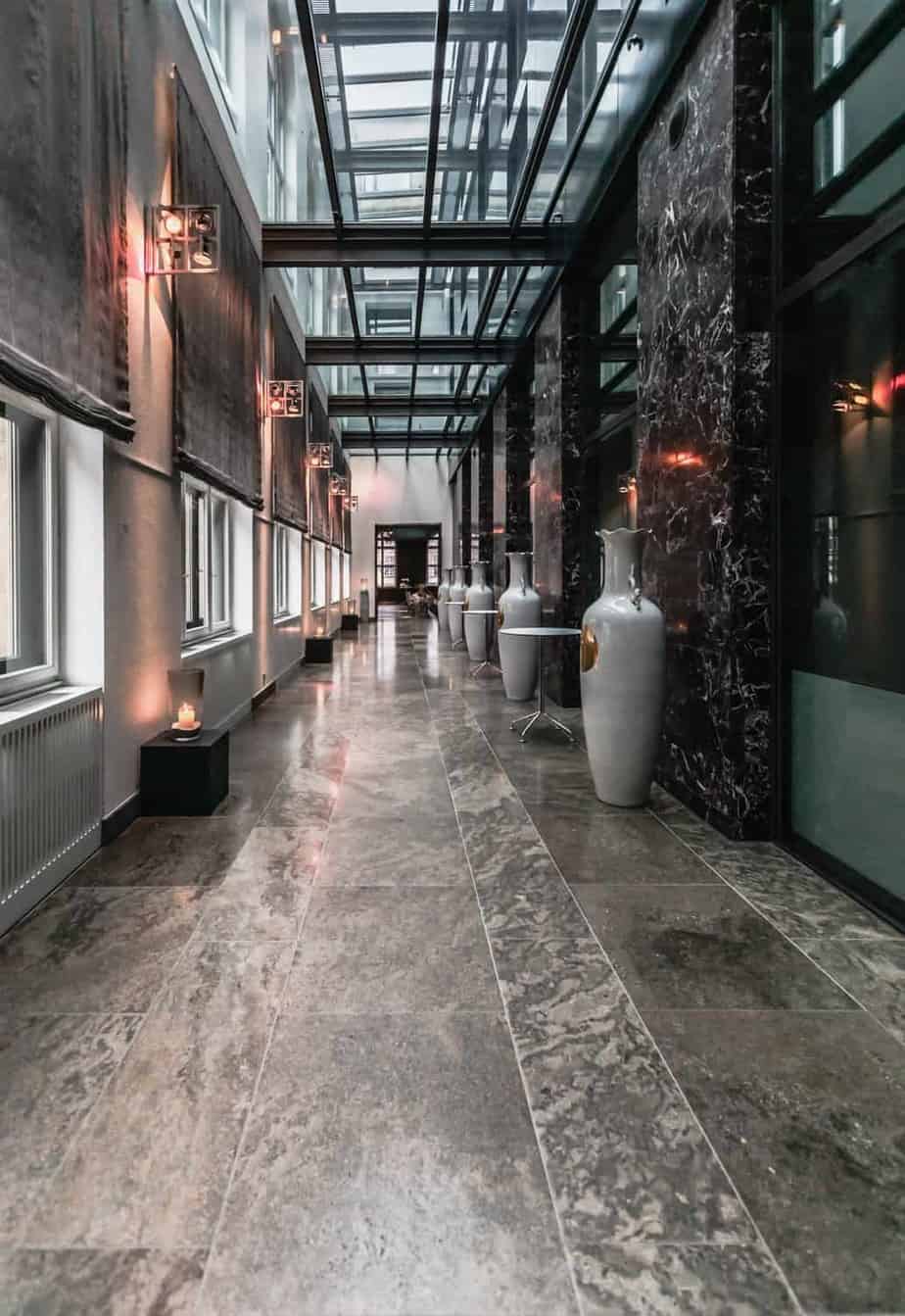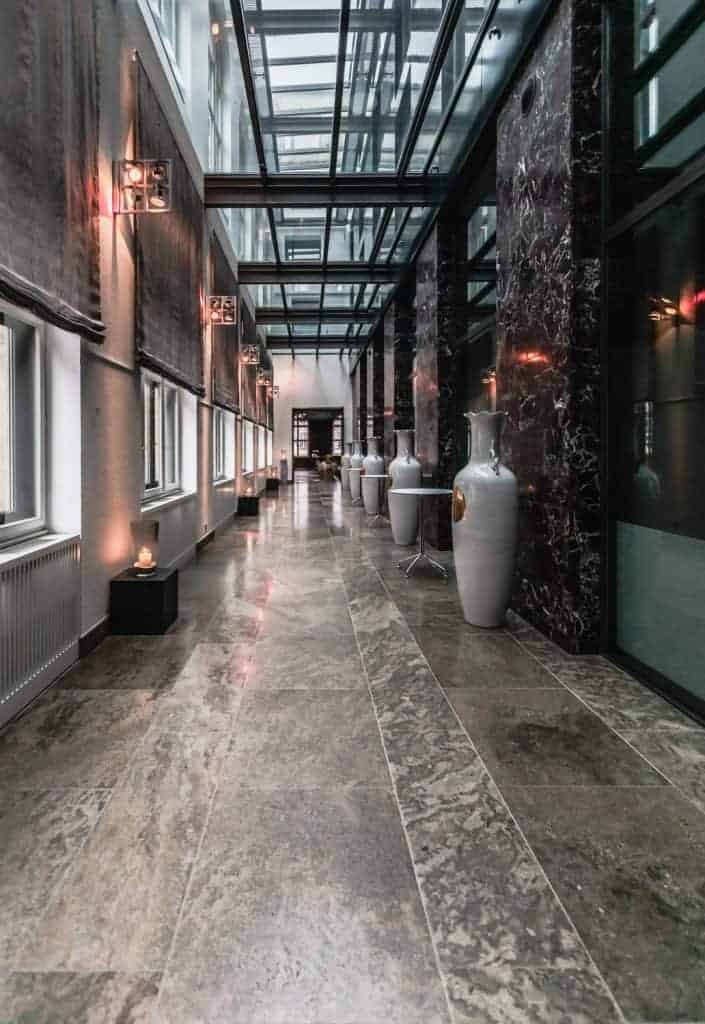 One small thing I'd change about the hotel it would be to add photos and context of building's history from over a century ago. Munich is such an interesting place and this building plays into its rich history, I'd love to see the story of the building and surrounding community through old pictures and commentary.
Sofitel Munich Breakfast Buffet
Each morning we spent a long time enjoying the large breakfast buffet that the Sofitel Munich Bayerpost had to offer. There are a lot of things they do to set themselves apart from others and it makes for an experience rather than just a breakfast. They leave baskets for you to fill with their massive assortment of croissants, muffins and other French and European bread and pastries. I always go back to my beloved chocolate filled croissants! Their juice stand has at least 12 huge cylinders as tall as me with fresh juices to choose from (interesting combinations too, I particularly enjoyed the green juice and one with a tasty mix of fruits and ginger).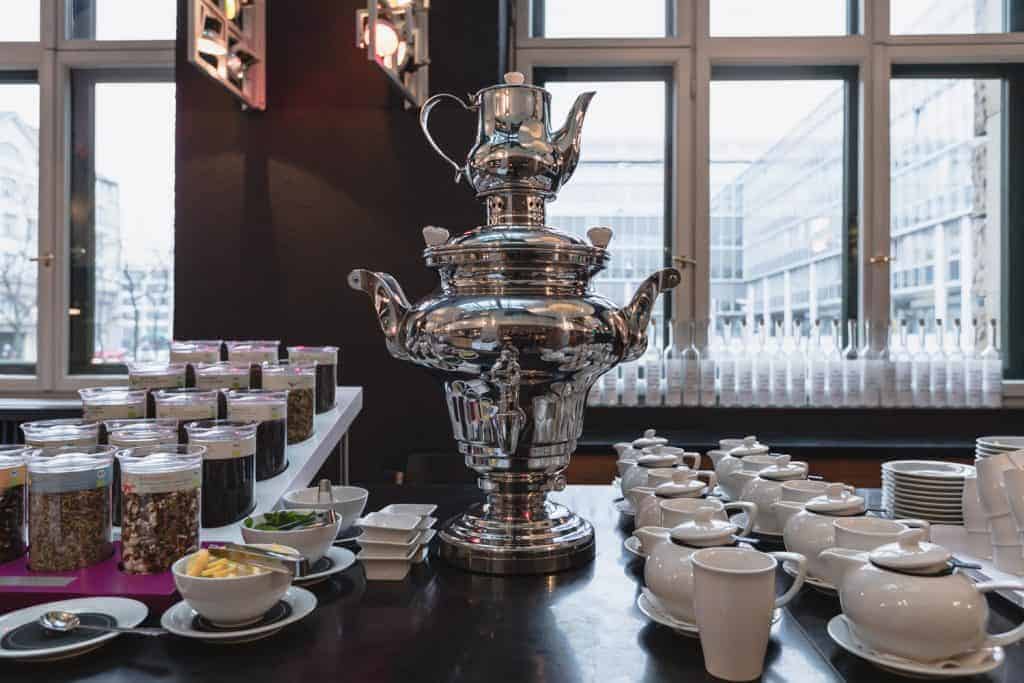 The selection of fish, meats, cheeses and traditional breakfast items are vast and everything is well prepared and flavored. Take their bacon as an example, every piece looked perfect with hardly any fat on it. My kids got a big kick out of scraping honey right from a honeycomb.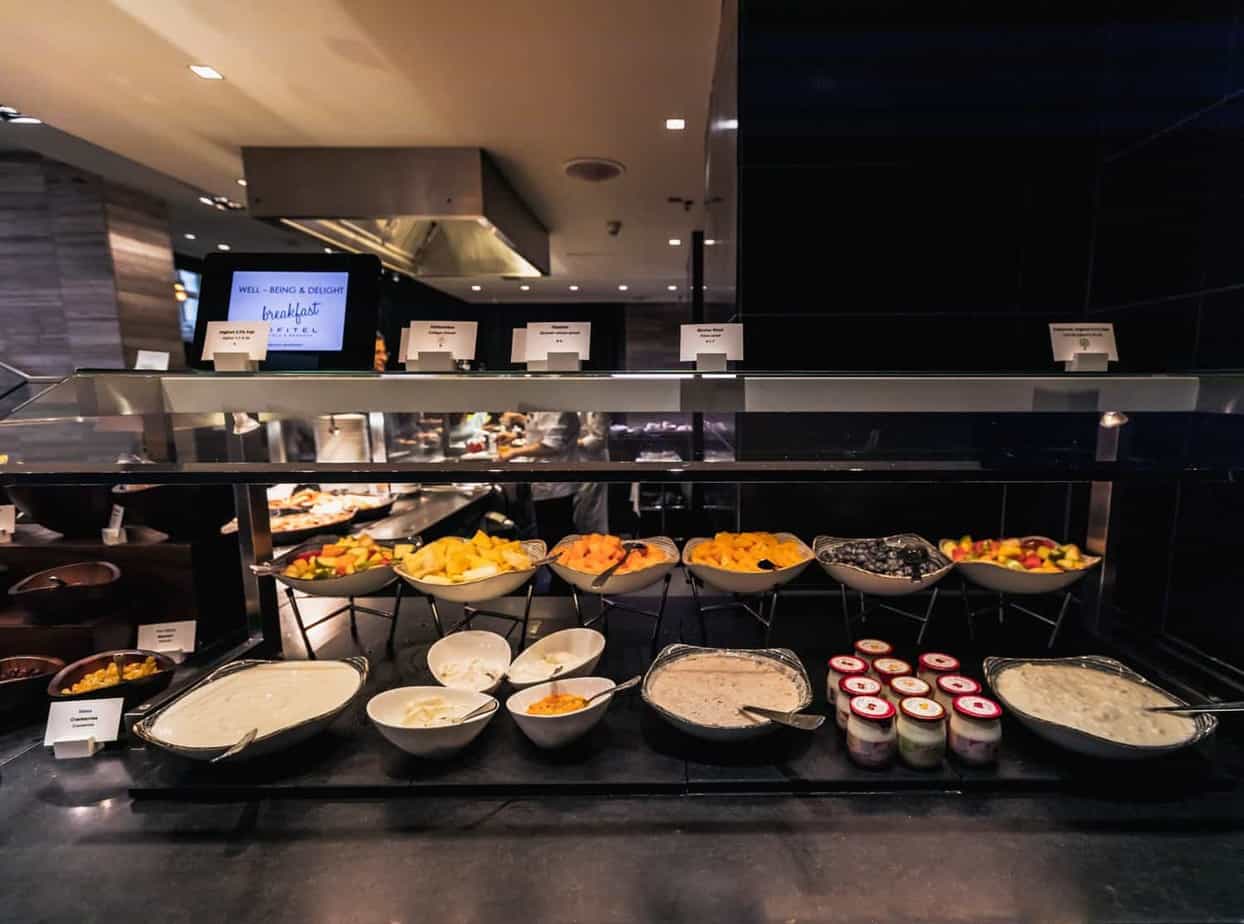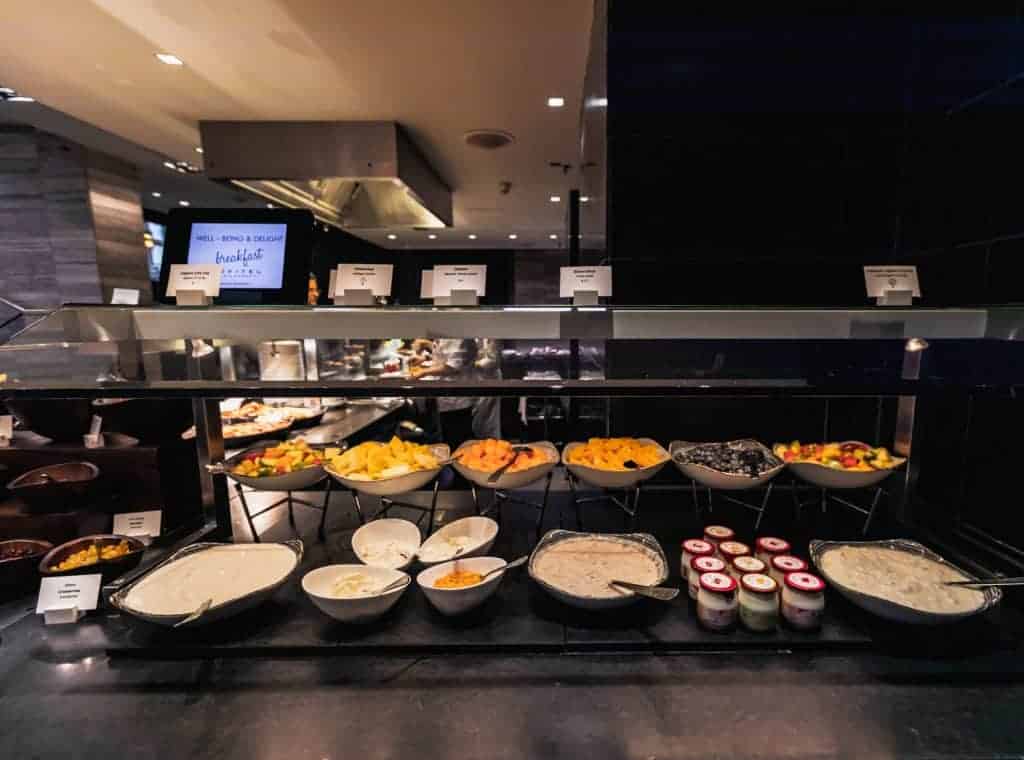 Our server was very sweet and personable, and great with our kids. She was originally from the Philippines but has lived in Munichfor many years, and gave us tips on what to do and see around the city.
Sofitel Munich Pool and Spa
Through the lobby we entered So SPA, a large spa area with a friendly young lady whom welcomed me and gave a full tour. I thought that was very nice, many spas have a standoffish or elitist vibe but here I felt very much at ease. That's smart on their part as I immediately felt at home and booked a massage. The room had nice stone and tile and my masseuse had strong hands for the full hour. I actually fell asleep for a while as it felt so good (my shoulders always tense up during vacations and carrying bags around).
The heated pool of So SPA is, like the rest of Sofitel Munich Bayerpost, unlike any I've seen before. It spirals around as if you're swimming inside a giant seashell. It wasn't crowded so depending on what part of the 'shell' we were in it was almost as if we had our own private catacomb of a pool. Water would periodically flow out from a raised fountain which my kids got a big kick out of seeing.
The gym, as one would expect, has very modern equipment. I did not get in a workout as I spent time soaking up the pool, sauna and steam bath. The facials and other treatments offered at the spa use Cinq Mondes and Carita products. Cinq Mondes have creams and serums inspired by different parts of the world, and Carita is a high end Parisian brand that I've been partial to since trying it. From these creams to the restaurant to the prints on the walls there is definitely a French influence in the hotel, and I for one think it's lovely.
Sofitel Munich – A Great Place to Stay for Kids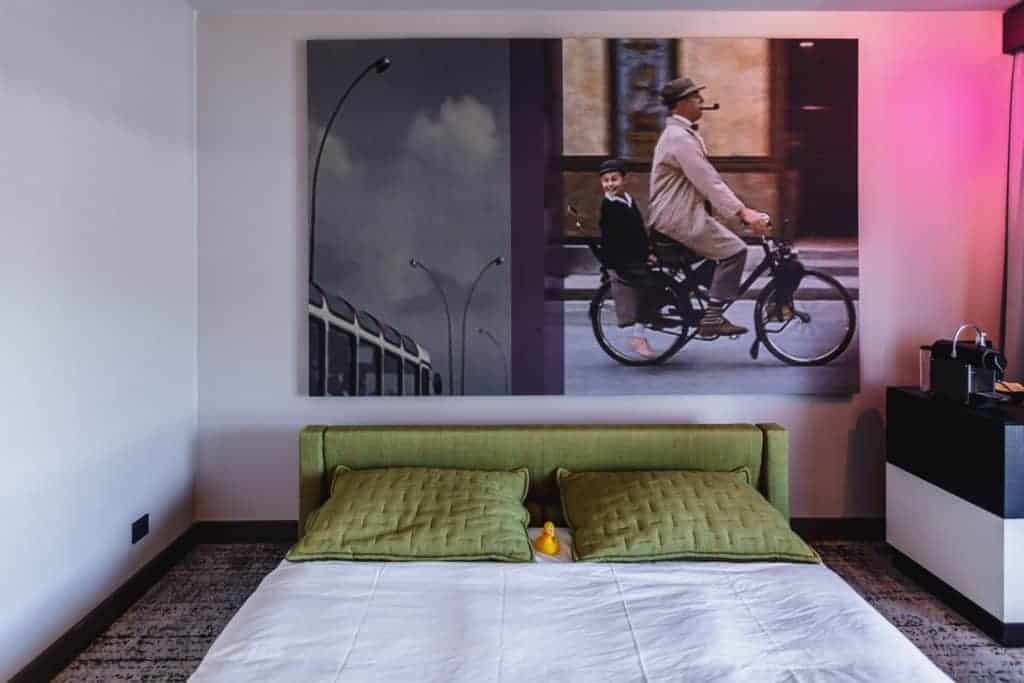 As we first stepped into our room there were yellow kids robes with matching rubber duckies stacked up for both my son and daughter. They wore them with pride as we ventured down to the pool and took a much enjoyed swim. The pool has daytime hours open for the kids which worked well for us, then is adult-only later into evening.
The pool has a nice gradual slope from shallow to deep, something I used to look for in pools when they were younger toddlers. This Sofitel has quite a few families passing through so they make it very fun and kid-friendly without detracting from the five-star feel.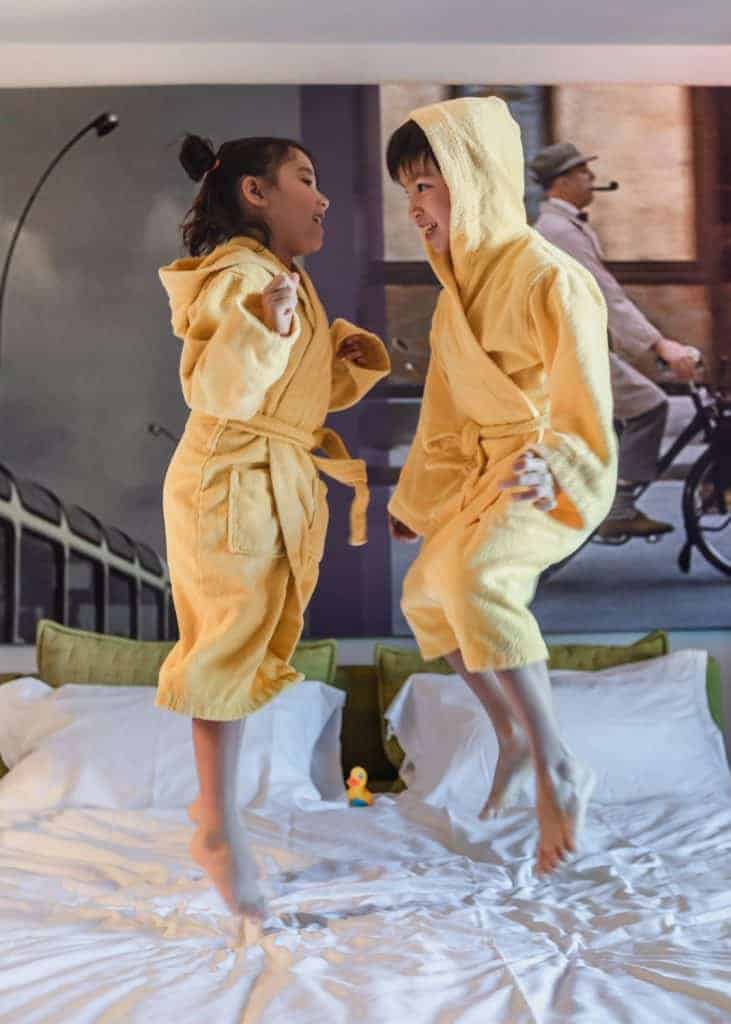 With the hotel being large and the rooms following suite there's more space to stretch out, always a big plus for travelling families. Each night was a slumber party of sorts with our kids having their own separate quarters to sleep in.
Munich as a whole was one of the kids' favorite cities in Europe. The outdoor parks keep the city charming, even though it's a larger cosmopolitan area. It's a food mecca, which my kids also highly approved! Their favorite activity was when we spent a half-day at the BMW Museum and showroom. It's large and has plenty of cars from each decade, my favorite being those from the 1980s. We intended to go to an FC Bayern Munich game but didn't plan that very well, and those tickets are not easy to come by!

Sofitel Hotel Munich Bayerpost - Address: Bayerstraße 12, 80335 München, Germany