If you are craving Chinese take-out then try this delicious Szechuan peppercorn chicken recipe, made with the numbing, tongue-tingling sezchuan pepepercorn, aromatic garlic and ginger. It has an easy marinade sauce of soy sauce, cooking wine and corn starch.
My husband and I are a big fans of authentic Sezchuan food. We have two regular dishes of spicy boiled fish and spicy lamb cumin stir fry that we often grab on our monthly tradition of going to the drive-in movie. The Sezchuan (Sichuan) restaurants are quite far away from our house, so I decided to stock up on some spices like Sezchuan peppercorn to try out some recipes at home.
Sichuan peppercorn which in China is known as "ma" has unique aroma and flavour. It creates a tingly numbness in the mouth that stays with you for a few seconds. In cooking, it's suggested to lightly toast the tiny seed pods, then crushing them before adding them to the food. You can purchase this pepper at any Asian market and at a very affordable price.
Szechuan Peppercorn Chicken Ingredients and Cooking Process:
The cooking proccess of this Szechuan peppercorn chicken is simple! I just marinated the chicken with a handful of ingredients: corn starch, cooking wine, salt and pepper (black pepper or white pepper), and only for about 15 minutes. Shaoxing wine is recommended, but if you don't have it in your pantry simply use dry white wine or sherry. Chicken thighs or breasts may be used in this recipe. I opted in for chicken breasts because they were on sale at my local market.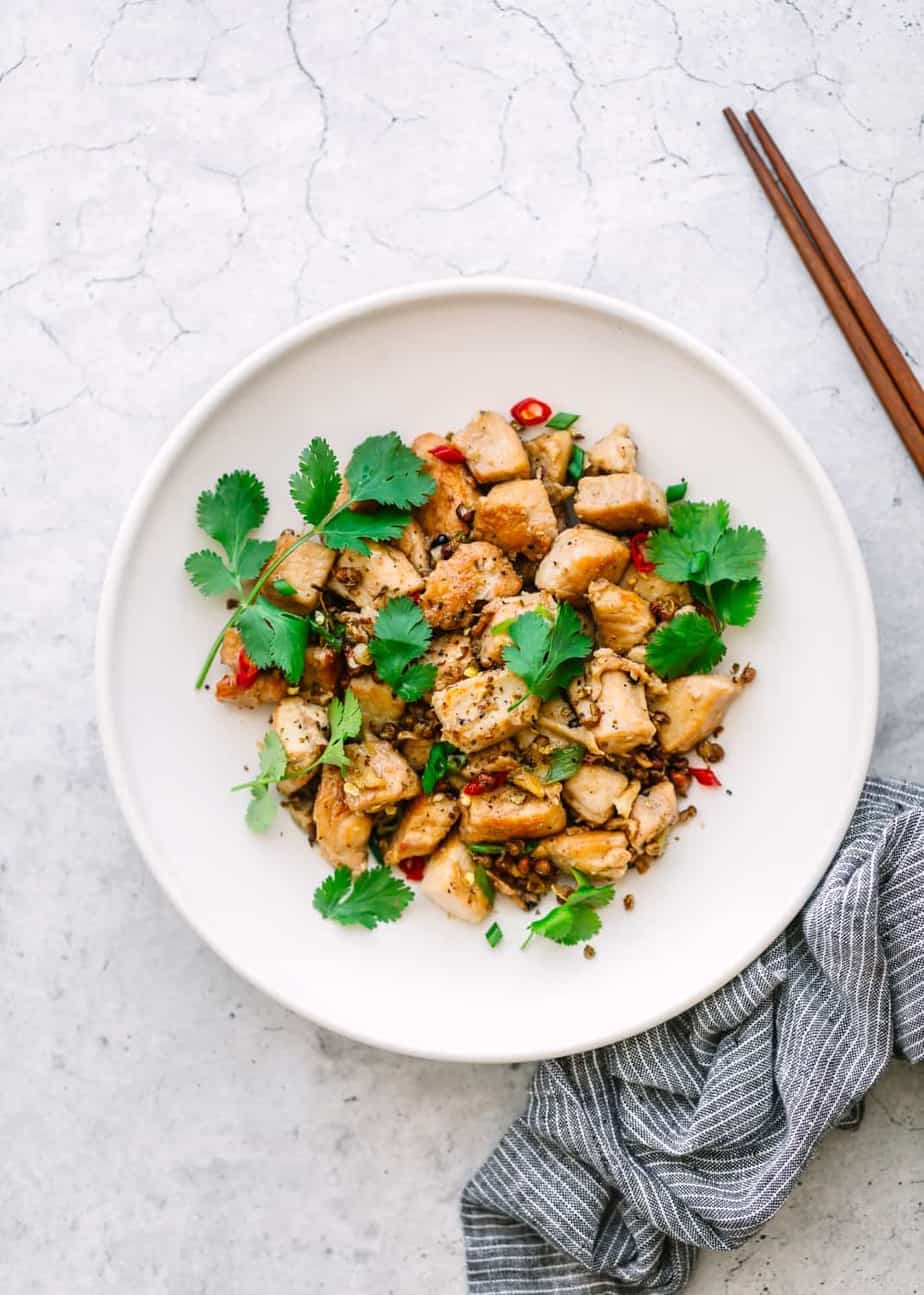 Many cities in the US have one or two Chinese restaurants around town with food that we in America have long-associated with traditional Chinese food. I absolutely love some of those dishes (egg foo young is a long-standing favorite of mine). There is so much more to Chinese food though, and I think the food from the Sichuan region is something that everyone should try. If you like spicy food you'll likely find the Sezchuan food to be heavenly as a large percentage of the options have a medium to high spice level. If you don't like spicy food just be sure to let your server know that when ordering at a restaurant, or if making Sezchuan recipes at home you may need to adjust the spice levels accordingly.
Properly marinating before you stir-fry meat or another protein is another way to improve both the flavor and texture. It can help tenderize meat and retains the moisture. Be sure that the meat is dry before slicing or marinating.
Check out more tasty Asian recipes: Asian Ground Beef Stir Fry Asian Chopped Salad with Sesame Ginger Dressing Slow Cooker Beef Stew – Asian Style
📖 Recipe
Sichuan Peppercorns Chicken
Ingredients
Instructions
In a small mixing bowl: stir in low sodium soy sauce, white wine, sesame oil. Set aside.

Cut the chicken breasts into small bite pieces.

In the mixing bowl, marinate the chicken with the marinating sauce. Set aside and let it marinade for at least 15 minutes.

Add the cornstarch and mix until the chicken is fully coated.

In a skillet, heat up 3 tablespoon cooking oil and cook the chicken until golden brown. Set aside.

In a large skillet, heat up 2 tablespoon cooking oil and stir in ginger, garlic, green onion, sizchuan peppercorns for about 1 minute. Add the chicken and the stir fry sauce into the skillet. Keep stirring for about 2-3 minutes. Season with salt and pepper if needed.