Things to Do in Anaheim + Best Place to Stay
1. Disneyland Park
The first thing that comes to-mind when you think of Anaheim is Disneyland Park.
What makes the park unique is that it was designed and built under supervision by Walt Disney himself. Since its inception in 1955, the park has gone through several renovations and expansions. The most recent expansions and changes were for its 60th anniversary and included an updated 'World Of Color' water show, 'Paint The Night' electric parade, and a new fireworks show called 'Disneyland Forever'. Also, Peter Pan's Flight reopened on July 1st, 2016.
The park has eight themed lands, which makes it so you cannot visit Disneyland in one day and should allow several days to cover the park. See the bottom of this article for a suggestion on where to stay to get maximum park coverage.
2. Outdoor shopping at GardenWalk
In Europe, there are a lot of shopping streets rather than malls… you park your car in the area of your preference near a shopping street, and then you begin your adventure for the rest of the day going in and out of stores. GardenWalk being outside and having many boutique shops gives that same feeling and experience. The best part about outdoor shopping? Drop off your bags, and grab some food or a drink while enjoying the beautiful weather and palm tree surroundings.
3. Anaheim Convention Center
The Anaheim Convention Center is the largest convention center on the West Coast of the U.S.. It was first opened in 1967. One of the most popular events that is being held in this convention center is "VidCon". VidCon is about online video such as those found onBuzzFeed or YouTube. Meet your favorite creators at this conference!
4. Great Moments With Mr. Lincoln
'Great Moments With Mr. Lincoln' is a stage show in Disneyland, featuring an audio-animatric version of former President Abraham Lincoln.
Initially, the show was designed to be part of a show that would bring all U.S. presidents in one entertaining show. I know we already mentioned Disneyland, but this attraction is quite different from rides and other attractions of the park and hence deserved a special call-out.
5. Ralph B. Clark Regional Park
Just outside Anaheim, we find "Ralph B. Clark Regional Park". The park offers many things to do such as hiking, cycling, boating, fishing, bird watching, and so on. There are over a 130 bird species in a relatively small area.
Team sports enthousiasts can enjoy two sand volleyball courts, three softball fields and a baseball diamond and four tennis courts.
In the "Interpretive Center", you can see an extensive fossil collection which dates back to as far as one million years ago. All these fossils were found within the boundaries of Clark Park, and from the development of the Coyote Hills area nearby. This makes the park quite unique from most any other I've ever visited.
6. Downtown Anaheim Farmer's Market
The farmer's market is every Thursday and is open from 9 AM till 1:30 PM. The market sells fresh produce from local farmers only. It is one of the best kept secrets in the region, I often run out of room in my car after
There are also regular musical performers and other entertainment. The quality of music at the Farmer's Market was outstanding a few times we attended.
7. Art Crawl Experience
The Anaheim Art Crawl Experience runs 4 times per year. Each event has over 50 artists and craft vendors gathered in the center to show their work.
The art you will see in Downtown Anaheim will capture your imagination. If that is not enough for you, there are also gourmet food trucks and local entertainers to make it a fun evening. Bars and restaurants will transform the front of their shops to have the artists showcase their magnificent art!
8. Amazing Cakes
Who doesn't love cakes? Whatever shape, color or size they come in – we always seem to want more.
Amazing Cakes has been around since 1991, and for good reason. They have proven to make such delicious and beautiful cakes that they've managed to work together with both Sheraton Hotel and Radisson Hotels.
There is a whole team if cake experts ready to decorate your cake to your exact specifications.
9. Seascape Kids Fun
Check your children into paradise at the Seascape Kids Fun Park! The park has three stories with lots of things to do. From enormous slides to mounted turrets that shoot balls. And while your children are playing, you can enjoy spending time with a spouse, friends or even kid-free self for a few hours.
Mounted turrets at Seascape Kids Fun
10. Sea Fishing
Davey's Locker offer exciting trips that take you to the deep waters for the entire day with a good chance of catching some very big fish. This is a rather rare opportunity you are very unlikely to find elsewhere.
Davey's Locker will supply all the required equipment, all you have to do is bring your sun screen, some spare clothes and a great attitude for the day ahead. You can fish for yellow-tail, tuna or sand bass. The staff know where to sail to catch the best fish and get the biggest catches.
If you wish, you can also keep the fish that were caught. The staff will gut the fish for you to take home.
Tip: Davey's Locker is also on Groupon if you would like a discount!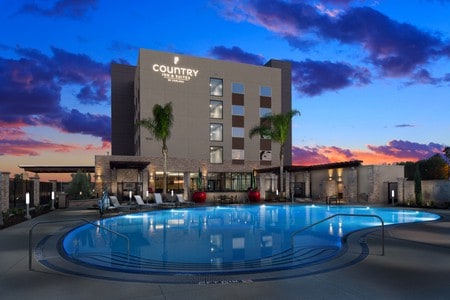 Country Inns & Suites
We recommend staying at the new "Country Inns & Suites" hotel in the area. There are 174 rooms to choose from. The rooms themselves are spacious with spa inspired bathrooms and modern interiors that have a great touch of stylish furnishings. The rooms have an amazing view of Disneyland's beautiful fireworks, which really caps off an enchanting night.
The bar serves spirits, wine, beer, and a light menu fare. There's a large outdoor patio that is accompanied by a pool and whirlpool. For your daily workout, the hotel has a fitness center that is open 24/7.
A couple of additional perks included:
Free Wi-Fi
Complementary Hot Breakfast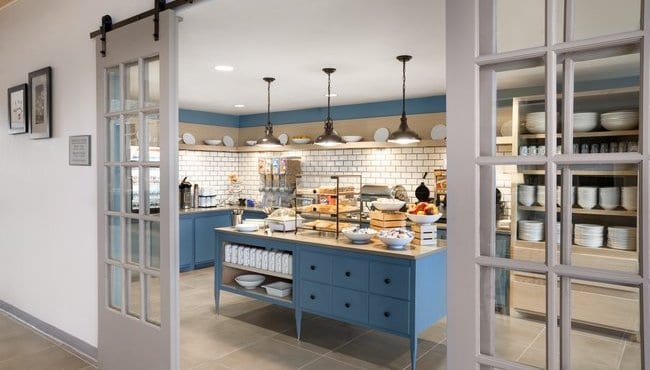 Congrats to our winner ( picked randomly with list randomize via random.org): Clare O'Brien
Want to win a free night stay at any #CountryInns hotel? One winner will be chosen ramdomly from the comment box below.
Visit the new Country Inns & Suites in Anaheim
What are your favorite amenities from Country Inns & Suites in Anaheim?
Share this post to Facebook or Twitter using the sharing button found on the top or the bottom of the article.
Don't forget to follow me on Facebook and/or Pinterest
Ends : 02/03/2017