Thank you Edwards® Desserts for sponsoring this post. Head to the frozen desserts aisle of your grocery store to pick up your favorite Edwards pie!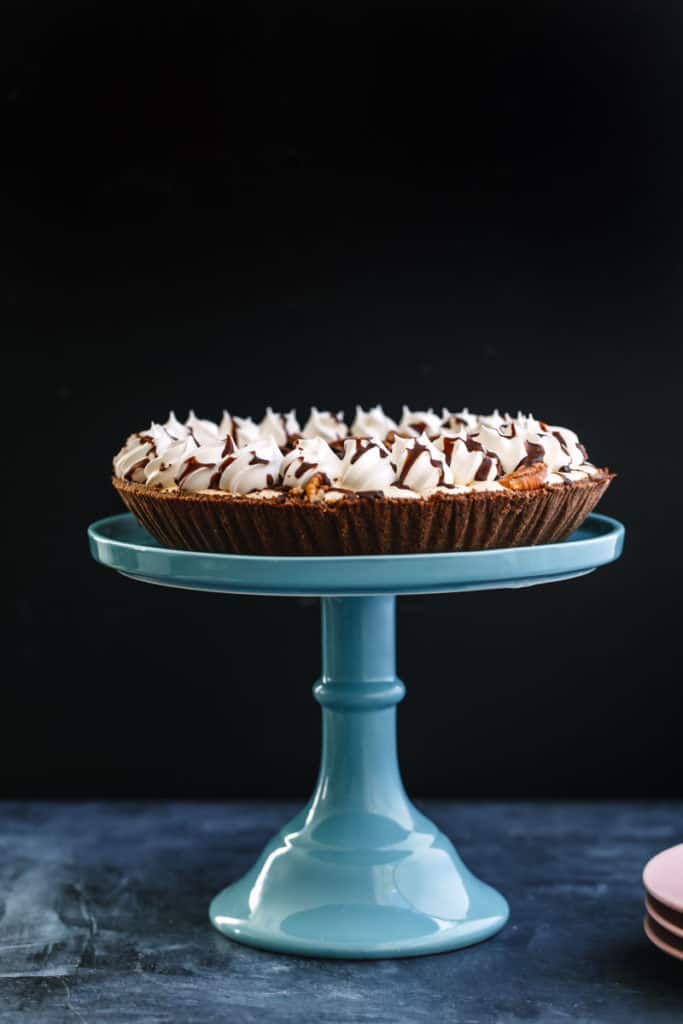 Indulge yourself with this ultimate dessert recipe, Turtle Pie Sundae! It's made with homemade mochi waffle, whipped cream, fresh banana, cherry, strawberries, and delicious Edwards® Turtle Pie. Edward Turtle Pie is a go-to for me as the filling has a mix of caramel, pecans, chocolate, and the whipped crème rosettes. The chocolate cookie crumb crust is heavenly.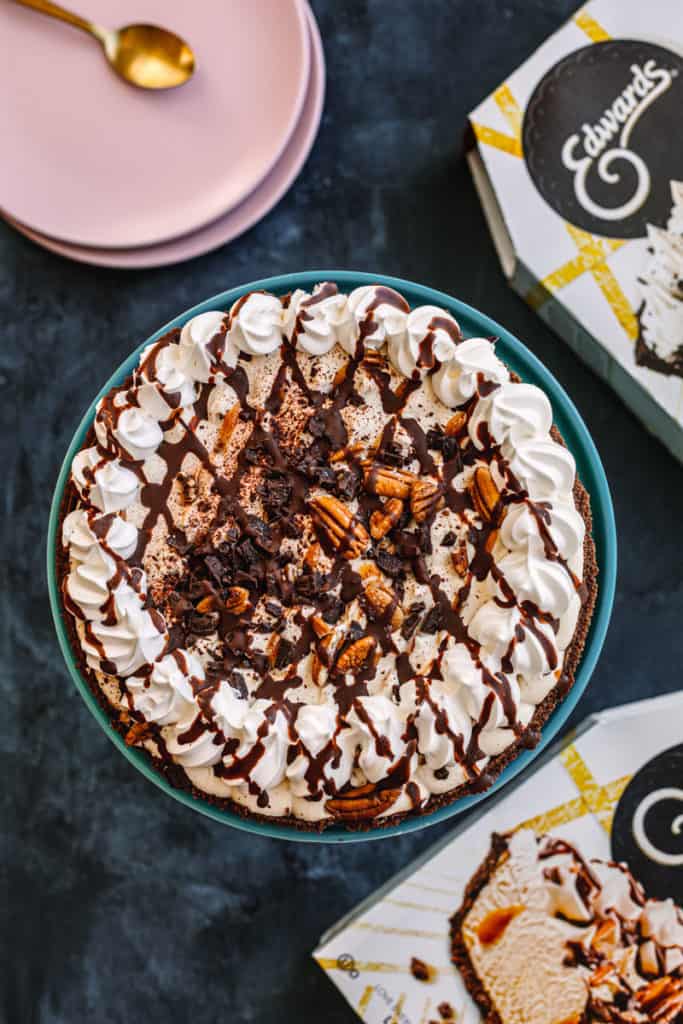 Turtle Pie Sundae - Getting Creative With Desserts
If you follow my blog you know that I like to mix up traditional recipes with ingredients that aren't always expected. I pursue that "wow" reaction, as I myself am always looking for the new and exciting. One area where people are a little too shy about straying from the norms is in desserts. I guess it makes sense… mix in some different ingredients in a stir-fry and you've got a new dish, but mix in some new ingredients in a dessert where things are carefully measured and timed and you could have a disaster on-hand. Today, I am going to show you how to make this Turtle Pie sundae.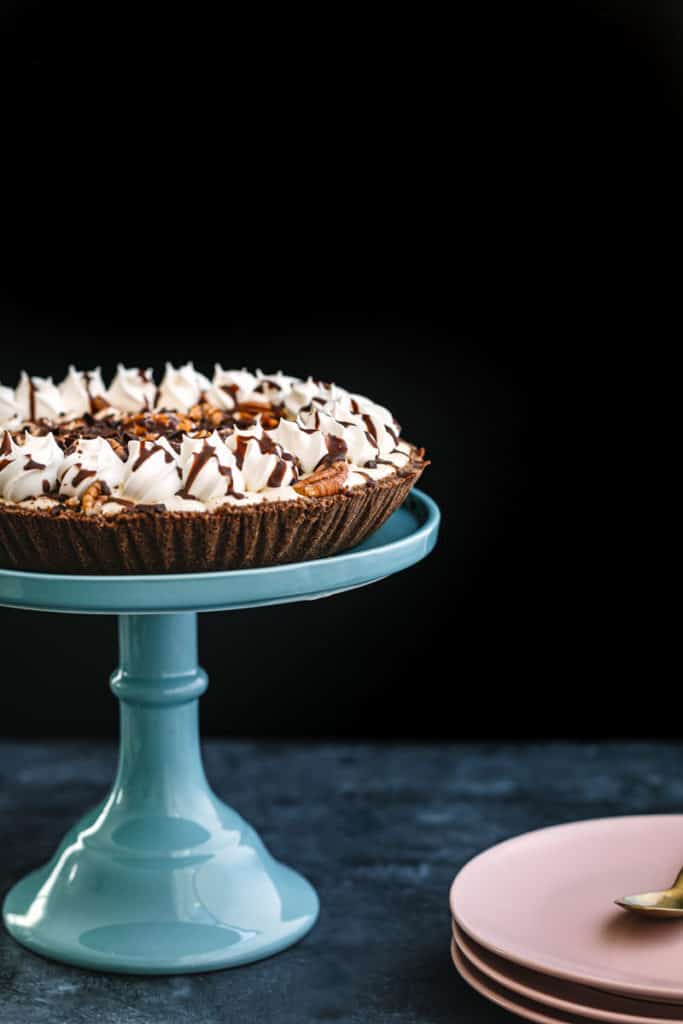 Replacing Ice Cream with Edwards
I've found a great solution to this, one that will impress your family, guests and your own taste buds. Next time a recipe calls for ice cream swap it out with Edwards. You will be a hero for it! This isn't the minor change that's almost expected of replacing a scoop of vanilla with one that's chocolate. Nope, this change will rock your dessert and elevate it to fun new levels.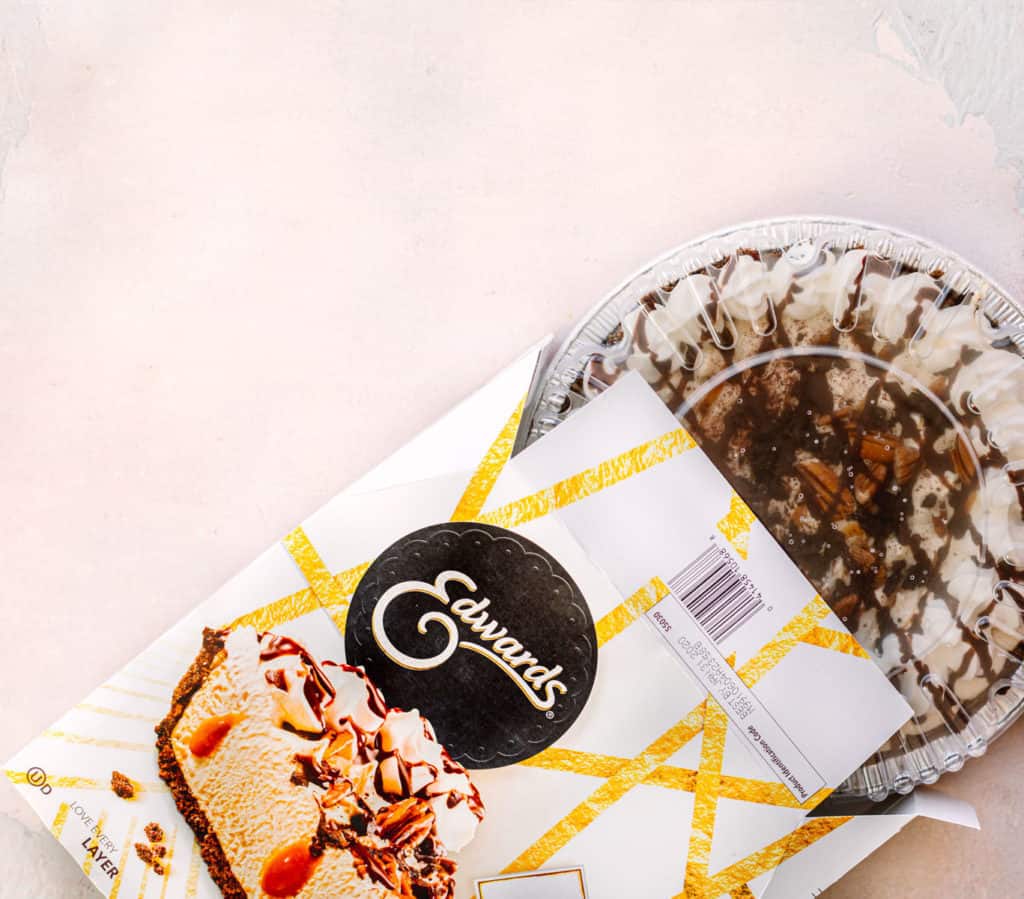 I mean, just look at this gorgeous Edwards Turtle Pie and tell me that doesn't look phenomenal! I've been a fan of a dessert I created for a Turtle Pie sundae. I swapped the pie in-place of the simple scoops of ice cream at my kids' get-together last weekend and I don't think those kids will ever go back to having it without it the Edwards.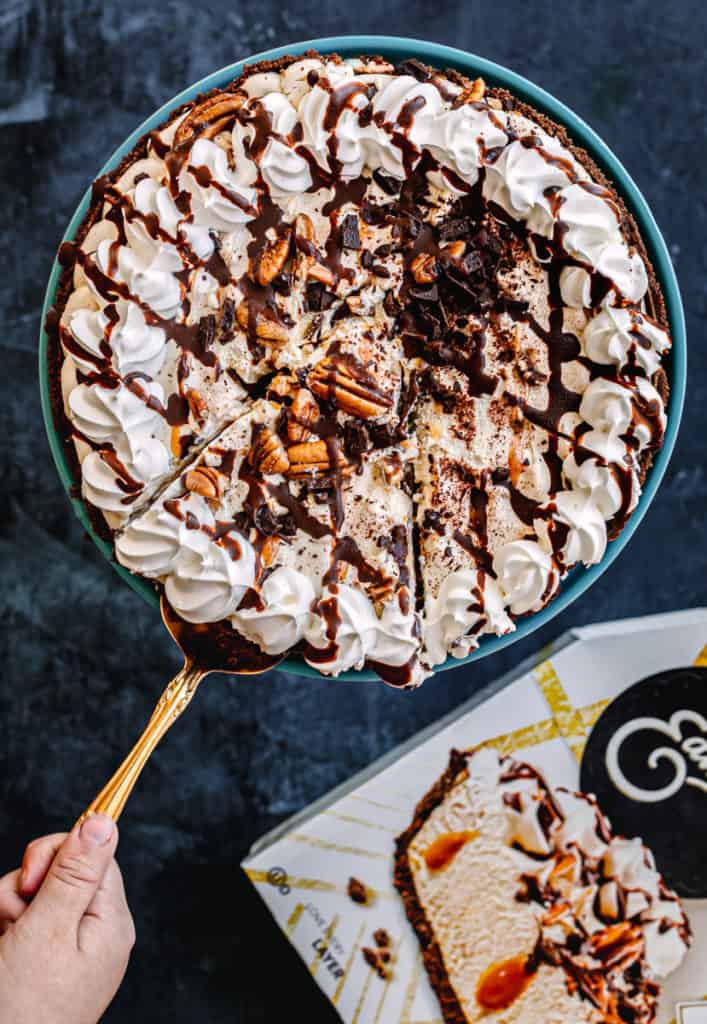 Turtle Pie Sundae Ingredients
For this recipe, I try to keep it simple. It started with a craving for some waffle ice cream cone, so I decided to make my own mochi waffle and finish up with Edwards pie and fresh berries, also a bit whip cream. It has a unique taste, is a hit with kids and adults, and is actually easy to prepare.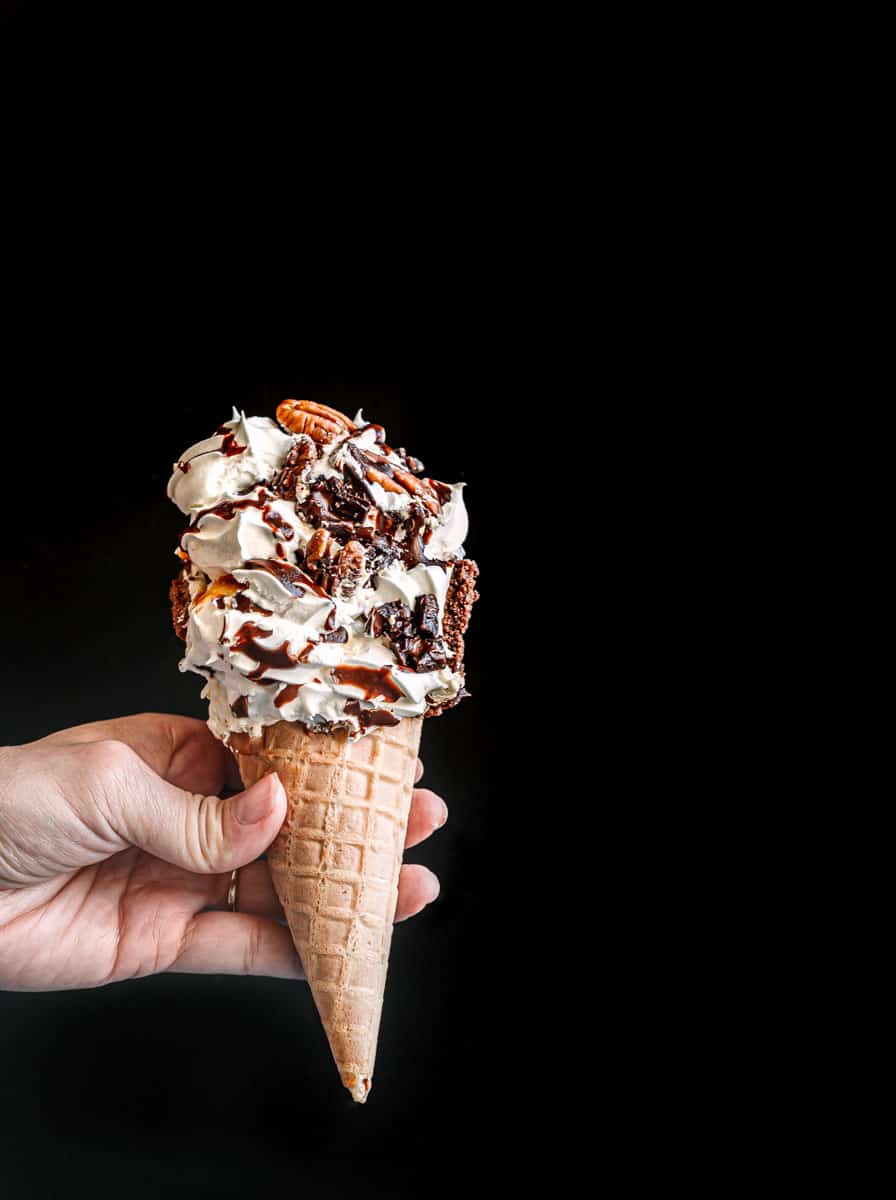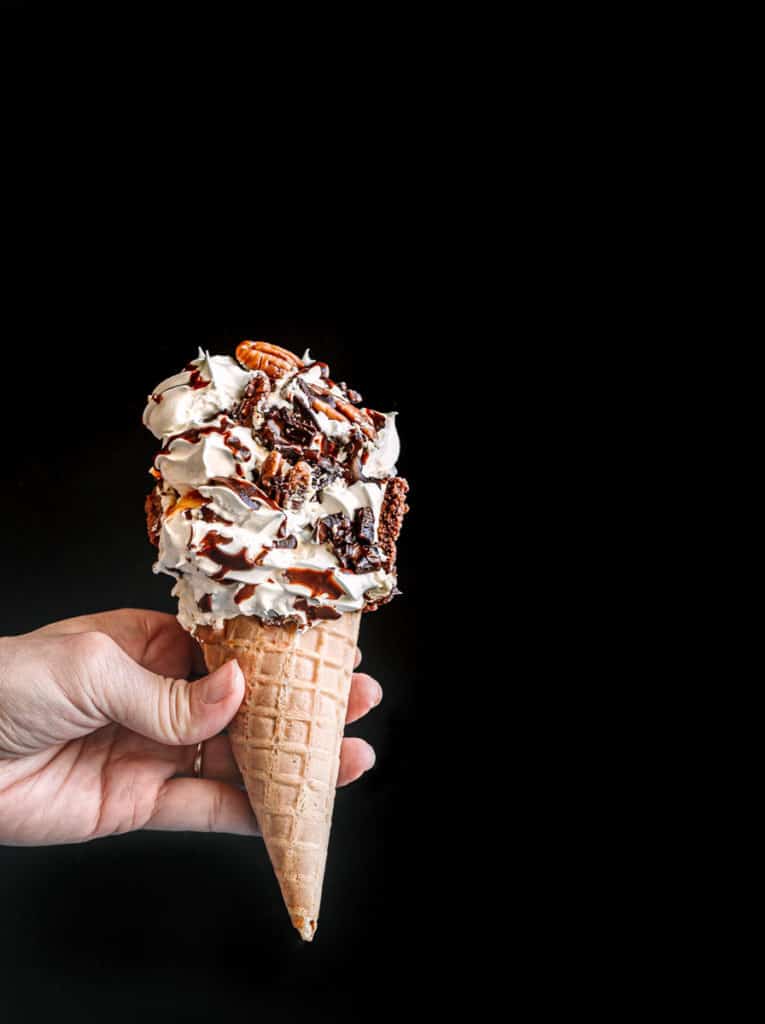 No Melting Mess
With ice cream, it's always a race against time to get the scoops in or on the rest of the dessert, snag a photo of the dessert if you're lucky, and try to pass them out before melting. This window is usually just a few minutes and oftentimes ends up with that ice cream soup on half your plate. Edwards has been a great way to get around that which is great for me as I'm usually the one not only making the desserts but also serving them. Especially in these summer months and warmer climates which I happen to live in I see and have been through all too many losing battles against the ice cream melt.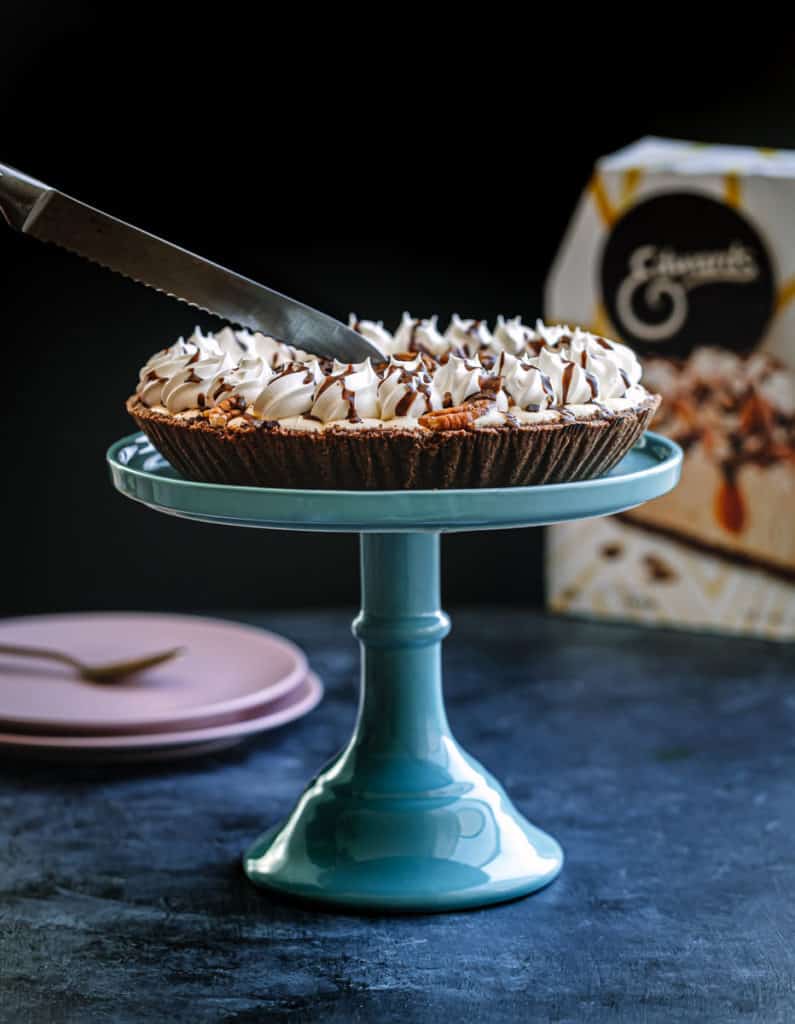 Dessert Decoration Included
Another nice benefit of using Edwards in-place of ice cream is that your dessert gets an immediate upgrade in its presentation. I have friends that have been on the cake decorating shows on TV and that takes a very special talent that very few of us possess! I can use all of the help I can get in that department, and the EDWARDS® Cookies and Crème Pie, EDWARDS® REESE'S®** Crème Pie, and of course the EDWARDS® Turtle Pie pictured here all look spectacular (even just on a cone). They enable you to instantly jazz up your own dessert without all of the sweat and panic that usually comes with this tall task in the kitchen.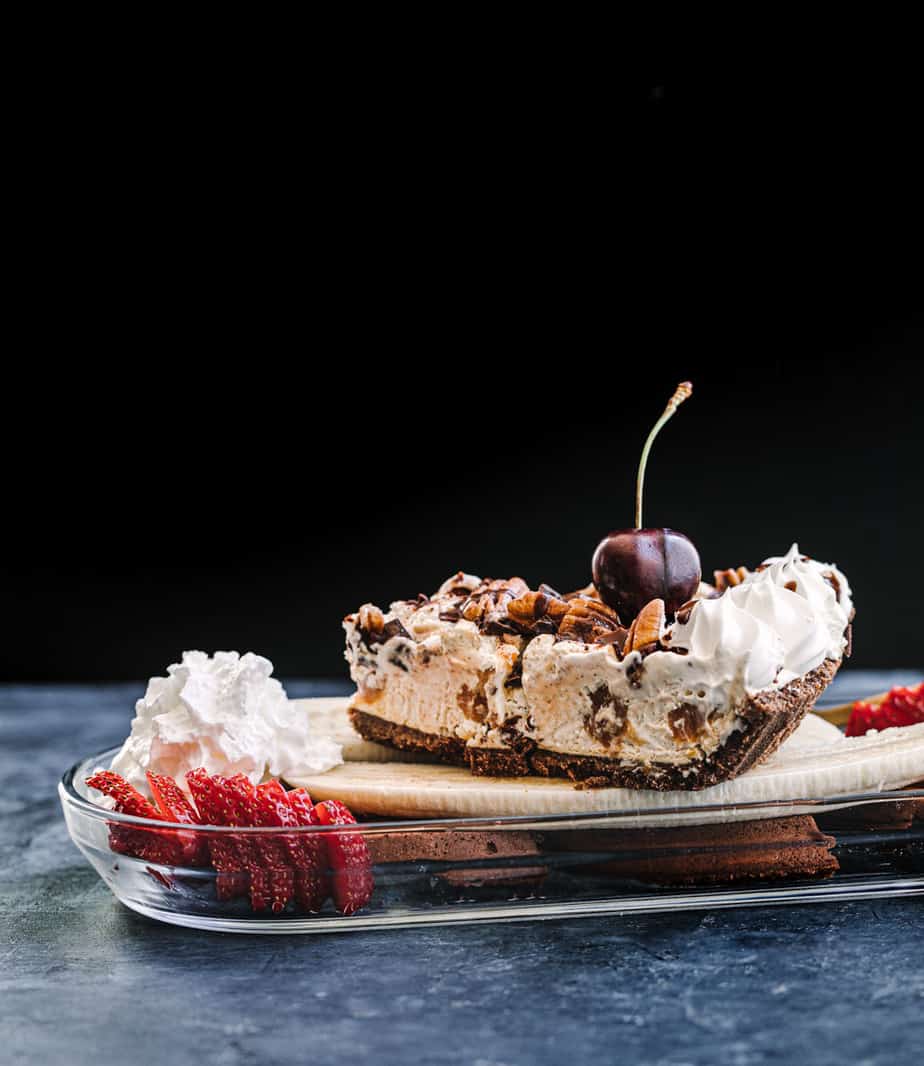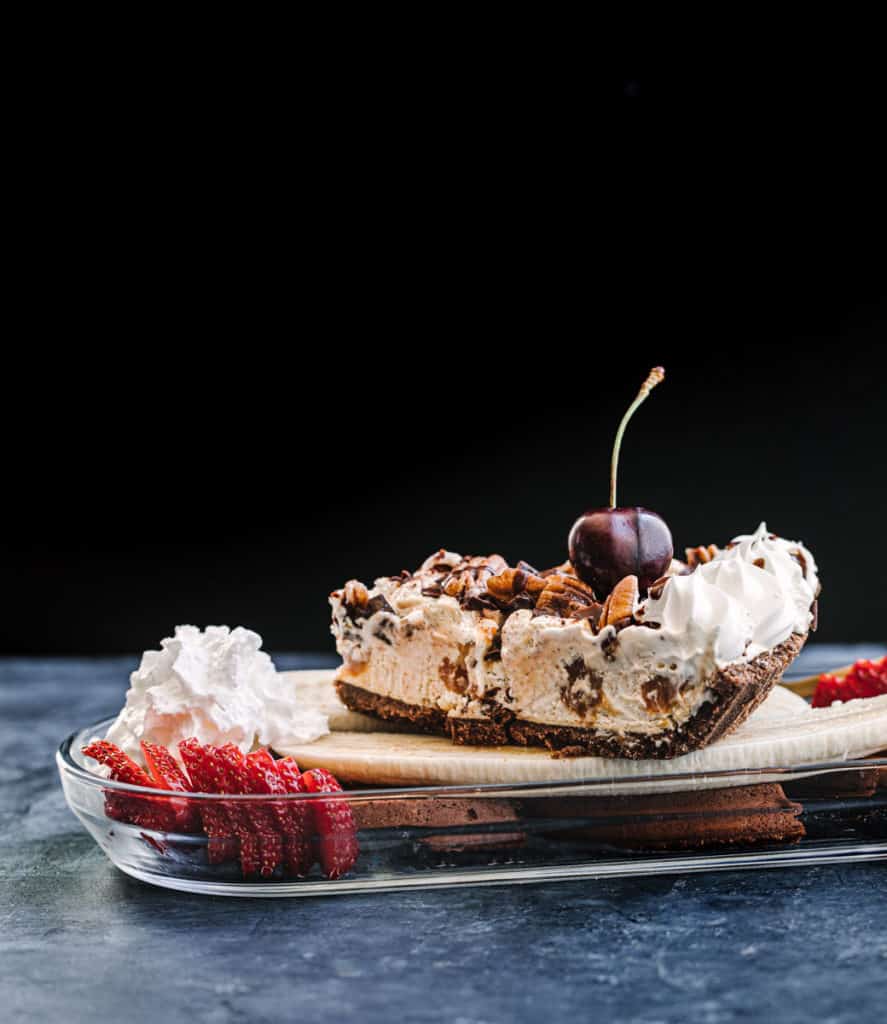 Party at your Party!
With more wow-factor, less prep time to make something beautiful, and without the ice cream mess, I have more time to indulge and enjoy. I also have more time to party, as quite often it is a birthday party, barbeque or pot-luck where I'm enjoying a dessert. A great man (or four of them) once said "I get by with a little help from my friends" and that is definitely the case here. I can create a dessert that stands out, then have time to enjoy it alongside everyone else! I love bringing creativity into my meals, but that doesn't mean I always have to start from scratch every time, and neither do you!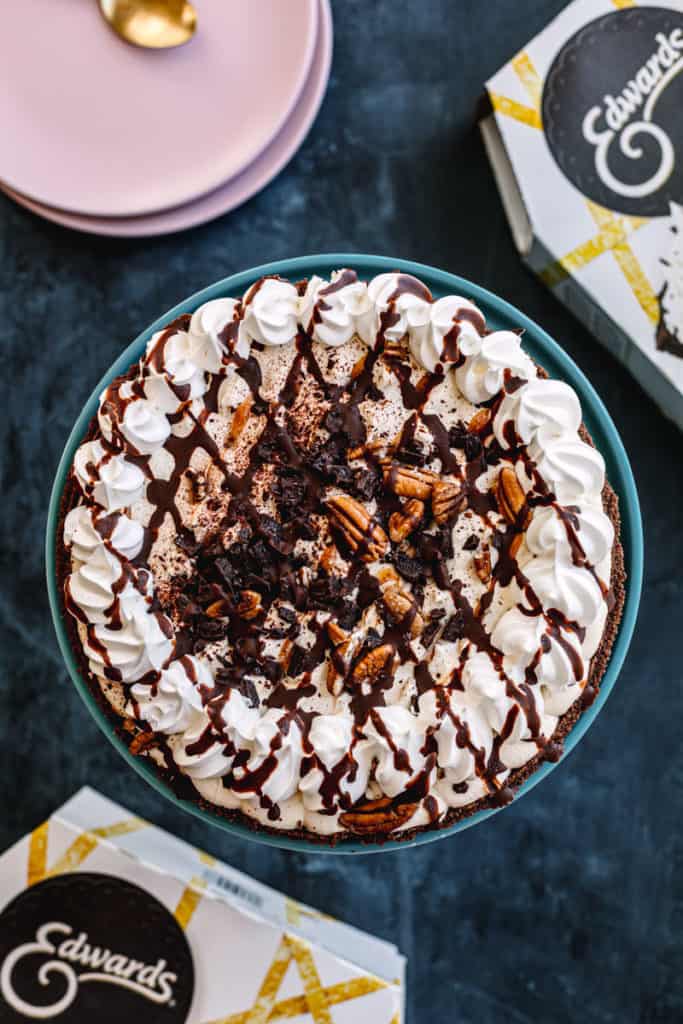 Giveaway Details:
Prizes: One (1) of 16 free product coupons for an Edwards pie of your choice
Dates: August 12 - August 28, 2019
Entry Options: Readers may enter the giveaway via the widget with the following options:

Visit Edwards Desserts on Facebook
Visit Edwards Desserts on Instagram
Follow @EdwardsDesserts on Twitter
Leave a blog post comment

Notification: Winners will be randomly selected and notified by CLEVER on Fri., August 30, 2019
Terms & Conditions: The official Terms & Conditions are included in the widget; here are the high-level eligibility criteria:

Age 18+
US resident only
Only one winner per household
a Rafflecopter giveaway
📖 Recipe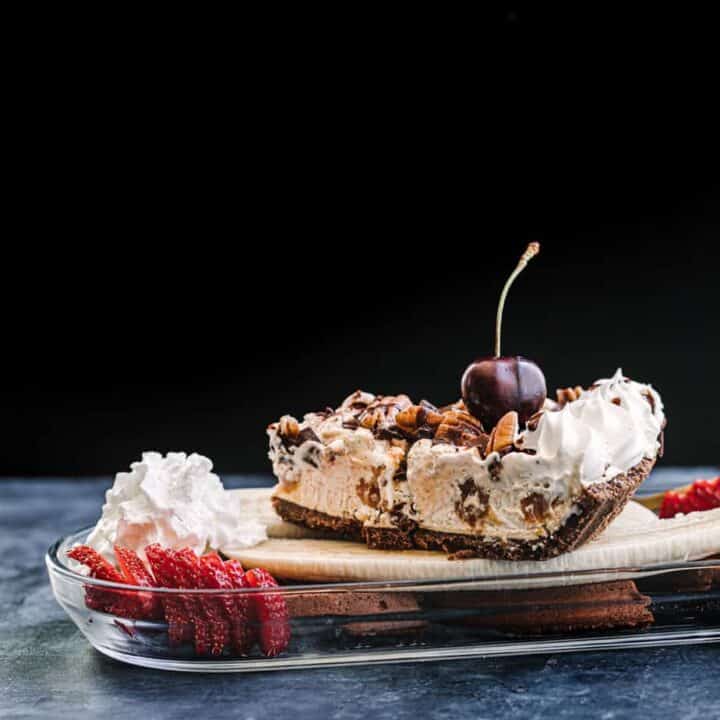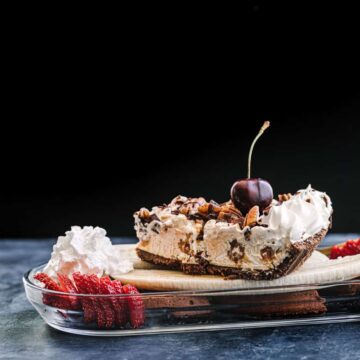 TURTLE PIE SUNDAE
It's made with homemade mochi waffle, whipped cream, fresh banana, cherry, strawberries, and delicious Edwards® Turtle Pie.
Ingredients
Turtle Pie Sundae:
1

package

Edwards Frozen Turtle Pie - 30.5oz

,

(keep frozen) - enough for 6-8 servings

4

banana

,

(split lengthwise)

fresh berries

,

(as needed)

4

fresh cherries or maraschino cherries

mochi waffle or any regular waffle of your choice
Mochi Waffle:
1

cup

sweet rice flour

2

teaspoon

baking powder

¼

teaspoon

salt

3

tbs

sugar

1

whole

egg

¼

cup

vegetable oil

¾

cup

milk

,

(+ 2 tablespoons of milk)

¼

teaspoon

vanilla extract
Instructions
To Make Mochi Waffle:
In a medium bowl, whisk together the milk, vegetable oil, egg, and vanilla until well combined.

In a separate bowl whisk together the mochiko, baking powder, salt, and sugar.

Now combine the wet and dry mixtures in a bowl until they are completely combined and smooth. It should be the consistency of pancake batter, a little thick but not too thick, add more milk if needed.

Spray preheated waffle iron with non-stick cooking spray. Pour mix onto the hot waffle iron. Cook until golden brown. Serve hot.
To Make Turtle Pie Sundae:
Cut the waffle in half and place 2-3 pieces on a shallow dish.

Place banana slices against sides of long, narrow, shallow dish.

Place a slice of Edwards Frozen Turtle Pie between banana slices.

Add toppings: fresh strawberry and cherry