This Bratwurst pasta recipe is so flavorful and easy to make. The pasta is loaded with savory German sausage and perfectly cooked in a buttery beer sauce. It's garlicky, and tastes like alfredo but without the heavy cream!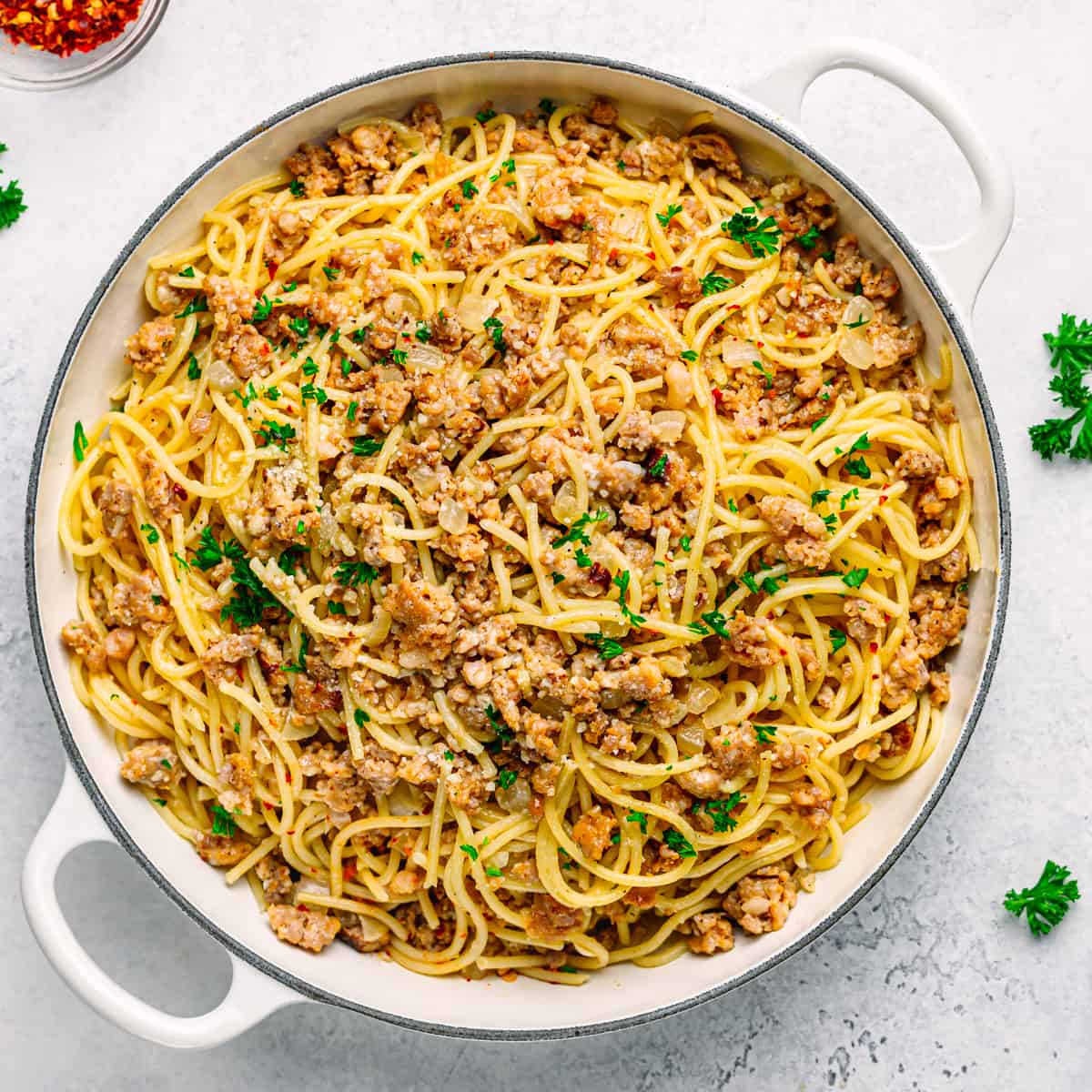 Beer and pasta? Sounds like a good match to me! If you don't believe it, I ask that you try this bratwurst pasta recipe just once, I think you'll be hooked on the taste!
Jump to:
Easy Bratwurst Pasta Recipe
In this recipe, I'll show you how to make a good Bratwurst pasta recipe with just beer and other basic ingredients. This family-pleasing beer pasta recipe can be ready in less than 20 minutes.
Bratwurst Pasta Ingredients
To make this bratwurst pasta, you will need uncooked bratwurst, spaghetti or fettuccine, fresh garlic, wheat beer, oil, butter, and cheese.
Bratwurst. It is a type of German sausage. This fresh link sausage is usually made from veal, beef, or most commonly pork and flavored with different spices and seasonings, such as nutmeg, ginger, caraway, marjoram, black pepper, and nutmeg, mace, ginger, coriander, pimento, etc. These combinations of spices make bratwurst sausage the perfect ingredient to elevate the taste of simple pasta. The beer flavoring compliments it so well.
I purchased the uncooked bratwurst from my local Trader's Joe.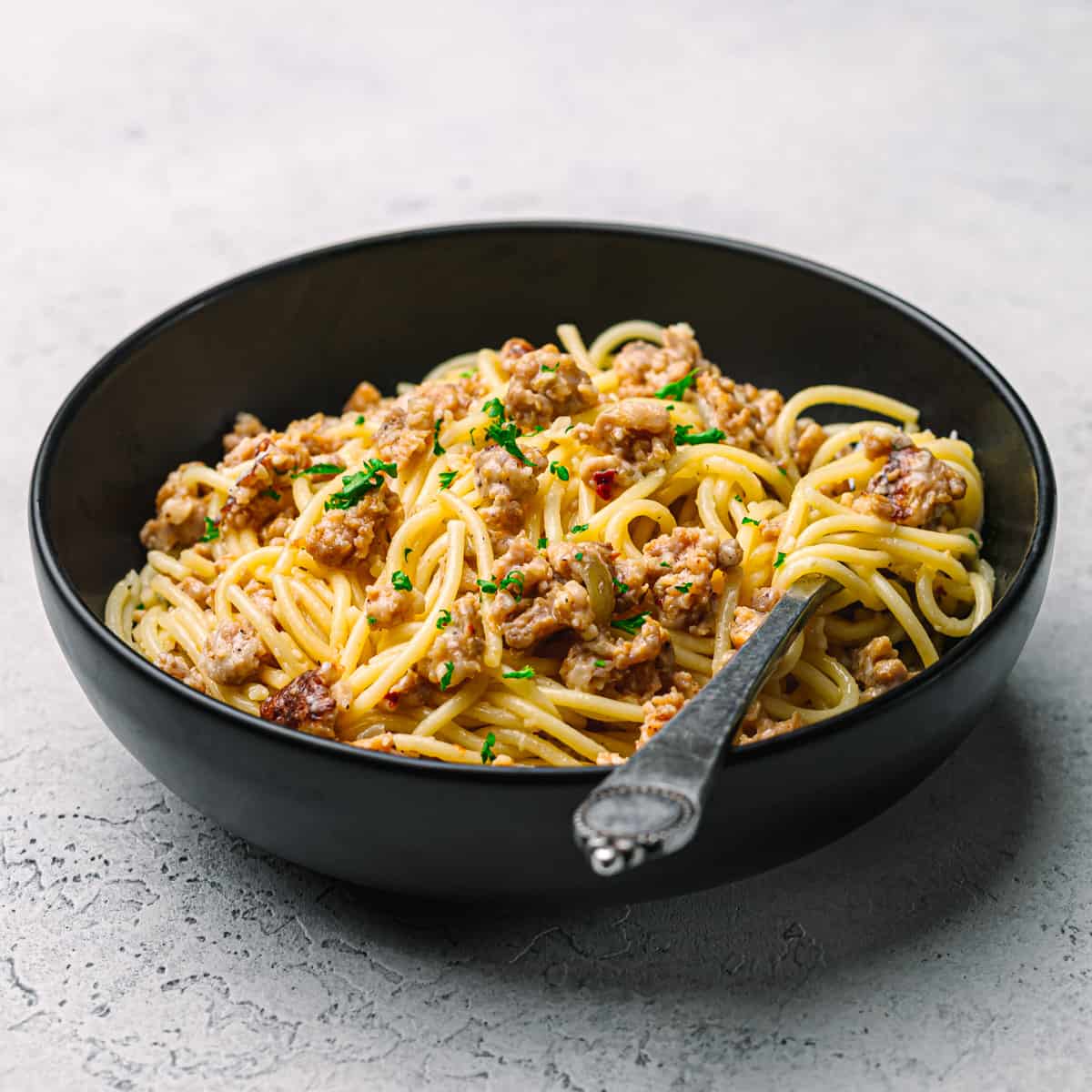 Best Cheese to Use for Bratwurst Pasta:
In this recipe, I used parmesan cheese to give a bold flavor to the pasta.
Parmesan has sharp, fruity, nutty, and savory flavors with a gritty to somewhat creamy texture, which makes it perfect to pair with beer.
The parmesan cheese makes this pasta taste creamy, like a lighter version of alfredo but without the cream.
Parmesan cheese is a good source of protein and fat. It's rich in vitamins and minerals like calcium, vitamin A, vitamins B6 and B12, phosphorus, zinc, and copper.
Cheddar is also another great cheese option for this pasta and works really well with beer. Use cheddar if you want creamier and cheesier pasta.
The Best Beer to Use for Pasta:
You can use wheat beer, Pale Ale, or a light IPA. I personally used German wheat beer, Franziskaner Weissbier because to be completely honest that's what we had in the fridge, and the result is amazing!
Seasoning:
The seasoning is pretty basic. It consists of garlic, onion, salt, and pepper.
Bratwurst sausages are well-seasoned with spices, therefore, adding extra herbs as we often do for pasta recipes is not necessary this time and is completely optional. I really think that simplicity will make the main ingredients of bratwurst and beer shine even more.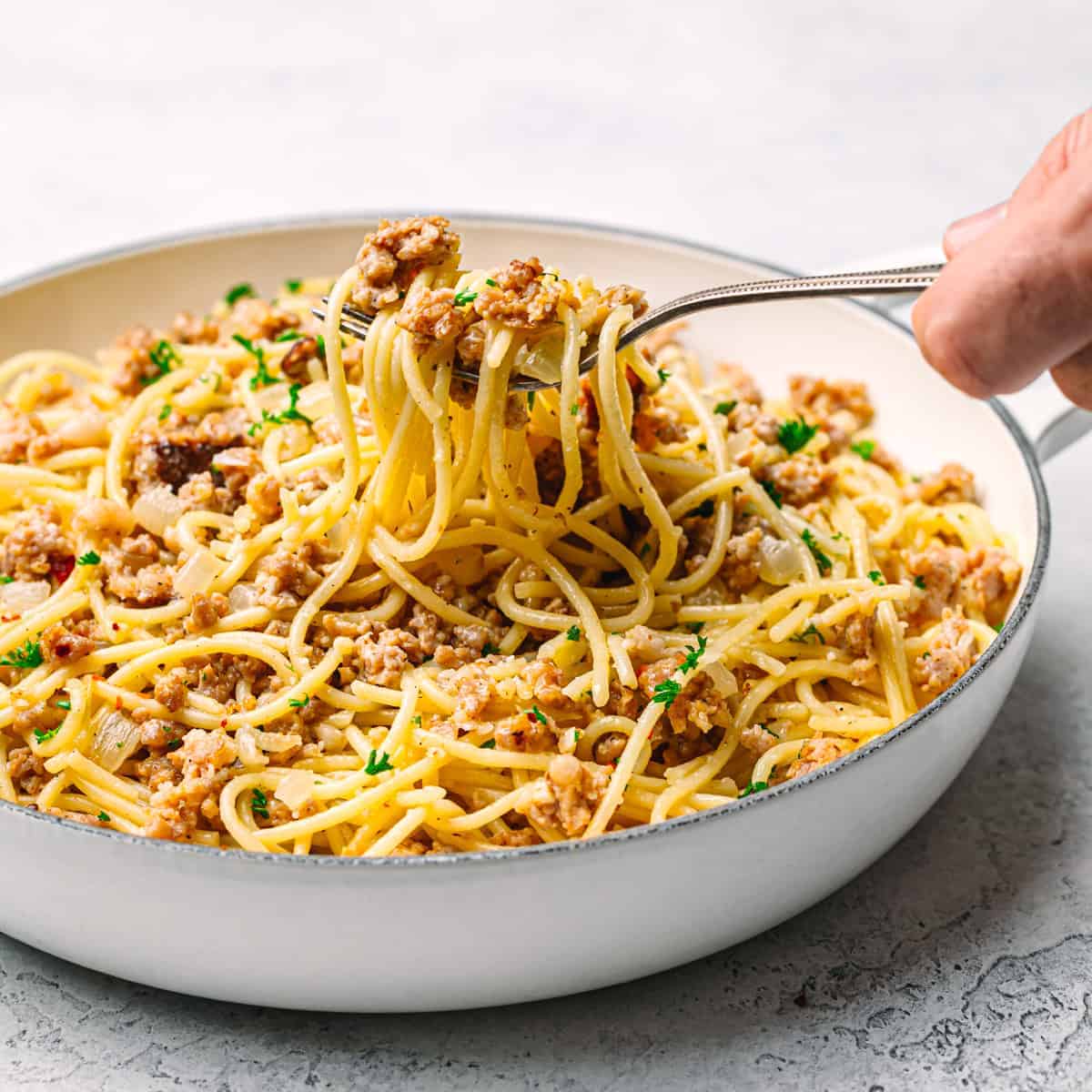 How to Make Bratwurst Pasta:
This bratwurst pasta recipe doesn't require a lot of time in the kitchen. It's so simple to prepare and cook.
Preparation
There is nothing complicated in this phase. You just need to peel and mince the garlic, remove the casing from the sausages, and cook the spaghetti in salted boiling water. I usually add about 1 tablespoon of sea salt per 4 quarts of water.
2. Cooking
The cooking process is pretty simple too. Here are some steps to follow:
Brown the sausage. While you are cooking the pasta, cook the sausage in a hot pan over medium heat for about 4 minutes.
Cook the onion and garlic. Add onion, and continue cooking for about 4 minutes then add garlic, and stir for 1 minute over moderately low heat.
Add beer and simmer. You need about ½ cup of beer. Add it to the sausage, onion, and garlic mixture then simmer for about 3 minutes until it has evaporated.
Add butter and pasta. Melt the butter, reduce the heat to low then toss in the cooked pasta.
Add parmesan cheese. Lastly, add some parmesan cheese to the pasta, then toss until the cheese is just melted then quickly turn off the heat.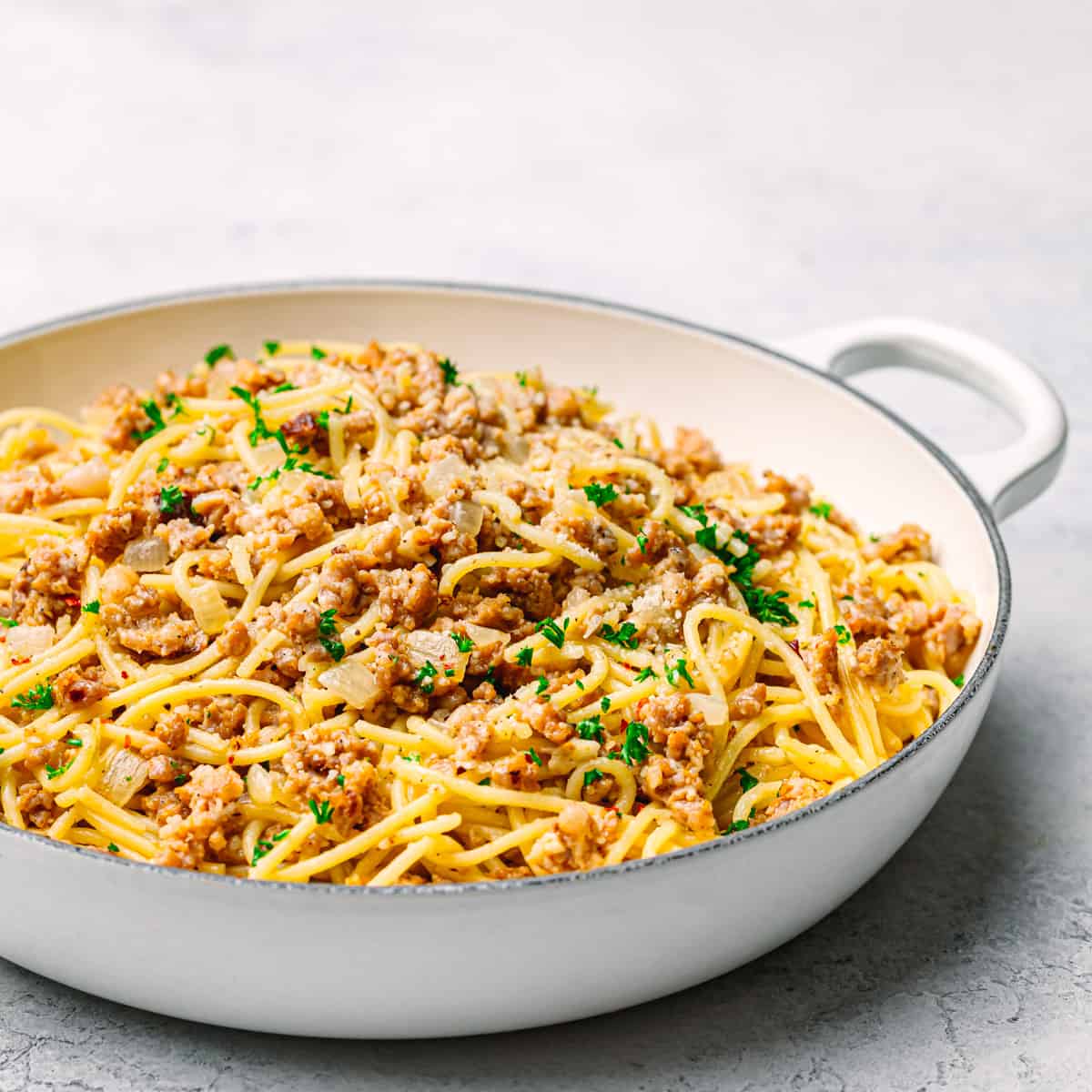 Storing Leftover Pasta:
Transfer the leftover pasta to an airtight container. Properly stored, it can last 3-5 days in the fridge.
Check Out More Tasty Recipes
I hope you'll enjoy this recipe and share it with friends! If you try it and don't mind, please leave me a comment and/or give this recipe a rating.
📖 Recipe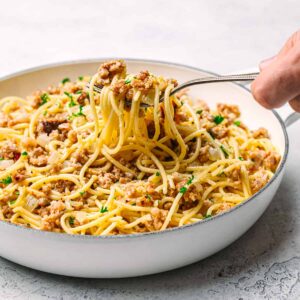 Bratwurst Pasta
This Bratwurst pasta recipe is so flavorful and easy to make. The pasta is loaded with savory German sausage and perfectly cooked in a buttery beer sauce. It's garlicky, and taste like alfredo but without the heavy cream!
Ingredients
Optional:
a pinch of red pepper flakes

chopped parsley
Instructions
Bring a large pot of salted water ( about 4 qt + 1 tablespoon of salt) to a boil. Follow the instructions on the product packaging and cook pasta until al dente.

In a large deep saute pan, heat the oil over moderate heat. Cook the sausage (chasing removed), breaking up the meat for about 4 minutes.

Reduce the heat to moderately low. Add onion, and cook for about 4 minutes or until it translucent. Be sure to keep scraping up the browned bits from the bottom to prevent burning.

Add garlic, and keep stirring for about 1 minute.

Add beer to the pan. Be sure to scrape up the browned bits from the bottom, simmer until reduced by half, for about 3 minutes.

Melt the butter and add black pepper. Stir and reduce the heat to low. Add the cooked pasta, and parmesan. Toss just until combined then turn off the heat immediately.

Transfer the pasta to a serving plate. Serve with additional parmesan cheese if needed! Enjoy!
Nutrition
Calories:
554
kcal
Carbohydrates:
48
g
Protein:
20
g
Fat:
30
g
Saturated Fat:
11
g
Cholesterol:
69
mg
Sodium:
712
mg
Potassium:
428
mg
Fiber:
2
g
Sugar:
3
g
Vitamin A:
151
IU
Vitamin C:
2
mg
Calcium:
91
mg
Iron:
1
mg