A healthy carbonara, Butternut Squash Pasta Sauce recipe. It is so creamy, rich and tasty! The hearty pasta sauce is loaded with herby flavors. It's easy and quick to make! The fragrant sage flavor makes this sauce the perfect addition to your Thanksgiving meal.
This winter butternut squash pasta sauce recipe is an ideal alternative to the traditional carbonara. For one, it has fewer calories. Also, the sauce has a creamy texture yet it's made without eggs or cream. It's flavored with fragrant sage, basil, Italian seasoning, garlic, and yellow onion.
Butternut squash is a staple fall produce and is quite versatile. Whether you serve it roasted, pureed, or baked, butternut squash is simply delicious.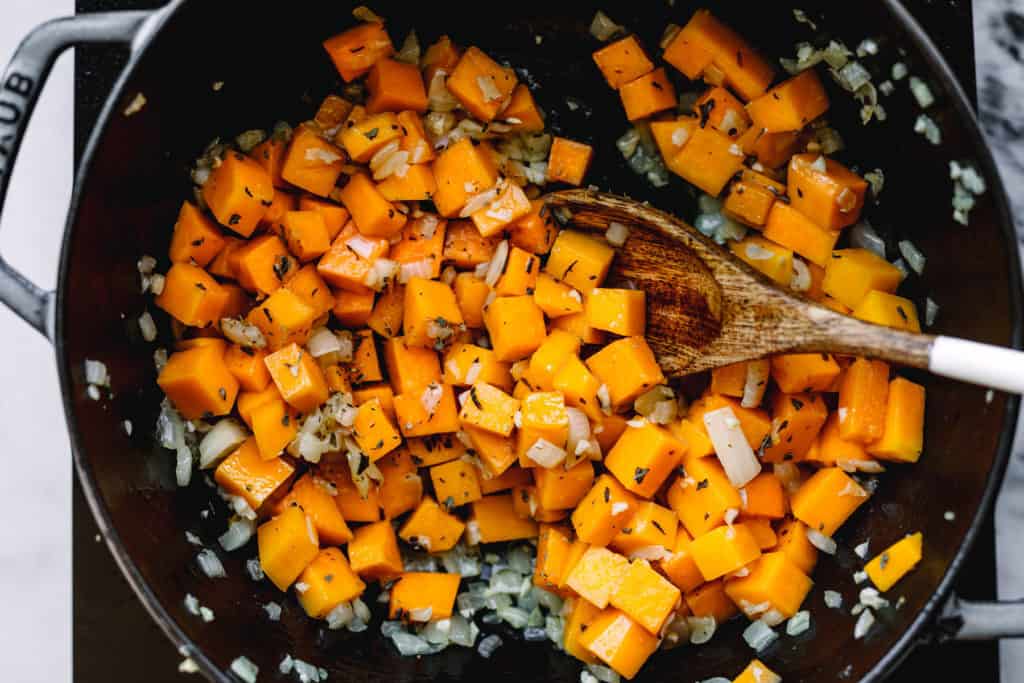 Why You'll Love this Butternut Squash Pasta Sauce:
This Butternut Squash Pasta Sauce is the perfect basic sauce for any pasta and it's completely customizable. For example, if you love spicy food, simply add some cayenne pepper or dried chili pepper flakes to the sauce. In addition, you can easily use this sauce to make mac n cheese by adding some cheddar and Parmesan cheese. It tastes fantastic! Even my daughter who isn't a big fan of butternut squash really enjoyed it!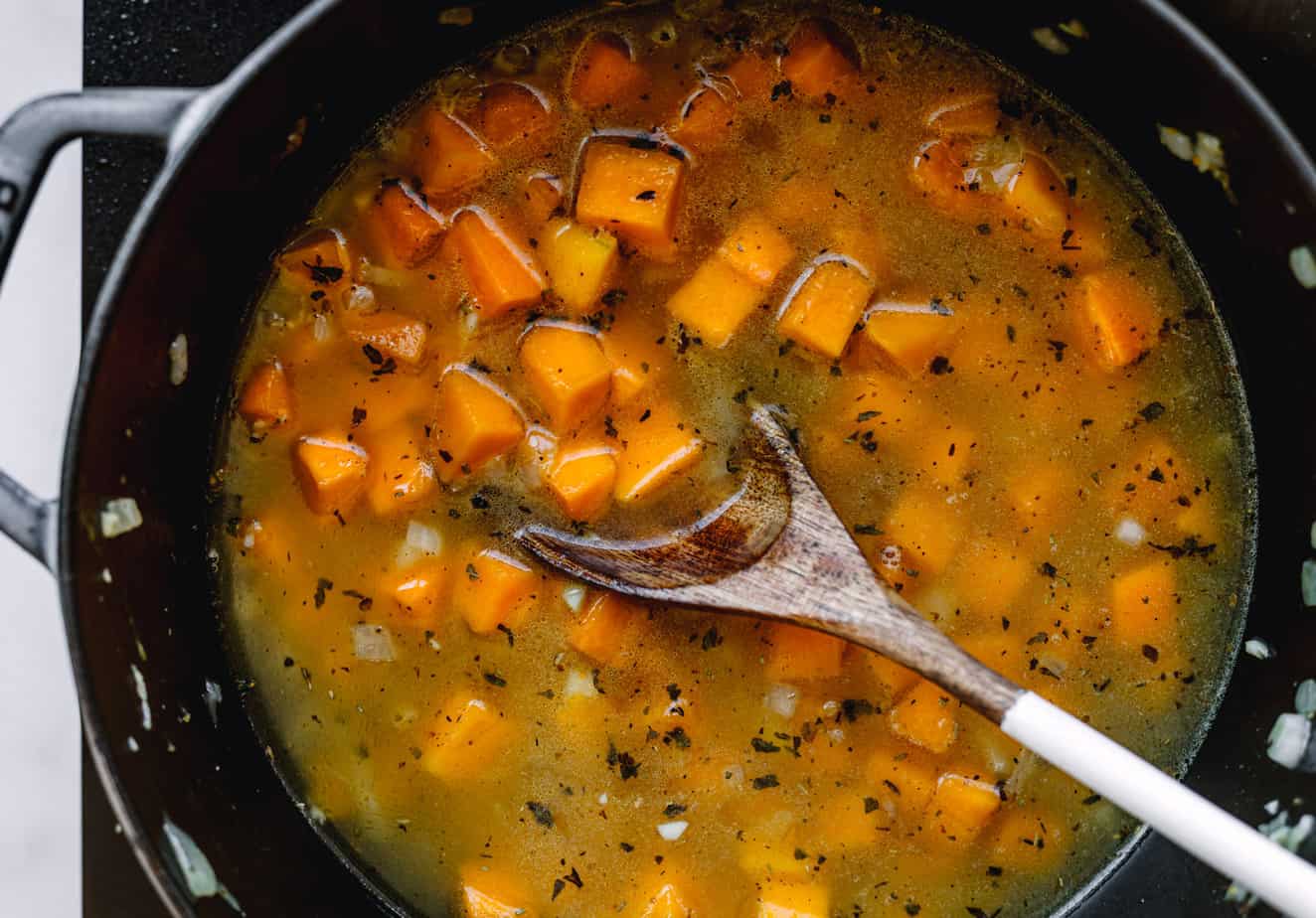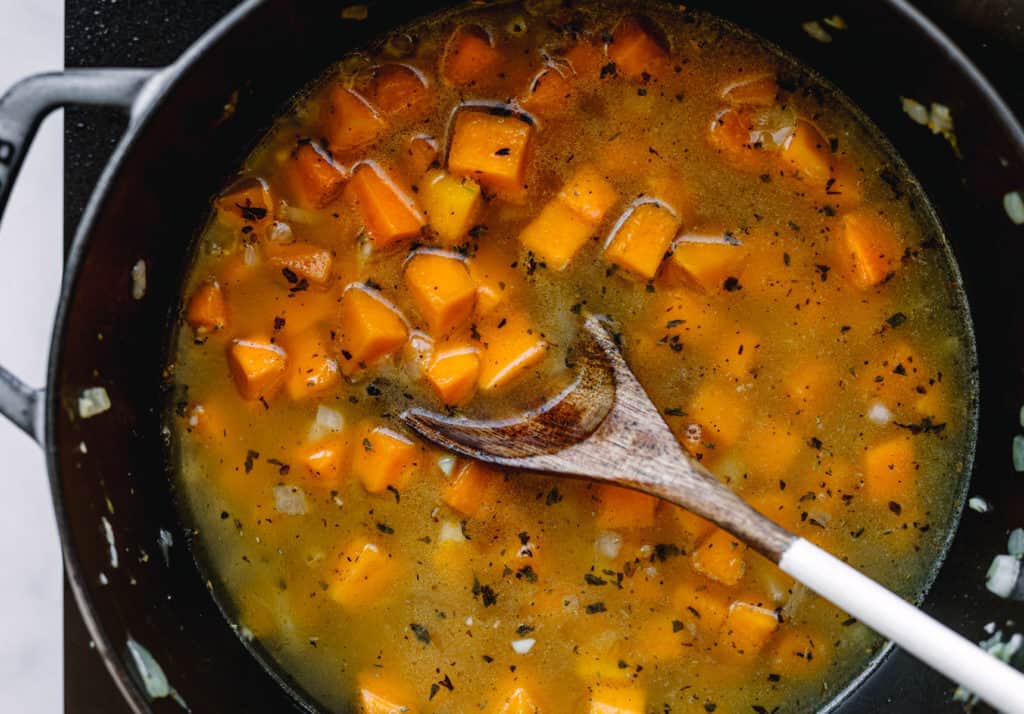 Everything You Need to Know about Butternut Squash:
Butternut squash is slightly sweet and has a nutty taste similar to a pumpkin. It's packed with vitamins and minerals, such as vitamin E, thiamin, niacin, vitamin B-6, folate, pantothenic acid, and manganese. It contains more potassium than a banana; each cup of butternut squash provides 582 mg of potassium! You can read more about butternut squash health benefits here: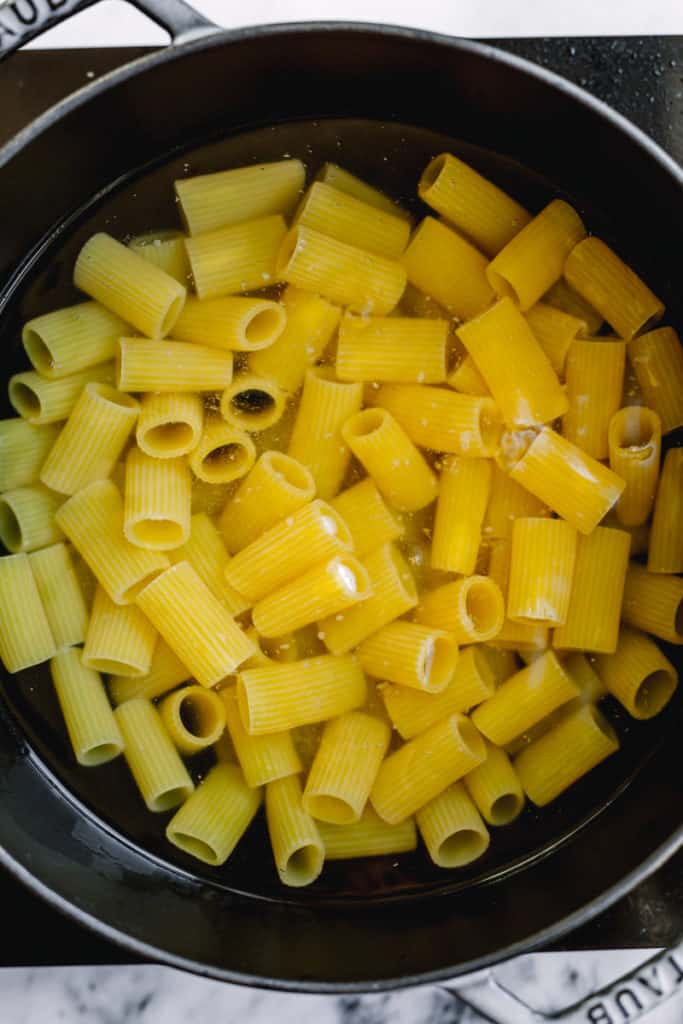 To Store Whole Butternut Squash:
You can keep whole butternut squash in a cool, dark place. It should last up to a month. Do not refrigerate!
Any leftover peeled butternut squash should be tightly covered and stored in the fridge for up to 5 days.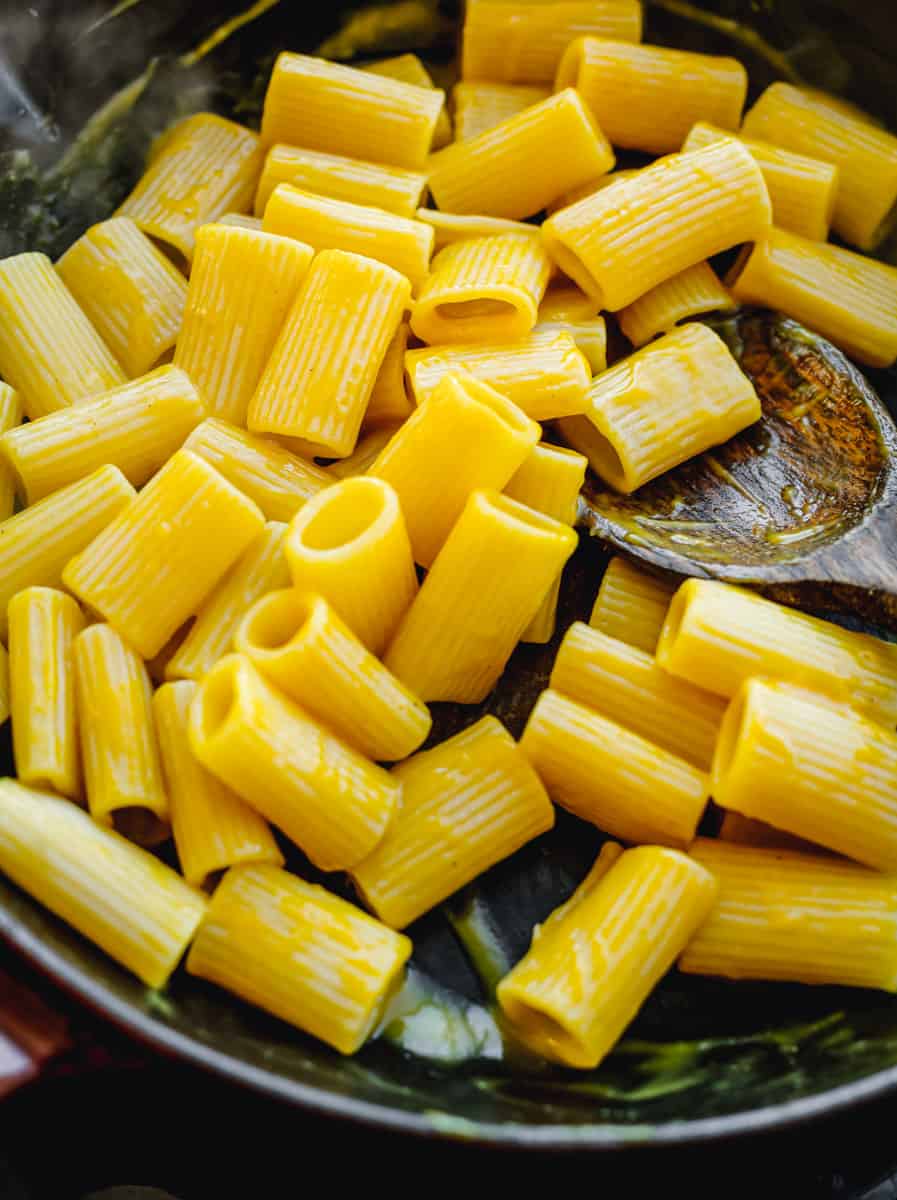 Check Out More Butternut Squash Recipes:
To Easily Peel and Cut Butternut Squash:
To peel butternut squash, first, you need to place the whole squash on a sturdy chopping board. Second, slice off the stem and bottom end to make it flat and safer to cut. Third, start peeling off the skin with a sharp peeler or knife in downward strokes. Then cut the butternut squash in half and scoop out the pulp and seeds. Lastly, chop the squash into cubes.
To cook the cubed butternut squash faster, it's recommended to chop them into small cubes.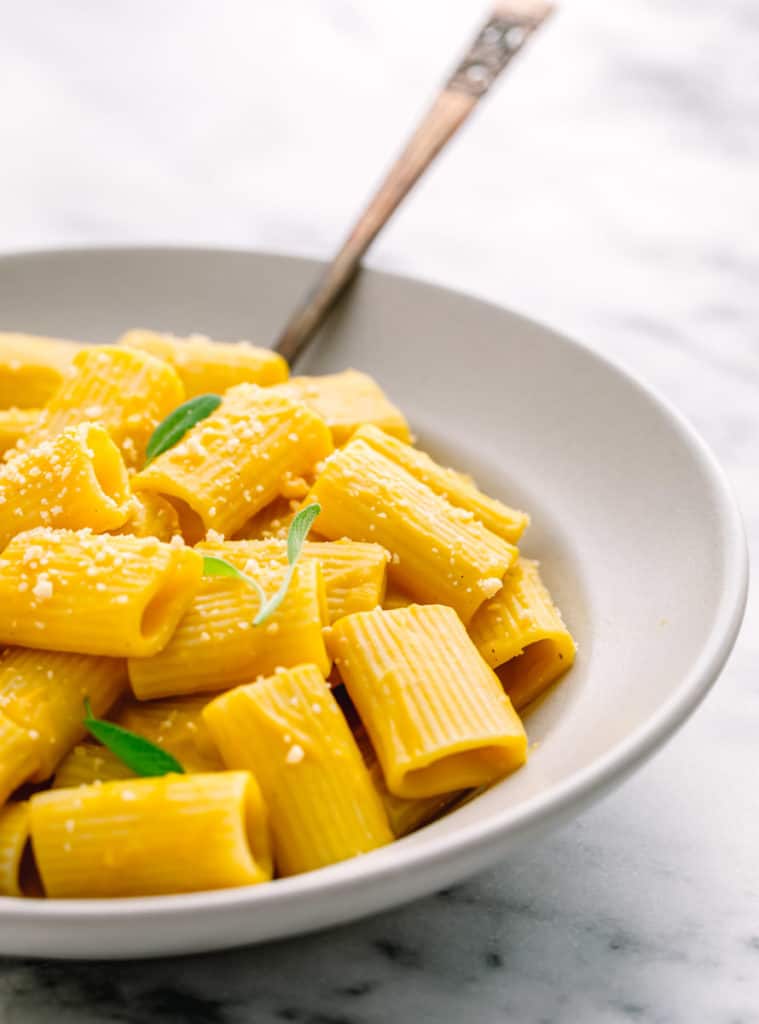 To Store Butternut Squash Sauce:
To store this cooked butternut squash sauce, you need to transfer the sauce into an airtight container. Store in the fridge for up to 5 days or in the freezer for up to 3 months.
This butternut squash sauce recipe is enough for 12 oz of pasta.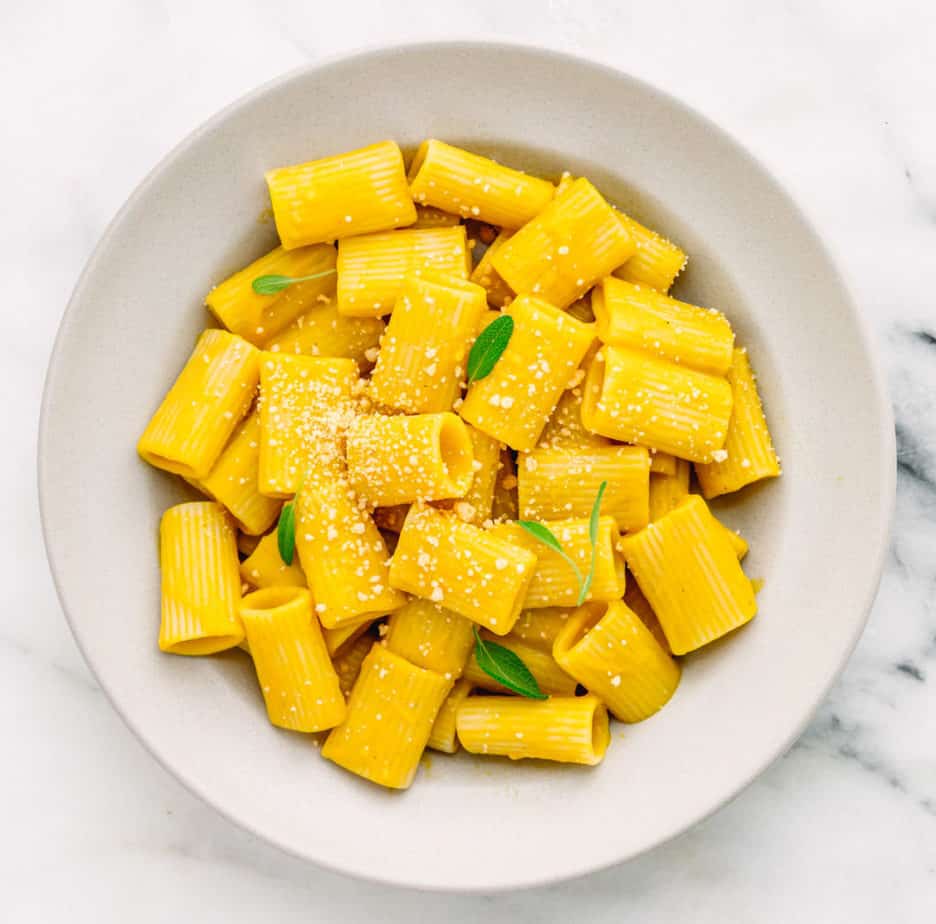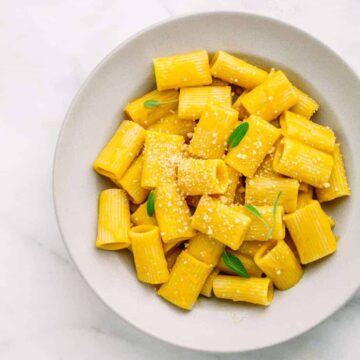 Butternut Squash Pasta Sauce
A creamy vegetarian carbonara, Butternut Squash Pasta Sauce recipe. It's made without heavy cream or eggs.
Ingredients
3

cups

chopped butternut squash

2

cups

low sodium broth

2

tablespoon

olive oil

1

cup

chopped yellow onion

1

tablespoon

finely chopped sage

1

tablespoon

minced garlic

½

teaspoon

dried basil

¼

teaspoon

Italian seasoning

½

teaspoon

salt

,

(add more according to your liking)

¼

teaspoon

black pepper

12

oz

pasta

,

(rigatoni, linguini or spaghetti)
optional:
chili pepper flakes or cayenne

¼

cup

Pecorino cheese

,

(to serve)
Instructions
Heat oil in a large skillet over medium-high heat. Add sage and with the skillet toss to coat until it's crisp. Once crisped, transfer the sage onto a plate.

Add the butternut squash, onion, and garlic to the skillet. Then add salt, pepper, dried basil, and Italian seasoning. Keep stirring occasionally, and cook until the onion is translucent (for about 8 minutes). Add the optional chili pepper flakes or cayenne if you love spicy.

Next, add the broth and bring to a boil. Reduce the heat and simmer until the squash is soft and the liquid is reduced by half (for about 15 minutes)

Let the mixture cool slightly, then transfer it to a high-speed blender and puree it. Add more seasoning as needed.

Cook the pasta in a large pot of boiling salted water, stirring occasionally until al dente. Drain, reserving 1 cup of the pasta cooking liquid.

Combine pasta and butternut squash in a skillet. Add about ¼ cup of the reserved pasta cooking liquid. Cook at medium heat until the sauce coats the pasta. Add extra liquid if necessary.

Optional: mix in ¼ cup of Pecorino cheese. Serve immediately and enjoy!
Notes
Alternative, to serve it mac n cheese style: Add 1 cup of shredded sharp cheddar cheese and ¼ cup of Parmesan cheese.
Adapated from BonAppetit