This Instant Pot Italian Sausage Kale Soup is hearty, comfort soup that is made with Sweet Italian sausage, kale, white beans, onions, a leek, garlic, fresh tomato, tomato paste, basil and chicken broth.
Craving for more instant pot recipes? I hear you! Check out this comfort and hearty Instant Pot Italian Sausage Kale Soup that can be ready in about 15 minutes, from preparation through the whole cooking process! This comfort pressure cooker kale sausage soup is so flavorful and easy to make!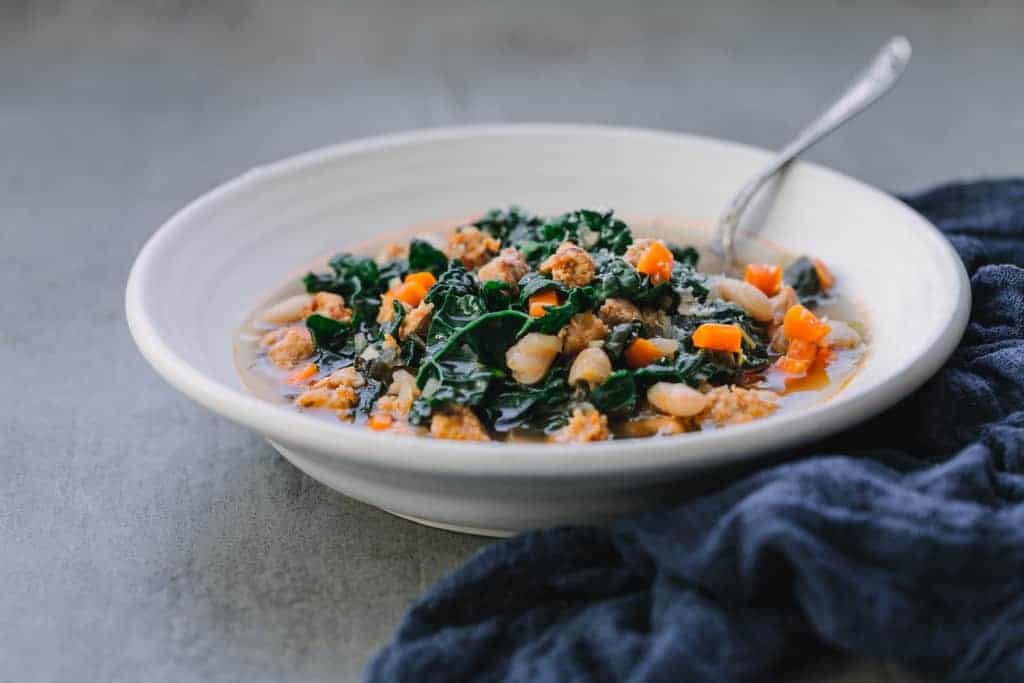 Cooking my favorite soup recipes using instant pot is fun and less stressful than other methods. I just need to set up the cooking time and do other chores while waiting for the soup to be cooked in my pressure cooker or instant pot. This instant Pot Italian Sausage Kale Soup is a must make, the perfect comfort food to warm up your winter or for any weeknight dinner.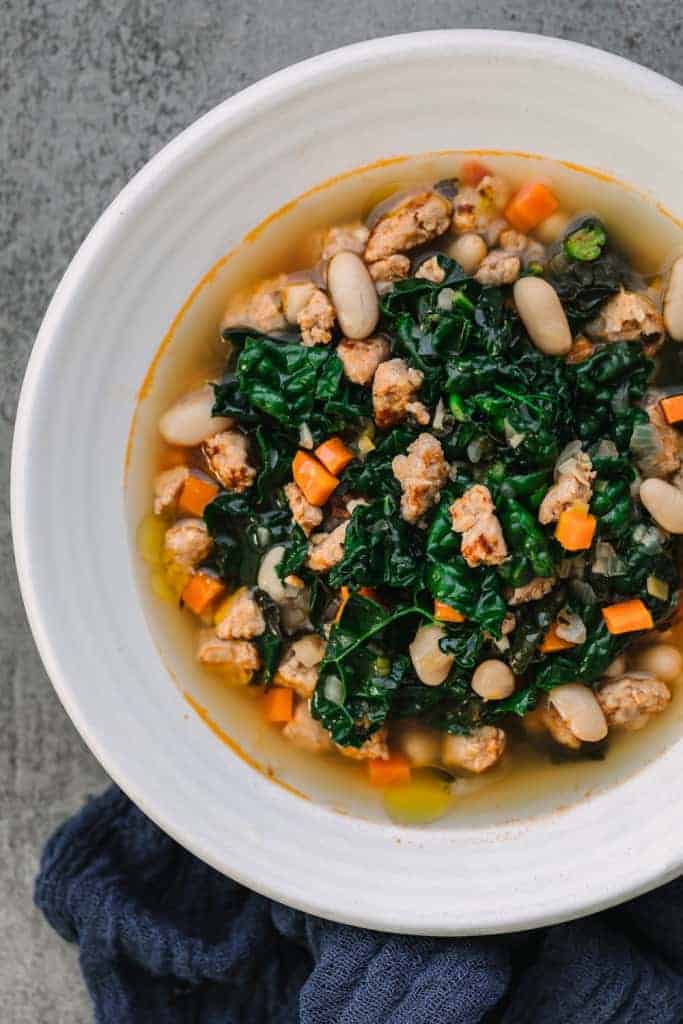 This instant Pot Italian Sausage Kale Soup is packed with protein from the Italian sweet chicken sausage and the cannellini beans. Cannellini beans are originally from Italy. They have a nutty flavor and are often used for salad or soup. Dried cannellini beans are difficult to find, and for that reason I just used the canned Cannellini beans. I just removed the liquid and give it a quick wash, then poured it into the instant pot as soon as the soup was cooked. By doing this you can speed up the cooking process because most dried beans require 25-30 minutes cooking time on the Instant Pot.
CHECK MORE INSTANT POT SOUP RECIPES: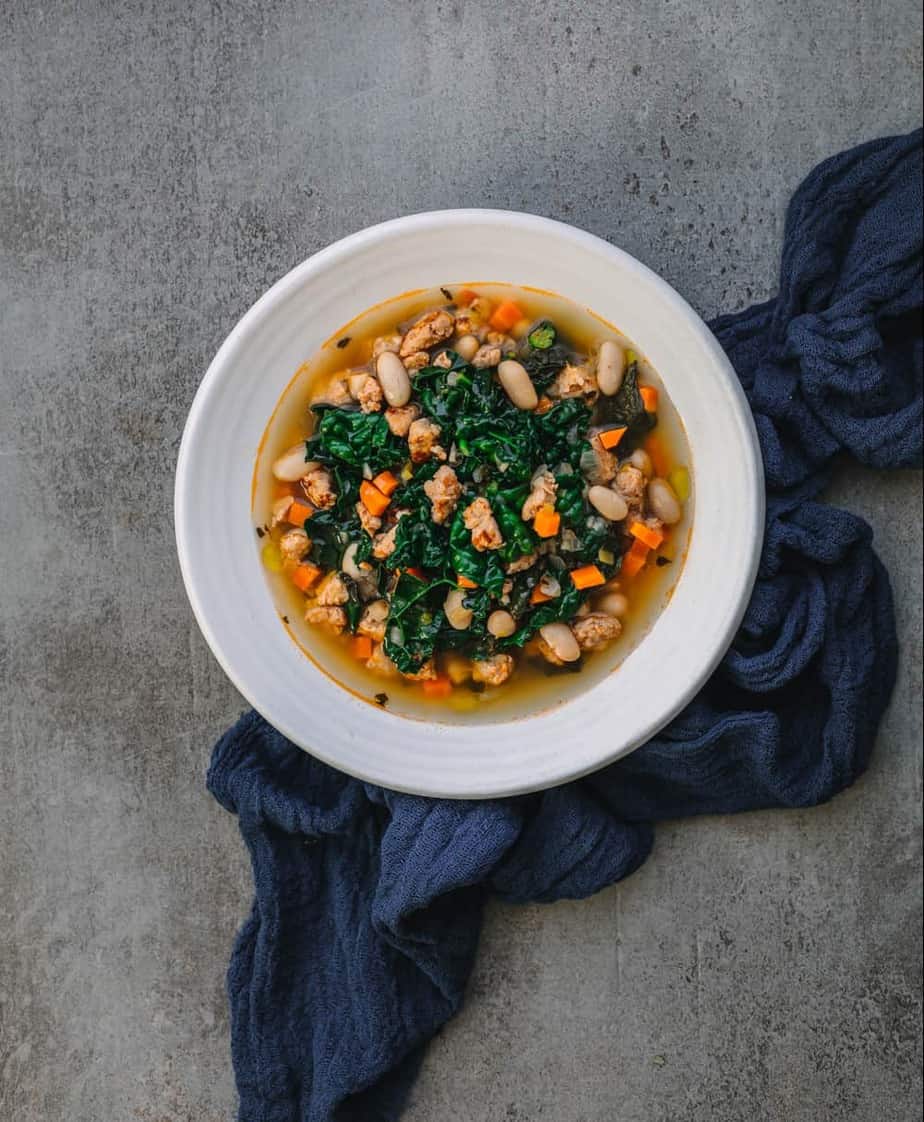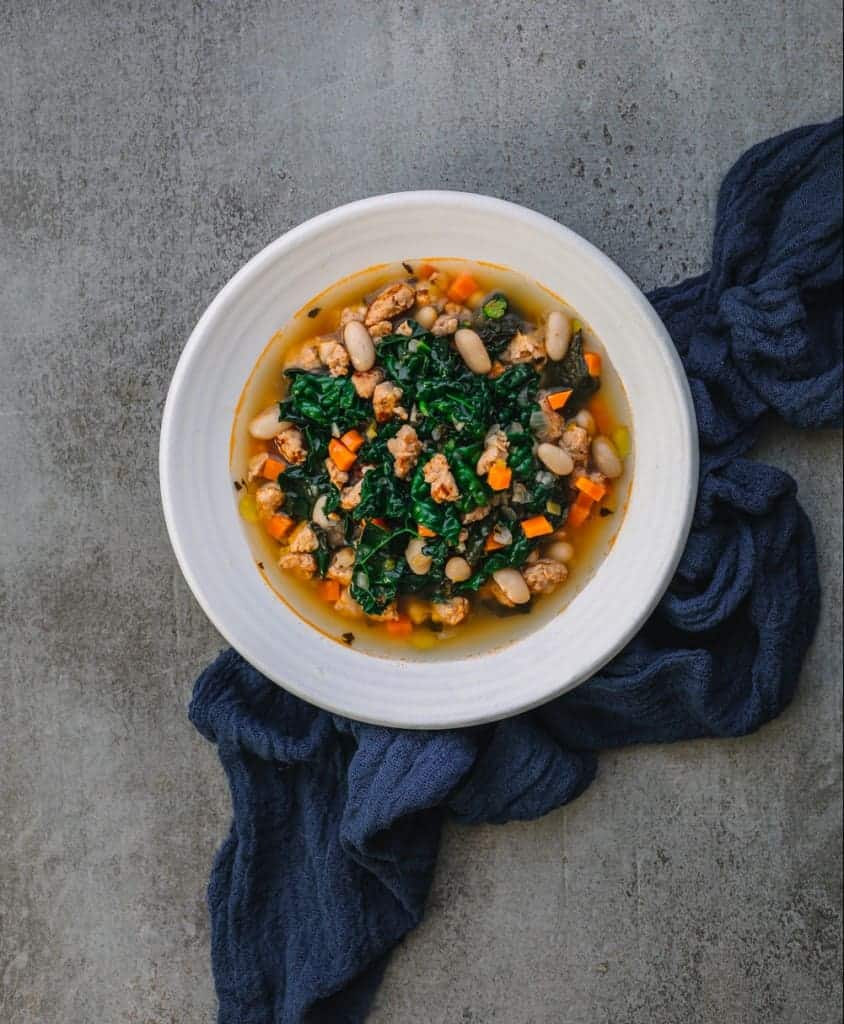 I also used fresh tomatoes with a small quantity of tomato paste instead of canned tomatoes . Canned tomatoes tend to be more acidic, less fresh and are often packed with lots of sodium. Many crushed and diced canned tomatoes are thickened with tomato puree, which changes the flavor of the sauce and in the end will also affect the flavor of the soup.
For the broth, I used garlic, onion, and leeks with a touch of dried basil. You may also use Italian seasoning to add more taste.
Best Kale for Italian Tuscan Soup Recipe:
Lacinato kale is a variety of kale with a long tradition in Italian cuisine, especially that of Tuscany. It contains fiber, antioxidants, calcium, and vitamin K. It's also a good source of vitamin c and iron. Lacinato kale is more tender, slightly sweeter, and more delicate than curly. In Tuscan cuisine, Lacinato kale is often use in a thick, hearty soup. .
Browning Sausage in Instant Pot:
Most Italian sausages can be cooked over medium high heat until browned, for about 5 minutes on a stove. With Instant Pot, I just need to turn the setting to "Saute", and when it's hot I add the sausage and let it sit for one minute. It then starts to get that beautiful brown color, at which time I break it up into small pieces and keep turning and cooking for 2 additional minutes. Don't worry about cooking the sausage all the way through at this point, because the instant pot will do the rest of the job when we cook it at high pressure on the manual setting.
To make this Instant Pot Italian sausage soup more kid-friendly recipe I opted for a sweet chicken Italian sausage. In doing so I can adjust the spiciness level at the end by adding a bit of chili flakes (or not depending on who I'm prepping it for. Feel free to use hot Italian sausage in the recipe if spicy is your thing!
Don't forget to check out more of my Instant Pot recipes: Instant Pot Great Northern Bean Soup Instant Pot Congee with Chicken Instant Pot Barley Soup Instant Pot Lamb Stew with Apricots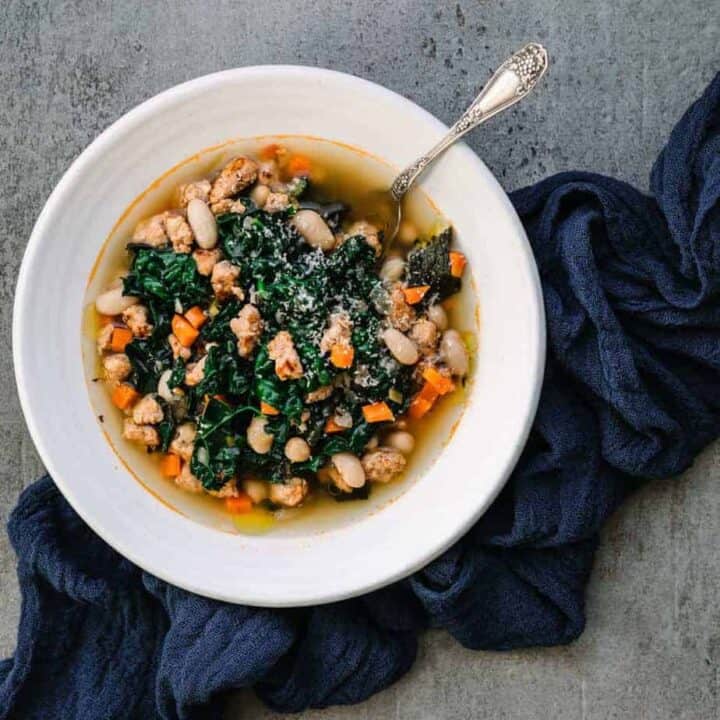 Instant Pot Italian Sausage Kale Soup
Ingredients
1

pound

Sweet Italian Chicken Sausage

,

you may also use a hot Italian sausage

32

oz

Low Sodium Chicken Broth

1

tablespoon

olive oil

1

medium-sized onion

,

(chopped)

4

garlic cloves

,

(minced)

¼

cup

chopped leek

3

cups

chopped Lacinato kale

,

(with or without stems)

1

tablespoon

dried basil

½

teaspoon

Italian seasoning,

(optional)

1

tablespoon

tomato paste

,

add more according to your liking

2-3

Roma tomatoes

,

chopped ( I used only 2 plum tomatoes for less acidic broth)

2

large carrots

,

(small diced)

salt and pepper to taste

10 oz

canned white beans (cannellini beans)

,

(remove liquid and rinse) - Add more according to your liking
Instructions
Turn on the Instant Pot and se to the "saute" setting. When it is hot add sausage and let it sit for one minute, then start breaking it into small pieces or bits. Keep turning and cooking for 2 minutes.

Add garlic and leek, then cook for about 15 seconds. Give sausage, onion, garlic, and leek a quick stir and change the instant pot setting to "Warm/Off".

Add chopped tomatoes, tomato paste, chicken broth, dried basil, (optional) dried Italian seasoning, chopped kale and diced carrots into the pot.

Set the instant pot to "Manual" and give it a cooking time of 3 minutes.

When it's done, allow it to release pressure naturally for about 1 minute, then slowly release all remaining pressure.

Add the cannellini beans, salt/pepper to taste and give it a quick stir. Adjust seasoning if needed.