These tender, melt-in-your-mouth instant pot boneless beef short ribs can be ready in less than an hour. A very comforting dish that comes together easily all in one pot. It's the ultimate cold-weather comfort food!
Today, I am going to show you how to cook classic beef short ribs in the fastest and easiest way using an Instant Pot.
Instant Pot Boneless Beef Short Ribs
These tender Instant Pot beef short ribs simmered in a rich red wine sauce make a wonderful family dinner!
It's the perfect instant pot meal that not only adults will love but your kids will enjoy it too (mine sure did).
Jump to: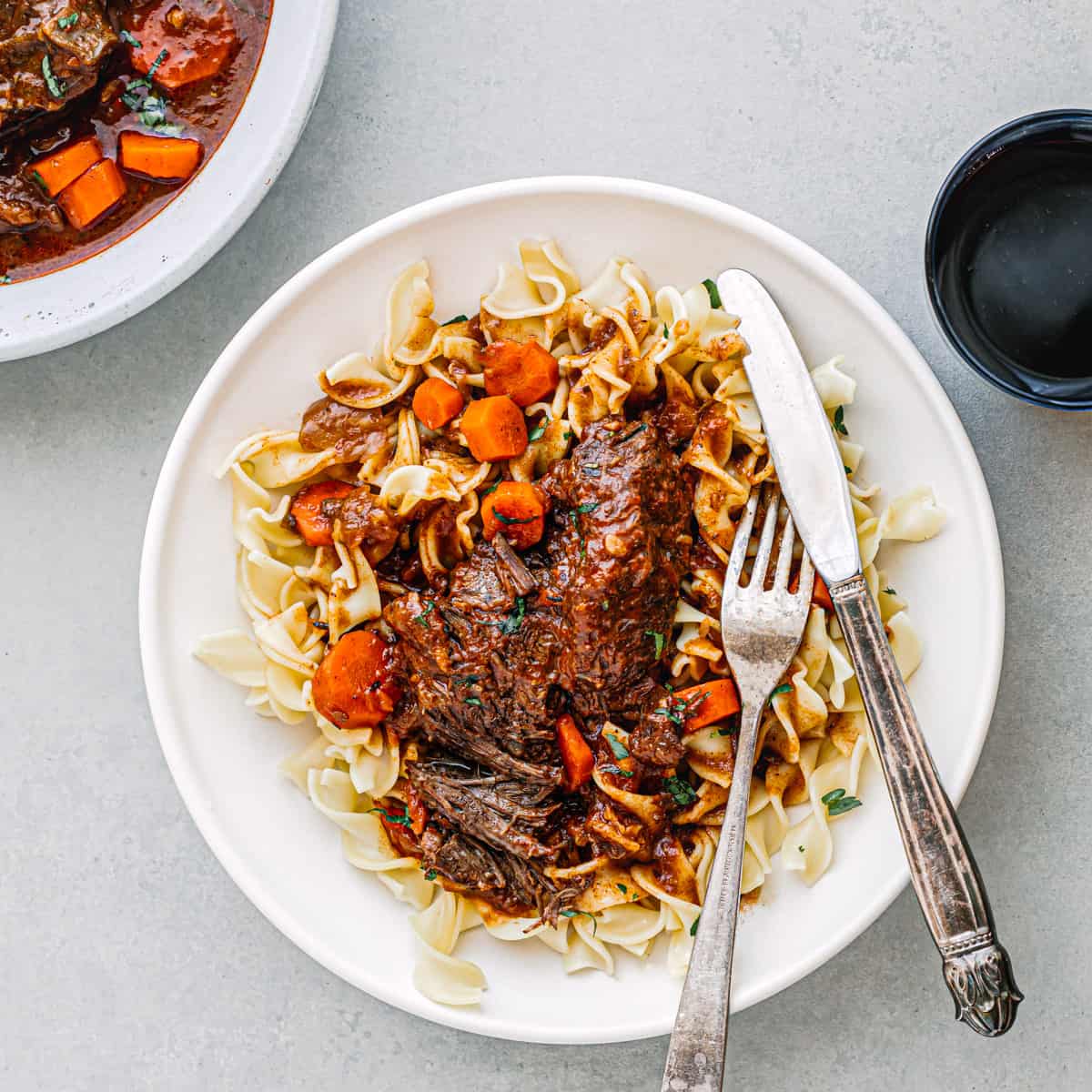 The Ingredients
This easy short ribs recipe is made of:
Beef short ribs
Dry red wine
Beef broth
Onion
Garlic
Thyme
Paprika
Tomato paste
Carrot
Corn starch
Kosher salt
Black pepper
If you're wondering what the best red wine is for stew: Cabernet Sauvignon, Merlot, Pinot Noir, Syrah, Zinfandel, Sangiovese, and Cabernet are all great choices.

What are Boneless Beef Short Ribs?
Short ribs have lots of meats on them and they are the most popular cut for BBQ and also taste good for stew.
Boneless short ribs are cut from the chuck or plate, and consist of rib meat separated from the bone, which helps makes it perfect for this Instant Pot Boneless Beef Short Ribs recipe.
Boneless beef short ribs are larger and meatier than pork spare ribs.
As an alternative, chuck roast is the best substitute when boneless short ribs are unavailable.
Beef Short Ribs Nutrition Facts:
Beef short ribs are rich in protein, B12 but also high in fat.
A 3-ounce portion of ribs contains about 210 calories, more than 30 grams of total fat, and 13 grams of saturated fat.
Instant Pot Boneless Beef Short Ribs Cooking Time:
Cooking short ribs until tender can take up to 2 ½ hours (or even longer) in the oven.
With an instant pot, you only need to cook it for 30 minutes (plus 15 extra minutes for natural release) and an additional 2 minutes to cook the vegetable (carrots).
So, if you are looking for an easy braised beef short ribs recipe that has all the flavor and no fuss, this Instant Pot Boneless Beef Short Ribs recipe is for you. It's not only tasty but it will also save you hours of cooking time.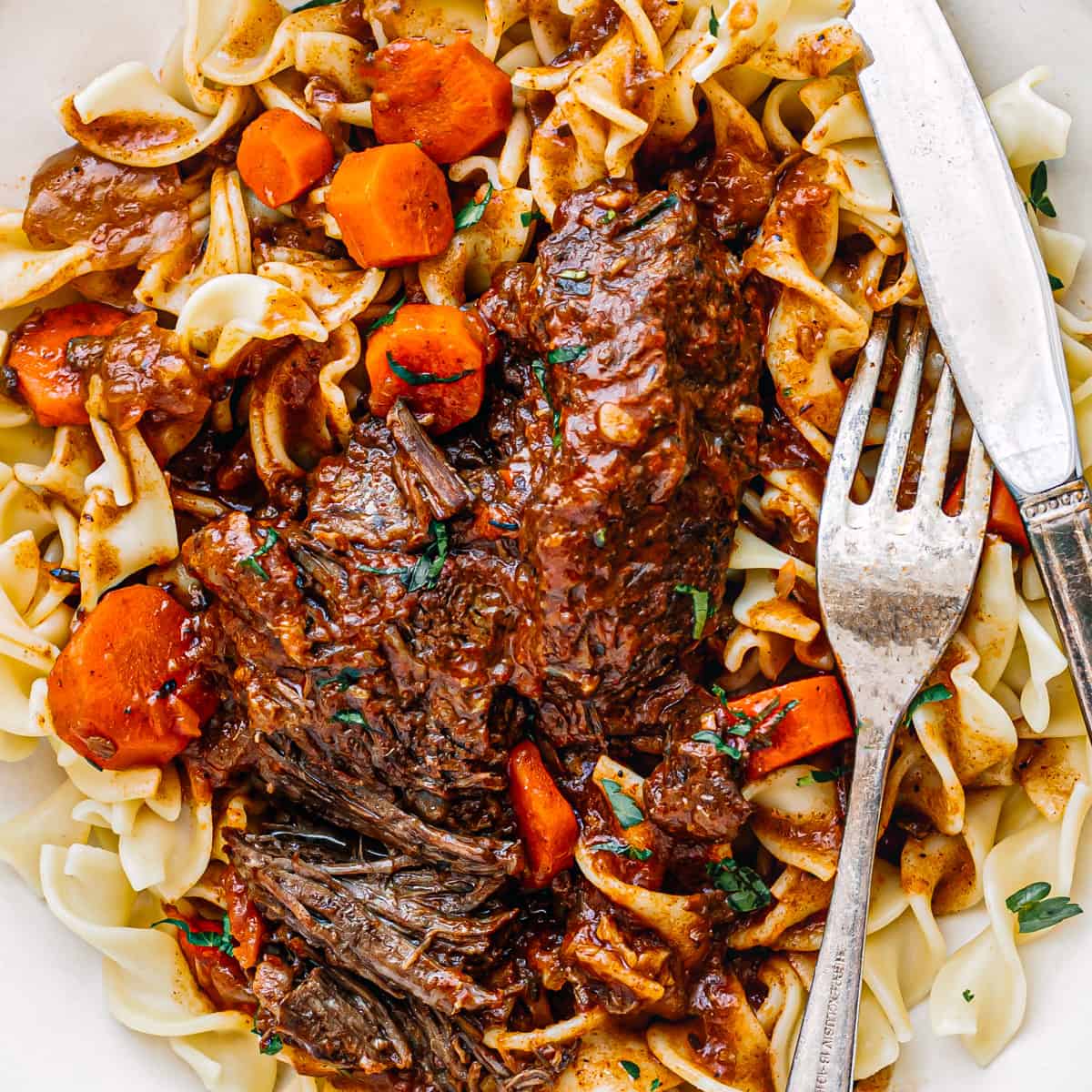 How to Cook Short Ribs in an Instant Pot:
While the list of ingredients may be long, this dish is actually pretty quick and easy to prepare. So, here are some important steps to follow: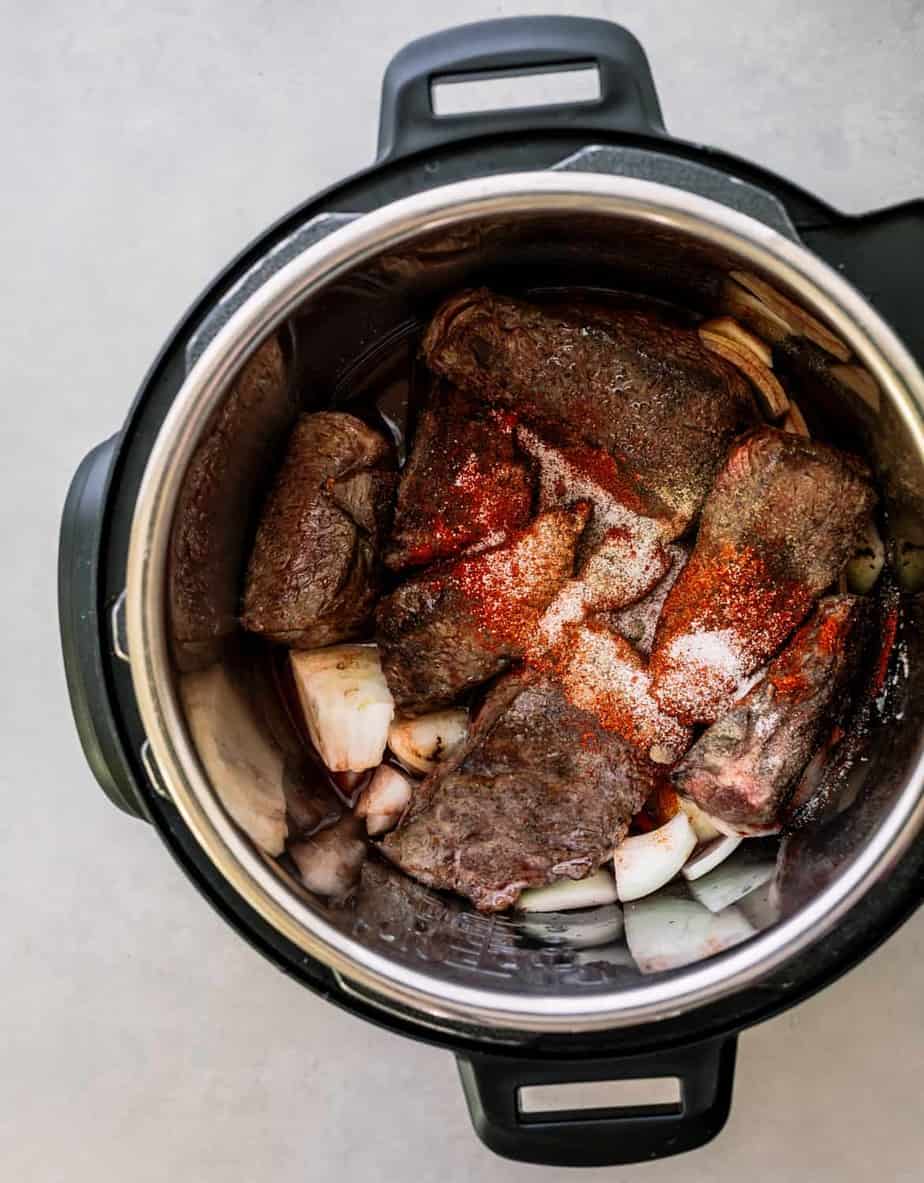 Step 1. Brown the Short Ribs
Season short ribs with salt and pepper. Heat oil in an Instant Pot, working in batches, brown short ribs on all sides.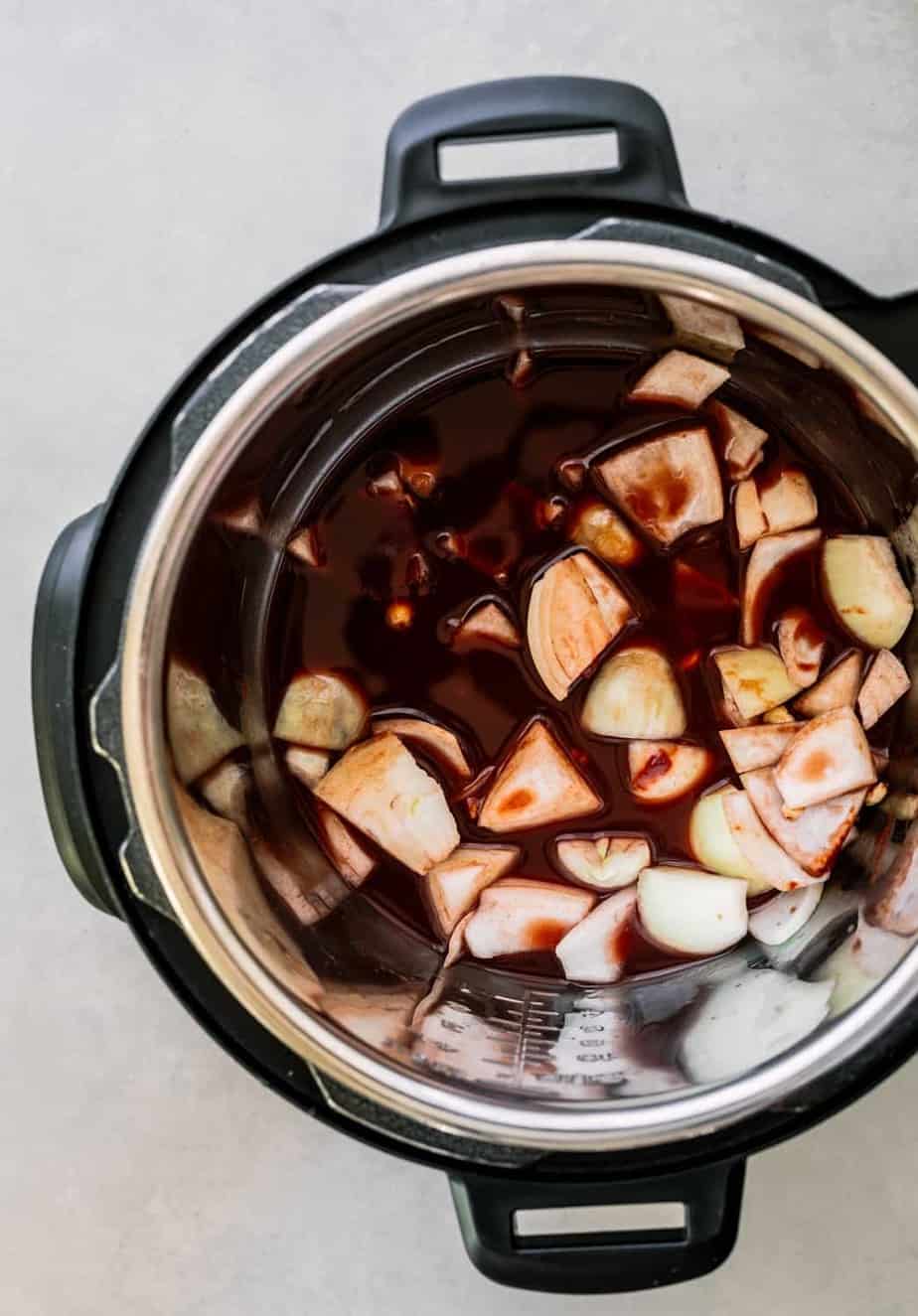 Step 2. Deglaze
Deglaze the pan with dry red wine. As the liquid simmers, scrape up any crispy bits from the bottom of the Instant Pot with a wooden spoon or spatula to prevent burning.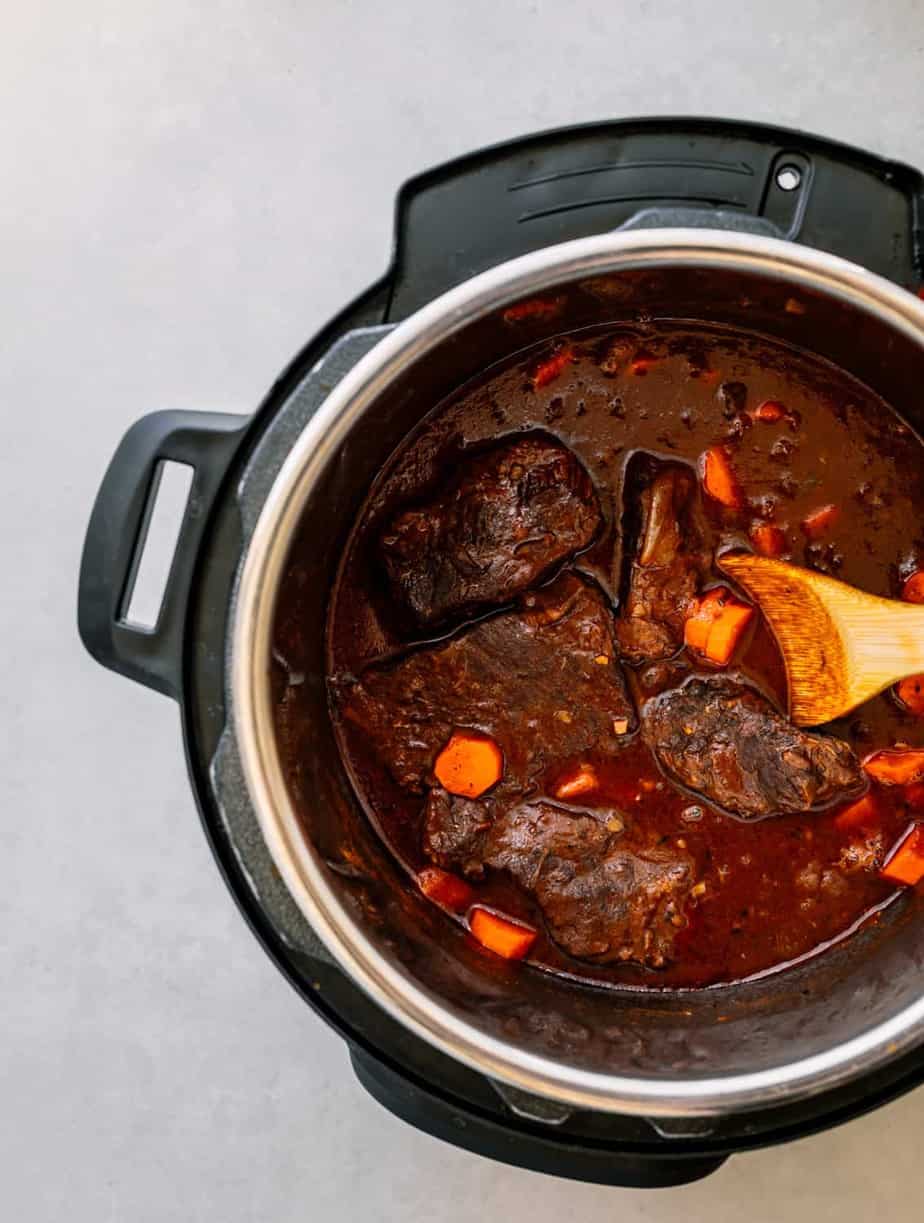 Step 3. Pressure Cook
Add all ingredients, including browned short ribs into the pot.
Cook it on manual for 30 minutes. When the cooking is done, let the Instant Pot release pressure naturally.
Step 4. Cook the Carrot
This is optional. Add chopped carrots into the pot and select the "manual" setting and cook for 2 minutes. When the cooking cycle is completed, quickly release the pressure.
What to Serve with Short Ribs:
I served these instant pot short ribs with egg noodles.
They taste perfect with polenta, or a burger bun too.
It's also a great game-day food. If busy prepping for other things while hosting, the braised short ribs can be a make-ahead meal.

How to Store Leftover Cooked Short Ribs:
When properly stored, cooked beef ribs will last for 3 to 4 days in the refrigerator or up to 2 months in the freezer.
Did you make this recipe? Be sure to leave a rating and a comment below! I'd appreciate it.
More Delicious Instant Pot Recipes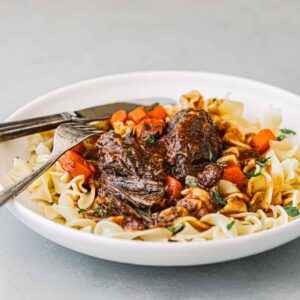 Instant Pot Boneless Beef Short Ribs
A classic comfort food, beef stew, made with boneless beef short ribs and tasty sauce.
Ingredients
3

pounds

boneless beef short ribs

1 ½

tsp

kosher salt

2

tbsp

vegetable oil

½

cup

dry red wine

½

cup

low sodium beef broth

1

medium onion

,

(cut into 8 wedges)

4

garlic cloves

,

(minced)

½

tsp

dried thyme

1

tbsp

paprika

3

tbsp

tomato paste

¼

tsp

black pepper

½

tsp

salt

4

carrots

,

(chopped)

1

tbsp

corn starch

1-2

tbsp

water

fresh parsley

,

(chopped)

egg noodle
Instructions
Brown the short ribs: Season boneless short ribs with 1 ½ tsp of kosher salt. Select the "Sauté" setting on high heat. When the IP displays "Hot", heat the oil. Working in batches, add boneless beef short ribs. Cook for about 3 minutes on each side or until browned. Set aside.

Deglaze: Add dry red wine. Stir and scrape up any browned bits from the bottom of the instant pot. Bring the red wine to a boil and cook until it is reduced by ⅓ for about 1 minute.

Pressure Cook: Add beef broth, garlic, onion, dried thyme, paprika, tomato paste, black pepper, salt and browned boneless beef short ribs to the instant pot.

Secure the lid and select the "Manual" setting. Adjust time to 30 minutes on high pressure. When cooking is done, let the IP release pressure naturally.

Pressure Cook the Carrots: Open the lid. Add chopped carrots then secure the lid again. Select the "Manual" setting, adjust time to 2 minutes on high pressure. When cooking is completed, quick release to depressurize.

To Thicken the Sauce: In a small bowl, mix in 1 tbsp of water with 1 tbsp of corn starch. Set the instant pot to "sauté", add the flour mixture and let stew simmer until thickened. Adjust seasoning with salt and pepper if needed.

Turn off the instant pot and sprinkle the stew with some fresh parsley. Serve immediately with egg noodles, polenta or on a bun.
Nutrition
Calories:
738
kcal
Carbohydrates:
15
g
Protein:
67
g
Fat:
42
g
Saturated Fat:
21
g
Cholesterol:
201
mg
Sodium:
1579
mg
Potassium:
1682
mg
Fiber:
3
g
Sugar:
6
g
Vitamin A:
11211
IU
Vitamin C:
9
mg
Calcium:
67
mg
Iron:
9
mg