Refreshing and filling Keto Cobb Salad. This low carb salad is loaded with chopped hard-boiled eggs, tomato, crisp bacon, avocado, chive, red onion, and blue cheese. It's served with a homemade creamy ranch dressing. This protein-rich, low carb salad is the perfect side dish or main dish for your Keto-diet.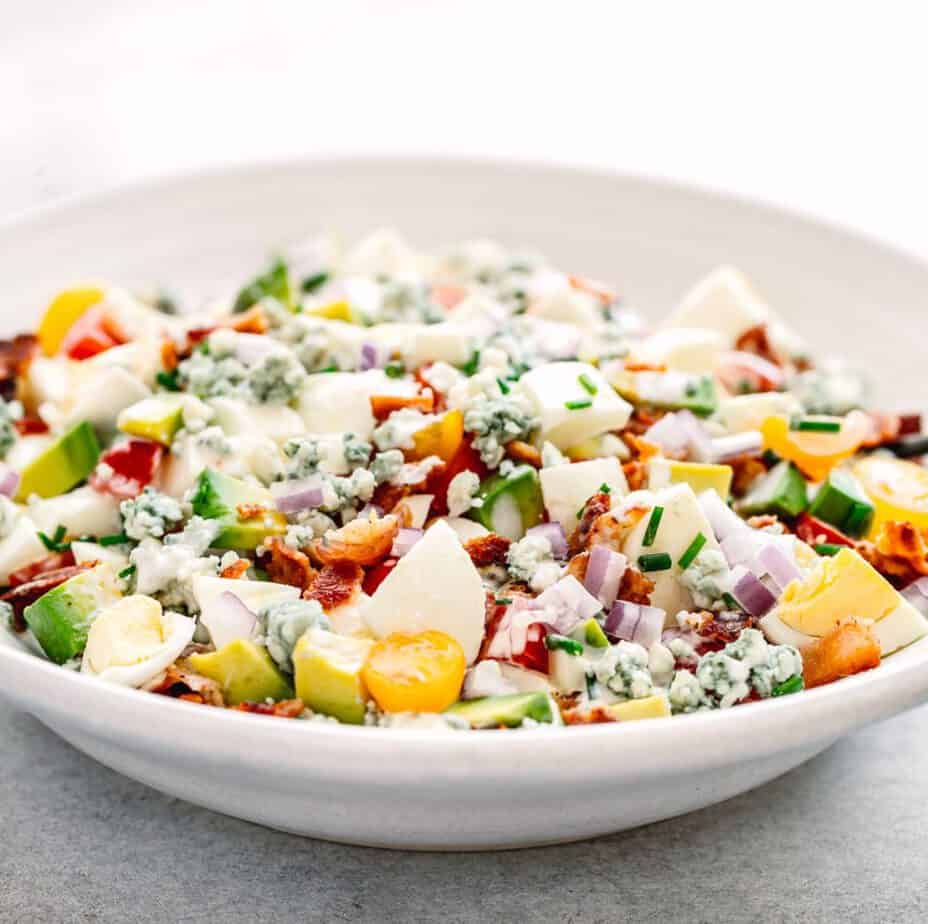 Today, I am going to show you have to make this Keto Cobb Salad. This low carb version of Cobb Salad is the perfect addition to your Ketogenic diet. It's the perfect hearty and healthy lunch. This salad is also loaded with protein and flavor. Therefore, you can serve this keto cobb salad as a complete meal or to accompany any soup (for the "soup and salad" one-two punch, always a fan favorite).
Also, be sure to check out another tasty Keto recipe: EASY KETO CREAMED SPINACH – SO CHEESY!
The Best Salad Dressing for Keto Cobb Salad:
To make the best Cobb salad, you need a delicious homemade salad dressing. The classic Cobb salad is usually made with red wine-based vinaigrette. But, to make this recipe more Keto-friendly, I chose lemon juice instead of red wine. Lemon juice is high in vitamin c and beneficial for a keto-diet, keeping your kidneys, liver, and entire body healthy.
Below is the ingredient list for the creamy ranch dressing:
Mayo
Greek Yogurt
Lemon Juice
Water
Salt and Pepper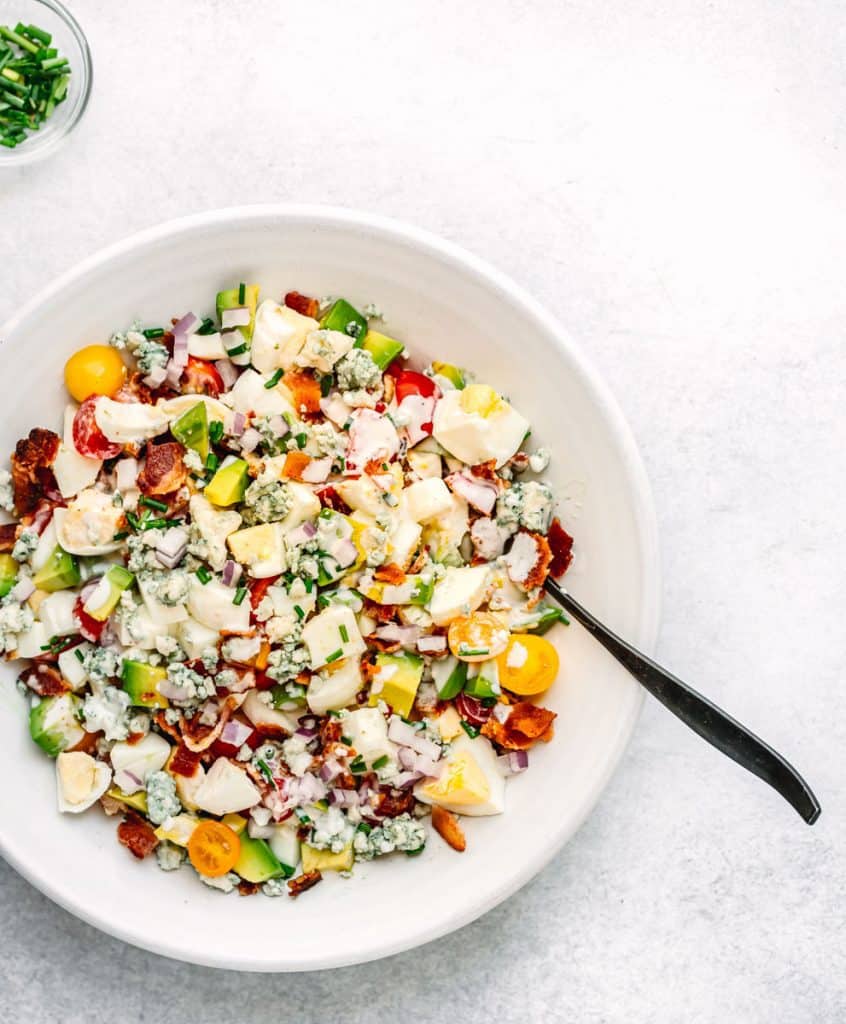 The Perfect Ingredients for Keto Salad:
This Keto Cobb salad is made with chopped hard-boiled eggs, avocado, crispy bacon, tomatoes, chives, and blue cheese. It is very customizable, therefore you may add any of your favorite greens to this recipe, such as Romaine lettuce, arugula or mixed greens.
For a milder taste, you can use feta instead of blue cheese.
This cobb salad is Keto-friendly because you get more calories from protein and fat and less from carbohydrates.
How to Make a Keto Cobb Salad in Advance:
This recipe can be prepared in advance. Hard-boiled eggs, peeled or unpeeled can be stored in the refrigerator for up to a week. For bacon, you can refrigerate the bacon in an airtight container or wrap tightly with plastic wrap. If properly stored, cooked bacon will last up to 5 days in the fridge. Just be sure to pack the dressing separately and leave the avocado off until just before serving.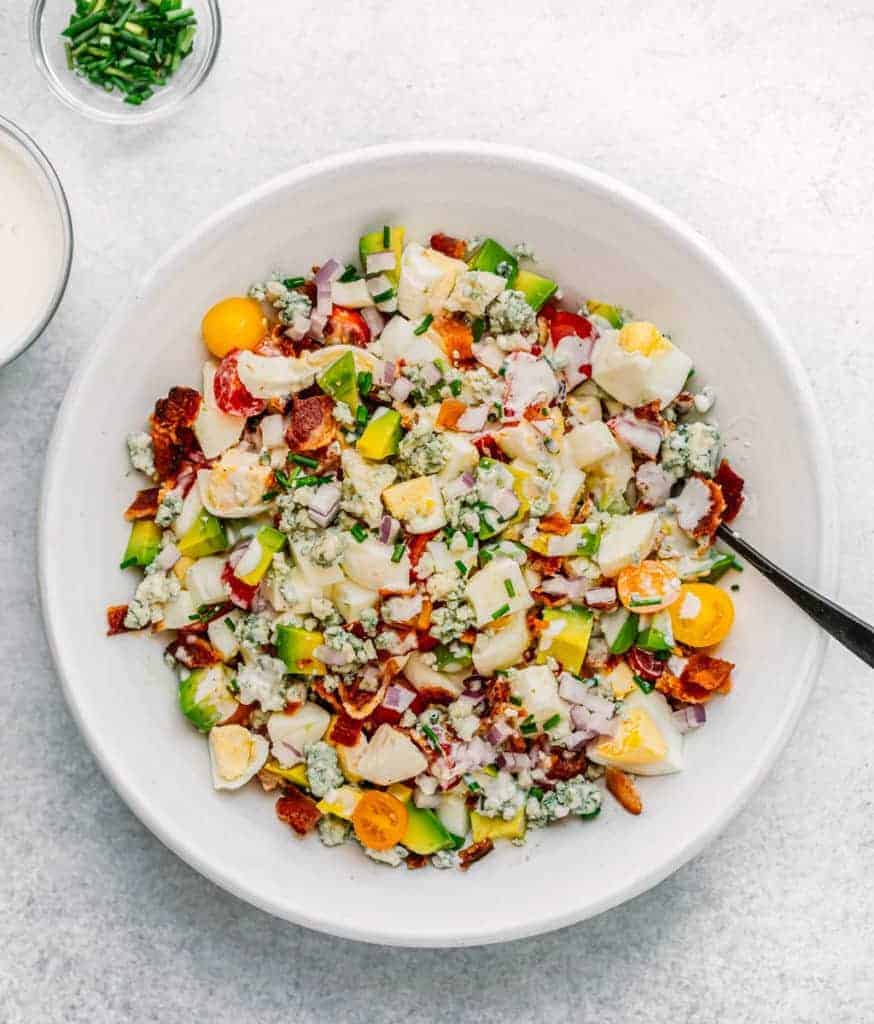 Homemade versus Restaurant Cobb Salad
I'm always sizing up the meals I have when I eat out, wondering how difficult each would be to create in my own kitchen. Sometimes I make tweaks to change-up the flavor, make healthier, or maybe align better to my personal preferences.
The Cobb Salad was definitely one of those dishes that I told myself would be an easy one to make at home. It has a minimal ingredient list and little prep work. I still like ordering a Cobb while eating out, (why not!), but being able to make a Keto Cobb Salad that is just as good as one that isn't as healthy makes for a win in the home kitchen.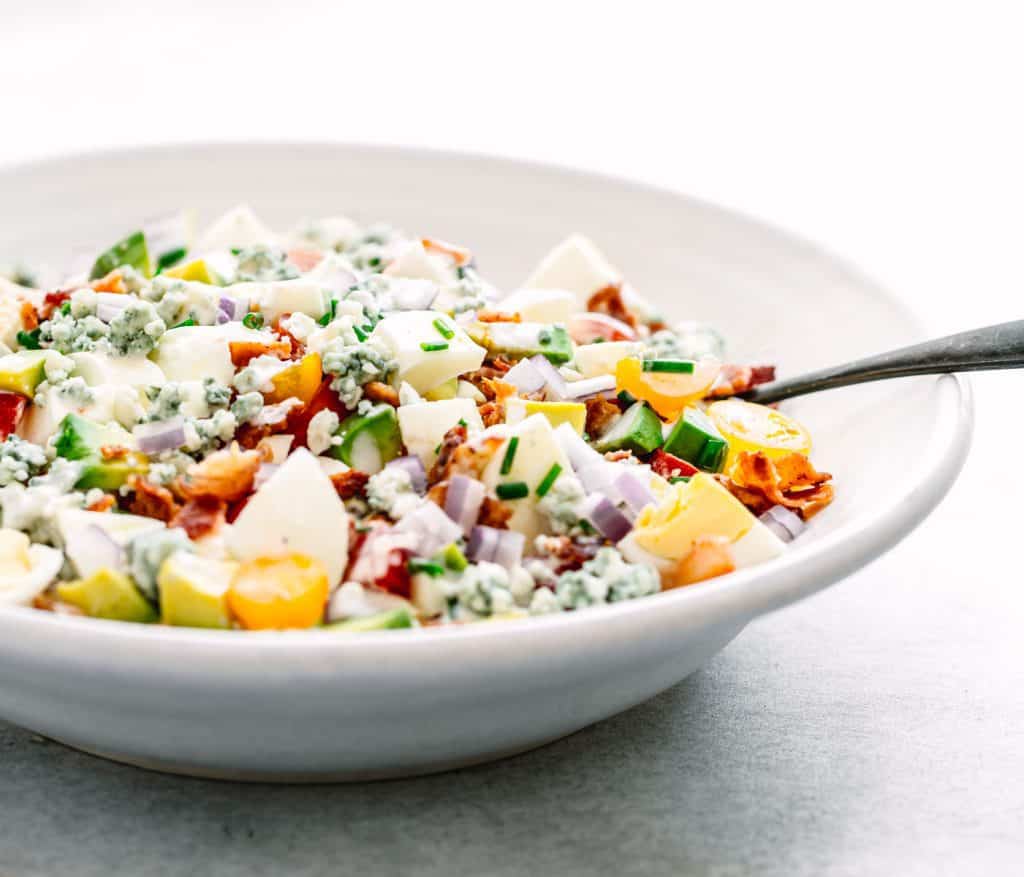 Origins of the Cobb Salad
The Cobb salad started when a restaurant's owner named Robert Howard Cobb threw together a mishmash of leftovers in with some bacon and French dressing for a late-night creation. Some say his chef is the one who invented it (there's a Curb Your Enthusiasm episode that pokes fun of the salad's beginnings and who in-fact started it).
These mishmash dishes are a favorite of mine. Bibimbap is another dish with thrown-together items leftover from other dishes. That and the Cobb Salad both work and are wildly popular.
Check out more delicious recipes:
INSTANT POT CARNITAS – MEXICAN PULLED PORK
CAPRESE SALAD – FRESH TOMATO, MOZZARELLA WITH BASIL
BLISTERED SHISHITO PEPPERS WITH CHIPOTLE SEASONING
VEGETARIAN BROCCOLI SALAD – CREAMY AND CRUNCHY!
KOREAN SPINACH SALAD RECIPE (SIGUEMCHI NAMUL)
📖 Recipe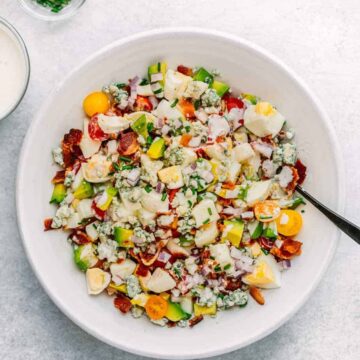 Keto Cobb Salad
Refreshing and filling Keto Cobb Salad. This classic American salad is made with chopped hard-boiled eggs, tomato, crisp bacon, avocado, chive, and blue cheese
Ingredients
Ranch Dressing:
3

tablespoon

mayo

3

tablespoon

full-fat Greek Yogurt

1

tablespoon

fresh lemon juice (or red wine)

salt and pepper to taste
To assemble Cobb salad:
8

hard-boiled eggs

8

slices of bacon

,

(cook according to the product packaging)

1

medium size avocado

,

(peeled, pitted and chopped)

⅓

cup

crumbled blue cheese

,

(use more or less according to your liking)

¼

cup

chopped cherry tomatoes

,

(use more or less according to your liking)

1

tablespoon

chopped chives

,

(use more or less according to your liking)

1

tablespoon

chopped red onion
Instructions
Carefully place the eggs in a large pot. Add cold water until they are submerged under about one inch of water.

Heat the eggs over high heat until boiling. Remove from the heat and cover the pan. Let the eggs stand in hot water for about 12 minutes (for large eggs, slightly less for those that are smaller). Peel the eggs after cooling and chop them up.

In a medium mixing bowl, whisk together mayo, greek yogurt, lemon juice, water, salt, and pepper until combined. Set aside.

Cook the bacon according to the product packaging and chop it up.

In a salad bowl, combine chopped eggs, bacon, avocado and tomatoes. Drizzle with some ranch dressing and add blue cheese and chives as toppings. Adjust seasoning if needed.
Notes
How to Peel and Store Hard-Boiled Eggs:
Hard-boiled eggs are easiest to peel right after cooling. You can refrigerate the egg for up to one week.