Try this Keto spinach salad recipe. This Korean Spinach Salad is one of the basic Korean vegetable side dishes and traditionally served with a Korean meal (like Chapchae, Kimbap,  Bibimbap, or this Asian bowl). The seeds are always toasted before serving for a boost of flavor.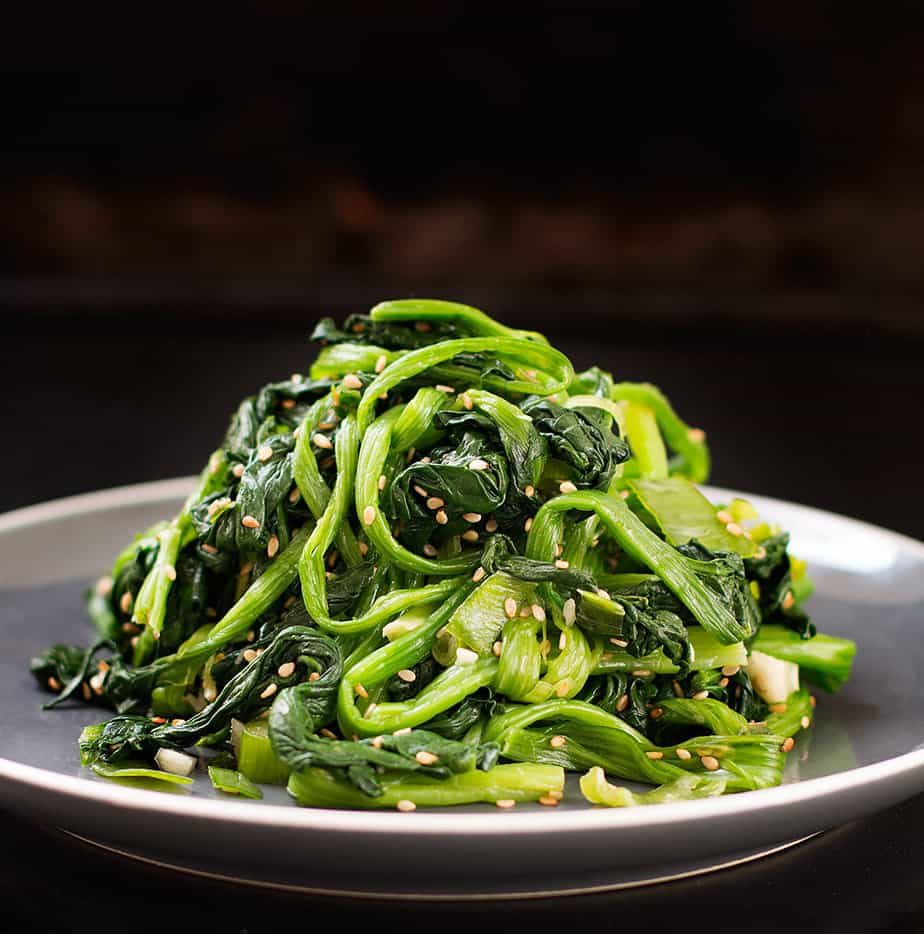 Why You'll Love this Korean Spinach Salad:
It's a low carb side dish or salad
It's made without sugar
It's also a Keto-friendly salad
Customizable
This salad is also easily customizable. You can use less or more ingredients according to your taste. For example, if you are worried about the sodium content, just use low sodium soy sauce instead of regular soy sauce.
It's an easy way to prepare your favorite vegetable (spinach) and so quick to make. This Siguemchi Namul can be served alone or pairs well with grilled BBQ meat for Bibimpap.
Korean Spinach Salad Dressing Ingredients:
Sesame oil
Sesame seeds
Garlic
Onion
Soy Sauce
Optional: salt
Warning: Be sure to cut the spinach into small bite size pieces for your child before serving to prevent choking.
Check Out More Recipes with Spinach: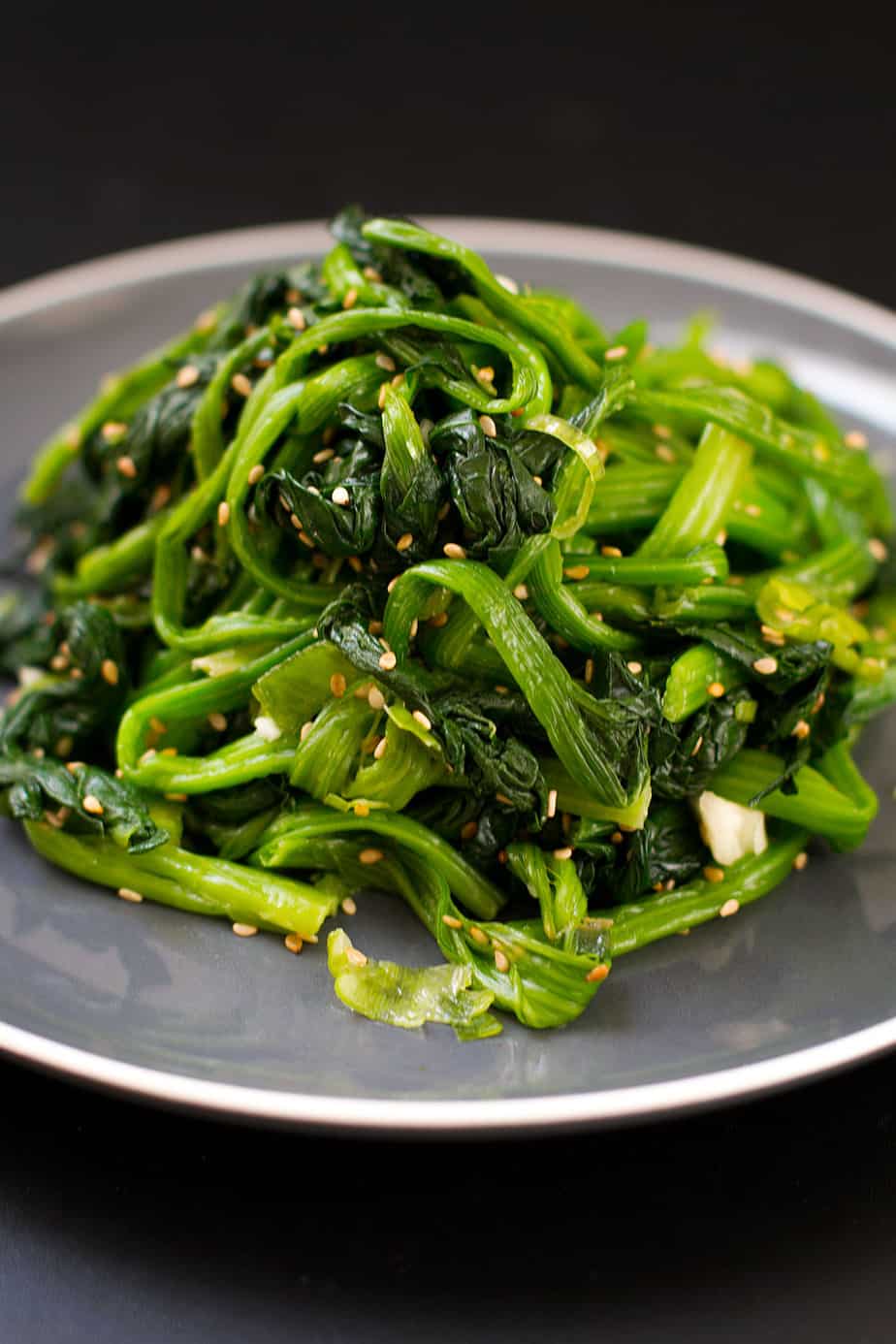 This Korean side dish is also the perfect easy food idea for a summer picnic, easy to pack,  store them in your cooler to take on the road or to the park.
Korean Spinach Side Dish Nutrition:
Spinach is a super food loaded with tons of nutrients, low-calorie and when you eat spinach that has been heated, you will absorb higher levels of vitamins A and E, protein, fiber, zinc, thiamine, calcium, and iron (source Vegetarian Times).
Sesame Seeds Benefit the Heart & Lower Cholesterol. High Source of Cholesterol-Lowering Phytosterols,  and are an excellent source of copper, a very good source of manganese, and a good source of magnesium, calcium, phosphorus, iron, zinc, molybdenum, and selenium.
Check out other Korean recipes on my blog, Gochujang Sweet Spicy Korean Chicken  This Korean chicken recipe is very flavorful and easy to make. Or try on this recipe: BEST PORK TENDERLOIN STIR FRY (ASIAN BOWL)
Siguemchi Namul Recipe Ingredients and Instructions: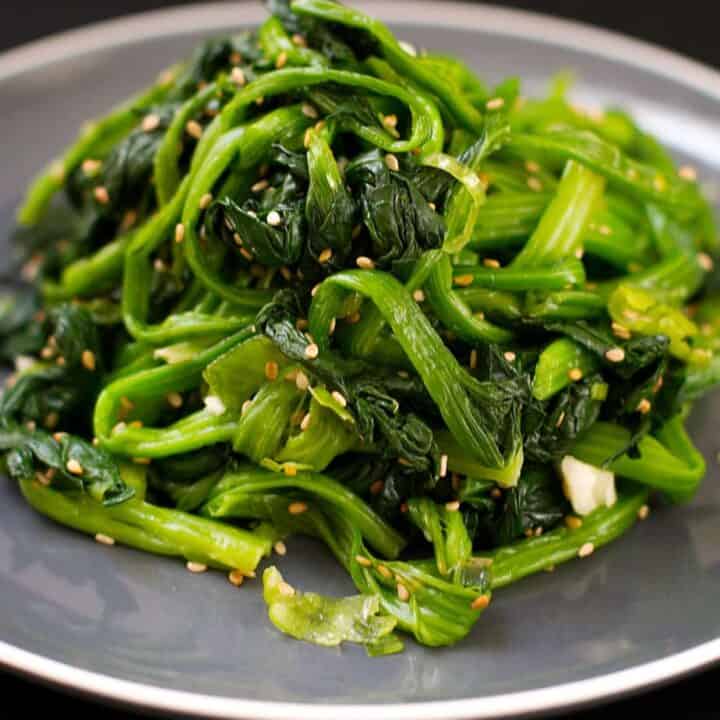 Ingredients
8

ounces

fresh spinach

4

cups

water

1

clove

garlic

minced

1

green onion

chopped

1½

teaspoons

soy sauce

1½

teaspoons

sesame oil

2

teaspoons

toasted sesame seeds

Optional : 1/4 salt
Instructions
Wash the spinach thoroughly under running cold water. Rinse twice and cut the root ends of spinach

Boil 4 cups of water on high heat in a large pot. Blanch the spinach for 30 seconds

Remove the spinach from the heat and rinse in cold water a couple of times. Squeeze out excess water from the spinach with hands.

In a medium mixing bowl: Add minced garlic, green onion, soy sauce, sesame oil, and sesame seeds.

Add salt according to your liking

Put the spinach into the bowl and mix well.

Serve and enjoy!