Crispy Brussels sprouts with bacon, cranberries, and pecans are the perfect party appetizer or holiday side dish. It has a great flavor combination of saltiness, sweetness, creaminess, crispiness, and tanginess. It's served with a homemade flavorful sauce, Garlic Aioli.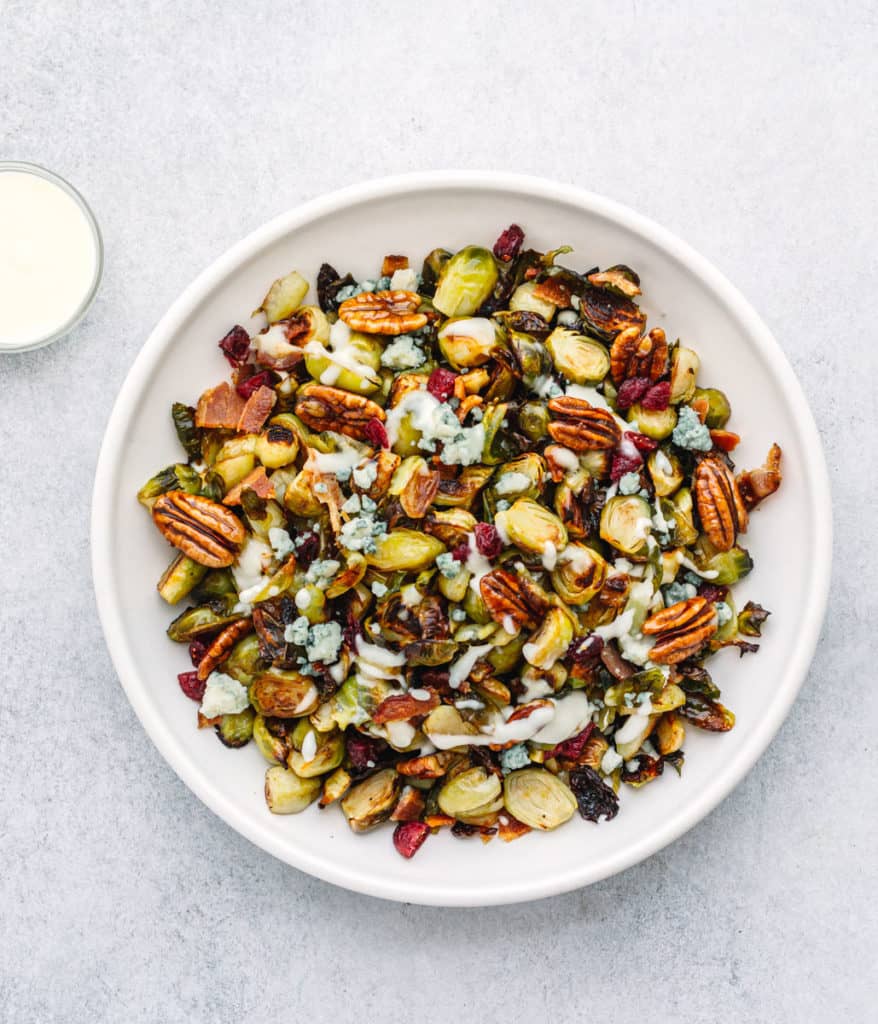 Looking for an appetizer for a crowd or a recipe with dried cranberries? Step up your healthy snack game into something delicious like this Brussels sprouts with bacon, cranberries, candied pecans, and garlic aioli recipe. It tastes great and is easy to make. This recipe will surely be a hit at your next gathering!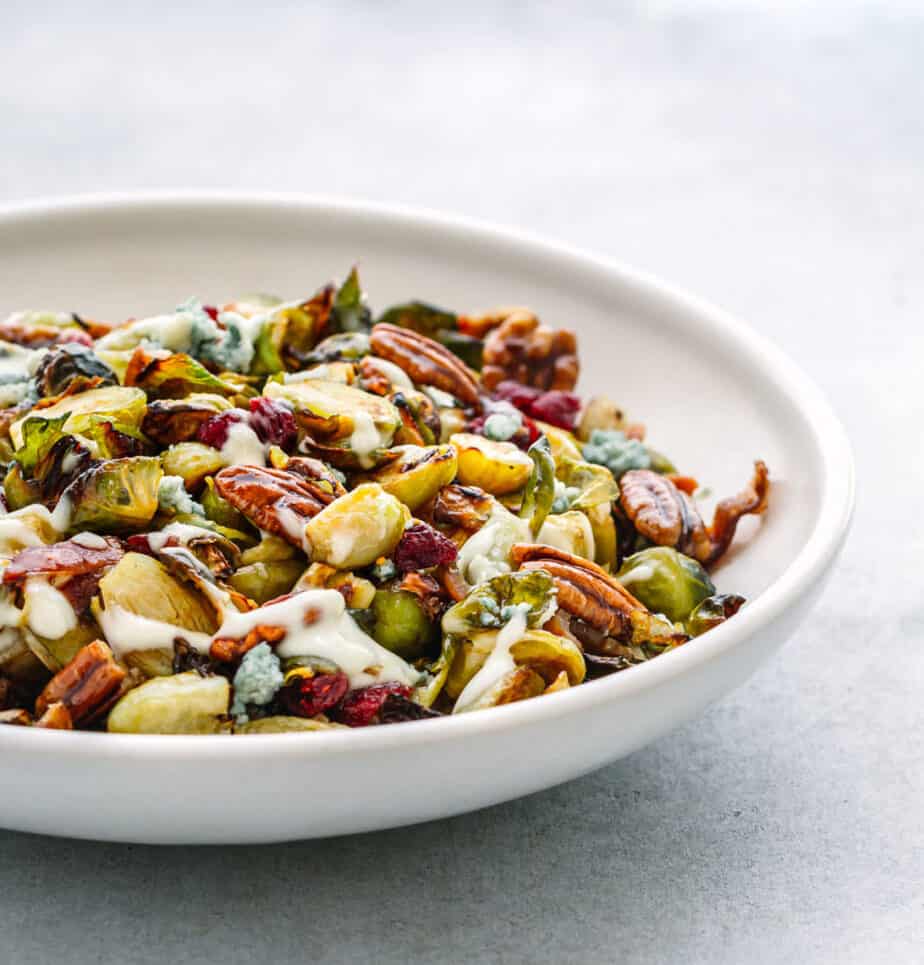 This recipe is inspired by a local favorite restaurant of mine Local Tap House. This hotspot has quickly become a mecca for craft brews, ocean vibes and some of the best menu items in San Diego. I love it when a cool laid back place has better eats than the pretentious and overpriced ones!
Don't forget to add this crispy Brussel sprouts recipe for your Thanksgiving dinner, too! It's such an easy recipe to make, yet has the little things that make it pop!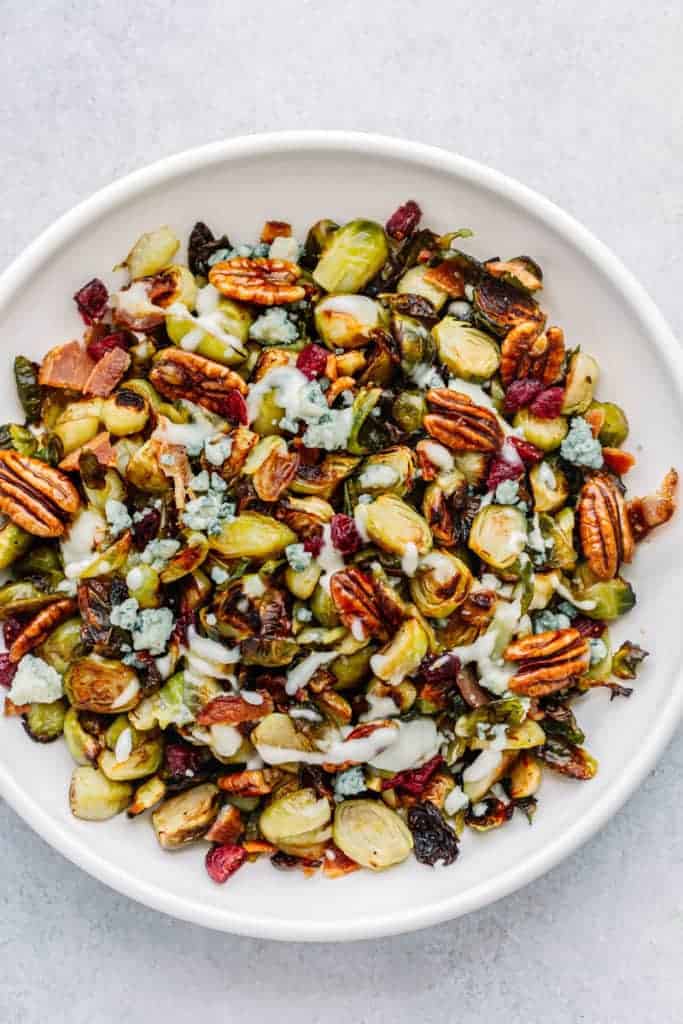 Do you have some leftover Brussel sprouts? Try these recipes: BRUSSELS SPROUTS SALAD WITH BACON, APPLE, WALNUT, AND PECORINO ROMANO CHEESE, OVEN ROASTED BRUSSELS SPROUTS WITH BALSAMIC VINEGAR AND BACON, HEALTHY BRUSSEL SPROUTS SALAD WITH SHALLOT VINAIGRETTE DRESSING RECIPE
Why You'll Love this Crispy Brussels Sprouts with Bacon and Garlic Aioli Recipe:
This simple recipe is soul-satisfying. It's a fantastic dish that has complex flavors in every bite by layering tastes from the right ingredients. It is basically a traditional roasted Brussels sprout recipe, with additions that will make it stand out and craving the leftovers the next day.
Oven Roasted Crispy Brussels Sprouts with Bacon and Garlic Aioli and Pecans ingredients:
To make this Brussels sprouts appetizer dish, you will need the following ingredients:
Fresh Brussels sprouts
Dried Cranberries, preferably reduced sugar
Candied Pecans (to add sweetness to the dish)
Crispy Bacon (to add texture and saltiness to the dish)
Garlic Aoli (to add creaminess and flavor)
Balsamic Vinegar (just a hint for a little sweetness)
Blue Cheese or Gorgonzola (optional, for an added salty and savory depth)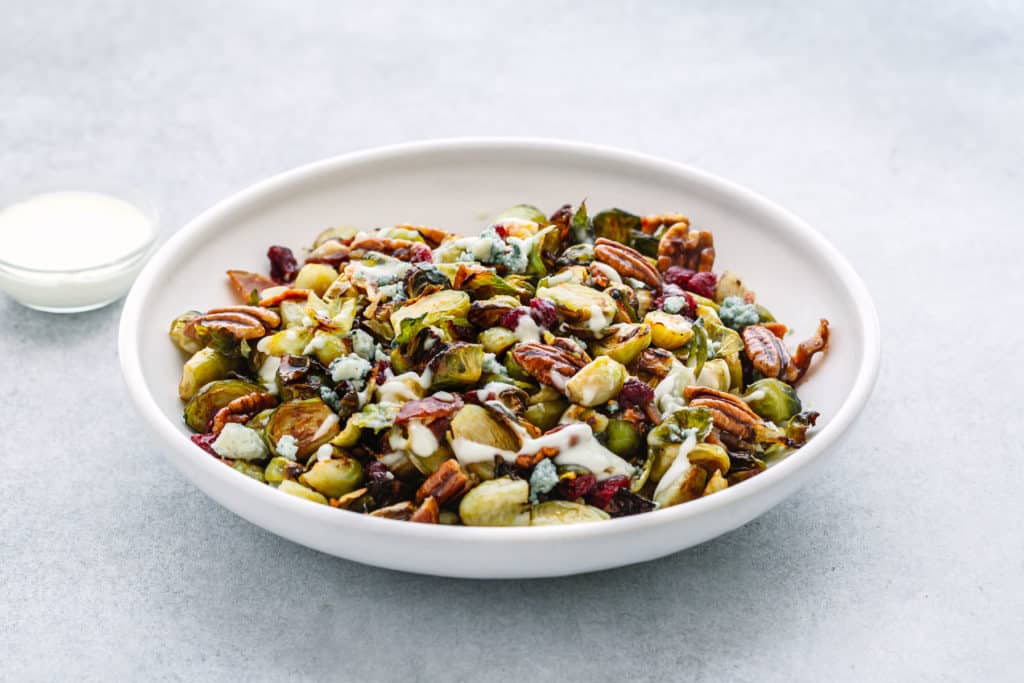 How to Make this Crispy Brussels Sprouts with Cranberries and Garlic Aioli Recipe:
To make this dish, there are only three steps. And, they're easy... not at all as complicated as you might think.
First, you need to roast the Brussels sprouts in the oven until crisp, for about 40 minutes.
Second, you need to make your own homemade Garlic Aoli. I am going to show how to make it below.
Next, you need to throw the roasted Brussels sprouts, chopped cranberries, chopped candied pecans and chopped bacon in a bowl, then drizzle it with balsamic vinegar.
Finally, you need to add toppings: blue cheese and garlic aioli.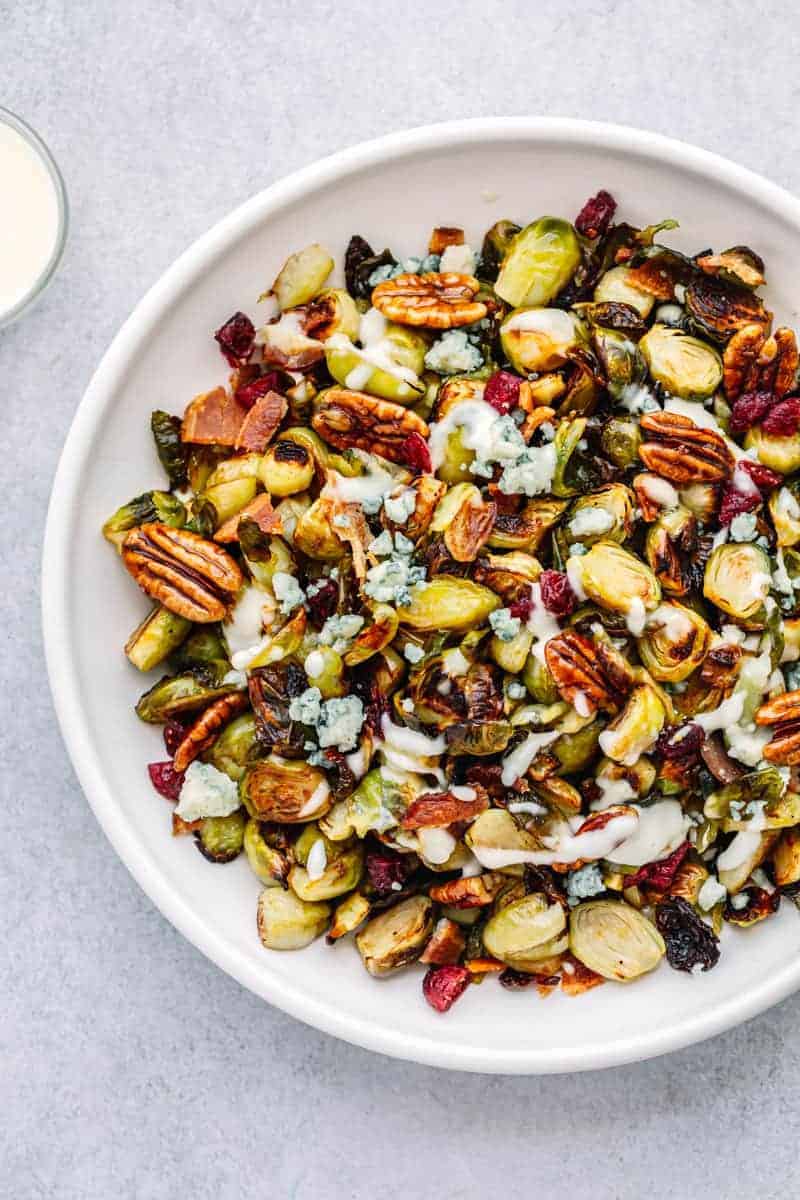 Alternative Ingredients:
This recipe calls for dried cranberries. I highly recommended using dried cranberries with reduced sugar. Unsweetened dried cherries are a great replacement for dried cranberries, especially if you want the dish to be less sweet. You can pull the cranberries from the recipe all together or use a very little bit, too. Base the amount of cranberries or cherries around your personal preference!
I also used Blue Cheese as a topping. This is an optional item, as I know many people that aren't fans of this cheese. You may skip it or replace it with similar cheese, like Feta or even Parmesan.
In this recipe, I made my own candied pecans. The whole cooking process should take less than 5 minutes. But, if you are in a hurry, feel free to purchase candied pecan from your local grocery stores.
Be sure to check out more delicious side dish recipes: SUMMER SQUASH CASSEROLE – CHEESY AND HEALTHY, SKILLET FRIED CORN – BUTTERY!, VEGETARIAN BROCCOLI SALAD – CREAMY AND CRUNCHY!,
📖 Recipe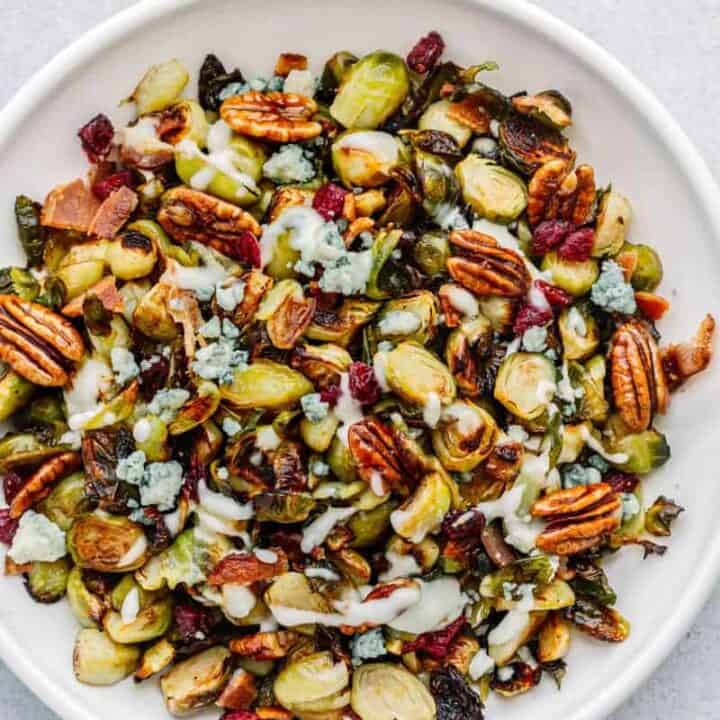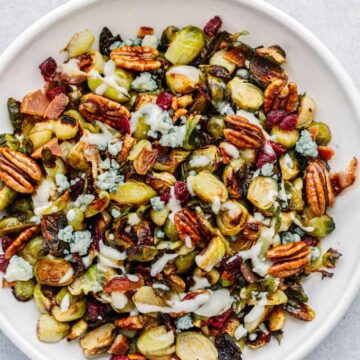 Crispy Brussels Sprouts with Cranberries, Pecans and Garlic Aioli Recipe
It has a great flavor combination of saltiness, sweetness, creaminess, crispiness, and tanginess.
Ingredients
Crispy Brussels Sprouts:
Other Ingredients:
¼

cup

candied pecans

,

use more or less according to your liking

2

tablespoon

dried cranberries

,

(chopped) - use more or less according to your liking

2

slices

crispy bacon

,

(chopped) - use more or less according to your liking

½

teaspoon

balsamic vinegar
Optional Ingredients:
1-2

tablespoon

Crumbled Blue Cheese or Gorgonzola

black pepper to taste
Instructions
Oven Roasted Brussel Sprouts:
Preheat the oven to 400°F

Trim/clean the Brussels sprouts, then cut them in half.

In a large bowl, toss Brussel Sprouts with olive oil, salt and a pinch of pepper. Stir to coat thoroughly.

Transfer the Brussel Sprouts to a baking sheet and roast for about 30 minutes. Be sure to keep shaking the pan every 5 minutes for even browning.

Increase the temperature to 450°F and continue roasting until the outer leaves are browned and crispy, another 7-10 minutes.
To make Garlic Aioli:
In a medium bowl, whisk in mayonnaise, lemon juice, oil and garlic until well combined. Seasoned with pepper if needed. Cover and refrigerate for at least 30 minutes before serving.
To Serve:
Transfer the cooked Brussel Sprouts to a large appetizer bowl or plate. Drizzle the balsamic over the roasted sprouts, then sprinkle on the dried cranberries, pecan and bacon. Top with crumbled blue cheese and 2 tablespoons of garlic aioli (or use more according to your taste).