This air fryer bacon is just too good! The bacon is perfectly cooked in an air fryer, giving a nice crisp taste without those burnt pieces (ahh burnt pieces of bacon, such a letdown!). This bacon makes a wonderful side dish for brunch or as a topping for salads or casseroles.

Hello, bacon lovers! Today I want to share my newfound favorite way to prepare bacon. Cooking bacon in an air fryer is so much easier and less messy than in the oven. I don't think I'll ever go back to the way I cooked bacon in the past.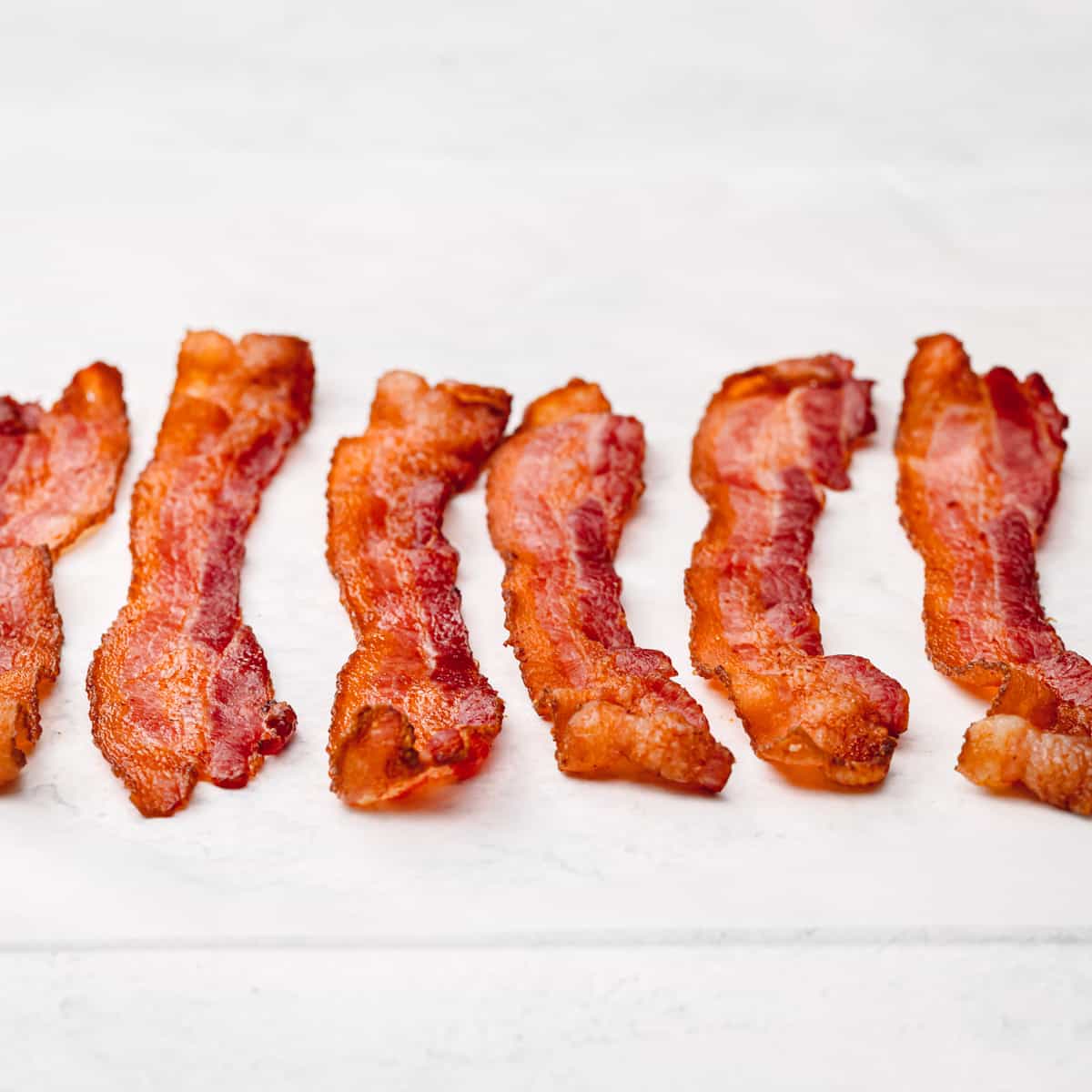 It's been a Sunday morning tradition for us to cook up bacon and have that great smell going throughout the home, making everyone excited for breakfast.
Jump to:
How to Make the Perfect Crispy Bacon in an Air Fryer
This air fryer bacon recipe comes through with results that are noticeably better than other methods.
In this post, you will learn how to cook perfect, air fryer bacon in less than 10 minutes.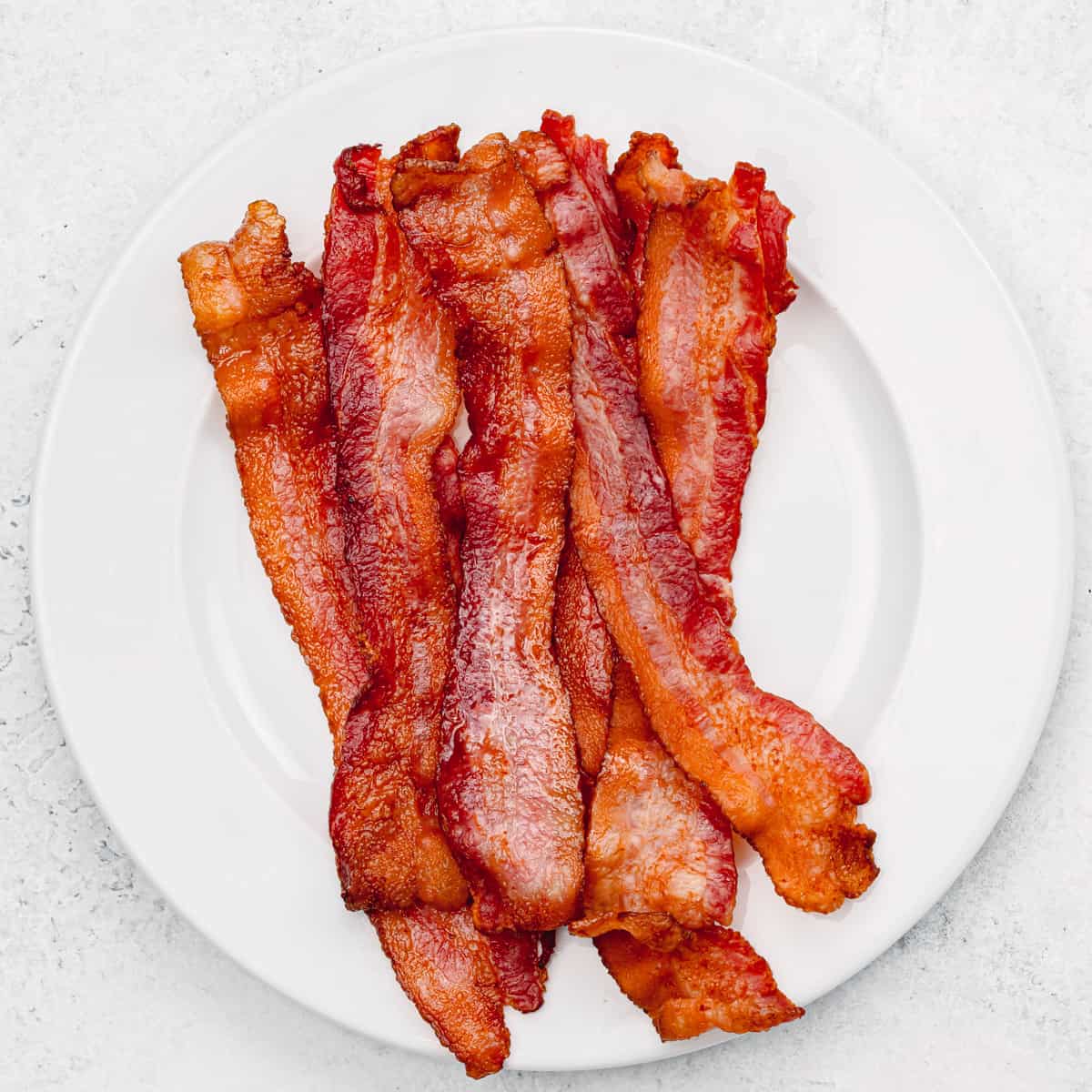 Cooking bacon in an air fryer sounds pretty easy but it can be quite tricky.
I tested many different temperatures, amounts of bacon and cooking times so you don't have to!
It is very important to cook the bacon at the right temperature and cooking time to avoid it becoming hard and burnt .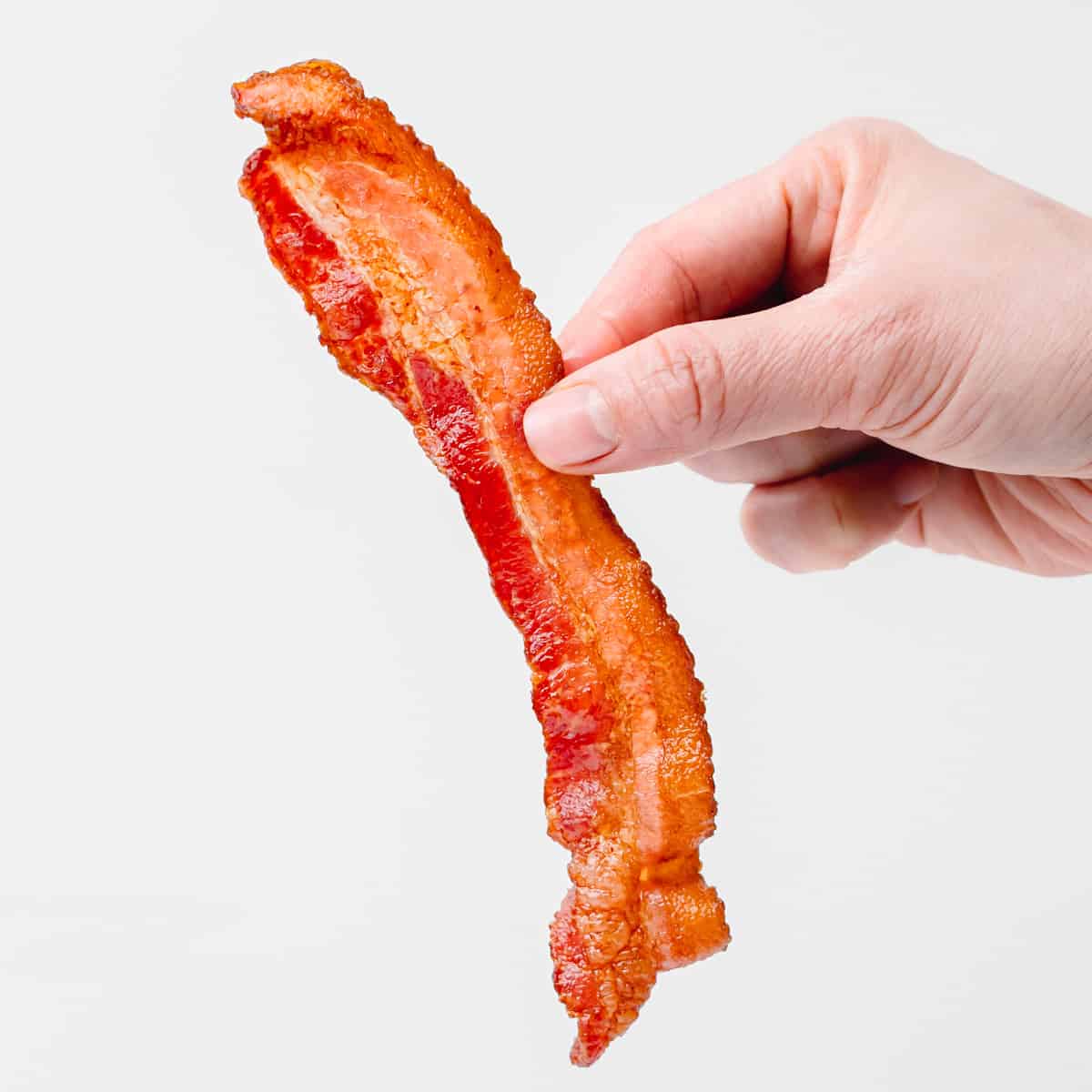 How to Cook Bacon in an Air Fryer
After honing in on the right temperature and batch size I still had to do the little tweaks to get the bacon just right, and even small differences can matter.
When I cooked the bacon at 400°F, the bacon came up crispy but the texture became too hard and tough with some charred edges. I also noticed that the bacon had a bit of a burnt taste to it.
Then I cooked the bacon at 390°F, the bacon got so light and crispy with a nice golden color on the surface. No charred or burnt marks and the meat tasted delicious. So perfect!
So here's how: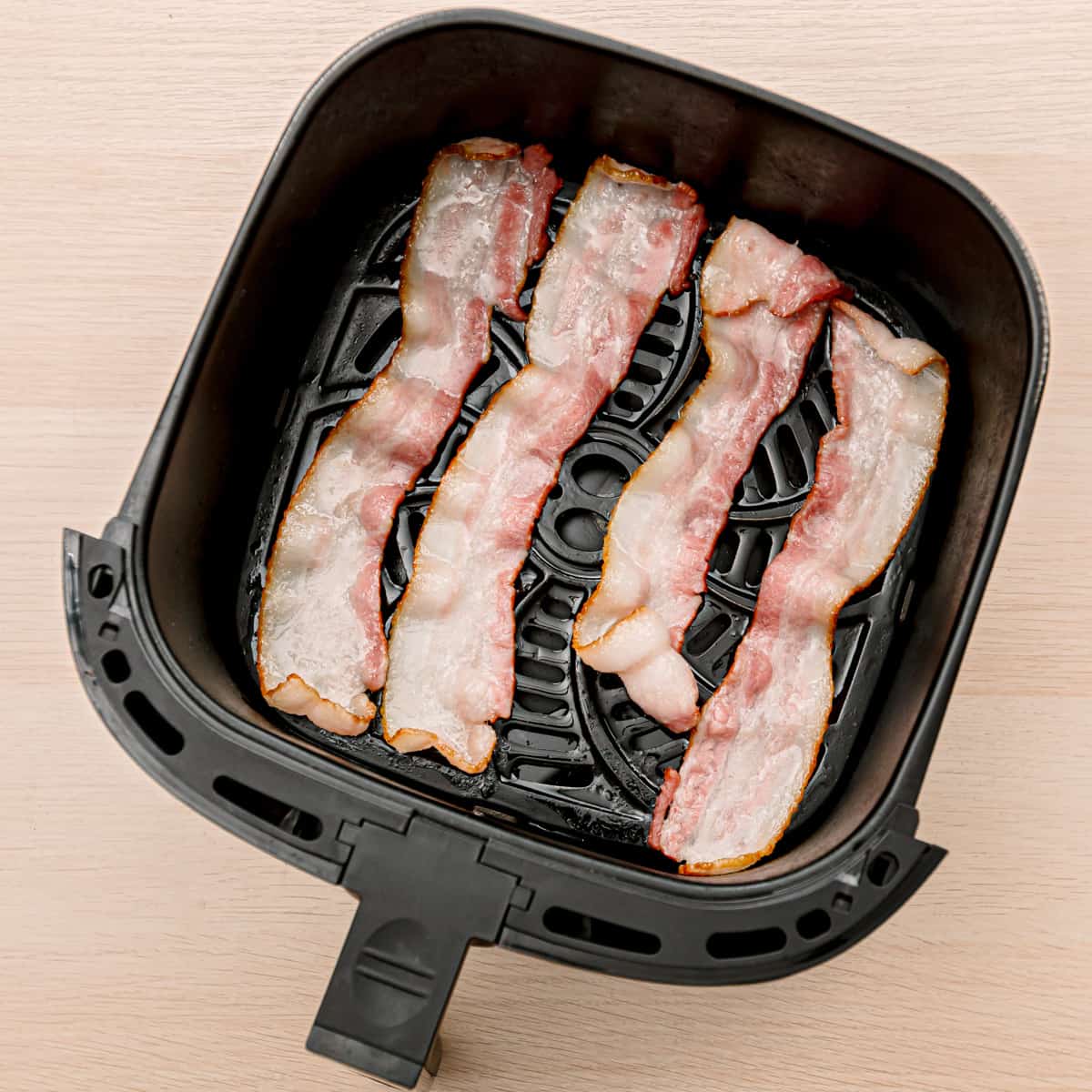 Step 1. Preheat the air fryer and set the temperature to 390°F.
Step 2. Place the bacon into the air fryer basket in a single layer.
Do not overcrowd the basket and work in multiple batches if necessary.
In this recipe, I used my Gourmia 8qt air fryer. I was able to cook 4 thick cut bacon strips per batch.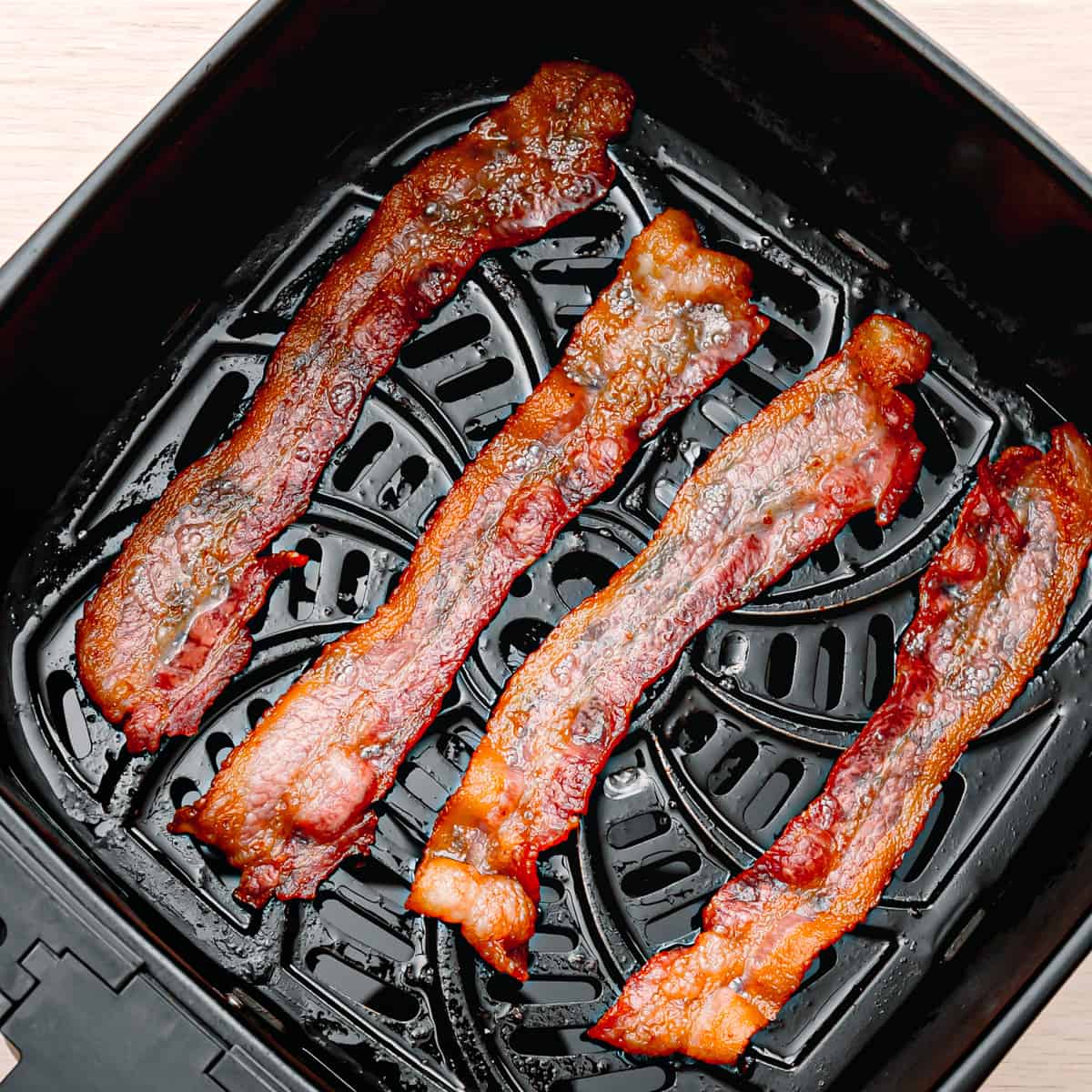 Step 3. Air fry the bacon
Cook the bacon strips for about 6-8 minutes, flipping halfway through cooking.
Please keep in mind that your air fryer may perform differently and cook these bacon strips at different times and rates.
For that reason, I highly recommend checking the doneness often after frying it more than 6 minutes to prevent burning. If they aren't ready, you can always cook for another minute or so then check again.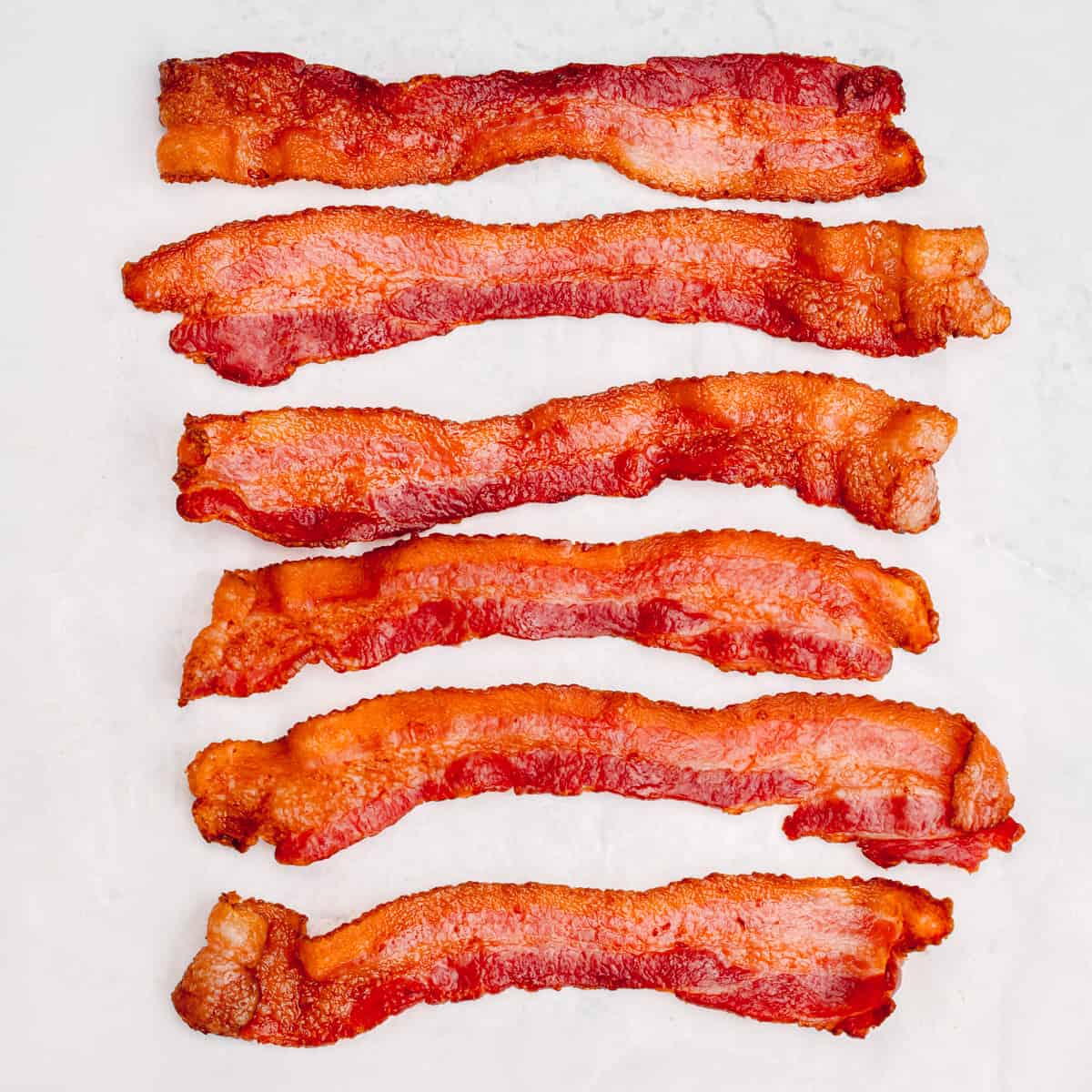 Crispy Bacon with Less Grease

As mentioned there's always such great anticipation with bacon, so when it's off the mark it can still be ok but it's a missed opportunity to eat something amazing.
This recipe should help you in that department by getting that primo bacon taste every time, with very little effort.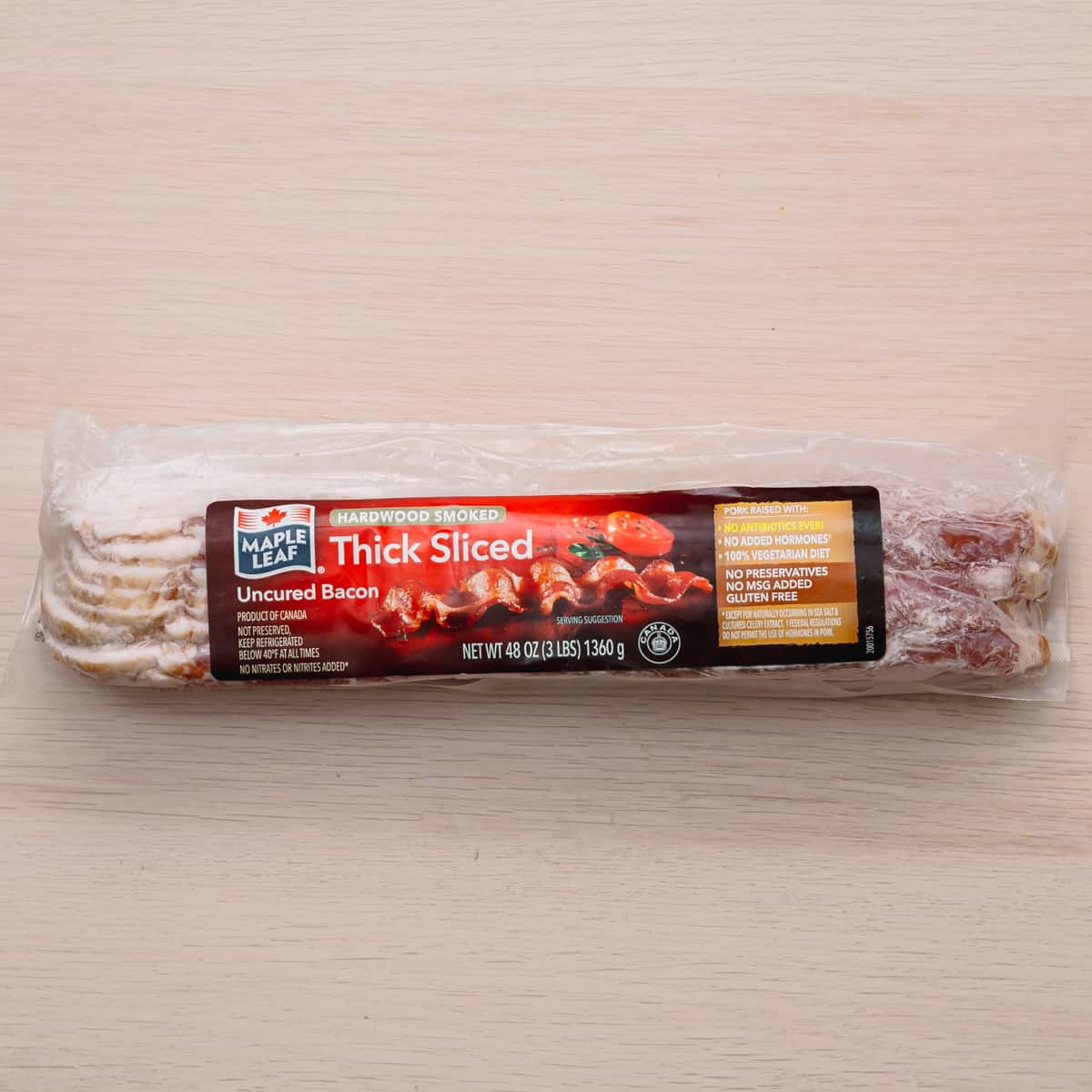 With less grease and mess and a fantastic taste, it's now a preferred way to cook bacon for health nuts, breakfast connoisseurs and many millions of bacon lovers out there.
FAQ and Bacon Tips
Type of Bacon
In this recipe, I used Maple Leaf hardwood smoked bacon thick cut bacon from Costco.
Should Bacon Be Thawed Before Cooking?
Yes. You can defrost the bacon in the refrigerator for about 24 hours before cooking.
How Do You Know if Bacon is Cooked?
If cooked crispy, it should have reached a safe temperature. You can learn more here.
More Air Fryer Recipes
Did you make this recipe? Be sure to leave a rating and a comment below! I'd appreciate it.
📖 Recipe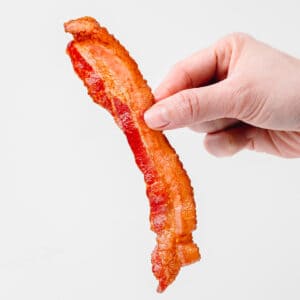 Air Fryer Bacon
This air fryer bacon is just too good! The bacon is perfectly cooked in an air fryer, giving a nice crisp taste without those burnt pieces
Instructions
Preheat the air fryer to 390°F.

Place the bacon strips in a basket in a single layer. Cook for 6-8 minutes (or more depending on the thickness), flipping the bacon halfway through. Check for doneness, If they are not ready, cook for another minute and check them again.

Transfer the cooked bacon strips to a paper towel-lined plate.Let the bacon rest for 2 minutes before serving.
Nutrition
Calories:
150
kcal
Carbohydrates:
1
g
Protein:
5
g
Fat:
14
g
Saturated Fat:
5
g
Trans Fat:
1
g
Cholesterol:
24
mg
Sodium:
238
mg
Potassium:
71
mg
Vitamin A:
13
IU
Calcium:
2
mg
Iron:
1
mg