Garlic Butter Shrimp Scampi pasta and asparagus recipe! If you are looking for easy recipes or tasty Italian pasta recipes, this Shrimp Scampi recipe is for you. It's so easy to make, flavorful, and perfect for lunch or dinner.
This Garlic Butter Shrimp Scampi with Asparagus recipe is a kids-friendly dish too, my kids devoured it! Shrimp Scampi is made from simple ingredients: jumbo shrimp, fresh garlic, lemon juice, white wine, butter sauce, fresh asparagus, fresh parsley and serve it up with your choice of pasta.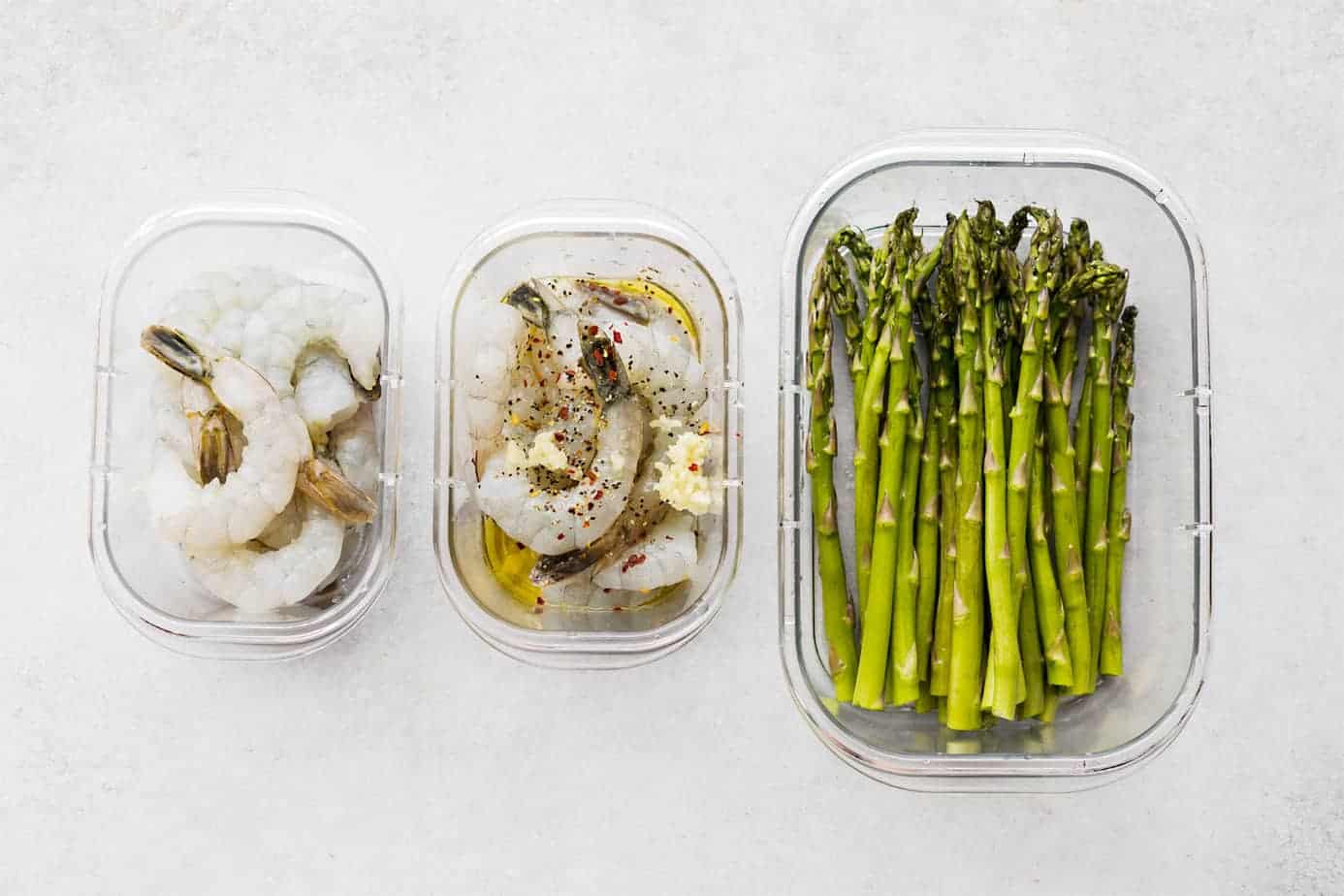 Skip going to the restaurant to order this Italian meal as you can make it at home with an end result that will likely taste be better in taste and a much smaller hit to your wallet.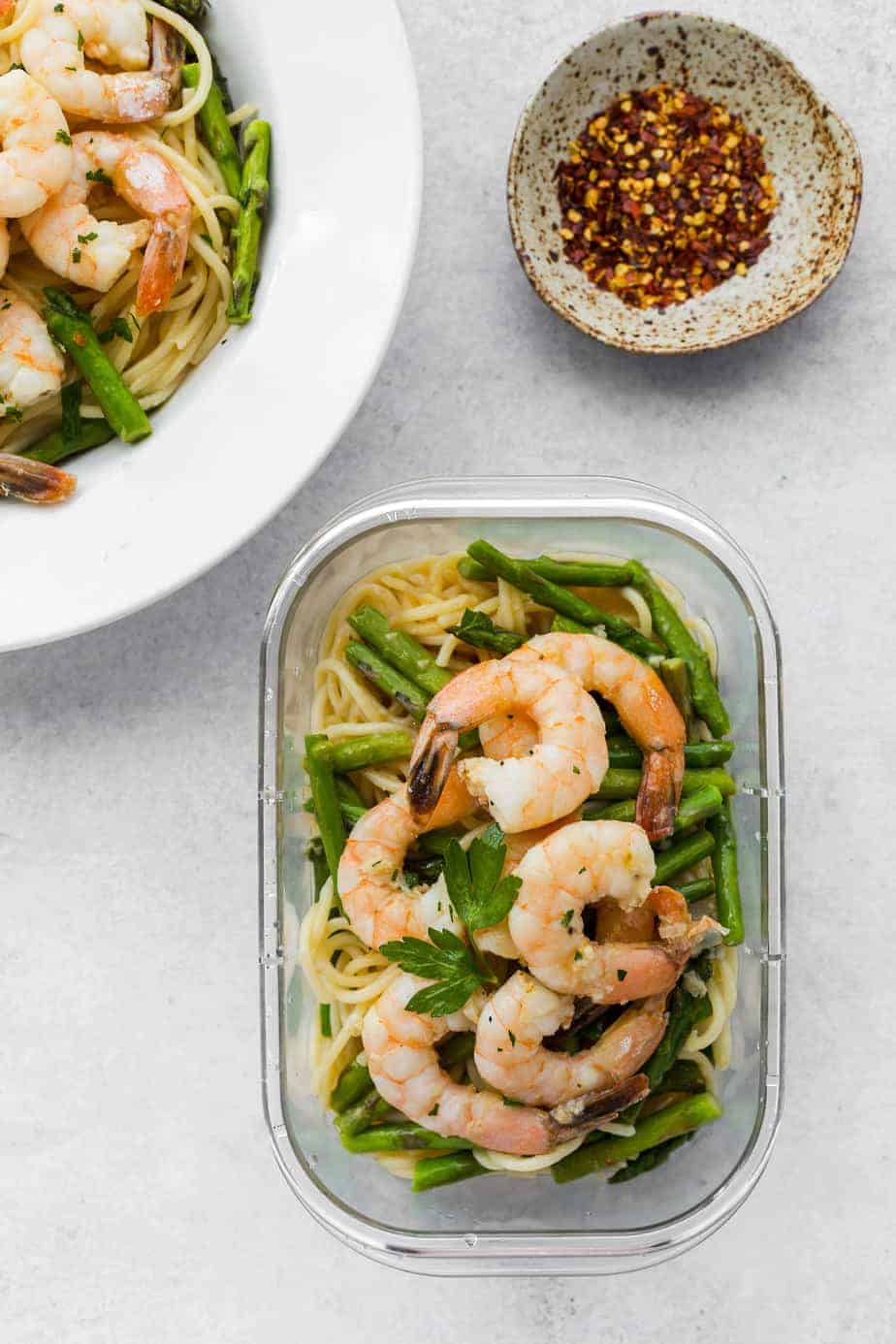 My kids and I can't get enough of this Shrimp Scampi, we made this pasta recipe once early this week and again last night as I was pressed for time yet wanted something tasty. For low carb shrimp scampi, just replace the noodle with spiralized zucchini.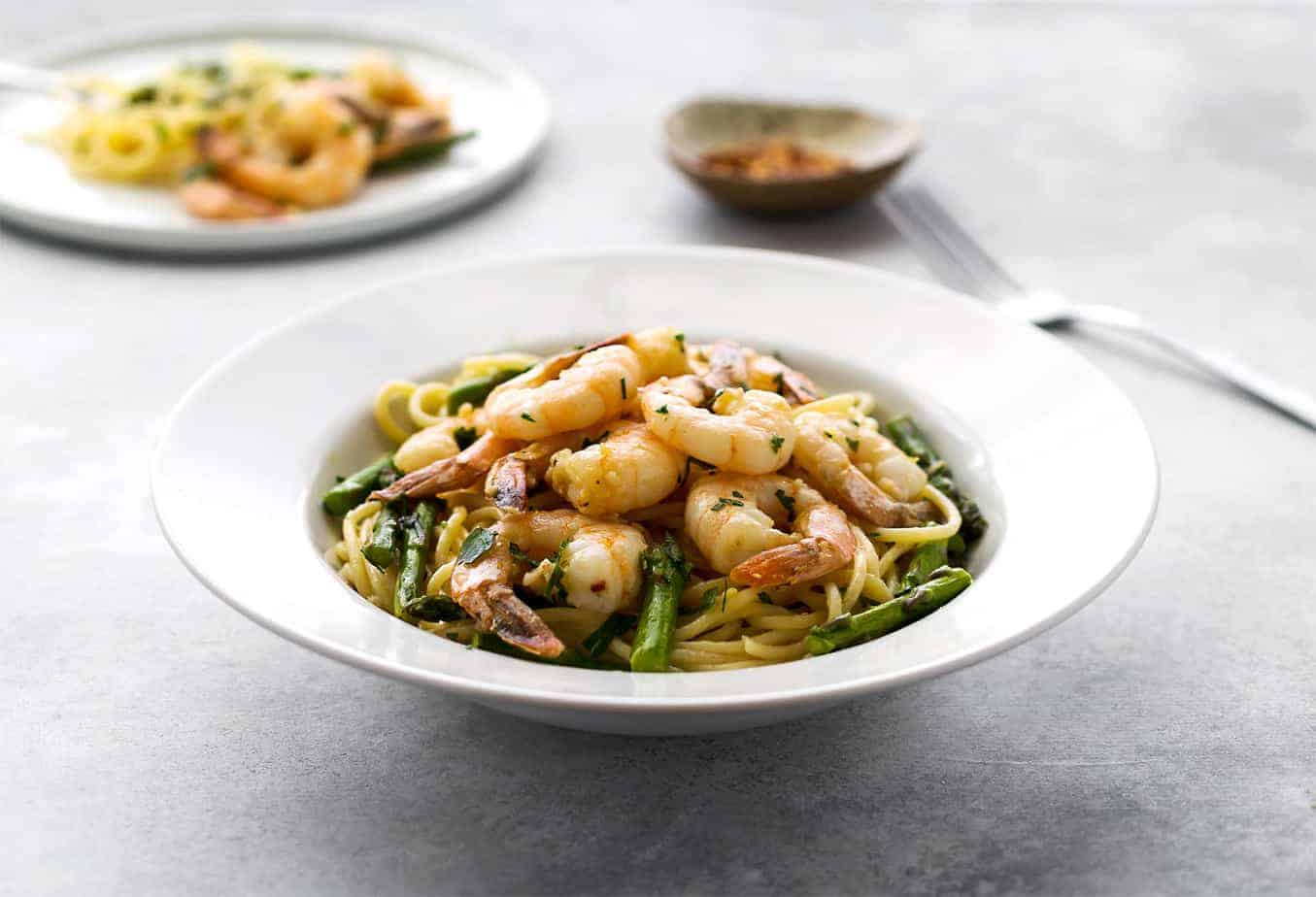 Try this Garlic Butter Shrimp Scampi recipe, you can omit the red pepper if you are going to serve this for kids. If you can't find dry white wine in your pantry or kitchen, just use a simple chicken broth instead.
Check out more pasta recipes:
If you want to get more of a garlicky butter sauce result, simply use more garlic!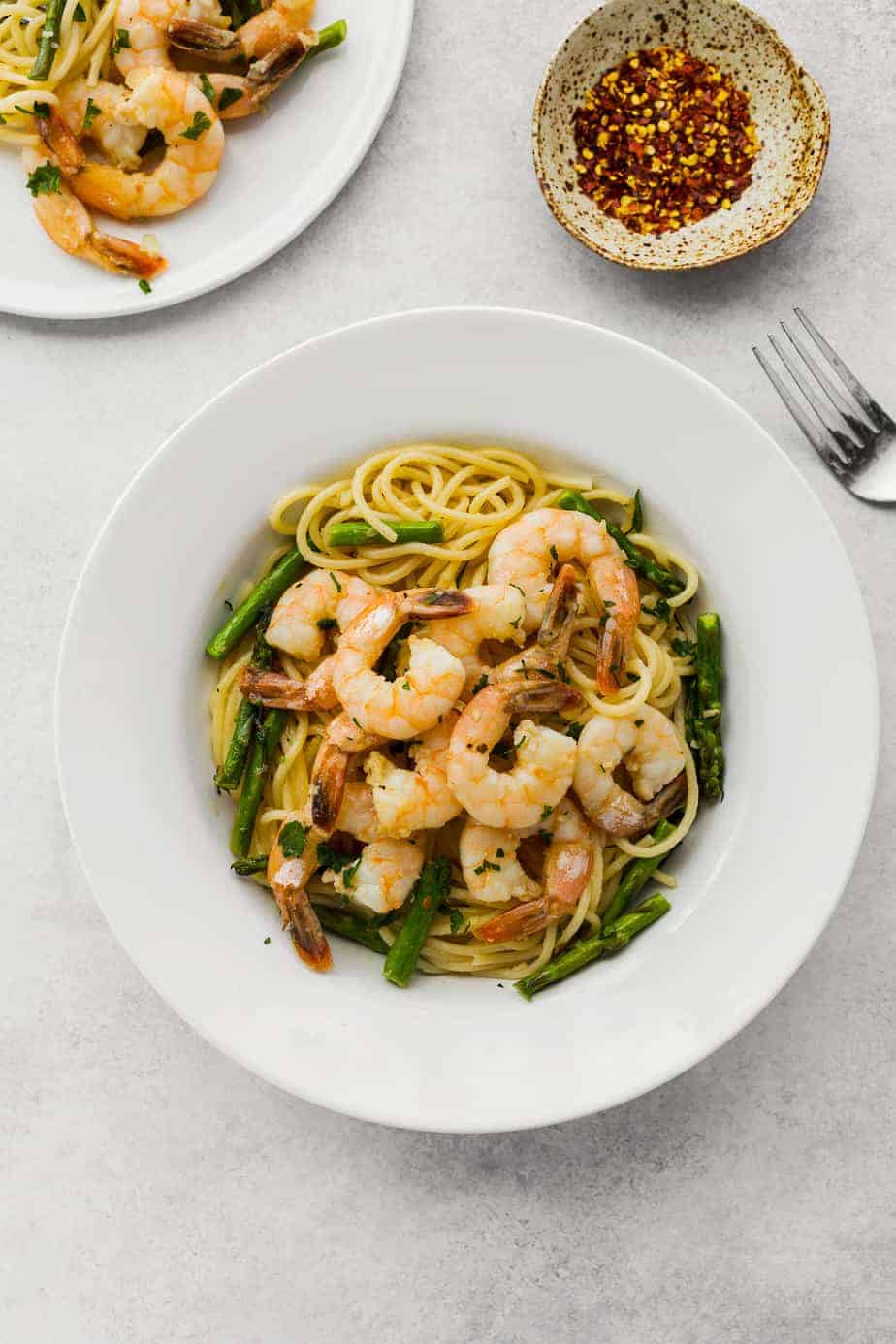 I personally like to purchase shrimp with the shells on, then use the shells as a wonderful flavor enhancer. You can simply put shells in a saucepan with one and half cup of white wine, simmer until the liquid reduced by half, then simply add the white wine broth to a skillet for more sauce.
Hope you'll enjoy this Garlic Butter Shrimp Scampi recipe!
📖 Recipe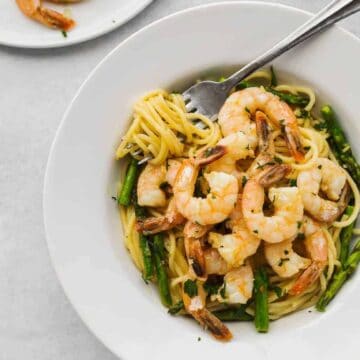 Garlic Butter Shrimp Scampi Pasta and Asparagus Recipe
Ingredients
4

tablespoons

butter

4

tablespoons

olive oil

4

cloves

garlic

,

, minced

2

small shallots

,

, diced

1 ½

pounds

shrimp,

, peeled and deveined (Don't throw away the shells, wash them to make a shrimp stock)

1

lemon

,

, juiced + zested (1 lemon = 3 tablespoons of lemon juice)

a pinch of red pepper flakes

¾

teaspoon

salt

¼

teaspoon

black pepper

¾

cup

dry white wine or wine shrimp stock or broth

,

(see additional info below)

1

pound

asparagus

,

, wash and remove the ends, cut into 1-2 inch lengths

½

pound

uncooked pasta

¼

cup

parsley leaves

,

, chopped

⅔

cup

grated Parmigiano-Reggiano
Instructions
Cook the pasta in salted boiling water until tender but still firm. Remove from the heat and drain well. Reserve about ⅓ cup of cooking water.

To make a shrimp stock: In a small pot, over medium-low heat, add the washed shrimp shells and 1 ½ cups white wine. Simmer for about 5 minutes, strain and then discard the shells. Reserve the stock (about ¾ cup).

In a bowl, combine the lemon juice, lemon zest, red pepper flakes, salt/pepper and shrimp. Set aside.

Heat the oil and butter in a large skillet pan over medium heat. Add garlic and shallots, cook until fragrant for about 1 minute. Add the shrimp to the pan and continue to cook for about 2 minutes or until they turn pink. Transfer to a bowl.

Add the marinade sauce to the pan, add white wine or shrimp wine stock, pasta cooking water and asparagus into the skillet. Bring to a simmer for about 2-3 minutes.

Add cooked pasta, shrimp and parsley to the pan. Toss to combine. Adjust seasoning with salt and pepper, to taste.

Remove from heat and serve immediately with grated Parmigiano-Reggiano.