This post is sponsored by Mutti but the content and opinions expressed here are my own.
Here's a great tasting chunky tomato potato soup that you can enjoy on chilly days or all year round. The soup is loaded with vegetables and packed with flavorful Italian sausage. It's so hearty and dairy-free!

If you are looking for good soup recipes to enjoy this season, try this tomato potato soup. The tomato-broth base gives a refreshing taste to the soup. It's one of my favorite meal to make when it's cold outside.
You can serve this soup with delicious sides like these Asian chopped salad, roasted asparagus, or easy dinner rolls with herb butter.
Jump to: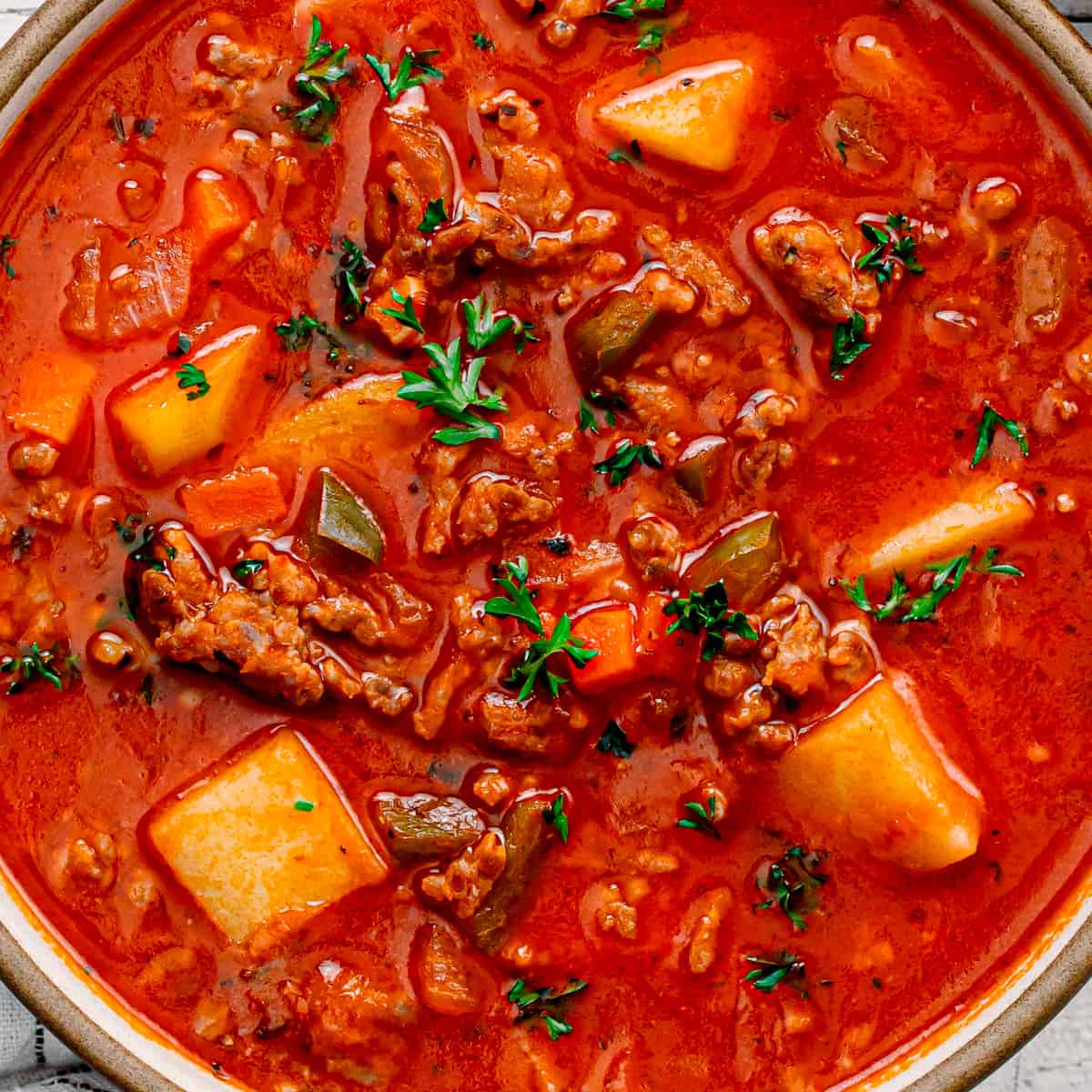 Italian Sausage Soup with Tomato broth
This soup recipe is easy to make and tastes better the next day.
It is made of Italian sausage, tomato puree, tomato paste, onion, garlic, carrot, green bell pepper, broth, red potatoes, dried basil, and dried oregano.
I use Passata (aka tomato puree) and tomato paste (Mutti is a great brand for passata and tomato pastes are great... just 2 ingredients, less acid than the others!). I highly recommend it!
I often cook with tomato products and have tried almost all of them on the market. I'm constantly left disappointed as they're always so acidic.
I then have to tweak recipes because of the acid. Some products claim they don't use preservatives, but those don't taste good because the tomatoes are picked before they're ripe.
Mutti products are from Italy and go back over 100 years. They have less ingredients (usually two!) and are not the least bit acidic. The tomatoes are so fresh and perfectly ripe giving a smooth taste. Nothing needs to be added, I even use less seasoning. The low sodium shines through in the taste.
My husband doesn't get heartburn with Mutti products, which is huge for us. We can taste the difference and feel better afterward, too.
While Mutti may be a relatively unknown brand in the US, Italians have relied on Mutti for over 120 years. In fact, this premium brand is the best selling tomato in Italy.
With life feeling a bit chaotic at times, I'm trying to make the most out of every family meal and I really believe that starts with using the best ingredients like Mutti tomatoes. Visit this link to learn more about Mutti.
How to Make Tomato Potato Soup
The preparation is pretty simple. You just need to remove casings from the sausage and dice the vegetables.
There's nothing complicated about this recipe. So here's how to make it.
Step 1. Brown the Sausage and Cook the Aromatic Soup Base
In a large heavy soup pot or casserole, heat oil over medium-high heat. Brown the Italian sausage and sweat the aromatic vegetables for about 10 minutes or until they are soft but not brown.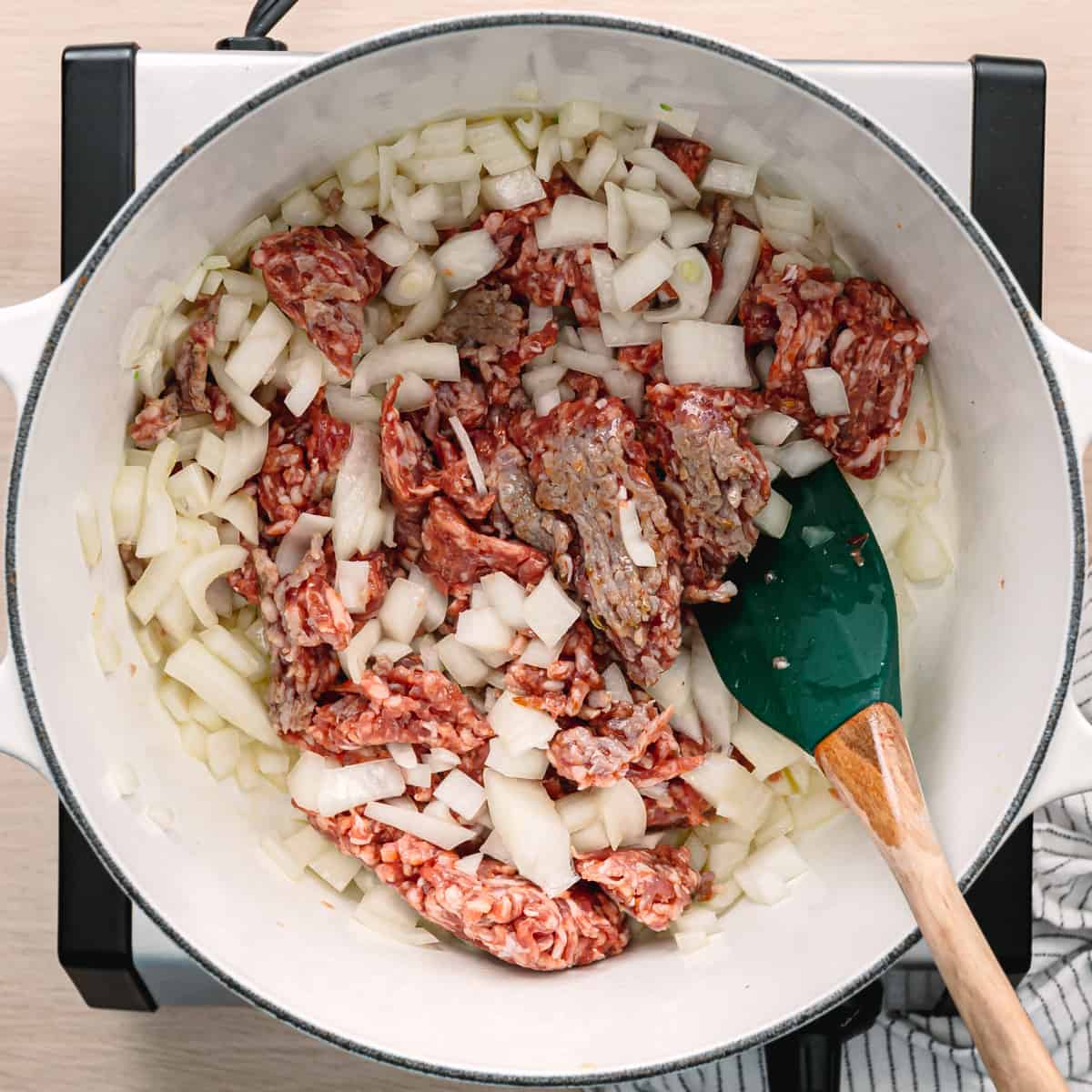 Also, it's important to cook the tomato paste for a few minutes to allow its full flavor to develop.
Step 2. Add the Liquid Ingredients and Potatoes
Add the Mutti tomato puree, broth, and potatoes.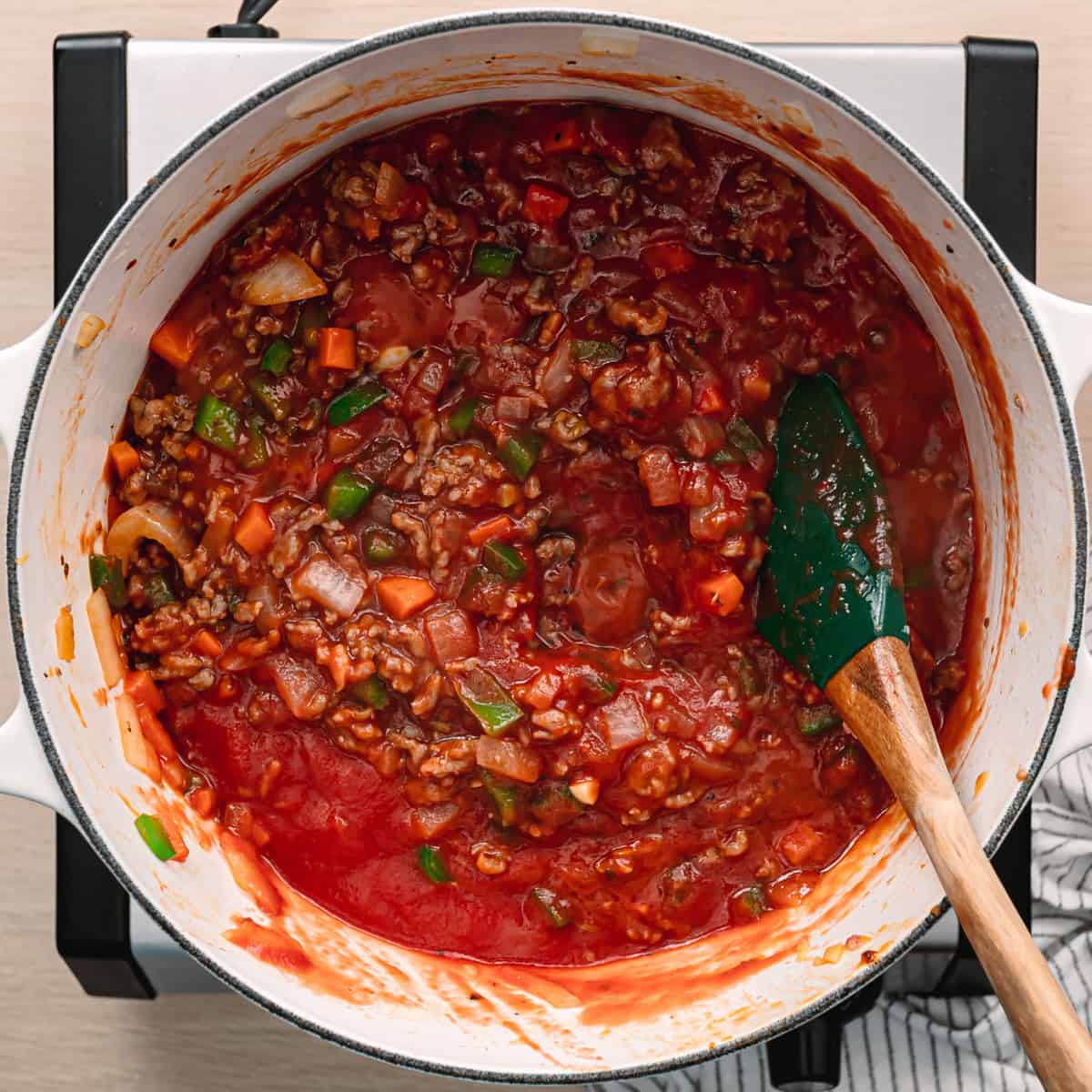 Bring the soup to a boil then lower the heat. Simmer for about 20-25 minutes or until the potatoes are tender.
Taste the soup, adjust seasoning with salt and black pepper or add extra broth if needed.
FAQ and Cooking Tips
What type of Italian sausage should I use?
You can use any type of meat (such as pork or turkey) with sweet, mild, or spicy flavors depending on your taste.
Where to buy Italian sausage?
You can find Italian sausage at your local butchers or grocery stores (either pre-packaged or at the meat counter).
Can I make this soup in a slow cooker?
Yes! Just brown the sausage in the skillet then transfer it to a slow cooker along with the other ingredients (use only 3 cups of broth). Cook for 6-8 hours on low heat.
Can I make this soup in an instant pot?
Yes! Simply follow cooking step #1, add the remaining ingredients, and use only 3 cups of broth. Cook at high pressure for "2 minutes". After the cooking cycle has completed, let the pressure naturally release for about 10 minutes then manually release the remaining pressure.
How to store leftover soup
First, let the soup cool down but avoid letting soup set at room temperature for more than two hours.
Store the soup in an airtight container. It will last 3-5 days in the fridge or up to 3 months in the freezer.
Please note that potato soup doesn't freeze well. It can become dry, grainy, and lose its creamy consistency when defrosted.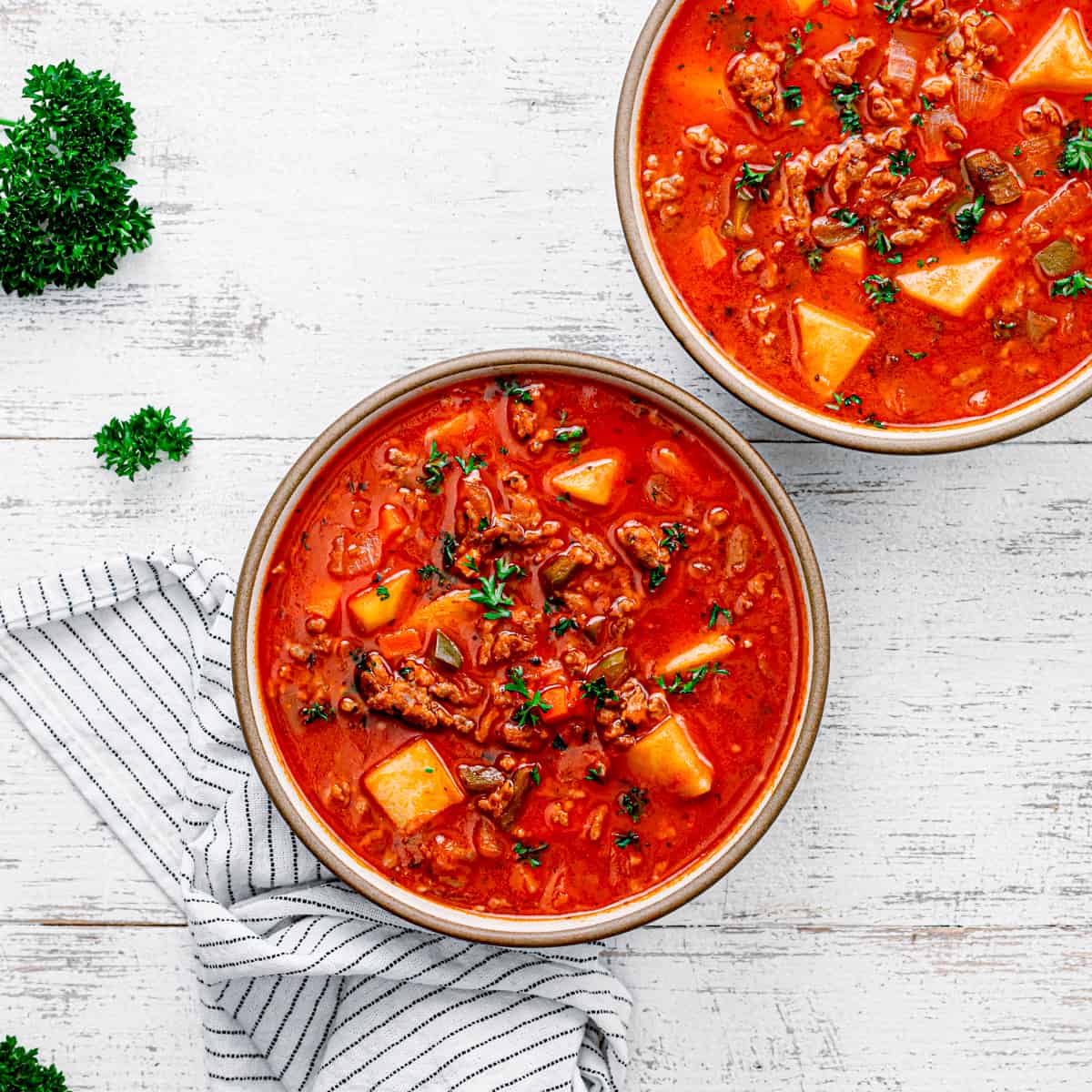 Check out more tasty soup recipes:
📖 Recipe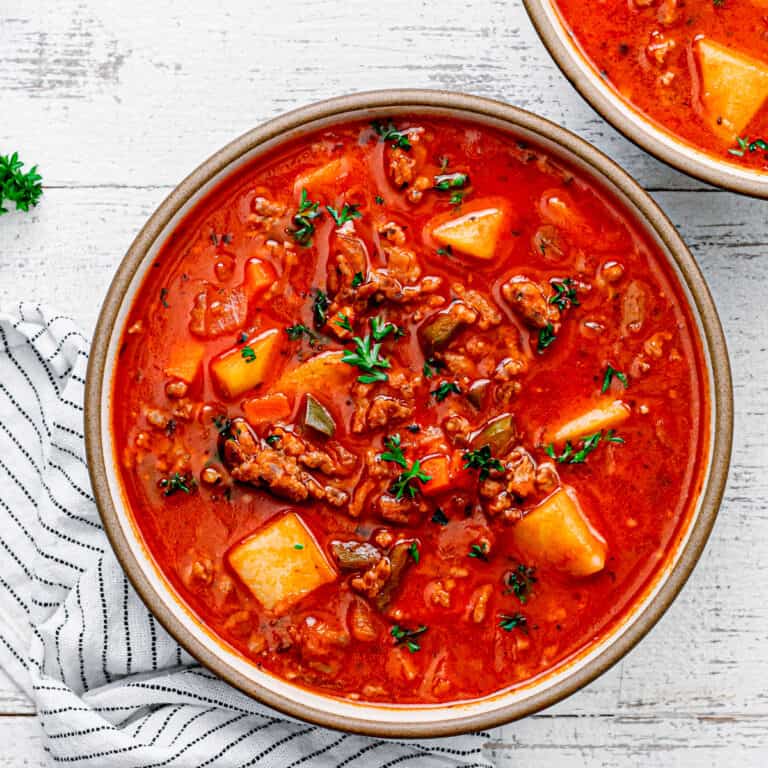 Tomato Potato Soup
The soup is loaded with vegetables and packed with flavorful sausage. It's easy to make and tastes better the next day.
Ingredients
1

pound

Italian sausage

2

tablespoon

olive oil

3

cups

passata/tomato puree ,

( I used a bottle of Mutti Passata - 24.5 oz)

1

tablespoon

tomato paste,

( I used Mutti double concentrate tomato paste)

1½

cups

diced yellow onion

1½

tablespoon

minced garlic

1

whole green bell pepper

,

(diced)

1

large carrot

,

(diced)

3½

cups

low-sodium chicken broth

1½

pounds

red potatoes

,

(cubed)

1½

teaspoon

dried oregano

1

teaspoon

dried basil
Instructions
In a large skillet, heat oil. Cook sausage and onion over medium-high heat for 4 minutes. Add diced green bell pepper and carrot, stir for 2 minutes. Add tomato paste, dried oregano, basil, and garlic, and stir for about 2 minutes.

Add tomato puree, broth, and potatoes. Bring to a boil then lower the heat. Simmer, uncovered, for about 20- 25 minutes or longer until the potatoes are tender. Taste, adjust with salt/black pepper, or add more broth if needed.
Nutrition
Calories:
364
kcal
Carbohydrates:
29
g
Protein:
14
g
Fat:
22
g
Saturated Fat:
7
g
Cholesterol:
43
mg
Sodium:
511
mg
Potassium:
1179
mg
Fiber:
5
g
Sugar:
8
g
Vitamin A:
1874
IU
Vitamin C:
34
mg
Calcium:
64
mg
Iron:
4
mg