A tasty potatoes au gratin dish! Tender Cheesy Scalloped Potatoes smothered in a creamy cheese sauce and topped with shredded cheddar cheese and parmesan. These thinly sliced potatoes are baked to perfection and an ideal side dish to any main course, or potluck!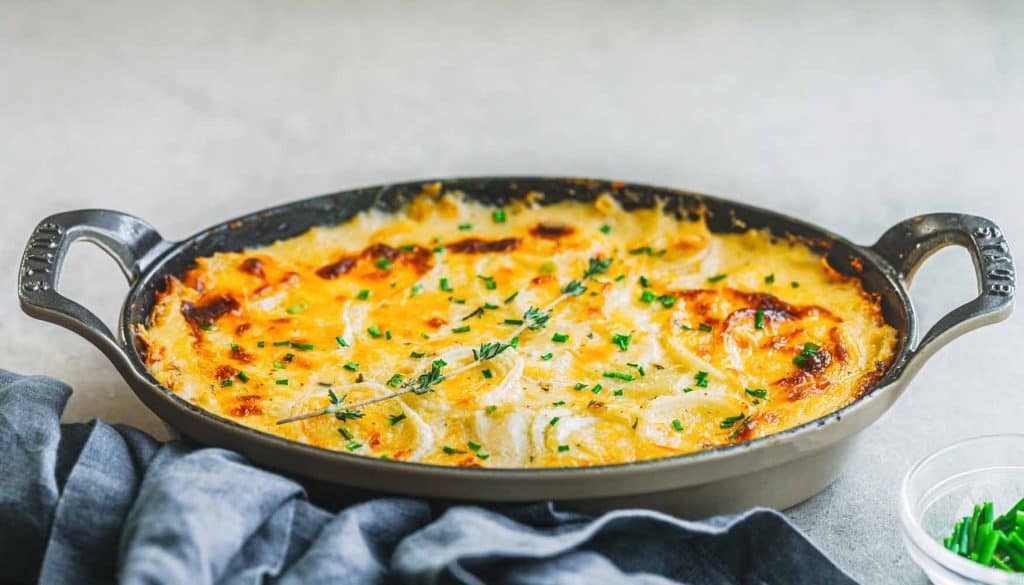 This crowd-pleasing recipe, a Scalloped Potatoes side dish, seems complicated at first but is actually pretty easy to make. Below, I listed some steps that I do when making scalloped potatoes. Basically, the baking process is the longest part of all. However, you can start working on other dishes while waiting for the gratin to be fully cooked in the oven.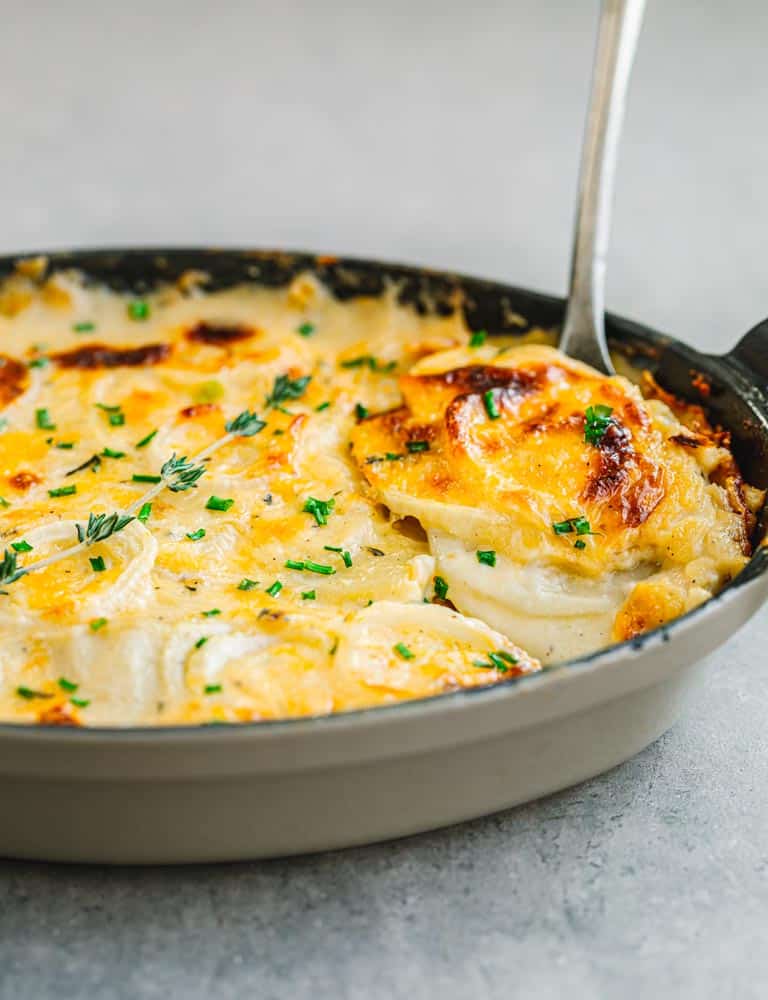 Furthermore, you can transform this scalloped potatoes into a one-pot meal or casserole by adding some meat, like ham or even turkey! Also, you can customize your seasoning with parsley, poultry seasoning or paprika. For this recipe, I just used garlic, mustard, and thyme.
Check Out More Tasty Side Dish Recipes:
How to Make Cheesy Scalloped Potatoes:
Wash, peel, and slice the potatoes with a mandoline.
Peel, and slice the onion thinly.
Make the creamy cheese sauce (see the recipe card below).
Assemble potatoes and onion on the baking dish.
Layer the potatoes and onion with cheese sauce.
Repeat step #4 and #5 once. Plus additional toppings: shredded cheddar cheese and parmesan on top.
Bake the scalloped potatoes in the oven - covered.
Then bake the scalloped potatoes in the oven - uncovered.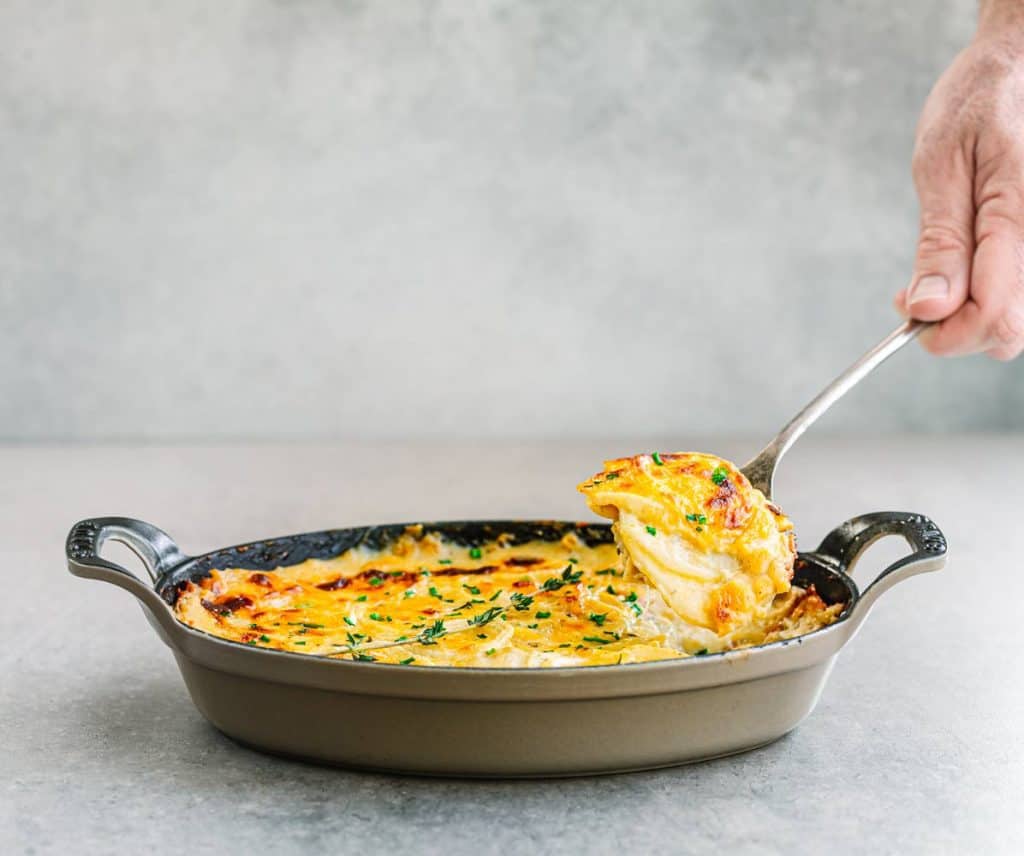 Cheesy Scalloped Potatoes Ingredients:
Potatoes
Onion
Sharp Cheddar Cheese
Parmesan Cheese
Garlic
Thyme
Flour
Ground Mustard
Milk
Salt and pepper to taste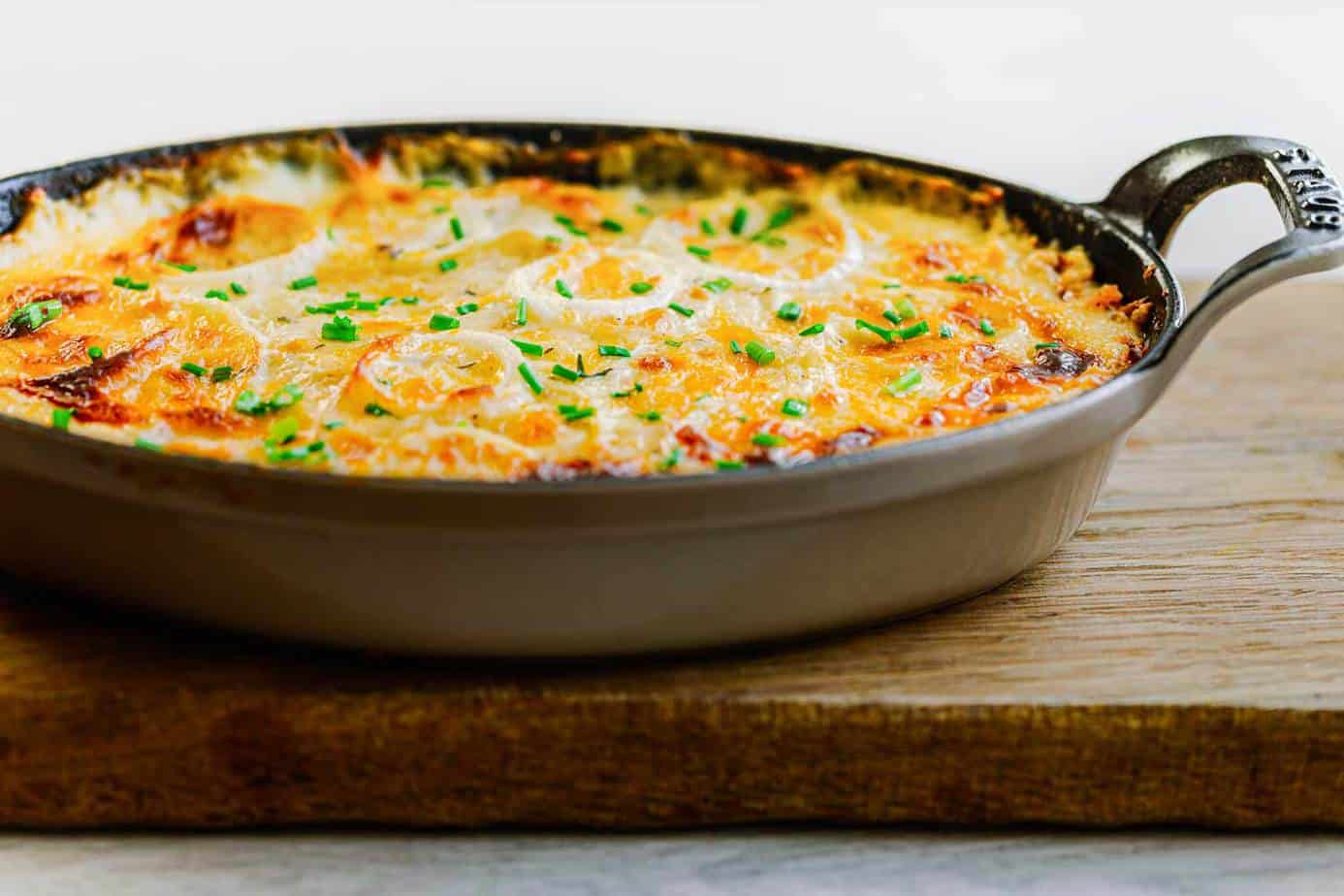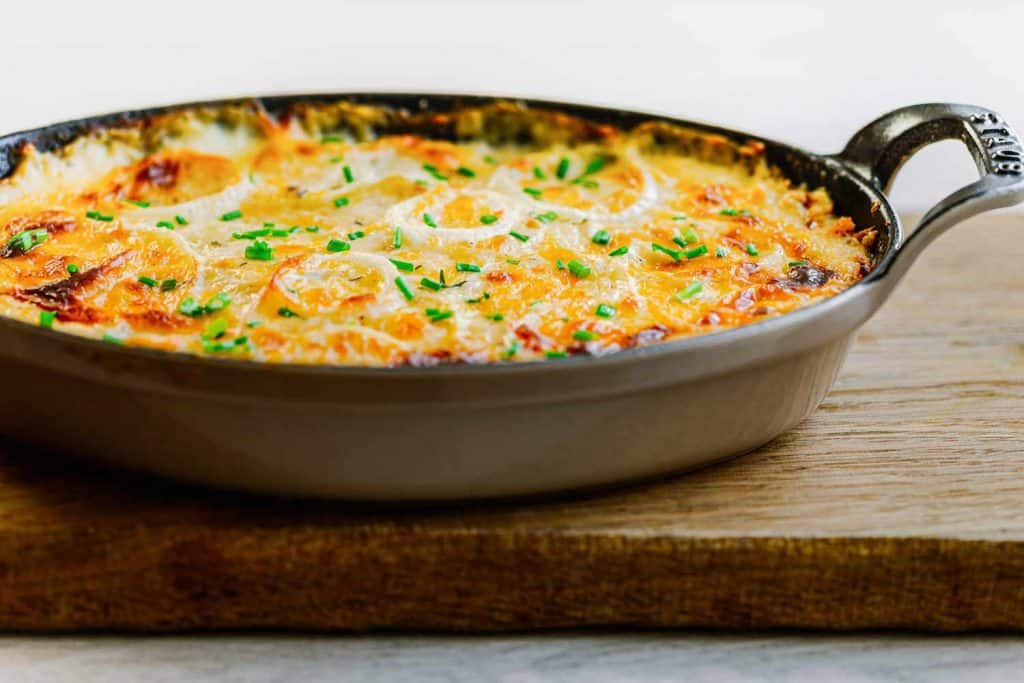 Can I use different types of cheese for Potatoes au Gratin?
Of course! I highly recommend an alternative of replacing with Gruyere cheese, which is always a hit (especially for a special occasion like during the holiday season). Keep in mind, it is a far more expensive option than cheddar cheese (around $15 and up per pound). The Gruyere cheese has full-bodied, fruity tones, earthy and nutty flavors with a soft finale to finish. You can find less expensive Gruyere cheese from America that is made with pasteurized milk and aged for only four months.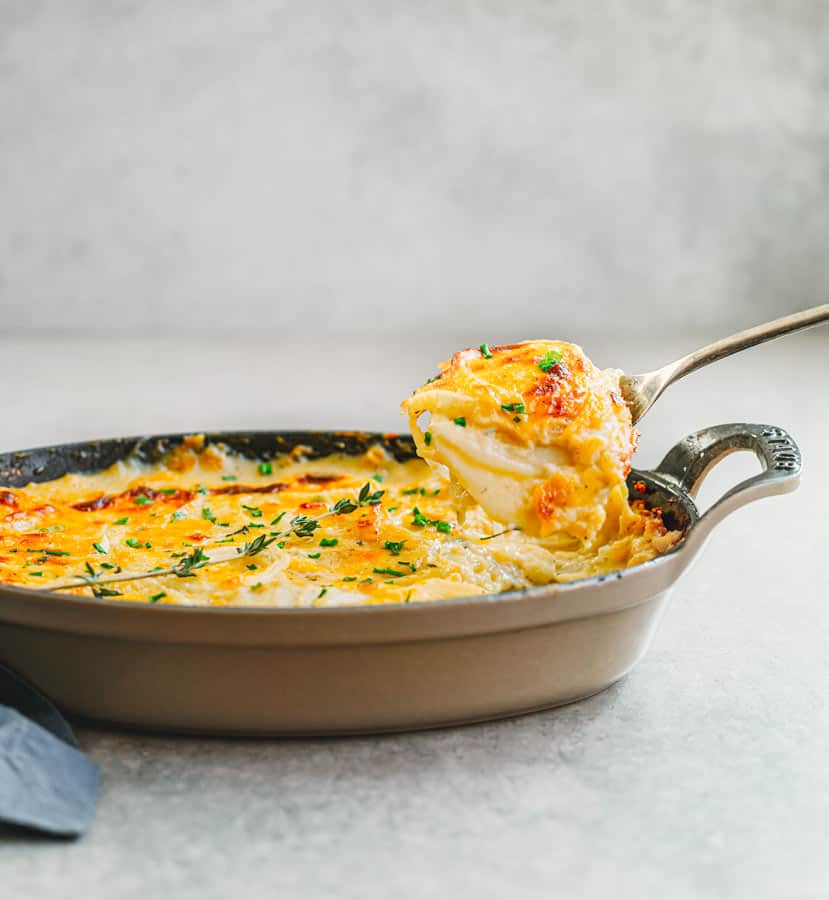 What types of Potatoes to use:
You can use Russets, Red or Yukon Potatoes. For this recipe, I used some fresh leftover Red potatoes from the previous recipe. Russet potatoes are recommended because they have the most starch and make a creamier sauce. Go with your tastebuds on this one, try out different potatoes and see which works best for you!
Scalloped Potatoes Tips:
Thinly slice the potatoes with a mandoline so each slice has a very similar thickness, which results in them being evenly cooked. In addition, slicing potatoes with mandoline speeds up the process.
Submerge the sliced potatoes in water with one tablespoon of white vinegar to keep the potatoes from turning brown. You can keep it in the fridge for 12-24 hours. But if you follow step #1, there is no reason to slice the potatoes in advance because you can slice them very quickly using a mandoline right before cooking.
You can store cooked scalloped potatoes in the fridge for up to 5 days. You can reheat the potatoes in the oven at 375F for about 15 minutes.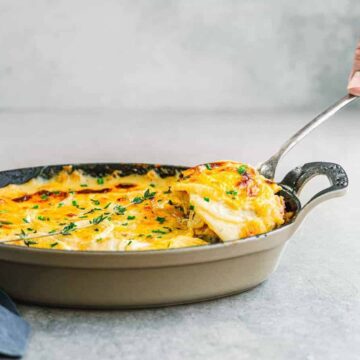 Cheesy Scalloped Potatoes
A tasty potatoes au gratin, smothered in a creamy cheese sauce.
Equipment
Mandoline

Vegetable Peeler
Ingredients
2

pounds

potatoes (Russets, Yukon or Red Potatoes)

,

(washed, peeled and thinly sliced)

2

tablespoons

unsalted butter

3

garlic cloves

,

(minced)

3

tablespoons

all purpose flour

¼

teaspoon

salt

¼

teaspoon

black pepper

11/2

cups

milk

½

teaspoon

thyme

½

teaspoon

ground mustard

1

cup

freshly shredded sharp cheddar cheese

1

cup

thinly sliced yellow onion
Toppings:
2

tablespoons

freshly shredded parmesan cheese

¼

cup

freshly shredded sharp cheddar cheese

chopped chives
Instructions
In a small saucepan over medium-high heat, melt butter, add garlic, keep stirring and cook until fragrant (do not burn). Add flour, salt, and pepper. Cook and stir until smooth.

Gradually whisk in milk, add ground mustard and thyme. Bring it to a boil, and keep stirring until the sauce is thickened (for about 2 minutes). Remove from the heat, and stir in the cheese until melted.

Coat a 13″ x 9″ baking dish with cooking spray then spread half of the sliced potatoes on it. Spread half of the sliced onions on top of the potatoes and layer up with ½ portion of the cheese sauce.

Repeat this process once and top it all with additional ¼ cup cheddar cheese and parmesan cheese.

Cover the baking dish with foil and cook for 45 minutes. Then uncover and continue to cook for 15 - 20 minutes, or until potatoes are browned and tender.

Serve with chopped chives (optional)
Notes
Add milk just a little at a time as you stir to avoid lumps.