A delicious Courgette soup recipe aka cream of zucchini soup. This Courgette soup is so smooth, creamy, and healthy. It uses less than 10-ingredients.
Courgette Soup Recipe - Low Carb:
This courgette soup recipe or zucchini soup is low carb, sugar-free and keto-friendly! The perfect soup for a last-minute dinner idea or to warm up your winter! Even kids will like it!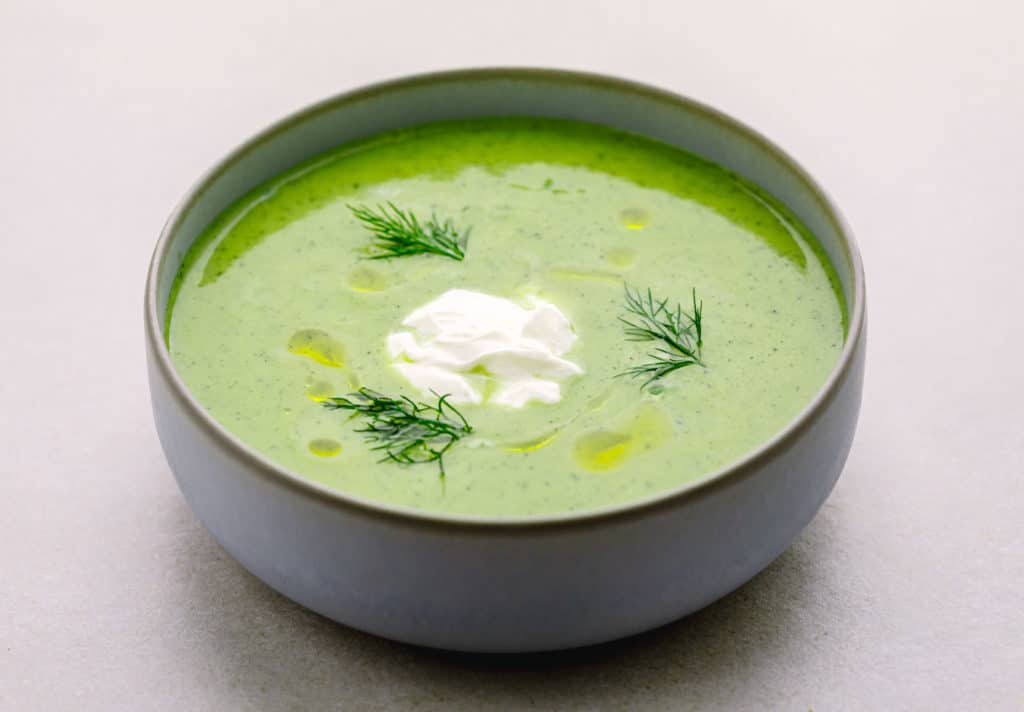 Courgette Soup Recipe Ingredients:
Today, I am going to show you how to make this creamy Courgette soup. This zucchini soup is made with fresh zucchini, broth, yellow onion, garlic, a small amount of heavy cream, and the optional ingredient of dried basil.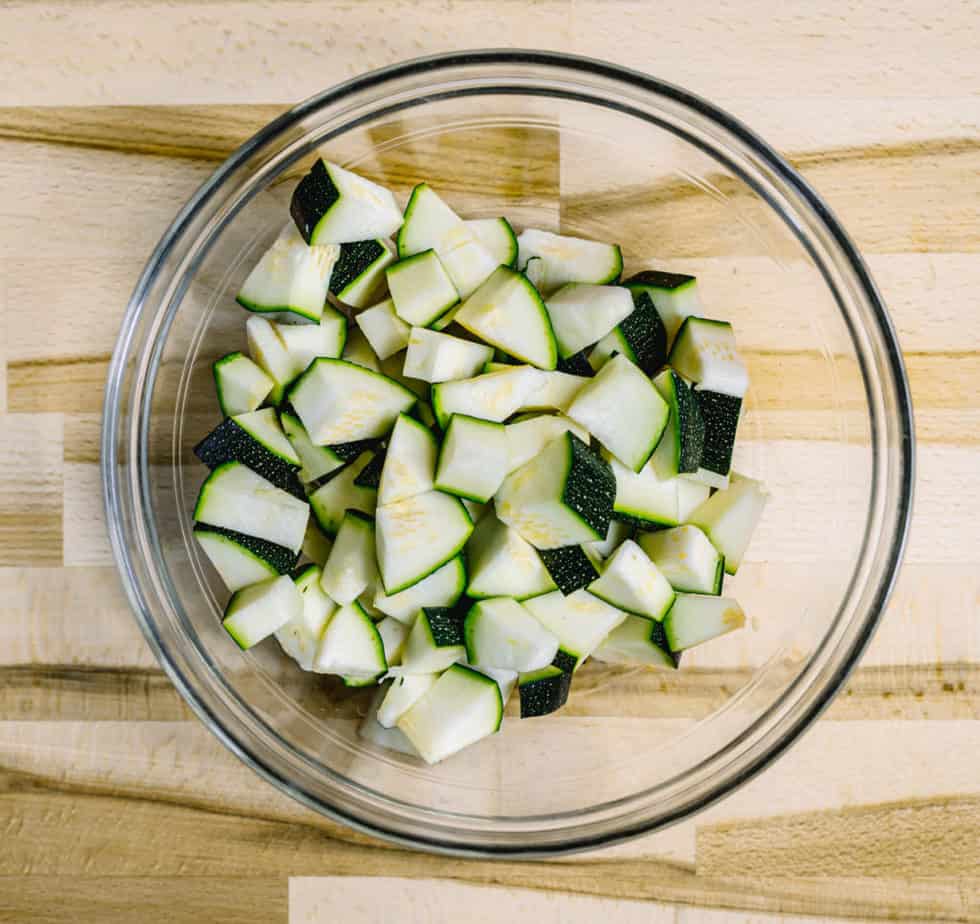 This zucchini soup doesn't require long preparation or cooking time. It's absolutely easy to make. Even though this soup uses simple ingredients, surprisingly it's actually loaded with flavors and nutritions!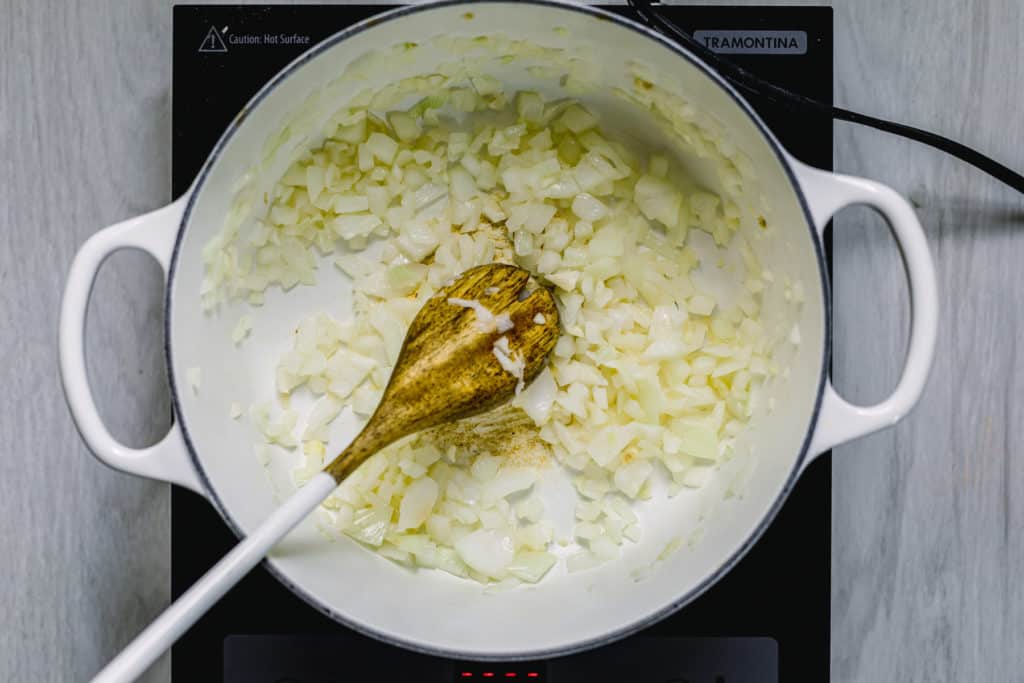 How to Make this Courgette soup recipe:
First, we need to saute the onion and garlic in butter. This is an important step to build a flavor base for soups.
Secondly, we need to add the zucchini and simmer for about 20 minutes, covered.
Thirdly, we need to puree the cooked zucchini.
Lastly, we need to add heavy cream and stir to combine before serving.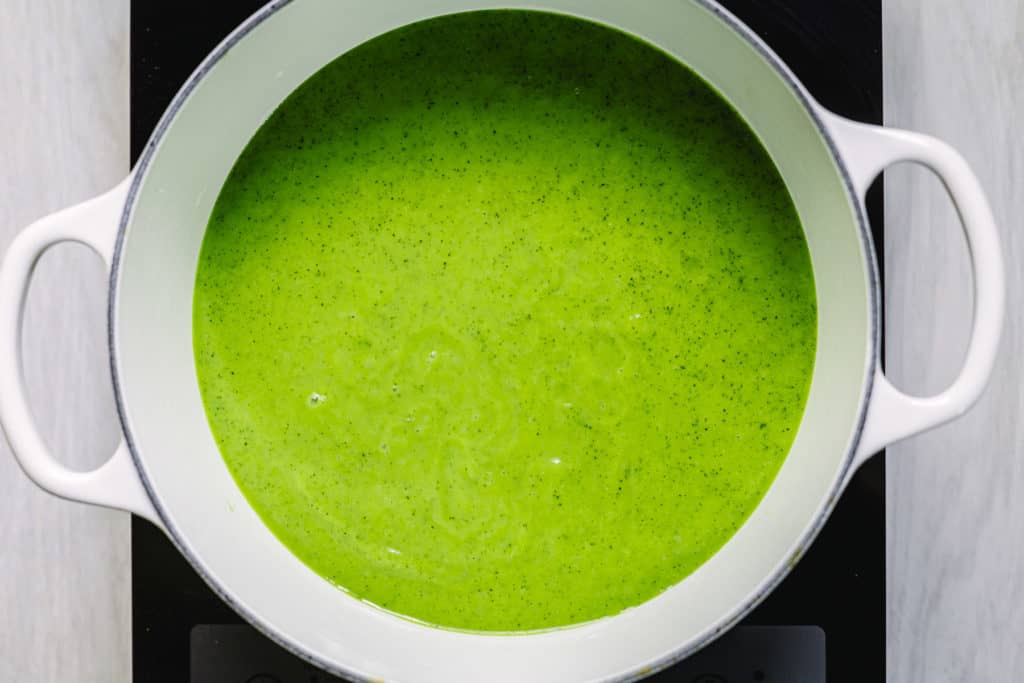 The Perfect Ingredient to Add Creaminess to the Zucchini Soup:
To add a touch of creaminess to this Courgette soup, I used heavy cream. However, If you are not a big fan of heavy cream, you can use creme fraiche or mascarpone as a replacement ingredient.
Also, if you are vegan, feel free to use non-dairy options like coconut or almond cream.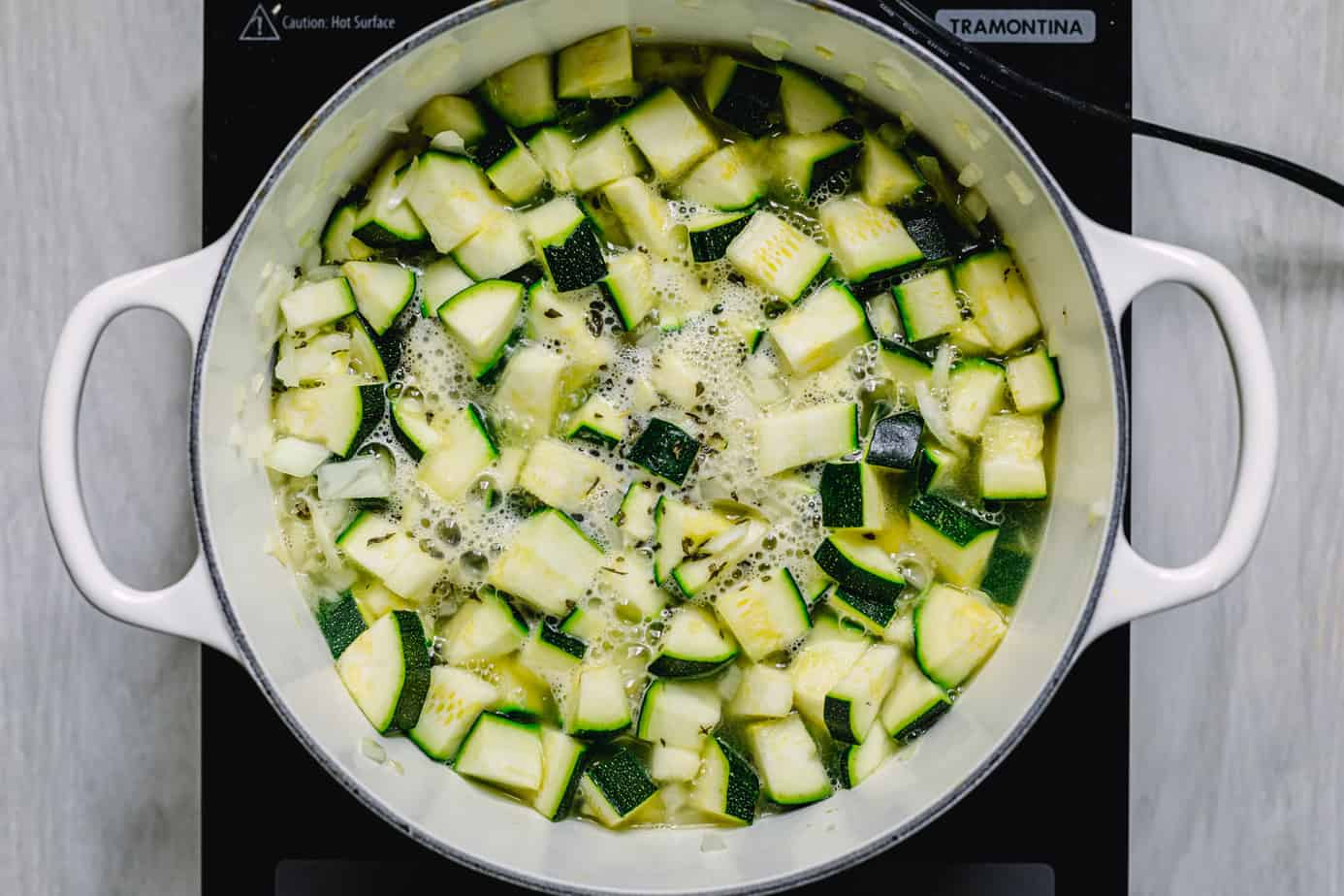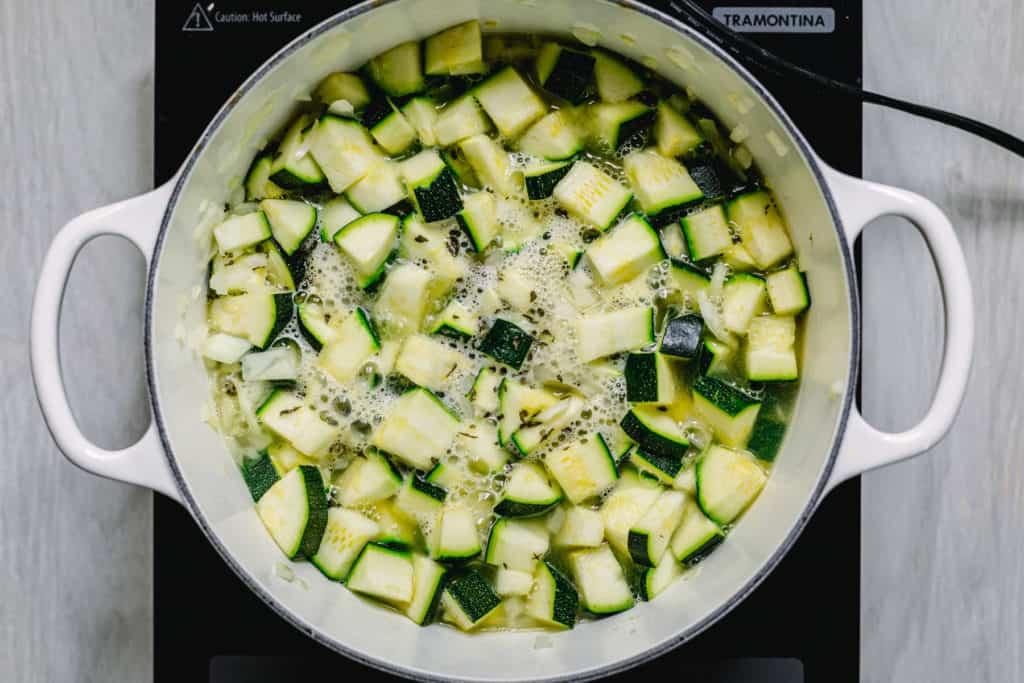 More Zucchini Recipes: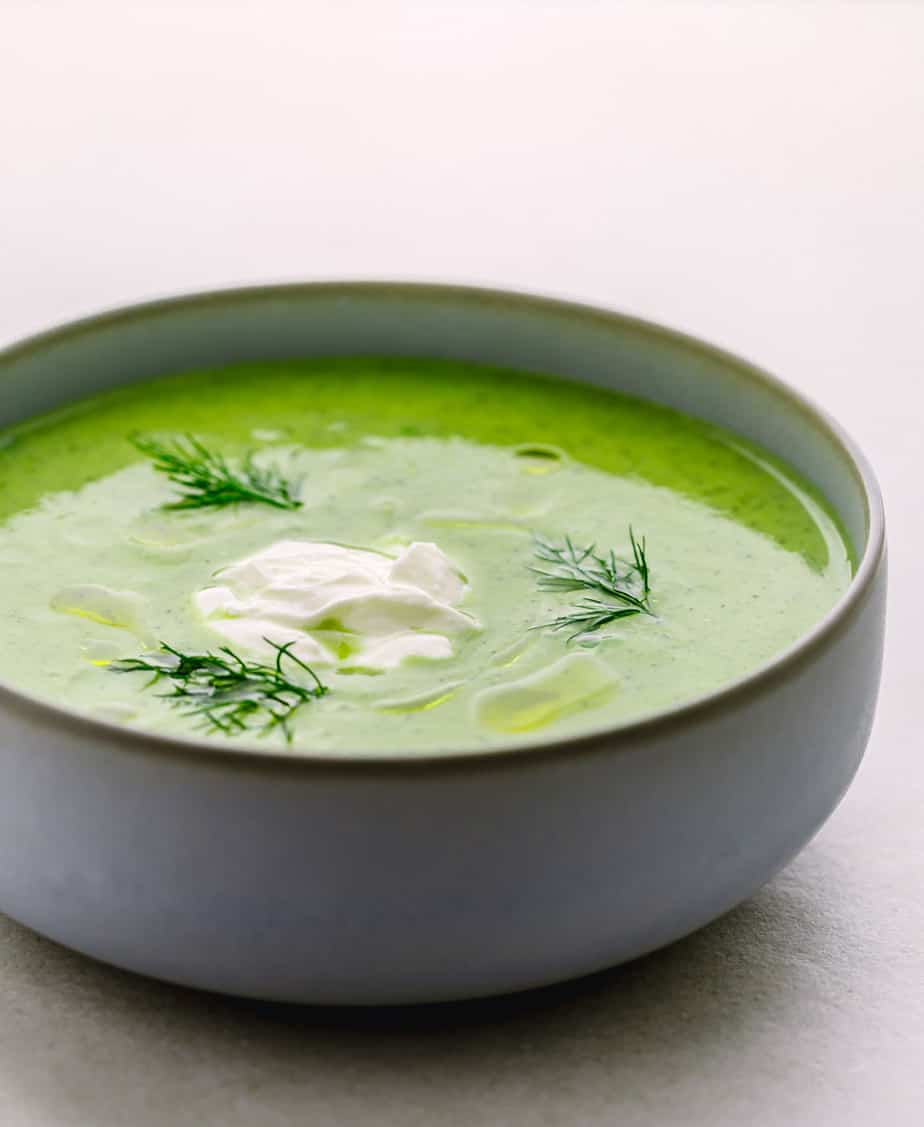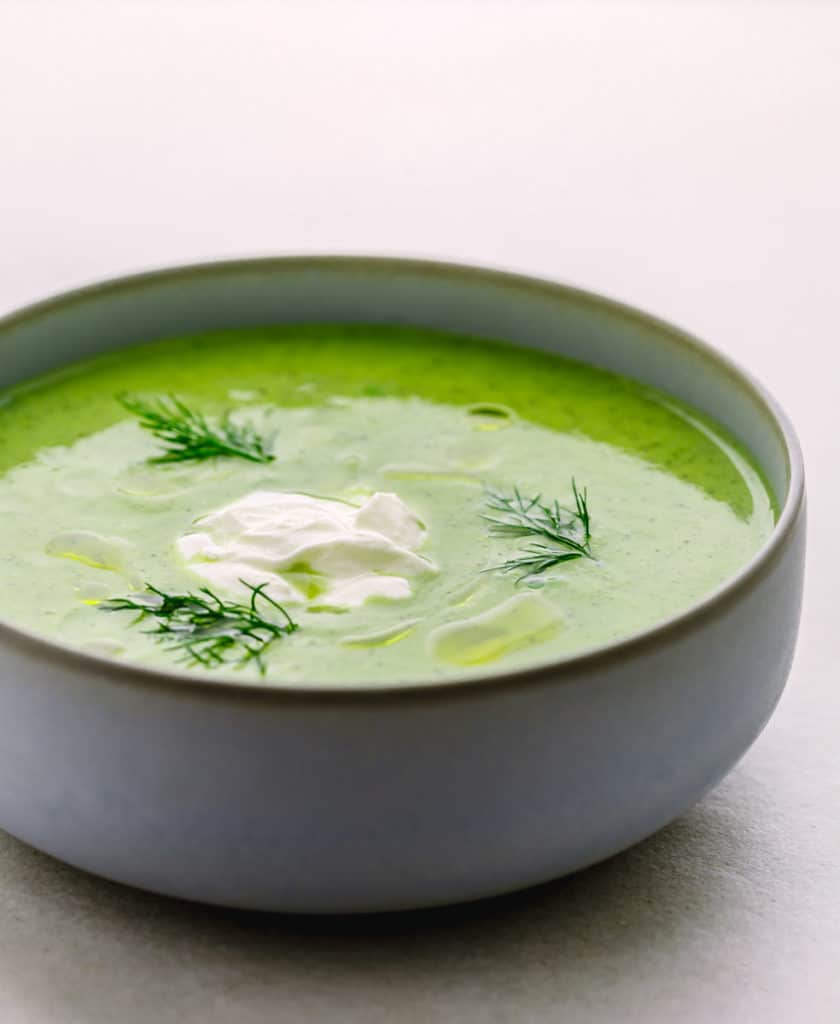 Everything you need to know about Zucchini:
Zucchini is a versatile vegetable. It is a type of summer squash and can be prepared using a variety of cooking techniques. You can peel zucchini to make low carb noodles, or cook them by sauteing, baking/roasting or grilling. Zucchini is also a great ingredient to add to many soups and casseroles.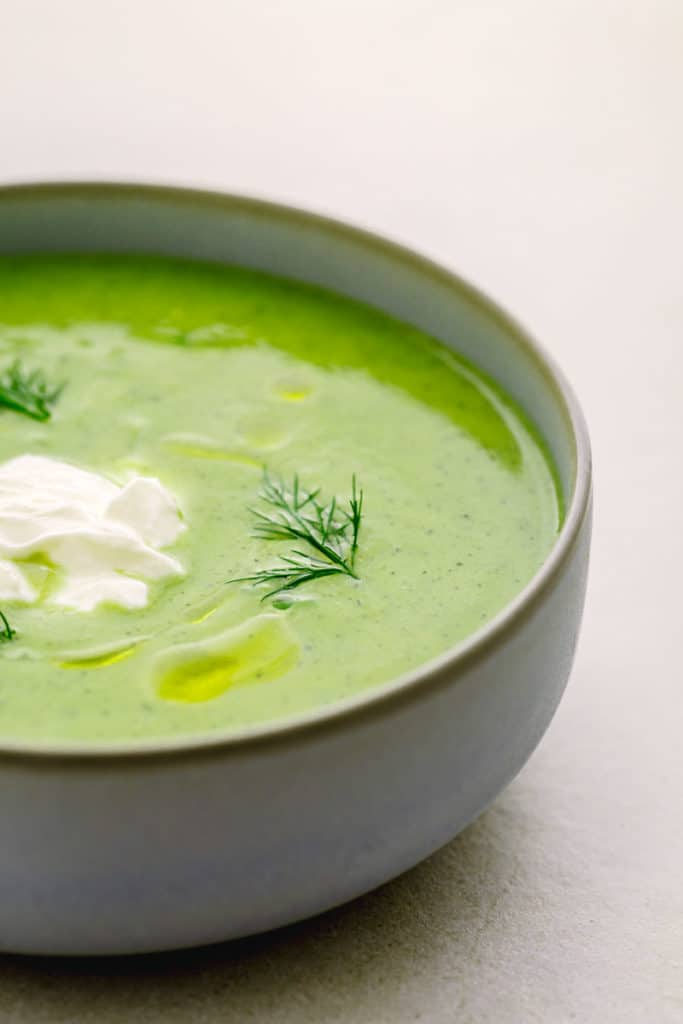 Zucchini has zero fat and is high in water and fiber. It contains important vitamins, minerals, antioxidants, and anti-inflammatory phytonutrients.
Can you eat raw Zucchini?
Zucchini should be safe to eat raw as long as it doesn't taste bitter. The bitterness is a sign of concentrations of cucurbitacins, which may be harmful. You can read more about it here.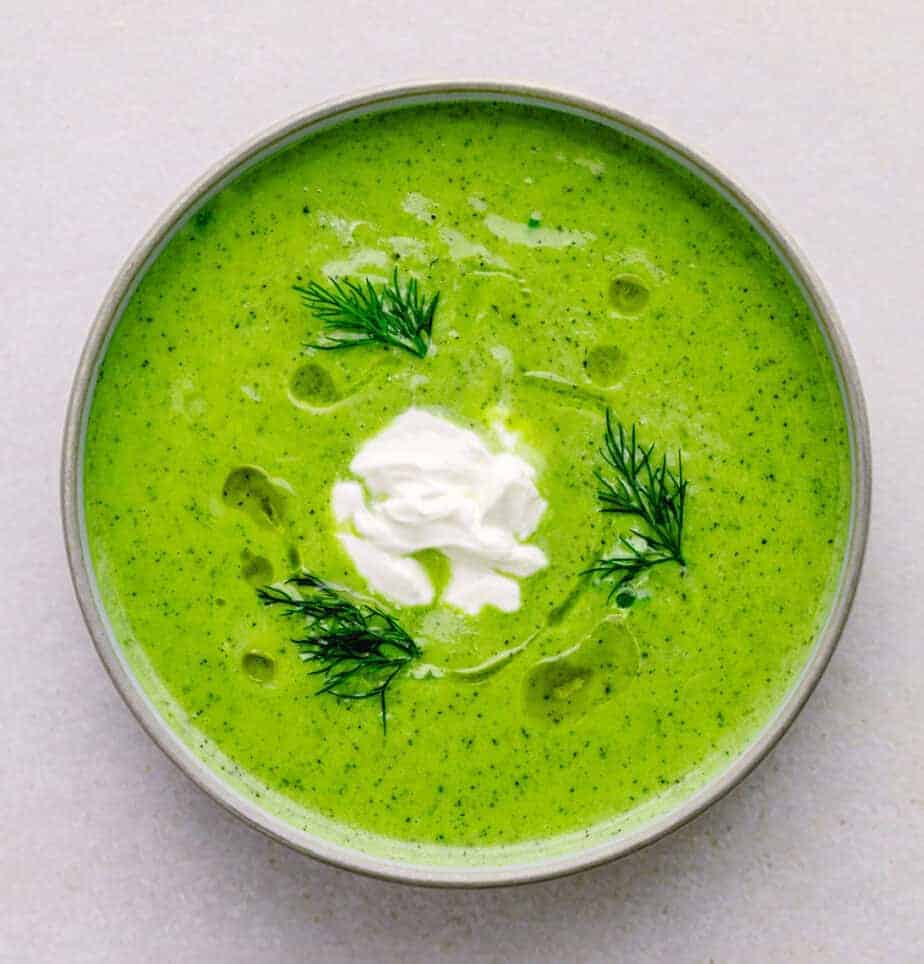 Zucchini Soup Storage:
Properly stored, cooked vegetable soup will last for up to 3 days in the refrigerator.
Soups that contain milk or heavy cream don't hold up well in the freezer, for this reason, you may want to hold back any dairy if freezing the soup. Simply add the heavy cream when you've reheated the soup over low heat. On average, soups and broths can be kept frozen for 2 to 3 months.
ALSO, CHECK OUT THESE INSTANT POT SOUP RECIPES:
📖 Recipe
Courgette Soup Recipe (Creamy Zucchini Soup)
A delicious zucchini soup (aka Courgette soup). This soup is so smooth, creamy, healthy and freezable.
Instructions
In a large dutch oven, melt the butter over medium-high heat.

Add onion and cook for about 4 minutes, then add garlic, keep stirring for 1 minute or until the onion is tender.

Add dried basil, salt, and pepper. Stir for about 30 seconds.

Add zucchini, broth, and water into the pot. Bring to a boil.

Once boiled, reduce the heat to medium-low heat, bring the soup to simmer, covered for about 15 minutes or until the zucchini is soft.

Turn off the heat and let the soup cool slightly.

Use a hand blender to puree the zucchini soup until smooth.

Turn the heat back on and add heavy cream. Keep stirring until well combined.

Turn off the heat and serve the soup warm. Enjoy!
Nutrition
Calories:
206
kcal
Carbohydrates:
12
g
Protein:
3
g
Fat:
17
g
Saturated Fat:
11
g
Cholesterol:
56
mg
Sodium:
674
mg
Potassium:
525
mg
Fiber:
2
g
Sugar:
7
g
Vitamin A:
1140
IU
Vitamin C:
34
mg
Calcium:
59
mg
Iron:
1
mg