Easy Instant Pot Potato Soup with bacon. This creamy soup is made with chicken broth, sour cream, milk, garlic, onion, bacon, and potatoes.
Obsessed with your Instant Pot and want to make delicious creamy soup to warm up your winter? Check out this easy Instant Pot Potato soup. It's so hearty and filling!
Potatoes contain a good amount of carbs and fiber, as well as vitamin C, vitamin B6, potassium, and manganese.
Potatoes are an American staple: we use it in everything from snack dishes to elegant meals. If you still have some leftover potatoes in your kitchen, don't wait any longer, make this Instant Pot Potato Soup and watch your friends and family devour it!

How to Make Instant Pot Potato Bacon Soup Creamy:
This Instant Potato Bacon soup is actually very creamy as even though it's made without cream cheese and is thickened without flour.
To cook potato bacon soup in the Instant Pot it only requires 10 minutes of cooking time with the Instant Pot dial on the manual setting.
Best potatoes to make soup:
For this recipe, I use red potatoes, white potatoes, Russet or Yukon.
White or red potatoes are recommended for soup because they are low in starch. They also hold their shape better than other potatoes after cooking. Some people even love to keep skin-on on the soup, it's just a matter of preference.


How to thicken the Instant pot potato soup without flour:
I didn't thicken the soup with flour. Instead, I use sour cream, milk, and parts of the soup itself as the thickener. Simply take about ⅔ part of the soup and use a hand blender to puree.
If you are going to puree with your countertop blender, be sure to fill the blender no more than halfway, and blend in batches as needed. Also, be sure to keep the lid on for several seconds after you finish to prevent burning yourself.
What To Do If The Potato Soup is Still Too Thin:
If you think the soup is still too thin for your taste, feel free to use a separate bowl and add about 2-3 tablespoons of starch (like flour or cornstarch) into a portion of the broth. By separating it out prior to whisking it into the soup to prevents the starch from clumping.
Check out more Instant Pot recipes: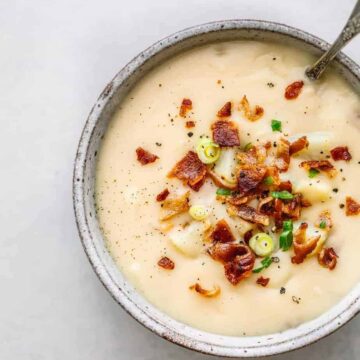 Instant Pot Potato Bacon Soup
An instant pot potato soup with bacon recipe, a comforting soup that is loaded with sour cream, milk, bacon, onion and simple seasoning.
Ingredients
2.5

pounds

of red potatoes or yukon (medium starch) or russet (high starch).

,

(peeled and chopped in big chunks)

1

medium yellow onion

,

(chopped)

4

garlic cloves

,

(minced)

2

cups

low sodium broth (chicken or vegetable)

1 ½

cups

sour cream

1

cup

milk

1

pound

bacon slices

,

(chopped)

salt and pepper to taste
Instructions
Turn on the Instant pot to "Sauté" setting and cook bacon in a pot, keep stirring until the bacon is crisp. Remove the bacon from the pan and reserve about ¼ cup bacon grease.

Add chopped onions and cook until the onions become translucent. Add garlic and give a quick stir for about 15 seconds. Turn off the ""Sauté" setting.

Add potatoes, chicken broth into the Instant Pot. Be sure to scrape the bottom of the pot to keep the pan clear and nothing is stuck on it to prevent burning.

Set the Instant Pot to "Manual" and adjust to "10 minutes".

When cooking is complete, use a natural release to depressurize and open the lid when it's ready.

Set the instant pot to "Warm" and remove about ⅔ of the soup and puree with a blender. Return the puree soup into the Instant Pot and stir.

Set the Instant Pot to the "Saute" setting and bring soup to a simmer.

Add sour cream, reserved bacon pieces, and milk. Keep stirring until well-combined and until you reach the desired consistency. Add chicken broth if needed.

Do not boil the soup after adding the dairy to prevent the soup from curdling. Season with salt and pepper as desired. Turn off the Instant Pot.

Serve with fresh herbs (green onion) and crispy bacon.
Nutrition
Calories:
606
kcal
Carbohydrates:
38
g
Protein:
17
g
Fat:
43
g
Saturated Fat:
18
g
Cholesterol:
84
mg
Sodium:
623
mg
Potassium:
1247
mg
Fiber:
4
g
Sugar:
7
g
Vitamin A:
465
IU
Vitamin C:
19
mg
Calcium:
143
mg
Iron:
2
mg