A creamy instant pot sausage gnocchi soup. This comforting soup is my take on Zuppa Toscana (or Tuscan soup) and similar to Olive Garden Chicken and Gnocchi soup. This sausage potato soup is made in a pressure cooker.
If you are craving for an Olive Garden Zuppa soup or chicken gnocchi soup there is no need to drive to an Italian restaurant, just make it yourself on your own. You've gotta try this Instant pot sausage gnocchi soup recipe as it's hearty, creamy and filling!
This creamy pressure cooker Italian sausage soup recipe is made with fresh ingredients and fragrant herbs. It's a recipe that my kids like and it fills them up the same as a full meal.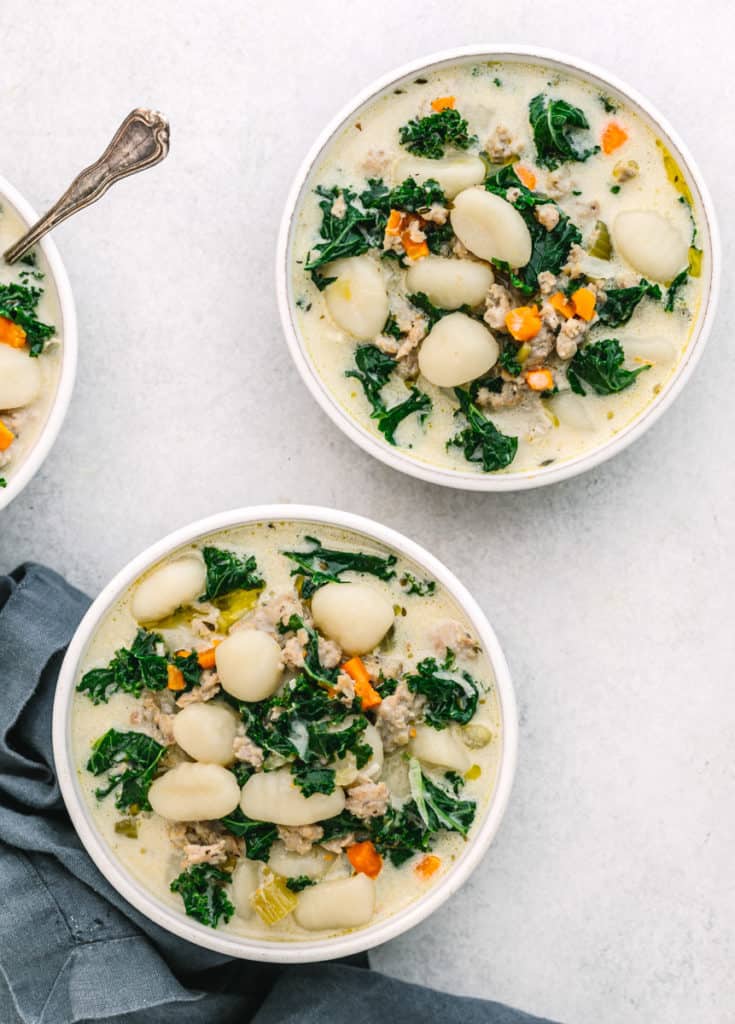 Instant Pot Sausage Gnocchi soup Ingredients:
This soup is made with all fresh ingredients that you can find in your local market. The broth is seasoned with fresh herbs and spices that you can find in your pantry!
Zuppa Toscana usually contains creamy broth with potato chunks, a green vegetable, and sausage. But in this sausage gnocchi soup recipe, we are going to skip the fresh potatoes and instead use potato gnocchi.
So here are all the ingredients I used to make this Instant pot sausage Gnocchi soup recipe: potato gnocchi, Sweet Italian chicken sausage, butter, garlic, onion, carrots, celery, bay leaf, chicken broth, dried oregano, thyme, fresh kale, and heavy cream and of course a little bit of salt and pepper.
CHECK OUT MORE INSTANT POT SOUP RECIPES:
How to Make This Sausage Gnocchi Soup in an Instant Pot:
The cooking process of this soup is so simple and pretty quick. There are a few important steps to follow:
Brown the sausage.
Cook the soup base ingredients.
Seal and cook all of the ingredients, except for the gnocchi, kale and heavy cream at high pressure for about 5 minutes with 10 minutes natural release.
Cook the gnocchi and kale for about 2-3 minutes, then add the heavy cream. Adjust seasoning with salt and pepper if needed before serving.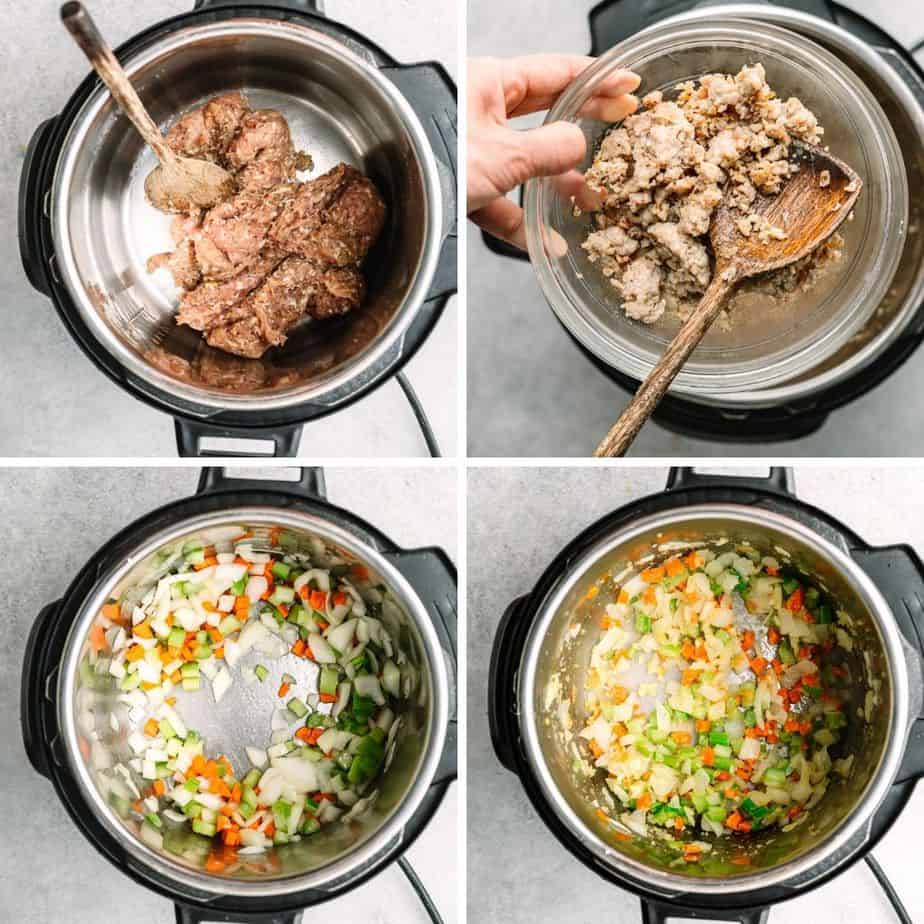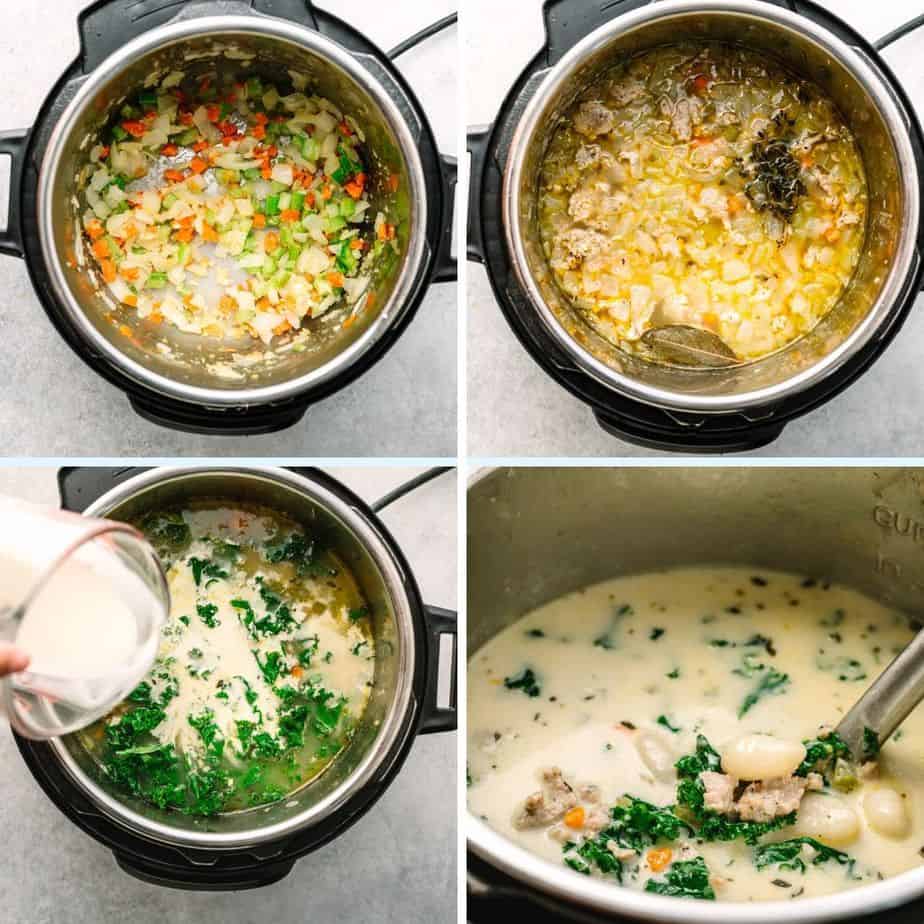 Gnocchi:
Gnocchi means "lumps' in Italian. It's actually a dumpling made with potatoes and flour, sometimes eggs and cheese. Gnocchi has a dense texture but good gnocchi should not be tough or chewy.
Cooking gnocchi usually takes about 2-3 minutes or until the gnocchi floats to the top of the water. Do not overcook gnocchi as that will surely make it mushy. For this reason, we are not going to cook the gnocchi at high pressure in the instant pot.
Sweet Italian Chicken Sausage:
Sausage is one of the two main ingredients I used to make this delicious creamy soup. I highly recommend using sweet Italian chicken sausage. Be sure to purchase a good quality fresh Italian chicken sausage that is freshly made with 100% real ingredients, with no fillers or preservatives.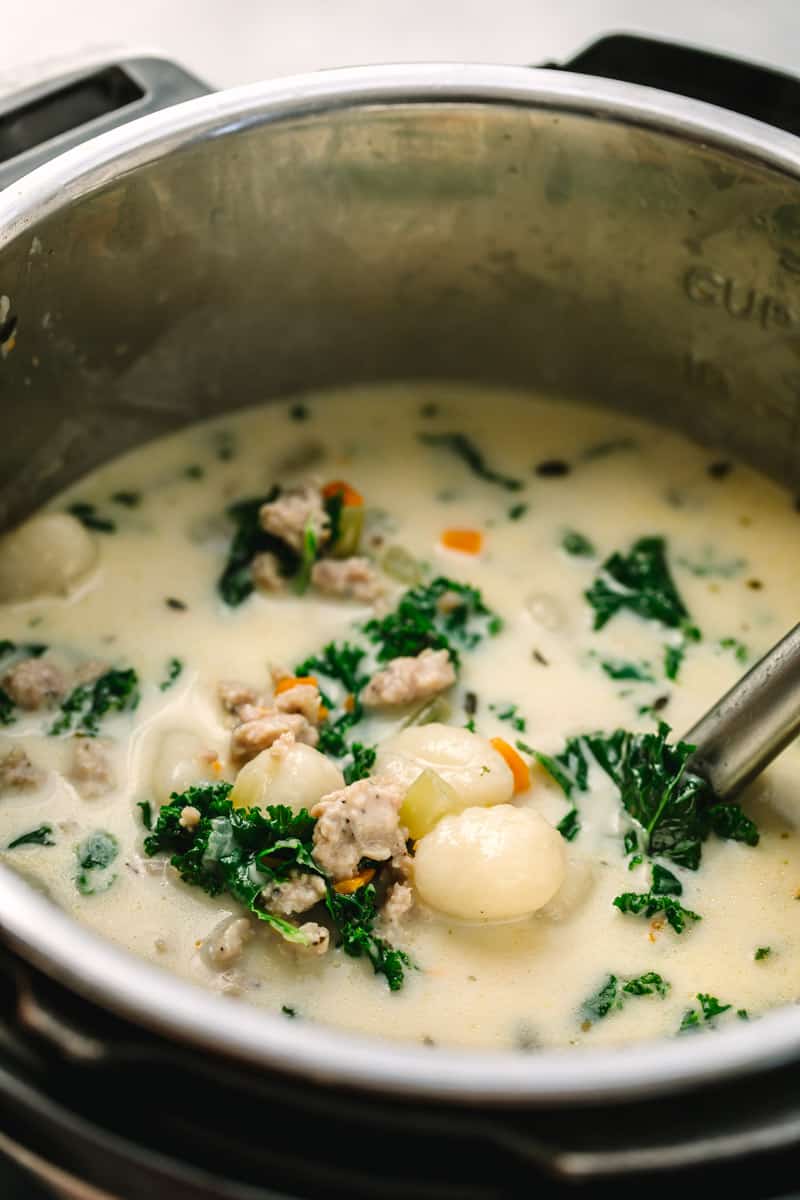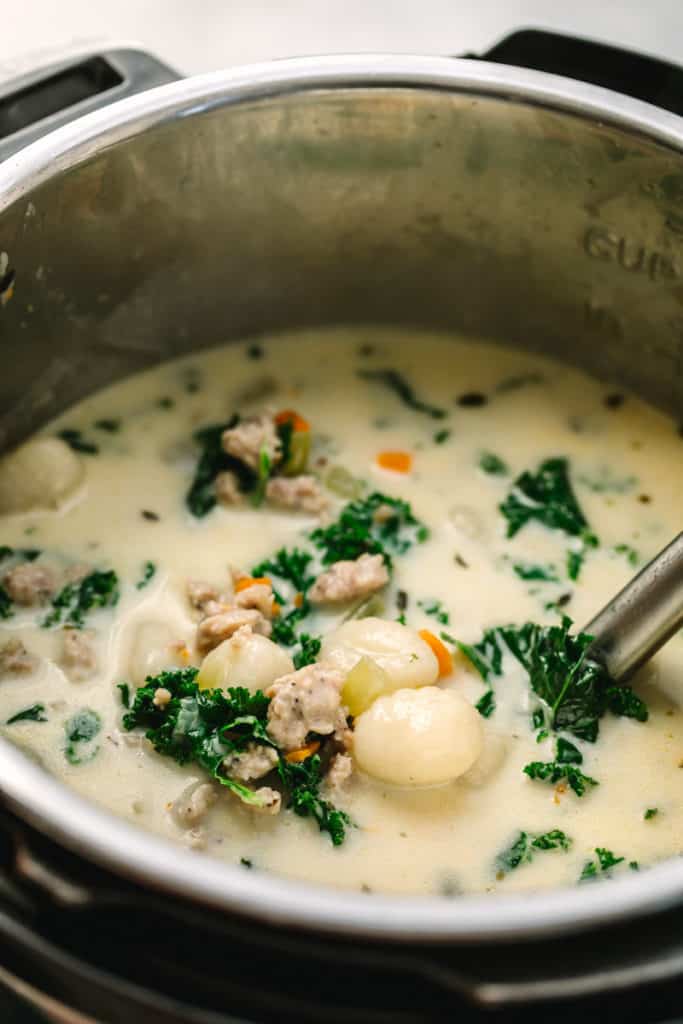 Kale:
This Tuscan soup contains kale. Kale adds nutritional value and color to this soup. It's inexpensive and tastes especially delicious in a soup. If you are not a big fan Kale feel free to replace it with Spinach.
In this recipe, I added the kale after cooking the soup base at high pressure. I also opted for curly kale because of its mild flavor and also because it is relatively quick to cook.
Heavy Cream:
To add the creaminess to the soup, I used heavy cream. Feel free to use half and half as a replacement ingredient for a lighter soup.
Storing leftovers gnocchi soup:
You can store leftovers in the fridge for up to 5 days or up to 2 months in the freezer.
📖 Recipe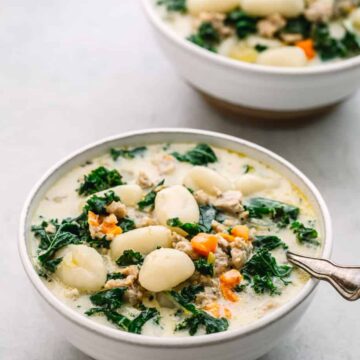 Instant Pot Sausage Gnocchi Soup
A creamy instant pot sausage gnocchi soup. This comforting soup is my take on Zuppa Toscana (or Tuscan soup) and is made in a pressure cooker.
Ingredients
After Cooking at High Pressure:
1

package (17.6 oz)

pre-made gnocchi

2

cups

chopped kale

,

(curly or Tuscan)

1

cup

heavy cream ,

(use more according to your liking)
Instructions
Browning the Italian Chicken Sausage:
Select saute setting on a 6-qt. electric pressure cooker and adjust for medium heat. Add sausage and cook for one minute undisturbed, break it apart and continue cooking for 4 minutes or until no longer pink. Press cancel. Remove from pot, drain to remove excess liquid if necessary and set aside.
Cook the Soup Base:
Add the butter and cook the onion, carrots, celery, and garlic until tender. Be sure to keep stirring to prevent burning.

Add flour into pot, cook and stir 2-3 minutes until lightly browned.

Add a bit of broth and keep scraping the bottom of the pot to prevent burning.
Cook the Soup at High Pressure:
Add the remaining broth, browned sausage, thyme, oregano, bay leaf, salt, and pepper. Place the lid on and seal. Cook for 5 minutes. Allow pressure to naturally release for 10 minutes, then quick-release any remaining pressure.
Cook the Gnocchi, Kale and Add Heavy Cream:
Open the lid and set the instant pot to "saute". Add the gnocchi and kale, then cook for 2-3 minutes. Add heavy cream, the optional parmesan cheese, stir and adjust with salt and pepper to taste.
Notes
If there is too much broth, just bring the soup to a boil after cooking at high pressure to let its level reduce. Do this before before adding gnocchi, kale and heavy cream. Remember that gnocchi will absorb water before and after cooking.
Gnocchi: I purchased the pre-made gnocchi from Trader's Joe.