A delicious Instant Pot Pea Soup recipe to warm up your winter. The green pea soup is made with frozen green peas and without ham bone. It's vegan, hearty and healthy! You only need to cook this soup for less than 15 minutes in a pressure cooker. A quick vegetarian soup recipe for every night of the week.
If you are hunting for more instant pot soup recipes, please keep on reading as the taste of this one is anything but boring! Today, I am going to show you how to make a delicious pea soup recipe. It's vegetarian, made without animal products, such as ham and dairy.
Also, check out this delicious ROASTED CAULIFLOWER TACOS WITH CHIPOTLE ROMESCO SAUCE recipe.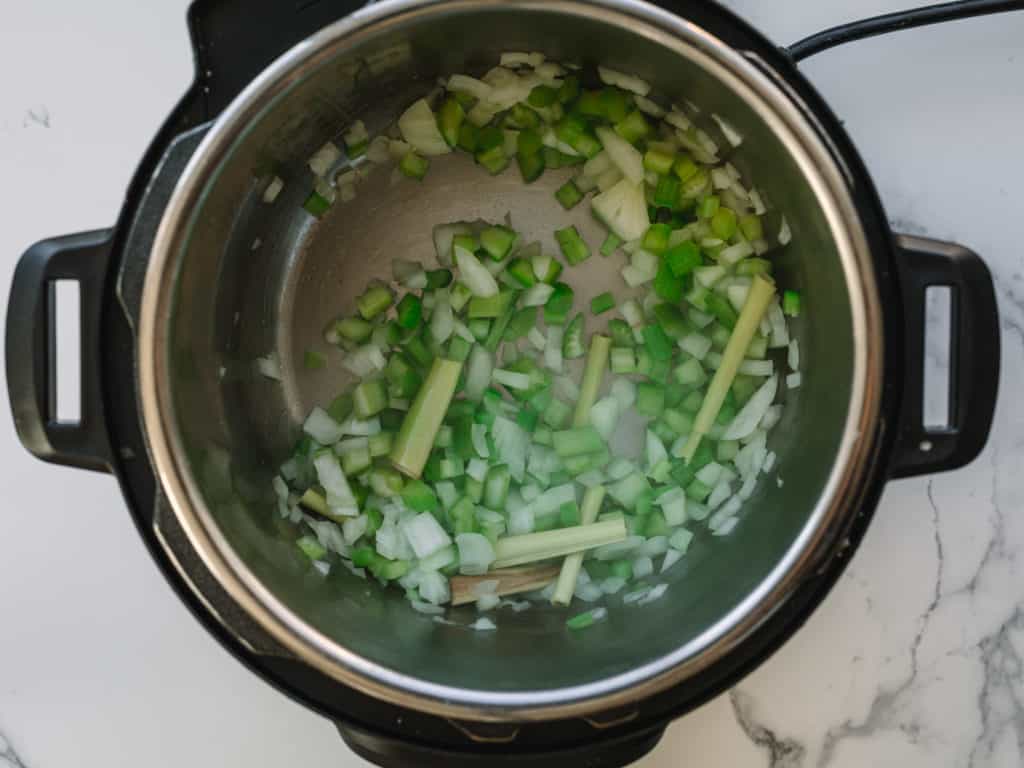 The broth is so aromatic, flavorful and nutritious with a touch of lemongrass and basil. This pea soup is not only tasty but also good for you. It will fill you up because it contains a great amount of protein and fiber!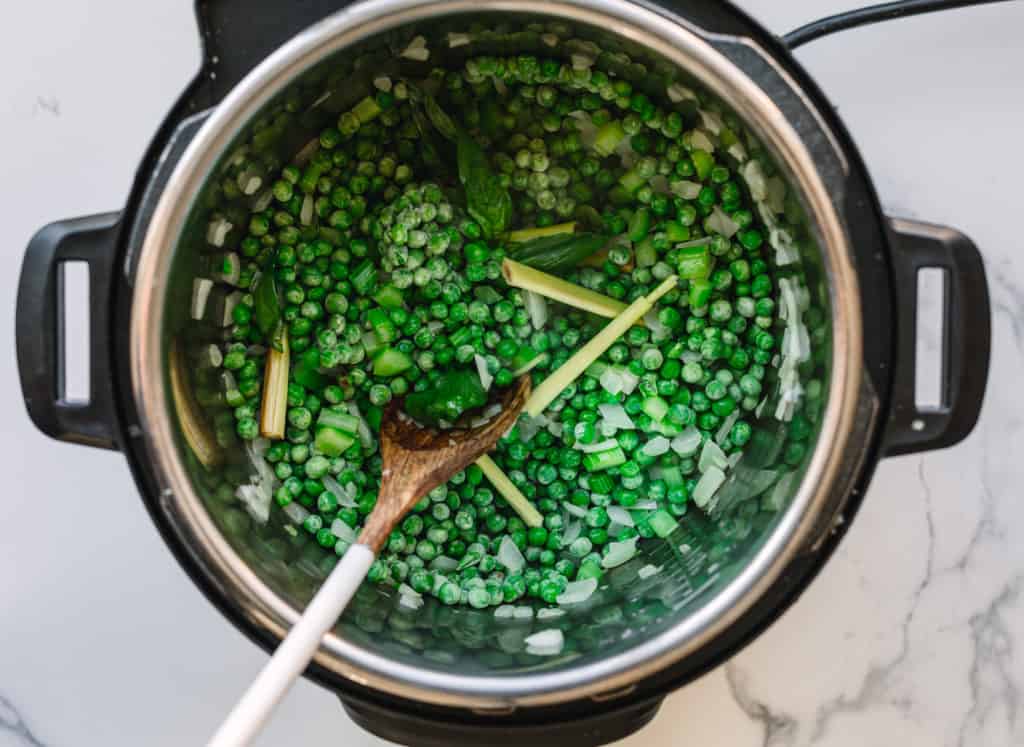 Why You'll Love this Instant Pot Pea Soup:
This Instant Pot Pea Soup recipe is not the same as the Grandma's split pea soup. Here's why you should try this pea soup recipe:
It is inspired by Thai cuisine - Asian flavor.
It is suitable for vegetarians.
The soup is made with simple ingredients that you can find in your pantry and local grocers.
It uses only 7 ingredients!
A simple soup recipe yet so delicious, and it's also very filling with hearty amounts of carbs, protein, and fiber.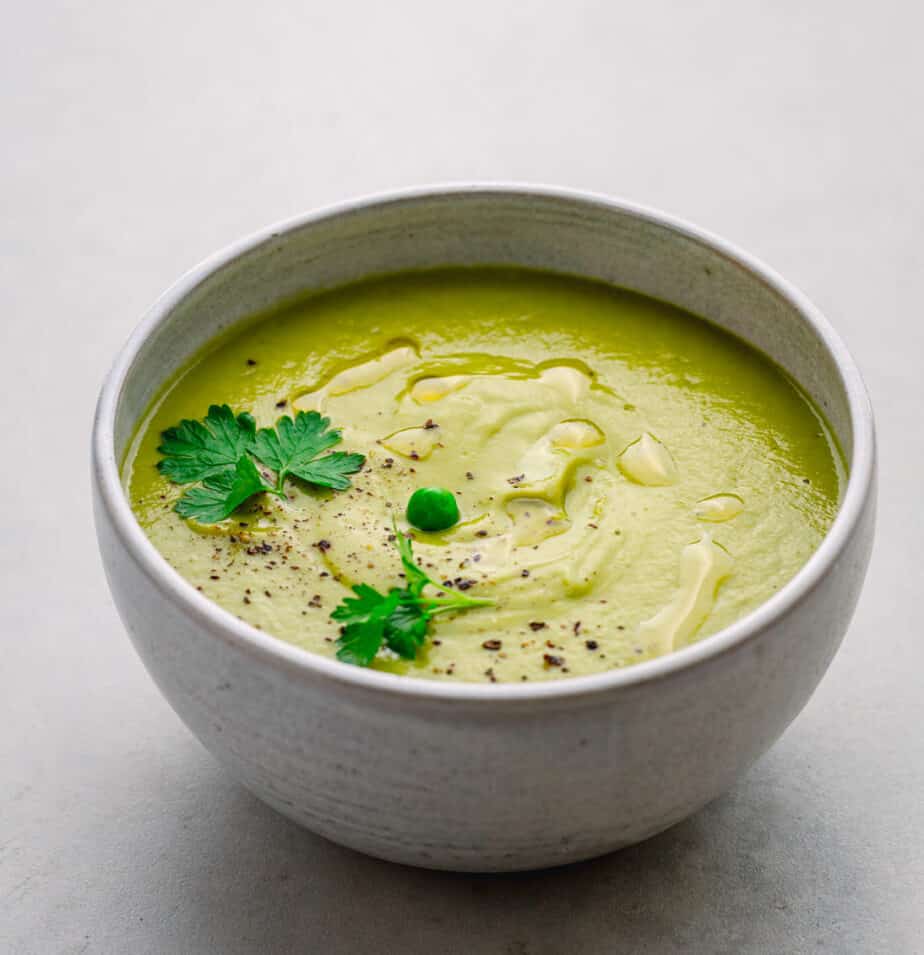 Also, check out more Instant Pot Soup Recipes: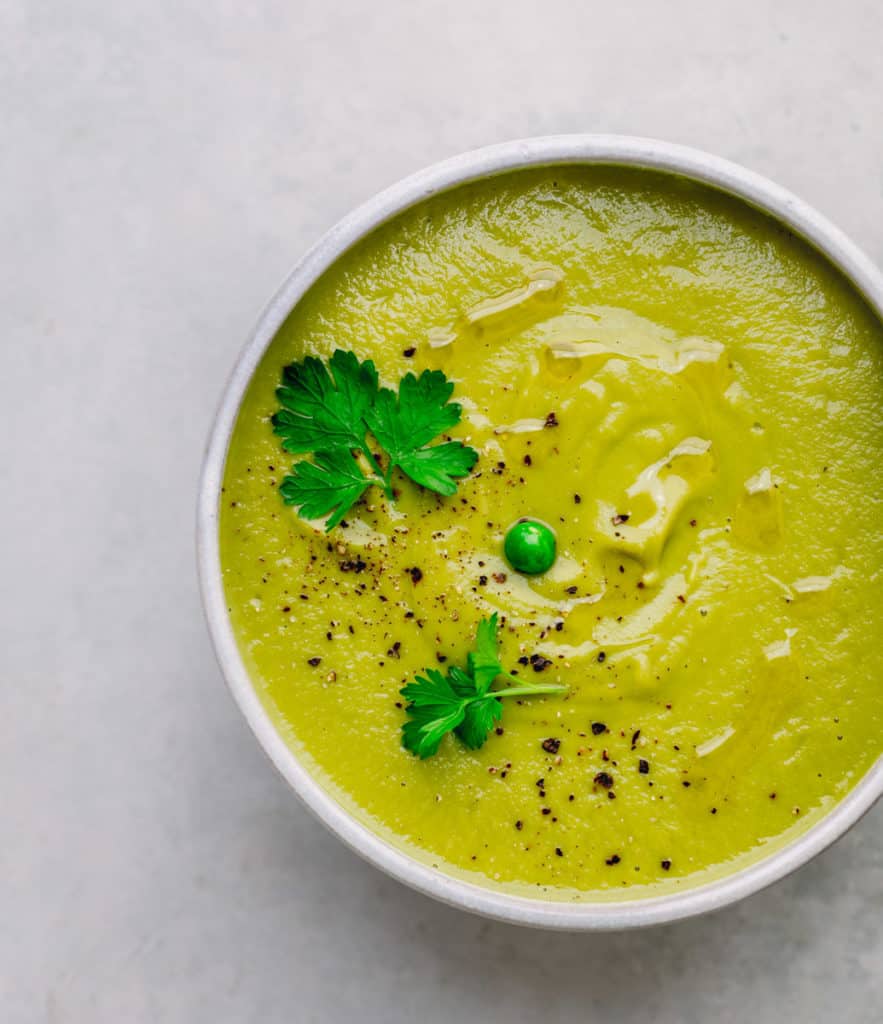 Instant Pot Pea Soup Ingredients:
To make this soup, you will need fresh peas or frozen peas, chicken or vegetable broth, lemongrass, basil, celery, onion, salt, pepper, and full-fat coconut milk. The soup is so creamy and made without a thickening agent or heavy cream.
Green Peas:
Green peas are considered starchy vegetables and they are actually part of the legume family. Green peas are also one of the best plant-based sources of protein and are high in fiber. This is why this Instant Pot Green Peas soup is very filling and nutritious.
But due to its lectins content, similar to other legumes, green peas may for a small group of people cause an upset stomach with bloating and gassing symptoms... it may not be for everyone but for those that like it, I think this style will be a hit!
For this recipe, you can use fresh green peas or frozen peas. Both forms are available at Trader's Joe's or any other grocery market (and they are very inexpensive).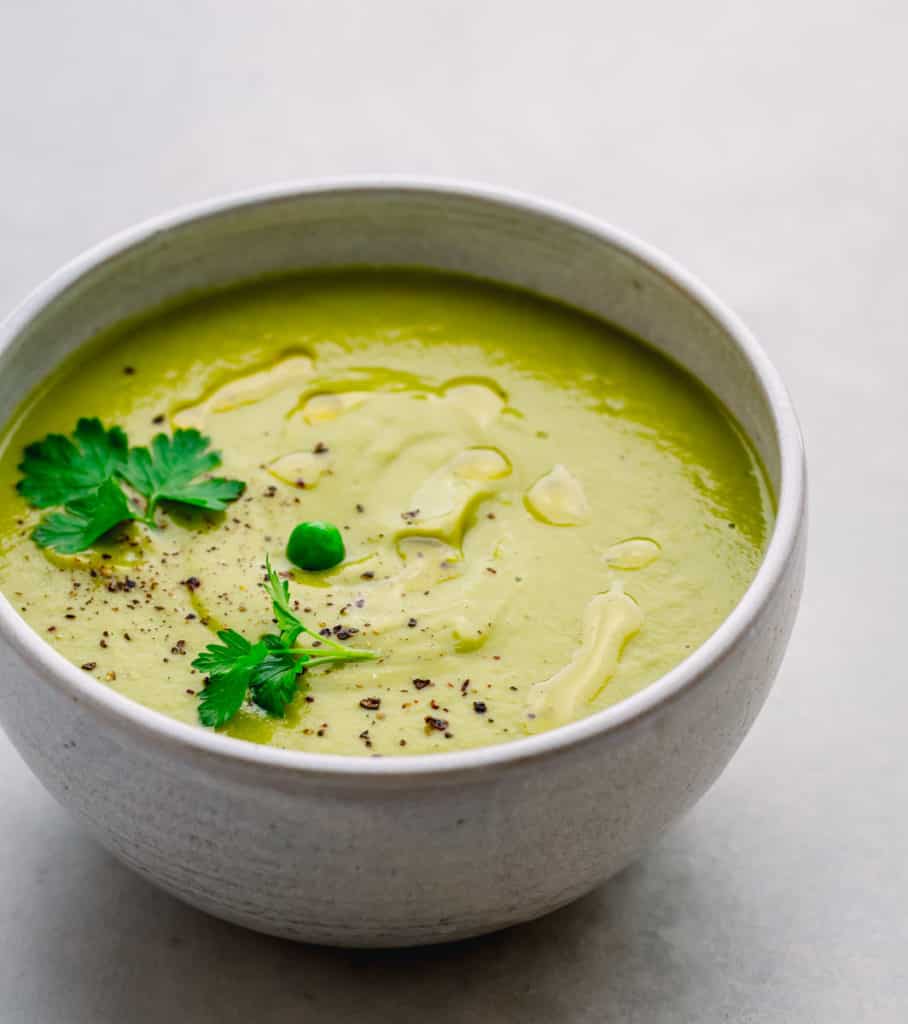 Lemongrass:
This fragrant herb is commonly used in Asian cuisine to add a lemony flavor to the dish. It works well in soup, stir fry, curry, and desserts. It's also often served as a nutritious tea. You can find lemongrass at Ralph's (Kroger) or at any Asian market.
If you have some leftover lemongrass I recommend chopping it up into small pieces, then transferring it into a ziplock before you put in the fridge. They can last up to 2 weeks!
How to Get the Most Flavor out of Lemongrass:
Trim off the spiky top and the base
Remove and discard the first few outer layers
Brush the lemongrass stalk with a mallet or the side of a large knife
Coconut Milk:
The soup is already creamy with or without coconut milk. I used a bit of coconut milk to add a light touch of sweetness and a very complex, interesting flavor to the dish. Coconut milk is also a common cooking ingredient used in Asian cuisine. If you don't like coconut milk, feel free to add use any dairy for this soup recipe.
Coconut milk is an excellent non-dairy alternative to dairy products. It's high in fat, but it's also cholesterol-free and rich in many nutrients.
Because we are going to use Instant pot to cook this pea soup, it's recommended to avoid adding coconut milk or any type of dairy when cooking at high pressure.
Also, Check Out More Delicious Instant Pot Recipes:
📖 Recipe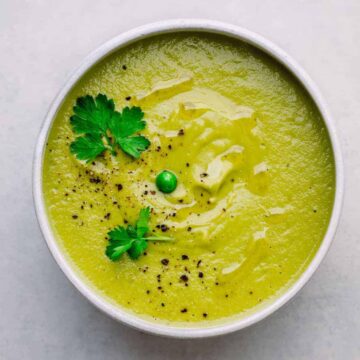 Instant Pot Pea Soup
This pea soup is not only tasty but also good for you. It will fill you up because it contains a great amount of protein and fiber!
Ingredients
1¾

cups

low sodium broth

1

pound

frozen or fresh sweet peas

1

cup

chopped yellow onion

1

cup

chopped celery

¼

cup

fresh basil leaves

,

(loosely packed)

¼

cup

chopped lemongrass

,

(trimmed and bruised)

½

cup

coconut milk

,

(full-fat)

1

tablespoon

oil

½

teaspoon

salt ,

(use more according to your liking)

¼

teaspoon

black pepper,

(use more according to your liking)
Instructions
Press the button SAUTÉ. Set it to "Normal" and heat one tablespoon of oil.

Add onion, celery, and lemongrass into the pot and cook until tender for about 2-3 minutes. Stirring occasionally.

Add basil leaves, frozen peas and give them a quick stir for about 10 seconds.

Add broth into the pot, stir for about 10 seconds. Lock the lid onto the pot.

Press SOUP or Pressure Cook (Manual) on High pressure for 12 minutes with the Keep Warm setting off. The valve must be closed.

Use the quick-­release method to bring the pot's pressure back to normal. Unlatch the lid and open the cooker.

Remove the lemongrass stalks from the soup and stir in the coconut milk. Adjust seasoning with salt and pepper if needed.

Transfer the pea soup into a high-speed blender. Puree the soup in 2 batches until very smooth.