This spiced Carrot and Lentil soup recipe is naturally gluten-free, vegetarian, and is loaded with flavor and nutrients! The broth is so rich and fragrant and seasoned with Moroccan spices. This is an easy healthy soup recipe and budget-friendly. Served with a piece of warm garlic bread and enjoy!
This carrot and lentil soup is a filling and satisfying dish. It's the perfect soup to warm up your winter, and a great soup recipe for vegetarians that those meat-eaters will also find both satisfying and filling!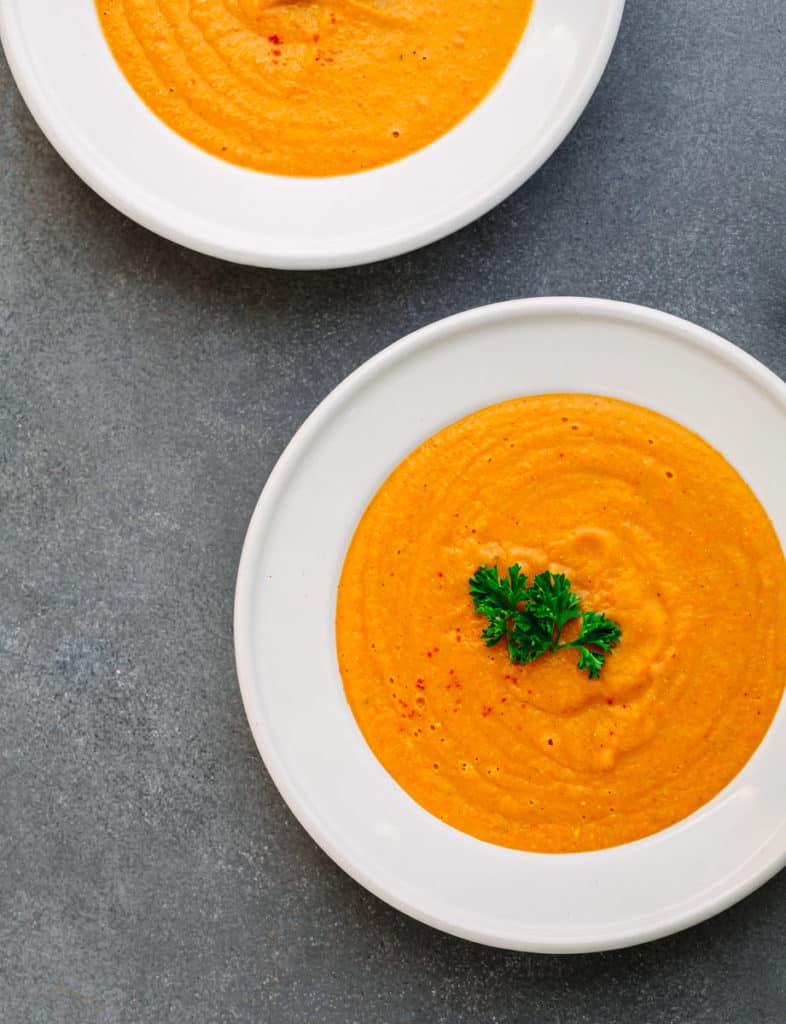 Carrot and Lentil Soup Ingredients:
To make this rich-in-flavor carrot and lentil soup, we are going to use split red lentils and carrot as the main ingredients. There is no need to soak the lentil because dry lentils cook pretty quickly in the soup!
The broth is made and seasoned with herbs and spices that are commonly used in Moroccan cooking. You will need a good pre-made stock (vegetable or chicken broth would work), onion, garlic, and tomato paste.
To season the broth, we'll use Morrocan spices that are made of turmeric, cumin, cinnamon, and paprika. Also, to add a hint of spiciness, we are going to add a small amount of cayenne pepper. Of course, a pinch of salt and pepper to taste is something I often do for soups, including this one.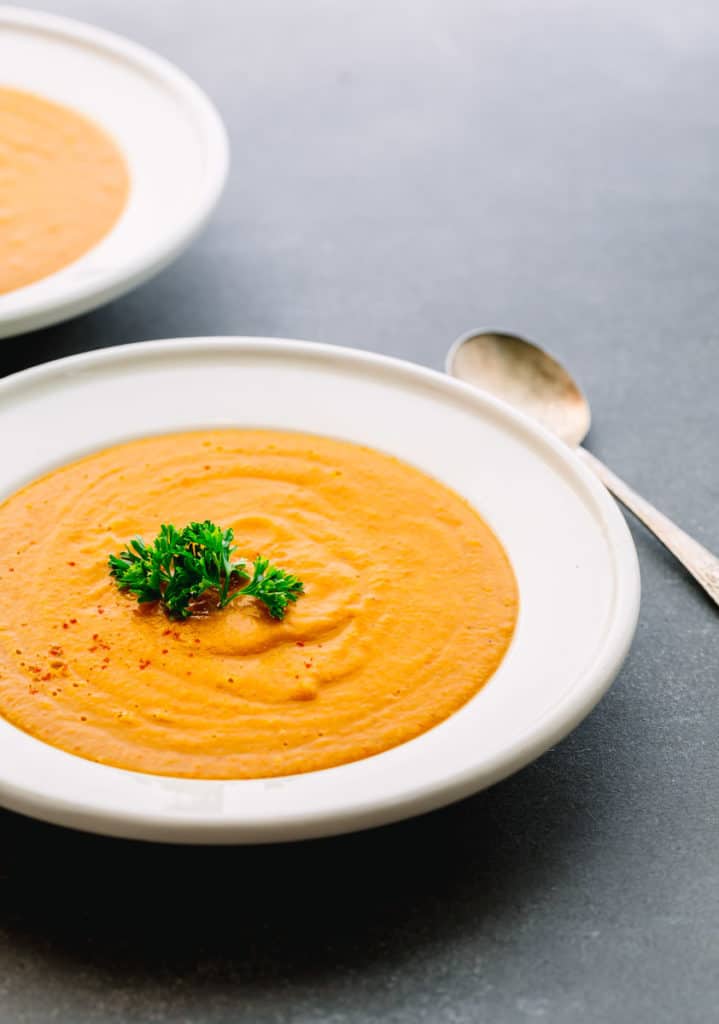 More Delicious Soup Recipes:
How to Cook Carrot and Lentil Soup:
To cook this carrot and lentil soup, you will need a large dutch oven or any large pot, which you'll use to cook on a stovetop for around 35 minutes, including simmering the broth at low heat.
You can also cook this soup in a slow cooker or pressure cooker like an instant pot. Just throw in all the ingredients in a pot, cover and cook on high for 5-6 hours or low for 7-8 hours in a slow cooker or about 3 minutes at high pressure in a pressure cooker with 10 minutes natural release.

1. Cook the soup base: vegetables, herbs, and spices.
2. Add the broth, diced carrots, and lentils, bring to a simmer.
3. Puree the soup using a hand blender or high-speed blender.
4. Adjust seasoning if needed and add extra broth if the soup is too thick.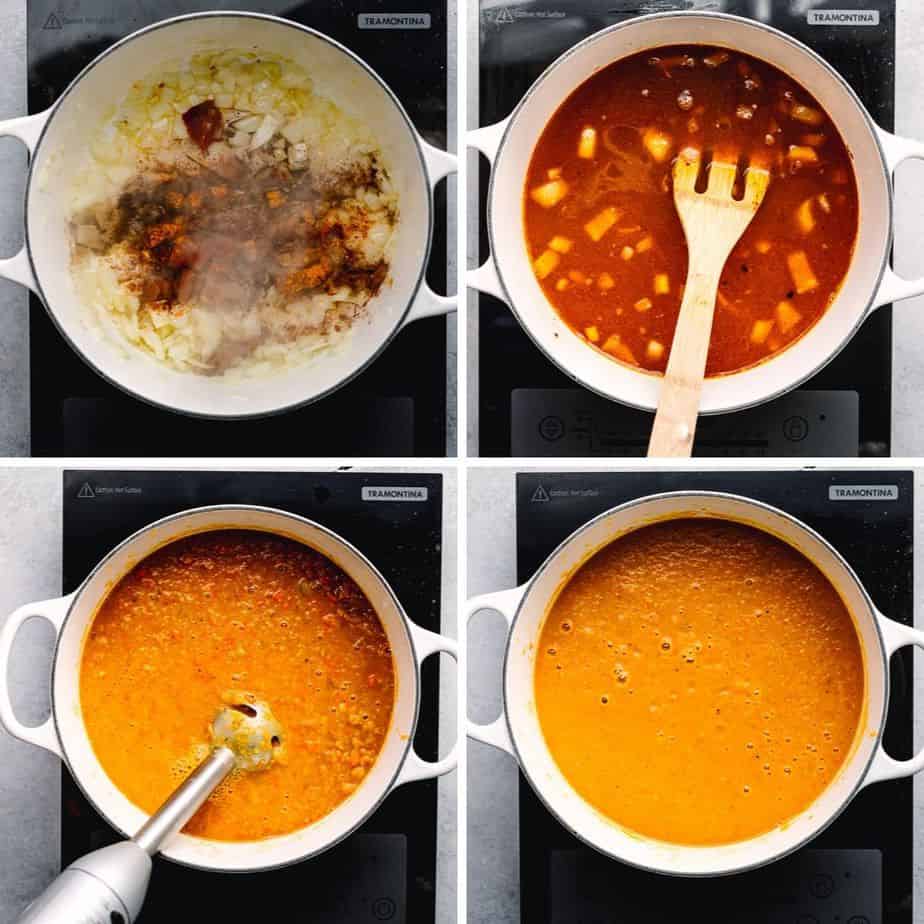 Creamy Soup without Flour or Heavy Cream:
There is nothing better than enjoying a creamy soup made without extra calories! And the good news is this creamy soup is made without using cream or flour.
This lentil soup is thickened naturally. To make the soup creamy, we have to use the perfect liquid to dry ingredient ratio. Then use a hand blender or any high-speed blender to blend the soup for several minutes until we achieve the perfect creamy consistency (without the cream!).
Simmering the Soup:
The simmering is one of the most important cooking steps of this soup. During this process, we will gradually cook ingredients until they are tender which also further develops the flavor.
For this recipe, I reduced the heat to medium-low and covered the pot partially to prevent it from cooking off too much liquid. This also intensifies the flavors by concentrating them.
Please keep in mind that you must stir the broth frequently to prevent it from getting burned. You may also need to adjust the heat between medium-low and low to maintain simmering for an extended period of time if necessary.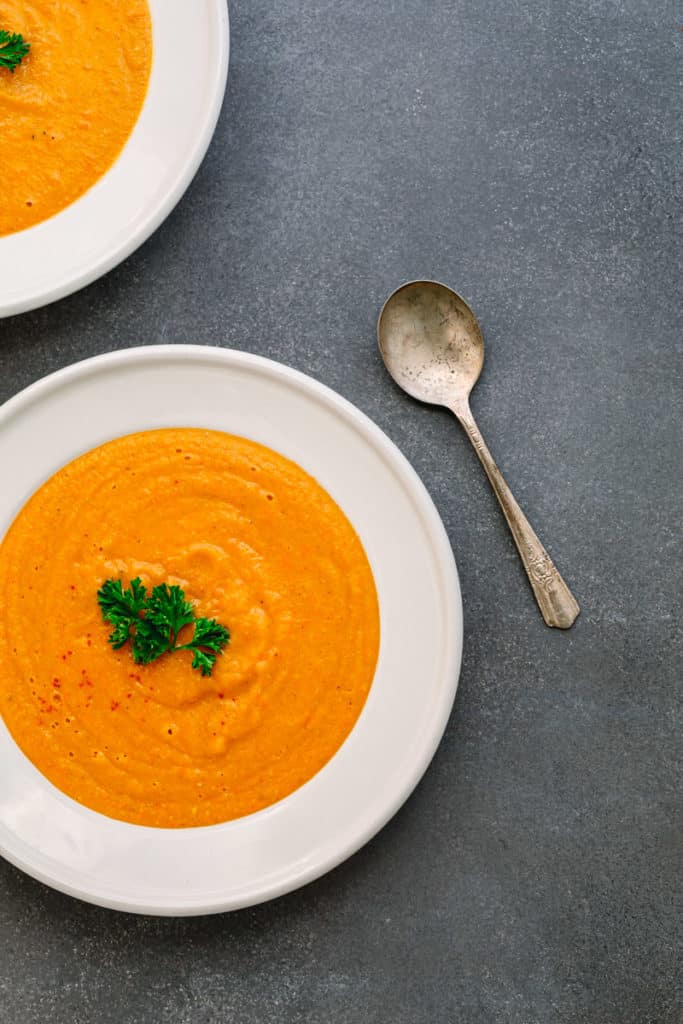 Lentils:
Lentils are low in calories, rich in iron and folate and a good source of protein. A ½ cup serving of cooked lentils provides about 12 grams of protein. Lentil is a staple food throughout the Middle East.
Soaking lentils is not required but you can do so to reduce cooking time by about half. For this recipe, I used split red lentils and skipped the soaking. The only thing I did was rinse the lentils in cold water and remove any debris.
I purchased the split red lentils at Trader's Joe. I believe it's under $2 per bag! That's just one of many reasons why lentils are one of the best whole plant-foods. They are very inexpensive yet packed with nutrition and are easy to find in most supermarkets.
Store Lentil Soup:
You can keep this carrot and lentil soup in the fridge for about to 3-4 days! Lentils soup freezes well. Properly stored, it will maintain the best quality for about 6 months.
📖 Recipe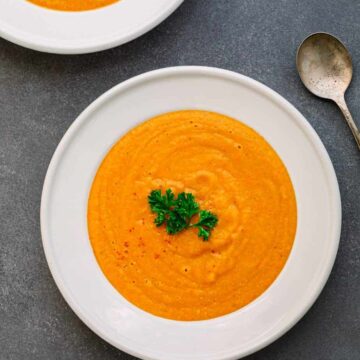 Carrot and Lentil Soup
The broth is so rich and fragrant and seasoned with Moroccan spices. It's so easy to make and budget-friendly.
Instructions
Heat oil in a heavy large saucepan over medium-high heat. Cook onion, garlic until tender for about 4-5 minutes. Be sure to keep stirring to prevent burning.

Add tomato paste, cumin, turmeric, cinnamon, paprika and cayenne pepper. Be sure to keep stirring to prevent burning (for about 1 minute).

Add broth. Be sure to scrape the bottom, add carrots, lentils, water and bring to a simmer.

Reduce to low heat, cover the pot partially and cook for about 15-20 minutes or until the lentils are soft. Stir frequently to prevent burning. Turn off the heat when the lentils are fully cooked.

Use a hand blender or any high-speed blender, puree the lentils until smooth, adjust the seasoning with salt and pepper.

If the broth is too thick, add about ¼ cup of extra broth. Ladle soup into bowls. Garnish with parsley, serve and enjoy.