This restaurant-style twice-cooked pork belly is so delicious and packed with flavors. The thin slices pork belly is cooked twice and stir-fried with savory, lightly sweet Sichuan fermented bean sauce. The meat is so tender and has a crispy texture to it. It's fragrant, and a bit spicy! Enjoy it with a bowl of rice; simply delicious and so addictive!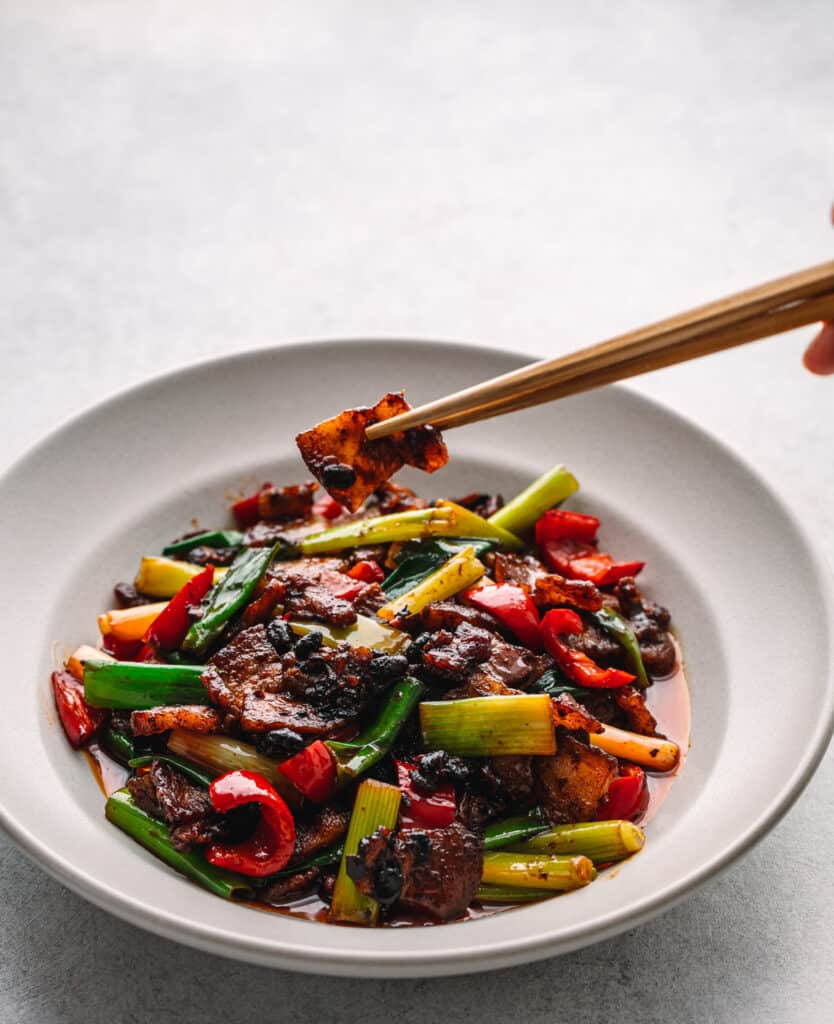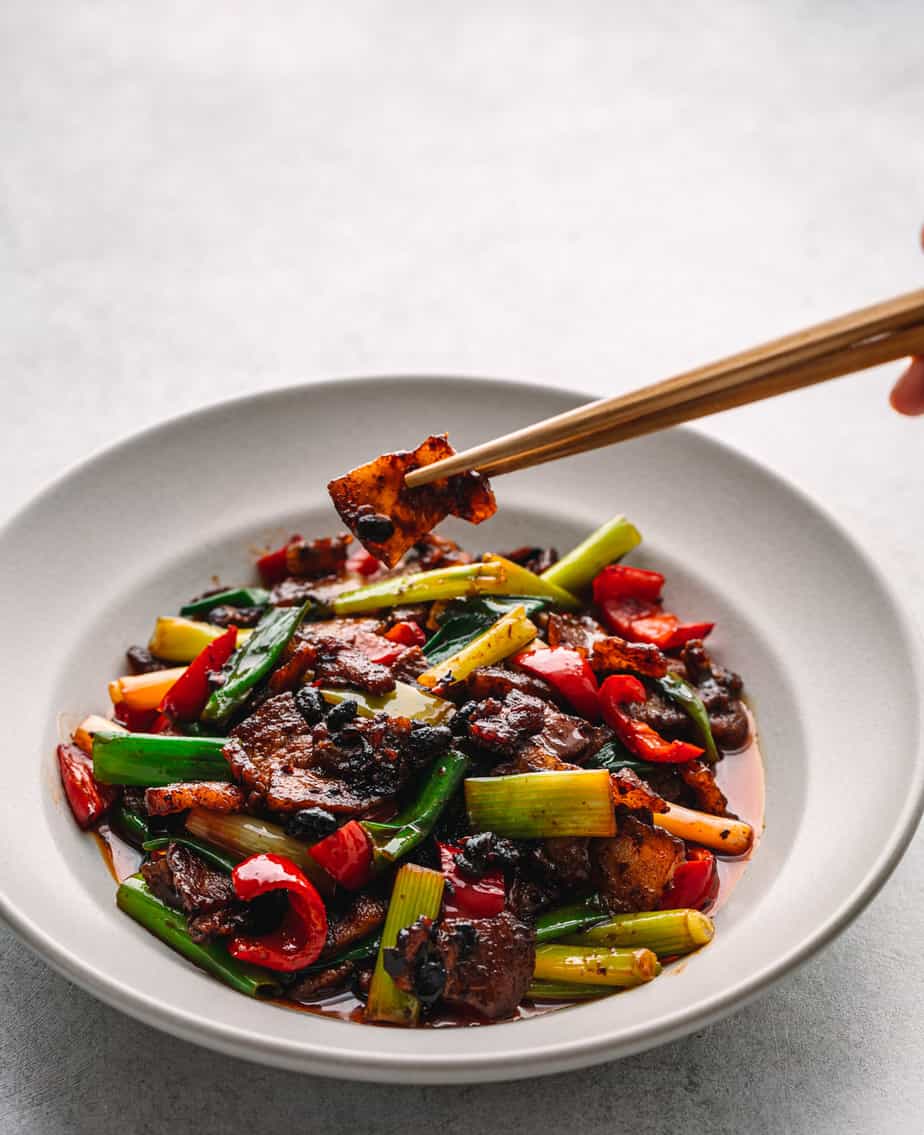 If you love Sezchuan or Sichuan food, I am sure that you are pretty familiar with this dish as it's a classic: Chinese Twice-cooked pork or hui guo rou (回鍋肉). This double-cooked pork is a popular Sichuan-style Chinese dish and commonly found at Chinese restaurants in the USA. The pork is cooked twice hence the name.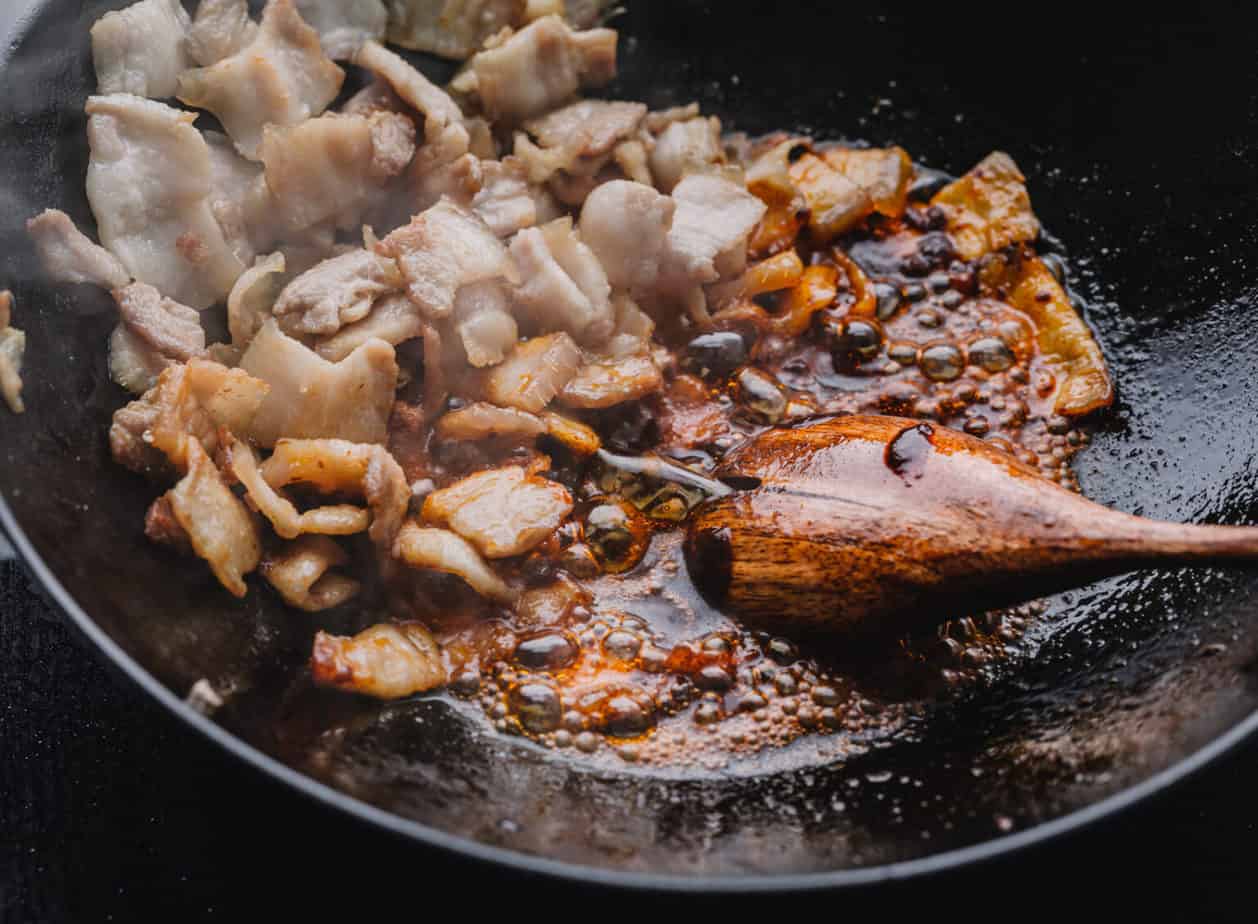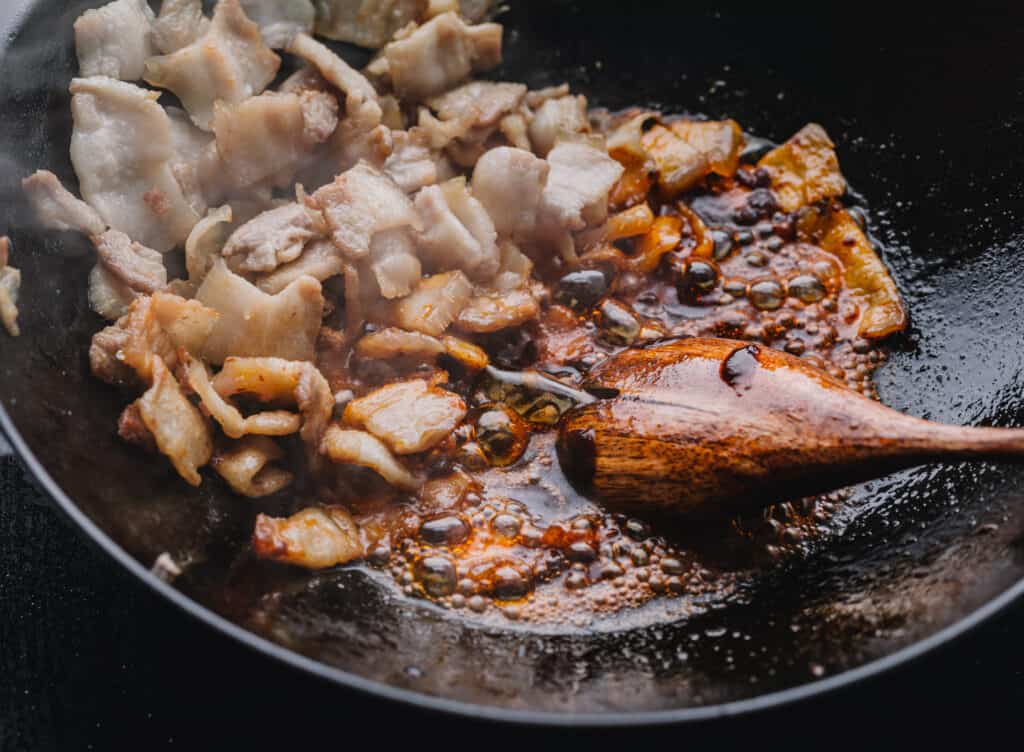 Twice-cooked pork is one of my favorite dishes in addition to spicy boiled fish to order here at a number of Sichuan restaurants in San Diego.
Today, I am going to show you how to make the twice-cooked pork, inspired by Fuschia Dunlop. It's so quick and easy. You will be surprised by how this dish turns out, and many would argue it tastes similar or even better than what you get from Sichuan restaurant!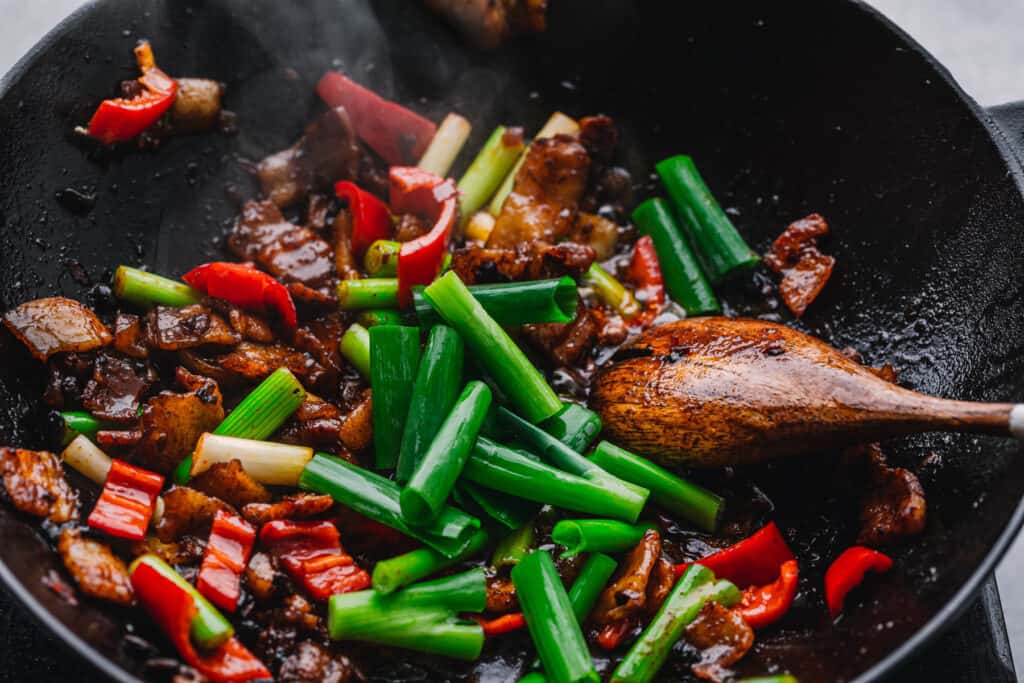 Twice-Cooked Pork Belly Ingredients:
This twice-cooked pork belly is made of thin slices of pork belly, cooked in a Sichuan sauce. The sauce is made from the fermented black bean, Sichuan broad bean, sweet bean sauce, soy sauce, sugar, red chili pepper, and scallions. You can purchase these spices at any Asian grocers or online at Amazon.com.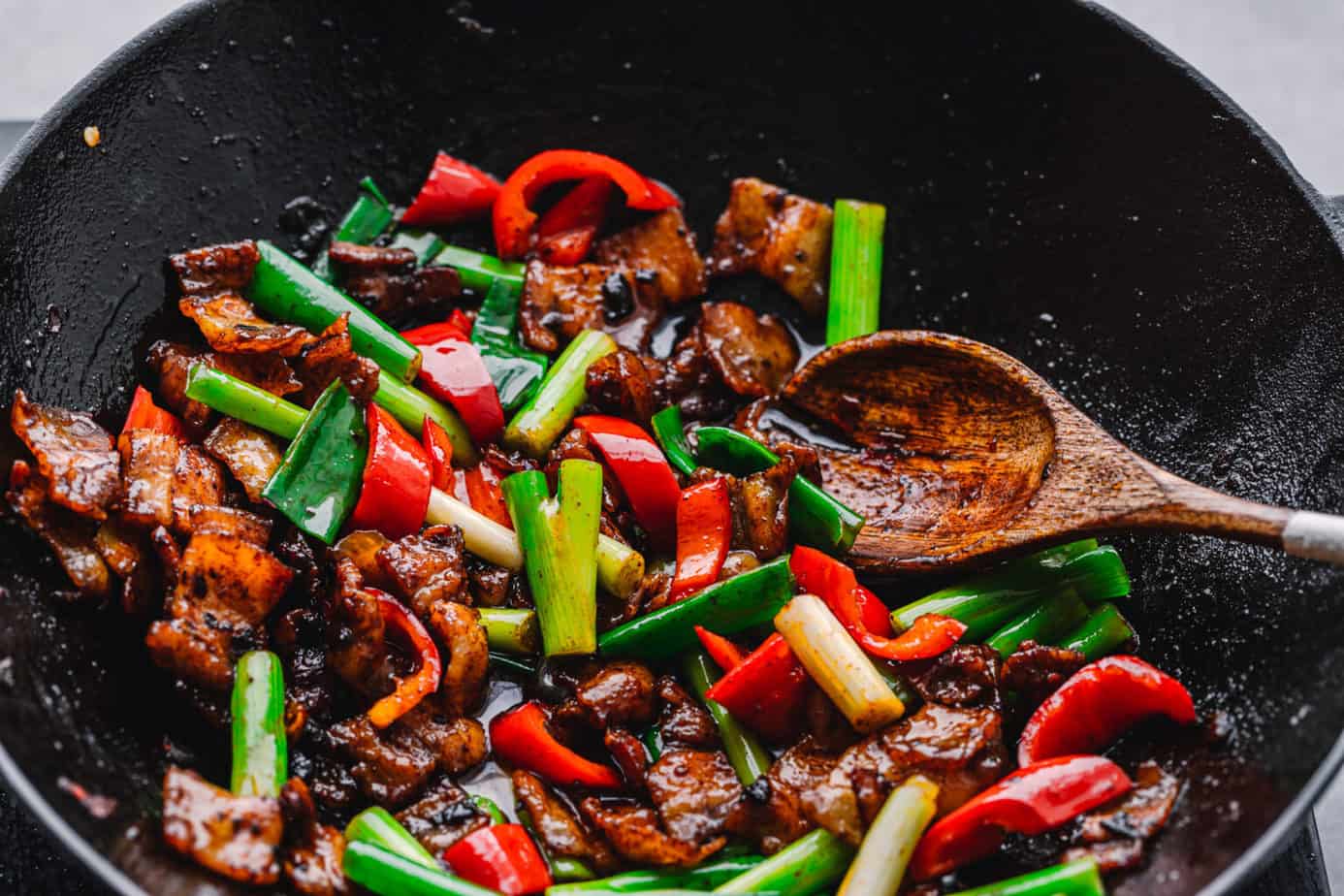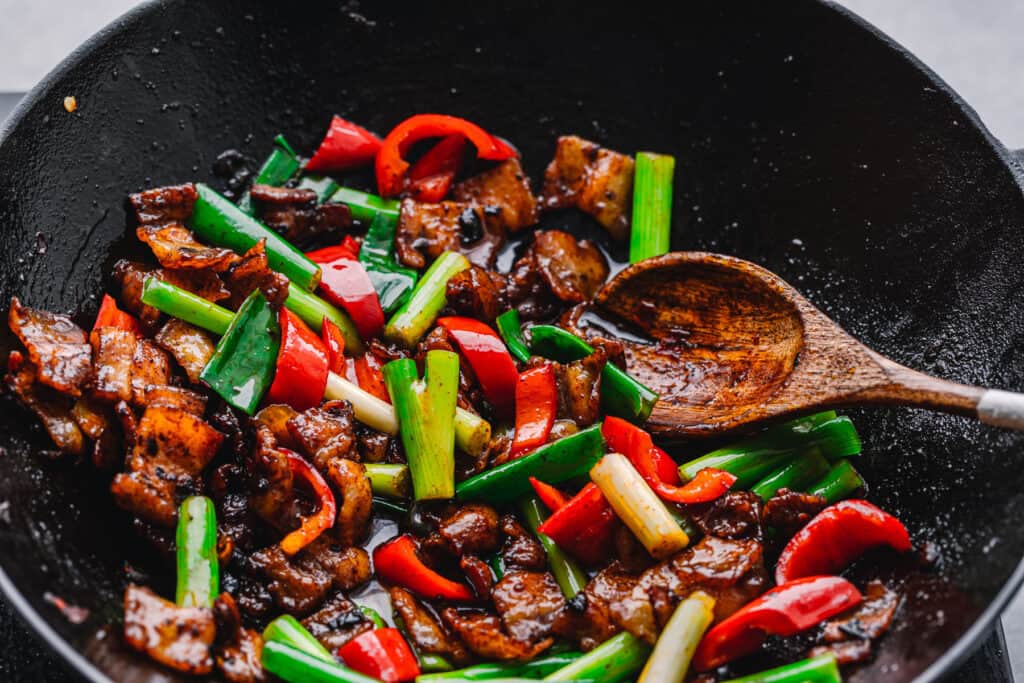 Fermented black bean, Sichuan broad bean, and sweet bean sauce are so versatile and commonly used in Sichuan cuisine. If you have some left-over, don't forget to use these spices to make these delicious Sichuan dishes.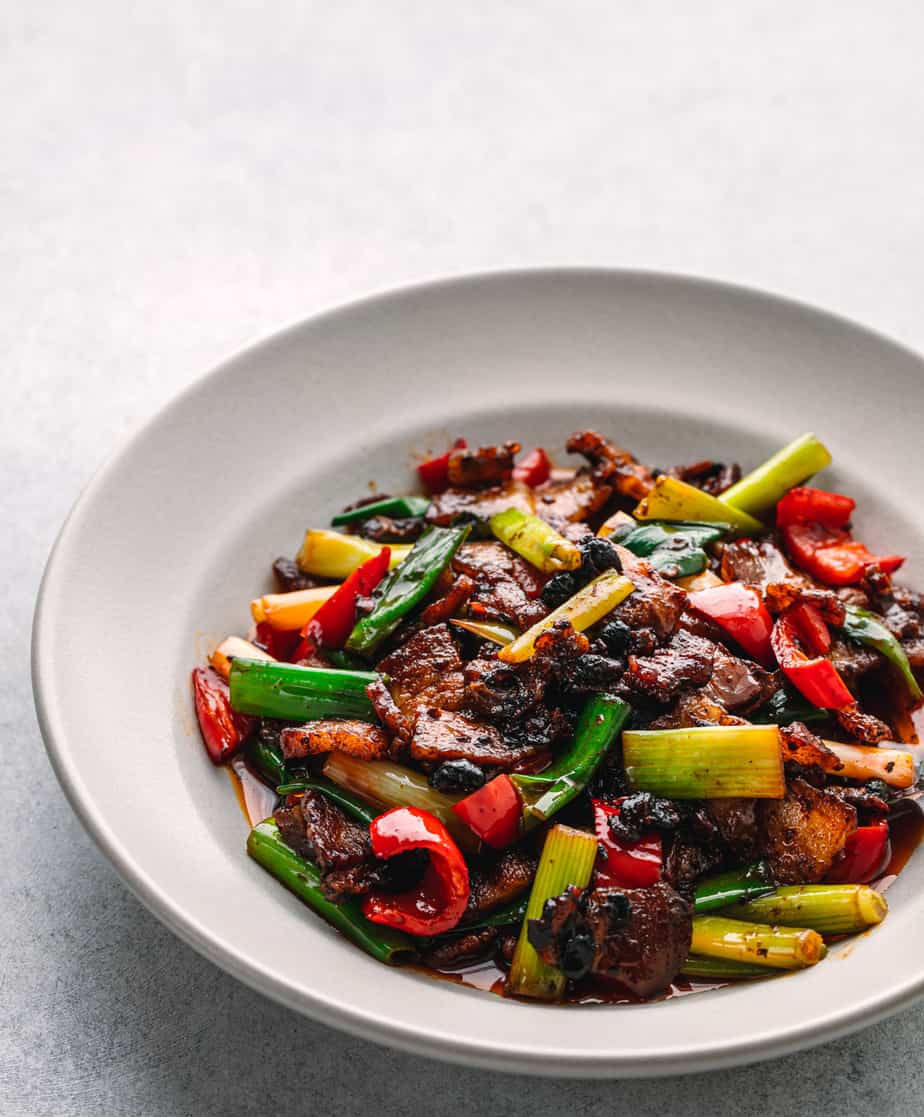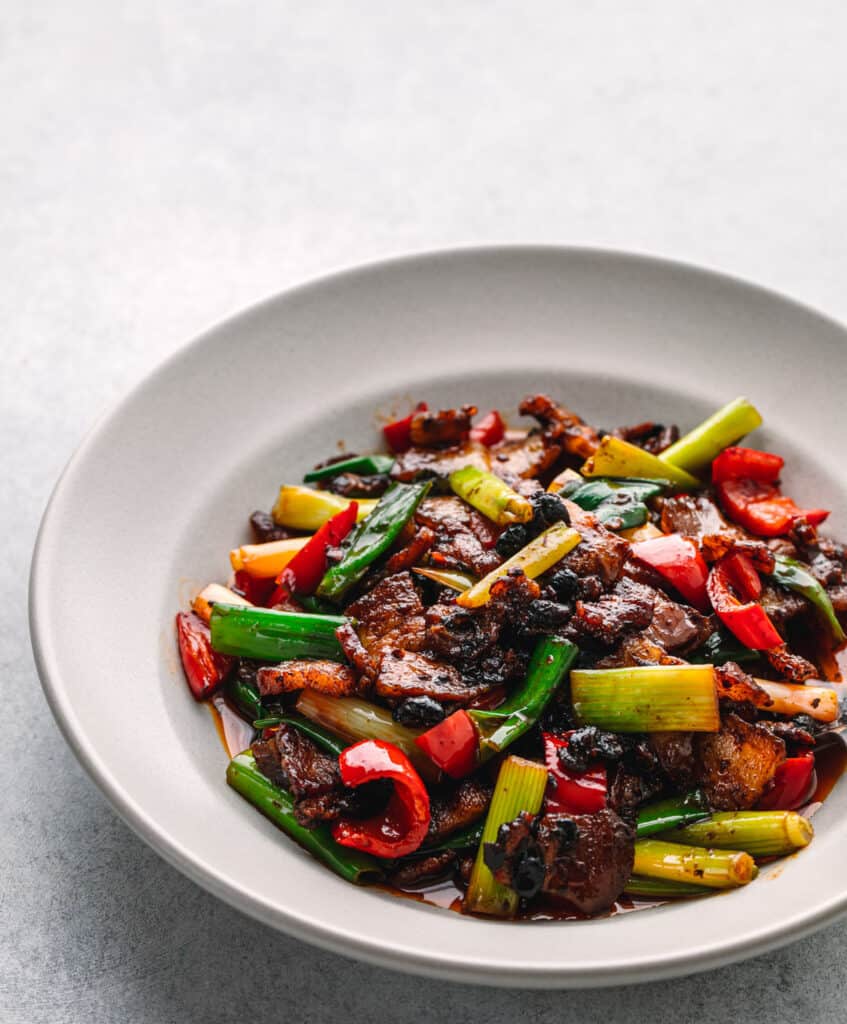 In this recipe, I used Red Serrano Chili Peppers. I remove the seeds then cut diagonally to reduce the spiciness. If you want this dish to be on the less-spicy side, you can use red bell pepper.
CHECK OUT MORE ASIAN RECIPES: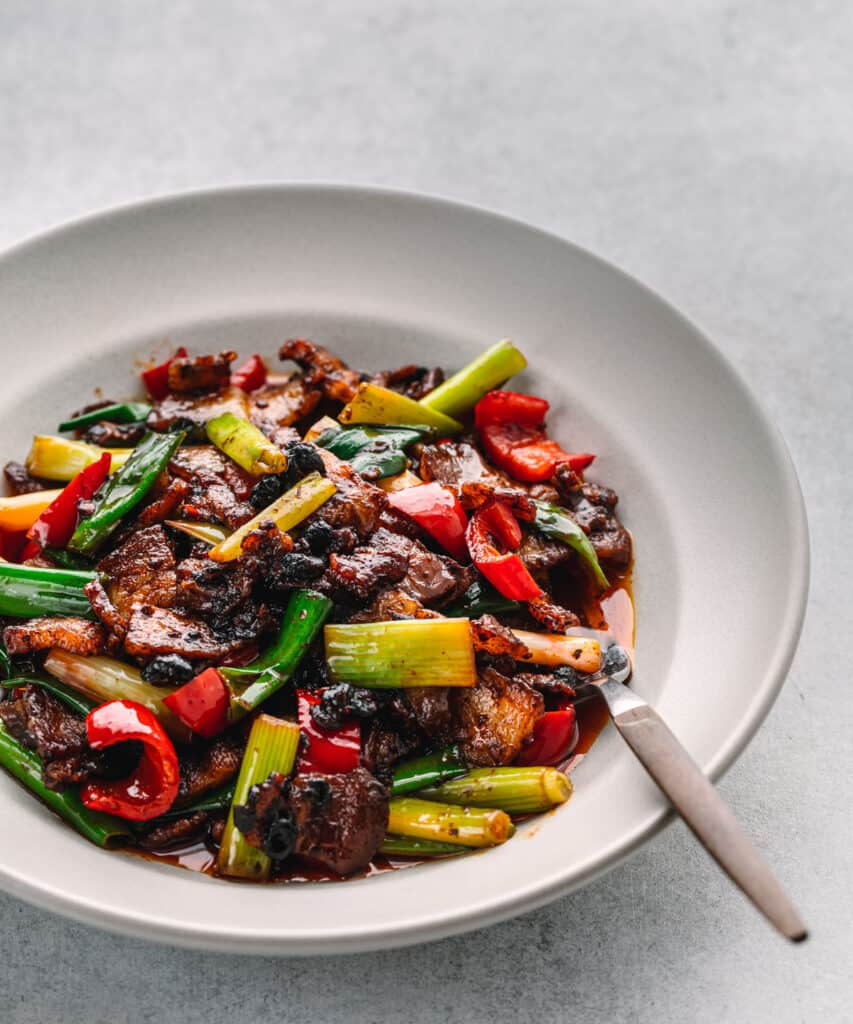 Chinese Fermented Beans:
Douchi 豆豉; dòuchǐ, or tochi is the most popular seasoning in the Chinese cuisine. It's a type of fermented black beans or fermented black soybeans. These fermented beans are commonly used for making black bean sauce dishes, such as stir-fries and other wok-cooked dishes.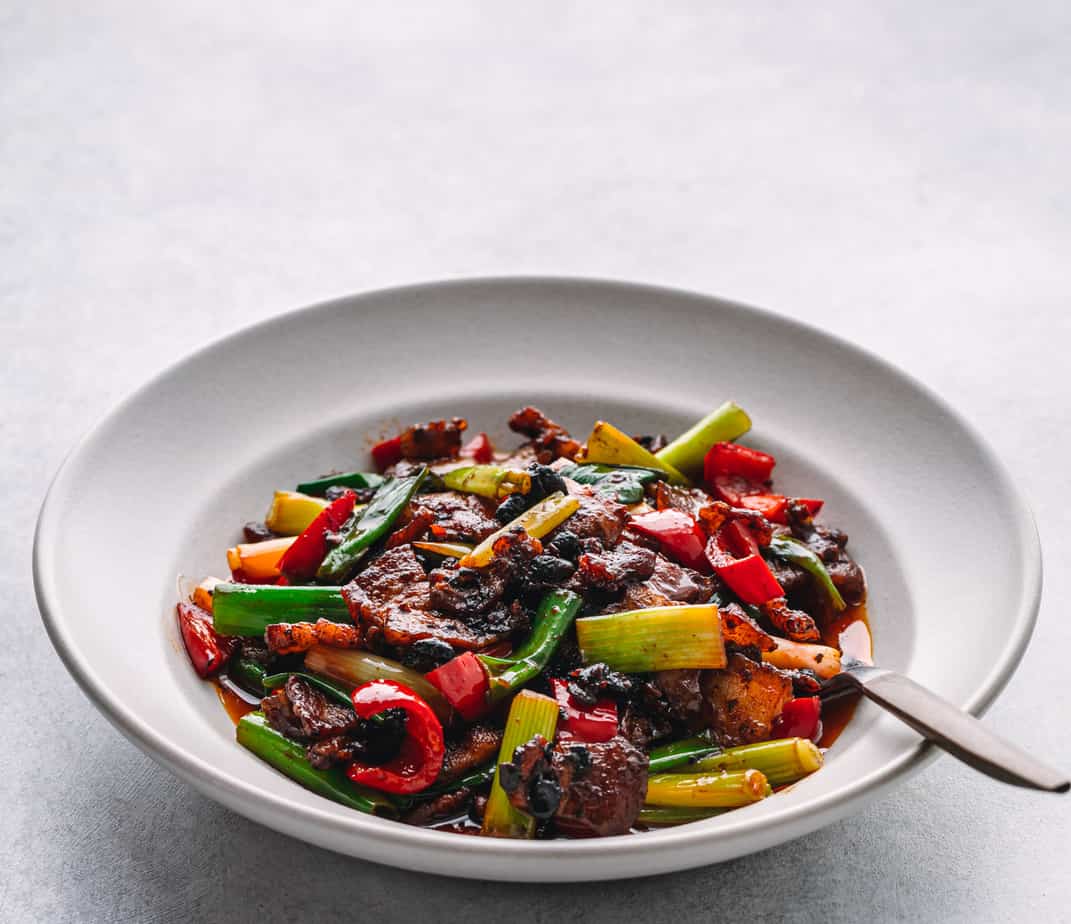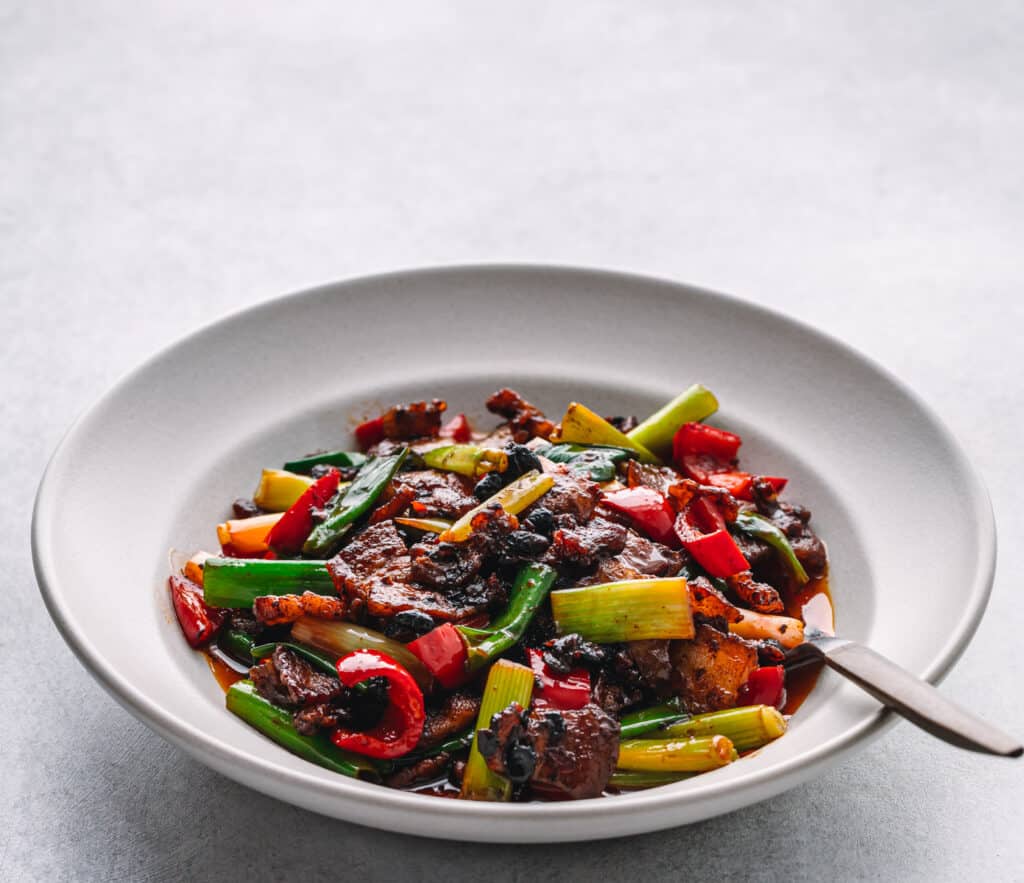 Sweet Fermented Sauce:
Also known as tian mian jiang or sweet bean sauce. This smooth, dark, and glossy sauce has a mildly sweet and savory flavor. It's made from fermented wheat and salt. Similar to hoisin sauce, this sweet fermented sauce is often used to glaze Peking duck or Chinese-style pork.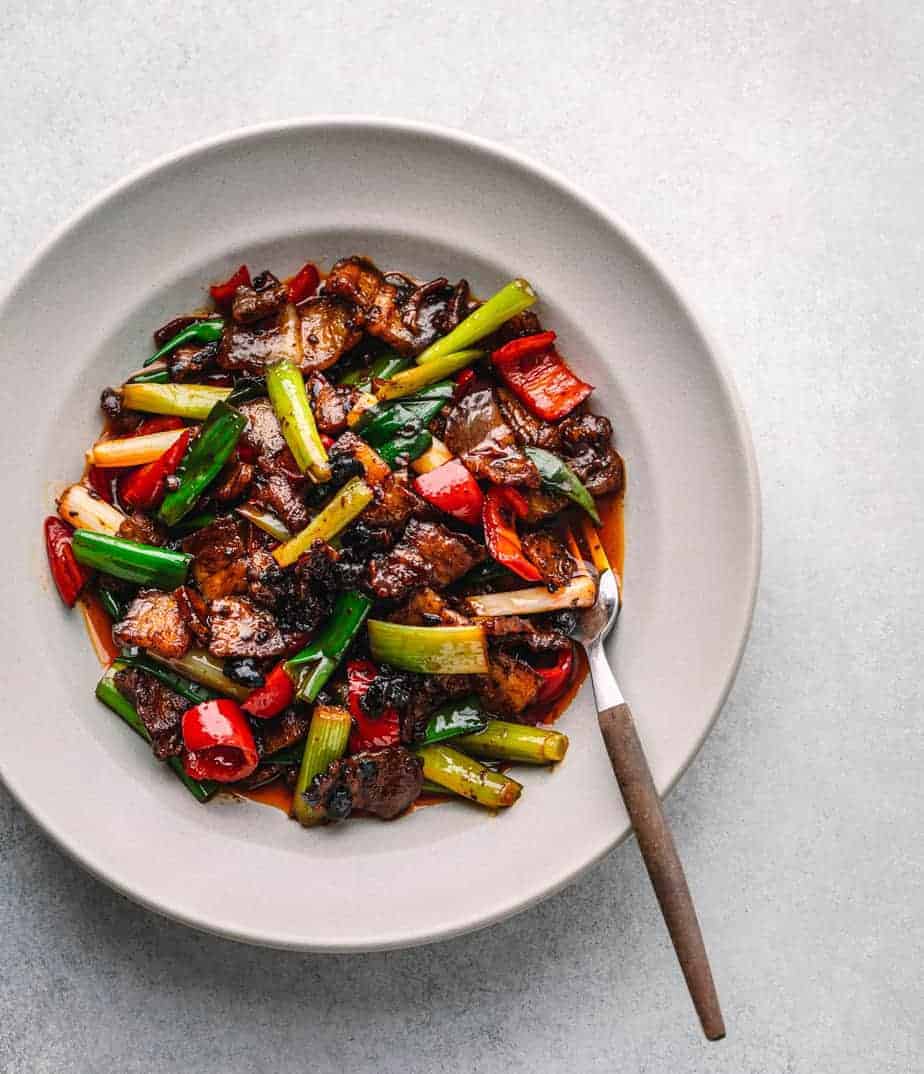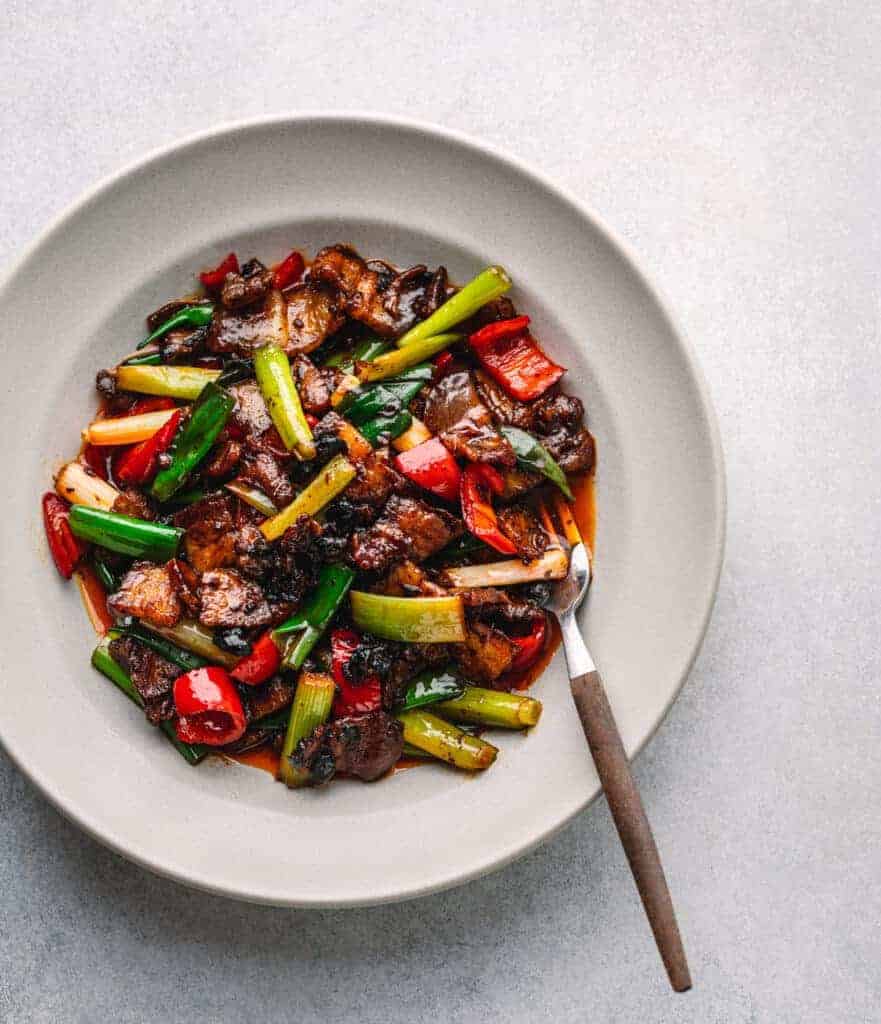 You can purchase sweet bean sauce at any Asian grocers or online.
How to Make Twice-Cooked Pork Belly:
The cooking process of this savory dish isn't complicated (even though the meat has to be cooked twice). Here are the steps:
First, you must cook the pork belly in hot boiling water.
Second, you need to cool down the meat and put it in the fridge.
Third, you can cut the pork into thin slices.
Last you need to stir fry the vegetables and spices, then thinly sliced pork together in a wok.
📖 Recipe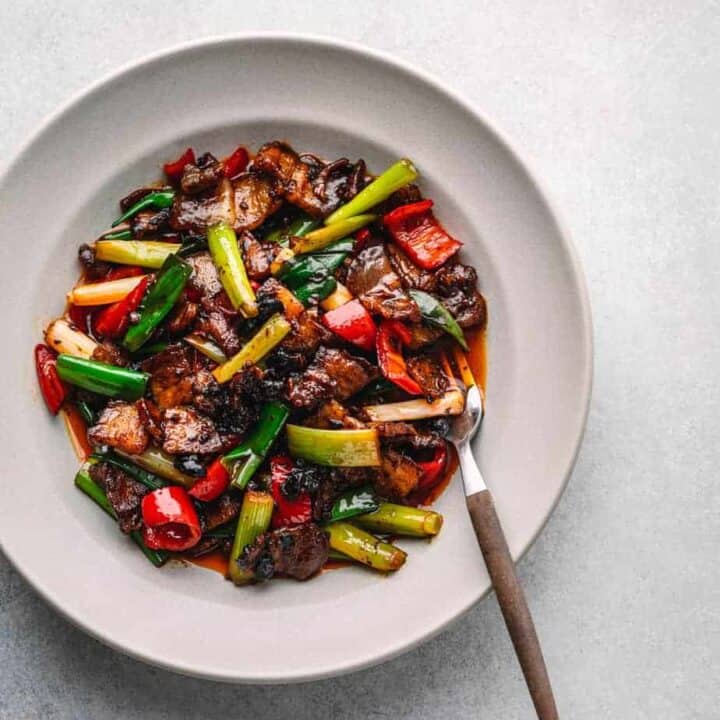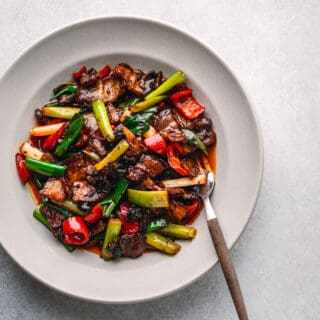 Twice-Cooked Pork Belly
This twice-cooked pork belly is so delicious and packed with flavors. The thin slices pork belly is cooked twice and stir-fried with savory, lightly sweet Sichuan fermented bean sauce.
Ingredients
Stir Fry Sauce:
1

tablespoon

peanut oil/vegetable oil/canola oil

1½

tablespoon

Chinese fermented black beans,

(aka Douchi, rinsed and drained)

1

tbsp + 1 tsp

spicy broad bean paste

,

(aka Pixian Dou Ban Jiang or use Lee Kum Kee Sichuan-Style Broad Bean Sauce)

2

teaspoon

sweet fermented sauce

,

(aka Tianmian sauce, sweet bean sauce)

¾-1

teaspoon

white sugar

½

teaspoon

dark soy sauce
Produce:
2-3

red serrano chili peppers

,

(seeded and cut the chilies on the diagonal into uniform-sized pieces)

6

scallions or baby leeks

,

(cut into 1-inch length pieces, white and green part)
Instructions
Preparation:
Soak the Chinese fermented black beans (Douchi) in hot water for 15-30 minutes and rinse them a few times. Set aside.

Place the pork belly in a large saucepan, cover with water then bring to a boil. Reduce the heat then simmer until cooked through. This step should take about 20 minutes.

Remove the pork belly from the heat, pierce the meat with a fork to clear up some extra liquid from the meat.

Let the meat cool down then transfer to a fridge for several hours or up to overnight.

Before cooking, cut the pork belly into thin slices.
Frying:
Heat the oil over high heat, add the pork belly, reduce the heat to medium and stir fry until lightly crisp and slightly curled.

Push the pork belly to the side of wok then add the spicy broad bean paste into the wok until fragrant

Add the sweet fermented bean sauce and Chinese fermented black beans into a wok, stir fry for a few seconds then mix everything, including pork belly together.

Add sugar, soy sauce, scallions, red chili peppers, and stir fry until all ingredients are coated with sauce and cooked.

Remove from the heat. Serve and enjoy!
Nutrition
Calories:
498
kcal
Carbohydrates:
4
g
Protein:
10
g
Fat:
49
g
Saturated Fat:
17
g
Cholesterol:
61
mg
Sodium:
295
mg
Potassium:
157
mg
Fiber:
1
g
Sugar:
3
g
Vitamin C:
1
mg
Calcium:
4
mg
Iron:
1
mg