This is a collaboration post with Kitchen Aid K400. This creamy cranberry vinaigrette with orange is made from scratch and is all-natural. The cranberry salad dressing adds a fresh and refreshing touch to any greens, including an apple walnut salad! It's the perfect last-minute recipe idea during this holiday season.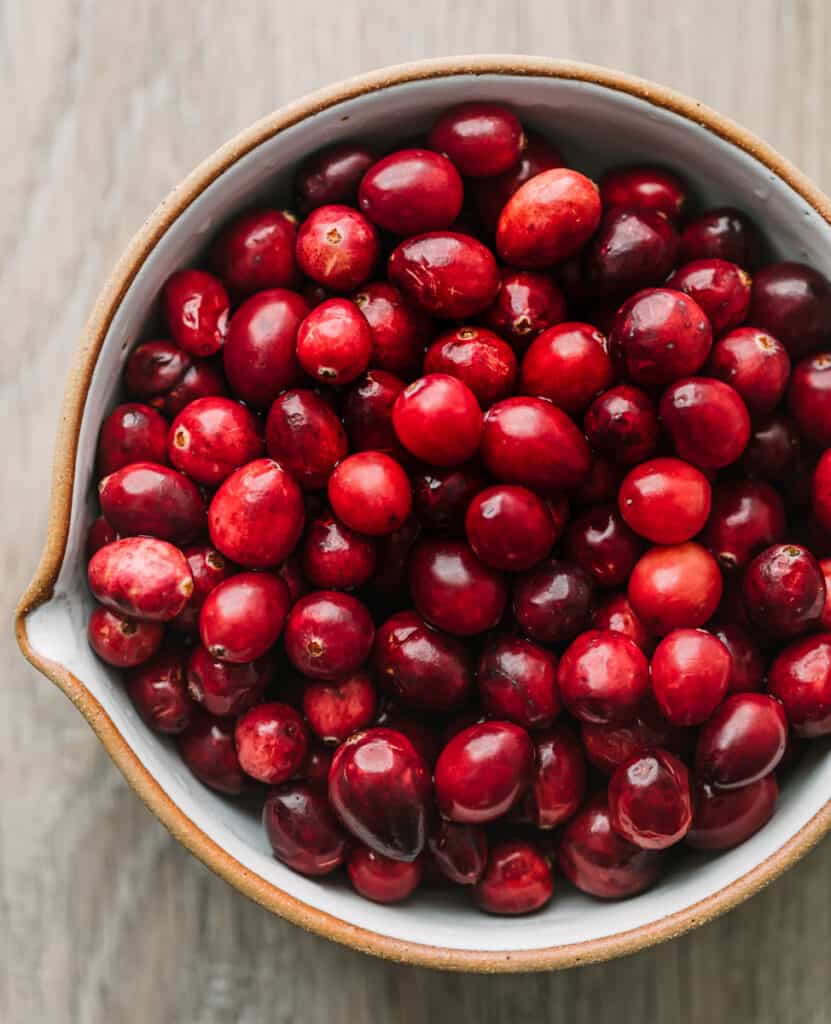 Homemade Cranberry Vinaigrette - Fresh and All-Natural
I love making homemade salad dressing because it's so simple to make and comes together quickly. In addition, homemade salad dressing uses no preservatives and always tastes fresher than store-bought dressing. This cranberry vinaigrette is also a recipe for leftover fresh cranberries. It's zesty, tangy and has just the right amount of sweetness. Absolutely delicious.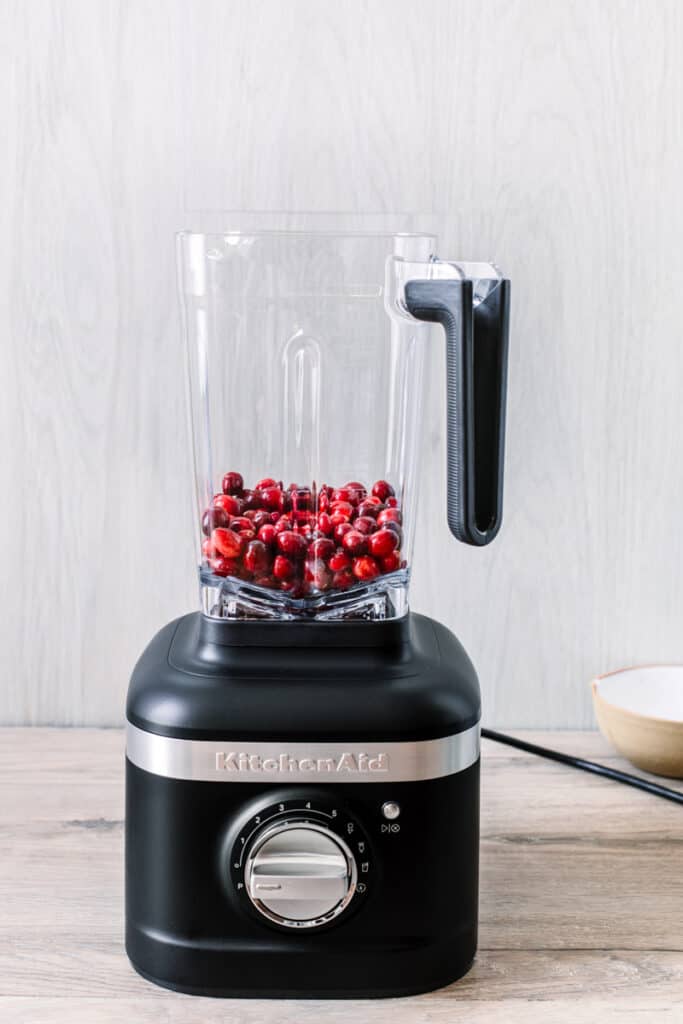 This tasty cranberry vinaigrette is made with fresh raw cranberries instead of cranberry juice or canned cranberry sauce.
Cranberries Have a Short Season!
This fall/winter season is the time to buy fresh cranberries. They are usually available in the grocery markets for a few months only, from September through January.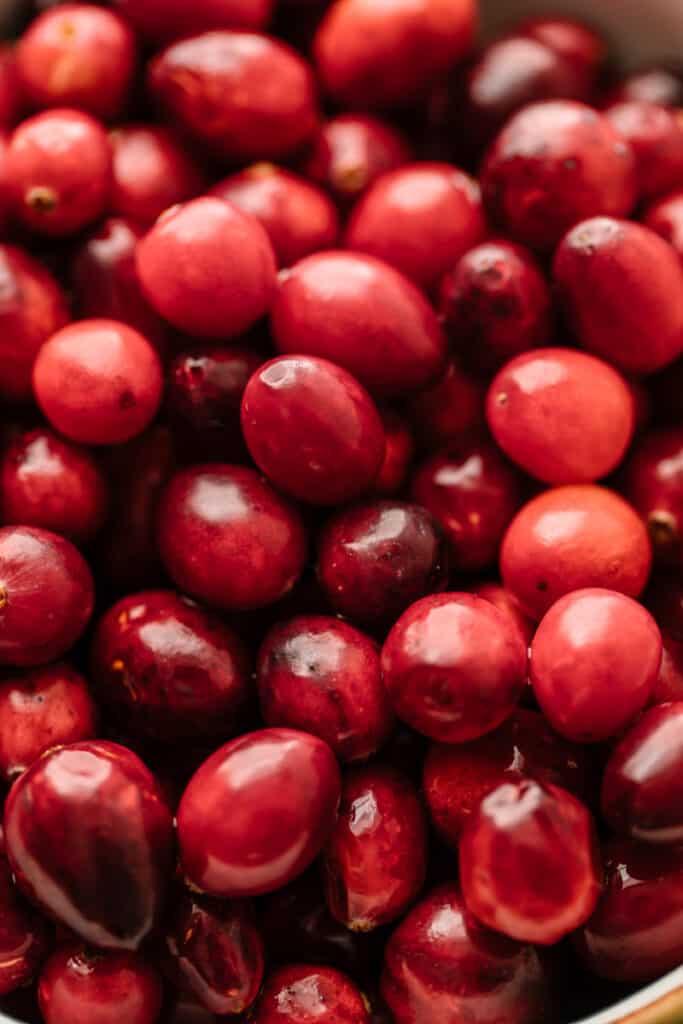 Cranberries are perfect for holiday gatherings. You can use them to make a delicious cranberry sauce to accompany Thanksgiving dishes, cranberry juice, festive drinks or as the base of salad dressings.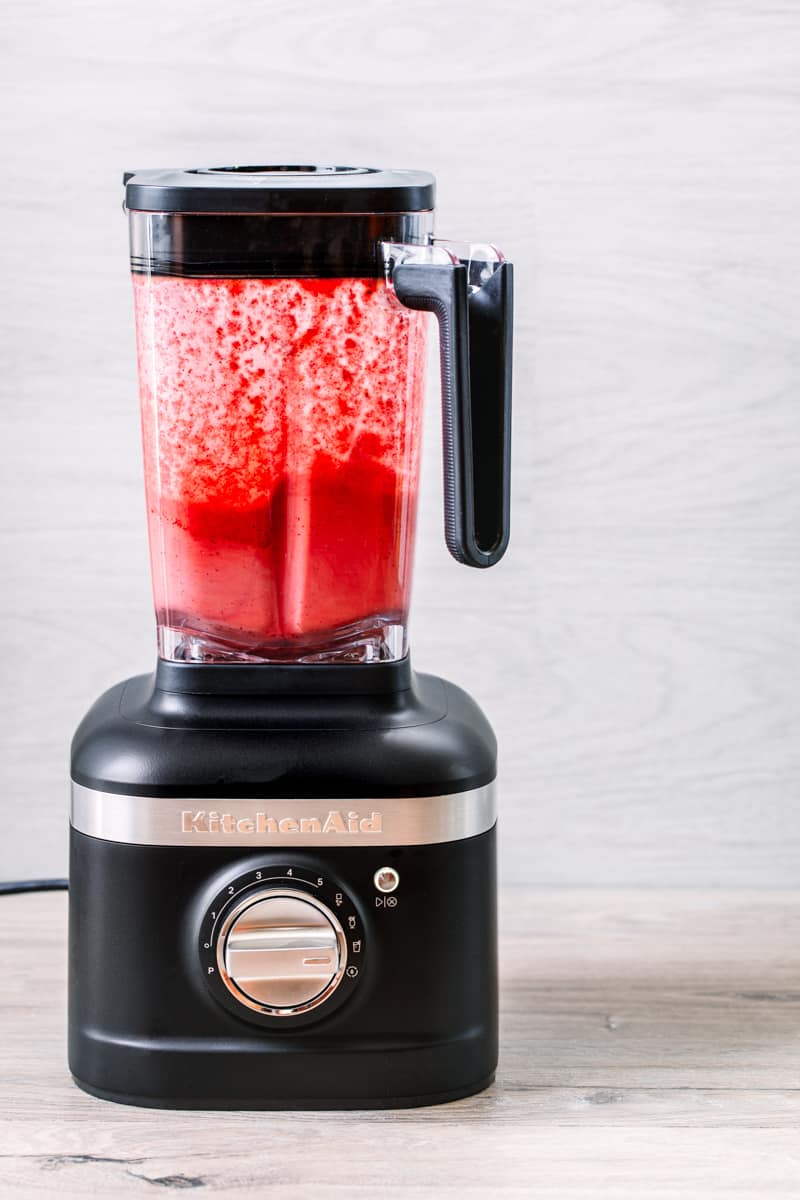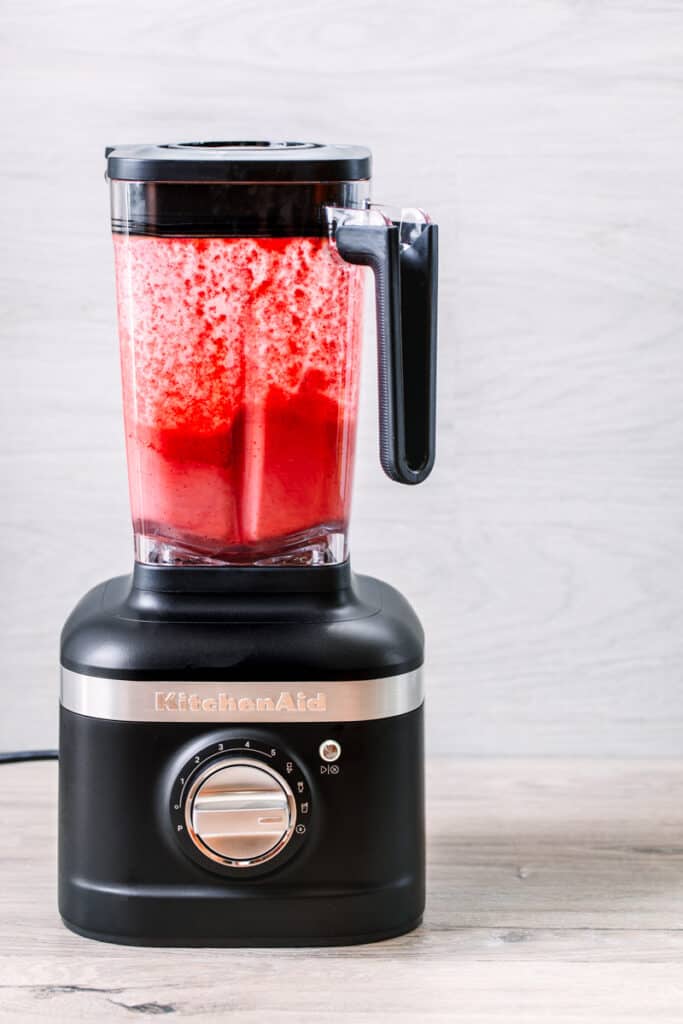 If you are a big fan of cranberries be sure to buy extra bags as you can save them for later use. Properly stored fresh cranberries can last up to a year in the freezer.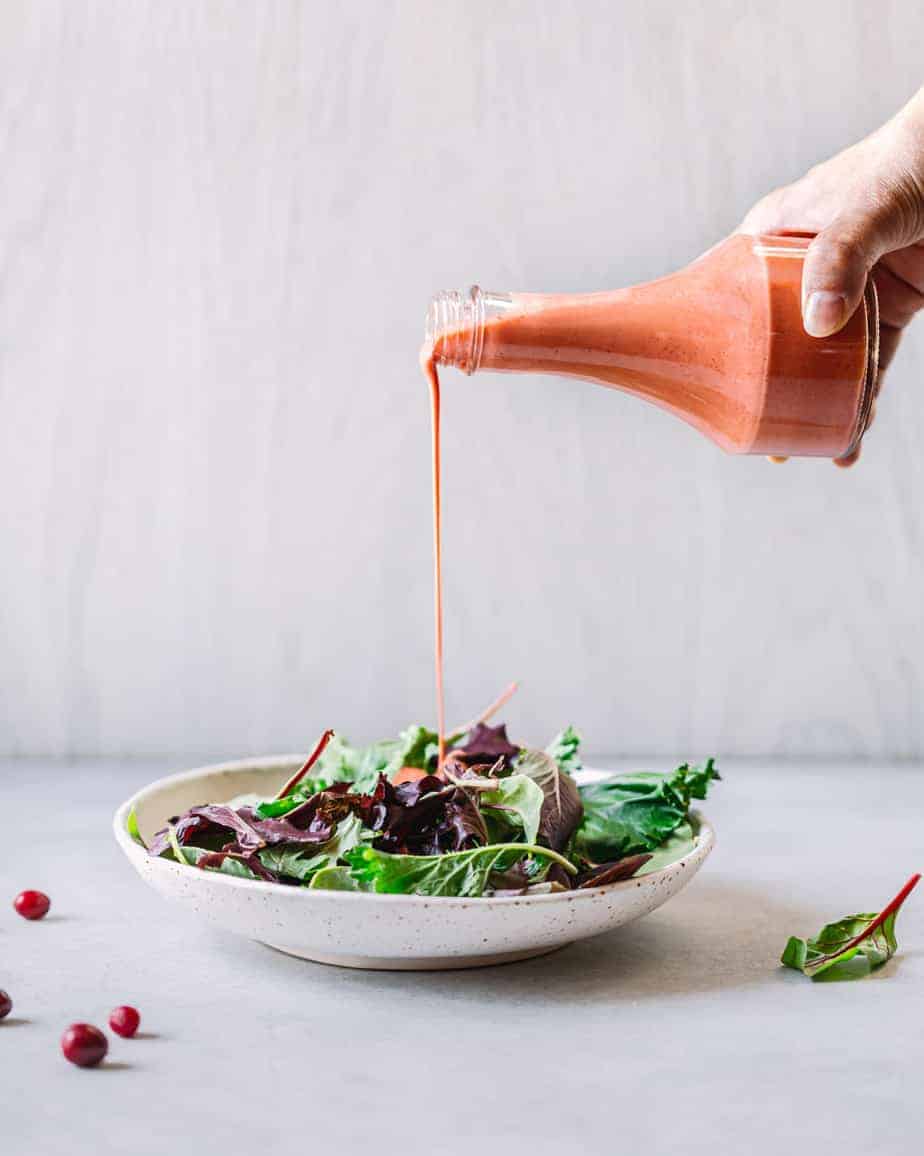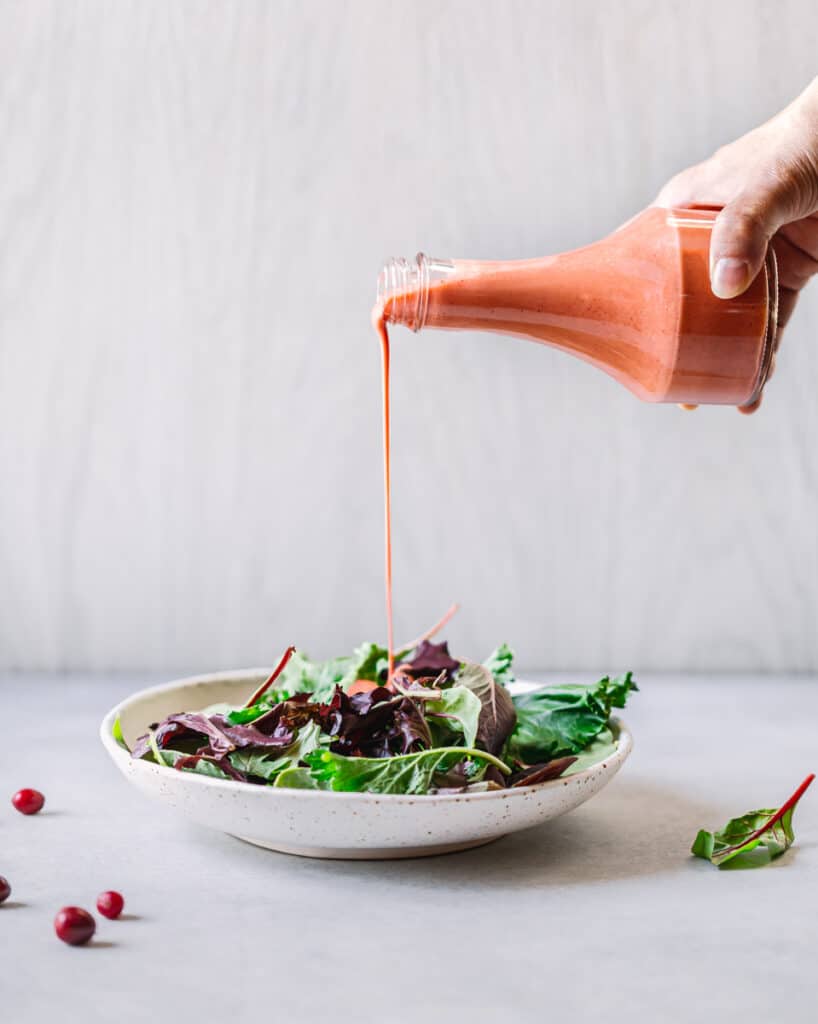 Cranberry Health Benefits
Today, I am going to show you how to make a delicious salad dressing made with leftover raw cranberries. The cranberry is known for its tart flavor. It's rich with antioxidants and high in fiber. It's key in preventing urinary tract infections (UTIs).
Creamy Cranberry Vinaigrette Ingredients
Because of the cranberry's tart flavor, it goes well with bold fruits that taste sweet, such as apples and citrus, like oranges. This cranberry salad dressing is made with fresh cranberries, oranges, apple cider vinegar, honey, dijon mustard, and extra virgin olive oil. This is the perfect last-minute solution to your holiday salad needs.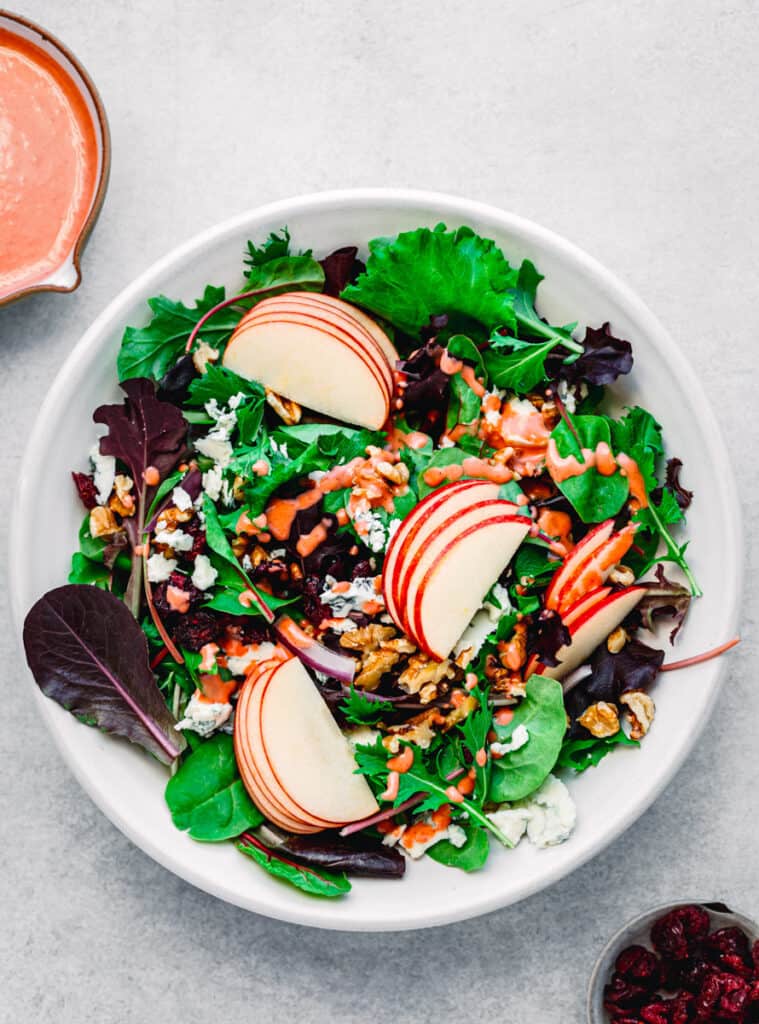 Versatile Salad Dressing
One great thing about this salad dressing is that it packs a lot of flavors. I used it one day on a salad that had primary ingredients of mixed greens, olives, and tomatoes, then switched it up a few days later on a salad with chicken romaine lettuce, and another that had more of a spring pea base.
Making homemade salad dressings are so easy, I usually have a few different varieties on-hand as they're an easy way to mix up and elevate the taste of different salads. It's a goal of me and my family to eat a lot more greens and other vegetables this year, and healthy, homemade dressings have been a simple and healthy way to pave the way.
The cranberry vinaigrette can be refrigerated for up to 5 days.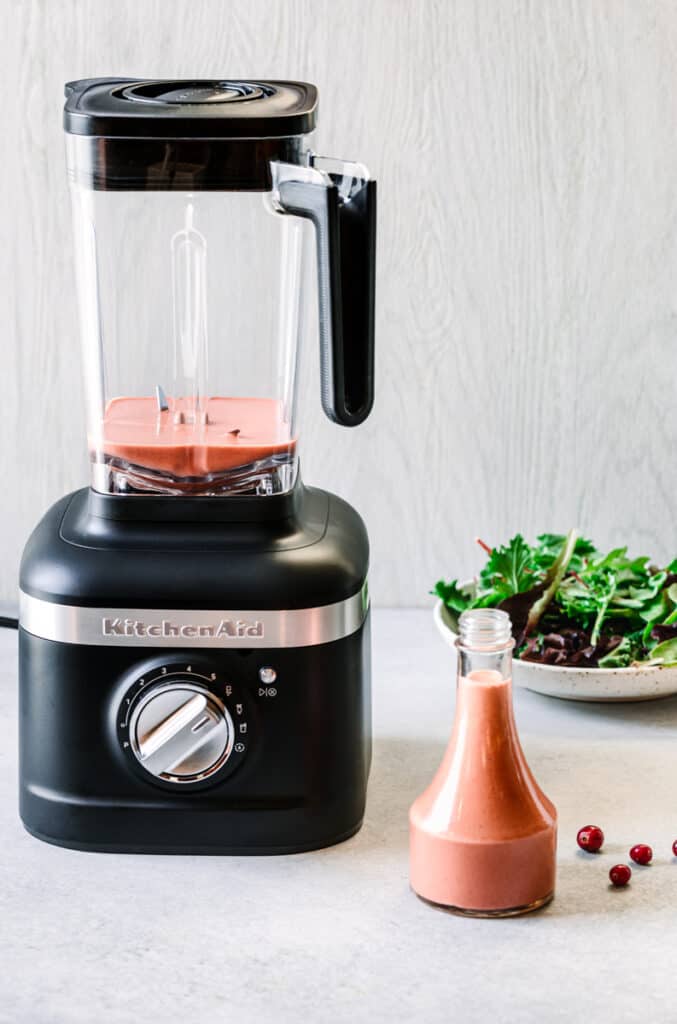 Check out More Salad Dressing Recipes!
How to Make Cranberry Salad Dressing:
To make this salad dressing, you will need a good high-speed blender. I personally used a new Kitchen Aid K400 to puree the raw cranberries until they're smooth while keeping a nice and thick consistency. I love that, so different from other blenders!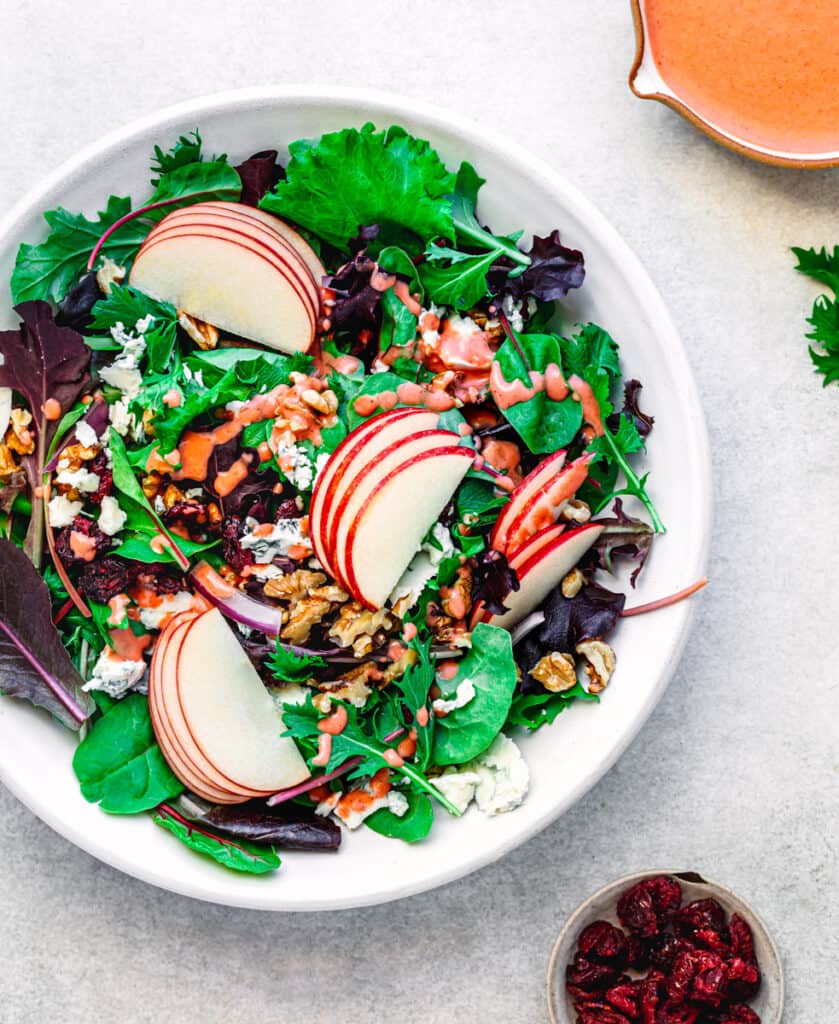 Check out More Delicious Salad Recipes!
📖 Recipe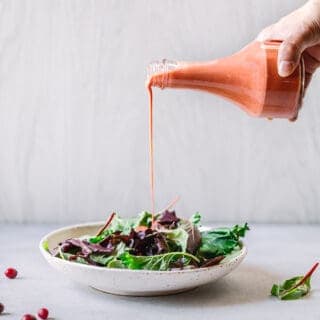 Cranberry Vinaigrette (a Creamy Salad Dressing)
It's zesty, tangy and has just the right amount of sweetness. Absolutely delicious.
Ingredients
½

cup

fresh cranberries

1

cup

extra virgin olive oil

4-5

tablespoon

apple cider vinegar

,

( I used 5 tablespoon for a stronger taste)

3

tablespoon

pure honey

1

teaspoon

dijon mustard

4

small oranges

, (such as clementine mandarins)

salt and pepper to taste
Instructions
Add fresh cranberries into a high-speed blender. Process until a smooth yet thicker consistency.

Add apple cider vinegar, orange, honey, and mustard. Process until well blended.

With the machine running, gradually add oil and process again until well blended.

Serve with fresh vegetables, like apple walnut salad.
Nutrition
Serving:
12
g
Calories:
61
kcal
Carbohydrates:
11
g
Protein:
1
g
Fat:
2
g
Saturated Fat:
1
g
Sodium:
7
mg
Potassium:
67
mg
Fiber:
1
g
Sugar:
9
g
Vitamin A:
240
IU
Vitamin C:
10
mg
Calcium:
13
mg
Iron:
1
mg