Roasted sweet potatoes, an easy side dish to serve with any weeknight or holiday meals. These roasted sweet potatoes have a crispy texture on the outside and fork-tender inside. They are delicious. I guarantee you will never get tired of eating them!
Today, I want to share a simple recipe for roasted sweet potatoes! This roasted sweet potatoes recipe doesn't require a long list of ingredients or cooking steps. It's easy to cook but results in the most comforting, yet healthy side dish.
Sweet potatoes are my favorite fall vegetables. They are sweet and have such great health benefits that I can eat them consistently, guilt-free! In addition, they are a great source of fiber, vitamins, minerals, and contain anti-inflammatory activity!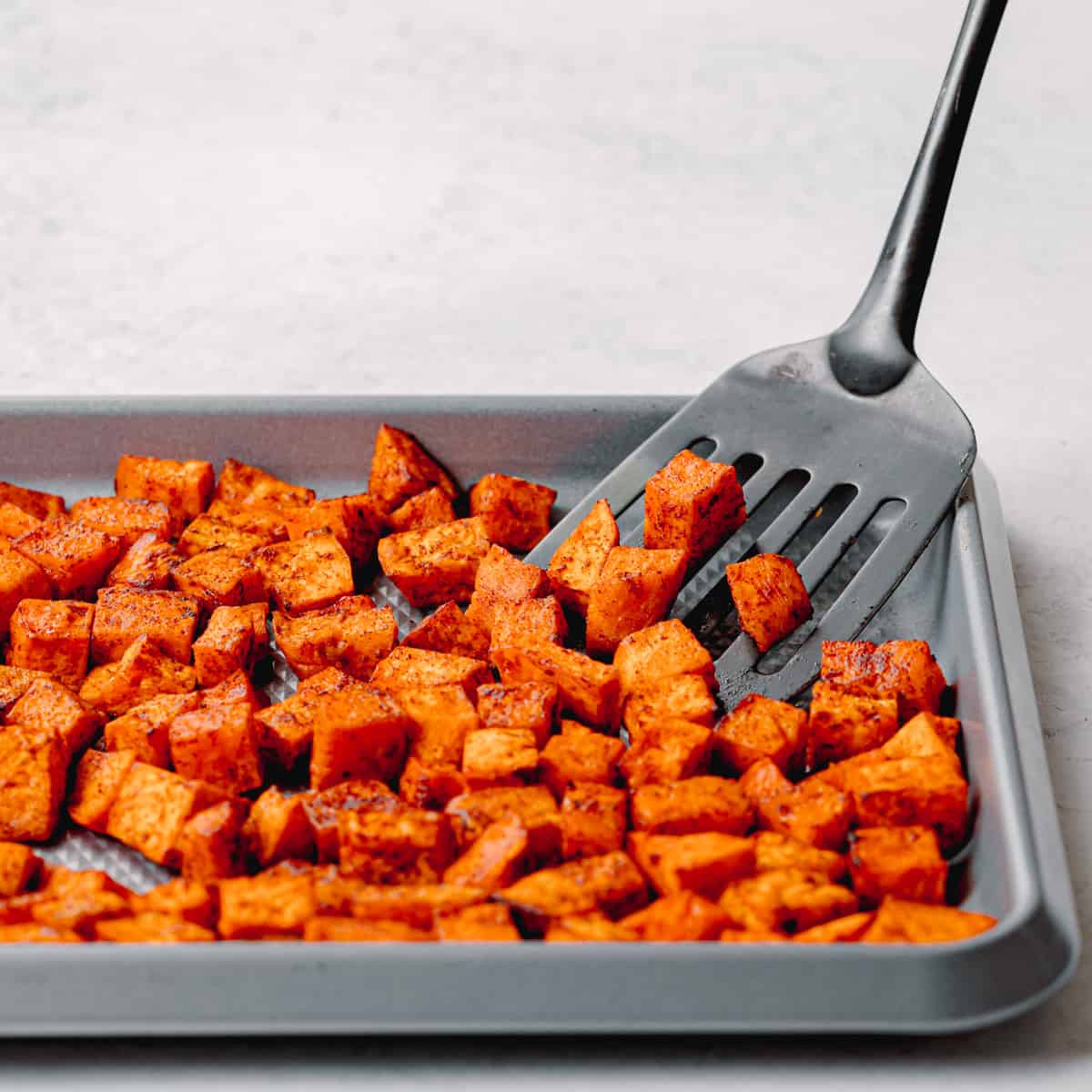 The Simple Seasoning that Makes Sweet Potatoes Taste Better:
These roasted sweet potatoes are seasoned with: maple syrup, cinnamon, and kosher salt.
Sweet potatoes are naturally sweet but a small amount of maple syrup and cinnamon will highlight and accompany the sweetness to make them taste even better.
Maple syrup will also help caramelize the sweet potatoes during roasting.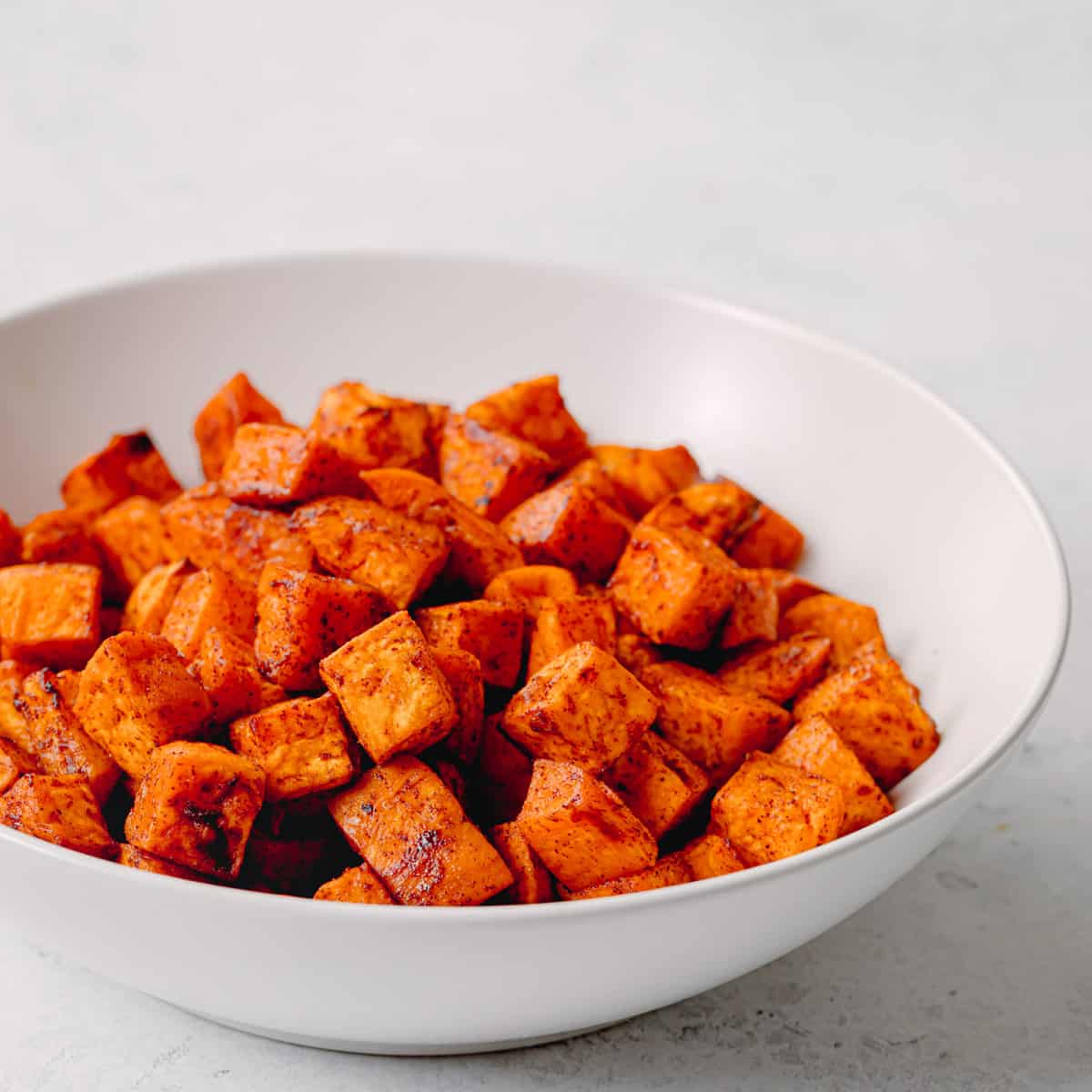 How to Select A Good Sweet Potato:
Select a sweet potato that is firm with tight, unwrinkled skin and no signs of blemishes or bruises.
Look for the ones that are smaller to medium-sized as they're less starchy than the larger ones.
Pick the orange or red skin and deep orange flesh, such as Red Garnet and Jewel. These varieties are moist and sweet!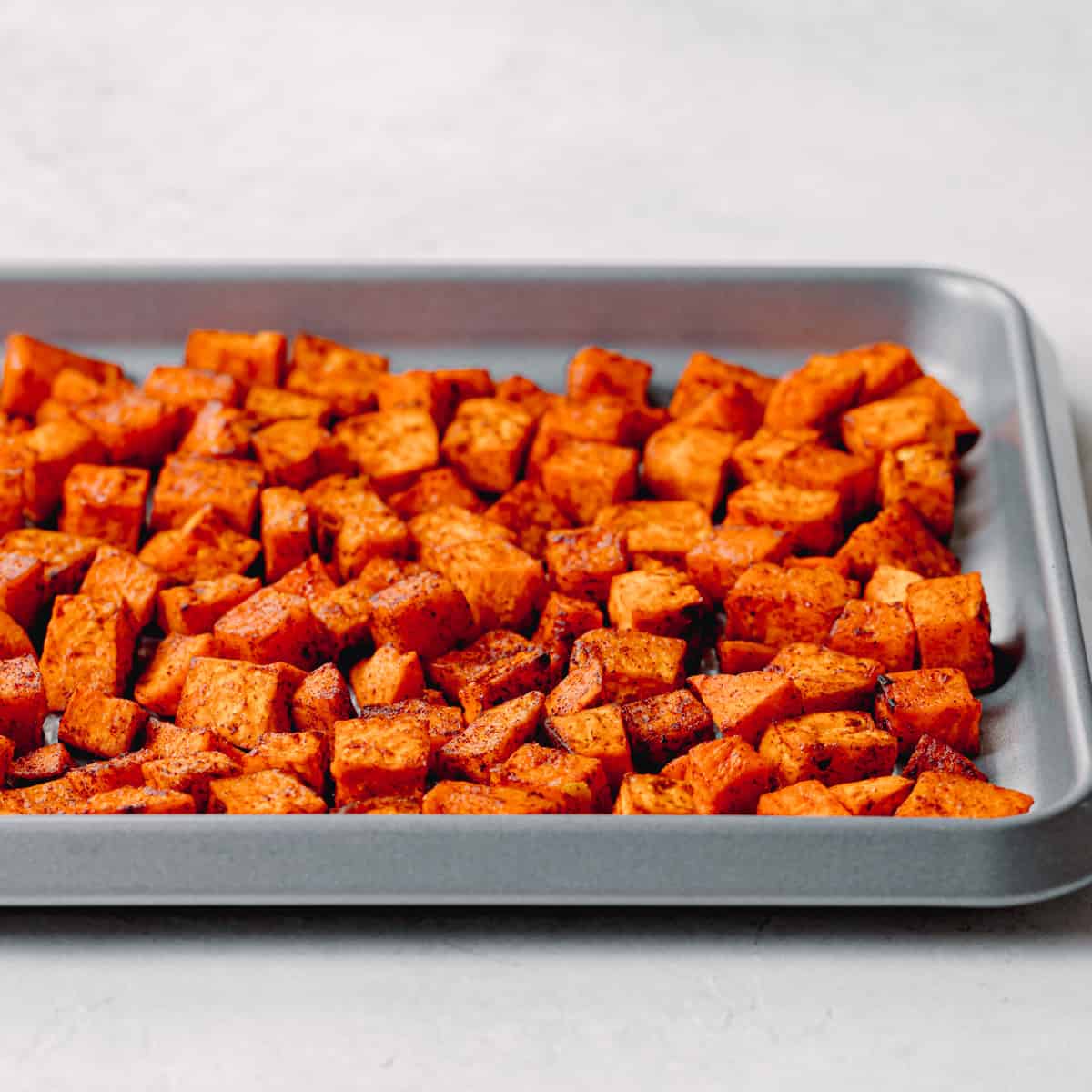 How to Prepare a Sweet Potato for Roasting:
Do not store a sweet potato in the refrigerator!
Do not boil a sweet potato before roasting!
Always wash and scrub a sweet potato to get rid of any of that dirt.
The sweet potato skin is edible, in fact, it's rich in fiber, other nutrients, and antioxidants. You can peel or keep the skin intact, it all comes down to personal choices. However, for this particular recipe, I highly recommend peeling the skin.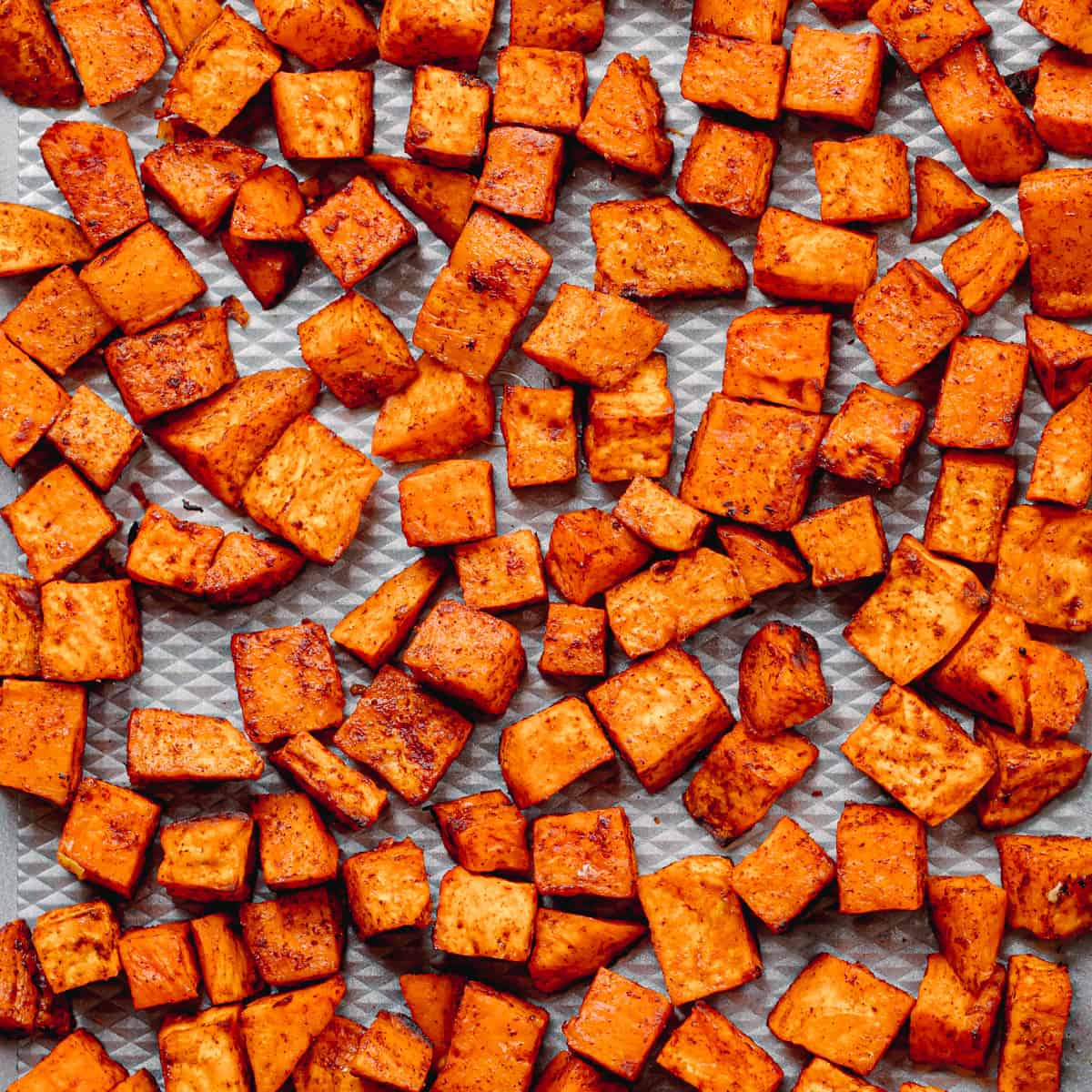 How to Make Roasted Sweet Potatoes:
This oven-baked sweet potato recipe doesn't involve a ton of work. Here's how I make the perfect oven-baked sweet potatoes:
Step 1. Cut the potatoes into small cubes, roughly the same size, about ½-inch thickness.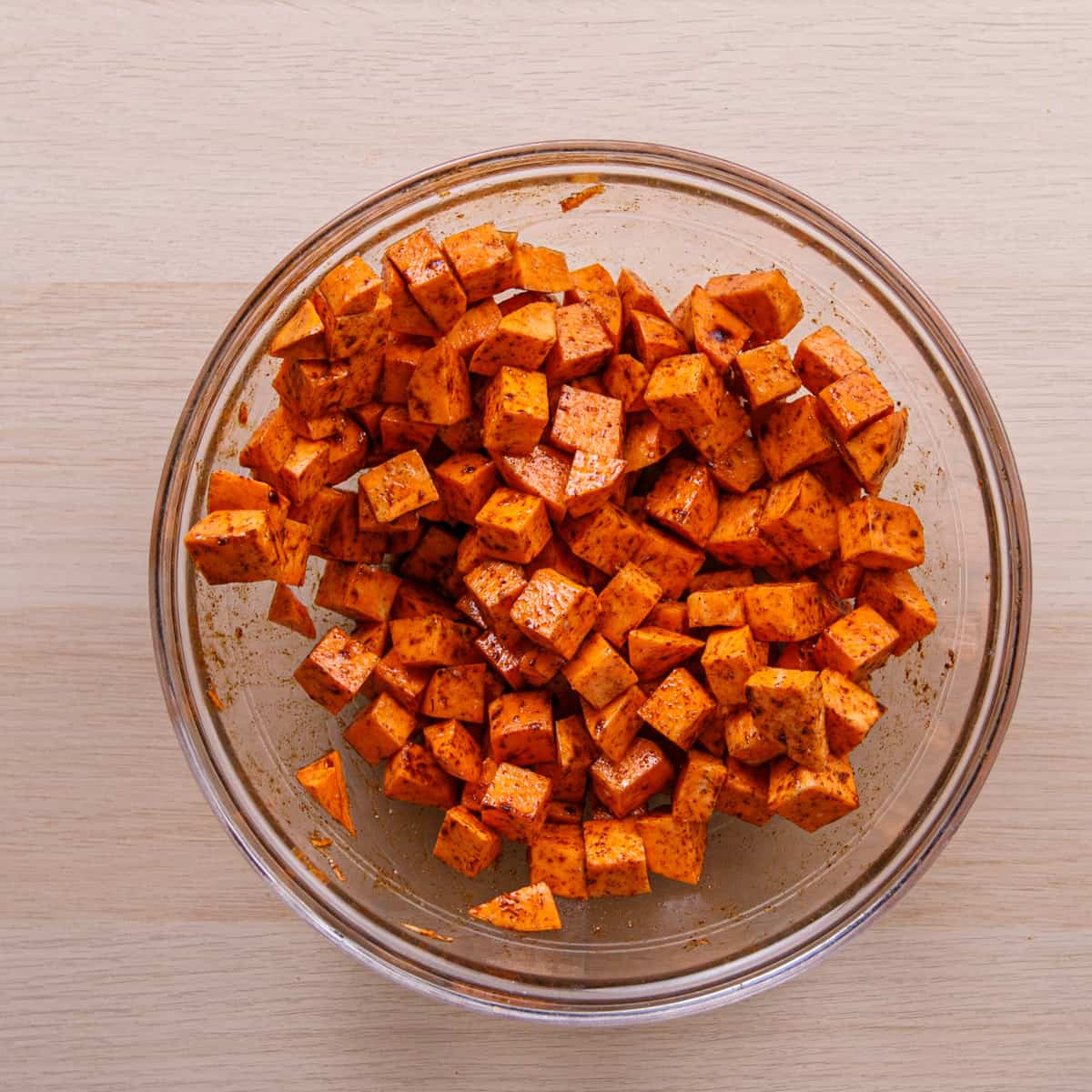 Step 2. Season the cubed sweet potatoes with maple syrup, cinnamon, kosher salt, and oil.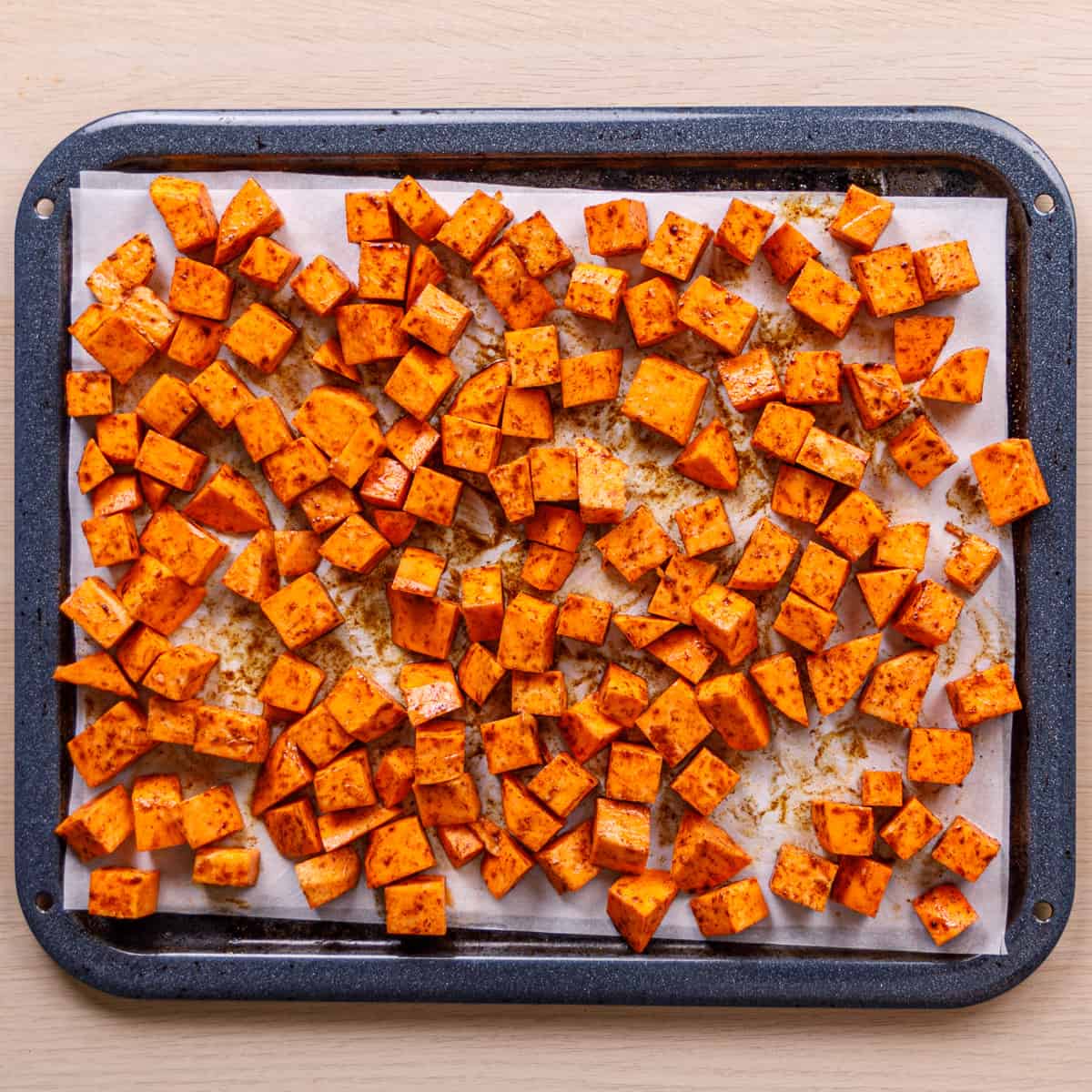 Step 3. Cook at 425°F for about 30 minutes, tossing the sweet potatoes every 10 minutes for an even cook and to prevent them from burning.
Also, remember to use a large baking sheet pan. Sweet potatoes release moisture when they are cooking. Do not overcrowd, use two pans if necessary! Sweet potatoes that are left in a crowded pan will steam instead of roasting.
How to Store Leftover Cooked Sweet Potatoes:
First, you need to cool them completely.
After that, place them in airtight container.
Next, store them in a fridge for up to 5 days.
Check Out More Delicious Side Dish Recipes: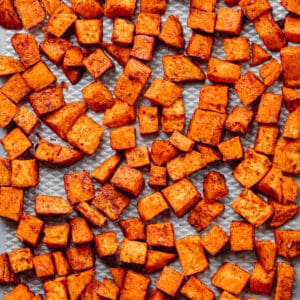 Roasted Sweet Potatoes
Ingredients
2

pounds

sweet potatoes

,

(peel and cut into ½-inch cubes)

2

tablespoon

olive oil

1

tablespoon

pure maple syrup

2

teaspoon

ground cinnamon

¾

teaspoon

kosher salt
Instructions
Preheat the oven to 425°F.

Season the cubed sweet potatoes with maple syrup, cinnamon, kosher salt, and oil.

Transfer the seasoned sweet potatoes into a large prepared baking sheet. Do not overcrowd the pan!

Roast until tender for about 30 minutes and tossing every 10 minutes.
Nutrition
Calories:
274
kcal
Carbohydrates:
50
g
Protein:
4
g
Fat:
7
g
Saturated Fat:
1
g
Sodium:
561
mg
Potassium:
776
mg
Fiber:
7
g
Sugar:
13
g
Vitamin A:
32176
IU
Vitamin C:
5
mg
Calcium:
87
mg
Iron:
1
mg