This soba noodle salad is a very simple Asian side dish and flavorful! It can be ready in about 15 minutes. It is seasoned perfectly with a homemade Asian Salad dressing. You can make this noodle salad for a potluck, lunch, or a light dinner.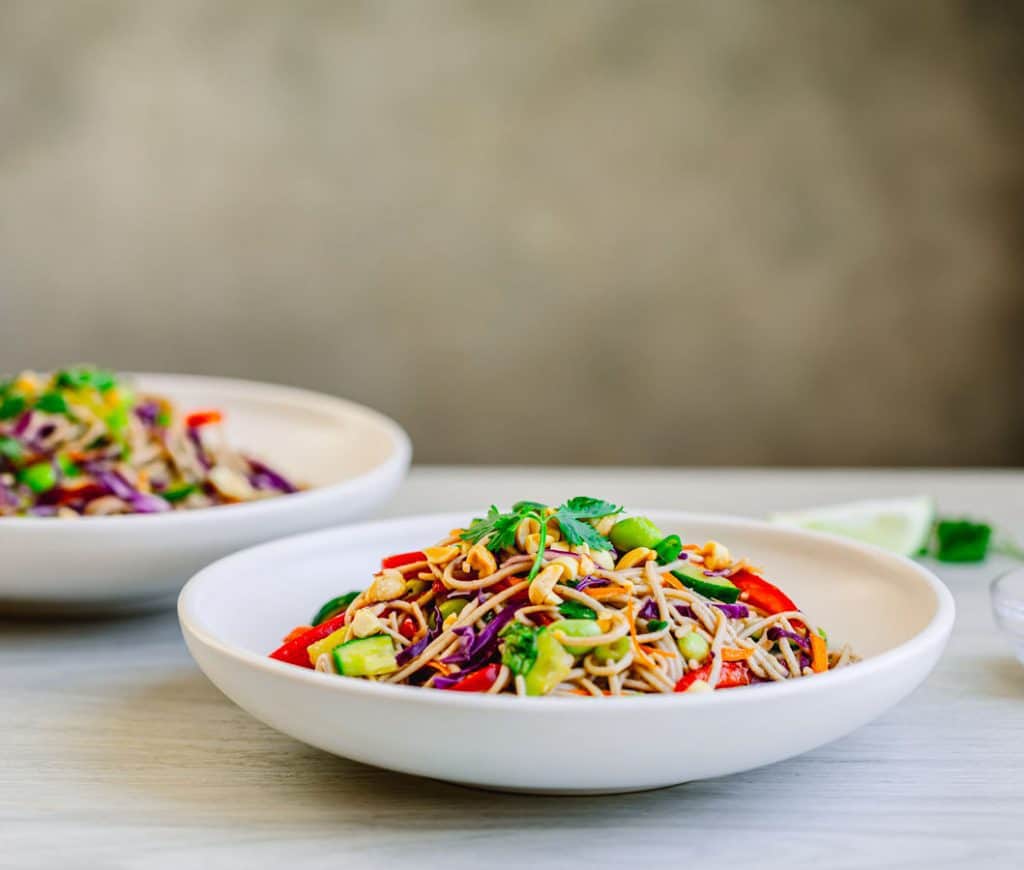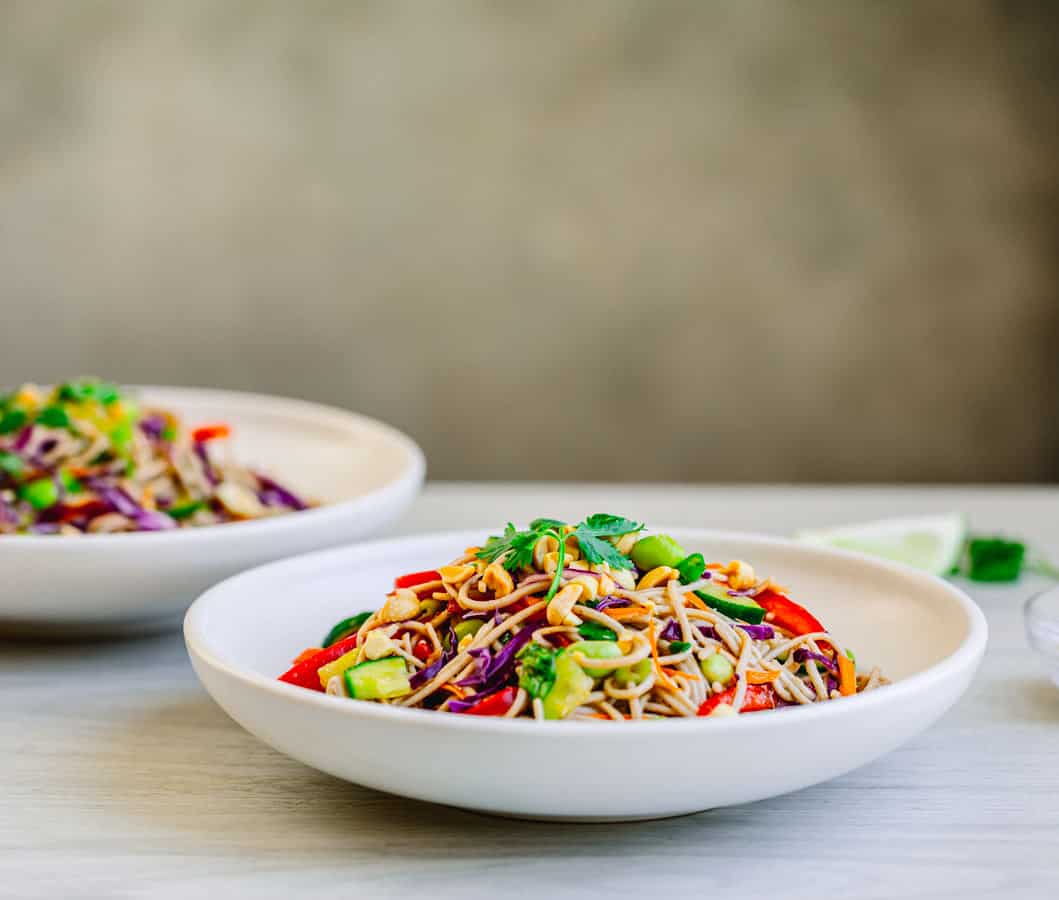 Make this refreshing soba noodle salad recipe for you or friends, as it can be the best summer recipe while on-the-go or in a hurry. It's very quick and easy to make, perfect for a busy weeknight dinner, and the leftovers taste even better the next day for lunch!
Also check out another soba recipe: SHIITAKE MUSHROOM SOBA SALAD
Jump to:
Homemade Asian Salad Dressing:
You can make this delicious homemade Asian salad dressing with my 5 easy ingredients: rice vinegar, honey, brown sugar, low sodium soy sauce, sesame oil, grated ginger, and garlic. It has the perfect sweetness and tanginess. To add flavor to the noodle, I also added lime zest from a lime (no lime juice needed).
Check Out More Salad Dressing or Dipping Sauce Recipes: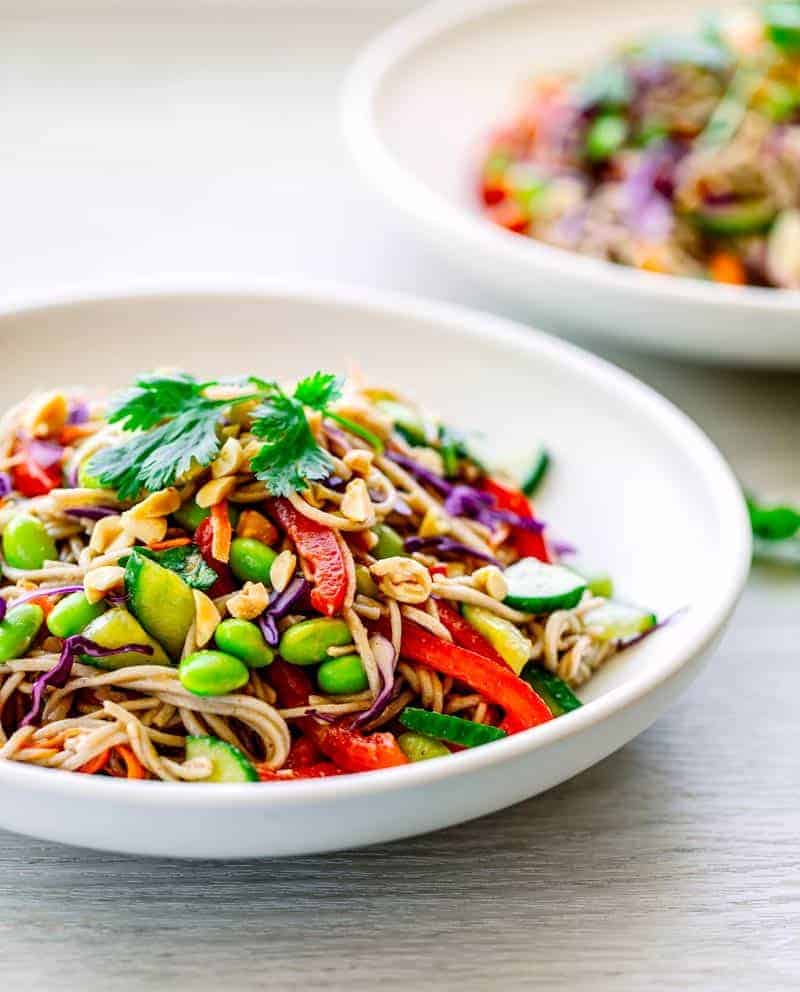 Why You'll Love this Soba Noodle Salad:
The salad dressing uses less oil, meaning fewer calories. 🙂 The only oil added in the dressing is sesame oil. For those who avoid oil in your diet, please omit the sesame oil as it will still taste great.
You can serve this noodle salad warm (at room temperature) or cold.
Eat this salad as the main dish or as a noodle side dish or appetizer.
This noodle salad recipe contains fresh vegetables: bell pepper, cucumber, carrots, cucumber, cilantro, and edamame and seasoned with flavorful Asian salad dressing.
Optional ingredients: green onions, unsalted roasted peanuts.
How to Make: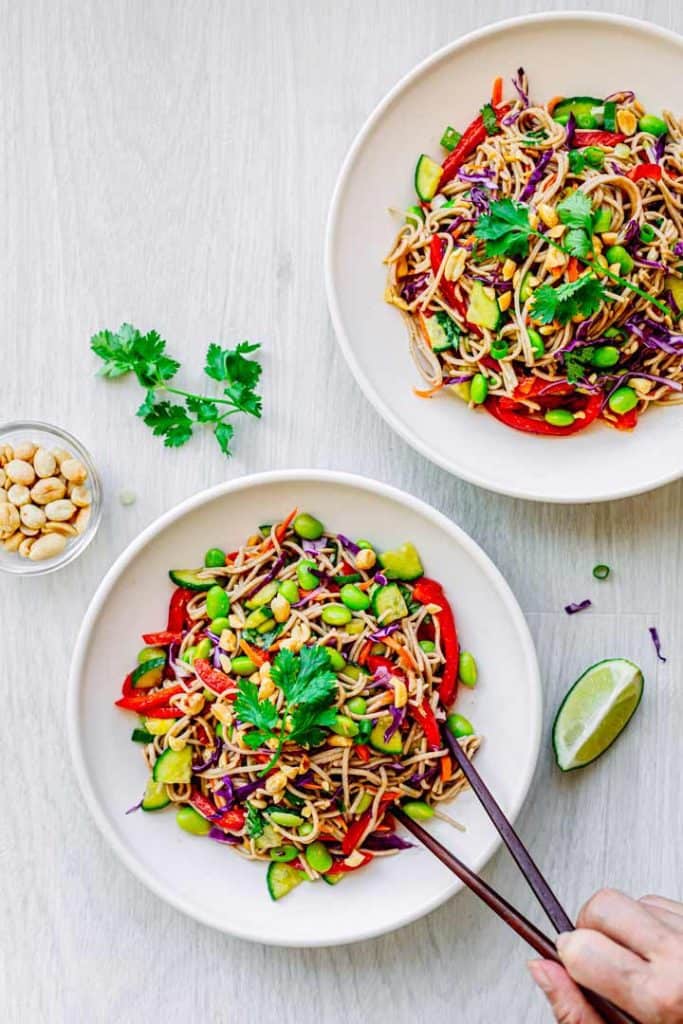 You can make this noodle salad in 5 easy steps!
First, cut the vegetables into thin strips or more chopped up if preferred.
Second, cook the Soba Noodle in boiling water according to the product packaging. Afterward, rinse the cooked noodles under cold water or in a bowl of cold water until cool for about 1 minute. Also, don't forget to drain the excess water.
Third, prepare homemade Asian dressing (see steps below).
Fourth, Mix the noodles and vegetables together and drizzle with salad dressing.
Lastly, place the soba noodle salad in a fridge before serving, or serve them immediately at room temperature.
Three important things to remember:
1. The texture of noodles plays an important role in achieving the perfect final result of this recipe. So please keep a close eye and make sure not to overcook the noodles. On that note, I personally cook the noodle for about 30 seconds less than the cooking recommendation. That way, the noodle will not be soggy after soaking in the dressing.
2. Drain the excess water from the noodles.
3. If you are going to make this recipe for a party or larger group, please do so in multiple batches.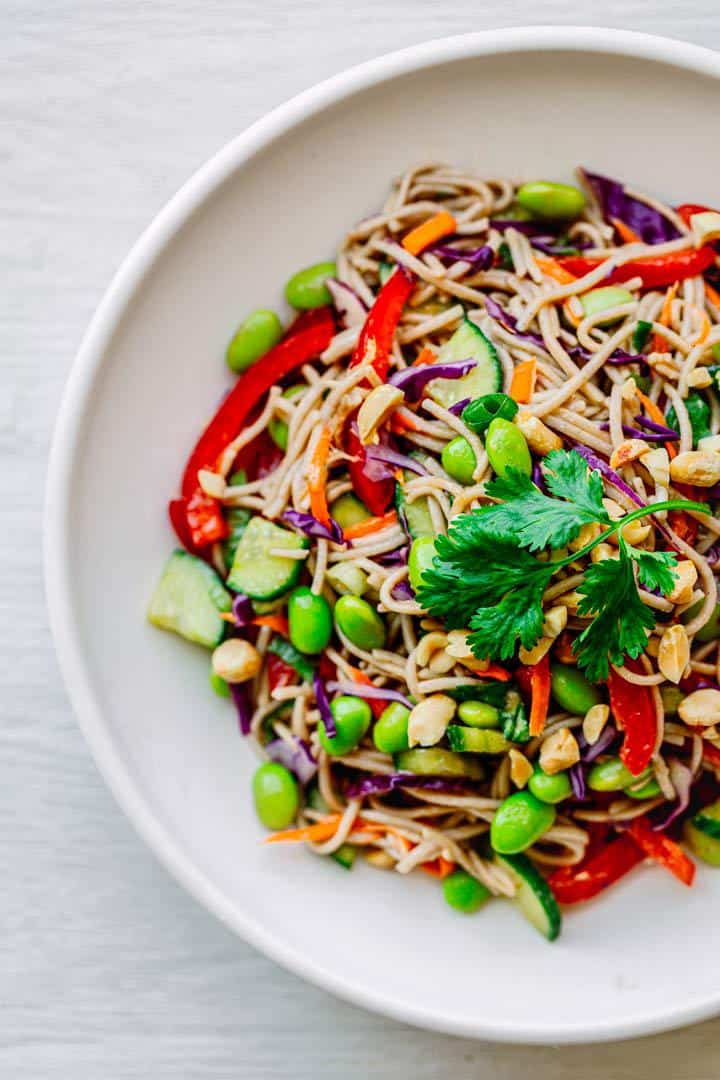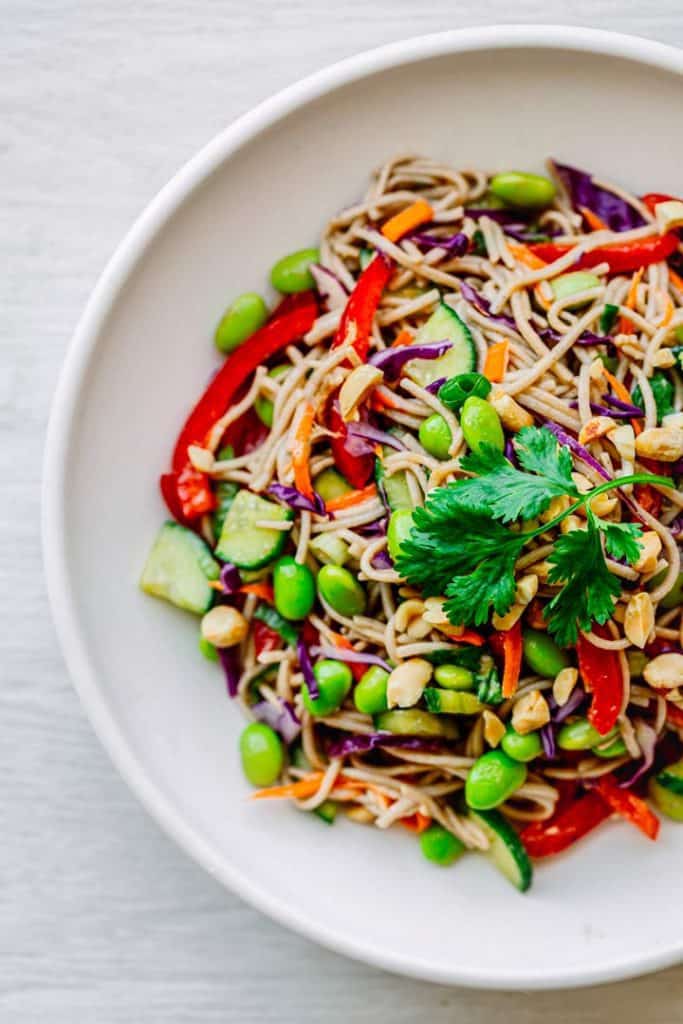 How to Cook Soba Noodles
First, boil water (do not add salt to the boiling water).
Second, cook the Soba noodles until fully cooked. However, do not cook too long until they are mushy. For that reason, you need to keep checking and tasting the noodle.
Third, transfer the cooked noodles to a colander. Immediately wash them under running cold water until cool.
Last, let the noodles sit in the colander for at least 1 minute to drain the excess water.
Storing Leftover and How Long
You can store leftover soba noodle salad in the fridge for up to 2 days for freshness and texture.
For those who follow a Gluten-Free diet, you can still enjoy this recipe by using Gluten-free ingredients. Here's how:
Use Gluten-Free Soba Noodles. There are many available in the market.
Use Tamari instead of soy sauce.
Use Japanese Rice Wine Vinegar, such as the one from Marukan Brand.
CHECK OUT MORE ASIAN RECIPES:
📖 Recipe
Soba Noodle Salad
This soba noodle salad is a very simple Asian side dish and flavorful! It can be ready in about 15 minutes.
Ingredients
Soba Salad:
12

oz

buckwheat soba noodle

,

(cook according to the product packaging)

¾

cup

julienne red bell pepper

¼

cup

chopped cucumber

¼

cup

shredded purple cabbage

¼

cup

shredded carrot

2-3

tablespoons

edamame

¼

cup

chopped cilantro

2-3

tablespoons

crush peanuts (roasted and unsalted)

optional: 1

tablespoon

chopped green onions
Instructions
In a medium bowl, whisk in rice wine vinegar, garlic, ginger, low sodium soy sauce, brown sugar, sesame oil, honey plus the optional lime zest. Set aside.

In a large salad bowl, add noodle, bell pepper, edamame, cucumber, green onions, cilantro, and carrots. Pour in the dressing, stir until well combined.

Serve immediately with crushed peanuts or put in the fridge for about 15-30 minutes to serve cold.
Notes
Soba Noodles:
Soba is thin noodles made from buckwheat flour or a combination of buckwheat and wheat flour. I purchased it from Ralphs.
Sesame oil:
It is used as a flavor enhancer in Middle Eastern, African, and Southeast Asian cuisines. It has a distinctive nutty aroma and taste. You can purchase at any grocery market, make sure that it's 100% pure. I used Lee Kum Kee brand.
Edamame:
It's plant-based and free from added sugar. You can find fresh or frozen at any grocery market. I purchased fresh from Trader's Joe.
Nutrition
Calories:
362
kcal
Carbohydrates:
72
g
Protein:
15
g
Fat:
5
g
Saturated Fat:
1
g
Sodium:
863
mg
Potassium:
389
mg
Fiber:
2
g
Sugar:
5
g
Vitamin A:
2356
IU
Vitamin C:
41
mg
Calcium:
40
mg
Iron:
3
mg