This Kimchi Bokkeumbap - Spam Kimchi Fried Rice is a quick rice dish that tastes delicious and is easy to make! It is made with simple Asian ingredients and condiments. The rice is cooked along with kimchi, soy sauce, and spam. It's served with a fried egg, the optional ingredient dried seaweed (furikake). It's so addictive, it's hard to eat just one bowl!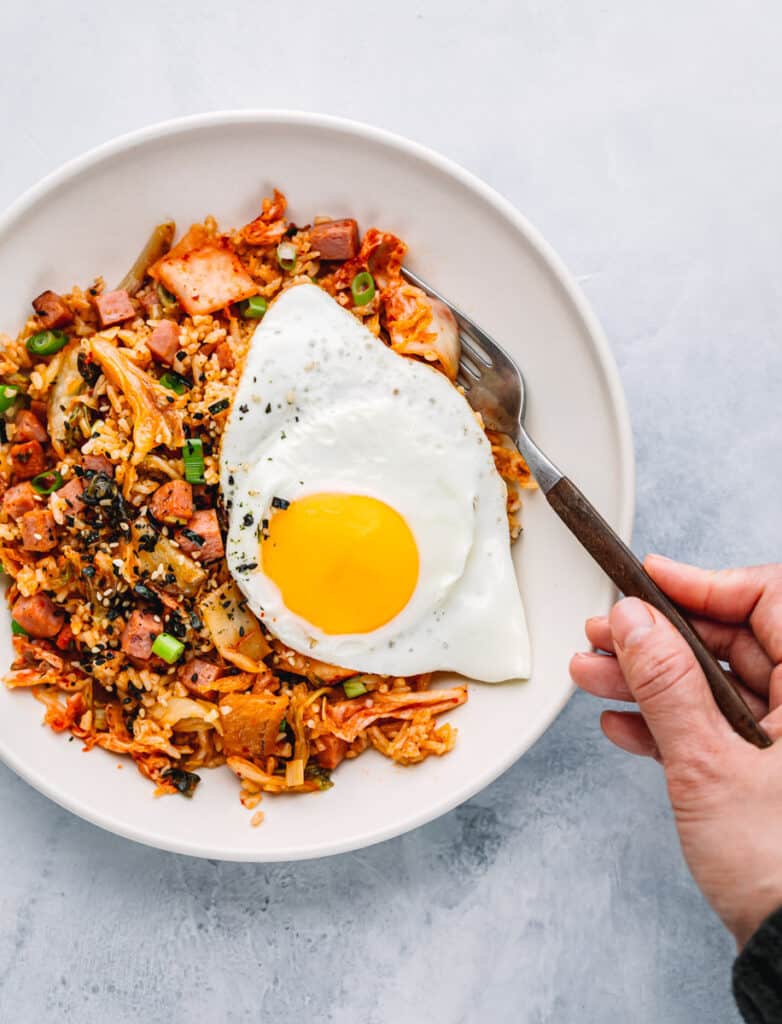 If you are a big fan of Korean food like me, you really have to try this Korean-inspired Spam Kimchi fried rice. Kimchi Bokkeumbap is the perfect addition to your busy weeknights. It's easy even for beginner cooks to make, and can be ready in less than 20 minutes from preparation to cooking! It's a great recipe to use up leftover rice.
Also, Check Out these Fried Rice Recipes: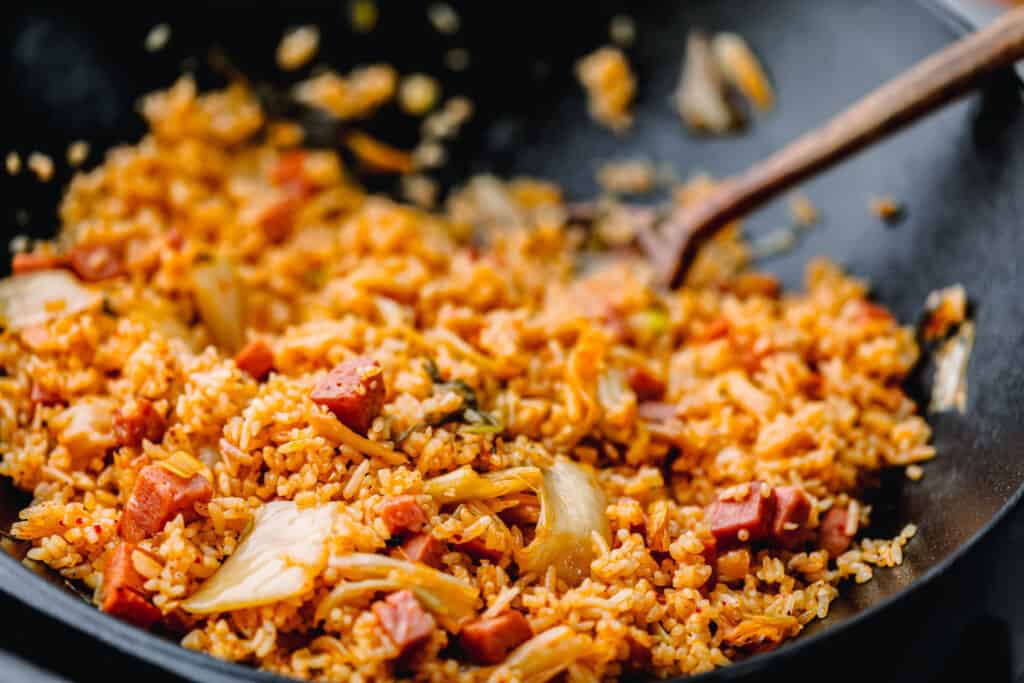 What Are the Ingredients for this Spam Kimchi Fried Rice:
To make this Kimchi fried rice it is best if you use a day-old or two-day-old cooked white rice, along with kimchi, kimchi juice, spam, and soy sauce. You can then serve it with fried egg and seaweed to make the dish pop.
Kimchi:
If you have never had Kimchi before, don't let the name scare you away from trying this delicious fried rice. Kimchi is a Korean fermented dish. It's a staple in Korean cuisine, made with fermented napa cabbage or radish. These fermented vegetables are seasoned with Gochugaru (chili powder), scallions, garlic, and ginger. It has a sour flavor and is usually served as a side dish to compliment the main meal, such as Bulgogi and Bibimpap.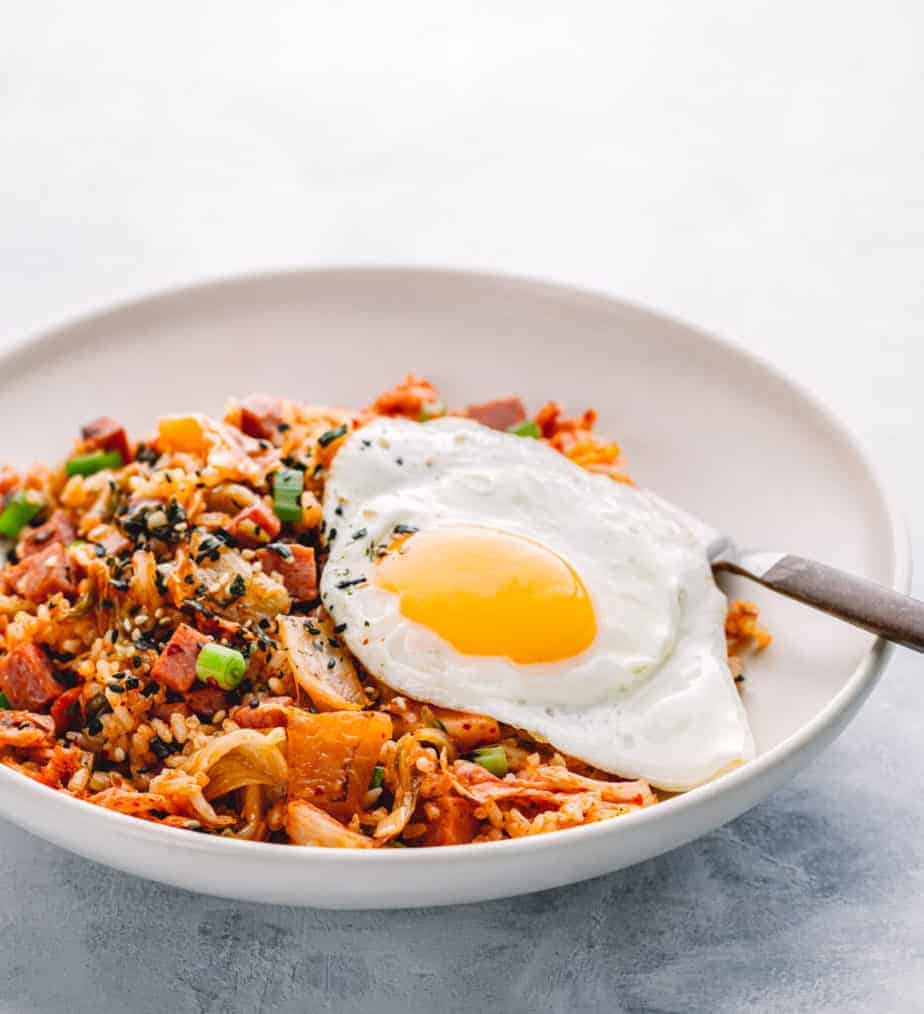 Kimchi is now available at many grocers, such as Asian markets, Ralph's/Kroger, Costco, Whole Foods Market, Sprouts and many more. I made this dish to my friend who said they weren't a big fan of the strong taste of Kimchi by itself, but they still liked this Kimchi Fried Rice as it had other flavor elements going on.
Spam:
I used light-spam as a protein source for this fried rice. Feel free to use regular ham, chicken, pork, or seafood as alternative ingredients. Or, make this fried rice completely vegetarian by skipping the meat altogether or replacing it with a non-meat option like tofu.
MORE KOREAN-INSPIRED RECIPES: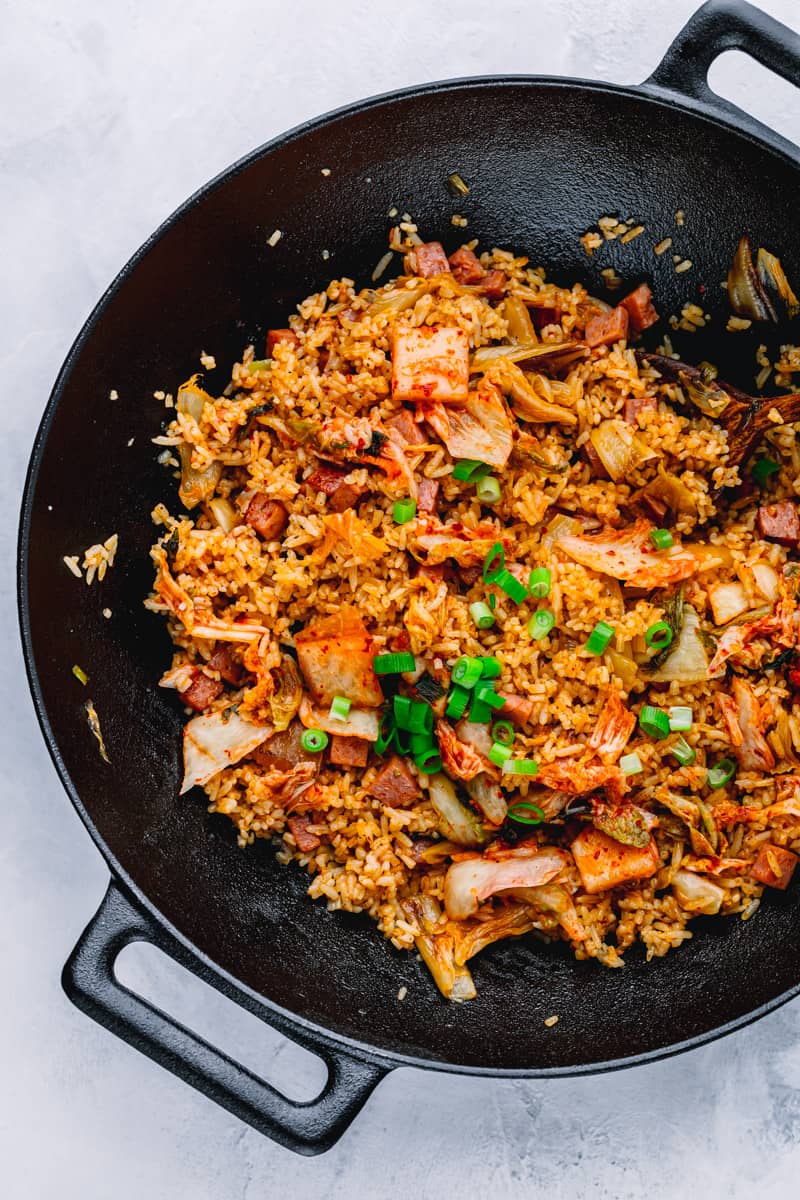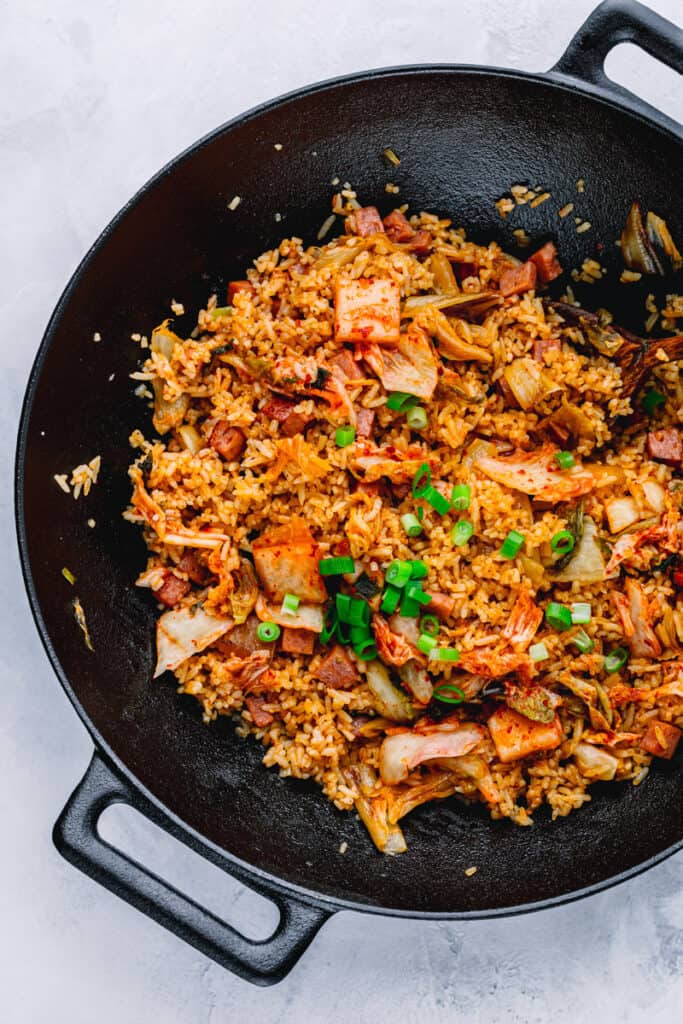 Seasoning:
Kimchi is already loaded with flavors and garlicky. For that reason, we are going to skip garlic and onion, and only use simple seasoning ingredients such as soy sauce, and sesame oil.
Also, you may want to add in Gojuchang sauce or hot chili sauce if you happen to have it in your pantry. Gojuchang can add a sweet and spicy kick to the fried rice. In this recipe, I personally skipped the Gojuchang because I like to keep the fried rice simple and highlight the Kimchi as the star of the dish.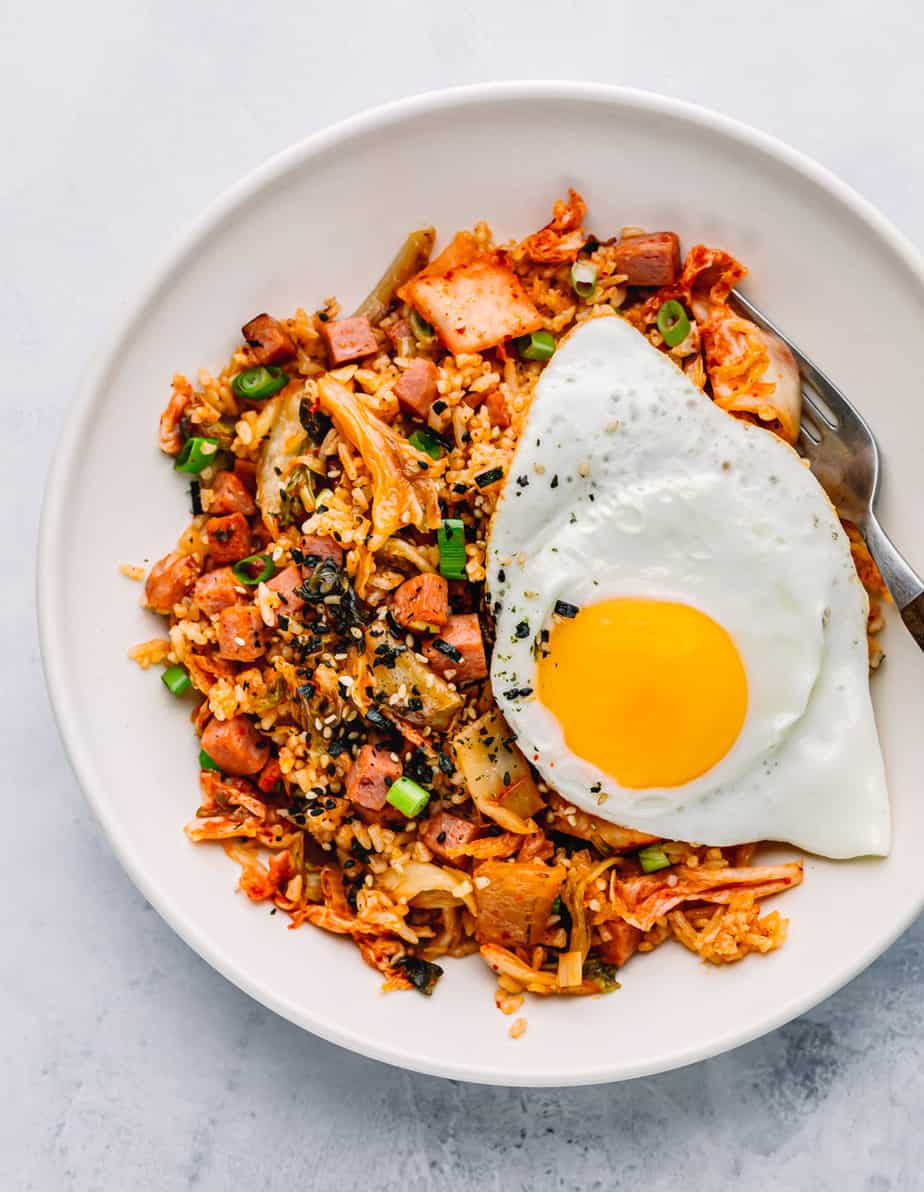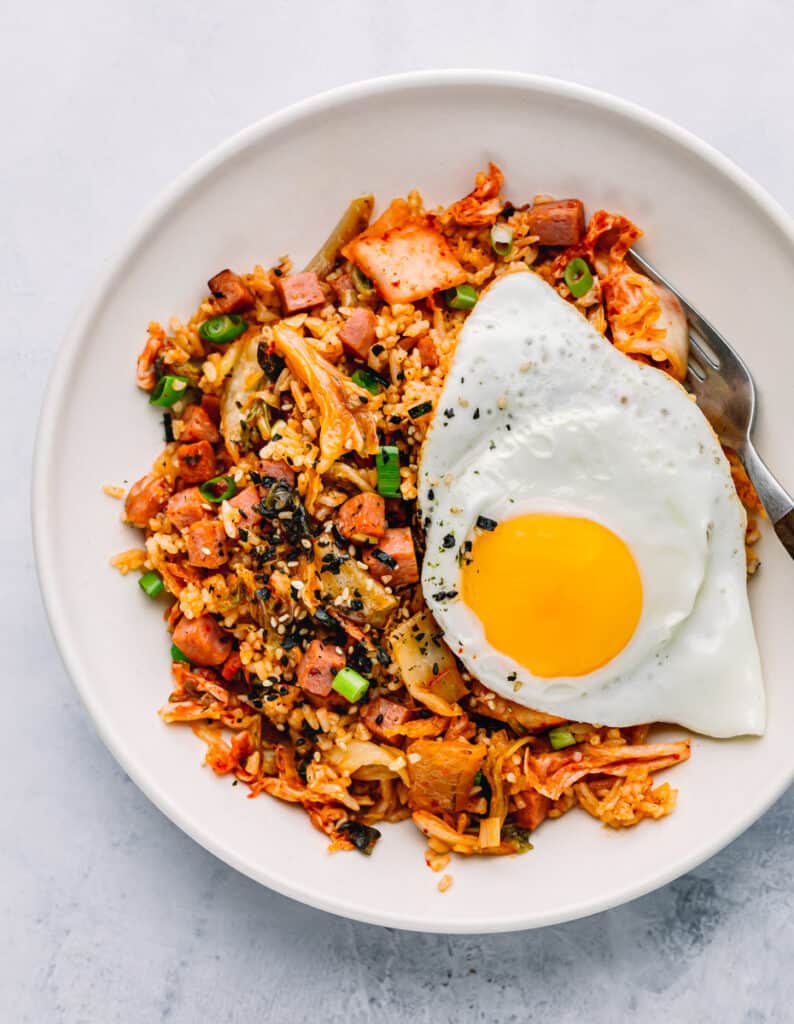 Rice:
Fried rice is usually made of the same rice as plain white rice, long grain or jasmine rice. It is best made with day-old rice. Be sure to rinse the uncooked rice to remove any debris. This process will also remove the surface starch that will cause the rice to clump together.
If you forget to cook the rice one day ahead, feel free to use freshly cooked rice. When doing this, you should first spread the rice on a baking sheet and let it cool down and allow some surface moisture to evaporate before cooking.
Toppings:
Serve this Korean fried rice with fried eggs and Nori Komi Furikake. Nori Komi Furikake is a Japanese rice seasoning, contains sesame seeds, and crunchy seaweed bits. It's slightly sweet and salty.
I highly recommend buying the Nori Komi Furikake from Trader's Joe because of no MSG content and imported from Japan.
I hope you'll enjoy this Kimchi fried rice recipe! Don't forget to come back and share your opinion about this recipe so other readers can read it!
CHECK OUT MORE ASIAN RECIPES:
📖 Recipe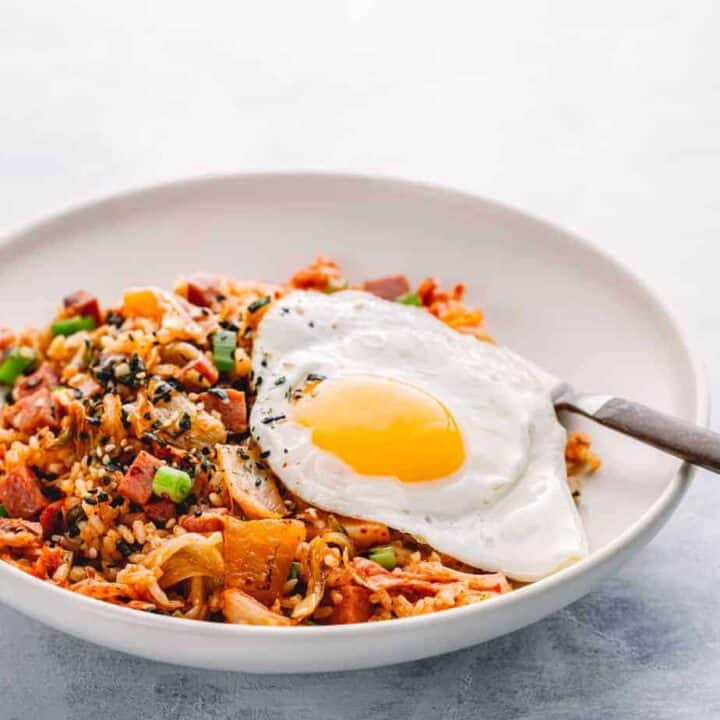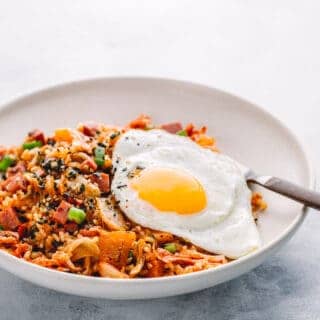 Kimchi Fried Rice
This Spam Kimchi Fried Rice is made with simple Asian ingredients and condiments. The rice is cooked along with kimchi, garlic, and spam.
Ingredients
3

cups

cooked white rice

1

cup

kimchi without juice

,

(fully packed, be sure to squeeze out excess liquid)

⅓

cup

kimchi juice

6

oz

spam

,

(cut into ¼- to ½-inch dice)

1½

tablespoon

regular soy sauce

1

tbsp

vegetable or canola oil

1

tablespoon

sesame oil

freshly ground pepper

,

(to taste)

salt ,

(to taste)
For Serving:
fried eggs

dried seasoned seaweed

,

(such as Nori Komi Furikake)

2-3

tablespoon

thinly sliced scallions
Instructions
Preparation:
Break the day-old rice up with your hands into individual grains before cooking.
Stir Fry the Spam:
In a large skillet over medium-high heat, heat oil until simmering and cook the spam for about 30-45 seconds.
Stir Fry the Kimchi:
Add kimchi into the pan, cook, stirring and tossing regularly for about 2-3 minutes or until the vegetables are softened.
Stir Fry the Rice:
Increase heat to high, add rice and cook, stirring and tossing regularly for about 2 minutes. Add 2 tablespoons of unsalted (optional). Keep stirring until the butter is melted.

Add the kimchi juice, soy sauce and toss to combine. Cook, stirring and tossing regularly for about 3-4 minutes. Adjust seasoning with salt/pepper or the optional Gojuchang or hot sauce if you love sweet and spicy (1-2 tablespoons). Keep stirring.

Add sesame oil to the rice mixture. Toss to combine then remove from the heat.

Serve with fried eggs and dried seaweed.
Notes
To add saltiness to the dish, just add a small amount of salt. Do not go overboard with soy sauce or all you'll taste is soy sauce.
I purchased the Chongga kimchi from Costco. It's delicious and made without MSG.
The nutrition value below is for the fried rice without toppings and optional ingredients.
Nutrition
Calories:
403
kcal
Carbohydrates:
36
g
Protein:
10
g
Fat:
24
g
Saturated Fat:
11
g
Cholesterol:
45
mg
Sodium:
979
mg
Potassium:
230
mg
Fiber:
1
g
Sugar:
1
g
Vitamin A:
175
IU
Calcium:
12
mg
Iron:
1
mg