A flavorful Fresh Broccoli Casserole recipe. This casserole is the perfect side dish for any meal, any occasion, and any weeknight. No matter what you're making, this comfort side dish will add interest to any plate.
Today, I am going to show you how to make this awesome Broccoli casserole recipe. It's so creamy, cheesy and easy to make! This casserole is filled with fresh broccoli instead of frozen broccoli and cooked in a creamy mushroom sauce. This is a great casserole dish for a potluck or Thanksgiving dinner.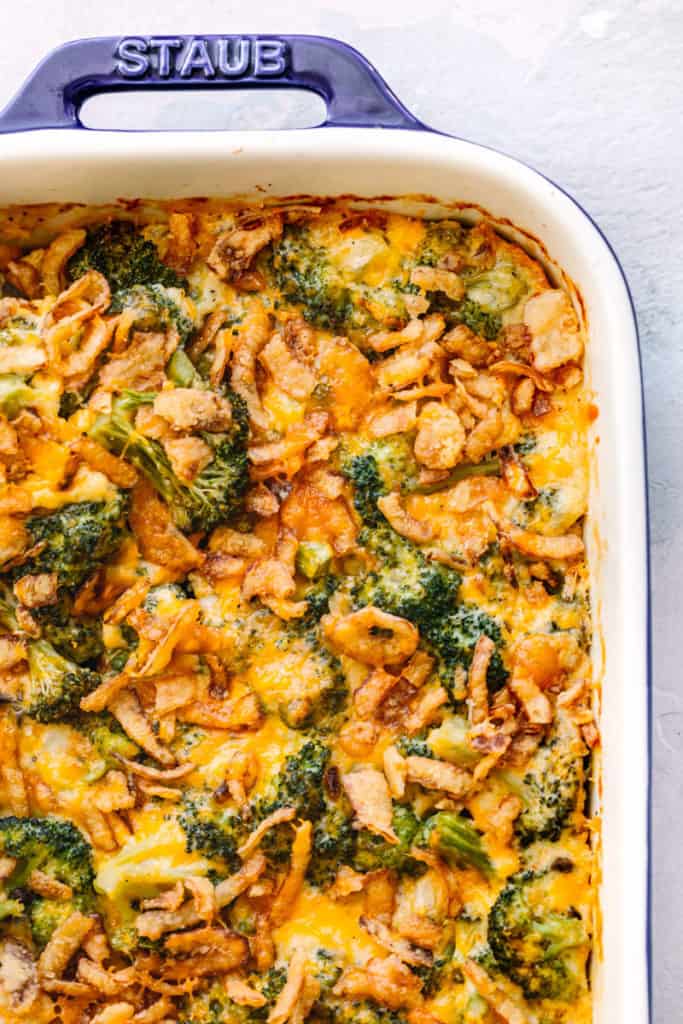 Don't wait, give this easy side dish recipe a try tonight! Or try one of these following recipes:
Made with Easy Ingredients and Easy to Cook:
This Broccoli Casserole is pretty similar to the old-fashioned green beans casserole because I added some fried onions as a topping. To make this side dish you will need the following ingredients:
fresh Broccoli
onion
canned mushroom soup
eggs
mayo
sour cream
unsalted Butter
salt and pepper for seasoning
store-bought French fried onions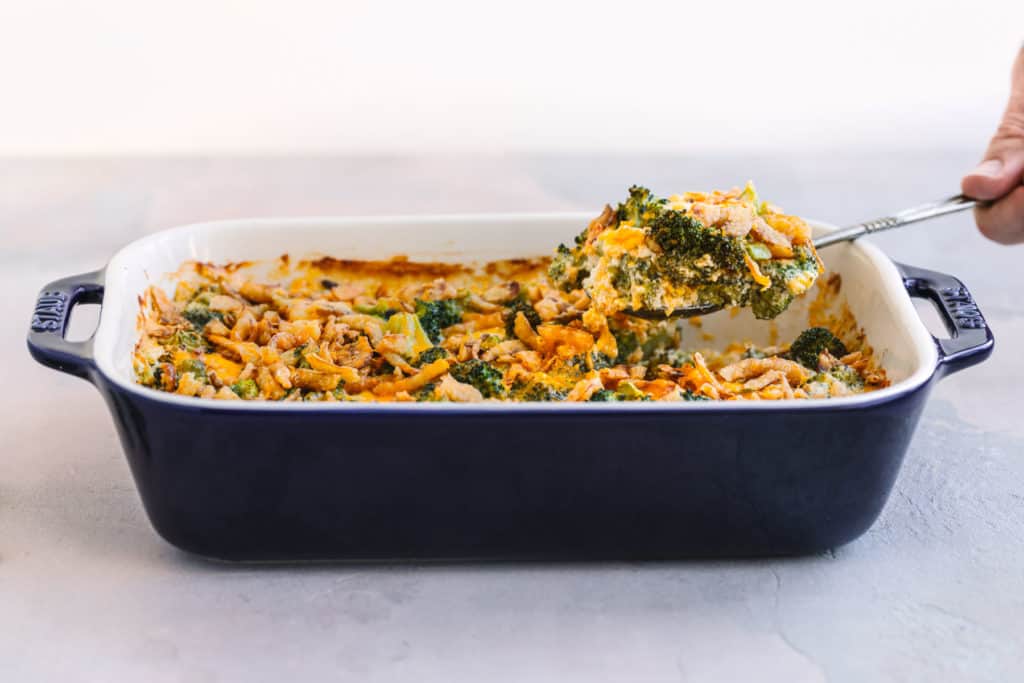 Even though we are going to use fresh broccoli instead of frozen, this recipe is still very quick and easy to make. Below are some of the most important steps to make the casserole:
First, cook the broccoli
Next, mix all the ingredients in a large mixing bowl then transfer to a large baking dish.
Then you'll need to bake the casserole for about 30-35 minutes in the oven.
Lastly, add toppings and cook for a few more minutes in the oven.
You can find a complete cooking instruction on the recipe card below.
How to Cook the Fresh Broccoli:
You can cook the fresh broccoli using one of the methods below. In this recipe, I just cooked the broccoli florets and placed it in boiling water.
Boiling the broccoli - just bring salted water to a boil, add the chopped broccoli and cook for only 1 minute. Remove from the heat and drain the extra water.
Steaming the broccoli - just place whole broccoli in a steamer basket over simmering water. Cover the steamer and steam for 5 minutes. Then chop the broccoli into bite-sized pieces.
Cook the broccoli in the Microwave - put all chopped broccoli in a microwave-safe bowl and add about 2-3 tablespoons of water. Cover the bowl with another a microwave-safe plate and set on high for about 2-3 minutes (depending on your microwave's heat strength). Remove from the heat and drain well.
How to Choose and Store Fresh Broccoli:
Choose broccoli heads with green florets and firm stalks. The cut ends of the stalks should be fresh and moist looking. Avoid any broccoli with yellowing florets, browning or woody stem ends.
You can store unwashed broccoli in an open plastic bag in the fridge. Be sure to use it within 7 days.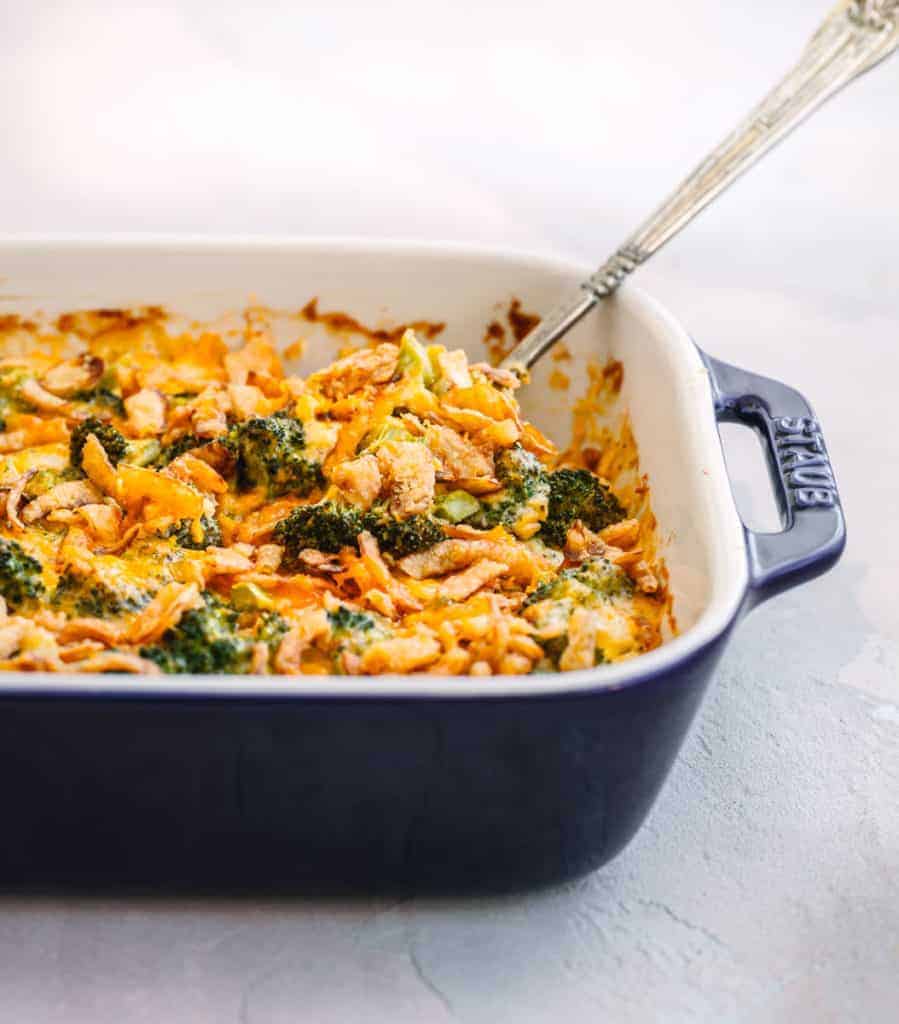 Broccoli Casserole Storage Info and Tips:
Any casserole with eggs can be refrigerated for up to 3-4 days, or in the freezer for 2-3 months. You can find more info here.
Use a casserole dish that is both freezer-proof and oven-proof so you don't need to transfer from one container to another.
Let the casserole to cool completely before freezing to prevent mushy and soggy broccoli.
Cover the casserole dish with a layer of plastic wrap and aluminum foil.
To reheat: just thaw the casserole in the refrigerator overnight and bake it at the same temperature the recipe originally called for.
CHECK OUT MORE DELICIOUS SIDE DISH RECIPES:
📖 Recipe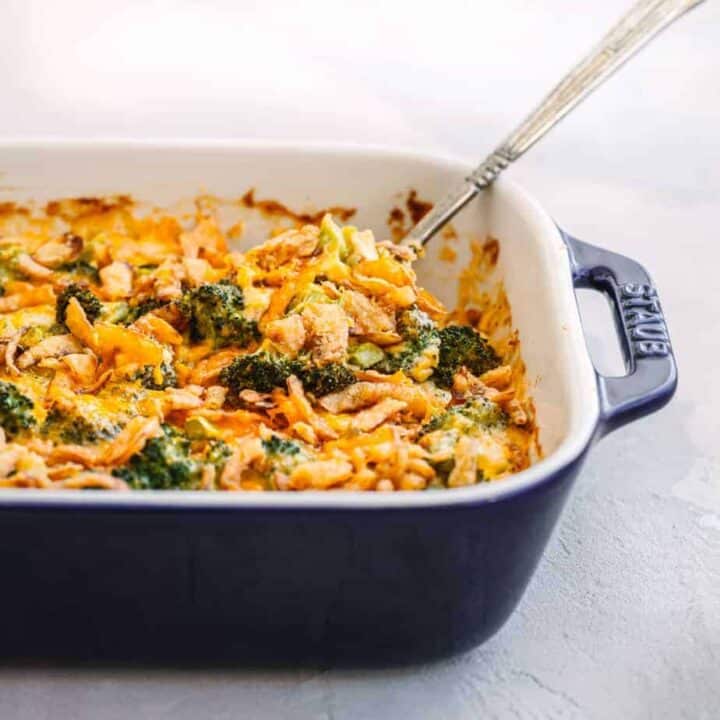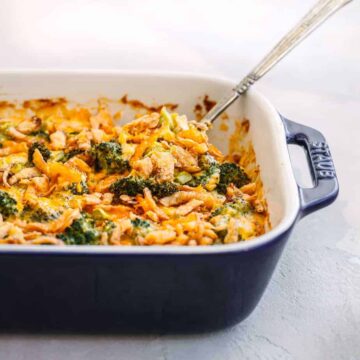 Fresh broccoli casserole
A flavorful Broccoli Casserole recipe. This casserole is the perfect side dish for any meal, any occasion, and any weeknight.
Ingredients
6

cups

fresh broccoli florets

1.5

cups

shredded sharp cheddar cheese

,

(divided)

1

can (10.5 oz)

canned mushroom soup

2

eggs

,

(lightly beaten)

¼

cup

chopped onion

½

cup

mayonnaise

½

cup

sour cream

¼

cup

butter ,

(melted)

½

teaspoon

salt

¼

teaspoon

black pepper

3

ounces

store-bought french fried onion

,

(use more or less according to your liking)
Instructions
Bring a pot of salted water to a boil. Add the broccoli florets and cook, uncovered, for just 1 minute. Turn off the heat, drain into a colander and immediately place the broccoli in the ice bath to stop the cooking process for 30 seconds. Drain the broccoli again in the colander.

In a large mixing bowl, combine broccoli, soup, lightly beaten eggs, melted butter, onion, salt, pepper, mayo, and sour cream. Mix well.

Add a cup of shredded sharp cheddar cheese and mix well.

Transfer to a large greased baking dish and cook, uncovered, for about 30 minutes.

Remove the casserole from the oven, add about ½ cup cheddar cheese on top along with some fried onions.

Put the casserole back into the oven and continue cooking until the top cheese is melted (for about 10 minutes).