A delicious Instant Pot Brisket recipe! The meat is cooked in a sweet and tangy homemade sauce that is quite similar to BBQ sauce. As a result, it's very juicy, tender and will melt in your mouth. Served on a bun and homemade coleslaw.
The Instant Pot Pulled Beef Brisket is a wonderful addition to all kinds of dishes. You can serve the pressure cooker shredded beef on a sandwich, salad, tacos, nachos, beans or simply added to rice!
Jump to: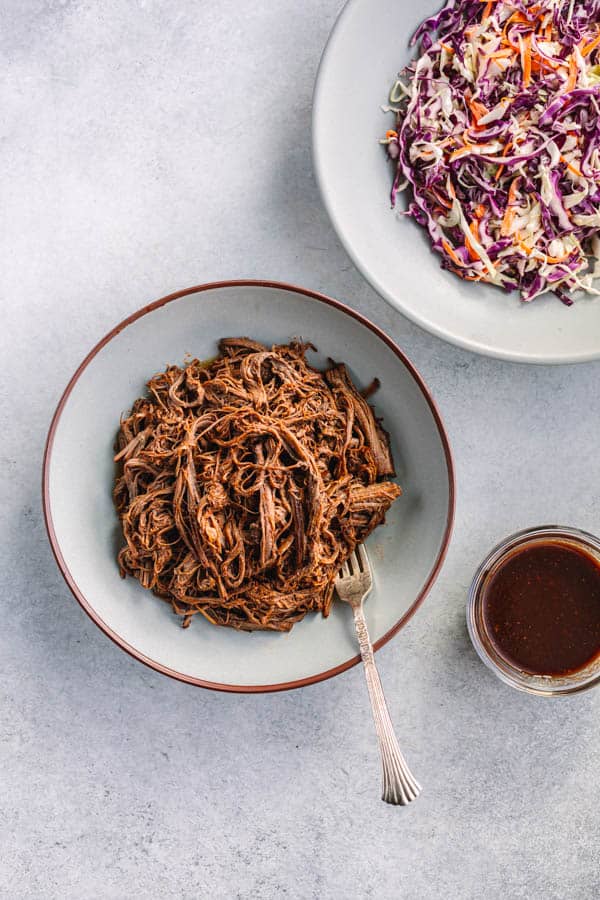 Sliders are one of the most popular summer BBQ or game day recipes to please a crowd. So in this recipe, I am going to show you how I serve this instant pot pulled beef brisket on a bun and homemade coleslaw, a combo that's sure to win over your group.
Why You'll Love this Instant Pot Brisket:
This Instant Pot Brisket has the perfect balance of sweet and tanginess. As a result, this recipe is also great for kids!
One of the best things you will love about this Instant Pot Pulled Beef Brisket recipe is that you only have to spend 70 minutes of cooking time plus 10 minutes on natural release. Surprisingly, the meat tastes packed with flavor even though you don't have to spend hours to slow cook the meat.
CHECK OUT THESE HIGH-RATED INSTANT POT RECIPES: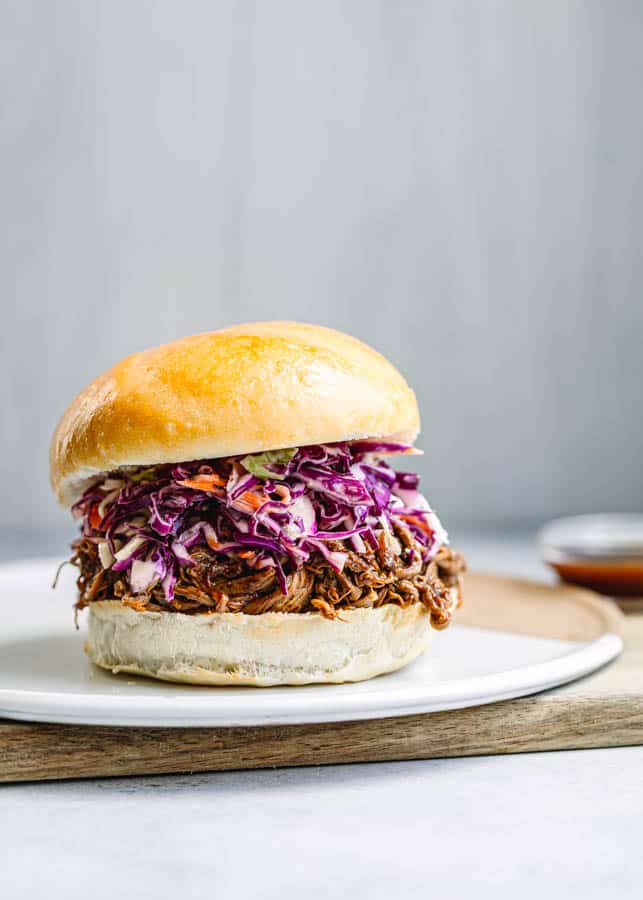 Additionally, this shredded meat is versatile and can be served in many different ways. It is a perfect addition to any BBQ dishes. You can't go wrong with this beef brisket!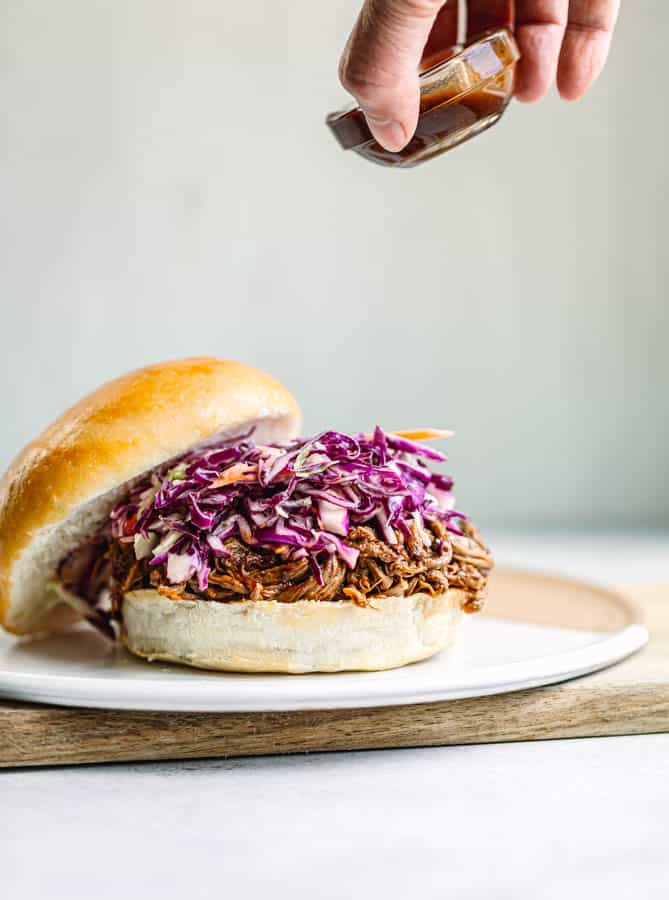 Can I Make Instant Pot Brisket Ahead of Time?
You probably agree that a slow-cooked meat often tastes better the day after cooking it, as it has a deeper flavor. However, the texture always feels better on freshly-cooked meat.

If you are thinking to make this instant pot pulled beef brisket in advance, I would recommend keeping the meat whole. Do not shred it ahead of time as it will then dry out easily.
Best Sauce for Pulled Beef:
Now, let's talk about the sweet and tangy homemade sauce! It's actually quite similar to BBQ sauce, except it's less sweet. Most BBQ sauce recipes call for molasses, but in this recipe, I used a combination of brown sugar and maple syrup to add sweetness to the meat. The sauce is made of Worcestershire sauce, apple cider vinegar, garlic, chili powder, ground mustard, cayenne pepper, ketchup, brown sugar, liquid smoke, garlic salt, cumin, and maple syrup.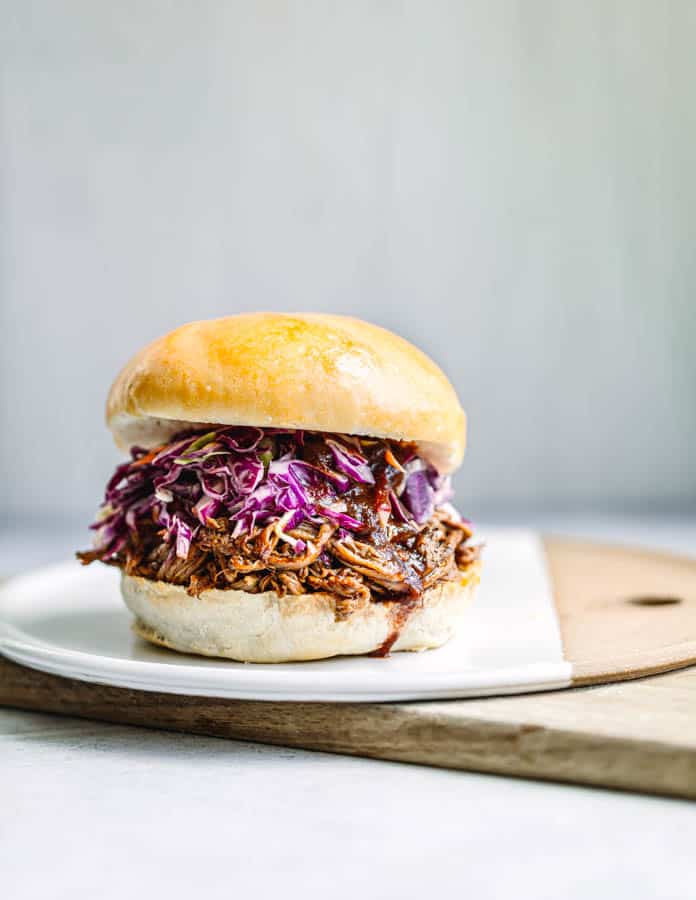 Here's How I cook Instant Pot Pulled Beef Brisket:
First, pour in 1/2 cup low sodium broth or water.
Second, place all seasoning ingredients into the instant pot.
Third, add the brisket into the pot.
Close the lid and turn the manual setting to 70 minutes plus 10 minutes of natural release.
Once it's cooked, just turn the release button down, open the lid.
Then shred the meat using a meat fork.
Lastly, turn on the "saute" setting to bring the liquid to boil and reduce into a thicker sauce.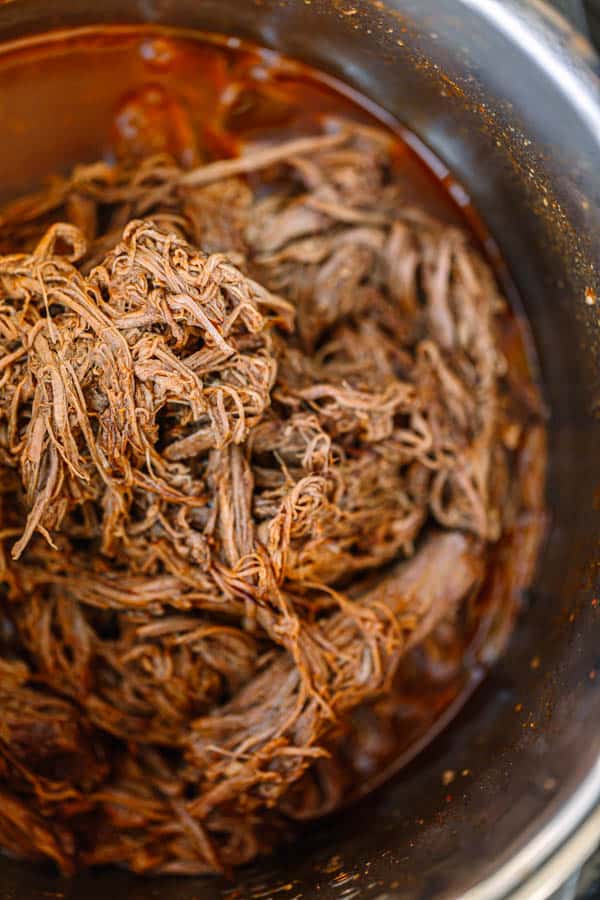 How Long Does It Take to Cook Pulled Beef Brisket:
In general, it can take hours to prepare pulled meat. To cook pulled beef in the oven usually takes about 4-5 hours or up to 8 hours in a slow cooker. Fortunately, you only need to cook the shredded beef for 70 minutes in an instant pot.
Is it OK to cut brisket in half?
If your brisket is too big, just cut in half until it fits comfortably in the pot.
There is a fat layer that separates the two muscles, You have to follow that layer of fat to separate the brisket in half.
Why is my brisket tough?
If the brisket is tough, it's because it needs more time to cook to break down the connective tissue.
Make in Advance and Storing Leftover:
You can cook this up to 3 days in advance. Just be sure to store the brisket covered with the gravy. Any leftover can be refrigerated for up to 5 days.
The Best Cut of Beef for Shredded Beef?
Any meat cut from the shoulder of the animal (which contains marbling and connective tissue) is great for shredded meat. That's because this part of the meat softens during cooking. This makes it easy to pull the meat apart into moist, tender shards. In contrast, the closer to the chest the meat comes from, the tougher it is.
Here are some examples:
Brisket
Chuck
Rump Roast
Flank Steak
Skirt Steak
How Do You Shred the Beef:
Shredding beef is quite easy! First, you need to cook the meat until it is falling-apart tender. Then, use two forks to shred the meat.
What Should I Serve with Pulled Beef:
Sandwich
Tacos
Nachos
Beans
Coleslaw
Rice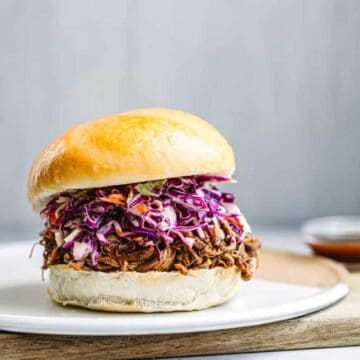 Instant Pot Brisket
A delicious instant pot pulled beef brisket. It's very juicy, tender and will melt in your mouth.
Print
Pin
Rate
Equipment
Pressure Cooker or Instant Pot
Ingredients
BBQ Sauce:
1/2

cup

water or vegetable broth

(low sodium)

1

garlic clove

(minced)

1/4

cup

ketchup

1/4

cup

Worcestershire sauce

1 1/2

tbsp

maple syrup 

1

tbsp

apple cider vinegar

1

tbsp

liquid smoke
Dry Rub:
1

tbsp

brown sugar 

1

tsp

 cumin 

½

tsp

chili powder

½

tsp

ground mustard 

½

tsp

cayenne pepper

½

tsp

garlic salt 

black pepper
Instructions
Pour the broth or water into the pot.

Add all of the dry rub seasoning and BBQ sauce ingredients into the pot and mix well with the broth to create a sauce. (please see the notes below)

Nestle the meat into the sauce mixture and use a cooking spoon to spread the broth over the meat.

Lock the lid onto the pot.

Set to "Manual" and cooking time to "70" minutes.

When the cooking cycle is done and beeps, let the pressure release naturally for 10 minutes then turn the PRESSURE RELEASE valve to the VENT position. 

Unlatch the lid and open the instant pot.

Skim the excess surface fat from the sauce.

Use a meat fork or two regular forks to transfer the brisket to a cutting board to pull it apart and shred. This is safer than pulling it apart in the instant pot which can be hot.

Place the shredded meat back into the pot. Then turn the instant pot to the "saute" setting and cook for about 8-10 minutes, or until the sauce looks like a loose, wet BBQ sauce.

Turn off the "saute" function. Remove the meat from the instant pot and transfer the sauce into the bowl. The sauce and meat taste great together but are best stored separately as to keep the meat from getting soggy.

Serve the meat on a bun and add coleslaw. Add additional sauce as desired.
Notes
Briskets come in two basic cuts. Choose the "flat cut" because it is less fatty than the "point cut". 
If your brisket is too big, just cut in half until it fits comfortably in the pot.
Don't have liquid smoke? Just skip it 🙂 
Optional step for tender meat: You can place the brisket
in a large, heavy-duty Ziploc bag. Rub the meat with dry rub seasoning and marinate for at least 2 hours or up to overnight to provide flavor and help tenderize the meat before adding into the pot, mix with broth, and the BBQ sauce ingredients.
Nutrition
Nutrition Facts
Instant Pot Brisket
Amount Per Serving
Calories 298
Calories from Fat 117
% Daily Value*
Fat 13g20%
Cholesterol 105mg35%
Sodium 329mg14%
Potassium 667mg19%
Carbohydrates 8g3%
Protein 35g70%
Vitamin A 142IU3%
Vitamin C 2mg2%
Calcium 24mg2%
Iron 4mg22%
* Percent Daily Values are based on a 2000 calorie diet.