This Instant Pot Risotto with Parmesan cheese recipe is so quick and easy to make. The Arborio rice is so creamy, buttery, rich, and delicious! The best Risotto recipe made with an electric pressure cooker, such as Instant Pot or Ninja Foodi!
This Instant Pot Risotto is a simple rice dish that tastes outstanding by itself or as an excellent base for many types of things to add or as toppings, such as mushrooms, seafood, or eggs.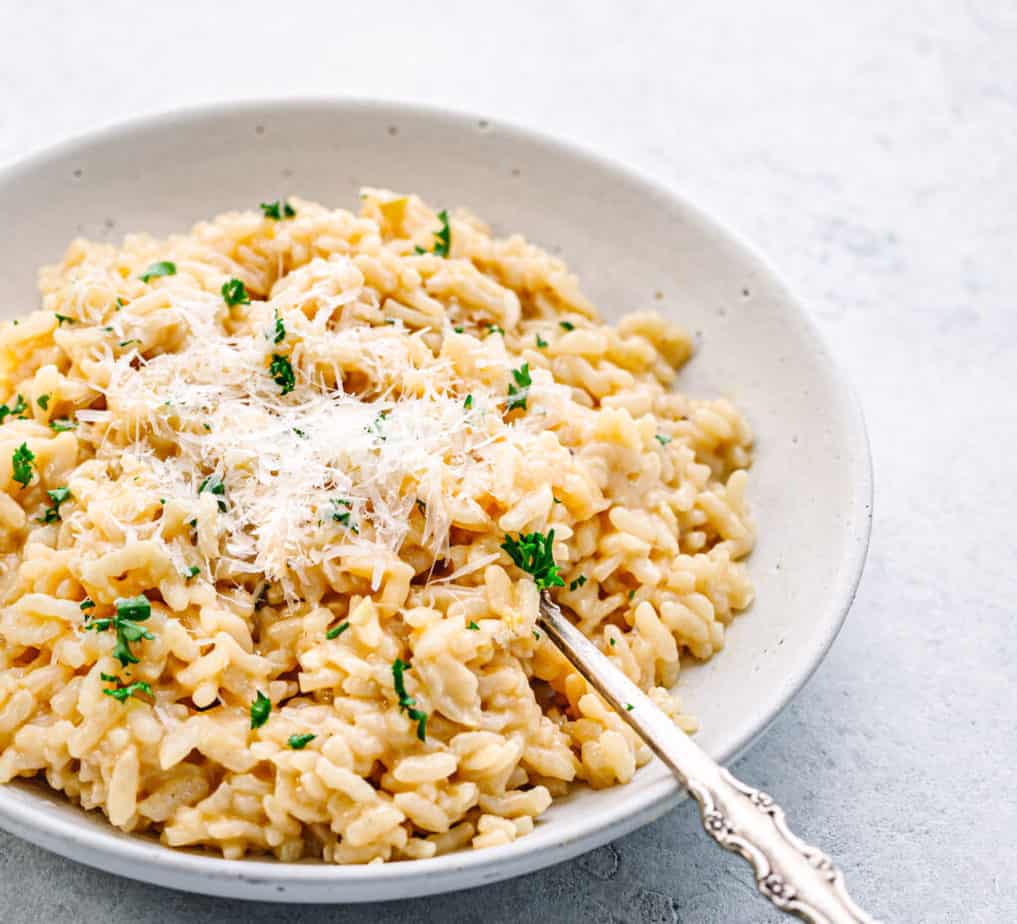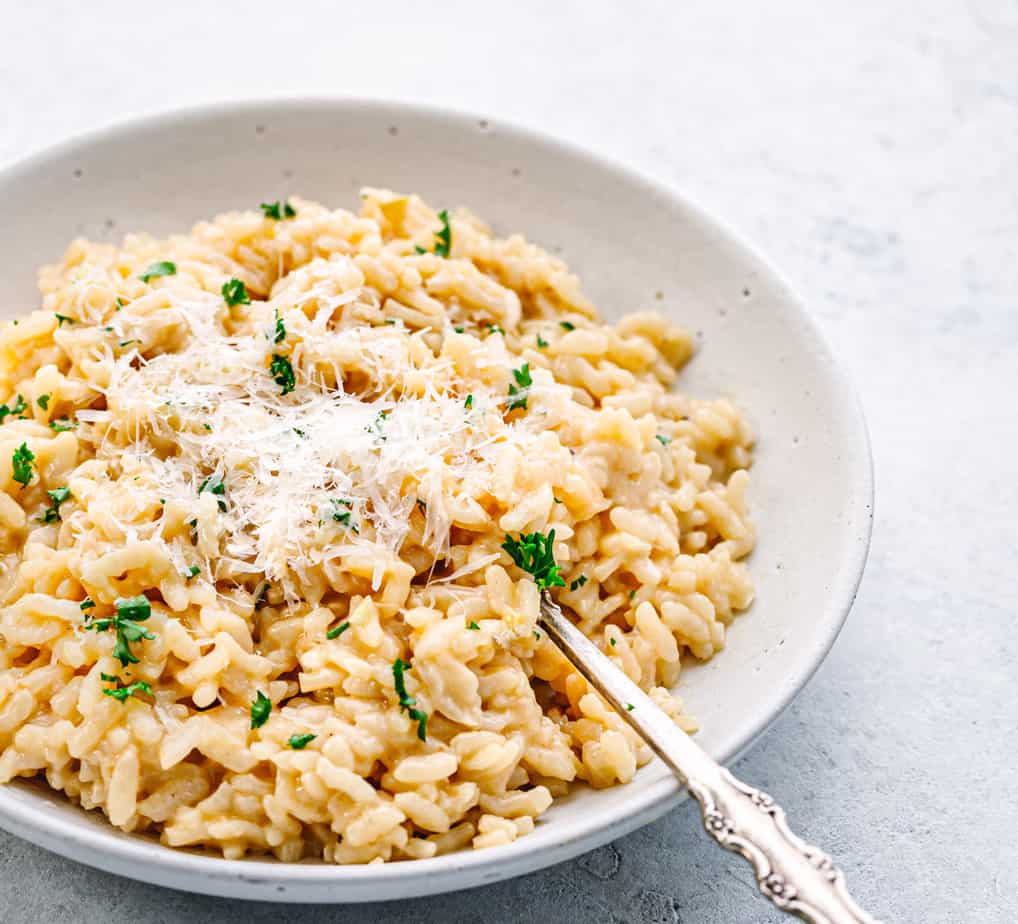 Why You'll Love this Instant Pot Risotto:
This Instant Pot Risotto recipe doesn't require a lot of hands-on time! It's the quickest way to cook risotto from scratch with no fuss. It's as tasty as risotto you cook on the stove but requires less cooking time.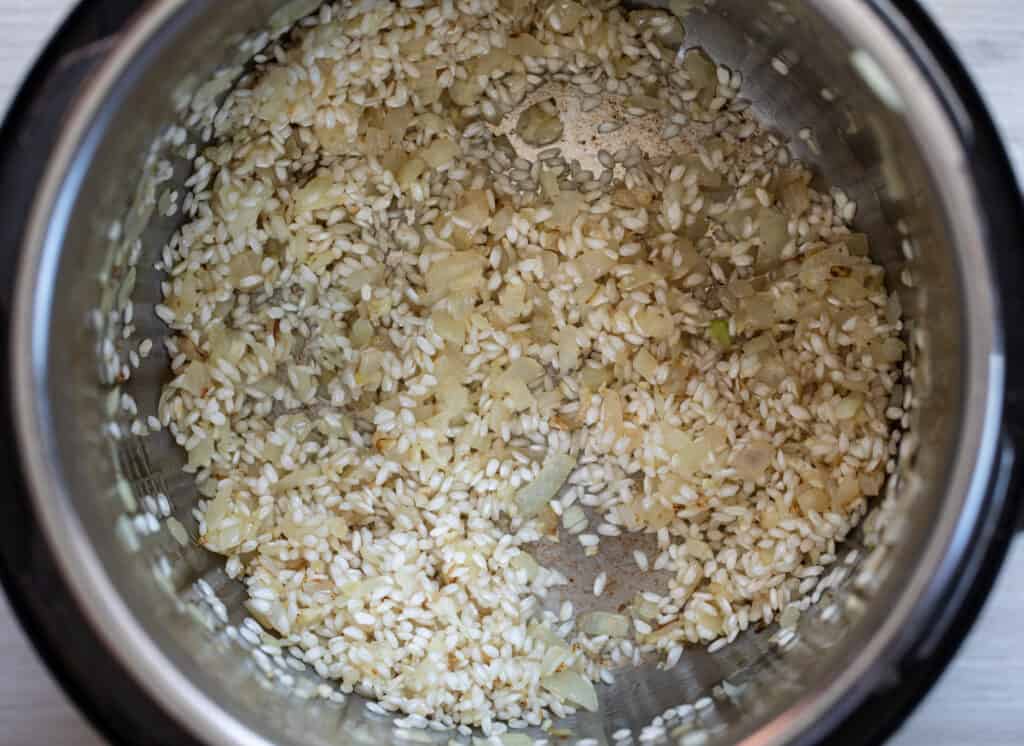 Risotto is a popular rice dish that originally comes from the northern Italy area, Lombardy. This rich dish is cooked slowly with broth, butter, onion, white wine, and Parmesan cheese until it reaches a creamy texture. Cooking risotto requires a lot of attention as well as your time.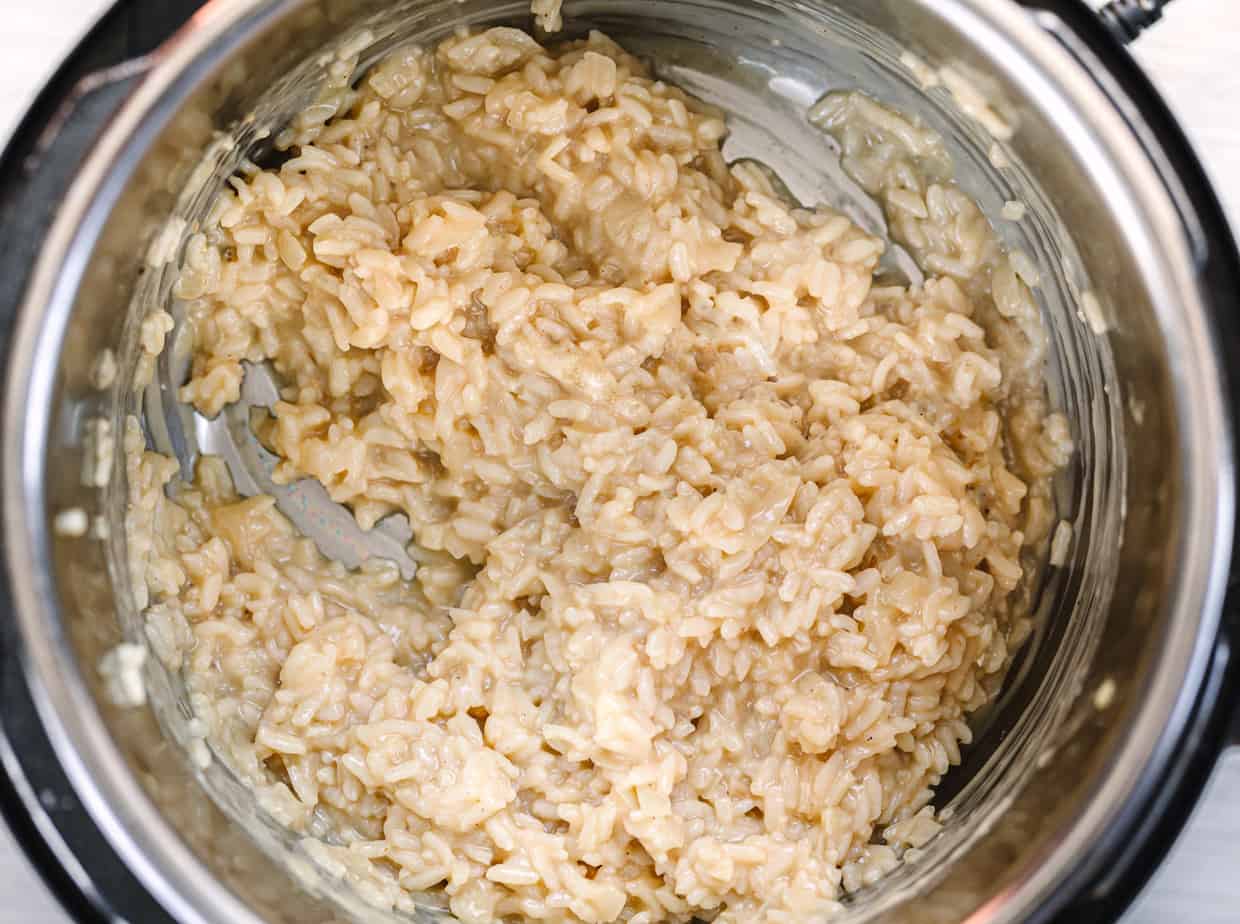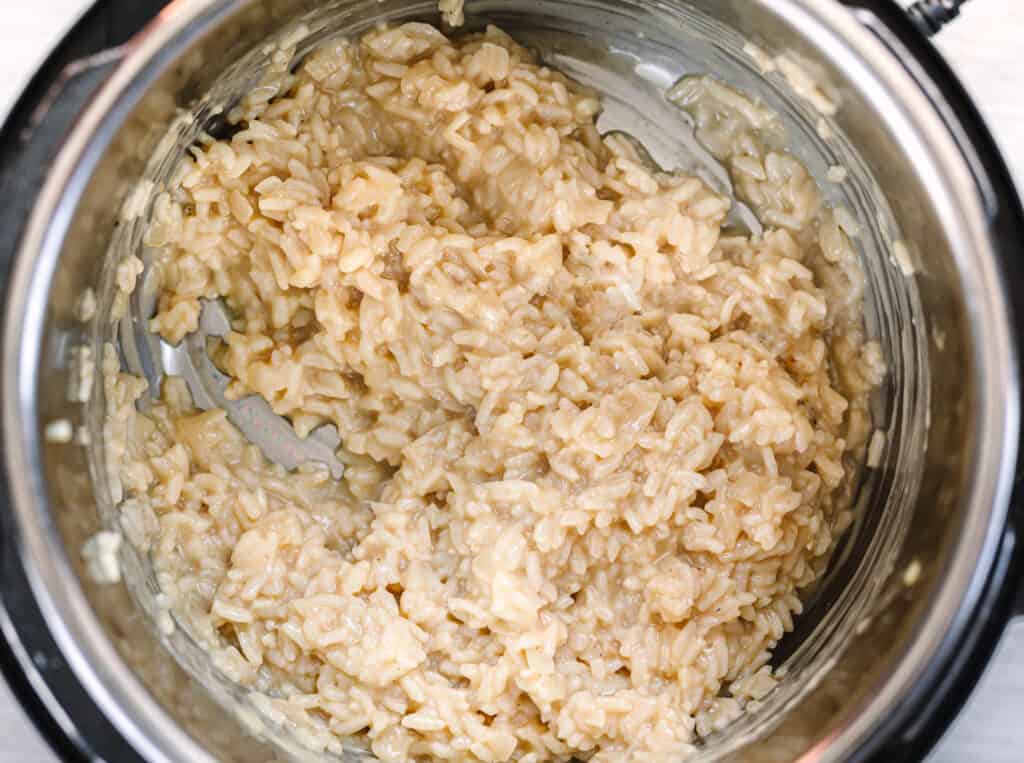 This Instant Pot Risotto recipe will solve the most common problems and hurdles you may face when cooking risotto on the stove. That means, it will be less stirring, using less broth, and less cooking time. The rice is cooked perfectly and evenly, so tender but not mushy.
CHECK OUT THESE DELICIOUS INSTANT POT RECIPES: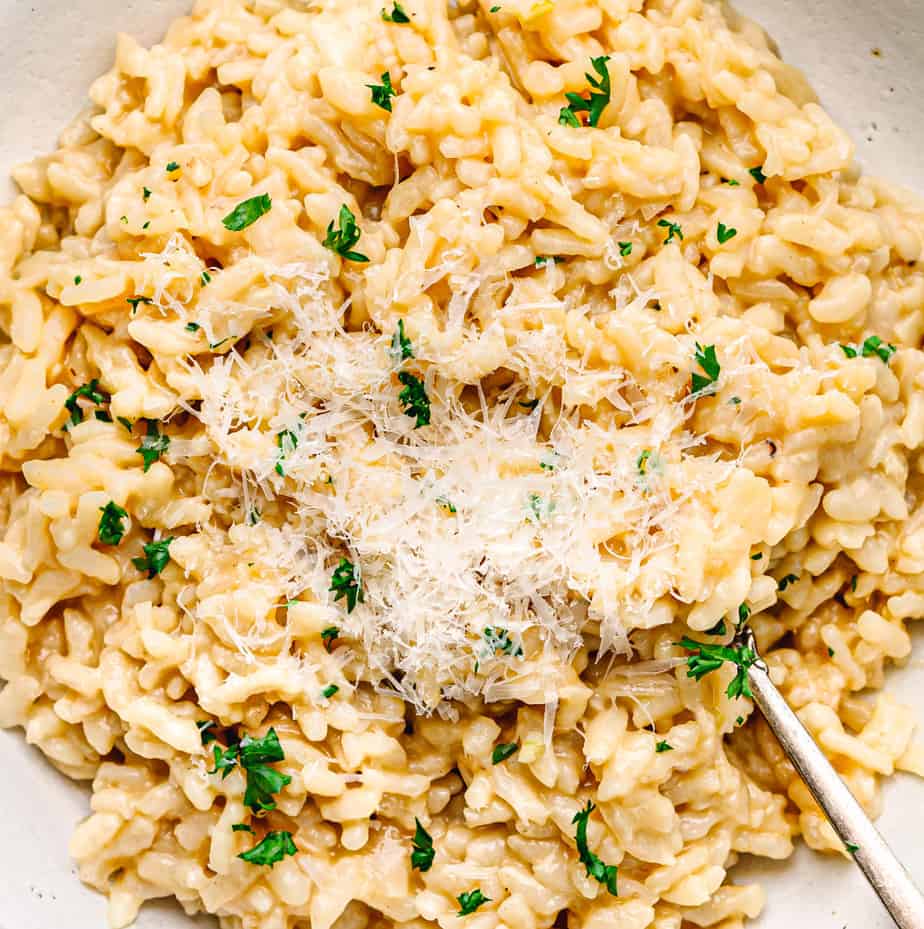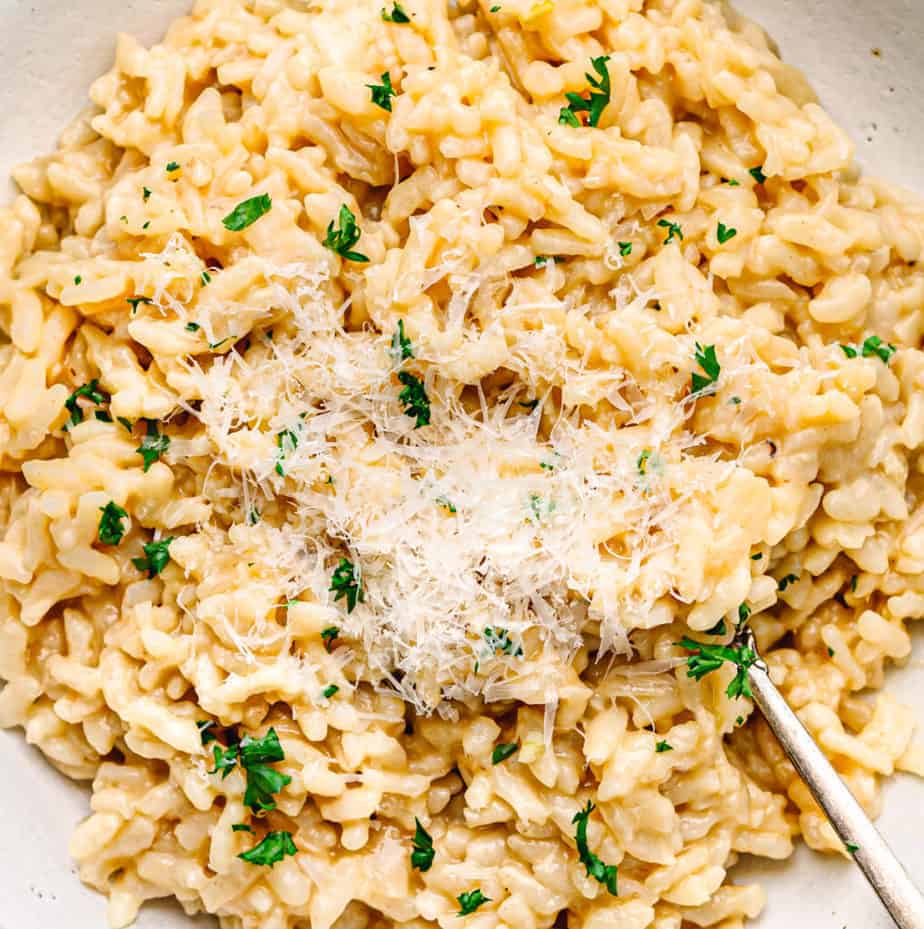 Instant Pot Risotto Ingredients:
To make the risotto using an instant pot, you will need easy pantry ingredients; Arborio rice, white wine, onion, butter, garlic, broth, and Parmesan cheese.
Arborio rice is Italian short-grain rice. It's commonly used to make risotto or rice pudding. Because of its high starch content, risotto adds thick creaminess to the dishes. Unlike almost any other rice, there is no need to rinse the Arborio rice to avoid removing the starch.
You can also use sushi rice or barley as alternatives for Arborio rice.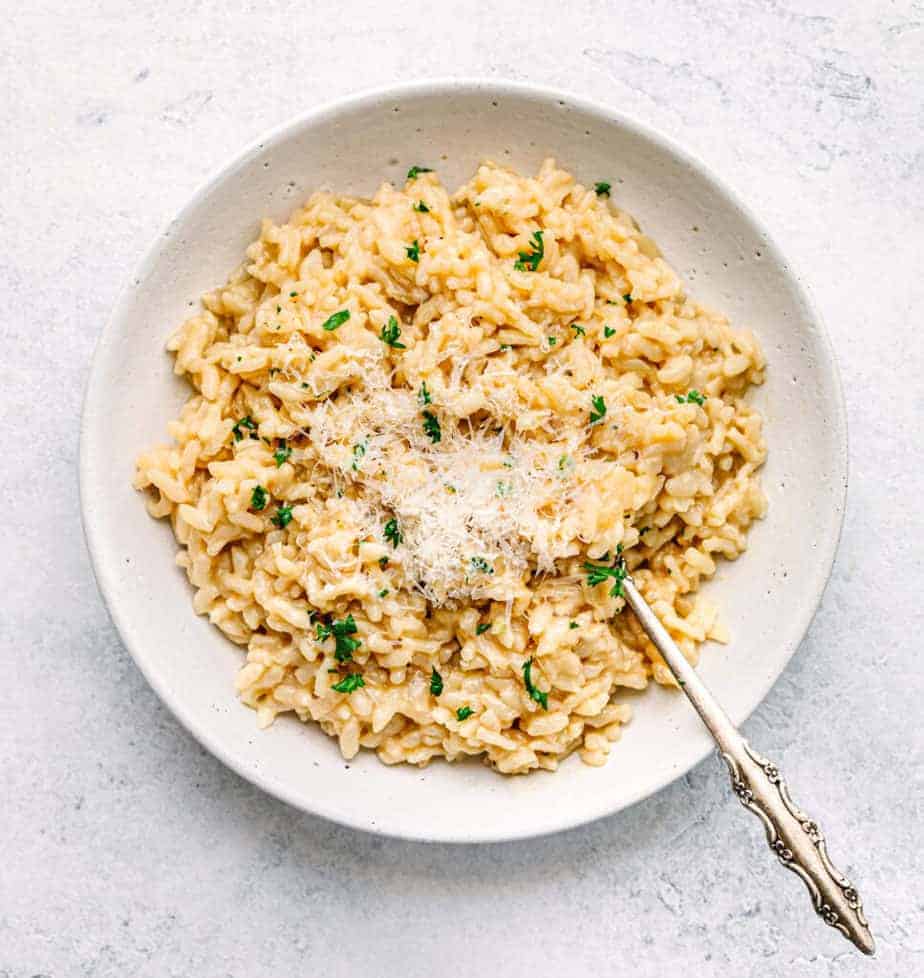 I used 1:2 rice to liquid ratio. In addition, I also added ¼ cup dry white wine. I think the rice came out beautifully. The rice is so tender, and as mentioned not mushy! It's also covered with enough liquid but not soupy.
Please note that the rice will thicken after it sits long enough or after you add Parmesan cheese. Therefore, if you want the risotto to have a bit more liquid, feel free to add about ¼ cup of broth into the general recipe recommendation below.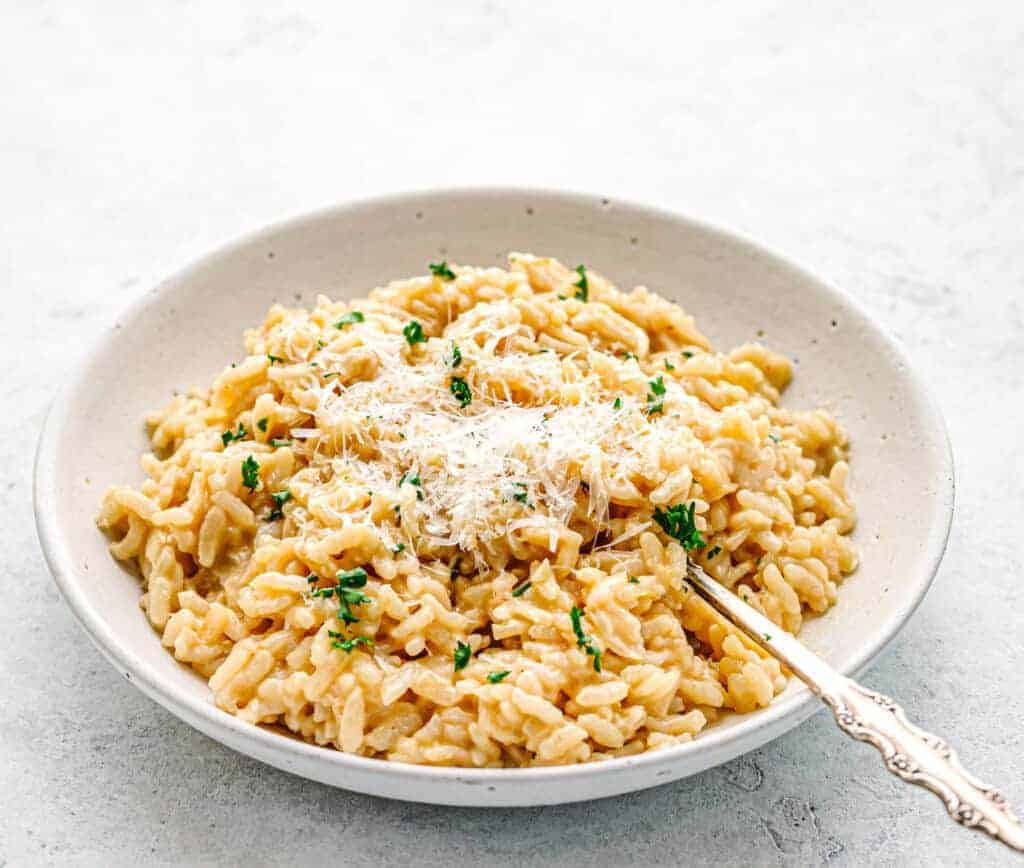 How to Make Risotto in an Instant Pot:
The cooking process of this Instant Pot risotto is much easier, simpler, and faster than cooking it on the stove.
· First, I sauteed the onion and garlic to add a more intense flavors to the rice.
· Second, I make sure to toast the rice until it's browned.
· Third, I added white wine to deglaze. At this point, it's also important to scrape the bottom of the pan to remove any residue or brown spots to prevent burning.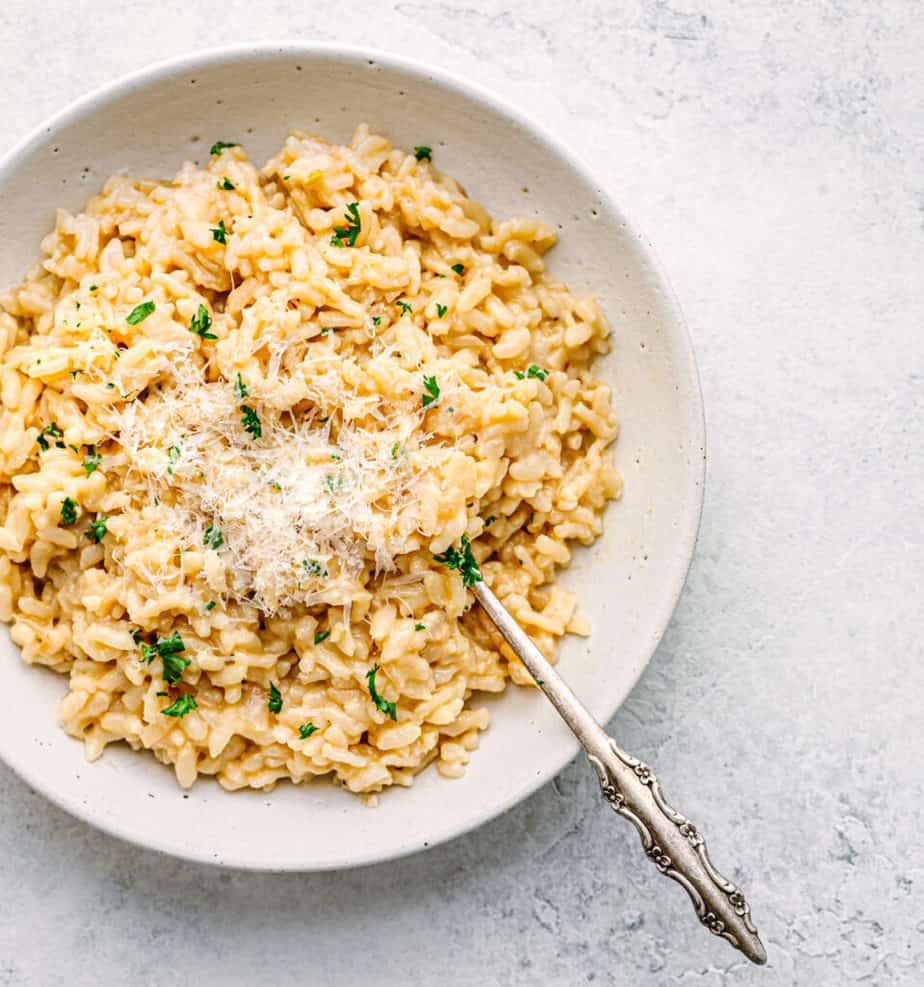 · Fourth, I added broth once again, scraping the bottom of the pot to clean residue.
· Lastly, I cooked the rice at high pressure for 6 minutes with a quick release.
· Once it's done, just stir the rice then add butter and Parmesan cheese
📖 Recipe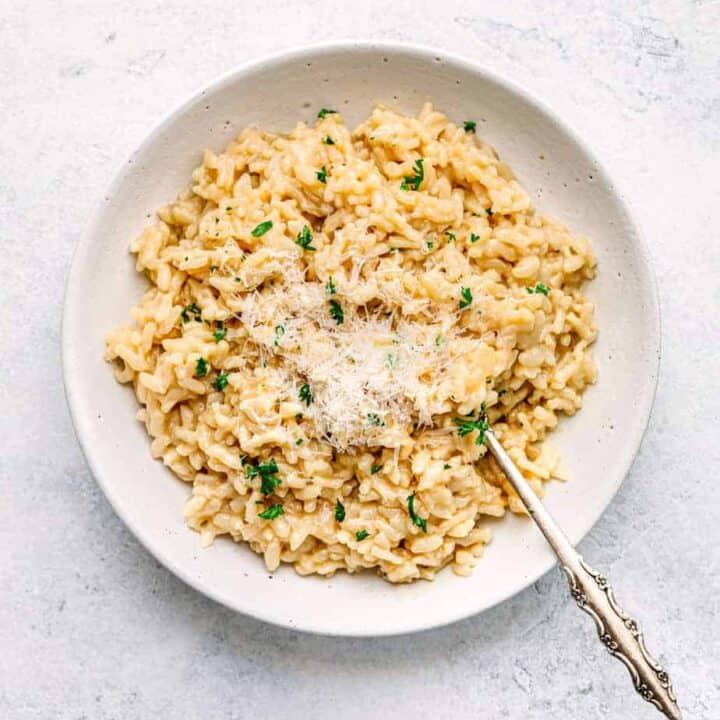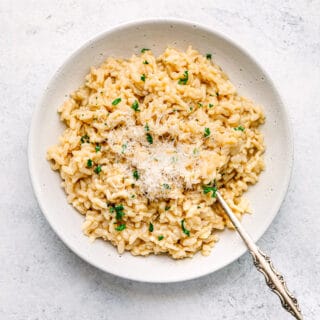 Instant Pot Risotto
The best Risotto recipe made with an electric pressure cooker! This Instant Pot Risotto with Parmesan cheese recipe is so quick and easy to make.
Ingredients
1

cup

Arborio rice

2

tablespoon

oil or unsalted butter

2

cups

broth

¼

cup

dry white wine, (such as Sauvignon Blanc, Pinot Grigio, Pinot Gris, Pinot Blanc)

1

tablespoon

minced garlic

1

cup

diced yellow onion

salt and pepper

,

(to taste)
Instructions
Press the "Sauté" key and adjust for "Normal". When the Instant Pot displays "Hot", heat the oil or butter. Add onion and add a pinch of salt, stirring frequently, until onion is translucent and starting to soften for about 5 minutes.

Add garlic and stirring frequently just until fragrant. Add in the rice and stirring frequently for about 3 minutes.

Pour in the wine, stirring constantly until the wine is fully absorbed for about 1-2 minutes. Be sure to scrape the bottom of the pot to keep the pan clear and nothing is stuck on it to prevent burning. Pour in the broth.

Secure the lid then press "manual" on high for 6 minutes. After the cooking cycle finished, carefully quick release the pressure. Stir in Parmesan and the optional butter. Season with salt and pepper if needed.
Nutrition
Calories:
437
kcal
Carbohydrates:
47
g
Protein:
14
g
Fat:
20
g
Saturated Fat:
9
g
Cholesterol:
37
mg
Sodium:
856
mg
Potassium:
138
mg
Fiber:
2
g
Sugar:
3
g
Vitamin A:
644
IU
Vitamin C:
4
mg
Calcium:
290
mg
Iron:
2
mg