This Instant Pot Hamburger Helper is a classic macaroni recipe that is cooked in a pressure cooker for only 4 minutes. It tastes better and healthier than the boxed Hamburger Helper. This creamy and cheesy ground beef macaroni pasta recipe will be perfect for any weeknight dinner.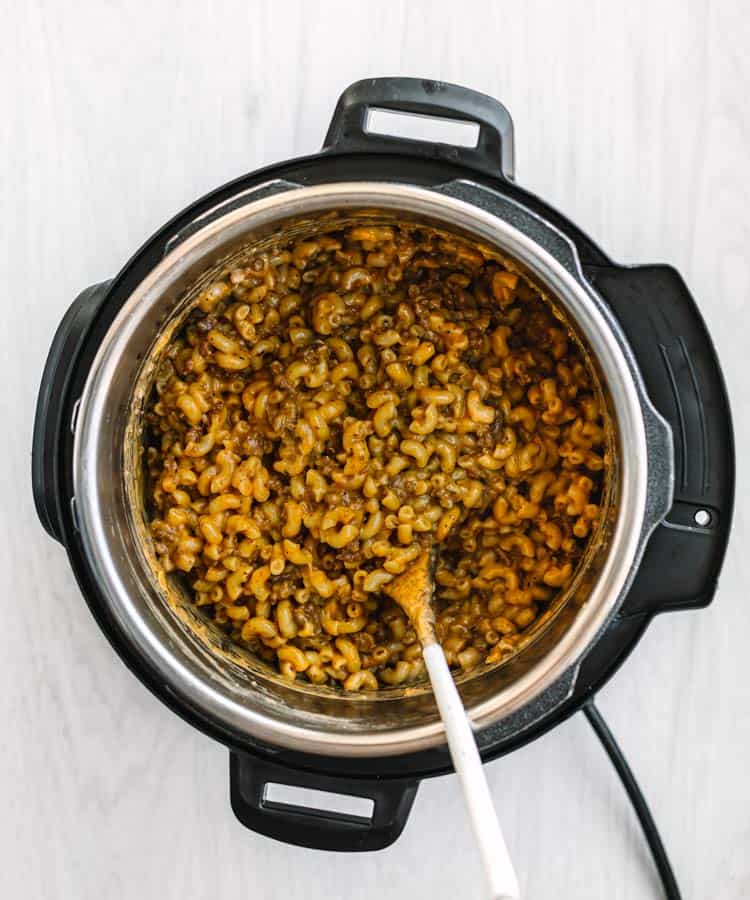 Looking for more ground beef recipes? Well, you have to try this easy and quick Instant Pot Hamburger Helper. A mac and cheese dish with ground beef that's cooked in a creamy cheese sauce. This one-pot pasta dish is so delicious and made with simple pantry ingredients. It's made without all of those unnecessary ingredients and preservatives you may get from boxed pasta and meal starters.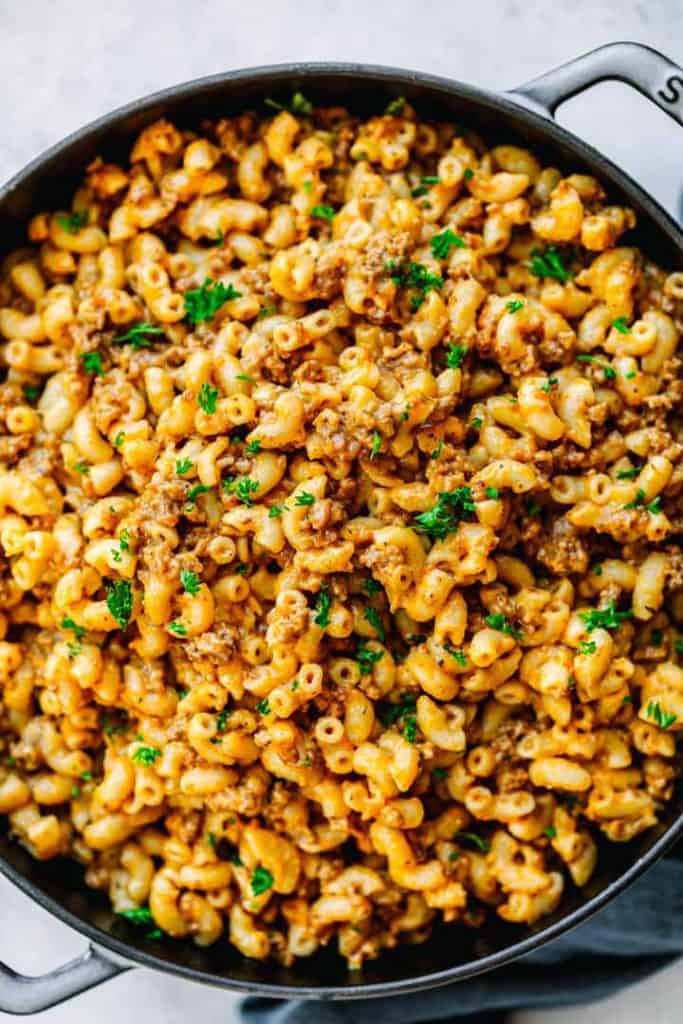 This Pressure cooker Hamburger Helper reminds me of beef stroganoff. It has some similarities in taste but is much quicker to make and uses fewer ingredients. You can find my Instant Beef Stroganoff recipe here.
Check out more Instant Pot recipes: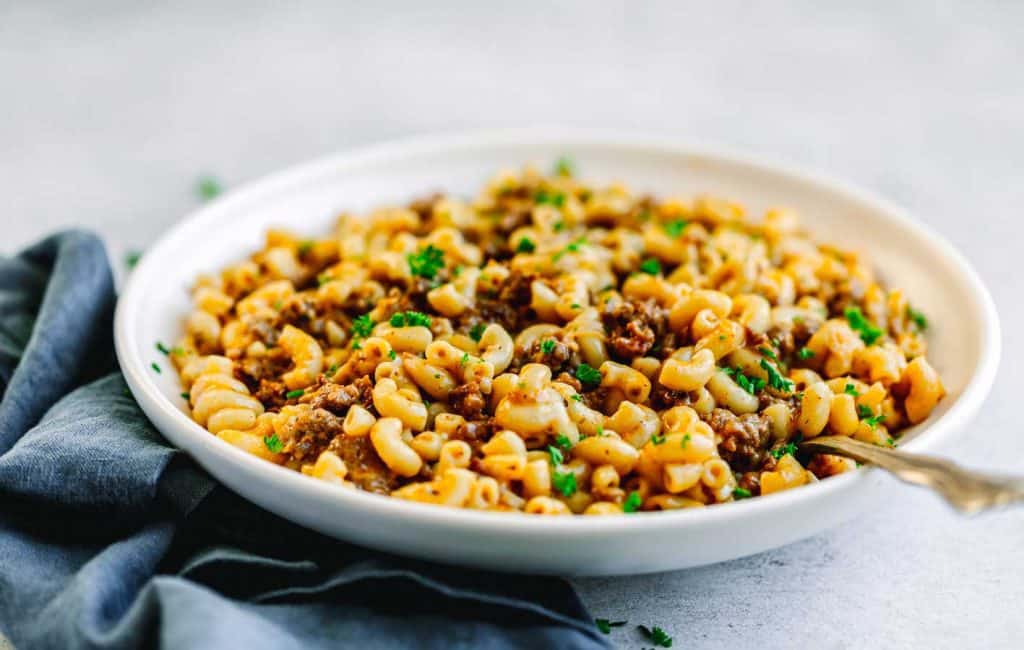 Instant Pot Hamburger Helper Ingredients:
Ground Beef
Elbow Macaroni Pasta
Milk
Yellow Onion
Garlic
Smoked Paprika
Italian Seasoning
Chili powder
Worcestershire sauce
Beef broth
Sugar
Salt and Pepper
Fresh Cheddar Cheese and shred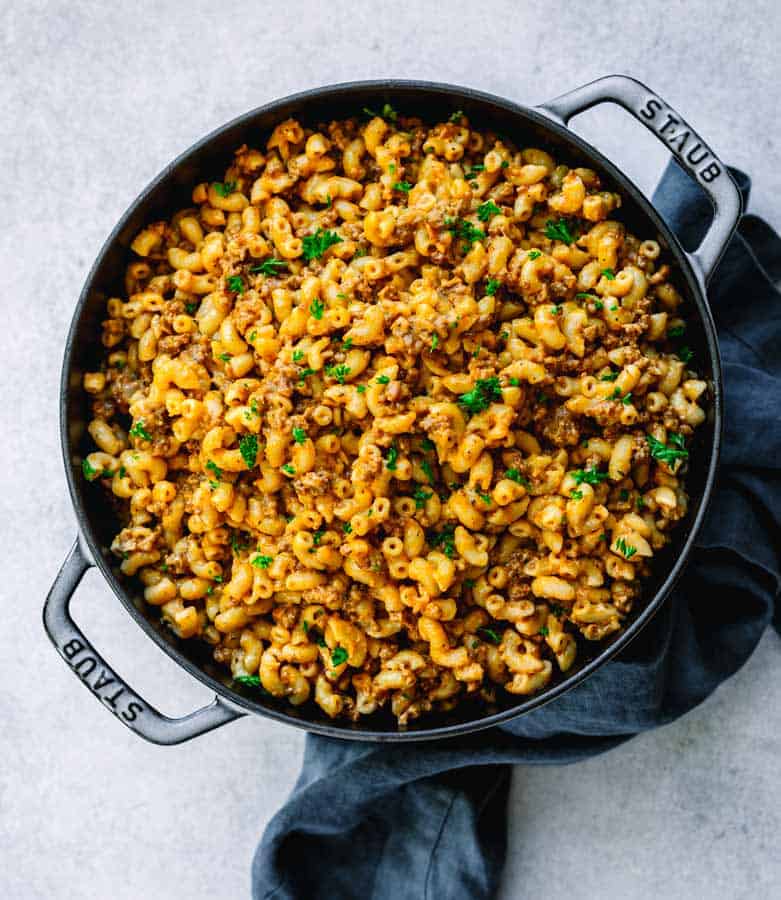 How to Make Instant Pot Hamburger Helper:
First, brown the beef in an Instant Pot with one tablespoon of oil. It should take about 3 minutes.
Second, cook the seasoning ingredients until translucent and fragrant. This step only takes 1 minute.
Third, put all of the ingredients in the pot, including seasoning, browned beef, pasta, and broth. Then cook for about 4 minutes with immediate release.
Lastly, make the cheesy and creamy sauce.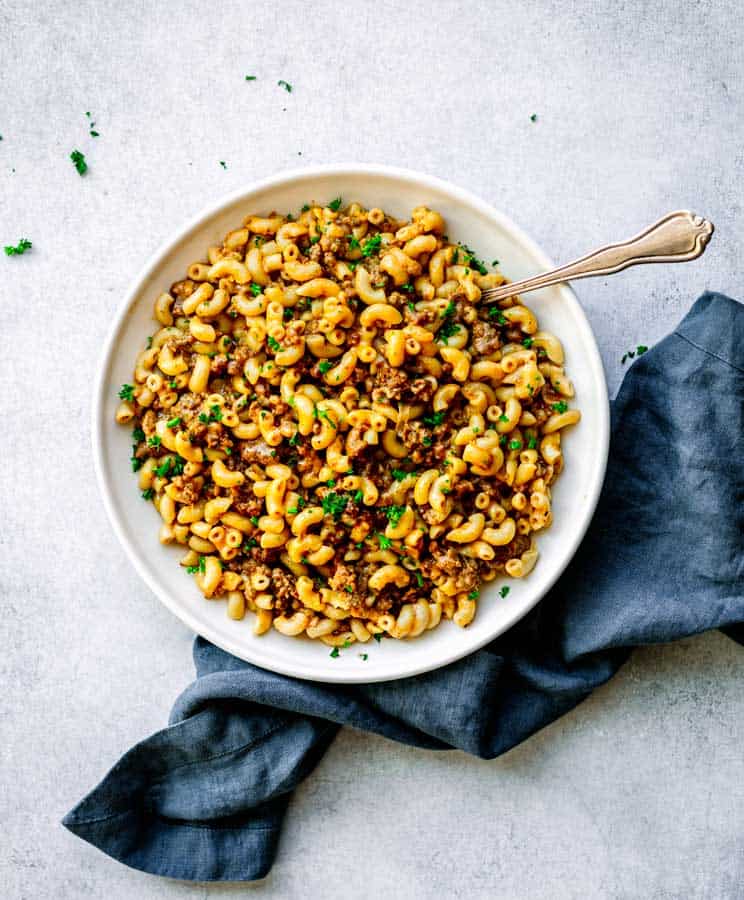 How to Make Creamy and Cheesy Sauce for Hamburger Helper:
To make a creamy and cheesy sauce, I add milk, cornstarch, and cheddar cheese to the macaroni dish after pressure cooking.
As an alternative, you may use sour cream or water. Please keep in mind that you might not enjoy the results made with just water because the milk adds creaminess and flavor to the sauce.

TRY THESE DELICIOUS INSTANT POT SOUP RECIPES: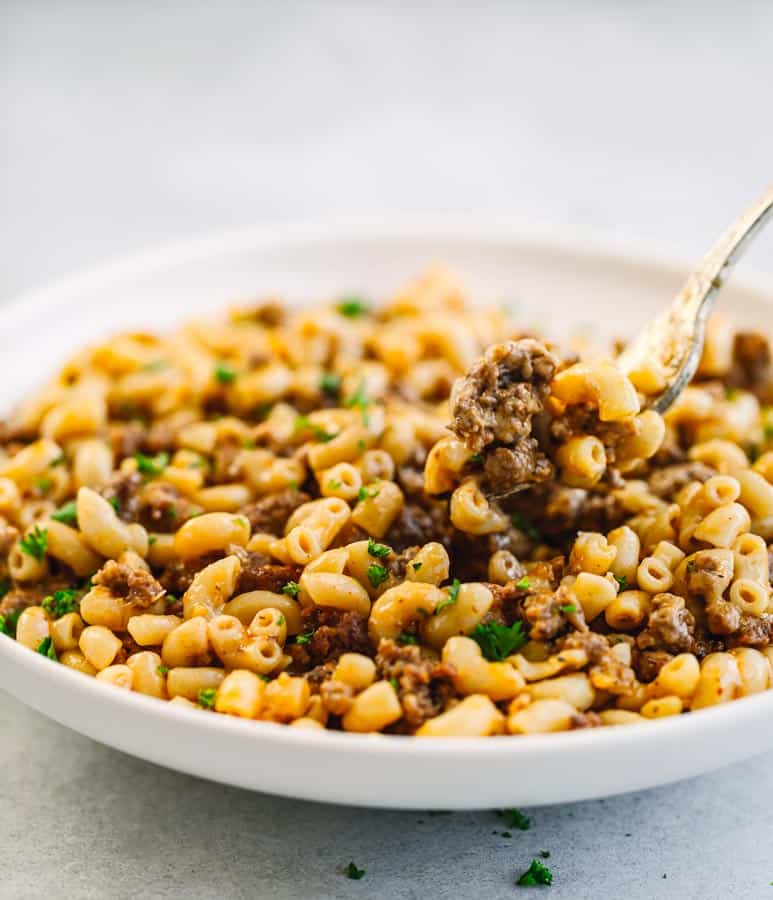 What Types of Cheeses Best for Hamburger Helper:
For this recipe, I just used fresh cheddar cheese because I still have some leftover from previous recipes. However, you may replace the cheddar cheese with American cheese or processed cheese like Velveeta.
Pre-shredded cheese contain additive that prevent the cheese from clumping or sticking together while in the package. So I recommend using Fresh Cheddar cheese (Block) because it melts smoothly, doesn't contain added preservatives, chemicals and it will have a fresher, creamier taste than pre-shredded cheese.
Also, remember to put the cooked ground beef macaroni dish in the refrigerator promptly after cooking (within 2 hours; 1 hour if the temperature is above 90 °F). You can keep it in the fridge for 3-4 days, or up to 4 months in the freezer. You can find more info on the USDA website.
Instant Pot Hamburger Helper
This Instant Pot Hamburger Helper is a classic macaroni recipe that is cooked in a pressure cooker for only 4 minutes. It tastes better and healthier than the boxed Hamburger Helper.
Print
Pin
Rate
Ingredients
1

pound

ground beef

1

pound

dried elbow macaroni pasta

3

cups

beef broth

1

cup

chopped yellow onion

1

tbsp

garlic minced

(around 3 garlic cloves)

1

tbsp

paprika

2

tsp

Italian seasoning

(or use oregano)

2

tsp

Worcestershire sauce

½

tsp

chili powder

(use more according to your liking)

½

tsp

salt

(use more according to your liking)

½

tsp

black pepper

1/2

tsp

sugar

1/2

tsp

black pepper

2

cups

milk

2-3

cups

freshly grated cheddar cheese

1

tbsp

corn starch
Instructions
Brown the Ground Beef:
Set the instant pot to "Sauté" setting and heat one tablespoon oil in a skillet. Cook the ground beef undisturbed for about 1-2 minutes, then turning and keep cooking until brown. Also don't forget to keep scrapping the bottom of the pot so nothing stick on it to prevent burning. Transfer to a plate and set aside.
Saute the Seasoning Ingredients:
Add onion into the pot and cook until translucent, stir in garlic, chili powder, smoked paprika, Italian seasoning (or oregano), black pepper, salt, sugar. Then Turn off the "Sauté" by pressing "Keep Warm"
Pressure Cooking:
Add ground beef and one cup of beef broth, stir until combined.

Add pasta and the remaining of the broth (2 cups of broth). Do not stir. Just make sure that the pasta is cover with the liquid and Worcestershire sauce. Place the lid and ensure the valve is in the "Sealing" position.

Set to "Manual" setting and cook for 4 minutes (al dente) or 5 minutes (softer texture) with quick release. Remove the lid and select "Cancel". Season with additional salt and pepper if needed.

Note: If you find the pasta is still too tough for your liking, you can close the lid and set the pressure cooker to "Manual", and set timer to "O", then do a quick release after the pressure cooking is done.
Add Milk, Cheese and Corn Starch:
In a mixing bowl, stir in one tablespoon of corn starch with 2 cups of milk. Add the milk mixture into the pot, add cheese and slowly stir until combined.
Notes
Beef Broth:
I used the Organic Beef Flavored Broth from Sprout's store brand.